Expert Analyst & Reviewer

UPDATED
Advertiser Disclosure: Our unbiased reviews and content are supported in part by
affiliate partnerships
, and we adhere to strict
guidelines
to preserve editorial integrity.
Imonggo POS

Pros
Affordability, including a free option
A simple and functional interface
Strong offline functionality
Cons
Limited payment processing options
Limited integrations
The free version doesn't allow credit card payments
Imonggo POS Overview
As the first company to ever offer a completely free POS system, Imonggo POS is a significant player in the industry. Imonggo offers both free and premium versions of its cloud-based point of sale system, which is geared toward small to mid-range retail businesses. Don't get too excited about Imonggo's heavily touted free plan, however, as there are some pretty significant drawbacks. Most notably, the free plan does not allow you to accept integrated credit card payments, which makes it not particularly viable for a large number of merchants.
But there's good news to be had as well, as Imonggo's premium plan is still reasonably affordable and can provide you with the basics of a very solid system. And according to Imonggo reviews, the company has recently raised its customer service game with a 24/7 live chat feature, offering even more value to merchants.
Simplicity is the Imonggo theme. Imonggo developers designed the POS interface with the history of the iPod in mind. Imonggo's design philosophy centers around entrepreneurs and business owners looking for practical and straightforward solutions in their POS system. Imonggo encourages business owners to take personal ownership of their retail software by eliminating a complicated interface and confusing technology.
Ideal for brick-and-mortar stores, mom-and-pop shops, and specialty boutiques, Imonggo can handle both small home businesses and mid-sized retail operations with multiple locations. The only real hardware requirement is a computer and an internet connection — all the rest is optional. Imonggo takes simplicity seriously.
Don't have time to read an entire review? Take a look at our top-rated point of sale solutions for a few quick recommendations. Every option we present here offers excellent customer support, detailed user interfaces, and easy-to-use software, all for a reasonable price.
Imonggo POS Pricing
Imonggo is divided into Imonggo Free and Imonggo Premium. The free version of Imonggo is limited to a single user with a single store. You can only create 1,000 products in the account's lifetime and process 1,000 transaction lines per month; the user functions are limited as well. Another free plan limitation is that there is no direct integration for payment processing. So if you want to accept credit cards, you'll have to do this outside of the POS by using a non-integrated credit card terminal and payment processor.
Both plan levels are pretty straightforward: no setup costs, no contracts, and no cancellation fees. Downgrade or upgrade at any point. Here are the main details of each plan:
Imonggo Free: Yeah, it's free! The free version supports a single-user with a single-store setup. Free accounts can have a maximum of 1,000 products and 1,000 transactions per month. It also includes inventory management and sales analysis.
Imonggo Premium: The premium version of Imonggo costs $30/month/branch. It includes an offline mode, an unlimited number of products and transactions, the ability to accept credit cards, and access to its eCommerce platform.
Unless you have a very low-volume business (for example, a small cash-based business you want to create a paper trail for), you'll probably want to take advantage of the features available in Imonggo Premium, which is still a cost-effective option at $30 a month. It only takes minutes to sign up for Imonggo Free and get a feel for the interface. If you're interested in comparing the differences between Imonggo Free and Premium, you can sign up for the 30-day Premium trial without a credit card.
Cloud-Based Or Locally-Installed
The Imonggo POS is web-based and accessible with any mainstream browser, such as Chrome, Safari, or Firefox. It will even continue to function in your browser during internet outages. Imonggo also has a POS app for iPad and a sales dashboard app available for iPhone and Android devices. Additionally, there is an "Imonggo Express Lite" app for iOS you can use to send invoices on the go from your iPhone or iPad.
I tested Imonggo's offline mode in Chrome by shutting down my Wi-Fi connection and beginning a sale. The results were impressive. I was able to process the sale just as if I had been online. None of the other Imonggo management areas work, but the most crucial feature — sales — is covered. The interface prompts you to click a "sync" button once the internet is back online. Even with this great service, it's not a bad idea to take precautions against internet crashes with a backup internet connection or data plan.
Specific Industry
Imonggo is designed to meet the needs of a range of retail industries. Boutiques, bookstores, kiosks, clothing stores, salons, wholesalers, and duty-free shops can all use Imonggo as a complete point of sale and inventory management system.
Imonggo seems to have a remarkably large following among small businesses in the Philippines, as it is the first mobile POS app that is BIR-accredited.
Specific Size Of Business
From retail chains to small home businesses, Imonggo is definitely geared toward small to medium-sized businesses. More extensive operations would probably run into problems due to the limitations of the software, which is intended to be very basic and straightforward. An easy user interface comes at the cost of more complicated functions. Cash-only vendors, such as food carts or farmer's market stands, may find the free version completely acceptable. Slightly larger establishments will likely need to opt for the still-impressive premium plan.
Ease Of Use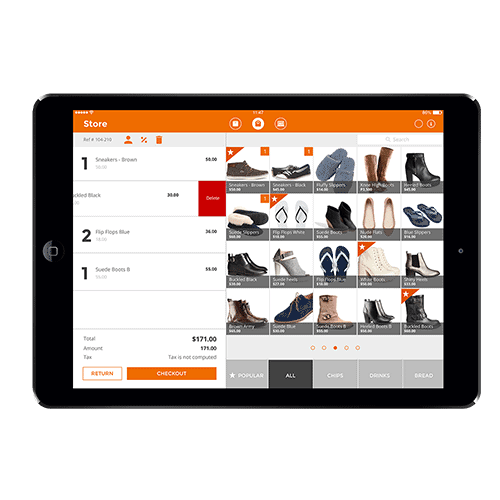 It doesn't get much simpler than this; a child could set up a shop with Imonggo's easy, intuitive navigation and layout. Move effortlessly between the stockroom, store, and office with a single click. The Imonggo developers say they count the number of mouse clicks it takes to do any one task, and their goal is to keep that number low.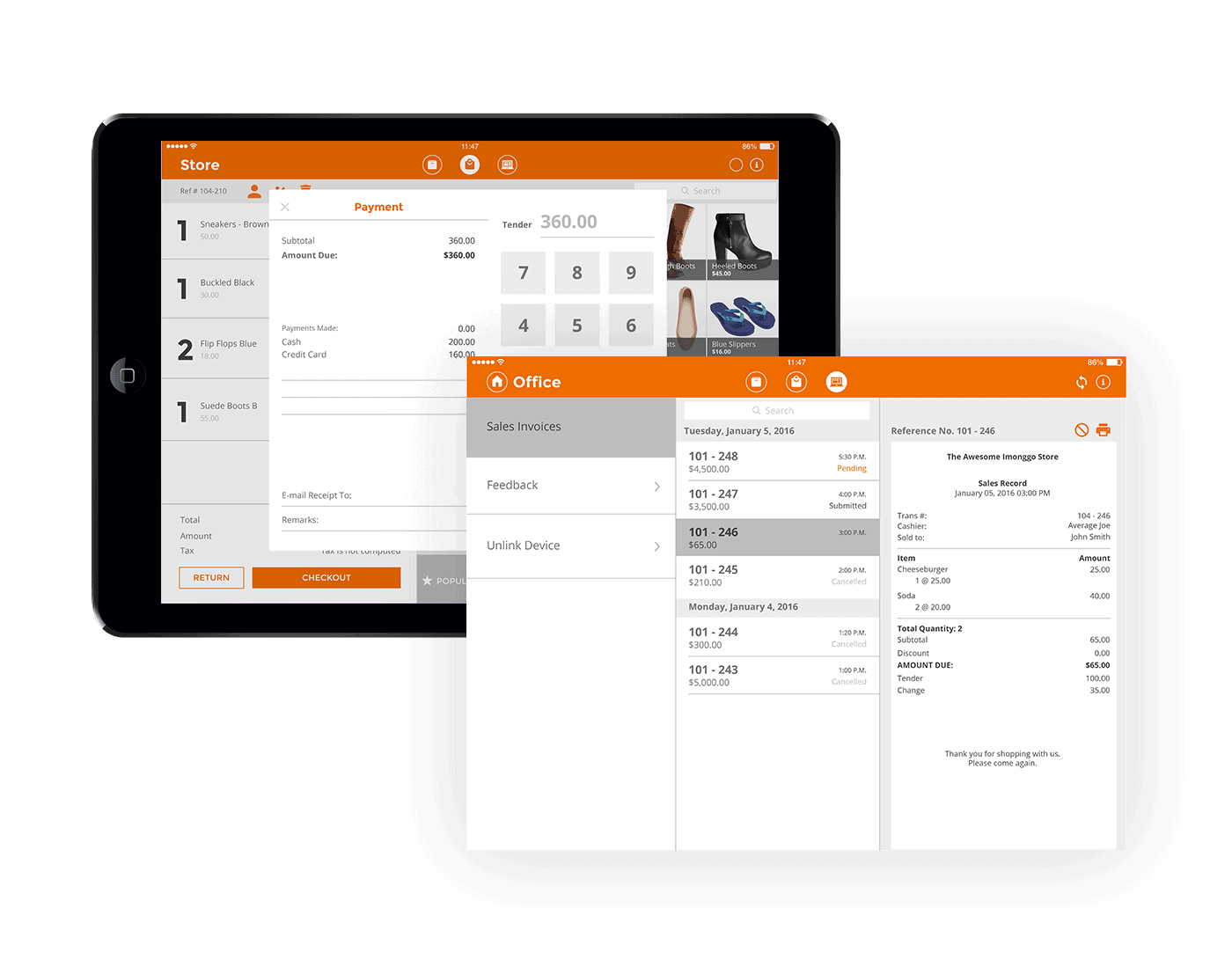 The Imonggo POS program splits retail elements into three different categories: Inventory, Store, and Office. In the Inventory area, you can add products, monitor stock levels, and create purchase orders. The Store area has a simple checkout interface for processing sales. In the Office, you can analyze sales data in both graph and report formats.
As a cloud-based system, Imonggo operates within your web browser. There are no downloads — just an initial sign-up that is as simple as opening a Google account. I found Imonggo's initial free trial setup exceptionally smooth and intuitive compared with other budget POS options I've tested. I especially appreciated the guided walk-through of features. Once you sign up in a browser and activate your account, you can log into the iPad and iPhone apps as well.
Hardware & Operating System Requirements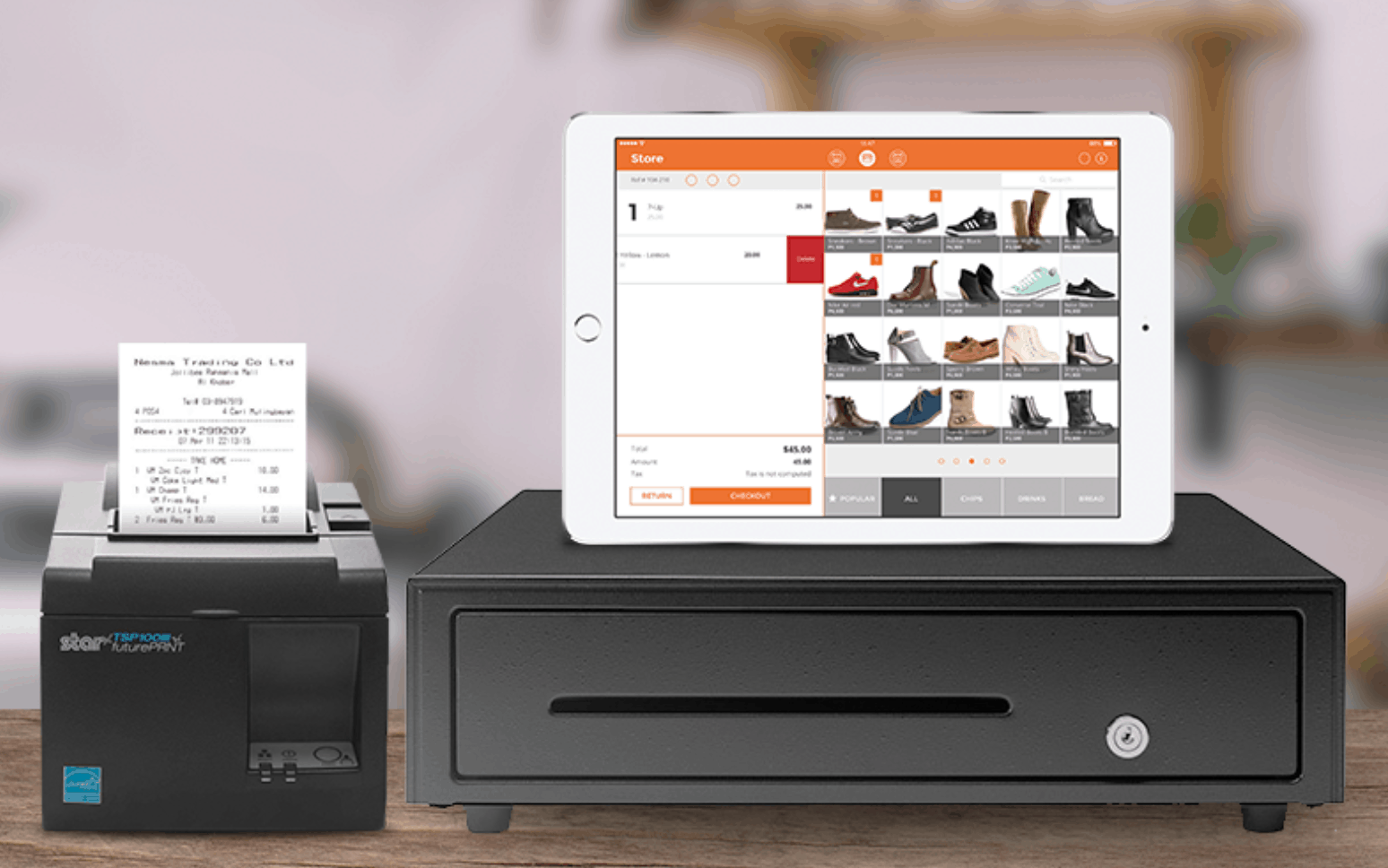 You can run Imonggo on anything, from a PC to an iPad, to your mobile device. Imonggo prides itself on the fact that you don't need to have an array of expensive hardware to operate your POS. At a bare-bones minimum, all you need is an operating system and an internet connection — and with the offline capabilities, you don't even need an internet connection 100% of the time. While this might be fine for some small businesses, chances are that most will need to work with receipt printers, cash drawers, card readers, and barcode scanners. The Imonggo operating system supports these too.
Because Imonggo is compatible with such a broad range of hardware, your biggest concern is just making sure your receipt printers, cash drawers, and barcode scanners are compatible with your device and that the devices are speaking to each other correctly.
Receipt Printers: Imonggo states it will work with any receipt printer that has software drivers that are compatible with your computer. Recommended models for PC setups include Star TSP 100 and EPSON TM-T88V. You can even use your standard laser or inkjet printer if you don't have a receipt printer. For iPad setups, Imonggo supports EPSON TM-U220 or EPSON TM-T88V connected via Ethernet or Star SM-L200 Bluetooth printer for a mobile set up.
Cash Drawers: Same story here as with the receipt printer: Imonggo works with nearly any cash drawer on the market. You just need to make sure that your receipt printer is set up to handle a cash drawer and that the cash drawer drivers are correctly installed on your computer. Recommended cash drawers include Star CD3-1616 and APG VP320-BL1416.
Barcode Scanners: Imonggo only supports 1D scanners, not 2D scanners, and recommends Symbol LS2208.
Barcode Readers: Generate individual or multiple barcodes using the Dymo LabelWriter 450 or just use a regular printer.
Credit Card Readers: This depends on your chosen credit card processor. You can use a Vantiv Dejavoo terminal (which supports magstripe, EMV, and NFC) or a regular magstripe terminal with Authorize.Net.
Imonggo POS Features
Imonggo doesn't have every single feature you'd expect to find in an advanced POS system. For example, there is no eCommerce function. Overall, though, it provides a very solid and relatively complete feature set for the price.
Note that a lot of the advanced features listed below are only available through Imonggo Premium. The Imonggo website is not all that clear on which features are available to both Free and Premium users. However, on the pricing page, Imonggo highlights the abilities to process credit cards and run your store offline as some of the advanced features that delineate the Premium subscription from the Free one. Paid accounts can also have multiple users, unlimited transaction lines, and unlimited products.
Multitender POS
Split a purchase between multiple forms of payment. Customers can pay for their purchase with any combination of cash, credit card, debit card, or gift card. An "other" option could work for checks.
Add items to a sale by scanning the barcode or manually entering the barcode. You can also look up an item in the directory and add it to the sale. Type in a partial code or an item name, and the system will find product options without leaving the POS screen.
Add fixed price discounts or percentage discounts to both single line items or the entire purchase. The office sales reports clearly show discounts.
Customize taxes based on local, state, and federal requirements for your geographical location. You can create tax-free items and tax-free statuses.
Control the design elements of your receipt header and footer. Print your receipts on a regular printer or POS receipt printer. You can even email receipts to customers.
Handle returns and exchanges with ease. Returned items are easily updated in inventory counts.
Create layaway purchases for high-dollar items.
Inventory Management
Add product images and thumbnails to every item.
Assign and print multiple barcodes to a single product.
Keep a detailed stock card and transaction history for every item.
Keep track of which inventory items are in stock, out of stock, or in back stock. Also, monitor which items are moving quickly, slowly, or not at all.
Monitor your purchase and return orders from multiple vendors.
Adjust item numbers with physical count support.
Download a backup copy of your inventory.
Bypass the tedium of entering all items by hand by uploading product CSV sheets. You can also export product inventory in CSV format.
Tag an item as a service, so Imonggo will not track its quantity in the stockroom (useful for services such as repairs or gift-wrapping).
Add multiple tags to every product for extensive product tracking and search for products by tags.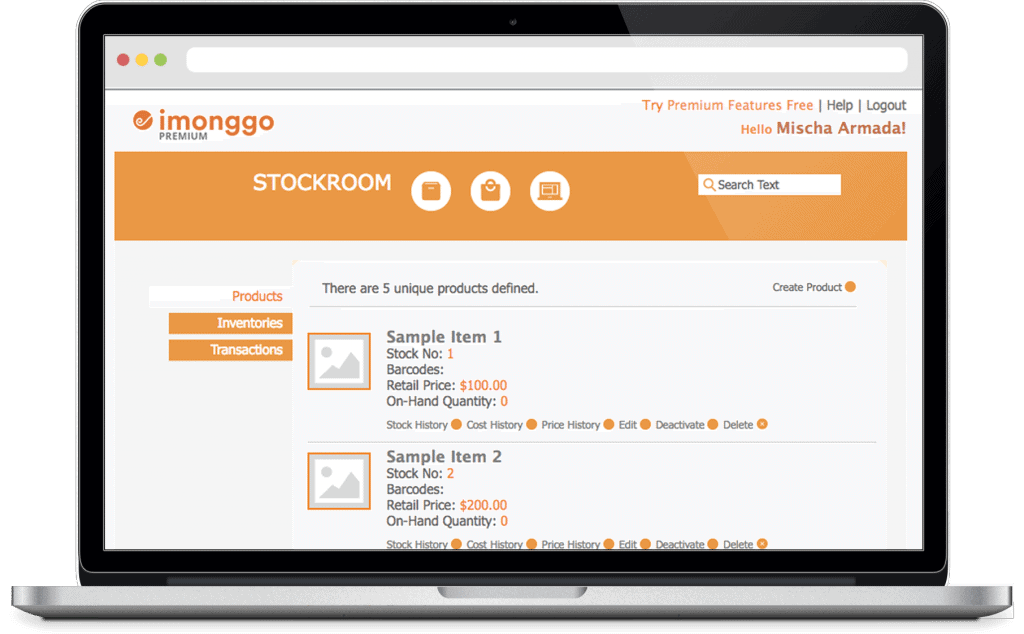 Employee Management
Create unlimited users with different levels of access to the Inventory, Store, and Office.
Track the sales history and performance levels of individual salespeople. This feature is great for shops that pay commissions.
Customer Relationship Management
Build a customer database that records addresses, emails, and birthdays. Monitor customer purchase history over time.
Send automatic email receipts to your customers as an alternative to paper receipts.
Create a customer rewards program where customers can accumulate rewards and discounts.

Reporting Functions
View Today's Summary with a single click in the POS store window.
Review sales in various ways: top products, monthly sales, daily sales, hourly sales, payments collected, and monthly profits. All of these reports can be viewed as reports or visual graphs.
Analyze sales by tags assigned to products.
Compare the performances of sales at multiple branches.
Check on the performances of salespeople in both report or graph form.
Monitor your basic sales reports on an iPhone with Imonggo's dashboard app.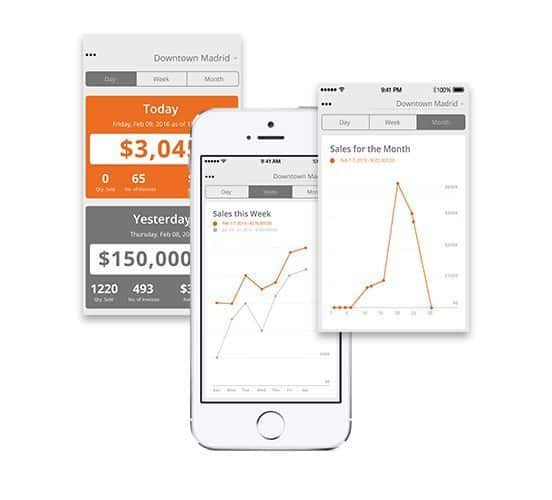 Security
Payment for Imonggo Premium users processes with SSL technology that ensures credit card information is encrypted and undecipherable.
All Imonggo data gets backed up every 24 hours. The backups are kept at separate geographical locations for maximum security.
Multistore Functions
Combine and review consolidated store sales at the head office.
Transfer your products from one branch to another.
Every branch can maintain its inventory and sales reports.
Set up different pricing schemes for different branches.
eCommerce
Manage orders and see deliveries in real-time.
Get automatic sales and inventory reports.
Sort items by categories.
Automatic tax zones.
Customer Service & Support
The overall quality of Imonggo's support seems great, based on user reviews and the number of support options available.
24/7 Live Chat: There is free a 24/7 live chat service that can connect you to team members if you have an issue with the POS. Someone from the chat team typically replies within a few minutes.
Email Support: You can reach out to Imonggo's support directly via email.
Help Pages: Each page of the interface has a "help" button at the top with detailed information about whatever area you happen to be in. For example, when I am on the "Inventory" page, pressing the "help" button brings up a concise report of all the functions on the Inventory page: on-stock inventory, out-of-stock inventory, sorting, filtering, etc. It's pretty straightforward.
Written Tutorials: Imonggo users can also visit the main Imonggo website to view several written tutorials covering most of the POS functions. The tutorials are helpful and well made, demonstrating the simplicity and user-friendliness of the system.
Knowledgebase: Imonggo offers a fairly extensive and searchable knowledgebase that covers basic and advanced POS functions. You can also access a public discussion area where Imonggo employees respond to customers' questions and comments.
Social Media: Imonggo also features a blog with updates about the various aspects of the Imonggo system as well as some helpful articles offering tips and advice to business owners. A frequently updated blog that keeps users informed about new features is always a nice thing to see. Imonggo also has the requisite Facebook, Twitter, and Instagram profiles.
Compatible Credit Card Processors
Payment processing is an area where Imonggo is limited; it's only set up to process payments through Vantiv (now WorldPay) or Authorize.Net. Imonggo's preferred provider is Vantiv, but you do have the option.
Authorize.Net and Vantiv are a couple of the most prominent players in payment processing, which is both good and bad. The good news is that you can sleep pretty soundly at night knowing that your sensitive data is in safe hands. The bad news is that you won't have as much flexibility in negotiating processing fees since you only have a couple of processing options. However, there is some variation in rates, as there are many Authorize.Net and Vantiv resellers.
Again, if you use the free plan, there are no compatible credit card processors. You'll have to work with a non-integrated solution, meaning you will still be able to process card payments; the data just won't automatically sync with your POS software.
Integrations & Add-Ons
Imonggo has just a couple of add-ons that can be integrated by turning on the API feature in your account. Though the app would ideally integrate with more services, the integrations cover the main areas in which Imonggo lacks: accounting and eCommerce. Integration with Xero is available for accounting, whereas you can use the Shopify integration for eCommerce.
Imonggo POS Reviews, Complaints & Testimonials
There aren't many online Imonggo reviews from users, and the company does not have a profile on the BBB or any testimonials on its website. However, the reviews I did find were generally positive.
Negative Imonggo Reviews & Complaints
There aren't many complaints about Imonggo to be found online. Below I've listed a few of my concerns to keep in mind.
Overly Simplistic Feature Set: Imonggo lacks certain advanced features, such as advanced reporting, restaurant-centric functions, and integrations with other business software.
Payment Processing: A couple of users mentioned difficulty with integrating a payment processor and the lack of an integrated processor with the free software as an issue.
Positive Imonggo Reviews & Testimonials
Imonggo has a lot going for it. Here are some of the reasons you should consider using this POS system.
Low Cost/Big Delivery: Imonggo Premium costs $360 a year, which is an incredible price for cloud-based software with such a long list of capabilities. Plus, Imonggo is more than just a POS — it is also an asset inventory management software and an office. Imonggo strikes a good balance between being a basic everything-to-everyone software and offering sophisticated tools that can be tailored according to business type and size.
Offline Capability: Accepting the risk of downtime that comes with an internet crash is often the tradeoff that comes with the freedom of cloud-based POS systems. Not so with Imonggo. The fact that Imonggo has developed the capability for offline sales is a huge plus in its favor.
Fast & Easy: With software that you can master in three minutes, Imonggo places more power in the hands of business owners. It's something that anyone with rudimentary technical skills can set up. You can recycle those giant employee manuals because your POS training time will take about 15 minutes.
Good Customer Support: Customers seem to appreciate the quality and responsiveness of Imonggo's customer support. A few years back, there were some complaints about long response times. Recent reviews, however, seem to reflect a significant improvement in customer support, especially since the company rolled out its 24/7 live chat feature.
Final Verdict
It's difficult to find reasons not to take a chance on Imonggo. With no contracts and no cancellation fees, there's minimal risk involved. You can get a great feel for it without investing a single dollar. Even if you were to purchase a month's worth of Imonggo Premium, you'd only be out $30 if you decided it wasn't for you, plus there's a 30-day free trial you can check out. Since it supports such a wide range of hardware, you're also not going to be shelling out thousands of dollars for specific POS-compatible systems.
For small to medium-sized retail businesses, Imonggo is a powerhouse of capabilities for a great price. However, for larger businesses, Imonggo may not cut it. Inventory functions, while good, are basic and may not be complex enough to handle large-scale operations. Similarly, employee management options are pretty bare-bones. There is no clock-in/clock-out function that other POS systems have. All you can do with the employee management function is define parameters for Imonggo access and monitor individual sales performances. I'd also be wary of the less-than-stellar customer support. Just be sure to test that out with the free version before deciding to invest in the premium version.
---
We've done in-depth research on each and confidently recommend them.
We've done in-depth research on each and confidently recommend them.
To learn more about how we score our reviews, see our
Point Of Sale (POS) Software Rating Criteria
.