Expert Analyst & Reviewer

UPDATED
Advertiser Disclosure: Our unbiased reviews and content are supported in part by
affiliate partnerships
, and we adhere to strict
guidelines
to preserve editorial integrity.
Pros
Easy to use
Mobile friendly
Free trial available (until you publish)
Simple pricing
Cons
No way to backup your site/undo edits
Limited customization
Limited features
Incomplete eCommerce
Buggy editor
Impress.ly Overview
Impress.ly is a fresh-on-the-scene mobile-centric website builder with a focus on creating websites functionally equivalent to native mobile apps. Launched in December 2015, Impress.ly comprises a joint venture between two companies: AppMachine, a Netherlands-based tech developer founded in 2011 and led by CEO Siebrand Dijkstra, and the Endurance International Group, a Burlington-based provider of cloud-based platform solutions led by CEO Hari Ravichandran. Readers of my reviews of eHost and IdeaHost, however, will know Endurance as a provider of appalling user experiences through their duplicate website building services. Having researched their other ventures, I was naturally unnerved when I discovered Endurance's involvement with Impress.ly. However, I resolved to review this new venture with an open mind – and the hope that Endurance was the junior partner in this joint project with AppMachine.
Impress.ly was officially launched on Dec. 15, 2015. Departing from the drag-and-drop model employed by most website builders, Impress.ly does the bulk of the actual site creation for you. By connecting to your Facebook Business page or your existing website, Impress.ly pulls your existing content from the internet and "automagically" (their word, not mine) creates an app-like mobile website with easy social media integration and styles/colors selected for you based on your existing brand content. If you have no existing content for Impress.ly to import, no worries – you can create a site from scratch in very little time. Another Impress.ly feature not commonly found in the industry is a mobile app that gives you the same editing functionality as the desktop editor. It's on point with Impress.ly's focus on the mobile experience.
As an app-creation tool, in its finished state, Impress.ly will allow you to publish your site as an app, to be made available in Apple and Android's app stores. Unfortunately, the software is not actually finished at this point in time and does not allow for this yet. A number of other features remain unfinished as well. Still, Impress.ly has impressive ambitions, and its fresh approach to website creation brings a welcome focus to the future. (Mobile traffic should become the predominant form of internet traffic to a greater degree with each passing day.)
Right now, the company and its unique vision are a work in progress, so I'll keep you up-to-date on Impress.ly's development. For now, though, let's take a first look.
Pricing
Impress.ly is distinct from other website builders in its pricing structure. You can build your site while exploring the options and features and not worry about payment. Only when you go to publish your site will you be required to sign up for a paid plan. While this means Impress.ly offers no true free plan (as many other site builders do) you'll at least be able to test all the style options and features without entering your credit card info, which isn't true of some of the shadier website builders associated with the Endurance group.
Impress.ly spells out the details of their paid plans here.
Starter
$9/month (billed annually)
$12/month (billed monthly)
HTML 5
Smartphone, tablet & desktop-optimized site
Free* custom domain (annual plan)
Free email accounts (annual plan)
Website analytics
Social feeds + RSS feeds + basic info
"Minimal" branding
Business hours & location
Mobile contact form
"Call Now" functionality
Mobile blog
Products & services
Business
$14/month (billed annually)
$19/month (billed monthly)
All of the Above PLUS:
No branding
Online store
Mobile payments
Online reservations
I should note that the "Free" custom domain is only free for the first year, after which it renews "at the regular rate."
Impress.ly accepts payment via credit card (Visa, Mastercard, AmEx, and Discover) as well as PayPal.
Web-hosted or Licensed
The desktop version of Impress.ly is web-hosted. The mobile editor is an app and is available for iOS and Android mobile devices through their respective app stores.
Hardware/Software Requirements
The desktop version of Impress.ly requires only a computer, while the app, obviously, requires a mobile device. As for software, Impress.ly assured me that their desktop editor is compatible with all modern browsers.
Business Types Supported
Impress.ly departs from the template model employed by most drag-and-drop website builders. Instead, Impress.ly takes your existing content – either from your Facebook Business page, your existing website or directly from whatever you upload – and creates a mobile-oriented website for you, with styles and colors based on that of your existing content. When creating your site, Impress.ly directs you to choose between five basic categories (this will determine how it structures your site):
Local Business
Restaurant
Musician
Health & Beauty
Personal
Ease of Use
Impress.ly's method of creating mobile sites means it is easier to use than any drag-and-drop website builder. After pulling your data from your Facebook Business page and/or your website, Impress.ly generates ten different mobile site designs. Choose one, and you'll have a mobile website ready to edit almost instantly. It's as simple as it sounds.
Style Editor: While editing a website, click the Edit Style button in the upper left of the screen (in the app, it's in the top row of options that pops up when you tap the Settings button in the lower right corner) and you'll be given options to alter the look of your site. Click "Select New Skin" and another ten site designs will be generated based on the existing content of your site.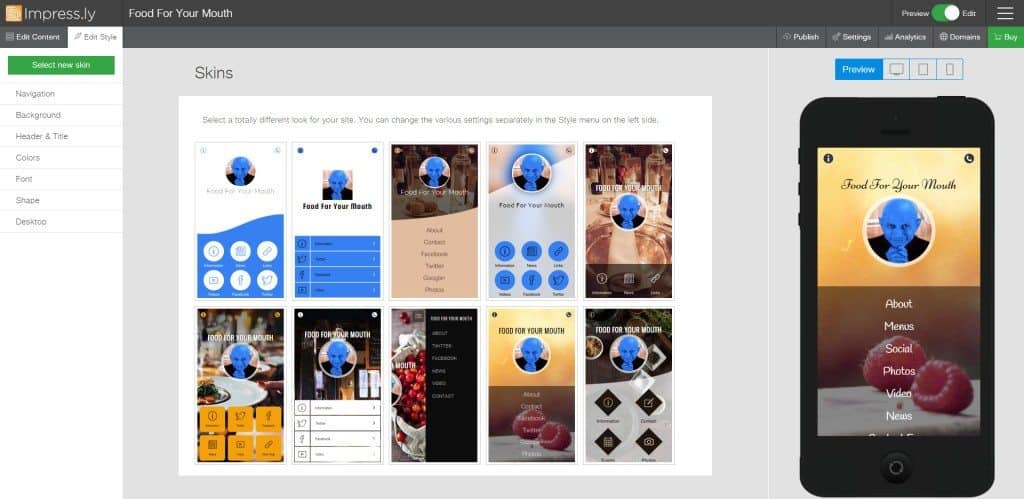 Click "Navigation" and you'll get ten new arrangements of your site's page links to choose from. The Background and Header & Title buttons permit you to change the background image, edit the header style, change the title, and change your logo. It's so simple, it hardly merits explanation.
Other options in the style editor let you change the colors and fonts of your site from the pre-selected ones you were given initially to new options of your choosing. There's even an option to add a background image specifically for the desktop version of your site. This is a reversal of the standard order of operations for website builders, where you build a traditional website with a few options specific to mobile viewing tacked on.
While you don't get fine-tuned control over every aspect of your site's look, you do get these basic editing options, and because a good mobile site/app is all about clean, simple design, I didn't find myself aching for more control over my site.
Content Editor: Clicking the Edit Content button in the top left of the screen will bring up all the pages on your site, which you can then edit to change your contact info and hours, edit the menu, add a Facebook & Twitter feed, add photos from your Instagram account, display a YouTube playlist, etc.
Unfortunately, there are no undo/redo buttons nor any History button for undoing edits you've made to your site. Impress.ly is new, so hopefully, this feature will be added at some point.
Preview Mode: Impress.ly lets you preview how your site will look when published, whether on a computer, a tablet, or a mobile device. The mobile editor, naturally, allows you to preview your site on a mobile device. Though the Preview mode in the desktop editor tells you you'll need to publish your site (which requires a paid account) before previewing it on your phone, this isn't actually true – with the app, you can preview any site you're in the process of creating.
Unfortunately, I found that certain content – such as a restaurant's menu URL pulled from their website – will not display in Preview mode. Instead, you'll get the message "This content can only be shown on a published site" along with a link to publish your site. You'll also periodically be interrupted while editing by a less-than-subtle box urging you to publish your site – which, of course, leads you to the purchasing screen. While the editor is free to try, Impress.ly pushes the upsell on you fairly frequently.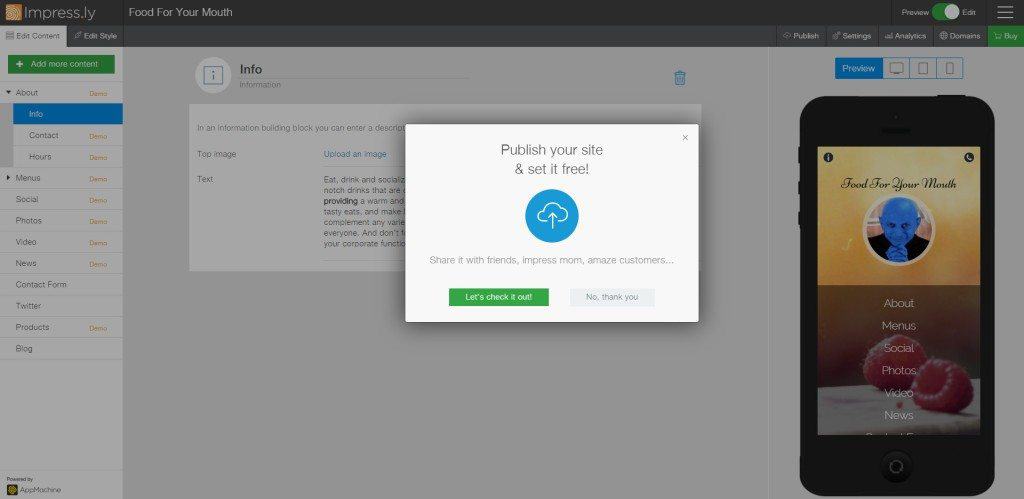 Features
Having officially launched only two months ago, Impress.ly is light on features. All features are addable via the Add More Content button in the top left. Any content added to your site/app will appear as a separate page at the bottom of your existing list of pages. Here's what's available thus far:
Blogging Tool: Impress.ly gives you a blogging tool that does everything you would expect. The result is a blog that, in both mobile and desktop view, is somewhat reminiscent of a Tumblr feed. About the only criticism I can make is that the blog editor lacks a button to embed YouTube videos in blog posts, though that can be done manually.
Impress.ly also gives you the option to add an RSS feed.
Restaurant Tools: Impress.ly has a number of features designed specifically for restaurants, such as menus (separated into both food and beverage menus), a Reservations feature that facilitates reservation-making through your choice of 3rd-party reservation services, and a Delivery feature that lets you establish a food delivery service through GrubHub, iFood, or other food delivery companies. Another feature, a recent addition, lets you include reviews of your restaurant (or other business!) from FourSquare, Google Reviews, and Zomato. It's enough to make Impress.ly something a startup restaurant might find interesting.
Contact Form: Impress.ly includes a basic contact form. You can set up one to six fields, name them what you wish, and include a thank you message. With no further customization options, it's quite bare-bones in comparison to the contact forms on offer from many other website builders.
eCommerce: As mentioned in the introduction, Impress.ly has just released its eCommerce feature, though it is still a work in progress. The Store option, now available along the top bar of the editor on the right, allows you to sell both physical and digital goods in a responsive web store that displays quite nicely on mobile devices. With the capacity to sell a large number of goods (in testing, I did not encounter any limits on the number of products I could offer), two to four payment processors available (depending on your location) and the ability to specify shipping charges and set the tax rate, Impress.ly's eCommerce is powerful and attractive, even in its embryonic stage.
Remember, to actually publish a website that includes a Store, you'll need a subscription to the Business plan.
Other features include a coupon creator, a weather feature, social media feeds, a Google Maps map on which you can place multiple points of interest, a music add-on that lets the user play tracks from iTunes, SoundCloud or Spotify, a streaming radio player, a Lock feature that lets you password-protect pages of your choosing, and (for you Seinfeld fans) a tip calculator.
Web Design and Editing
Templates: Again, Impress.ly doesn't offer templates in the manner of most website builders, but rather auto-generates a set of ten layouts based on the information you provide in the initial creation process. These layouts tend to have a clean, modern look, and they respond well on mobile devices – pretty much what you would expect since the mobile experience is Impress.ly's entire raison d'etre. However, if you're looking for a design fundamentally different from the ten options generated for you, you're out of luck.
Mobile Editor: Impress.ly has one over on most of the competition in that it provides an app that gives you full mobile editing ability. The mobile editor is as easy to use as the desktop editor, if not more so. It's a step forward for the industry. Mobile, like it or not, is the future, and Impress.ly (man, am I sick of typing out that silly name) embraces it; I can see many companies following this model in the years to come.
Integrations and AddOns
Social media integrations abound in Impress.ly, with Facebook, Twitter, and Google+ (if anyone cares) timelines, as well as Instagram, Tumblr and Flickr photo integration. Other integrations include the delivery and reservation services I mentioned earlier, video integration with YouTube and Vine, and music integration with iTunes, SoundCloud, and Spotify.
Payment Processing
Impress.ly's eCommerce lets you choose between Stripe, PayPal, Mollie (Netherlands and Belgium only), and PagSeguro (Brazil only) for use as payment processors. The processors' respective transaction fees are shown below.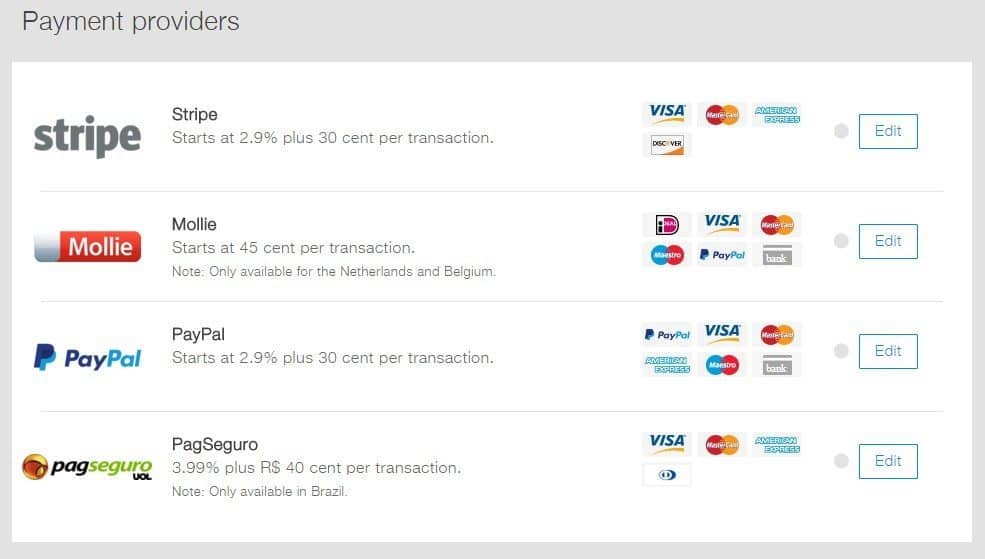 Customer Service
Impress.ly gives support-seeking users a help center/knowledge base, an email address for reporting bugs, and a phone number for live support. I called the line and had my question answered in 5-7 minutes, though the guy on the other end initially assumed I was asking a question about Weebly, curiously enough. In fact, it led me to do some digging, and I found a press release from Weebly stating that Weebly is white labeling its website builder (not the one used by Impress.ly) to the Endurance International Group. The article says nothing about Endurance contracting out its customer service to Weebly, though. It's an odd and opaque situation, as Endurance continues to earn its reputation for opacity!
Negative Reviews and Complaints
Given Impress.ly's recent emergence, professional criticism is hard to come by, and customer feedback seemingly nonexistent. From what little I could gather from reviewers, Impress.ly has been criticized on the following fronts:
Elements are miscategorized in the editor
Positive Reviews and Testimonials
Impress.ly has received tips of the hat from reviewers for the following:
Simple way to create a mobile version of your existing website
Mobile-first approach is the future
Impress.ly's Android app currently receives 3.5 stars out of 5 on Google Play, with customers both praising the app and criticizing the load times and the quality of the customer support.
Final Verdict
Impress.ly is new and not yet fully-featured. Frankly, it hasn't been around long enough to develop any kind of reputation. I would take this into consideration before making any big decisions, especially given the reputation of similar services associated with the Endurance group.
Despite this, Impress.ly has an undeniable appeal. It offers a fast and fun mobile website experience on both the creator and the user end. When the ability to create apps for download in the App Store comes online, Impress.ly may well prove to be a game-changer. I can't help but sense that this model for website and app creation is, to further abuse an overused phrase, the future; the heavy hitters of the website building industry will eventually, and inevitably, migrate in the direction of Impress.ly for the sake of their own relevance.
I'll keep an eye on Impress.ly to see how they develop, though on that count, the fact that they haven't updated their blog since August 2016 is not a good sign. Hopefully, we'll see some signs of life soon.
---
We've done in-depth research on each and confidently recommend them.
We've done in-depth research on each and confidently recommend them.
To learn more about how we score our reviews, see our
Website Builders Rating Criteria
.