Updated on:
Advertiser Disclosure: Our unbiased reviews and content are supported in part by
affiliate partnerships
, and we adhere to strict
guidelines
to preserve editorial integrity.

Looking for a free POS solution? Try Square POS
Date Established

2005

Location

Canada
inFlow On-Premise Overview
inFlow On-Premise is an inventory management software program meant to be used by small and medium-sized businesses to help them track inventory, fill customer orders, reorder stock, generate purchase orders and invoices, and create customized reports. By the standards of the inventory management world this software has been around for a while, and unlike newer online inventory software systems, inFlow On-Premise is something of a self-contained system, a throwback to a time before the ubiquitous "cloud" and all it entails. That is to say, in its original form, it's not online software but software you download and install.
Introduced in 2007, inFlow On-Premise has built up an established customer base and is by all appearances extremely popular with its users. The company claims to be "the world's most loved and downloaded inventory software." That's a hard thing to verify, of course, but I'm inclined to think it may not be too much of an exaggeration.
Currently, more than 720,000 small businesses in more than 120 countries use inFlow On-Premise. It's also used in a wide range of businesses and industries, including wholesalers, retailers, manufacturers, health care, eCommerce, and government. The Facebook and Twitter accounts for inFlow are pretty active (especially for a piece of software) and have a healthy number of fans and followers.
In today's hyper-connected business environment, using inventory software that's not online may seem a bit limiting – and in some ways it definitely is – but it's not hard to see why people like inFlow On-Premise and stick with it. The software handles all the basic inventory management tasks and then some, and it's not at all intimidating to use, despite everything it can do.
To see if inFlow On-Premise might be what you're looking for, read on.
Pricing
There are three different editions of inFlow On-Premise software available:
Free Edition – Always free

Maximum of 100 products and customers, combined
13 reports
Multi-user mode: read-only
Live chat, phone, email, and forum support

Regular Edition – $399 per license

Unlimited products and customers
25 reports
Multi-user mode: read-write
Separate user logins
Ability to customize documents
Live chat, phone, email, and forum support

Premium Edition – $799 per license

Unlimited products and customers
30 reports
Multi-user mode: read-write
Ability to customize documents
Live chat, phone, email, and forum support
Separate user logins
Ability to restrict access rights
Bill of materials and work orders
Count sheets
The prices are one-time costs, meaning there are no monthly or annual fees and no other charges for using the software once you download it onto a computer.
There are also optional maintenance plans: $99 per year for the Regular Edition or $199 per year for the Premium Edition. These give you unlimited updates and support after the first year (included in the purchase price).
You can install one license on an unlimited number of computers, but licensing is per concurrent use, so only one computer can run the same inFlow On-Premise license at any one time.
If you want to upgrade, you can do so any time without needing to re-install anything. There's also a 45-day money-back guarantee if you decide inFlow On-Premise isn't for you.
Note that the Free Edition allows a combined total of 100 products and customers. That's a decent deal for very small businesses that are just starting out – it's free, after all. But even if you sell only a very limited selection of products, you will probably very quickly reach the 100 mark simply because the number of customers you have is always (hopefully) growing. In other words, while the Free Edition is "free forever," it's meant to be a temporary edition; inFlow is counting on your liking the software enough to upgrade (the idea being, of course, that once your business starts growing you'll be able to shell out a few hundred bucks for it).
Web-Based Or Locally Installed
The inFlow On-Premise software must be downloaded and installed on your computer.
Hardware & Software Requirements
You must have a Windows-based computer (or environment), with at least 512 MB of RAM and 700 MB of free hard drive space. inFlow On-Premise does NOT work on Mac or Linux computers.
Ease Of Use
My impression of Inflow On-Premise is that this is a well-designed, easy-to-use program. Upon first downloading this software (which, happily, is not a tedious, long process), I was quickly able to enter some test products, generate sales reports, and generally manipulate things without even looking at the support documents or help videos. That is a very good sign and speaks volumes about the usability of Inflow On-premise.
When you open up the interface (which is neither the best I have seen in the world of business software nor the worst), you will initially find your dashboard. This is, as you might expect, home to an overview of all the various aspects of your inventory: stock levels, recent purchases, upcoming sales, and the like. If you want to see other parts of InFlow On-Premise, you'll need to open a new "tab," just like you would on Google Chrome or other web browsers. From there, you can head to sections of the program dealing with Vendors, Purchases, Inventory, Sales, and Customers.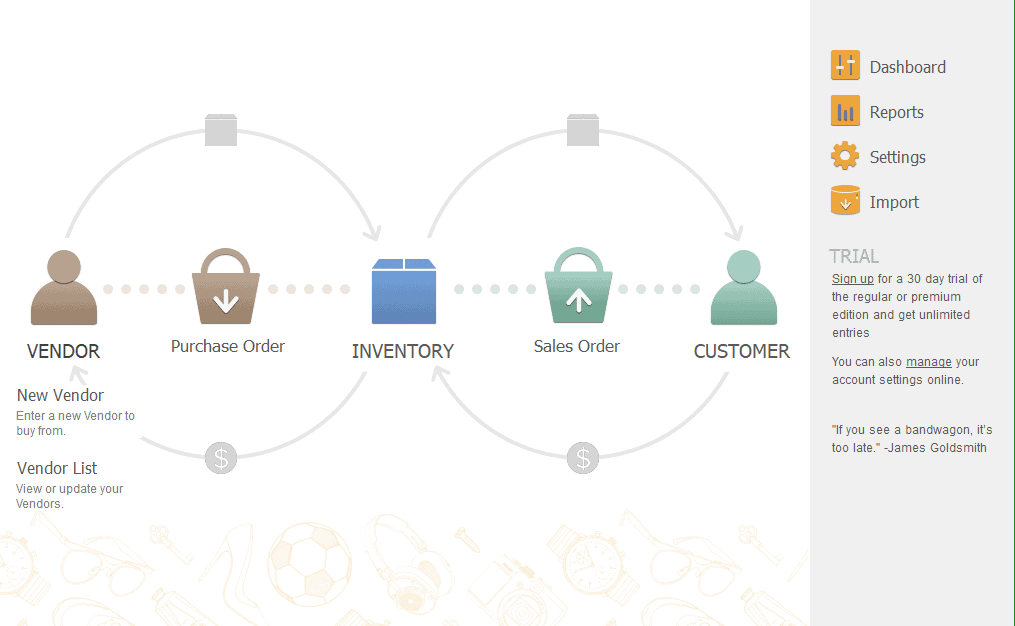 Click on one of those options and you will find yourself on screens that allow you to manipulate the various details within. Whether you're adding new Vendors, generating Purchase or Sales Orders, or reviewing your list of customers, it all makes perfect sense. There is clearly a lot to this program, but it does a pretty excellent job at making itself easy to use.
Customer Service & Support
All editions include access to the following support options:
Live Chat (Monday-Friday 10am-6pm EST)
Phone
The knowledge base is pretty extensive, and you can access and search it from the software interface. Searching for something here will give you a list of both forum posts and support articles related to your topic. There are also tutorial videos on inFlow's YouTube channel.
Negative Reviews & Complaints
You'd be hard pressed to find many significant criticisms of inFlow On-Premise from users. There are, however, certainly some drawbacks and limitations to it:
Limited Integrations: InFlow On-Premise only integrates with Magento and Shopify, at least currently. If you don't use either of these two integrations, you are just out of luck.
Windows Only: Right now the software only works on Windows computers. You can't operate it on Macs except by using a program like Bootcamp or Parallels to access a Windows environment. On Linux systems, you have to dual-boot Windows and Linux or use VMWare. On tablets and smartphones, you could use Remote Desktop to access a PC with inFlow On-Premise on it, but that's clunky and definitely less than ideal, to say the least.
Positive Reviews & Testimonials
On the other hand, there is no lack of high praise for inFlow On-Premise, like in these user reviews on Download.com:
I love the easy to use interface, I did not use any of the tutorials. Btw, awesome quickbook-esque report generation. You can generate reports of the inventory you have with your cost and what it is to be sold at, great for projecting profits and viewing actual profits. I use this inventory system to track sales, to know what types of items sell well and for accounting purposes. I have a low stock (6 or less of each different item), high turnaround (like selling out of items over the weekend) retail business. And yes, I do a lot of data entry, but being able to make copies of inventory items and changing a few things here and there is a time saver!
Tracks everything and is very user friendly. Takes little time to create reports and customize to your liking. Everything is self explanatory and easy for new employees to adapt to. Tracks everything we need, and entering new data is a breeze. Allows you to change field names on just about everything to help match your current personal inventory vocabulary/vernacular, which helps limit mistakes. Allows for transparency with product movement through multiple user mode. Also, you can create new fields so you can add new fields to track if the program doesn't offer it already. Finally, if you have a problem tech support responds quickly to resolve any issues.
Downloaded this product today and purchased the full edition straight away. If [you're] looking for a simple straightforward product that does what it says, this is it, look no further. We as a company have tried many different inventory products from ABC inventory to using quickbooks both programmes do not come close to this one. It is an absolute credit to its developers and creators. [Can't] wait to use more of the facilities [inFlow On-Premise] has to offer.
Features
Manage Products and Inventory

Organize your products with prices, categories, and images
Handle more than 10,000 products on a normal PC with no problem
Works with barcode scanners
Multiple units of measurement (case, dozen, each, etc.)
Multiple locations, including sub-locations (bin, aisle, etc.)
Inventory movement history
Assemble products or packages from raw materials
FIFO/LIFO costing
Serial numbers (Premium Edition only)

Take Orders from Customers

Simple workflow lets you enter orders and deduct inventory automatically
Advanced workflow tracks more detailed info such as shipping, invoices, picking, and sales returns
Create customized, professional-looking invoices to print or email

Create Purchase Orders

Reorder Stock button automatically creates PO's for products getting low in stock
Keep track of product costs automatically, including moving average
Use your own and your vendor's product codes to ensure accuracy

Reports and Analytics

See how your business is doing at a glance with graphed timelines
Create customized reports on data such as sales, taxes, best-sellers, and inventory prediction

Network Computers Together, Set Access Restrictions

Multi-user mode lets all of your employees work with the same data in real time by connecting computers via LAN (Local Area Network) or the Internet
Decide who has access to see or edit which data elements with different logins and permissions

Customizable Fields, Data, Currencies, and More

Rename field labels and messages to whatever fits your needs
Add extra, custom fields
Import and export data between programs like Excel and QuickBooks or even your website via CSV documents
Set exchange rates, buy and sell in multiple currencies
Software available in multiple languages, including Spanish, French, and Chinese
For a full list of features, click here.
Reports
The reports you get with inFlow On-Premise depend on which edition you use.
The Free Edition gives you these reports:
Sales

Sales by product summary
Sales order summary
Sales order profit report
Customer payment summary
Customer payment details
Customer order history
Product customer report
Customer list

Inventory

Inventory summary
Inventory details report
Product price list

Purchasing

Product cost report
Vendor list
More detailed reports are only available with the Regular and Premium editions. These include:
Sales by product details
Sales order operational report
Sales tax report
Back order report
Vendor product list
Purchasing tax report
Purchase order details
Inventory by location
Inventory movement summary
Estimated inventory duration
Stock reordering report
Reports are clear and professional-looking and can be printed or exported as PDFs.
Integrations & Add-Ons
As mentioned above, InFlow On-Premise offers just two integrations:
InFlow On-Premise does not feature an open API, so you will not be able to create your own integrations.
Security
inFlow On-Premise is stand-alone software you download and install on your individual computer(s), so it doesn't come with the same security hazards you might experience with online inventory software. Since it's not stored in the cloud, your inFlow On-Premise data is pretty much as safe as your internal computer network is.
Final Verdict
Overall, inFlow On-Premise is pretty darn good at what it does: helping you manage and track your products, customers, and purchasing, while also giving you useful reporting and analytics. The interface couldn't be much clearer or simpler to use. The UI is intuitive and straightforward, so you'll rarely have to think about what a certain feature does. In those rare instances where you're momentarily stumped, the online forum and knowledge base will likely be all you need to find the answer to your question or solve an issue.
The software's main limitation is that it's not online and thus cannot automatically sync with the data in any online sales channels or accounting software you may use. You can import and export this type of information, but that involves manual data entry. For this reason, the software is probably best suited to manufacturers, wholesalers, and other businesses that may not have an extensive online presence but still need to save time and get a better handle on managing their inventory, suppliers, and customers.
While the up-front price for a single license may be a bit steep for small companies, this is a one-time fee, and as your business grows you could see significant savings over the monthly fees you would pay for online, SaaS software.
When you weigh out the upsides and the downsides, I think InFlow On-Premise comes out in the black. The fact that you can download it and immediately start using it with almost no learning curve is really what tips the balance for me. If you think this amazing usability outweighs the lack of connectivity and integrations, it might be time to try out the free version and see if InFlow On-Premise is right for you.
---
We've done in-depth research on each and confidently recommend them.
We've done in-depth research on each and confidently recommend them.
To learn more about how we score our reviews, see our
Inventory Software Rating Criteria
.
Read Next