UPDATED
Advertiser Disclosure: Our unbiased reviews and content are supported in part by
affiliate partnerships
, and we adhere to strict
guidelines
to preserve editorial integrity.
Pros
Gift card and loyalty functions
Open API
Simple to use and operate
Cons
No purchase order management
No supply tracking
No accounting integrations
Overview:
Instore is a point of sale (POS) system developed by Own Group; it has been on the market since 2009. In its earlier days Instore exclusively targeted the restaurant industry, but has since undergone several improvements and updates to make its system more inclusive to the retail industry as well. Instore now offers two different platform options: Instore Pro (with both Restaurant and Retail modes) and the much slimmer version, Instore Terminal. Recent updates also added key features such as inventory restocking reports, a barcode scanner integration, and new reporting features.
After reviewing the company's latest developments, I'd say Instore is headed in the right direction overall. While Instore Terminal is basically the crash diet version of Instore Pro, only allowing users to ring up orders, track customers, and access limited reports, it also is unique in its focus gift cards and the Instore Rewards program. The level of standard functionality offered with Terminal is fine for a business looking to invest in an entry-level solution, though the price tag may be a little hefty for such a basic product if you don't plan to take advantage of the considerable loyalty rewards/gift card functionality. If you cannot upgrade to Pro, and don't intend to use Instore Rewards, it may behoove you to look for a more economical option. Pro has a few downsides of its own (no purchase order management, supplier tracking, or accounting integrations) but is a much better choice for the merchant looking for a robust POS tool.
In general, Instore is a competitive POS solution, and it is worth taking a look at with either a 7 day free trial or a 30 minute demo. Read on to learn more.
Don't have time to read an entire review? Take a look at our top rated Point of Sale solutions for a few quick recommendations. Every option we present here offers excellent customer support, detailed user interfaces, and easy-to-use software, all for a reasonable price.
https://youtu.be/vyf5dOGEV5A
Pricing:
You don't have to worry about a contract with this month-to-month service, and there is no penalty for canceling. You can also switch from Terminal to Pro at any time.
The specific needs of your business will determine exactly how much Instore is going to cost you each month, but the two basic pricing plans are as follows:
Instore Terminal, $39/month
$20/month per additional register
$99 start up cost

Limited to four functions: Taking Payments, Tracking Customers, Rewards Program, and Selling Gift Cards.
Instore Pro, $59/month
$40/month per additional register
$199 start up cost

A more robust program that offers additional features such as reporting, inventory management, etc.
As I mentioned before, Instore Terminal's $39+ a month is on the steep end, especially when compared to systems like Square, Imonggo, and Vend. However, the native loyalty rewards program offered with Terminal brings something unique to the table, and has the potential to save you a lot of money if you were planning on using a 3rd-party loyalty software anyway.
Another point to note is the starting costs for each plan ($99 for Terminal and $199 for Pro), which is essentially a mandatory fee covering the cost of helping you set up your account and hardware. While this is useful, it's also not optional so you'll have to factor it into the initial system costs.
Cloud-Based or Locally-Installed:
Hybrid. All the information on your business—employees, menu items, sales history—is stored in the cloud on Instore's servers, and administrative functions are performed via a web browser. However, the front end bit—ringing up orders and cashing customers out—runs off an application installed on an iPad. The app downloads all the data it needs from the web and then operates locally, meaning you can keep taking orders if your Internet goes down. Instore is even able to store credit card information offline for up to 24 hours and then process the transactions when your internet comes back up.
Specific Industry:
Instore has taken customer requests into consideration and recently expanded its capabilities to include retail-specific functions. As previously discussed, Terminal is a basic version of Instore Pro that offers four functions and is directed at all industries. Pro is a more beefed up version that targets the retail and restaurant industries.
Specific Size of Business:
Instore targets small and medium sized businesses, and targets those markets well. Due to lack of purchase order management, accounting integrations, and supplier tracking, however, neither version of Instore would be an ideal choice enterprise businesses looking for a multi-function, one-stop-shop POS.
Ease of Use:
Both Instore Pro and Instore Terminal have an extremely intuitive user interface for administration and customer-facing tasks. Neither Terminal or Pro are particularly splashy or colorful, but they are so easy to use you shouldn't mind. When I tested Pro, I set up a store, created a menu, defined location-specific parameters like taxes and customized receipts, added employees and tracked their time, simulated a sale, and ran some reports all without referring to the help files even once.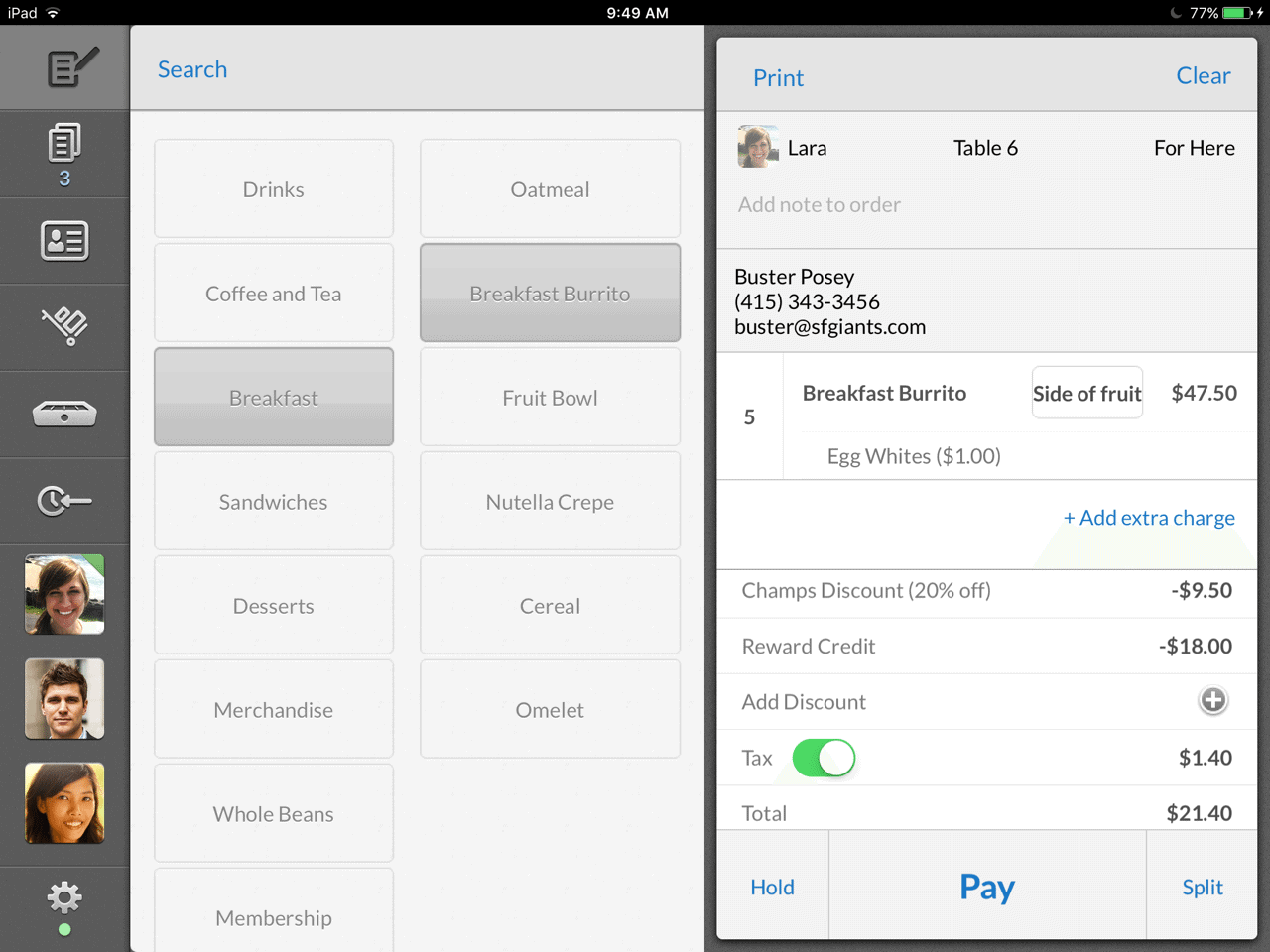 Testing out Terminal was even easier. After taking a practice order, taking down customer information, signing them up for Instore rewards, and selling them a gift card, I'd pretty much exhausted Terminal's front end capabilities.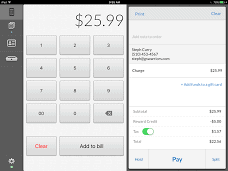 When I finally did consult Instore's support website, it was just to see if there was anything I missed. Oh, and their web-based help? Also extremely easy to use. Each article is tagged with keywords you can click on to see a list of other related articles.
When it comes to restaurant specific features, another thing that Instore Pro does very well is park orders, which is a necessity for any cafe where the bill comes after the meal. For each order, you can add a descriptive note—like the table number—to easily identify the bill after it's been entered and parked. From there, you can print the order to the kitchen, complete it with an Order ID, or call it back up when the customer is ready to settle up. This sounds simple enough, but I've seen enough poor implementations of this elsewhere so the ease and speed with which Instore handles this is worth noting.
Hardware and Operating System Requirements:
Instore seems to be built around the Apple philosophy of a consistent and predictable user experience, and so, for better or worse, there is a very specific set of hardware it is designed to work with.
Instore sells hardware through POSPortal.com and though you can purchase your peripherals from other vendors, POSPortal offers three Instore hardware bundles with the option for monthly payment plans:
Instore Basic Bundle with iPad, $935.58 or $38.98/mo
iPad Air 2

Stand

Receipt Printer

Cash Drawer

Printer to Cash Drawer Cable
Instore Quick Service Bundle with iPad, $1,253.57 or $52.23/mo
iPad Air 2

Stand

Receipt Printer

Kitchen Printer

Cash Drawer

Printer to Cash Drawer Cable
Instore mPOP Retail Bundle, $1,031.82 or $43/mo
Star Micronics mPOP all-in-one Printer and Cash Drawer with Scanner

iPad
Product Features:
Instead of listing every feature you'd expect, it's more useful to talk about what Instore does differently. For example:
Social Media Integrations –

From the administration console, you can link directly to your Facebook page, Twitter feed, and Foursquare account. This is a great way to communicate daily specials to your customers. You can update the menu with the day's specials then broadcast them out from the same console. On Foursquare, you can see who's checking in at your place or even offer incentives to those who do.

Reporting –

Instore also places special emphasis on staffing and labor cost. From the admin console, you can enter all of your employees and their hourly wages (did I forget to mention to employee time clock?). The console, with its real time data, displays what each of your employees has earned as the clock ticks away. This feature ties in nicely with the reporting function, because you can see at a glance your total revenue for a given period, as well as how much you spent on labor for the same time frame. In fact, the whole reporting module, while fairly basic and not breaking new ground, is still very valuable. In their recent update, Instore has introduced some new reports, one of which is a "How am I doing report?" that breaks down your sales by the hour and shows you what your projected sales will be for the rest of the day based off of your sales from the previous week. Instore has also added a report that tracks the cost, current quantity, and target quantity for each of your sale items.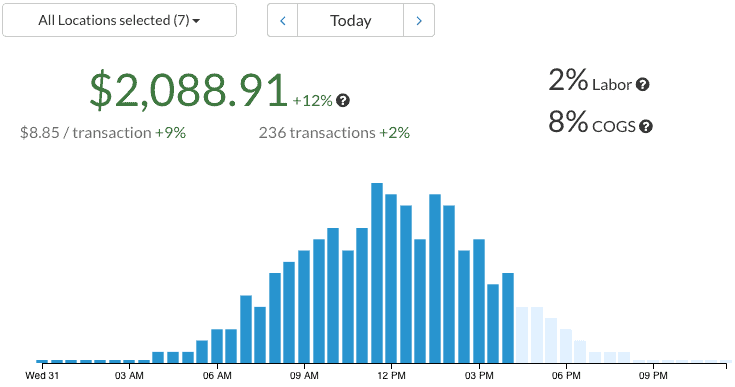 Gift Cards –

Instore makes selling and using gift cards a breeze. They've partnered with

PLI

so that shop owners can create custom branded cards. You can sell them and load them up with the dollar amount purchased right from Instore. This requires the iPad card reader, but it's a useful function and well worth the investment.

Customer Rewards –

Instore has a fully integrated loyalty program called Instore Rewards. Activate Instore Rewards in your office settings and designate your point values to start using the program and keep customers coming back.

Offline Processing –

The primary pitfall of cloud-based software is that it needs a wireless connection in order to keep your business running. If you're caught in an outage, you're at a standstill since your POS will cease to function. However, savvy developers like Own Group have a safeguard built into their systems, allowing the continued processing of cash and card transactions without an Internet connection. Credit card information is stored within the application for up to 24 hours until a connection is reestablished and that data can be processed. This will spare you quite a few angry exchanges with frustrated customers as well as make business on the go a reality for you.

Retail Specific Features –

Among other features, Instore Retail offers business owners reporting options to track the cost, current quantity, and target quantity for each sale item. They also offer a real-time Inventory Restocking report that helps you keep track of any items you may be running low on so that you can restock them before you run out. This new update has also made barcode scanning on option and allows business owners to scan and track their inventory more accurately right on their iPad with the use of an optional barcode scanner.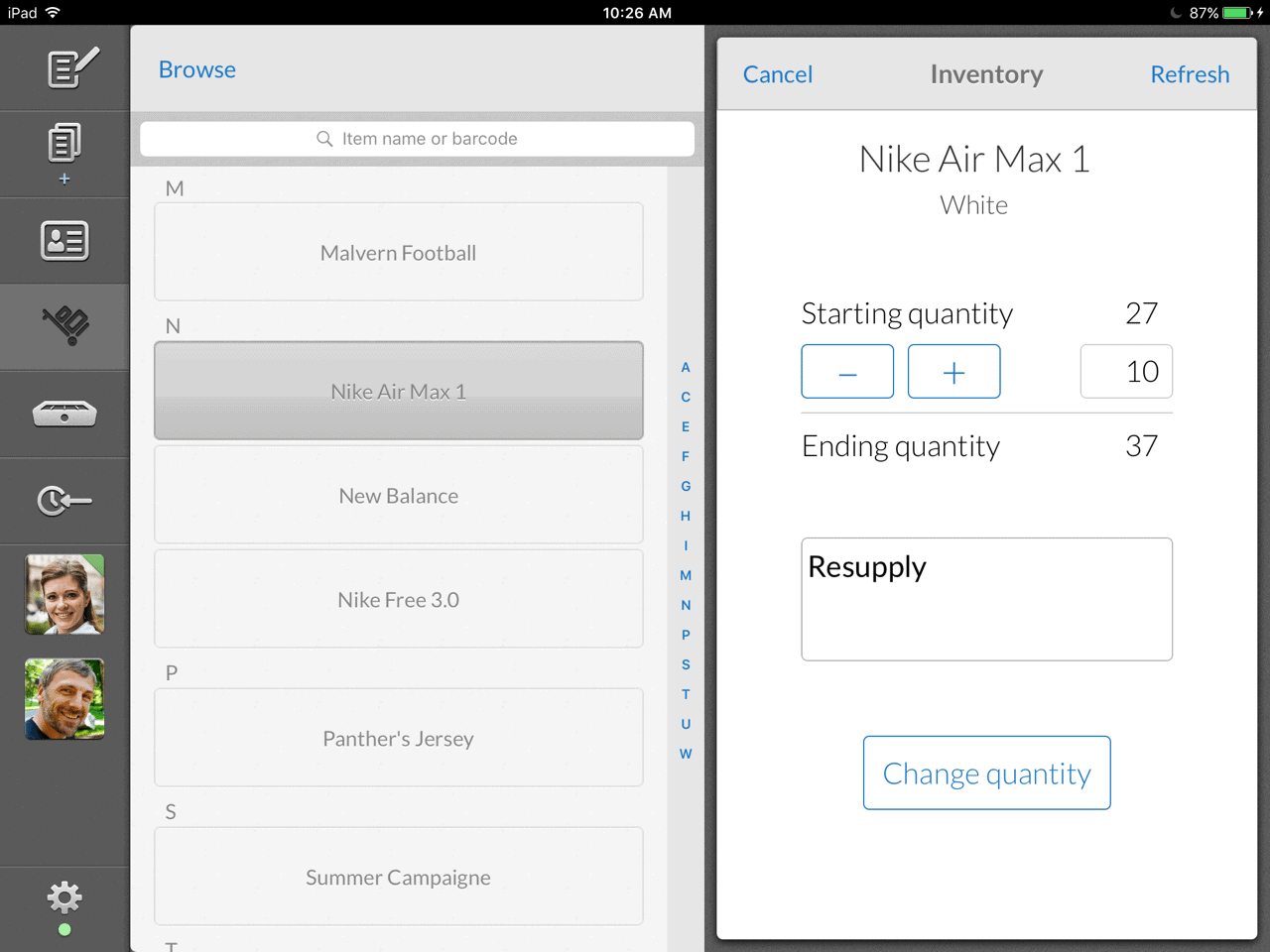 Integrations and Add-Ons:
In addition to the social media integrations with Facebook, Twitter, and Foursquare mentioned above, Own Group has made Instore's API available to developers who wish to create add-ons. In the future, I would be happier to see the company branch out a bit and supply integrations with at least one accounting solution and eCommerce platform; it is fairly unusual for a POS of this caliber to lack basic integrations. Meanwhile, if you have the time and patience, you can use the API to connect to your 3rd-party software systems.
Compatible Credit Card Processors:
If you want to integrate credit card payments directly into your POS, Instore works with Magtek i and cDynamos readers for swipe transactions. In reaction to the EMV shift in October 2015, Instore has recently added two card readers that are EMV/NFC compliant: DejaVoo Z1 and the CardConnect CardPointe terminal. The credit card processors connect directly to the iPad, making it possible for your staff to swipe cards tableside and speed up turnover.
When it comes to processing credit cards, you have the option to choose between three different processors: Card Connect, Clearent, and Mercury Payments. Instore also plans on adding a fourth processor, Apriva, by the end of this year. If you've already got, and are happy with, a credit card processor (or are locked into a contract), you can always continue to swipe cards outside of Instore with readers that communicate directly with the banks and finish out the transaction on Instore by marking it as paid.
Customer Service and Technical Support:
Support is included within the monthly fee, and my experience with Instore's support shows them to be pretty responsive. All the questions I emailed in were answered quickly and efficiently. I even tested out their chat feature and was answered right away during business hours. Their support staff is exceedingly pleasant; the woman I spoke to on the phone was friendly and knowledgeable, and seemed interested in getting to know my business without prying or trying to pressure me into an immediate commitment.
Live Chat –

This is a feature available from Instore's website and is only available Monday through Friday from 7am to 7pm PST. My questions were answered quickly and the employee who helped me was very knowledgeable.

Phone Support –

This is probably the fastest way to get your questions answered, but same as chat, you'll only be able to contact someone on a weekday between 7am and 7pm PST.

Email Support –

This is about as close as Instore gets to 24/7 service since email support is manned over the weekends in addition to the standard Monday through Friday. The woman I spoke to (and most of the customer reviews) reported that emails are generally answered within an hour, with the exception of those coming in late at night. All the emails I sent were answered within one day by friendly and knowledgeable staff.

Help Articles –

Naturally, these online resources are available any time. Given how easy the system is to use, it's relatively safe to say these articles will allow you to troubleshoot during off-hours when live technical support isn't available. Instore also offers some helpful

video tutorials

.

Social Media –

Instore also has a

blog

that is not really intended for technical support, but features a bunch of helpful articles filled with business tips. Instore also has

Facebook

and

Linked In

pages (both

don't appear to be very active), and a

YouTube

page.
Negative Reviews and Complaints:
There are only a couple merchant reviews of Instore's software, most of them extremely positive. Instore isn't perfect, however, and I do have some of my own concerns with the system:
Customer Support –

Instore's chat, email, and phone support are somewhat limited. Almost all the businesses Instore caters to are open later (or earlier) than the available live support. That may be fine for now, but there is going to be an increasing need for more support coverage and more than one customer mentioned that they appreciate it if Instore did offer 24/7 support.

No Accounting/eCommerce Integrations –

Not having an accounting integration isn't a dealbreaker since all of the reports generated through Instore can be exported as a CSV file or emailed to an account address, but it is a bit irritating. The lack of an eCommerce integration is a little harder to overlook as so many consumers are looking for an online shopping experience these days. Even an online ordering and reservation management system would be a huge boon for most restaurants.
Positive Reviews and Testimonials:
Instore's website is littered with customer testimonials from satisfied merchants, and there are a couple reviews from merchants on other sites that seem equally satisfied with the software. The common themes are as follows:
Customer Service –

Many customers seem to be extremely satisfied with Instore's responsive and professional customer care.

Reliable Software –

A couple of customers noted that Instore is a reliable software and were very pleased with this fact.

Easy to Use –

Customers like the fact that Instore has an easy to use interface.
Final Verdict:
Instore is well made and ridiculously easy to use. It not only performs quickly but also streamlines a lot of tasks seamlessly in one place. I think Own Group has a winner on its hands, and with its recently added functionality and features, Instore is a real player in the retail shop space. Instore's intuitive design and excellent customer service team almost entirely removes the IT headache from business owners. Though not the cheapest iPad POS system out there, the Pro plan's monthly fee is somewhat competitive for a service that not only powers your POS, but bundles in marketing, employee management, and reporting tools as well. I wish the same competitive pricing structure could be applied to Instore Terminal as well, but if your business makes heavy use of gift cards/loyalty programs, or is looking for a less expensive way to start using Instore while you build your way up to Pro, it can be a great option.
As great as the system is, there are a few changes I would like to see in the near future. The lack of third party integrations is going to mean a lot of extra work for you. You'll likely have to invest in supplemental software to make up for Instore's deficiencies in accounting, eCommerce, and advanced inventory/supply chain mangement. I understand that Instore is focused on the customer-facing features like a smooth point of sale, social media integrations, and great loyalty programs, but merchants also have to be able to manage the back-end before the customer ever comes into play.
Despite a few hiccups, Instore has enormous potential and has demonstrated a great track record of constantly improving its software. If you're a business owner in the market for a new POS system then by all means, take Instore for a go with a comprehensive 30 minute demo or a 7-day free trial. If Instore continues in the practices that have gotten it this far, it should gain even more traction in the near future.
---
We've done in-depth testing of each and confidently recommend them.
We've done in-depth testing of each and confidently recommend them.
To learn more about how we score our reviews, see our
Point Of Sale (POS) Software Rating Criteria
.