Invoicely Review (Formerly Invoiceable)
Expert Analyst & Reviewer

Updated on:
Advertiser Disclosure: Our unbiased reviews and content are supported in part by
affiliate partnerships
, and we adhere to strict
guidelines
to preserve editorial integrity.
Invoicely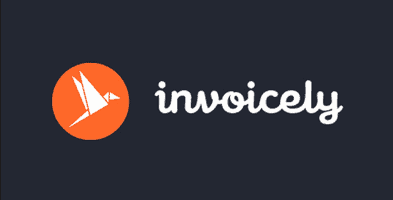 Pros
Free pricing plan
Easy to use
Modern UI
Cons
Limited invoice customizations
Limited integrations
Poor customer support
Invoicely Overview
Previously known as InvoiceBubble and Invoiceable, Invoicely is an invoicing program that began in 2012. After some tweaks, improvements, and redesigns, we have the Invoicely that over 250,000 business owners use and love today.
A positive reputation isn't the only thing Invoicely has going for it. Invoicely has a modern UI and is simple to set up and use. The software offers multicurrency support and multilingual invoicing as well as time-saving invoice automations. Better yet, there's a free plan, and Invoicelly supports multiple businesses at no extra cost. The downside is that the free plan used to include unlimited invoices and is now limited to five invoices a month. But the bright side is that Invoicely has recently added mobile apps for iOS and Android — you win some, you lose some. The software's feature-set is also fairly basic, which is a blessing and a curse.
For freelancers and small business owners looking for a simple, affordable invoicing solution, Invoicely could be a good option. But business owners in need of more advanced features or a large selection of integrations would be better off looking elsewhere. Our other hesitations about Invoicely include the limited invoice customizations, the limited reporting, and poor customer support.
If you're interested in Invoicely as a basic invoice tool, read on to learn more about this software. If you need a more robust software, check out Zoho Invoice, which also has a free plan, or take a look at our top-rated invoicing software picks instead.
Pricing
Invoicely has a free plan as well as three paid plans. Each plan — free or paid — used to come with unlimited invoices and unlimited customers. Sadly, this is no longer the case, and each plan gives you access to more invoices and clients.
You can try the free plan with no credit card or banking information required; there are no free trials for the paid plans. Payments are made monthly, and you can cancel your plan at any time. You can opt for a yearly subscription as well, which will give you a slight discount.
Free
Invoicely's free plan costs $0/month and includes:
Five invoices
Three clients
Multicurrency support
PayPal integration
Invoices include Invoicely branding
One user
Basic Plan
Invoicely's Basic Plan costs $9.99/month and includes:
100 invoices
25 clients
Estimates
Expense tracking
Time tracking
Mileage deductions
Multicurrency support
Multiple payment gateways
Custom branding
Two users
Professional Plan
Invoicely's Professional Plan costs $19.99/month and includes everything in the Basic Plan, plus:
250 invoices
100 clients
10 users
Enterprise Plan
Invoicely's Enterprise Plan costs $29.99/month and includes everything in the Professional Plan, plus:
Unlimited invoices
Unlimited clients
25 users
All plans come with a default Invoicely domain, but you can add a custom domain if desired. Contact Invoicely directly for details.
Cloud-Based Or Locally-Installed
Invoicely is cloud-based, so no downloads or installation is required.
Hardware & Software Requirements
As cloud-based software, Invoicely is compatible with nearly any device that has internet access. Invoicely has recently added mobile apps for both iPhones (iOS 11.0+) and Androids (5.0+).
Specific Size Of Business
Invoicely is a good fit for freelancers, micro-businesses, and small businesses looking for an easy way to send invoices. The unlimited invoices on the free plan could make the software a good option for freelancers and independent contractors looking to save money so long as expense tracking, estimates, and more advanced features aren't needed. The multilingual invoicing option is also ideal for international businesses.
Invoicely is not a good fit for larger businesses needing more advanced features, as Invoicely only covers the basics. The software is also geared more toward product-based businesses, rather than service-based or project-based companies.
Invoicely supports up to 25 users with basic user permissions and multiple businesses at no extra cost. You can add and manage as many businesses as you like, even on the free plan.
Ease Of Use
Invoicely has a modern UI that is generally easy to navigate. Features are basic and simple to understand, and the software takes little time to set up. There are occasional navigational difficulties, and some functions could be streamlined (for example, there's no easy way to add multiple items or contacts). There is a help center if you need additional assistance, but it's a good thing Invoicely is easy to use since the help center is limited.
Features
Invoicely offers a very basic feature-set when compared to other invoicing software options. For those wishing to keep their invoicing simple, this may not be an issue, as Invoicely can do almost everything you need. Here's what to expect from Invoicely's features:
Dashboard: The dashboard uses charts to give you a quick overview of your business's finances. The information shown is slightly customizable. There are graphs for recent activity, (company) at a glance, invoiced/received, invoice summary, invoices/expenses, accounts receivable, and accounts payable. Key features are located on the left-hand side of the screen and can be viewed as icons or written out.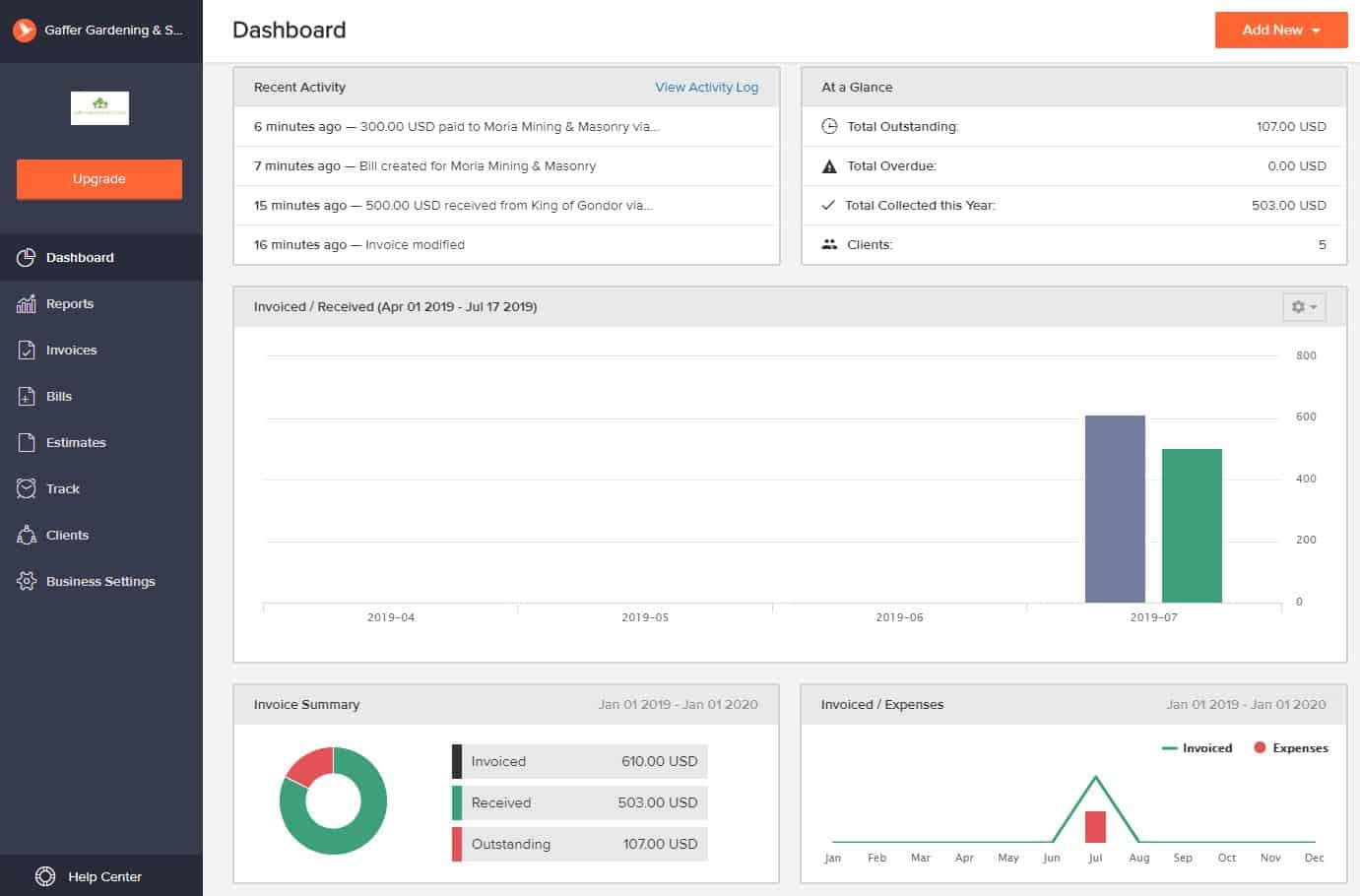 Invoicing: Invoicely offers a single invoice template. The only customizations available are adding a logo and changing the colors. If you are on the free plan, all invoices will have Invoicely branding on them. The good news is Invoicely offers solid invoicing features and automations even on the free plan, including automatic payment reminders, recurring invoices, automatic receipts, and custom notifications. You can easily add sales tax, shipping costs, and discounts to any invoice.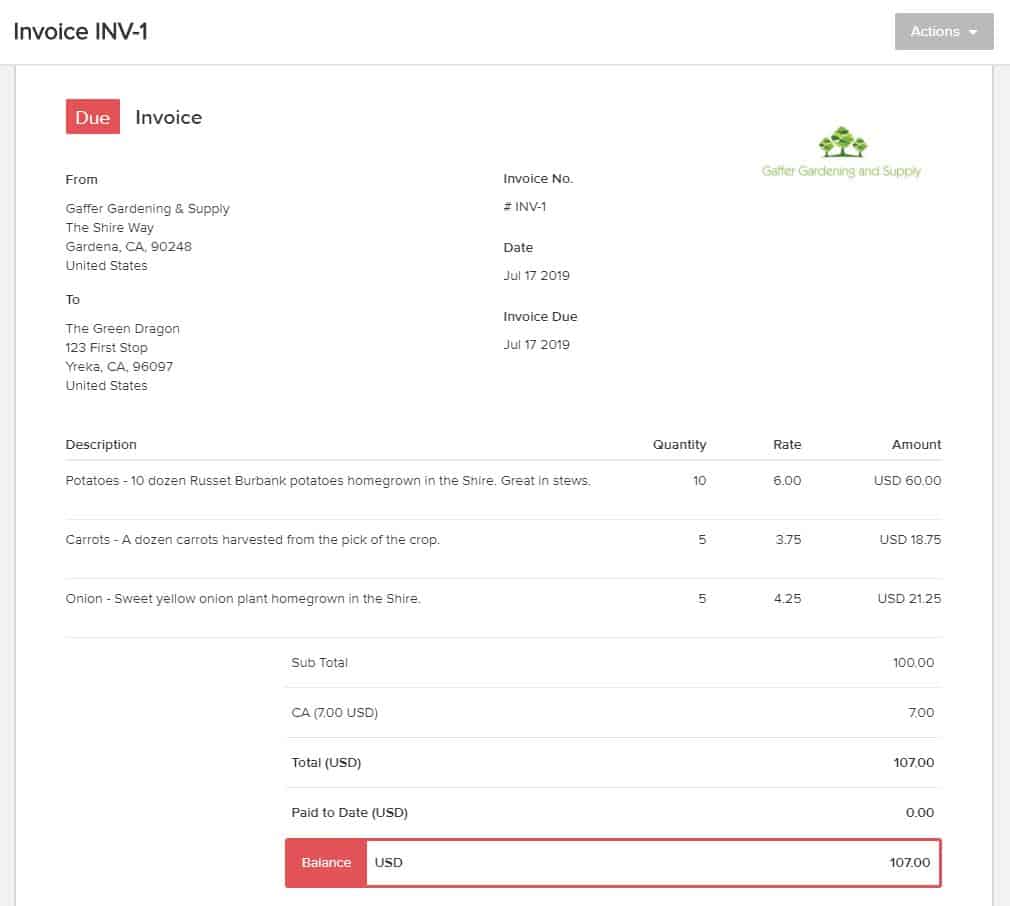 Estimates: You can create estimates on the paid plans. Once a client approves the estimates, Invoicely automatically converts the estimates into invoices. Invoicely lets you set an expiration date for invoices and offers the unique ability to set automatic expiration reminders for estimates.
Client Portal: Invoicely has a basic client portal where customers can view, download, and print their estimates and invoices. Online payments are available if you set up PayPal or another supported integration.
Contact Management: Invoicely offers basic contact and vendor management. Through Invoicely, you can add client information, such as an address, default currency, language (beta), phone, fax, and notes. You can add custom fields as well. Most invoicing programs provide a contact dashboard where you can easily view a customer's open invoices; Invoicely does not have this capability.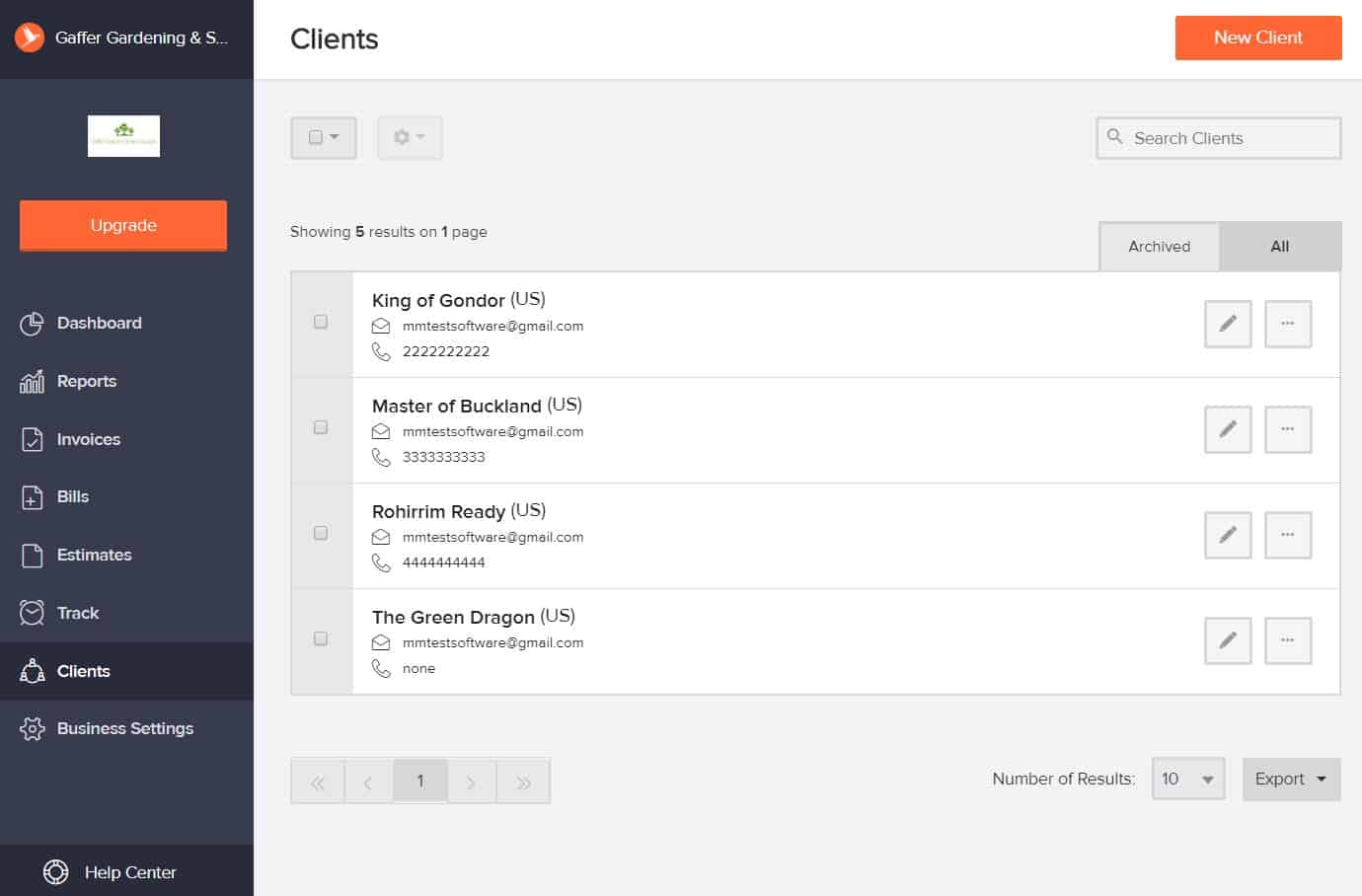 Expense Tracking: Invoicely allows users on the paid plans to track expenses to gain a fuller picture of their financial state.
Accounts Payable: You can create bills and recurring bills in Invoicely to keep track of your accounts payable.
Items List: Invoicely has a very basic items list. There's no item screen, so you'll find an items list under settings, oddly enough. You can save the item name, description, unit price, and unit. There are no inventory capabilities and no easy way to create multiple items at once.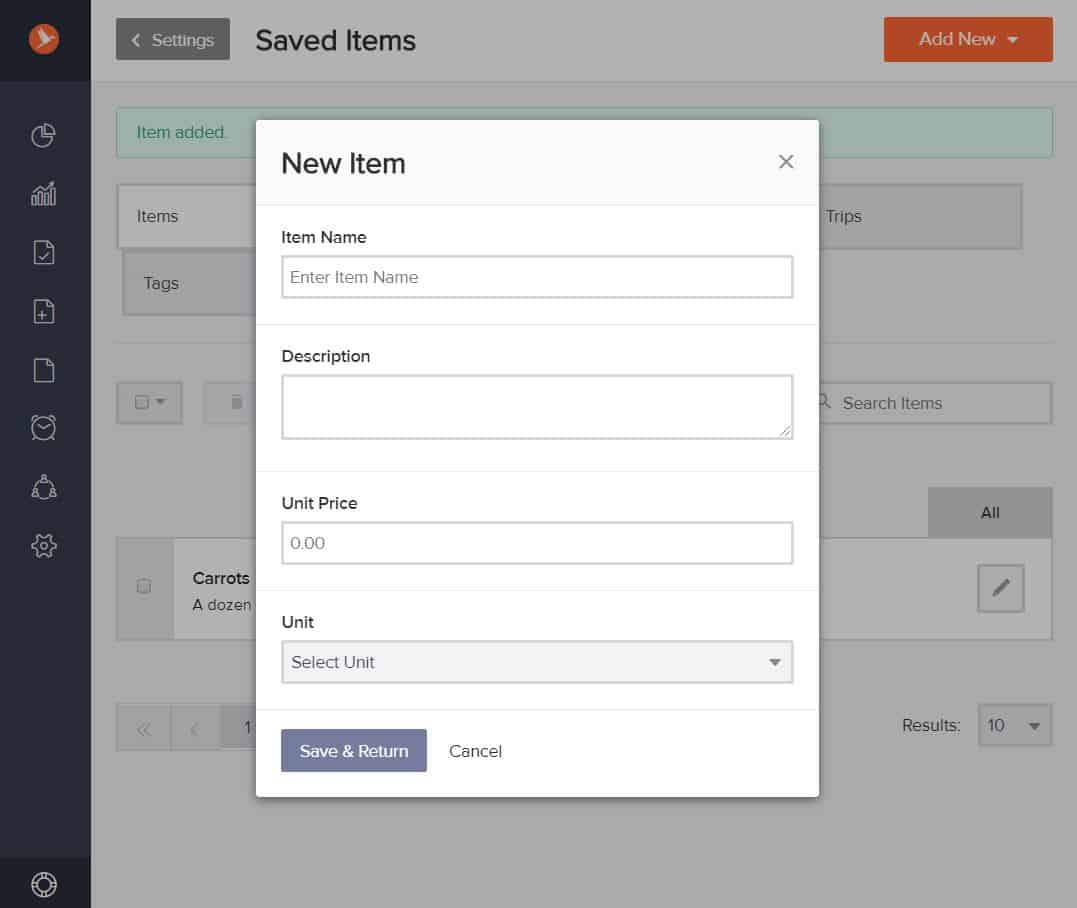 Time Tracking: Paid plan users can track billable time by manually inputting hours or using the built-in timer. You can easily convert billable hours into invoices.
Reports: Invoicely has very basic reporting. You won't find typical reports, such as a Profit & Loss statement. Instead, you can run a report for features, including invoices, payments, accounts payable, accounts receivable, and bills.
Default Email Messages: You can customize the email messages for invoices, estimates, account statements, payment reminders, and payment receipts. You can also control notifications so that admin can receive internal notifications for things, such as accepted estimates, payments made, etc.
Sales Tax: You can save an unlimited number of sales tax rates and easily create new rates directly from the invoice screen.
Mileage Deductions: Invoicely helps you save billable and deductible miles if you are on one of the paid plans. You can convert these miles into an invoice and bill them to a client, or you can write them off as a tax deduction.
Multiple Currencies: Invoicely supports over 160 currencies.
Multiple Languages (In Beta): Invoicely supports 23 different languages.
Importing & Exporting: Invoicely has severely limited importing options. You can only import data from Invoice Machine. Luckily, you can export most information, including invoices, estimates, bills, and reports.
Customer Service & Support
While Invoicely has a decent product, the company's customer support leaves something to be desired. Compared to other companies, Invoicely offers a very small sampling of support resources. There is no phone support, and the help center is quite limited. The main form of support is email, and in my experience, responses take a day.
Here are the customer service options Invoicely does offer:
Email: You can email Invoicely directly.
Support Form: You can fill out a support form on Invoicely's website. You're supposed to be able to fill out a support form from the help center as well, but every time I clicked on the link, it was broken.
Help Center: Invoicely offers a very basic help center with a small collection of how-to articles. There is no search bar, so you have to scroll through every post, although the company has upgraded the side navigation to make viewing these help articles simpler.
FAQ Section: Invoicely has a small FAQ section on its website that revolves around pricing and subscriptions.
Invoicely Blog: There is an Invoicely blog that features helpful business advice and information.
Social Media: Invoicely has a Facebook page.
User Reviews
Negative Reviews & Complaints
In our previous review, Invoicely, as we now know, it had just switched from Invoiceable, so there were hardly any reviews. Now customers have spoken, and the verdict is in. The majority of Invoicely reviews are positive, and many users have good things to say about the software. Flat-out negative reviews are rare, but there are a few recurring complaints users have about the software:
Limited Invoicing: While Invoicely offers good invoicing features and automations, users complain that there is only one invoice template with hardly any customizations. Some users also found it difficult to add payments to invoices correctly.
Lack Of Integrations: A few users dislike the lack of integrations, particularly that there are no accounting software integrations (although, if you're looking for accounting software, many top-rated accounting programs have built-in invoicing worth taking a look at).
Bad Acquisition Transition: I saw quite a few complaints from users who switched from Invoiceable to Invoicely. They reported an inability to import data and issues when trying to upgrade. Others didn't like that they only had a few weeks to access and move their Invoicable data before Invoicely took over and got rid of it.

Rip Off Of Hiveage: One person wrote a detailed article about how Invoicely copied the design of Hiveage, which is an invoicing software that's been around since 2014.
Positive Reviews & Testimonials
Invoicely has had a large increase in reviews since we last evaluated the software in July of 2019, most of which are positive. The software receives 4.7/5 stars on Capterra (based on 170 ratings) and 4.5/5 stars on G2 Crowd (based on 20 ratings). Here are the common praises users had:
Easy To Use: The biggest praise by far is how easy Invoicely is to use.
Free Plan: It's no surprise that many users love Invoicely's free plan.
Good For Freelancers: Several freelancers commented on how much Invoicely helps them keep track of their invoices and bills. They also like that the software saves them time and money, so they could focus on running their business.
Quick & Professional Invoices: Several users comment on how quick it is to invoice clients, and many appreciate that these invoices help their business look professional.
Here's what a few customers are saying:
Big fan of invoicely — keeps it's simple, and easy, but does the job!

Invoicely provides a good product at a fair price including a free tier that offers a lot of helpful features for the freelancer or individual needing invoicing software to make quick work of those pesky billing tasks.

The best part about Invoicely is that they are free and all about growing small business. They provide fast and easy to customize invoices designed for small business with eCommerce and digital clients in mind. Really nicely designed site too with good customer service.

A friend was telling me how much he hates making invoices. Just sent him to invoicely. By far the best invoice system I've ever used.
Integrations & Add-Ons
Invoicely's free plan only supports one payment gateway — PayPal — while the paid plans support six online payment gateways. There are no other third-party add-ons.
This lack of choice seems odd for a program with a parent company, Apilayer, that specializes in API. If your company needs more integrations, we recommend taking a look at Harvest or Square Invoices instead.
Security
Invoicely, and its parent company Apilayer, are not very outspoken about specific security measures. What we do know is that Invoicely uses encryption, regular data backups, and physical security measures to protect user data. Invoicely is GDPR compliant.
For more security details, contact Invoicely directly.
Final Verdict
Invoicely offers the basic functions necessary for running a small business. The software is easy to use and offers decent invoice automations and some unique touches (such as estimate expiration reminders). The software's selling point is its free plan and the ability to manage multiple businesses at no extra cost.
However, the lack of integrations and poor customer service could be drawbacks for some users. Furthermore, while Invoicely has many valuable features, these are all at a very basic level still. This company lacks some of the more developed features invoicing companies such as Zoho Invoice and FreshBooks have already mastered.
For freelancers or small business owners wanting a very simple invoicing solution, Invoicely could still be a decent option. However, the change of implementing invoice and customer limits on each plan is a huge downgrade and rules out this software as a working solution for many businesses. The software's features are also a bit basic, which might be a blessing for some and a curse for others.
For more advanced features, we recommend looking at other invoicing options instead. Invoicely also isn't your only free choice out there; take a look at Zoho Invoice's free plan. Better yet, upgrade to full accounting software and check out the best free accounting programs.
To decide once and for all if Invoicely is a good fit for your business, take advantage of the free plan and let us know what you think in the comments below.
---
We've done in-depth research on each and confidently recommend them.
We've done in-depth research on each and confidently recommend them.
To learn more about how we score our reviews, see our
Invoicing Software Rating Criteria
.
Read Next