Invoicera Review
This simple invoicing software offers international features and a free plan, but may not be right for customers who need live bank feeds.
Expert Analyst & Reviewer

UPDATED
Advertiser Disclosure: Our unbiased reviews and content are supported in part by
affiliate partnerships
, and we adhere to strict
guidelines
to preserve editorial integrity.
Invoicera

Pros
International invoicing
Attractive invoicing templates
Free plan available
Numerous integrations
Cons
Inconsistent customer support
Potentially expensive monthly cost
No live bank feeds
Invoicera Overview
Launched in 2006, Invoicera has now grown to 125 employees and facilitates sending an average of 200,000 invoices a year, worldwide. Invoicera offers strong invoicing with ample invoice automations, the ability to send invoices in 16 different languages, and 30+ payment gateway options for accepting online payments. In addition to strong invoicing, Invoicera offers project management, time tracking, auto-billing, and more.
Unfortunately, the software isn't as developed as it could be. Time tracking and reporting are limited and there are no live bank feeds — which is surprising for a company so focused on automation (especially since even many of the worst invoicing options out there still offer live bank feeds). Invoicera also suffers from poor customer service.
Despite these limitations, Invoicera could be a contender for businesses in need of strong invoicing automations. Read on to see if Invoicera is right for you..
Invoicera Pricing
Invoicera has a forever-free plan, as well as three paid plans. There is a free 15-day trial of the paid plans. No credit card or banking information is necessary to access the trial, and the service can be canceled at any time.
While having a free option is nice, the free plan is limited to only three customers and Invoicera's paid plans have the potential to be incredibly expensive (especially if you need unlimited users like on the Infinite plan). If you're going to be paying more than $30/month for invoicing software (let alone $149/month), you'd get a lot more bang for your buck going with a full-fledged accounting program instead.
Payments are made monthly, although you can receive a 20% discount for an annual subscription. Invoicera has a fairly generous referral plan where you can earn money for the customers you refer. Contact Invoicera directly for details.
Starter
The Starter plan costs $0/month and includes these features:
3 clients
Supports multiple businesses
Unlimited invoices
Recurring invoices
Automated late payment reminders
Estimates
Expense tracking
Project management
Time tracking
Data backups
Customizable templates
Reports
Multi-currency support
Multi-lingual invoicing
1 user
Pro
The Pro plan costs $15/month and includes everything from the Starter plan, plus:
Business
The Business plan is priced at $29/month and includes everything from the Pro Plan, plus:
Infinite
The Infinite plan costs $149/month and includes everything from the Business plan, plus:
Unlimited clients
Unlimited users
Extras
On the Pro plan or Business plan, you can add additional clients for $10/month per 100 clients and additional staff for $9/month per user.
Cloud-Based Or Locally-Installed
Cloud-based. No downloads or installation required.
Hardware & Software Requirements
As cloud-based software, Invoicera operates on nearly any device so long as you have an internet connection. Some features require the use of Adobe Flash to operate. In addition, mobile apps are available for Apple (iOS 10.3+) and for Androids (4.1+).
Specific Size Of Business
Invoicera's pricing plan is designed to be a scalable solution for all business sizes. While businesses from small to large can use Invoicera, the software is missing the key functionality of live bank feeds. The software is not ideal for businesses in need of this feature or that require multiple third-party integrations (apart from payment gateways).
As additional users and clients can get quite expensive, Invoicera is ideal for freelancers, micro-businesses, and small businesses looking for a simple way to automate their invoicing. And while the software does have its shortcomings, Invoicera's saving grace is that it offers multi-lingual invoicing, making it a good option for international business. The software is available in over 230 countries and you can send invoices in 16 different languages.
The software can support unlimited users and multiple businesses for an additional cost. User permissions are available so you can control which features your staff has access to.
Ease Of Use
"Invoicing simplified" is Invoicera's motto and raison d'etre. But while this claim is mostly true, Invoicera's software could stand to be streamlined and simplified even further. Set up and invoice creation, however, is easy and quick. There is also a help center that you can access from the software if you get stuck, as well as built-in live chat support (although it's only available during India Standard Time business hours).
Features
Invoicera's strongest feature is — you guessed it — invoicing. With ample automations and customizations, Invoicera's invoicing shines; however, that's not the only feature this software has to offer. Invoicera has a good selection of features, including the following:
Dashboard: The Invoicera dashboard is a collection of graphs that mark your recent activity and financial state. These graphs include invoices for the year; invoiced, paid, and outstanding invoices; tasks; expenses; recent activities; timesheets; and top-billed customers.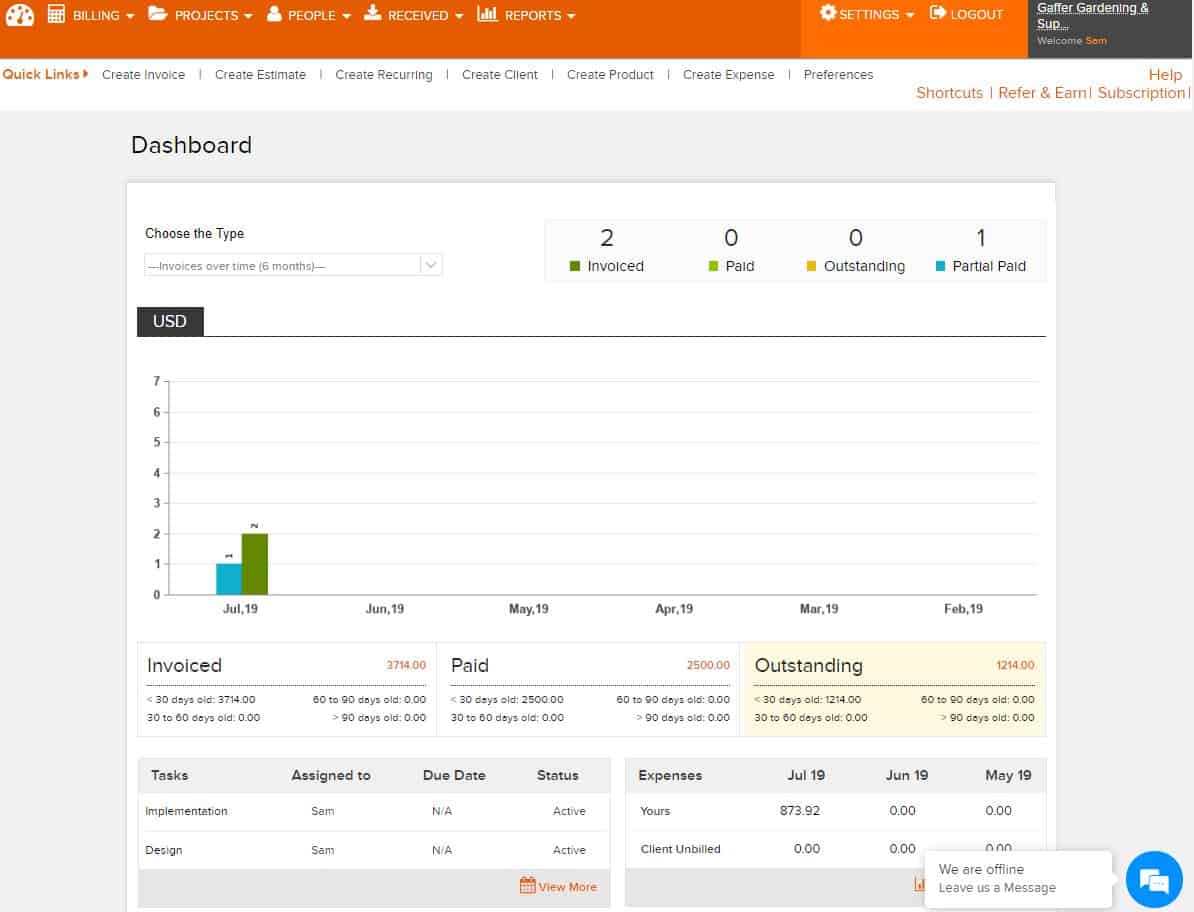 Invoicing: Invoicera offers seven invoicing templates to choose from, or you can design your own custom template. You can invoice for services or items and can accept payments directly from the invoices with your choice of over 30 payment gateways. You can also add attachments and signatures to invoices. Furthermore, Invoicera lets you send reminders and charge late fees. The best thing about Invoicera by far (besides customizability) is the ability to schedule invoices to be sent at a later time and to send recurring invoices. You can also activate an invoice approval workflow and invoice PDF protection. You can automatically charge clients' credit cards to save invoicing hassle and receive quick payments as well.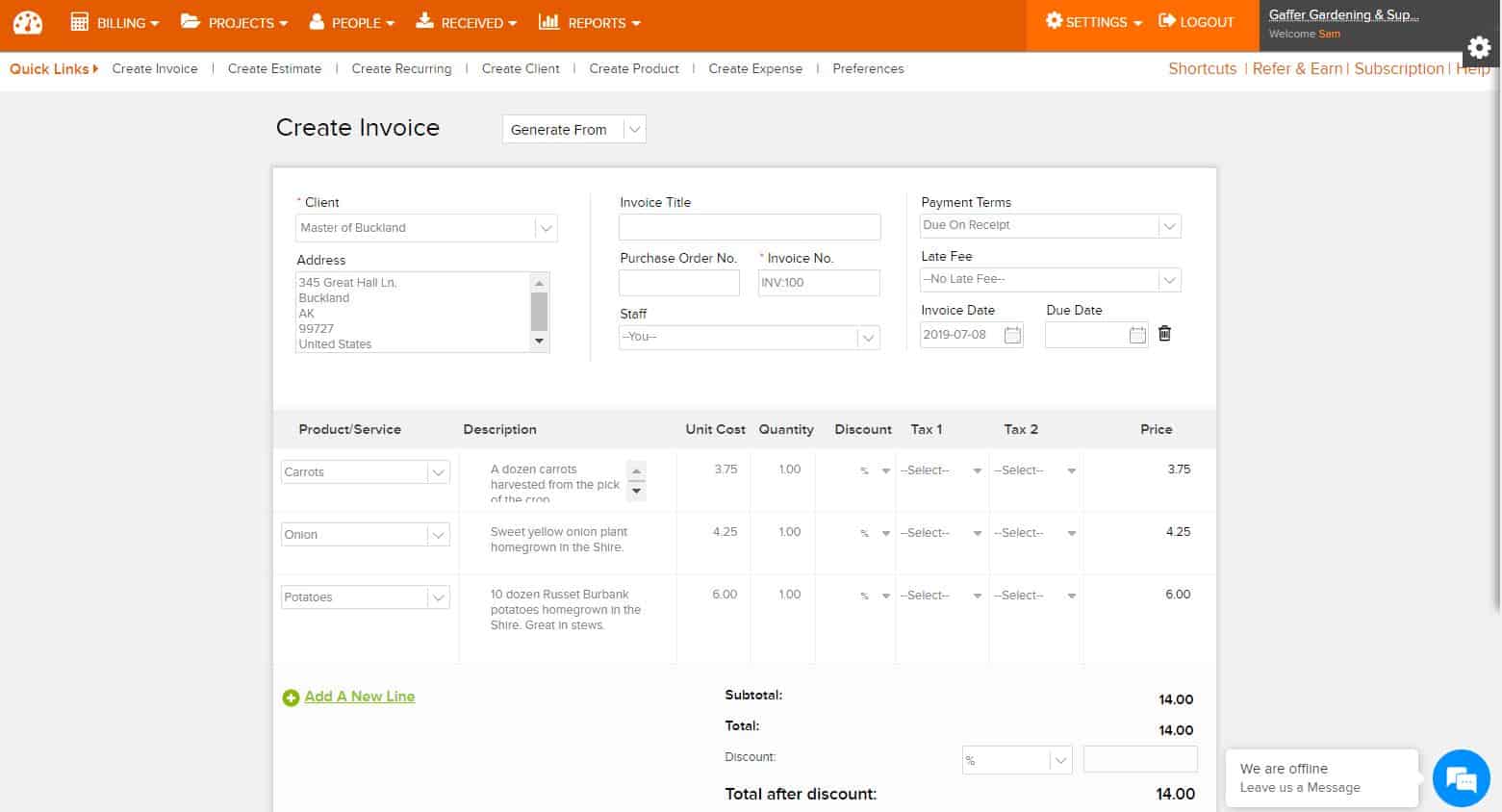 Estimates: Invoicera makes it easy to create estimates. You can duplicate and copy estimates to quickly create a new estimate for a client. You can also convert estimates to invoices. In addition, Invoicera allows you to autoschedule estimates, which is a nice perk that I hardly ever see.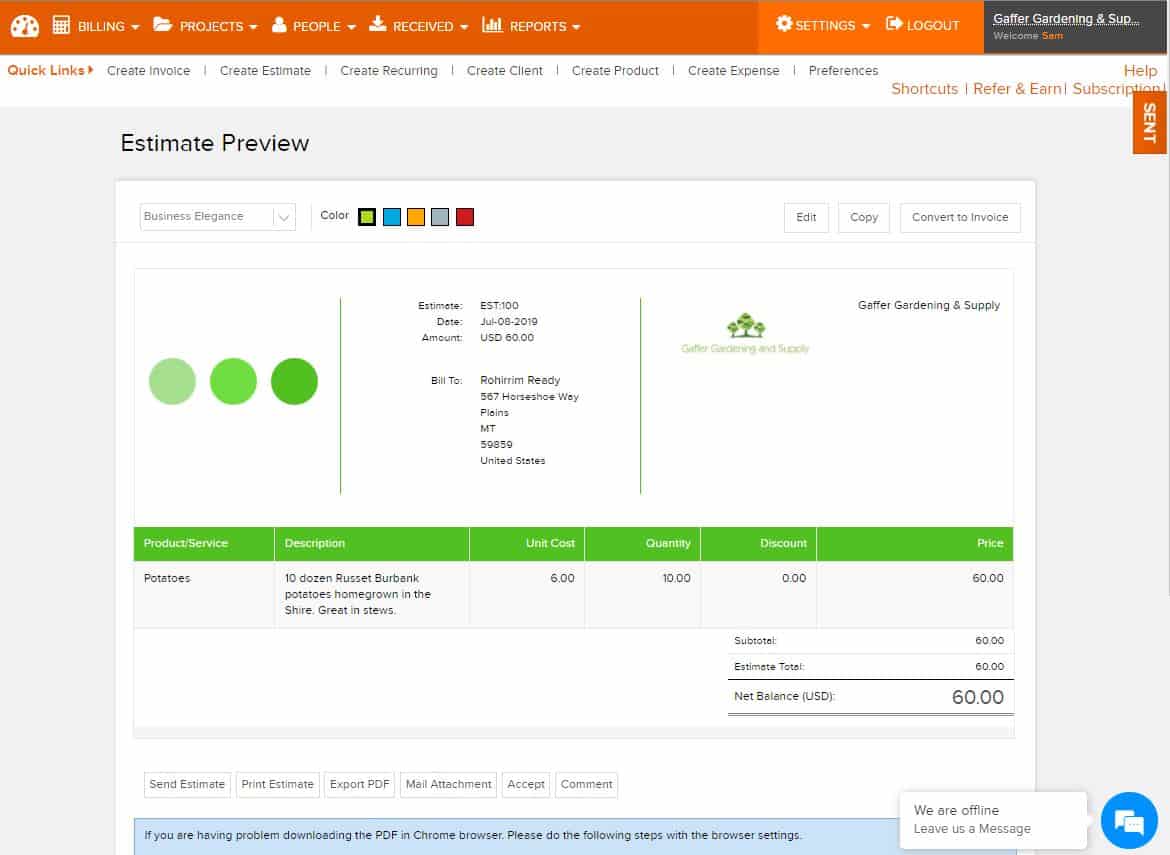 Client Portal: Invoicera offers a simple, easy-to-use client portal where clients can pay for, print, export, or dispute invoices, as well as accept, reject, print, export, or comment on estimates.
Contact Management: Invoicera allows you to manage contacts and vendors. In addition to basic contact information, you can add both billing and shipping addresses to customers. If you click on a client, there's a basic customer dashboard where you can view his or her personal details and invoice history.
Expense Tracking: Through Invoicera, you can track your expenses and add attachments (such as pictures of receipts). You can also import expenses via .xls or .csv. Invoicera supports recurring expenses as well. You can assign specific expenses to staff members or clients and set expense categories. For software so focused on automation, I was very surprised that there are no live bank feeds. The lack of live bank feeds could be a deal-breaker for business owners who don't have the time to import expenses manually.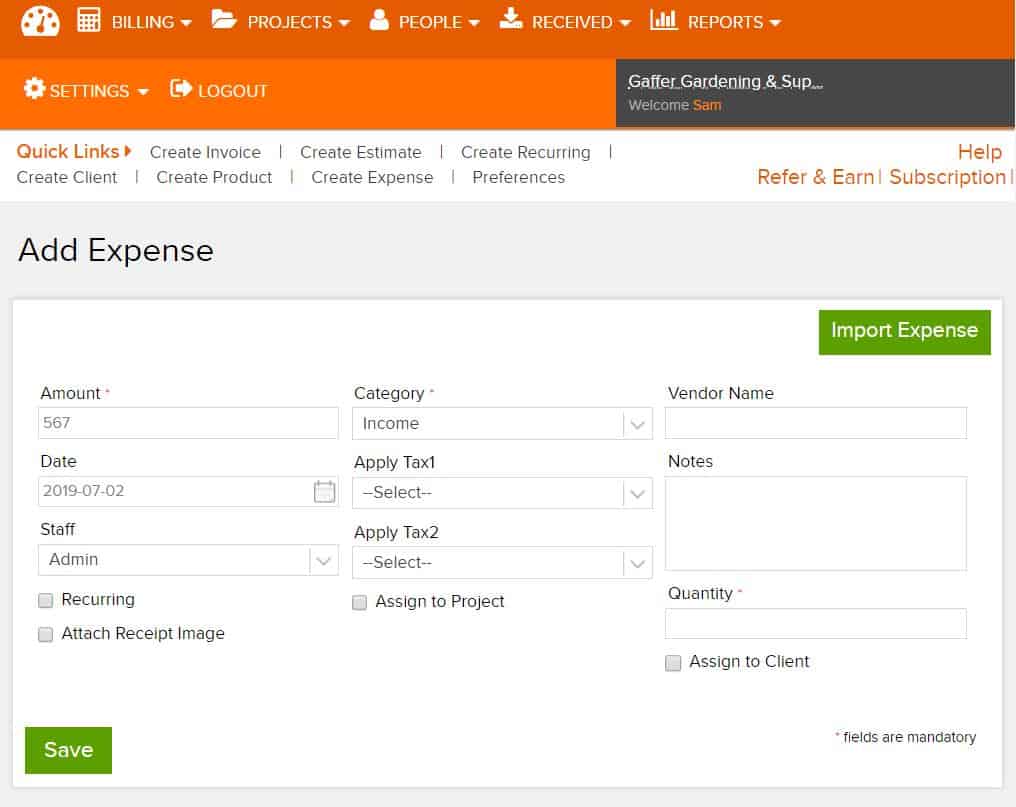 Inventory: Invoicera supports very basic inventory management. You can add basic item information, and you can track item quantity and backorder items if you still want to create an invoice even when your inventory stock is at zero. There's no way to set reorder limits or record COGS (which is an important part of inventory management).
Project Management: Projects and tasks can be created and assigned to specific staff members or clients. You can attach billable and unbillable time to projects as well as important documents and incurred expenses. You can also set task priorities within a project, which is a cool touch and one I haven't seen before. However, creating an invoice from a project is unintuitive, though it can be done.
Time Tracking: While Invoicera does offer time tracking, a built-in timer, and timesheets, these features are a bit wonky and need to be streamlined. Not only do you have to leave the built-in timer as another window on your desktop, you can't add specific blocks of times — only the total hours worked will appear in your calendar. In addition, the time tracking feature itself is not very intuitive, and all time has to be attached to projects and tasks.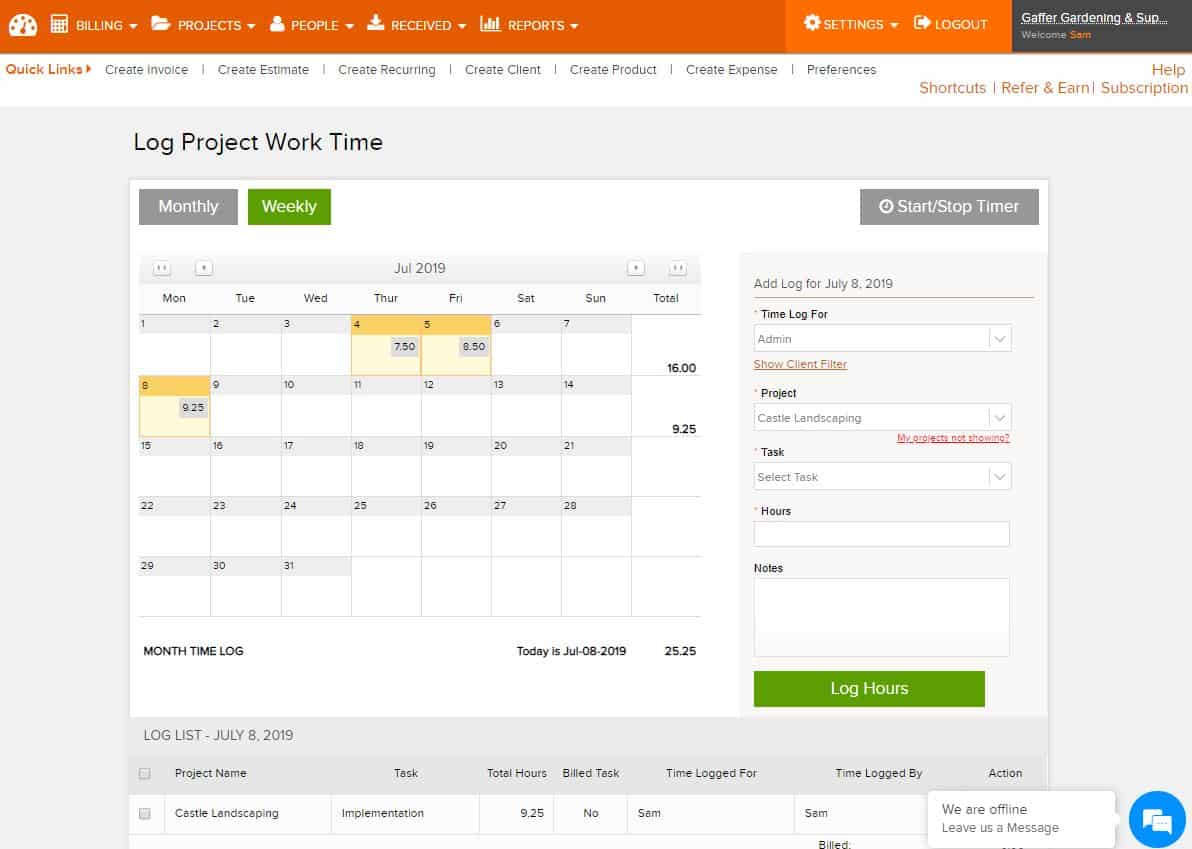 Reports: Invoicera offers 15 reports. Besides a Profit & Loss report, you won't find other typical invoicing reports. Instead, you'll find reports for features like an invoice report, client report, payments report, etc.
Purchase Orders: Invoicera supports purchase orders.
Credit Notes: You can create credit notes in Invoicera.
Default Email Messages: You can customize default email messages for new users, new invoices, new estimates, client login information, invoice payment notifications, estimate thank you notes, and invoice payment reminders.
To-Do List: Invoicera has a built-in to-do list that allows you to choose the task you have to complete, set a date to complete it (or recurring dates), and prioritize the level of urgency and importance of the task.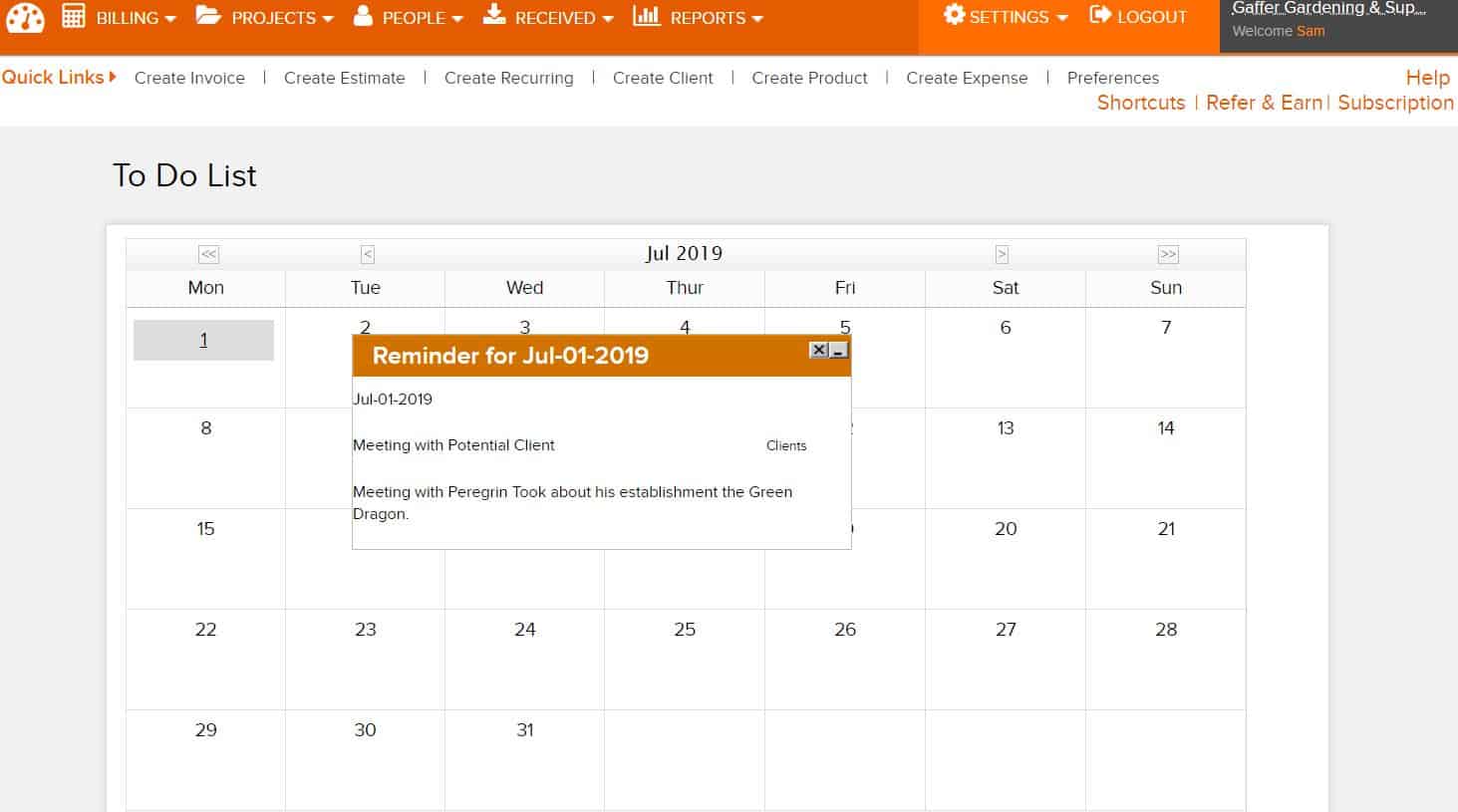 Sales Tax: You can set as many sales tax rates as needed in Inoicera, The software handles compound tax as well.
Multiple Currencies: Invoicera supports over 120 currencies. You can opt to set your own exchange rate or let Invoicera handle that for you.
Multiple Languages: Invoicera offers multi-lingual invoicing, so you can send invoices in 16 different languages: English, Polish, French, German, Russian, Dutch, Italian, Spanish, Swedish, Portuguese, Indonesian, Croatian, Norwegian, Danish, Czech, and Finnish.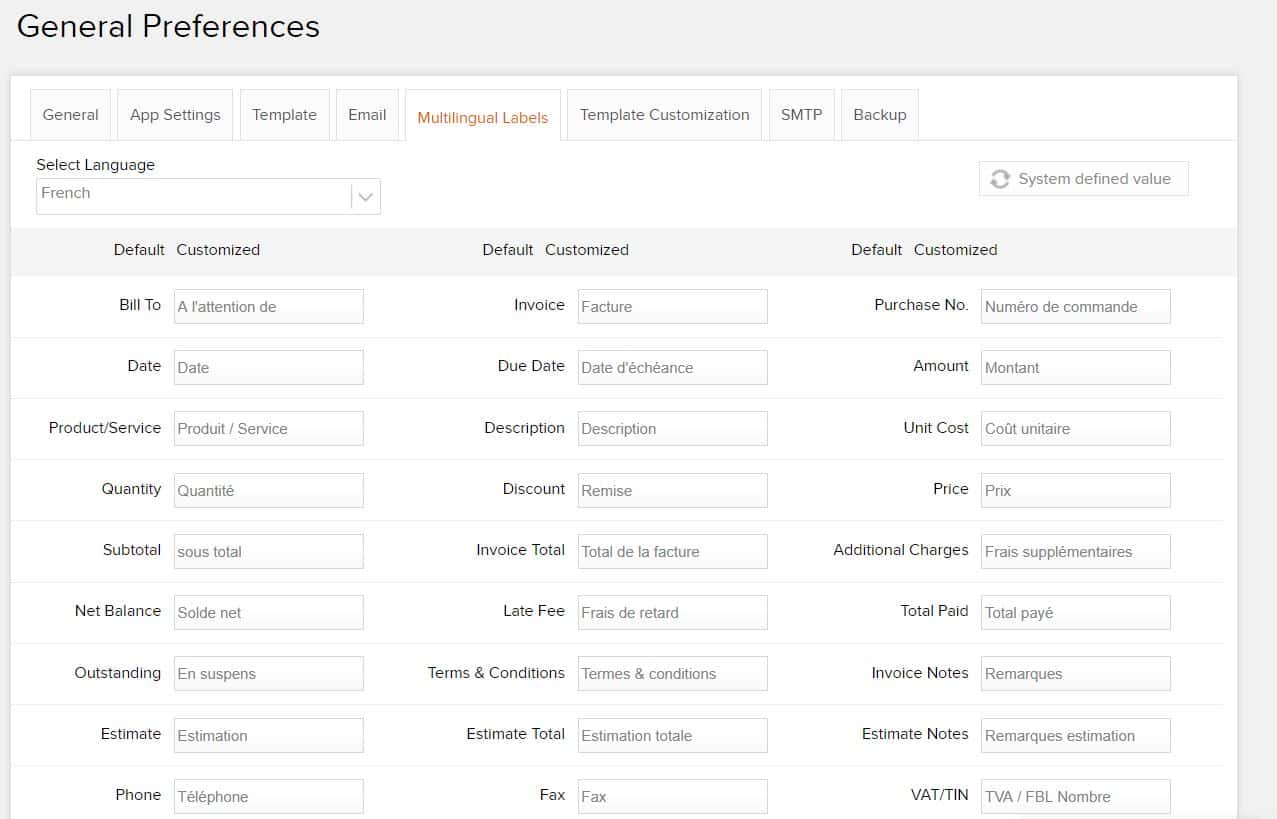 Importing & Exporting: You can import clients, expenses, products, and services into Invoicera using .xls; you can export clients, staff, invoices, estimates, expenses, and products and services as well.
Invoicera Customer Service & Support
Invoicera has a track record of poor customer support. For a while there, the company improved their email and support ticket response times and the staff was friendly, knowledgeable, and refreshingly non-pushy about sales. However, this go-around, Invoicera's customer support was back to its old self — slow and unhelpful. It would take days for me to receive email responses and none of the responses I did receive actually answered my questions. Some customers report having positive support experiences, but I wouldn't hold my breath unless you are in a country with Invoicera phone support.
Here are the ways you can connect with the Invoicera support team:
Phone: Phone support is available for the United States and India.
Email: Contact Invoicera customer service via email.
Support Ticket: You can also create a support ticket.
Live Chat: Live chat is available during Indian business hours; however, I never had any luck with this support option.
Knowledge Base: Invoicera does offer a knowledge base with brief step-by-step articles. While these can occasionally be helpful, the number of articles is severely limited compared to those provided by other invoicing companies.
FAQ Section: There is a short FAQ section on Invoicera's website that mostly covers how subscriptions and account creation works.
Webinar Demo: The one support option Invoicera gets perfectly is the webinar demo. You can set up a free webinar demo with an Invoicera representative. They walk you through each feature, give advice and tips about what features will be most valuable for your business, and answer any questions you may have on the spot.
YouTube: Invoicera has vastly improved its YouTube channel and video offerings. You'll find how-to demonstrations and videos with helpful business tips.
Blog: Invoicera has a blog, which mostly revolves around Invoicera updates and software promotions, though there are some articles with good business advice as well.
Feedback Form: Invoicera provides a space for customers to leave feedback on the software. Within the app, there is also a space to vote for your favorite suggestions (like which integrations you would like best).
Social Media: Invoicera has Facebook and Twitter accounts.
Invoicera Customer Reviews
Negative Reviews & Complaints
Invoicera has a surprisingly small number of customer reviews, and the customer reviews the software does have are almost all from before 2016. The majority of reviews available regard the mobile apps. Because of this, it's difficult to gauge the true user experience of Invoicera. Here's are issues users have had with the software in the past gleaned from the small sampling of reviews:
Mobile App Bugs: This is by far the biggest complaint. Many people report bugs within the mobile app.
Poor Customer Support: A few users complain about Invoicera's customer service.
Unauthorized Charges: One woman reported unauthorized charges placed on her account after she had canceled her Invoicera subscription.
Difficult To Navigate: One user said the software is hard to use.
Positive Reviews & Testimonials
Invoicera receives 4.5/5 stars on G2 (based on 10 reviews), 4.6/5 stars on Capterra (based on six reviews), and 4.3/5 stars on Trustpilot (based on 13 reviews). As you can see, there's not a lot to go off of; although, there are several testimonials and case studies featured on the Invoicera website as well.
Though these sites featured only a small number of reviews, most customer feedback was positive — albeit outdated. Here's what users like most about the software:
Quick & Easy: One of the most common praises of Invoicera is that the software is easy to use and makes sending invoices a quick, painless process.
Saves Time: Many users report that the ease of use and software mobility save them valuable time.
Lots Of Features: Across the board, people love the number of features Invoicera offers. Users especially like the auto-billing feature and the ability to send unlimited invoices and estimates on the free plan.
Mobility: While many users complain about mobile app bugs, plenty of users have never had this issue and appreciate the mobility that the Invoicera apps provide them with.
Good Customer Support: Several users praise the customer support team.
Integrations & Add-Ons
Invoicera has 36 integrations, 31 of which are payment gateways (including PayPal, Stripe, Authorize.Net, Braintree, and more). While the selection of payment gateways is far and above most invoicing programs, there's a severe lack of third-party integrations in other industries. API is available for developers.
Security
Invoicera uses 256-bit SSL encryption and firewall protection to protect data. Data is also backed up routinely onto multiple servers. Invoicera also boasts three-layer security, but you have to add this security in settings, which is a bit bizarre for cloud-based software.
Contact the company directly for more details.
Final Verdict
When it comes to invoicing, Invoicera does a great job. The software offers ample invoice customizations, multi-lingual invoicing, and tons of time-saving automation like auto-scheduling invoices and auto-billing. Invoicera has a good selection of additional features and a large selection of payment gateways.
While this software has a lot going for it, there are several areas Invoicera could be improved. The UI is a bit difficult to navigate at times and certain features could be more developed, like time tracking and reporting. There are also no live bank feeds and limited third-party integrations outside of the payment processing market. The lack of recent updates or customer reviews is also worrisome, as is the fact that you have to add security measures yourself to the cloud-based software.
For small businesses focused on invoicing, Invoicera could still be a decent option, especially if you need international invoicing. The $15/month Pro plan offers good value for money, and overall the software is easy to use. However, if you are a larger business needing more developed features or a US business wanting better customer support, we recommend a solution like Zoho Invoice. You'll get much more bang for your buck with Zoho Invoice, plus you'll still have multi-lingual invoicing. Check out our Zoho Invoice review to learn more, or take Invoicera for a spin with a free 15-day trial.
Invoicera FAQs
---
Try A Top Pick For Payroll
ADP Payroll


---
We like ADP Payroll for its advanced employee management, strong payroll features, and great customer support. Get three months free when you sign up through our links! Get Started.
Try A Top Pick For Payroll
ADP Payroll


---
We like ADP Payroll for its advanced employee management, strong payroll features, and great customer support. Get three months free when you sign up through our links! Get Started.
To learn more about how we score our reviews, see our
Invoicing Software Rating Criteria
.