Expert Analyst & Reviewer

UPDATED
Advertiser Disclosure: Our unbiased reviews and content are supported in part by
affiliate partnerships
, and we adhere to strict
guidelines
to preserve editorial integrity.
Pros
Excellent blogging tool
Intuitive editor
Competitive pricing
Free plan available
Cons
Limited customer support
No in-house eCommerce
Page limit in free plan
Jigsy Overview
Jigsy is an easy-to-learn drag-and-drop DIY website builder with some distinct advantages for the blogger and the small-time seller. With a name that sounds like a party game played by drunk people (making way too much noise in a little apartment), Jigsy is the end-user site of Viviti CMS. Founded in 2007 by Dave Shworan, Jigsy remains a small fish in the rising sea of WYSIWYG website builders. They aren't generating much interest at the moment, which is unfortunate, as Jigsy's website builder is fundamentally solid. Jigsy's flexibility and utility, particularly for free users, warrants a closer look.
Jigsy is run by a small team operating out of Parkville, B.C., situated on the west coast of Canada. It may seem to be a small thing, but the fact that Jigsy provides information about its team on its About page is an encouraging sign. The field of online DIY website builders is positively awash in unreliable generic mush operated via strings by faceless spam specters, and these entities tend to be understandably shy about providing pitchfork-curious customers with information like company addresses and employee names. Disclosure breeds accountability. Jigsy, whatever its shortcomings, acknowledges its own existence.
Jigsy isn't exactly a heavyweight in the field, and I don't expect it to surpass the likes of Wix or Squarespace anytime soon, but it has one edge over many of its rivals: through integration with Ecwid, you can easily establish a limited web store (10 items or less) on your Jigsy site without having to pay a thing. While larger businesses may not find this free eCommerce solution to be sufficient (Jigsy offers PayPal and eBay integration to paid customers), I do know someone who uses Jigsy as a free website for exactly this feature. Yes, that's just a sample size of one, but it illustrates the fact that there's a segment of the market out there that Jigsy's bigger, more advanced competitors are overlooking.
As a company, Jigsy seems to be getting its act together as of late. When I first reviewed Jigsy, I had been unable to sign up for a premium account – the sign-up page simply wouldn't advance, and my email describing the problem wasn't answered until weeks later. Thankfully, the problem has been resolved, and I was able to sign up for a paid account without incident.
Pricing
Jigsy offers a fully free plan. No, it won't expire, and no, you won't have to enter your credit card information to access it.
Jigsy offers three paid plans as well. When I first started looking into Jigsy, they offered only one paid plan. While this arrangement made things simple for the curious shopper, it would mean that I'd need to spend less time writing the Pricing section of this review – and I get paid by the hour. Thankfully, just the other day, as though psychically responding to my needs, they rolled out three different paid subscription levels for me to detail. Thanks, folks!
Jigsy lists these plans and their benefits here.
Free
25 MB storage (ouch)
5 Pages
1 Website
Jigsy Advertising
A Jigsy-branded Subdomain
Limited Components
"Premium" Support
Starter
$3.59/month (1-year plan)
$3.19/month (2-year plan)
$2.79/month (3-year plan)
$3.99/month (monthly plan)
500 MB Storage
10 Pages
1 Website
Jigsy Ads Removed
Custom Domains
All Components
Priority Support
Basic
$7.19/month (1-year plan)
$6.39/month (2-year plan)
$5.59/month (3-year plan)
$7.99/month (monthly plan)
All of the Above PLUS:
2 GB Storage
99 Pages
3 Websites
Password Pages
Premium
$8.99/month (1-year plan)
$7.99/month (2-year plan)
$6.99/month (3-year plan)
$9.99/month (monthly plan)
All of the Above PLUS:
5 GB Storage
Unlimited Pages
10 Websites
Jigsy offers Visa and Mastercard as payment options, as well as PayPal. No mention is made of any money-back guarantee.
You might have noticed that Jigsy is oddly vague about what is included in their plans ("Limited Components" for free users vs. "All Components" for paid users). It would be nice if there were some golden-hearted angel out there who could actually go through Jigsy's editor and tell you which components are reserved for paid subscribers.
. . .ok, I'll step forth as your humble hero. The components exclusive to paying users are the following:
HTML5 Video Player
Regular Video Player
Embed Flash
Vimeo Player
Audio Player
PayPal Store
eBay Listings
Website Traffic Statistics
The ability to add Javascript or HTML code
The ability to upload a custom theme
Another odd aspect of Jigsy's promotional material is that they don't point out the free Ecwid eCommerce integration. The front page mentions the PayPal and eBay integrations, which are paid features, but not the free Ecwid. Seems to me Jigsy isn't putting their best foot forward here. The free eCommerce – limited as it is – is a distinguishing point they could be using to market themselves to the hobbyists and small-time sellers that are likely to be their target audience anyway. Higher-volume sellers will probably prefer the more sophisticated, fleshed out site builders of the Wix/Weebly/Squarespace variety.
Web-hosted or Licensed
As you would expect, Jigsy is completely web-hosted.
Hardware/Software Requirements
The only hardware requirement is a computer. As for software, Jigsy states the following in its wiki: "We recommend downloading the latest version of Firefox for use with website builder. It is also compatible with the latest versions of Safari, Google Chrome, and Internet Explorer. Other browsers and earlier versions are supported, but for best use of our services, please try the above first."
Business Types Supported
Jigsy's 321 templates – most of which are mobile-responsive and all of which are available to browse before the sign-up process – offer themes specific to a variety of different industries, from photography to the restaurant industry to sales to construction to law. Unfortunately, they are not categorized by field, so browsing through the selection to find the one you want is going to involve lots of scrolling and lots of waiting for the images to resolve. After the signup process, you're offered a search box when changing your template, though that doesn't end up working terribly well either. Jigsy's templates, while not groundbreaking, are clean, attractive, functional, and numerous, so it's a shame they're not presented more conveniently.
Ease of Use
To say that Jigsy is intuitive and enjoyable to use would be an understatement. I probably had more fun making a silly test site with Jigsy than I have with any other website builder I've reviewed. Essentially, I spent very little time wondering how to do things, and much more time simply doing things.
Theme Editor: Along the top bar of the editor, you'll find the Edit Theme option, and from here you can customize every aspect of the fonts used on your site, from the titles to the heading to the body text. You can also change the image used as your background theme or upload your own. Jigsy gives you more freedom in altering the look of your chosen theme than do many other site builders. Further to the right on the top bar, you can adjust the basic layout of your page, adding or subtracting columns and rows as desired. You can change the header image further to the right in Page Settings – maybe the only editing option that seems oddly placed.
Further editing of your content blocks is easy as well. Hover over any of your content and a box will form around it. Dragging the box lets you move the content to another location on your page, and the icon in the top right corner of the box brings up editing options for your block of content. From there you can edit every aspect of that content block, from editing the fonts and text size to adding a YouTube video to choosing a different content template for your block – a template within a template. You can even animate your block of content. For my test site, I had my titles and body text either vibrating, spinning or pulsating. Ridiculous, yes, but it gave me a chuckle.
Don't judge me.
Adding Content: Adding content to your page is as simple as clicking the "Add Content To Page" button on the top right of the screen, choosing from five content categories (Content, Blogging, Multimedia, Social and eCommerce), dragging said element to wherever you want it to go and dropping it onto your page. It truly couldn't be simpler.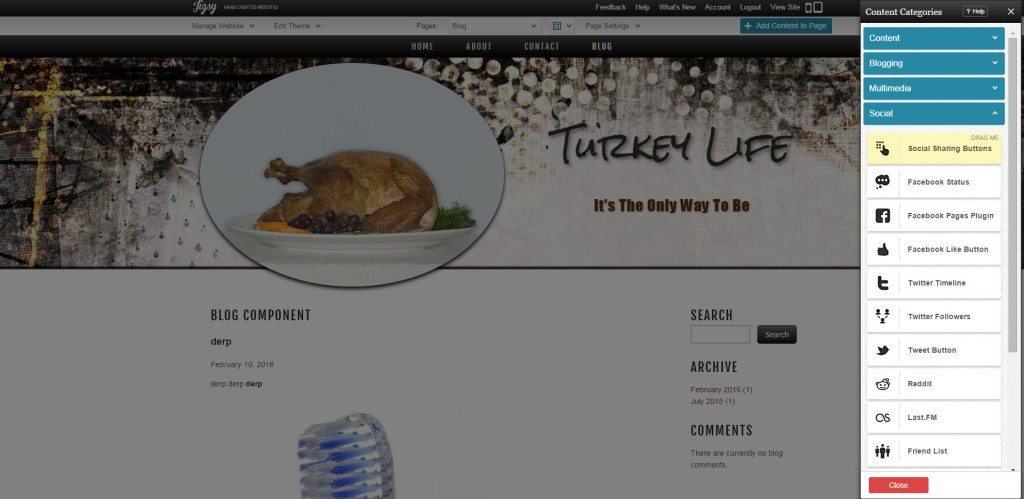 One thing Jigsy lacked in the past (which I dinged them for in previous reviews) was a way to undo your edits and revert your website to a previous state. Undo/redo buttons are commonly found in website builders considerably less fun than this one, so their absence here was a prominent disappointment. Thankfully, Jigsy has since rectified this. In a recent blog post describing their new "Text/Content Component Revision" feature, they state "Your last 10 changes are now saved so you can revert changes on any Text/Content Component. That means if you accidently [sic] delete content you can undo it. Revisions can be found under the settings drop down."
Preview Mode: Jigsy, like every other website builder worth its salt, provides a Preview mode so users can preview the appearance of their site before publishing or updating it. Jigsy's preview mode actually goes further than that of most others – they let you preview your site's tablet and smartphone look in both portrait and landscape mode! OK, so it's not the most consequential innovation of our time, but it's a nice little bonus.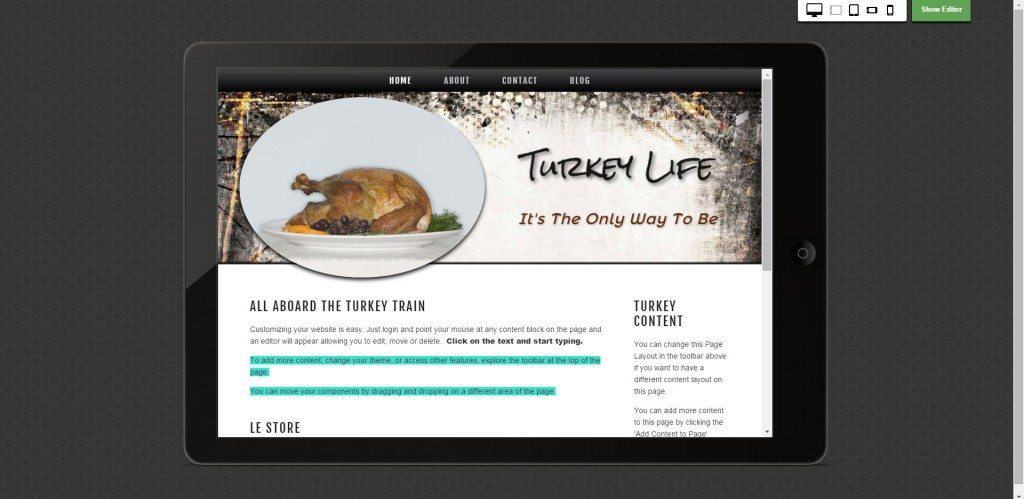 Features
Jigsy has a number of quality features that are easily added:
Blogging Tool: Jigsy includes a blogging tool that allows you to easily create and manage a clean, modern-looking blog. You can add photos and videos to your posts, create content templates which allow you to arrange your text and images just so, and edit the HTML of your posts.
From the "Manage Website" drop-down link on the top left of the screen, you'll find a Blog option which leads you to a screen where you can manage your posts, categorize them, establish an RSS feed, link your blog to your Facebook and/or Twitter account, or import your existing WordPress blog data.
If you're looking for a free blogging platform, you could do a lot worse than Jigsy. Give them a look!
Free eCommerce: As I said earlier, Jigsy's integration with Ecwid allows you to sell up to 10 items on your Jigsy site without paying for a premium package. Under the eCommerce content category, you'll find three Ecwid widgets: product listing, product search, and shopping bag. Place these elements and you'll be directed to Ecwid, where you can set up an account for free and offer up to 10 items for sale. It's a great option for the small-time seller, and I appreciate anything that acts as a democratizing force in the market.
For paying customers, Jigsy offers integrated PayPal and eBay listings as well. Both are simple widgets that connect to your existing PayPal/eBay accounts and allow you to display products for sale. They perform as you would expect third party eCommerce features to perform. They're nice additions to the premium package, but at the premium subscription level, a dedicated in-house eCommerce solution would be nice.
Other Jigsy features include a comprehensive and thorough contact form that lets users upload attachments, a huge stock photo library, SEO and site traffic statistics that reserve their better features for paid users, and a world map.
Jigsy has recently introduced a number of improvements and new features. Along with the aforementioned new-found ability to revert changes you've made to your site, Jigsy has introduced such new features as a Disqus component, a Lightbox image viewer, customizable social media buttons, and a Layout Builder that lets you essentially create your own templates.
Another new feature – one that brings Jigsy some mobile relevance – is the new Film Roll component. It lets you horizontally scroll through the images in your gallery. It's perfect for swiping through on your smartphone. There's also a new Instagram widget that lets you incorporate your Instagram feed into your website.
Web Design and Editing
Templates: Jigsy currently has 321 templates – referred to as themes – on offer. A majority of them are mobile responsive (the smartphone in the corner of the preview thumbnail lets you know if they're responsive or not). And while they're not as gorgeous as, say, Squarespace's templates, they're quite attractive and functional, and Jigsy gives you a greater degree of freedom in editing your chosen theme than do many other website builders (cough cough Webs ahem). And if you change your theme midstream, all your content will carry over to the new theme, with the exception of your header image.
Mobile Editor: Jigsy doesn't offer any mobile apps for editing or blog management. Luckily, most of Jigsy's themes are responsive to mobile devices, so your style options will carry over to the tablet/mobile version of your site. Sadly, unlike some competitors, Jigsy doesn't let you specifically edit the auto-generated look of your mobile site or make a landing page. For that reason, it loses a few style points here.
Integrations and AddOns
Along with the Ecwid, PayPal, and eBay shop integrations, you get a wide variety of social media buttons and plugins for connecting to Facebook, Twitter, Reddit, and Last.fm. You can even add your Xbox gamertag. (We PlayStation types have been tragically neglected by Jigsy, though.)
Other integrations include a widget for Youtube video, a Flickr gallery, Google Maps, a Google document reader, and Google Analytics for SEO. Additional 3rd-party integration is available by adding Bravenet Web Apps, though this will require you to sign up for a free Bravenet account. What's unfortunate is that you won't find any information about these web apps before signing up with Bravenet.
Payment Processing
Jigsy has no in-house eCommerce, so you'll have to set up your payment processor(s) through your Ecwid, PayPal or eBay account.
Customer Service
Non-paying Jigsy users are limited to using a searchable support wiki, while paid customers can get priority email support via support tickets. Jigsy had provided community forums for its users to discuss the product, but these forums have recently been taken down, likely due to inactivity. Before they were removed, I noticed a distinct lack of recent posts. Not a promising indicator of Jigsy's health.
Negative Reviews and Complaints
Professional criticism of Jigsy focuses on the following:
Keep in mind that some of these reviews contain outdated feature/pricing information.
Customer feedback isn't terribly easy to come by, as Jigsy doesn't have a huge user base (I did find some user criticism of the stringent page limit in the free plan).
Positive Reviews and Testimonials
Jigsy has been given kudos by reviewers for the following:
Again, we're talking about a small sample size, but Jigsy users have praised the level of theme customization, the customer service and the quality of the free package.
Final Verdict
Jigsy is a good website builder beset by less-than-ideal presentational polish, a less-than-thorough sales pitch, and, judging by the lack of new forum activity, waning consumer interest. With problems like this, Jigsy isn't in the best position to be truly competitive with the big boys, to put it gently.
The thing is, in spite all this, I like Jigsy. They give every indication of being a deeply flawed yet honest actor in an industry rife with cynical entities hatched in the shadows to make an unaccountable buck off the unwary time-starved dreamer. Their website builder is fun, versatile, and thoroughly intuitive. They offer an excellent blogging and even facilitate free eCommerce, limited as it may be. With a foundation as robust as this, Jigsy is punching below their weight as a company and that makes me sad. I'd love to see Jigsy grow and mature to the point where it can truly take on the Super Bowl ad-buying industry leaders. If that doesn't happen – and the signs are less than promising on that front – Jigsy still provides quality tools to those whose ideas exceed their cash on hand. And for that, I come not to bury them but to praise them.
Let's see if they can remain competitive in the realm of website builders.
---
We've done in-depth research on each and confidently recommend them.
We've done in-depth research on each and confidently recommend them.
To learn more about how we score our reviews, see our
Website Builders Rating Criteria
.