Expert Analyst & Reviewer

UPDATED
Advertiser Disclosure: Our unbiased reviews and content are supported in part by
affiliate partnerships
, and we adhere to strict
guidelines
to preserve editorial integrity.
Kashoo

Pros
Good iPad app
Easy to use
Excellent customer support
Unlimited users
Cons
Limited features
Limited integrations
Kashoo Overview
Kashoo — it's not a sneeze noise; it's accounting software.
Kashoo is a cloud-based program with a beautiful iPad app and excellent customer service. The software is easy to use and offers double-entry accounting with features designed to fit small businesses. The other highlights of Kashoo are an affordable monthly plan and unlimited users.
While the software does get some things right, Kashoo has a long way to go before being a fully-featured small business accounting solution. The software doesn't provide estimates or time tracking, and there are limited reports, integrations, and invoice customizations.
Despite these drawbacks, Kashoo receives many positive reviews from its customers. Users seem to enjoy Kashoo's simplicity and that they don't need an accounting degree to use bookkeeping software. To see whether or not the pros outweigh the cons for your own business, continue reading.
Kashoo Pricing
Kashoo offers a few pricing plans, and payments are made monthly; although, you can receive a discount of two free months of service for paying annually. There is a free 14-day trial. No credit card is required, and you can cancel the plan at any time.
There are a few ways you can go, as Kashoo offers a free plan for just invoicing and an accounting plan called TrulySmall that starts at $20/month.
The TrulySmall Accounting plan includes:
Invoicing
Logos
Accept CC payments
Auto-matching/reconciliation
Track income and expenses
Items list
Project management
Advanced reports
Visual dashboard
Accountant access
Unlimited users
Bulk editing
For $30/month, you get access to the full feature set from Kashoo, which includes most of what you can get from the accounting and invoice plans along with:
Customizable layout
Check printing
Items (inventory)
Projects
Multiple currencies
True double-entry ledger
Multiple users
Extra Costs
There are a few extra costs to keep in mind when purchasing Kashoo.
Payroll: For businesses requiring payroll, Kashoo partners with SurePayroll. Kashoo users get a 20% signup discount with SurePayroll. To give you an idea of cost, a payroll plan for up to 10 users starts at $54.99/month and includes unlimited pay runs, direct deposit, tax filings and payments, and W-2 and 1099 reporting.
Multiple Companies: Kashoo doesn't support multiple companies, meaning you'll have to buy separate subscriptions for each business. However, unlike most other software, Kashoo offers a discount for purchasing multiple subscriptions. You can add businesses at a discounted rate of $13.95/month (saving you $6/month per additional business).
Mobile App: While Kashoo's mobile app is free, it only is available with the $30/month plan. The TrulySmall invoicing and accounting app is available for both Android and iOS.
Cloud-Based Or Locally-Installed
Kashoo is cloud-based, so no downloads or installation are required; information is stored remotely, and you can access it anywhere with an internet connection.
Hardware & Software Requirements
Since Kashoo is cloud-based software, it is compatible with nearly any device so long as you have internet access. Kashoo recommends the most up-to-date browsers for optimal use.
Kashoo provides a brilliant iPad app. One of the best parts about the Kashoo iPad app is that it still functions offline during internet outages and will simply save your data until it can sync back up to the internet. This app works for iPhones as well (iOS 11.0+), but there is no longer an Android app available. For TrulySmall Accounting, there is an app for both Android and iOS.
Specific Size Of Business
Kashoo has geared its software to the needs of small businesses and was "designed for business owners. Not accountants." The software's features cover the needs of some small businesses, especially those looking for a basic, easy-to-use accounting solution with excellent customer support.
However, the software is not ideal for small businesses needing estimates, time tracking, invoice customizations, or more advanced features, such as budgeting. Without these features, the software is not scalable or suitable for larger businesses. Also, there is no cash-basis accounting. For businesses in need of cash-basis accounting or more advanced features, we recommend looking at QuickBooks Online instead. Or check out the best accounting programs for small businesses for more options.
Kashoo supports unlimited users. There are basic user permissions available. You can set three different user roles, but there's no way to control access to individual features. The software is available in over 200 countries. You'll need a separate subscription for each business you plan on managing with Kashoo, but the company does offer a discount for subsequent accounts.
Accounting Method
Kashoo accounting uses the double-entry method.
Ease Of Use
Kashoo is fairly intuitive and easy to use. The software also offers a "getting started" guide when you first set up your account, and you can access the help center or live chat from directly within the software if you need help. It also offers a 14-day free trial that you can set up immediately and tool around the system on your own.
Setting up charts of accounts is simple if you're familiar with the process, and it's easy to add new users. There are also some very handy tutorials to walk you through some of the basic functions. If you're a complete novice at accounting software, it may take you some time to get accustomed to the interface and its features, but once you get the hang of it, it's smooth sailing.
Kashoo Features
Kashoo offers a decent selection of features. A few features are missing, and some could be more developed to offer greater functionality, but Kashoo does cover the basics. Here are the features you'll find with Kashoo:
Home: Unlike most cloud accounting software, Kashoo does not provide a dashboard. The home page is called Income and Expenses and allows you to add new transactions quickly. You can also easily view your account totals on the side of the screen to keep track of your year-to-date spending and earnings. The software also automatically calculates your net income.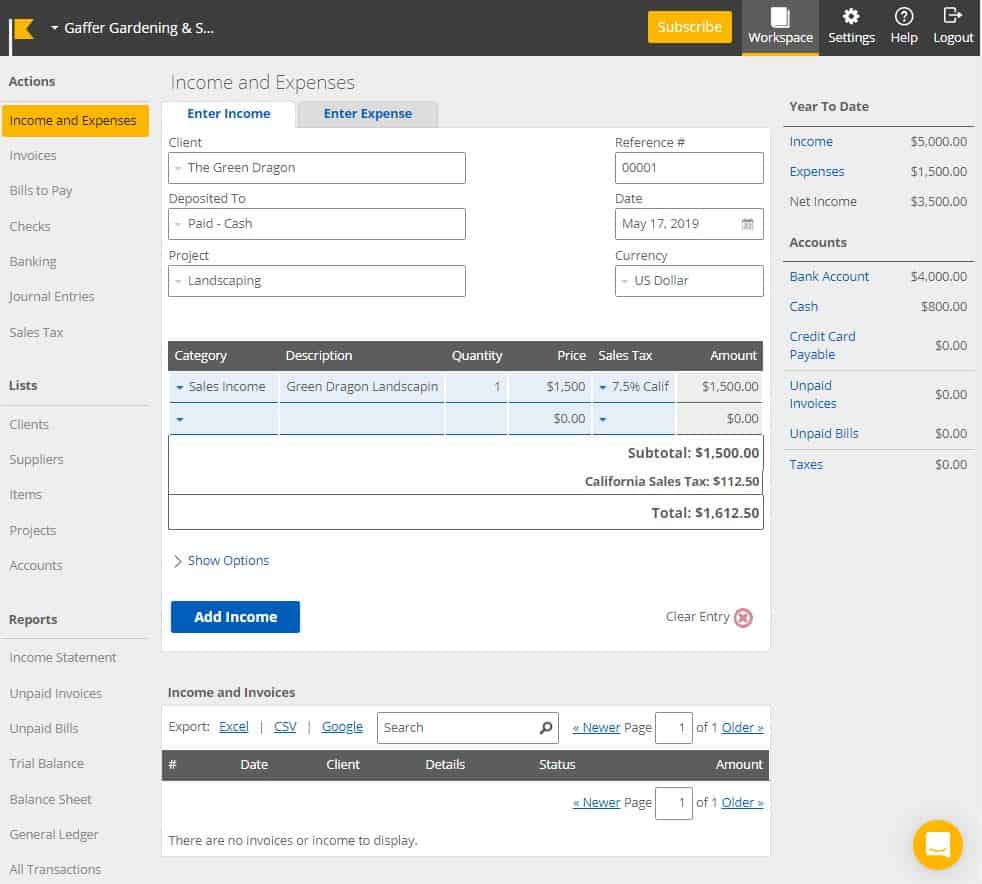 Invoicing: Kashoo offers a very simple invoicing feature. There's only one template available and hardly any customization options. Additionally, there is no estimates feature to pair with the invoicing feature, which even the most basic accounting programs and free accounting programs offer. On the bright side, you can create recurring invoices and easily add sales tax rates.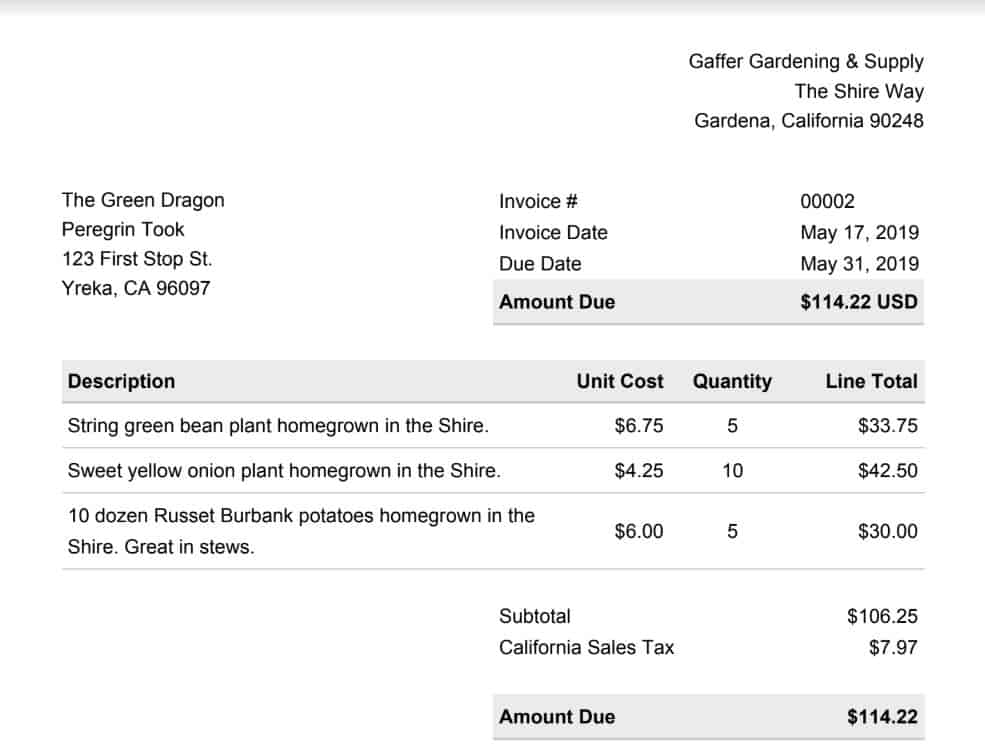 Contact Management: The contact management feature allows you to save a decent amount of client information, including a default income account and default sales tax rate. You can manage both customers and suppliers in Kashoo.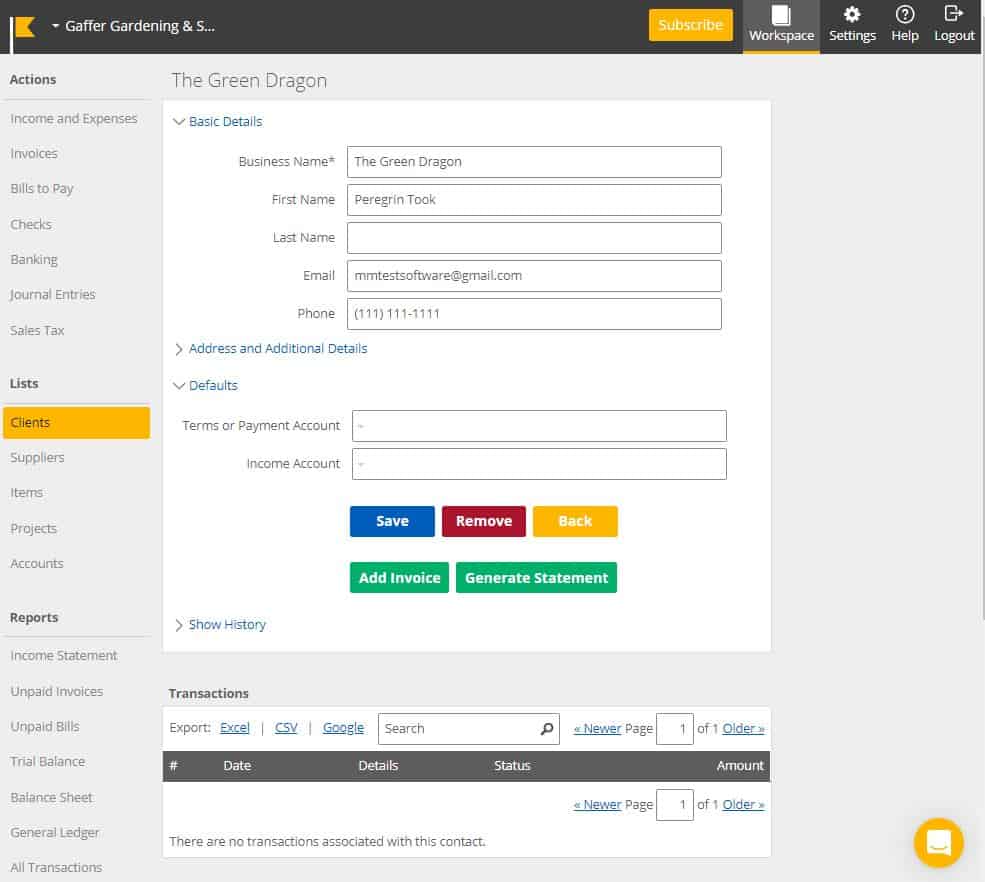 Expense Tracking: Kashoo makes it easy to import and track expenses. The mobile app can capture pictures of receipts. Through Kashoo, you can choose to import bank statements manually by .ofx, .qbo, and .qfx, or you can utilize the live bank feeds feature. The software automatically suggests transaction matches. However, there is no way to set up automatic bank rules. Note: Like almost all software using bank live feeds, Kashoo partners with Yodlee, which may violate some banks' Terms and Conditions. Consult with your bank to see whether live bank feeds are the right choice for you.
Bank Reconciliation: You can reconcile your bank accounts in Kashoo.
Chart Of Accounts: Kashoo provides a traditional, default chart of accounts that can be customized and built upon. There's no separate fixed assets feature, but you can manage fixed assets and their depreciation using the chart of accounts and journal entries.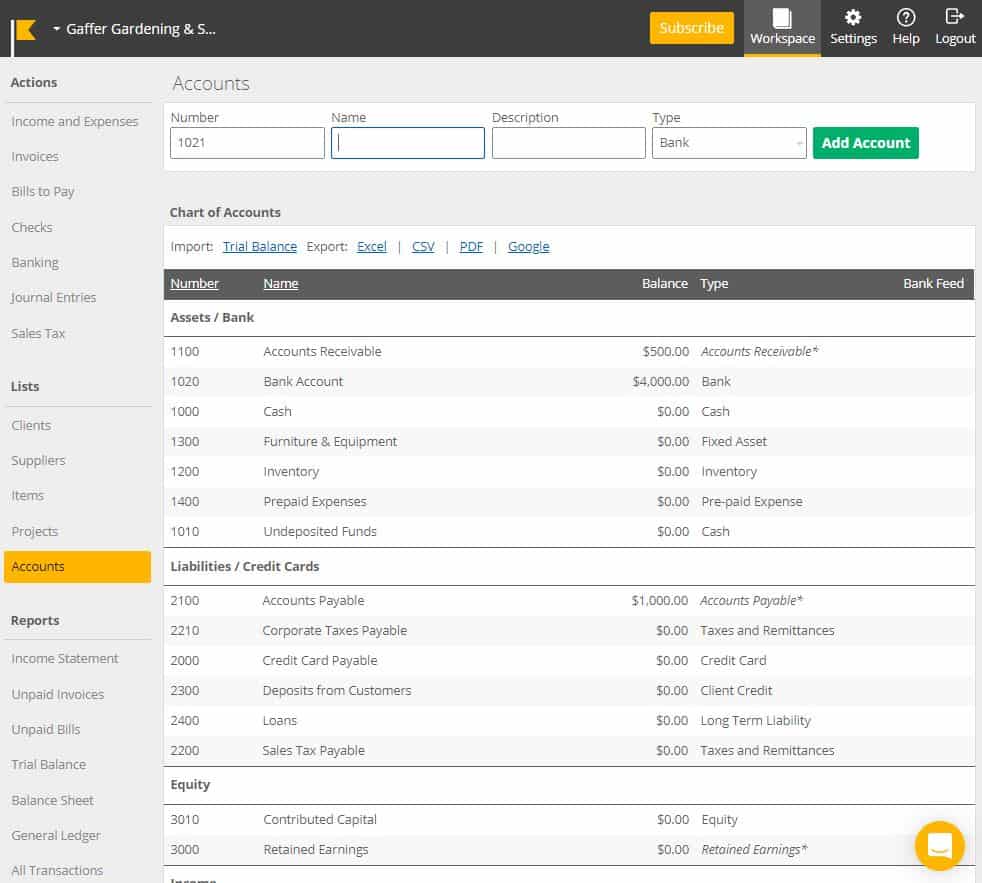 Accounts Payable: The accounts payable section is well set up. You can add bills with ease, set recurring bills, and easily view unpaid bills.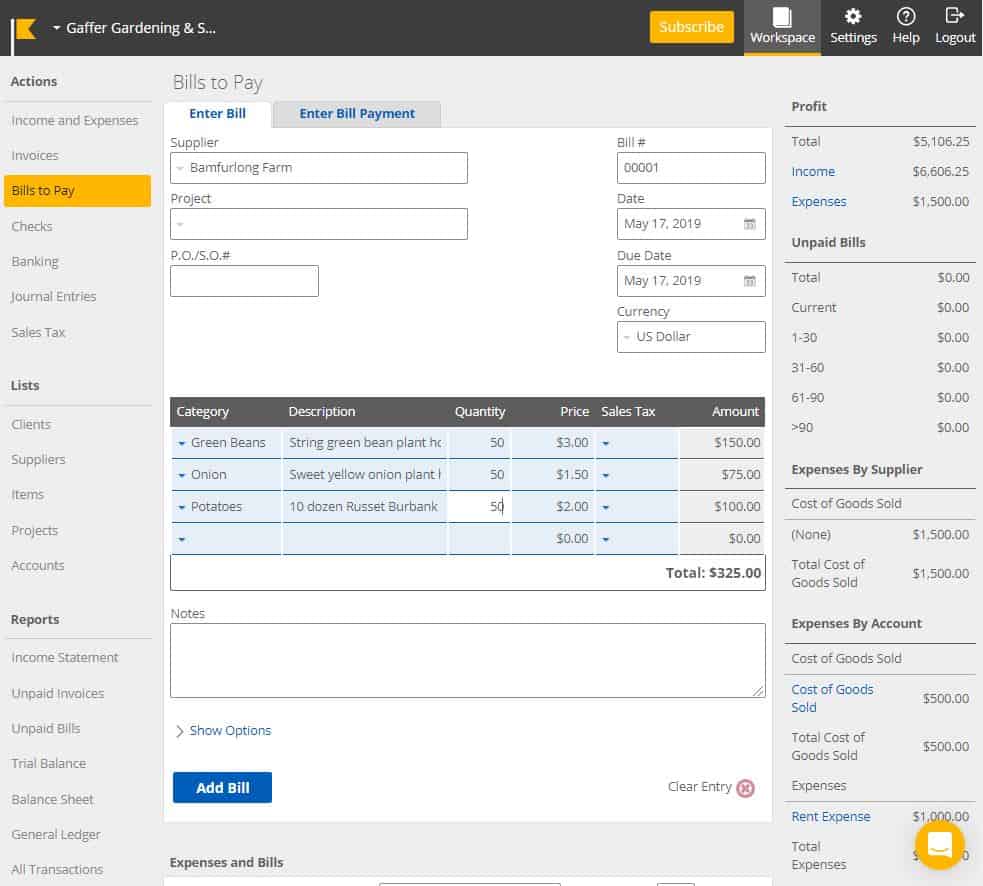 Items List: Kashoo offers a basic items list, so you can track the items you sell and buy. While you can add a "buy price," there's no way to track inventory levels within the software. You can add SKUs, which is an addition even some advanced accounting programs don't provide.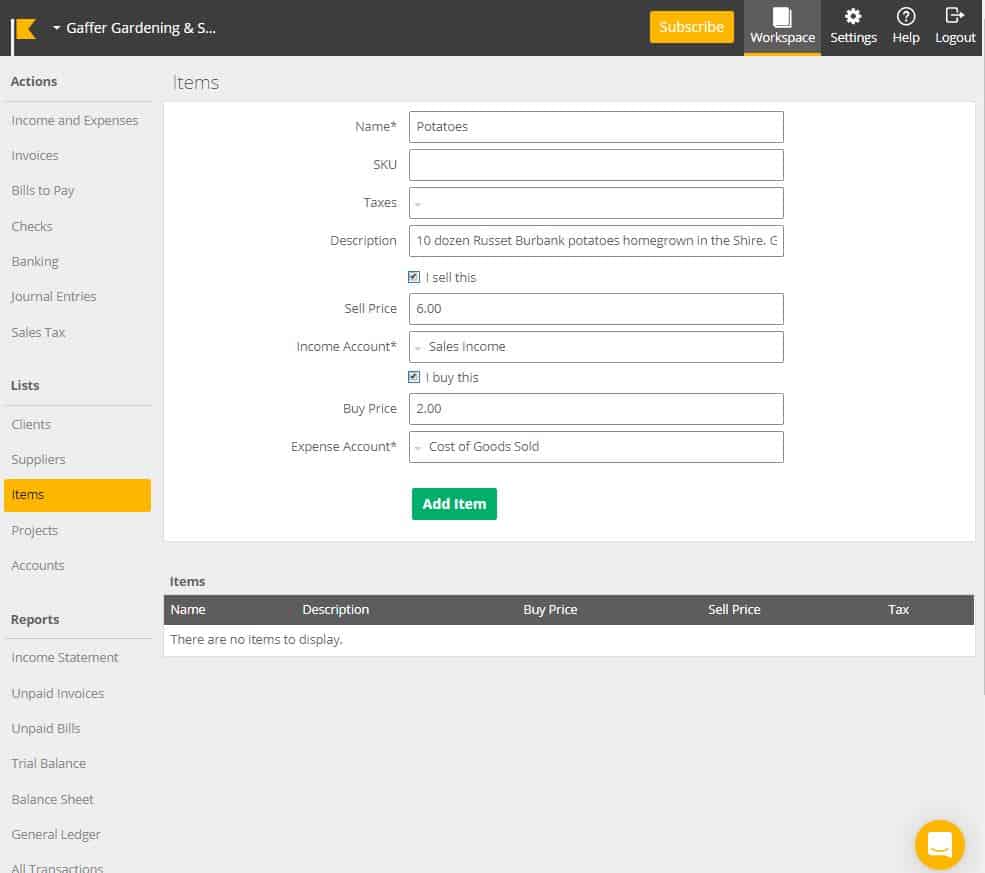 Project Management: Kashoo has a very basic project management feature. You can create projects, add project descriptions, and attach projects to invoices, but that's about it. There are no tasks, no way to attach expenses or time to projects, and you can't even attach a customer name to the project.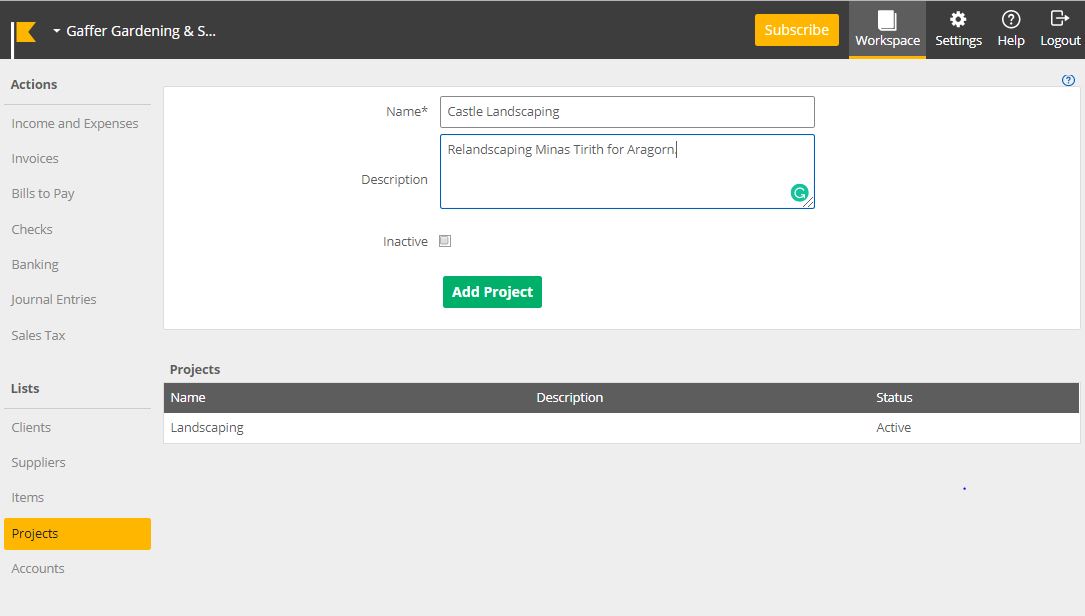 Reports: Kashoo only offers eight reports. While the software does cover the main accounting reports, the selection could be improved.
Journal Entries: You can create journal entries and make journal adjustments.
Sales Orders: You can mark invoices and bills as sales orders.
Purchase Orders: You can mark invoices and bills as purchase orders as well.
Refunds: You can easily create refunds in Kashoo.
Sales Tax: Kashoo offers a strong sales tax feature. You can set as many sales tax options as you'd like. Advanced settings allow you to set a description and assign default receivable, payable, and expense accounts. You can also set default sales tax rates for both clients and items.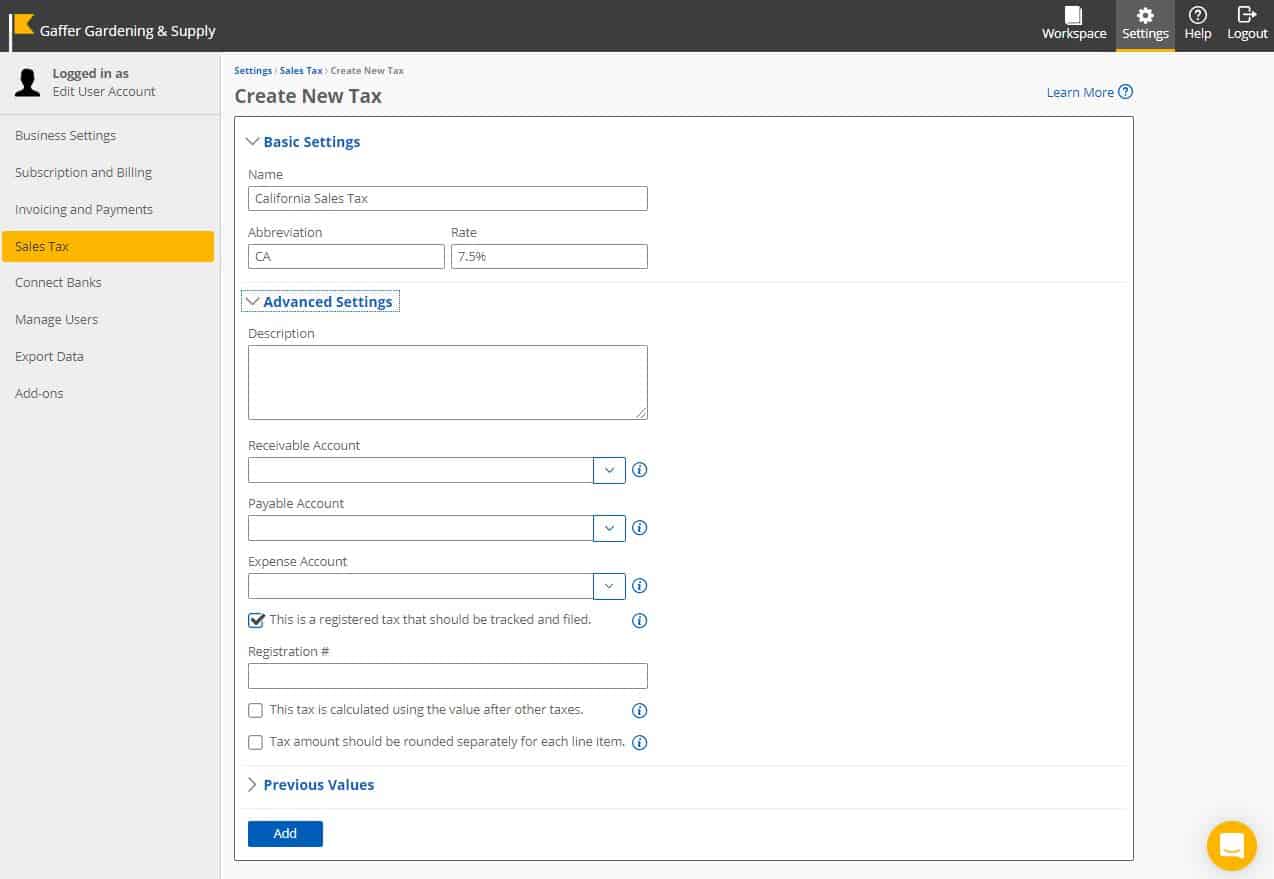 Multiple Currencies: Kashoo is compatible with 160 different currencies.
Importing & Exporting: You can easily import your chart of accounts, contacts, opening balances, and payroll via .xls or .csv. Bank statements are imported via .ofx, .qbo, or .qfx. You can export data via .xls, .csv, .xml, and .iff. Reports can also be exported as .pdf or HTML files.
Kashoo Customer Service
One of the most common praises users have about Kashoo is its customer support.
Kashoo has some of the best free customer support I have ever seen, particularly in terms of its email support. I was having an issue importing a .xsl file into Kashoo, so I sent the file to Kashoo to see what the problem was. Not only did the representative explain the problem, but he also went above and beyond. He took all of my file information and created an entirely new working file for me — without me even having to ask.
Phone representatives were also incredibly well-informed and kind. Kashoo's chat support has improved significantly since our last review in July 2020, with much quicker response times. To top it off, Kashoo offers several other great learning resources for users as well.
You can reach Kashoo representatives from 6 AM to 5 PM PT. Here are all of the ways you can get in touch with Kashoo support:
Phone: You can call Kashoo for support.
Email: You can contact Kashoo by email. Replies take anywhere from a few minutes to a day.
Live Chat: Chat features can be found both in the Kashoo software and on the website. Responses usually take a matter of minutes during business hours.
In-Software Help: You can access both the live chat and help center directly from within the software.
Help Center: Kashoo has an extensive help center that is generally easy to utilize and hosts many how-to articles.
YouTube: It couldn't be all rainbows and butterflies with Kashoo support. The company's YouTube channel is limited. It only has a small collection of videos, and many are outdated.
Workshops: Kashoo hosts regular workshops that you can join to learn more about accounting and maximizing your Kashoo software.
Kashoo Guides: Kashoo has a collection of guides covering various topics, such as getting started, accounting 101, and accounting principles.
Accounting Basics: In addition to the guides, Kashoo offers a database with helpful articles covering basic accounting terms and concepts.
Blog: Kashoo has a blog called "Know and Grow Your Business," which features tons of educational business advice articles.
Social Media: Kashoo maintains Facebook, Twitter, and LinkedIn accounts.
Kashoo Customer Reviews
Negative Reviews & Complaints
On the whole, Kashoo's reviews are incredibly positive, but people do bring up a few issues and sore spots.
Lack Of Integrations: Kashoo is a bit bare-bones in some areas, and multiple reviewers would have liked to have seen more integrations with other software.
Lacking Features: A few users request additional features, such as invoice customizations, inventory, invoice reminders, and more reporting.
Not Scalable: A couple of users note that while they loved Kashoo, they outgrew the software and had to move on to a new accounting platform.
Positive Reviews & Testimonials
The majority of Kashoo reviews are very positive, and the company ranks well on review sites. Kashoo receives 4.5/5 stars on G2 Crowd (based on 100 reviews) and 4.5/5 stars on Capterra (based on 121 reviews). The mobile app also receives 4.3/5 stars on the Apple App Store (based on 67 ratings). For more information about the user experience, there's a collection of customer stories on Kashoo's website.
Here are some of the most common points of praise:
Easy To Use: The most common praise by far is how easy the software is to use. Many customers appreciate that the software doesn't require a background in accounting to understand and use the software.
Good Customer Service: Many Kashoo users report positive customer service experiences. Several users have had experiences similar to mine and praise the customer service for going above and beyond the call of duty.
Mobile & Affordable: Others love the mobility and affordability of Kashoo's single pricing plan.
Integrations & Add-Ons
Kashoo has a grand total of four integrations, which is actually two less than our last review. You'll only find integrations with Square, Stripe, BluePay, and FreshBooks Classic. API is available for developers.
If you need small business accounting software with more integrations, check out FreshBooks or QuickBooks Online instead.
Security
Kashoo takes security seriously, offering SSL encryption, security scanning, firewalls, and physical measures, such as 24/7 monitoring, security cameras, and biometric scanning. Data is stored in undisclosed locations for added security and is regularly backed up. The company also advises users that:
The last component of protecting your data from unauthorized access we must leave to you — please choose a strong password! The most common means by which data is compromised is by using an obvious or easy to guess password.
For more information on how to keep your accounting data safe, read our post on cloud security. And for more details on Kashoo's security, visit the company's website or contact Kashoo directly.
Final Verdict
Overall, Kashoo is easy to navigate and offers double-entry accounting, basic features, and a nice mobile app. There's an affordable monthly payment for businesses that includes unlimited users, and Kashoo's customer support is some of the best there is.
Kashoo's main drawback is the limited feature set for reports, invoice templates and customizations, project management, user permissions, and inventory functionality. There are no estimates, time tracking, or dashboard features. There are also hardly any integrations available. For businesses looking for basic features, this may not be an issue — especially if you value customer support over advanced features — but I'd recommend considering all of your accounting software options before committing to Kashoo. Take advantage of the free 14-day trial, and let us know what you think!
Kashoo FAQs
---
Featured Free Corporate Card
Ramp


---



Ramp offers a free corporate card for virtually any business. Start earning rewards with your corporate spending today. Get your free card.
Featured Free Corporate Card
Ramp


---



Ramp offers a free corporate card for virtually any business. Start earning rewards with your corporate spending today. Get your free card.
To learn more about how we score our reviews, see our
Accounting Software Rating Criteria
.