Kounta By Lightspeed POS Review
Expert Analyst & Reviewer

UPDATED
Advertiser Disclosure: Our unbiased reviews and content are supported in part by
affiliate partnerships
, and we adhere to strict
guidelines
to preserve editorial integrity.
Kounta

Pros
Fast payment option for checkout
A huge number of integrations
Reasonable pricing
Cons
Not overly intuitive
Glitches in the software
Kounta Overview
Kounta was already a solid POS system as a small startup from Australia and did enough things well that it attracted the attention of Lightspeed, which bought Kounta in late 2019. The acquisition has been a fruitful one, as Lightspeed has already proven that it knows its way around the POS world with strong restaurant and retail products. That influence has paid off as Kounta, despite its slightly unorthodox app and add-on-based interface, has a lot going for it. Its wide array of integrations make it extremely versatile, and it's also highly scalable at a fairly affordable price.
It's clear that Kounta is trying to achieve two things. It wants to be comprehensive in its market reach and flexible as far as new technologies and innovations are concerned (the latter, as I mentioned, is largely achieved through its vast array of add-on options). At first glance, this seems like a reasonable pursuit. But in trying to be too many things, you run the risk of becoming a jack-of-all-trades and master of none. And though Kounta is a solid piece of software that may be right for your business, I sometimes feel that it lacks some of the intrinsic feature-richness of other services. At a time when many POS companies are specializing in specific industries, the question you need to ask is whether or not you and your business might be suited for a more focused solution.
Nonetheless, if you are the kind of business owner or manager who values the ability to readily utilize emerging technologies, or if your business is such that early adoption is important, Kounta might be an absolute no-brainer. Let's have an in-depth look at the features.
Don't have time to read an entire review? Take a look at our top-rated point of sale solutions for a few quick recommendations. Every option we present here offers excellent customer support, detailed user interfaces, and easy-to-use software, all for a reasonable price.
Pricing
Kounta provides four pricing options: Lite, Sell, Manage, and Extend. Lite, the free option, is capped at ten daily transactions and isn't a serious option for most businesses; it works as an indefinite trial version. Of course, if you're an independent dealer and only have to handle a couple of high-ticket sales a day, then this plan could be a possibility. Aside from Lite, Kounta offers three basic plans, each with access to different features. If you have five or more locations, enterprise pricing is also available.
Sell ($60/Month): This plan includes one device and access to the basic functions of Kounta. Though you can have an unlimited amount of users, transactions, and products, you do not have access to some employee and customer management features, table layouts, or gift card capabilities.
Manage ($120/Month): This option includes two devices and some additional features, including advanced reporting and inventory management, bump screens, and various integrations with accounting, CRM, and staff management software.
Extend ($180/Month): This plan includes three devices and the full suite of features that Kounta offers with extras that include automatic promotions and guest tracking.
You can also add additional devices to any of these plans for an extra $40/month per device.
Hardware & Operating System Requirements
Kounta apps need to be run on a desktop, Android device, iPad, iPhone, or an iPod, and it can also run Windows. The minimum requirements for each device are as follows:
iPad: iPad mini 2/iPad (3rd generation) or newer running iOS 7
iPhone: iPhone 5S or newer
iPod Touch: 5th generation or newer
Android Tablet: 4″ screen size, 1GB RAM, a 1.4Ghz processor, running on a 4.4 operating system
Windows PC: 1024 x 778 screen resolution, 4GB RAM, running on Windows 7 or newer
Windows Tablet: 1024 x 778 screen resolution, 2GB Ram, running on Windows 7 or newer
Apple Computer: 1024 x 778 screen resolution, 4GB RAM, running on OS X 10.6.8
Kounta is pretty adaptable when it comes to hardware. As with most companies, you can buy directly through Kounta's site, and it has bundles available. However, it can also work with most existing hardware, assuming it's relatively up to date. However, currently, the only tablets Kounta offers on its site are iPads, and its offerings seem to lean heavily towards products that run on iOS devices.
Kounta also offers Epson printers and some other basics, such as printer paper and stands. You do not have to purchase hardware from Kounta directly. Do your research, check to see what models you need, and see if you can't find them somewhere else at a lower price. If my years of penny-pinching have taught me anything, it's that you can save hundreds of dollars by spending a little extra time online looking for the best deals.
Cloud-Based Or Locally-Installed
Kounta is entirely cloud-based. All information is stored in the cloud, and the front-end POS is managed from either an app or, if using a desktop, within a browser. Potential periods of downtime have been taken into account, and the software is completely functional when there isn't an active internet connection, during which time transactions will be queued until a connection can be reestablished. The company has also bolstered its offline mode, and you can now still accept card payments offline with the information being stored until a connection is restored. Kounta also points out that it has focused on developing top-notch cloud security for the purpose of storing information.
Specific Industry
Since it is essentially retail POS software with restaurant capabilities, Kounta is suitable for quick-service food outlets and coffee stores that also have seating and table service. Because of the tab options, bar owners will find a lot to like too. Kounta is also designed for full-service restaurants and even hotels. The main draw for people in these industries would be the vast array of integration options.
Specific Size Of Business
One of the key features of the software is the ability to manage multiple sites from a central management area, which makes it ideal for mid-sized businesses. I'd also say that since the recommended pricing plan is Manage, which only offers two devices, the company's target market is mainly small to medium-sized businesses. If you are responsible for running a single store or a small chain, then Kounta is particularly well-suited to your needs.
Kounta also offers enterprise-level plans with multiple locations, brand management, and "an additional layer of expertise, enhanced features, project management and support on top of Kounta." If you're searching for a POS system designed to handle larger franchises, look into systems (such as Revel) with established reputations and time-tested reliability.
Ease Of Use
Kounta has cleaned up some of its usability issues and has smartly opted to simplify things in recent years. Its interface is easily identifiable to anyone who's relatively familiar with POS systems, particularly if they have a food-service background. The system is still largely app-based, which can be a bit clunky in the setup process and may seem like an unnecessary hassle if you're used to more streamlined systems, but once you're through it, everything flows together pretty easily. I can see how larger operations with extensive inventory or reporting needs might have some issues, particularly in the back end, but it handles the basics well. On the front end, it has a few nice features that employees should appreciate.
Kounta claims it has representatives who can walk you through the setup process, and this can apparently be a bit more time consuming than other POS systems. The importing of items, in particular, seems to be a bit of a sticking point. However, once you're up and ready to go, you should have very little trouble teaching your employees the system. Menu items can easily be split up, and pictures can be added conveniently. There's even a search function at the very top, which allows you to look up any individual item if you can't find it. Modifiers are also listed on the home screen for items, and you can have tickets sent to specific printers where each item is made.
With all this said, the POS apps themselves are reasonably good. Once you've managed to navigate your way through the somewhat demanding back-office infrastructure, making a sale is child's play. All of the products, with pictures, are displayed on the front screen, organized into predefined categories, and accompanied by a very simple search function. Items can be easily deleted using a button in the top right corner, and you can add customers directly into the database when creating bar tabs, which is, again, a very easy-to-use and often neglected function.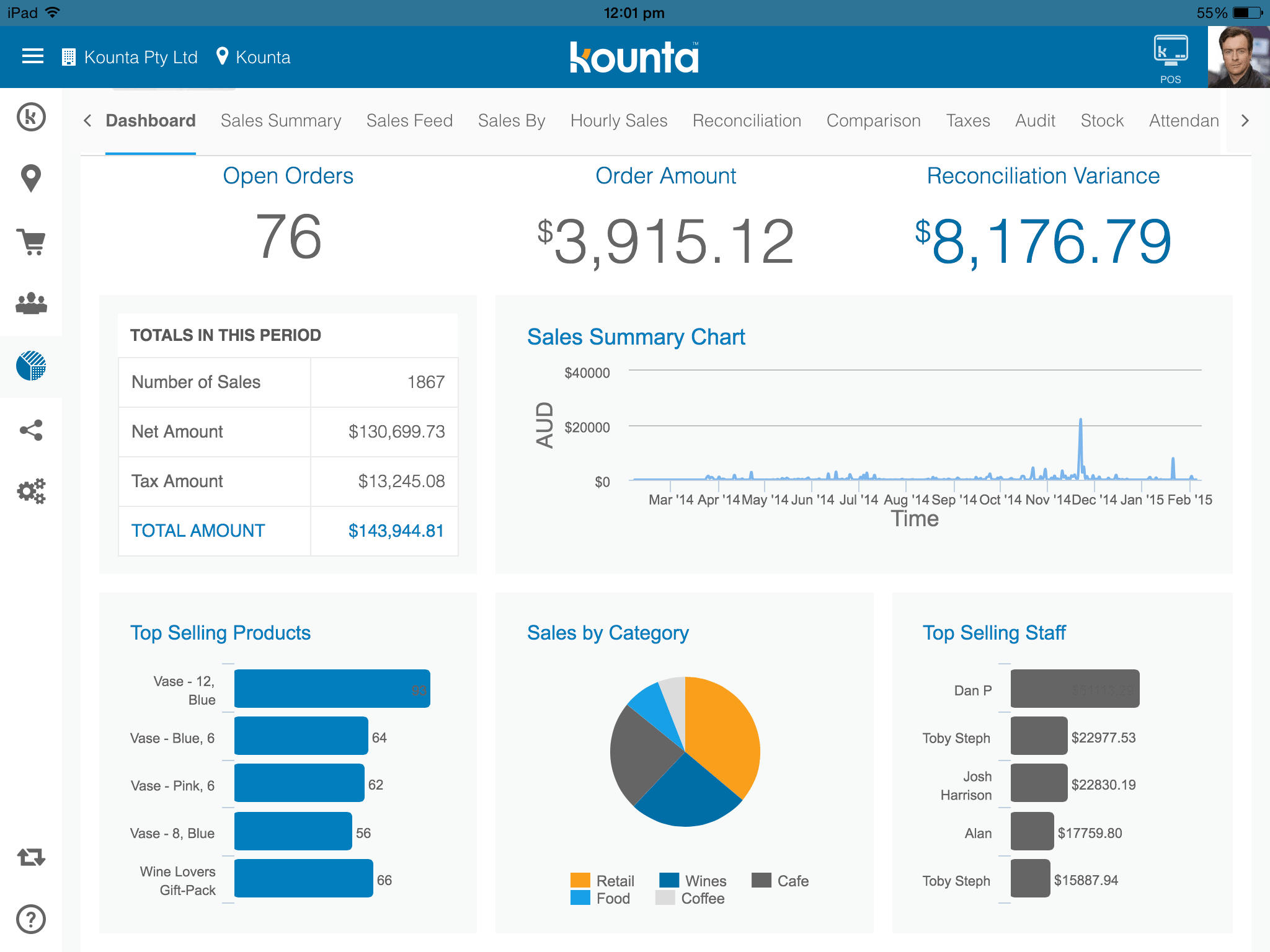 Features
Inventory Management: Kounta's product management features are comparably robust, with the ability to add an unlimited number of items and track dishes by their raw ingredients. Adding a product is a simple process in which you can define tax by zone, location, and item (there's also the typical bulk import/export options). You are also able to track modifiers and variants as they are added to products. The system features useful stock control features, which means you can define how a product is purchased (by box, carton, individually, etc.). The wastage management add-on, which will track the number of wasted products, is beneficial for tracking and discontinuing detrimental products. Finally, you can utilize product tags to create your own taxonomies, which can make for easier searching at the front end.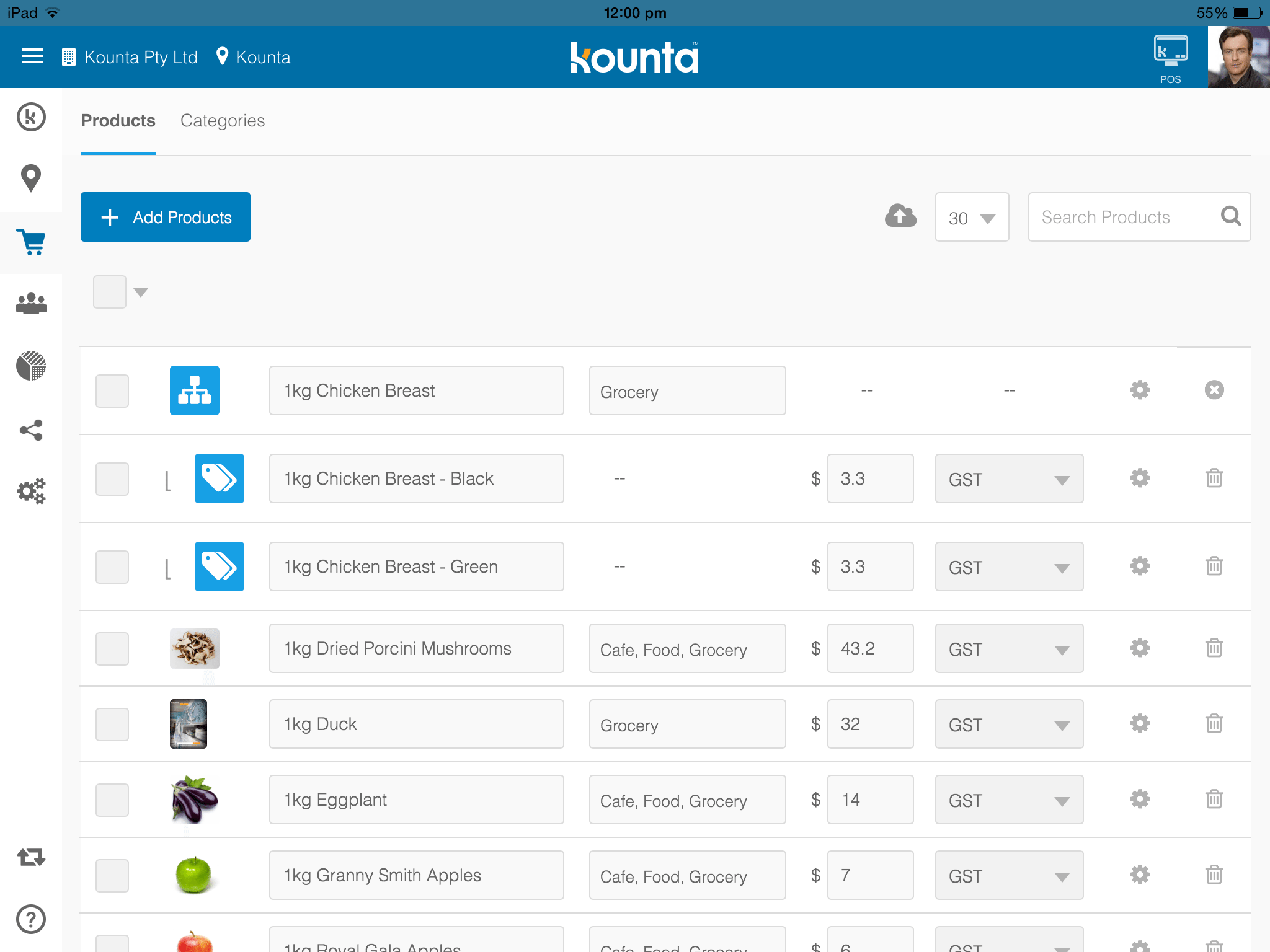 Employee Management: Once your employees have opted in, you can manage permissions and PINs easily through individual user pages. Time and attendance tracking are available through a simple add-on, or you can choose to integrate with Nimble or Deputy, both third-party services offering more advanced employee management functionality.
POS Interface: The front end is intuitive and straightforward, unlike the back end. Employees can log in using a simple PIN that is defined in the back office. You can easily add modifiers and variants to an order, adjust for discounts, and delete/modify sales. The option to input tips is available too, but you will need an add-on for that. The good thing about the tips function is that the POS records them separately, making it easier to split out the right amount of cash at the end of the day. There is also a limited managerial capacity for device users, such as the option to record money in and out and finalize takings. As far as I'm aware, there's no gift card integration, but with the discount options, it shouldn't be too difficult for small businesses to establish a program if they desire to. The tab feature, which allows you to keep a running balance for a customer, is another plus.
Fast Cash: One of Kounta's standout features is the "fast payment" option. Rather than being taken directly to the checkout screen, you can choose between either "Fast Cash" or "Check Out." "Fast Cash" automatically opens the register for you, with no intermediate steps. This could prove to be an incredibly useful function during hours of peak traffic. Even with the normal "Check Out" button, you can add other fast-style payment options, such as fast card payments. If you choose to check out traditionally, you will be taken to a verification page where you have the option to split the bill, then on to a calculator to enter the amount.
Customer Relationships & Marketing: Because of the array of integration options, Kounta's strength in relation to customer management is the functionality it offers with third parties. You can organize loyalty reward schemes with "Collect Rewards" and sync with a variety of mailing list providers, such as Mailchimp. You can also use "lists," an option to design specific price lists for certain times, by the day or week, which allows you to run offers and regular promotions (happy hour, for example) to target specific customers with offers or unique prices on events. The ability to add customers directly to the native database at the POS is also useful for marketing purposes.
Table Mapping: It's quite simple to recreate the layout of your restaurant, and once you've done this, you can assign orders to particular tables with a click.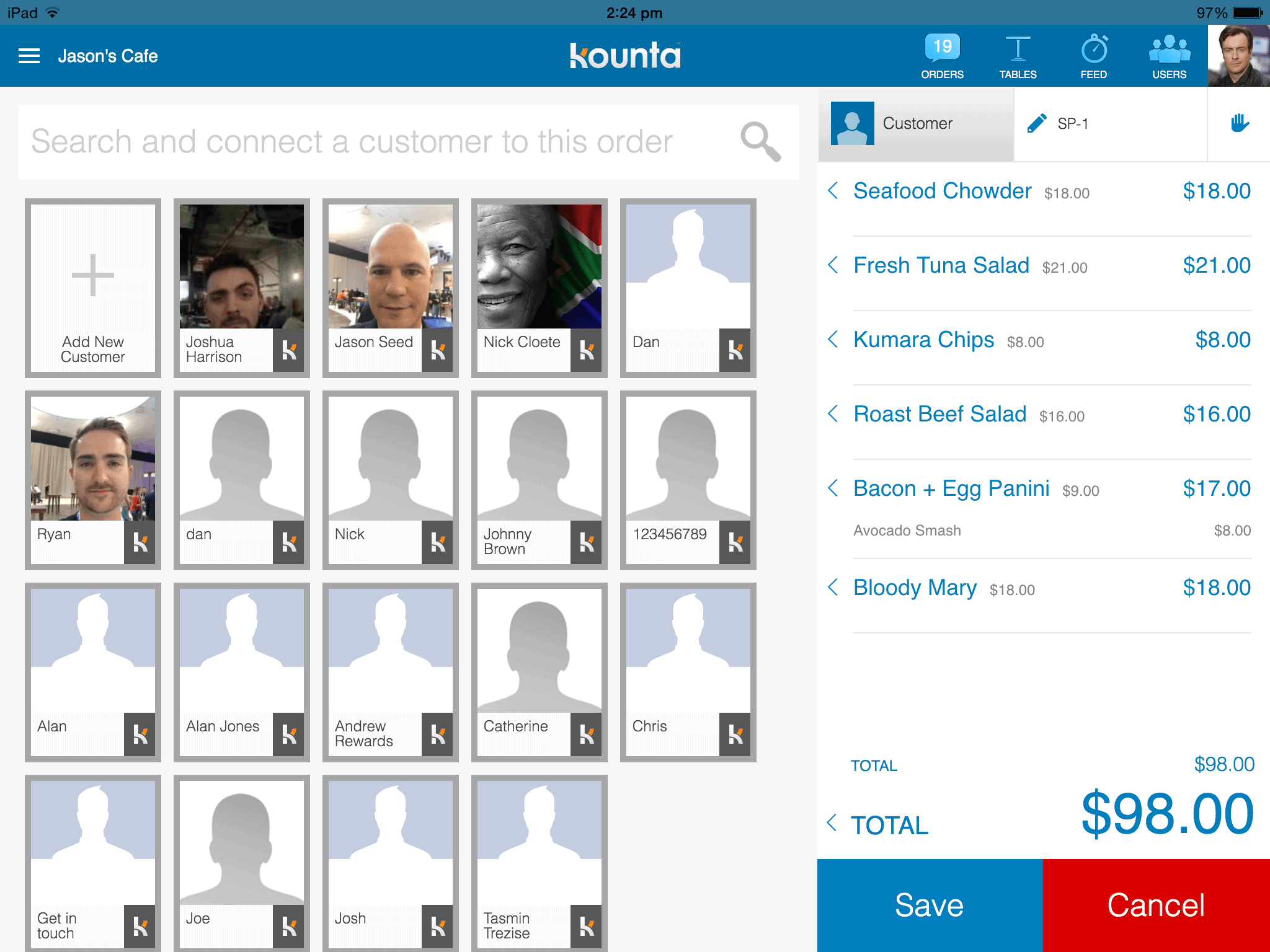 Reporting: Again, the main benefit of Kounta here is its scope for integration. You can choose from a variety of deep analytics providers from the add-on modules. If you aren't that bothered about in-depth reporting, Kounta also has its own in-house reporting tools that will allow you to, among other things, track sales, profits, and stock levels. However, it's definitely basic, and even with limited reports, it can still be a bit confusing.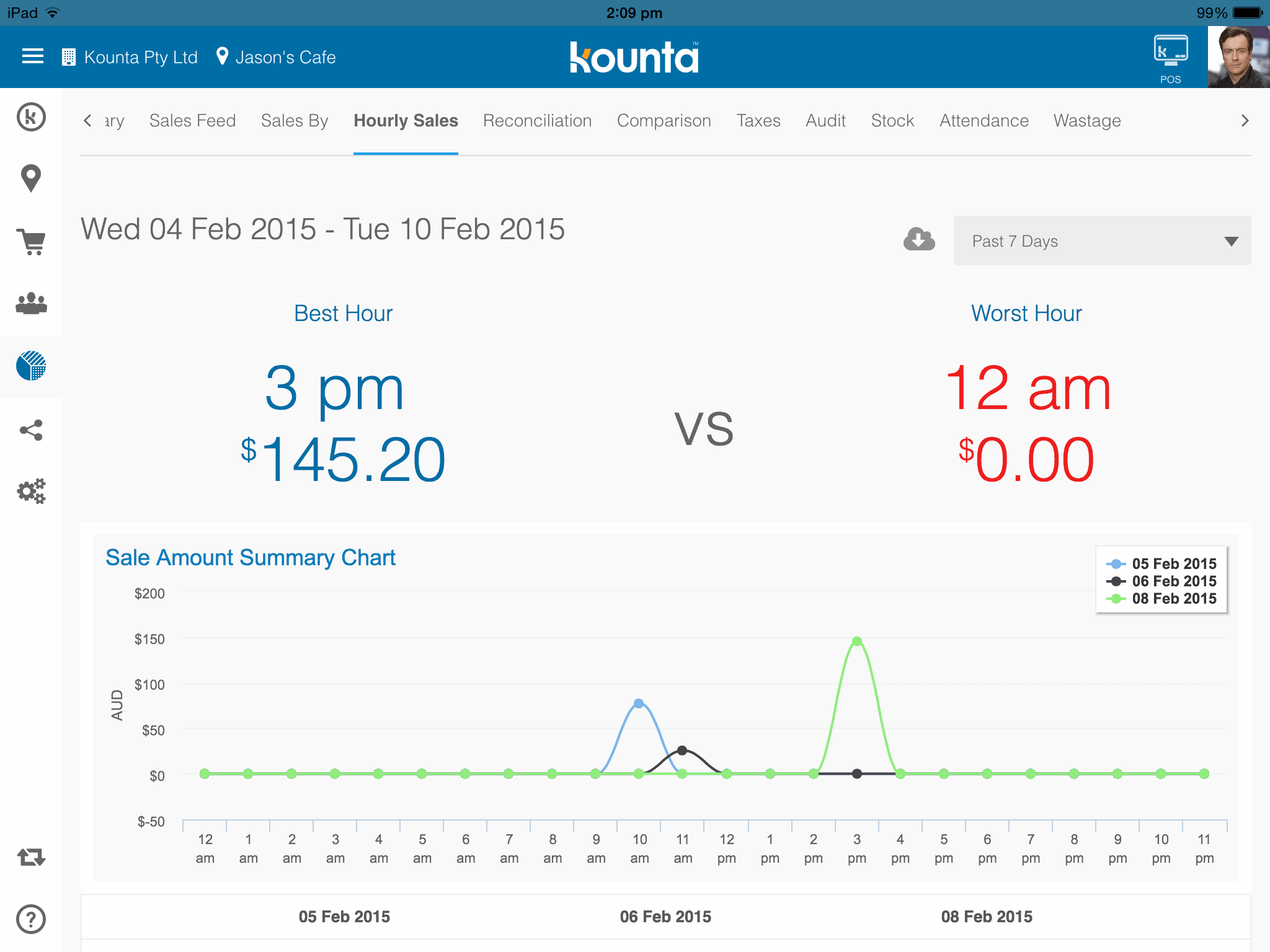 Security: Kounta makes it a point to boast about the precautions the company takes to protect your data, stating that it uses "skilled resources, network redundancies, religious data backups, up-to-date security, external security audits, and intrusion detection" to provide "uninterrupted, reliable service."
Loyalty: You'll have options here as Kounta integrates with Marsello, Goody, and LivenPay, and you can decide what loyalty feature you want for your own business. You'll be able to store customer information and assign points in a variety of ways to encourage repeat business.
Online Ordering: In what is becoming an almost essential feature, Kounta integrates with seven different companies that can help you boost your sales by allowing for customers to browse your website and pay online for easy pick-up.
Integrations & Add-Ons
Kounta can integrate with an array of third-party services, and this is perhaps its biggest selling point. Tying in with the company's core philosophy of running POS software that can adapt to more or less every major innovation relevant to consumers, the "add-on" section fills up a big space in the back office. Here's a run-down of some options:
Mobile Payments Apps

Boppl: A mobile payments app that allows customers to order directly through their phones.
Mobi2Go: This mobile payment processor is specifically aimed at the hospitality industry.
PayPal: This payment processor allows you to accept mobile payments, among other options.

Customer Relationship Management

Collect: An advanced rewards system that allows users to manage their points balances and rewards from their phones. It essentially offers an easier way to reward your customers directly.
MailSync: An intermediary mail syncing service that allows you to sync the native KB database with a variety of third-party providers, including AWeber and Mailchimp. Kounta has been clever in choosing this particular add-on rather than a specific email marketing client, as it hugely increases the number of services you can choose from.

Accounting

Saasu: Accounting software
QuickBooks: Accounting software
Xero: Accounting software

Employee Management

Nimble: Software used for employee time tracking and attendance.
Timeforge: Application designed to track labor, HR, and employee scheduling.

Reporting

Metristo: Advanced analytics software for retailers and store owners.
Insights: Real-time analytics software that was designed by Kounta.
Kounta also features an open API that you can use to develop integrations and add-ons.
Compatible Credit Card Processors
Kounta now offers its own payment processor, which can be a nice benefit if you're looking for simplicity. It was a little difficult to lock down just what its rate is, however, so you'll want to make sure you have a handle on what Kounta charges if you go with its in-house processor. Fortunately, you can also choose from several different integrated processors. Any credit card processor that is compatible with EMV card terminals can integrate with Kounta. Not surprisingly, the integration works through the "Credit Card Integration" add-on and is a relatively simple process. Kounta lists its preferred processors as Vantiv Integrated Payments, Moneris, Cayan, and Axia.
You can, of course, use a non-integrated payment terminal by setting up a custom payment option, which will require manual entry of sales data.
Customer Service & Technical Support
Kounta offers a couple of sources of technical support and general customer service:
KTV: KTV is a free online resource from Kounta. It is stocked with Kounta training videos and "showcase" videos that provide educational insights into Kounta and POS in general.
Community Forum: This is a pretty active forum where users can ask questions that may or may not get answered by a member of Kounta's support staff or another user. This option seems more useful for making requests for features and integrations.
Knowledgebase: The knowledgebase consists of various troubleshooting articles and feature guides. Most of them are organized in a step-by-step fashion and aren't exactly comprehensive, but they should be able to provide the first level of support.
Messaging: This is a feature available from any of the pages on Kounta's main site. I submitted a question that wasn't immediately answered in the chat feature but in an email sent later. In any case, I wouldn't suggest going there with any pressing questions or problems.
Email: Some of my emails to customer support received answers in a timely manner, and some went unanswered. So when it comes to email support, you might receive help, and you might not.
Phone: There is a 24/7 phone number for the US, Australia, New Zealand, and the UK.
Videos: Kounta also has a YouTube page that has quite a few helpful videos. The videos cover an array of topics in a pleasant Australian accent. Like the knowledgebase, they're not completely comprehensive, but they help you navigate the somewhat tangled back-office features.
Social Media: Though not really a place to look for technical support, Kounta also has a blog and some social media accounts, including a Facebook page, a Twitter feed, and a LinkedIn account.
User Reviews
Negative Reviews & Complaints
There aren't many negative reviews that I could find, which may be good, or it just may be that Kounta hasn't been around long enough for me to find much feedback. Either way, I only have a couple of qualms with the software.
Ease Of Use: Kounta's back office could stand a more intuitive design. Some of the features are hard to find, and others are just confusing to use. I understand that the more advanced the feature, the more complicated its use is going to be (in theory), but there are many competing POS systems out there with increasingly easy to use interfaces. Even those who like the system mention the less-than-intuitive back-end functions.
Setup Process: A few reviewers didn't like what they determined to be a lengthy setup process and were bothered by the process of figuring out which add-ons they would need.
Glitches: There have been a couple of scattered reports of technical glitches being brought on by system updates. This is a good/bad scenario since it is good that Kounta performs regular updates and upgrades, but it's bad that the updates bring in new problems.
Pricing: Kounta recently upped its prices slightly, and a few reviewers didn't feel like they were getting as much as they thought they should for the money.
Positive Reviews & Testimonials
Positive reviews, as I'm sure you can understand, focus primarily on the huge array of integrations and of the ease of using them in the context of the software.
Price: Kounta's reasonable pricing often gets cited as a positive quality.
Integrations: The plethora of integration options are a hit among many Kounta customers.
Customer Service: The majority of reviewers who mentioned Kounta's customer service were overwhelmingly positive and appreciated that representatives could be reached quickly.
Final Verdict
Kounta is probably not going to be for everyone. I have a feeling that if a customer is deciding between it and a handful of other products that don't rely so heavily on apps, the setup process may seem a bit unwieldy, which may, in turn, be a deal-breaker.
That said, Kounta is not without its upsides. The sheer range of add-ons will make this POS system an attractive option for many business owners. Whenever a new service comes along, it doesn't need to be programmed into the software's core functionality; instead, the add-on section can simply be updated, thereby allowing the user to decide if they want to use it. If you're the kind of person that loves being up-to-date and in-sync with all the latest technologies, then Kounta is sure to scratch that early-adopter itch. It also has everything you need in one system. If you're savvy enough, you can build a very robust system with everything from employee management to loyalty, and it has its own in-house payment processor. Once you've set things up, you won't have to worry about much else.
So what's the final verdict? Kounta is unquestionably worth a try. With a unique POS like this one, I imagine that much comes down to personal taste. You might find that you enjoy the add-on system and the power it gives you over the core functionality. You might like the intuitive front-end design and feel that having an array of integrations at your fingertips is a beneficial quality to bring to your business. Then again, you might not.
---
We've done in-depth testing of each and confidently recommend them.
We've done in-depth testing of each and confidently recommend them.
To learn more about how we score our reviews, see our
Point Of Sale (POS) Software Rating Criteria
.