Contributor

UPDATED
Advertiser Disclosure: Our unbiased reviews and content are supported in part by
affiliate partnerships
, and we adhere to strict
guidelines
to preserve editorial integrity.
Lemonstand is closing June 5th, 2019 and is no longer accepting new merchants. Please visit our shopping cart comparison page for suggested alternatives.
Pros
Advanced design customization
Well-designed UI
Competitive pricing
Numerous features
Excellent customer support
Attractive theme templates
Scalable
Cons
Developer skills required
Limited integrations
Limited phone support
LemonStand Overview
When life gives you lemons, launch an ecommerce platform!
In 2010, a Canadian startup followed this sage advice and launched LemonStand for growing ecommerce sellers. Originally released as downloadable software built with PHP, LemonStand now provides fully-hosted ecommerce sites to over 2,000 merchants, all while offering excellent customer service and a continually expanding feature set.
However, LemonStand isn't your typical SaaS (Software as a Service) solution. Unlike websites built on most SaaS platforms, LemonStand websites are completely customizable. You can change nearly every aspect of the look and feel of your web store. The only trouble is that in order to make those changes, you'll have to dive into the source code.
Along with a high degree of customizability, other important aspects of LemonStand include strong subscription billing features and an easy-to-use content management system (CMS) for engaging customers with your brand. Pricing levels for LemonStand are based solely upon the number of orders placed on your site per month, and plans start at just $19 for 75 orders. You secure access to all the core LemonStand features from the get-go, and your store is positioned to grow alongside your increasing financial investment in the software.
To help you discern if LemonStand's pricing, feature set, and customer service approach could work well for your online business, let's get straight to the full review!
Pricing
LemonStand offers a free 14-day trial, no credit card required, so you can try out the platform risk-free before you commit. If you do decide to go with LemonStand for your online store, you'll likely end up in one of three main pricing tiers based on the number of orders customers place on your site each month. Pay close attention to these transaction thresholds when you're considering LemonStand for your store. If you exceed your order cap, you automatically bump to the next pricing level.
The upside of this pricing model is that all of LemonStand's core features are offered at each of the three main plan levels. We'll outline this feature set in more detail later in this review. For now, note that each plan comes with unlimited products and variants, unlimited staff accounts, and unlimited file storage and bandwidth. There are also no transaction fees or cancellation fees. Here are the three plans that share all of LemonStand's core features:
Starter — $19/month

75 orders per month
Standard email support (response within 24 hours)

Growth — $69/month

300 orders per month
Standard email support (response within 24 hours)

Professional — $199/month

1000 orders per month
Priority email support (response within 12 hours)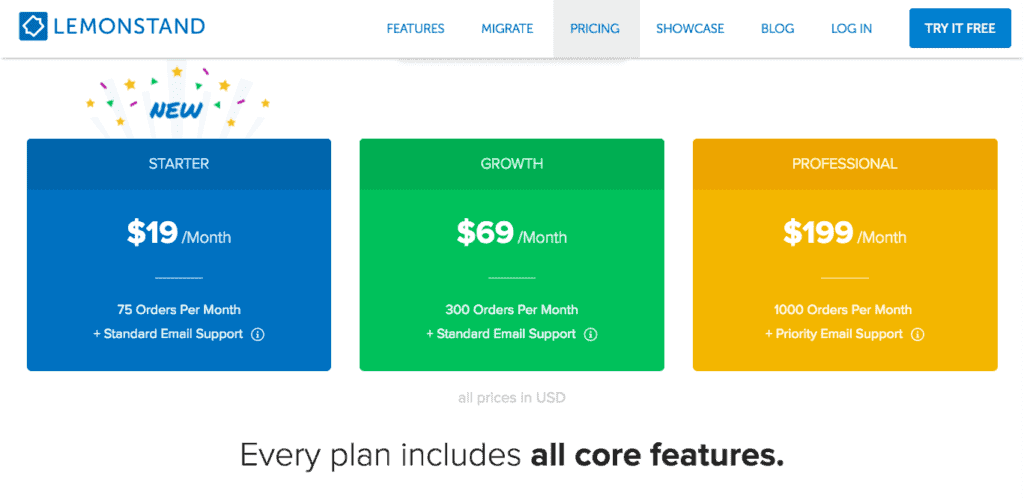 In addition to the above standardized plans, LemonStand offers one more: custom pricing for enterprise-level merchants processing over 1000 orders/month. LemonStand Premium boasts the following additional features:
Premium — $399+/month

>1000 orders per month
Sandbox store
Higher API limit
Custom email sender domain
Avalara AvaTax integration
Secured credit card vaulting
Dedicated success coach
Priority phone support
Every plan is billed on a monthly basis (no contracts required). However, the pricing page mentions that you can save money by paying annually. Contact the sales team for specific numbers.
Cloud-Based Or Locally-Installed
LemonStand is a SaaS (Software as a Service) solution and will handle web hosting for you.
Specific Size Of Business
Although smaller businesses can use LemonStand, full customization of your site really requires a skilled web developer and designer. In order to best use LemonStand, you should either have those skills or be able to afford someone who does.
Hardware & Software Requirements
Because the software is hosted for you, you won't need anything beyond a computer, an internet connection, and up-to-date web browser.
Ease Of Use
LemonStand offers a free two-week trial so you can (and you definitely should) try out the platform before you purchase.
When I signed up for the trial, I received an email from the founder (from his actual email address that I could reply to if I wished, which was kind of cool). The message contained login information and a link to my new storefront.
Here is what I first encountered inside by dashboard: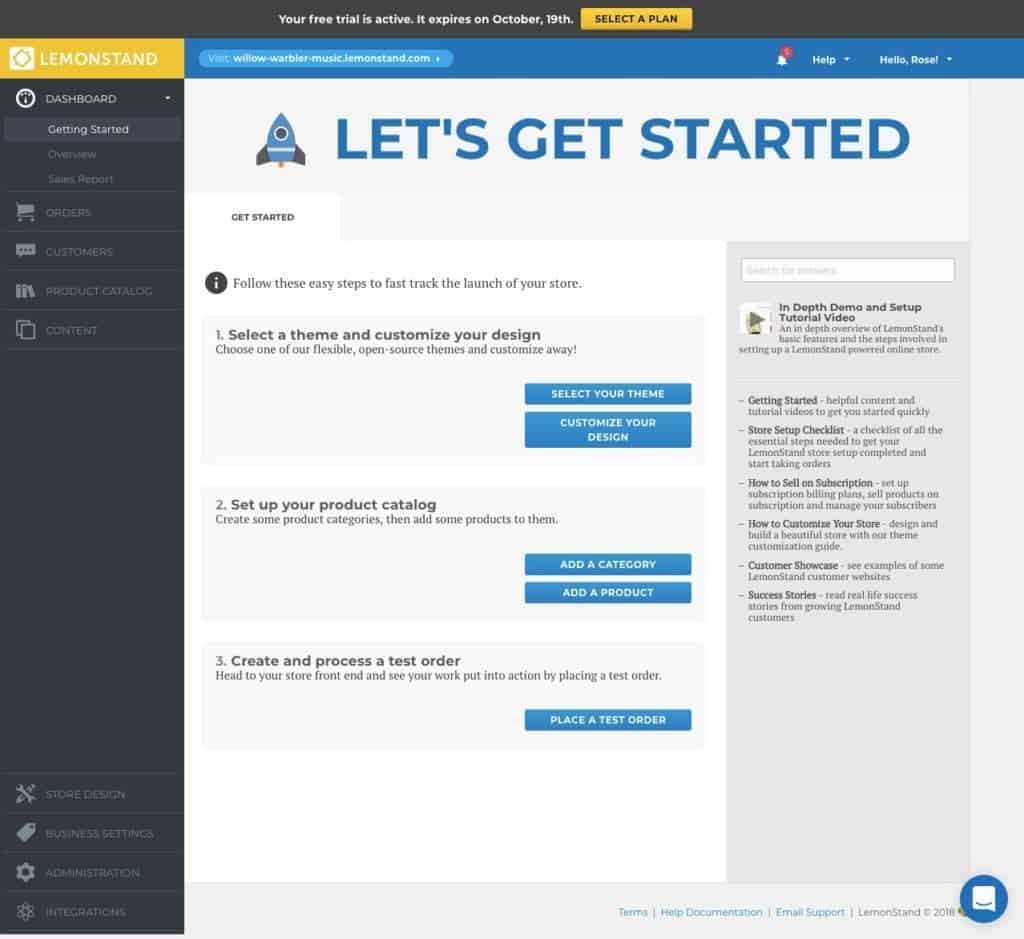 As you can see, LemonStand helps you get started with a few instructions. I momentarily skipped the suggested first step — theme and storefront setup — and spent some time testing the functional backend first.
Fortunately, as a whole, I found LemonStand's admin to be easy to navigate. Everything you need is on the left-hand sidebar. I didn't have to spend large chunks of time digging for hidden features; they're all readily available.
Here are some of the features I tested:
Adding Products: This is accomplished similarly to any other user-friendly platform. You just input product descriptions and images, pricing, shipping information, and attributes. It's all point and click. The input fields are divided into two columns — a main section down the center of the page, and a narrower column on the right (with a light gray background):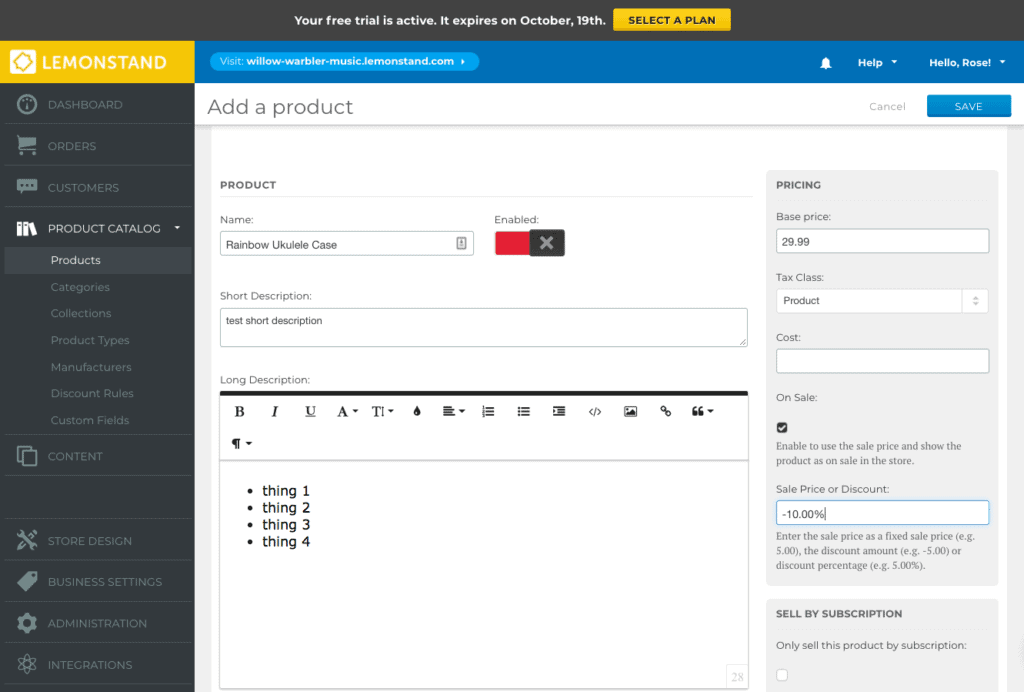 I'd prefer if the product traits were listed in expandable tabs above the fold so I could more easily view all of them at once. The full screen gets pretty arduous to scroll through, and you may start to wonder if it will ever end:

One obviously missing element is a quick way to preview your product on the storefront right from the product page. Call me lazy, but I'd rather not open my storefront separately and go searching for each product to preview my changes.
Discounts: It's possible to set quite complex and specific discounts right out-of-the-box with this platform. With added complexity comes a slight learning curve, however. You'll be opening up deeper menus to add conditions and sub-conditions — setting lots of parameters to make the discounts work properly. On the plus side, there is pretty good documentation available to assist you along the way. Ultimately, I would still call this feature user-friendly, especially since I often complain that discount engines are not complex enough.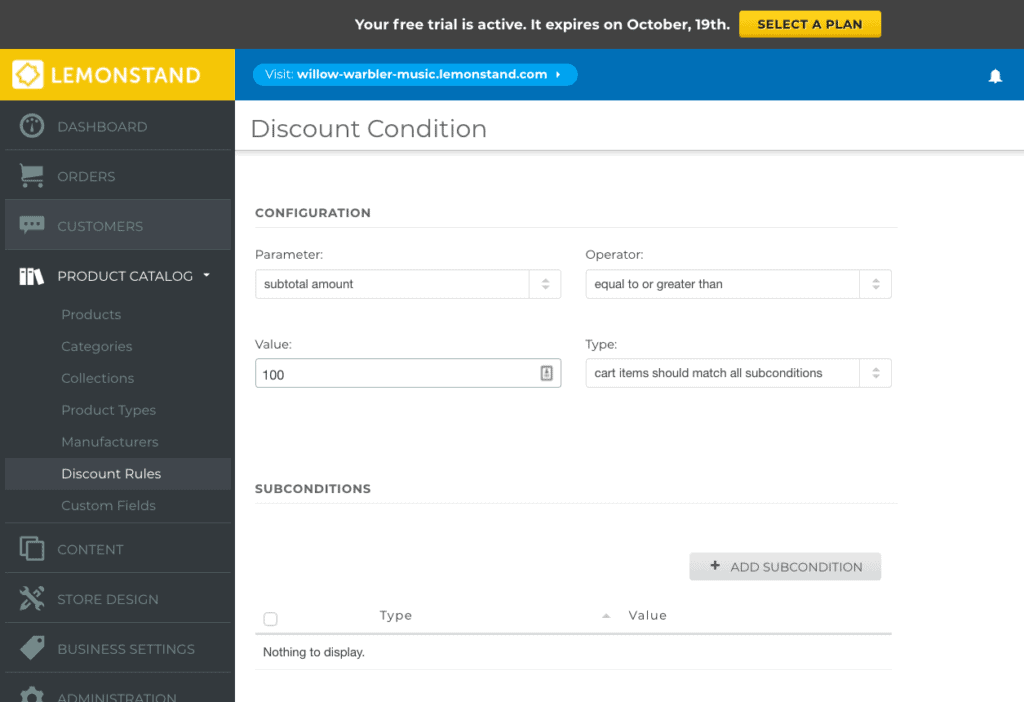 CMS (content management system): Content pages come with an with easy-to-use WYSIWYG (what you see is what you get) editor: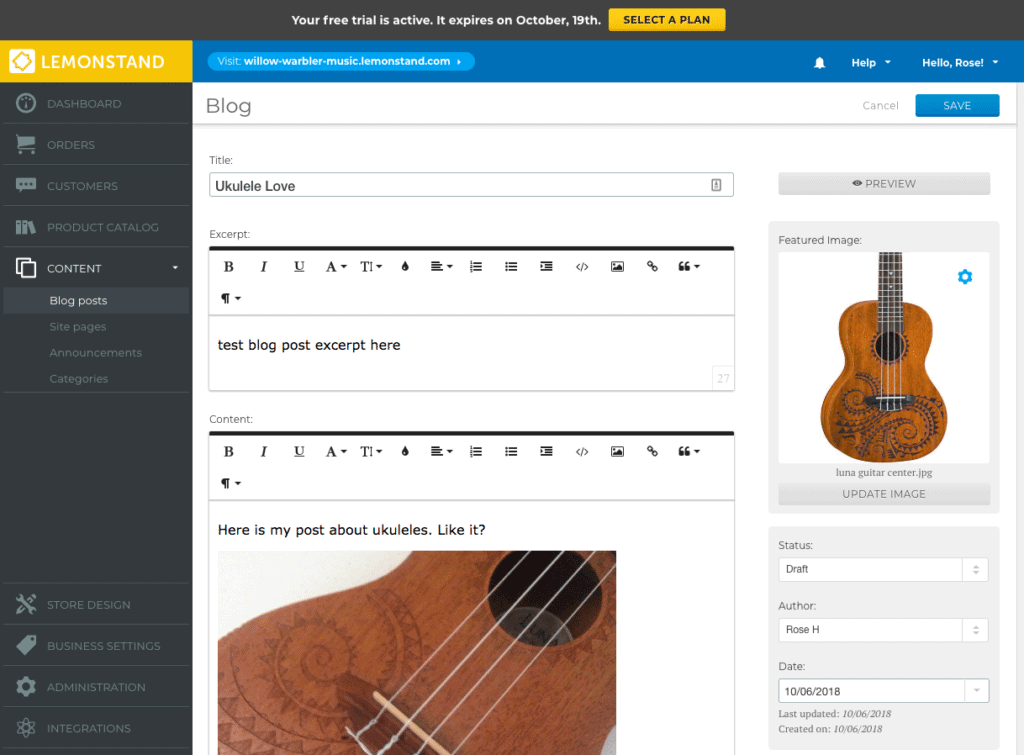 Subscription Billing: I was impressed with the level of detail that is possible to configure out-of-the-box. However, to tap into the full potential of this feature (such allowing your customers to reschedule or skip orders), you'll need coding experience.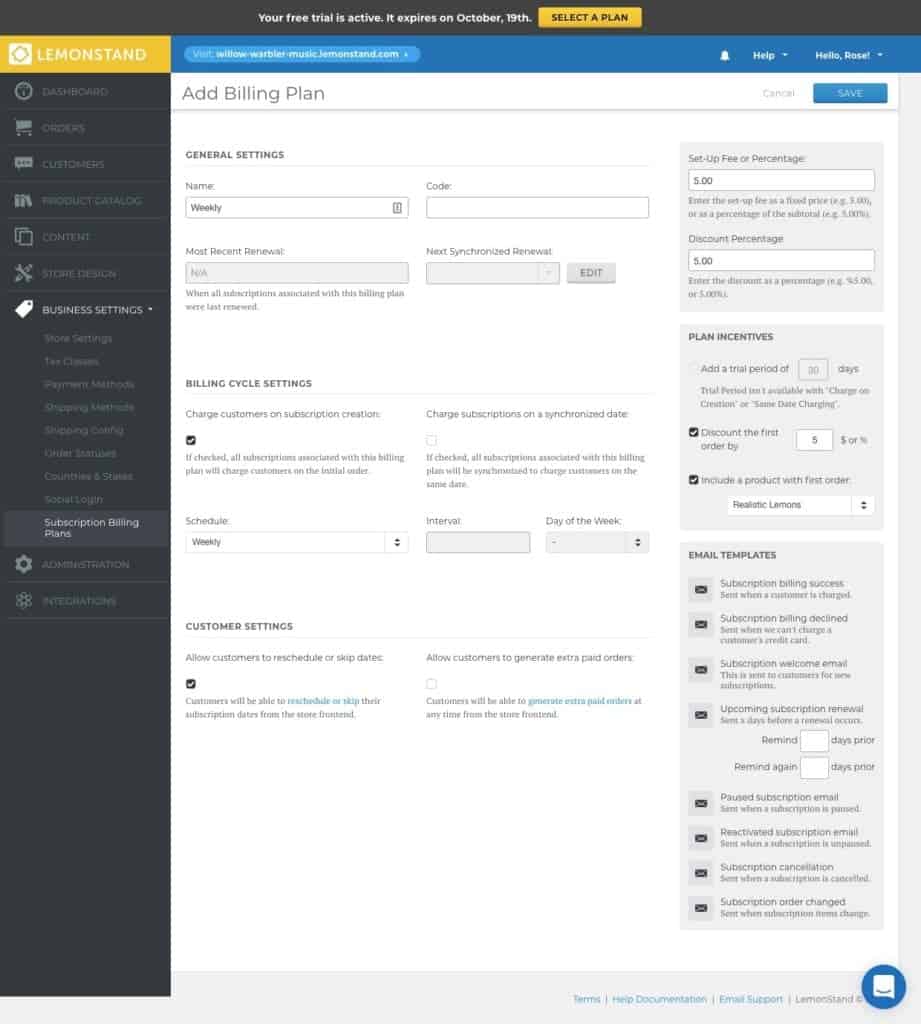 This brings me to the main thing you should understand about LemonStand in regards to ease of use. While it is quite easy to operate the basics of the control panel, for some of LemonStand's more nuanced features, you'll eventually encounter something like this: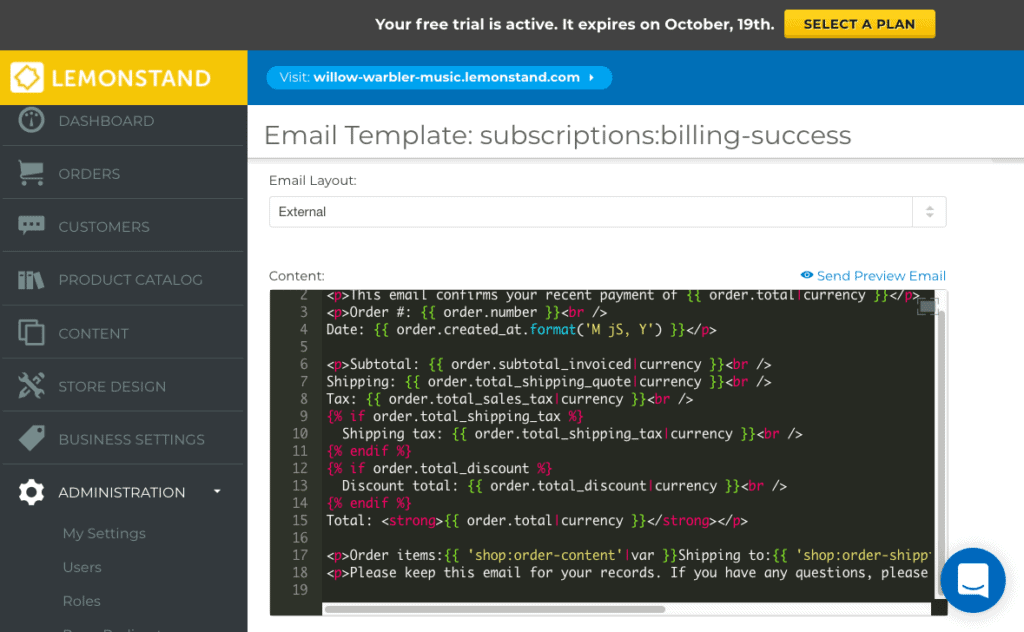 Here, we've gone beyond WYSIWYG editors and entered the land of code. You should be aware that LemonStand is not afraid to present you with customization opportunities that require a higher skill level than just filling in or checking off pre-made boxes. Depending on your prior knowledge and/or your ability to hire a developer, this will either excite or intimidate you. Having said that, I still think LemonStand scores well on usability overall.
If you're looking for information about editing your storefront's design, try the Web Design section below.
Features
LemonStand is constantly updating and adding new features, so I'd recommend taking a look at the public roadmap on the website to see what's next on the docket. With LemonStand's pricing system, all core features are available on all plans.
In particular, we like that LemonStand offers product subscription features out-of-the-box. Typically these features are only available by add-on. LemonStand reports that a lot of new customers are taking advantage of these subscription features.
As you begin to explore the LemonStand features that interest you, I'd suggest verifying the extent to which each feature will require some coding knowledge on your part. This is not always 100% clear until you dig a little deeper into the feature. That said, here's a summary of what's offered:
Admin
Inventory Management: Set your products to automatically hide when they are out of stock.
Shipping Rates: Configure your own shipping tables or use integrations with major shipping carriers (UPS, FedEx, USPS, Canada Post, and Australia Post) for real-time shipping rates.
Tax: Set your own tax rates or integrate with Avalara for easier tax setup.
Analytics: View stats on abandoned cart rates, traffic, sales, etc.
Order Management: Automatically send order status updates to staff and customers. Use the built-in test payment gateway to test checkout and order management before launching your store.
Design
Customizable Checkouts: Fine-tune the look, feel, and functionality of your checkout pages. Customers check out on your site; they won't be redirected to a LemonStand URL.
Command Line Tool: Use LemonSync for local theme development.
A/B Testing: Experiment with design and checkout changes to observe the impact on conversion.
Free Open-Source Themes: These themes are 100% customizable if you have the right know-how. LemonStand uses the Twig theming language.
Products
Unlimited: Set unlimited categories, products, products options, variants, and images.
Custom Products: Provide customers with custom fields to enter their specifications for custom-made products.
Digital Products: Sell digital products (photos, music, etc.) on the same site as your physical products.
Subscription Selling & Recurring Billing: Sell subscription products with LemonStand's recurring billing feature.
Flexible Pricing: Implement volume, wholesale, and group-based pricing.
Marketing
Cross-Sell & Up-Sell: List related products and have them appear alongside products your customers are considering.
Discounts: Create discount codes and specify how many times they can be used.
Built-In Email Marketing: Create as many types of automated emails to your customers as you'd like.
Target Abandoned Carts: Manage abandoned cart recovery emails via the native MailChimp integration.
CMS & SEO
SEO Features: Customize URLs and metadata. Manage title tags, header tags, and meta descriptions on-page.
Global CDN: Quick page loads via the Content Delivery Network help boost your SEO rankings, while also making impatient customers happy.
WYSIWYG Editor For CMS: Manage your site's pages, announcements, and blog posts from a "what you see is what you get" editor.
Widgets: Create your own widgets and embed them on your site.
Web Design
LemonStand has 15 free themes available, including the bare "Bones" theme for developers who want a near-blank canvas. One of the themes — FrescoBox — is designed specifically for subscription-based businesses. All the templates are fully mobile responsive and open-source.
There's a reason all LemonStand themes are called "starter" themes: they're meant to be customized. If you're thrown off by words like Twig, Bootstrap, and Angular, you might have to hire someone to do that customization for you. On the other hand, I actually like LemonStand's themes enough that I'd be content using one of the pre-made themes without any customization at all.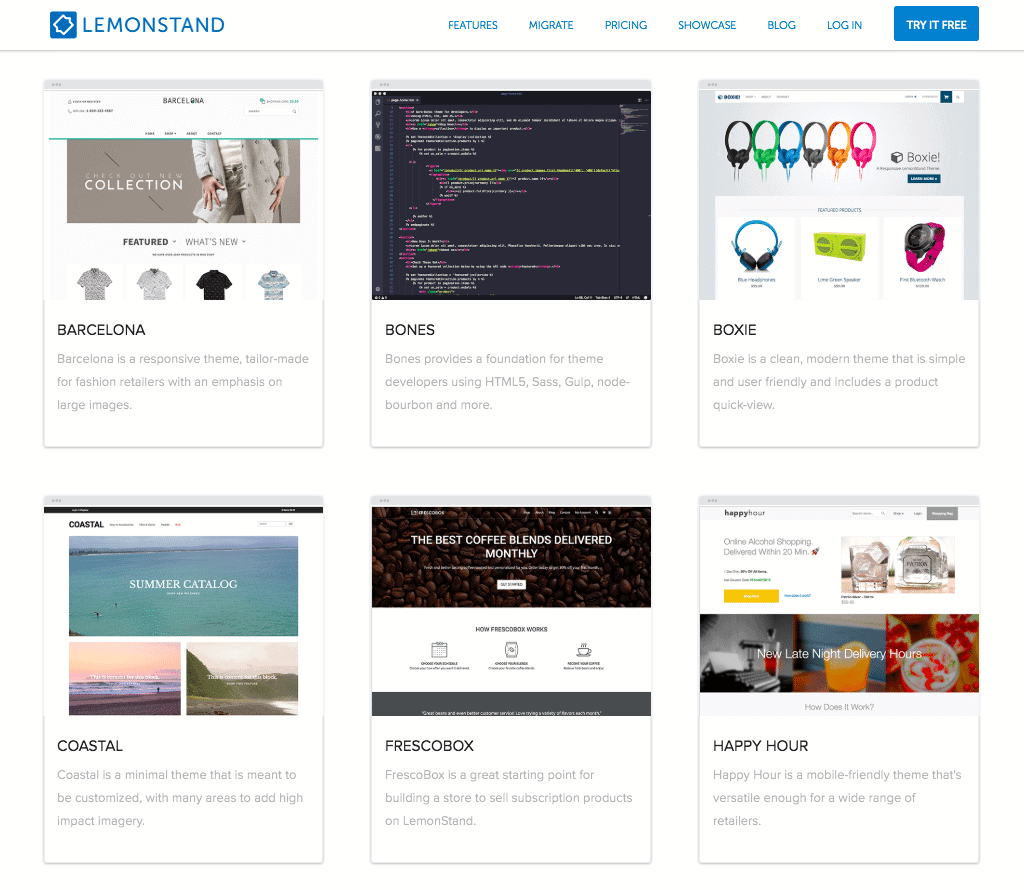 There isn't a whole lot that those with limited tech ability can do to change the layout of the page, and there is no drag-and-drop editor. You can change a few colors, photos, and logos under Theme Settings: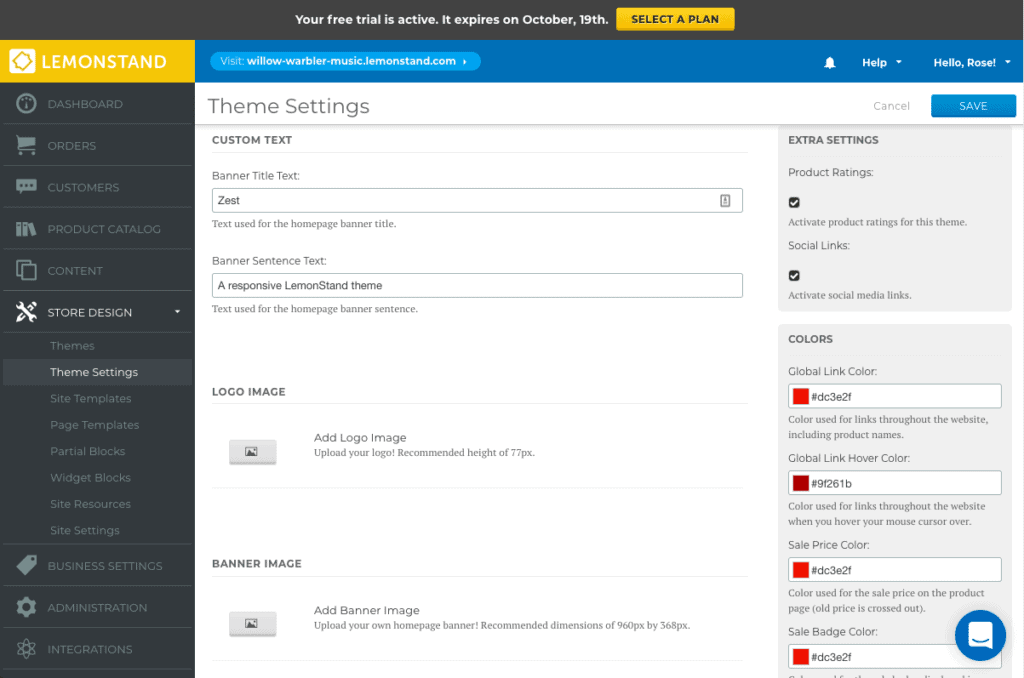 And, you can change the text inside the pre-made widget blocks that come with your theme: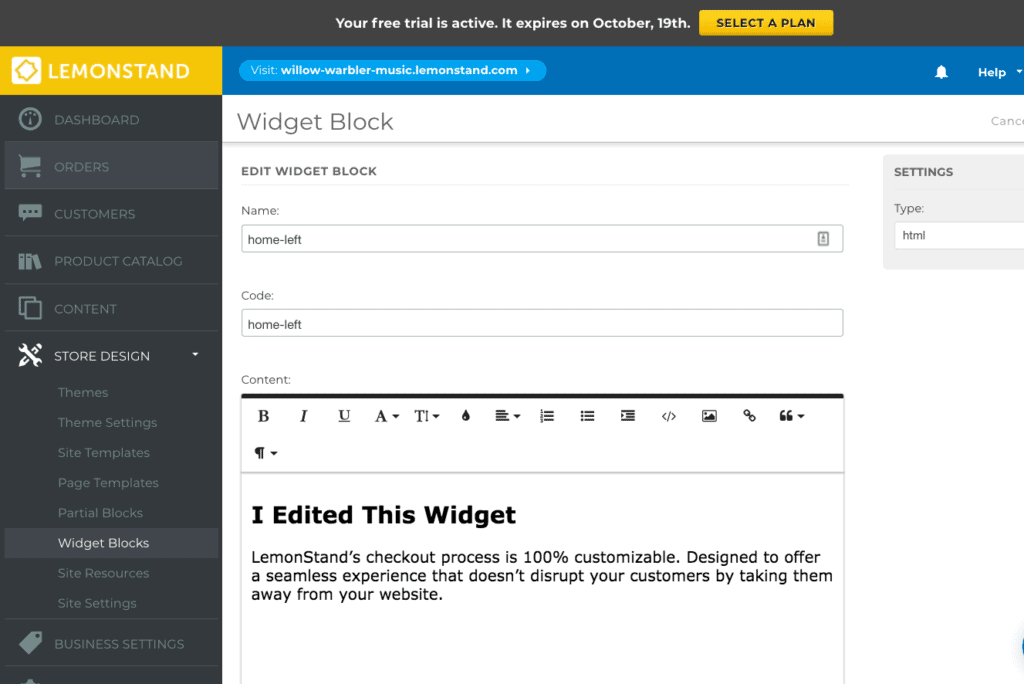 With these two simple tools, I changed the default Zest Theme from this: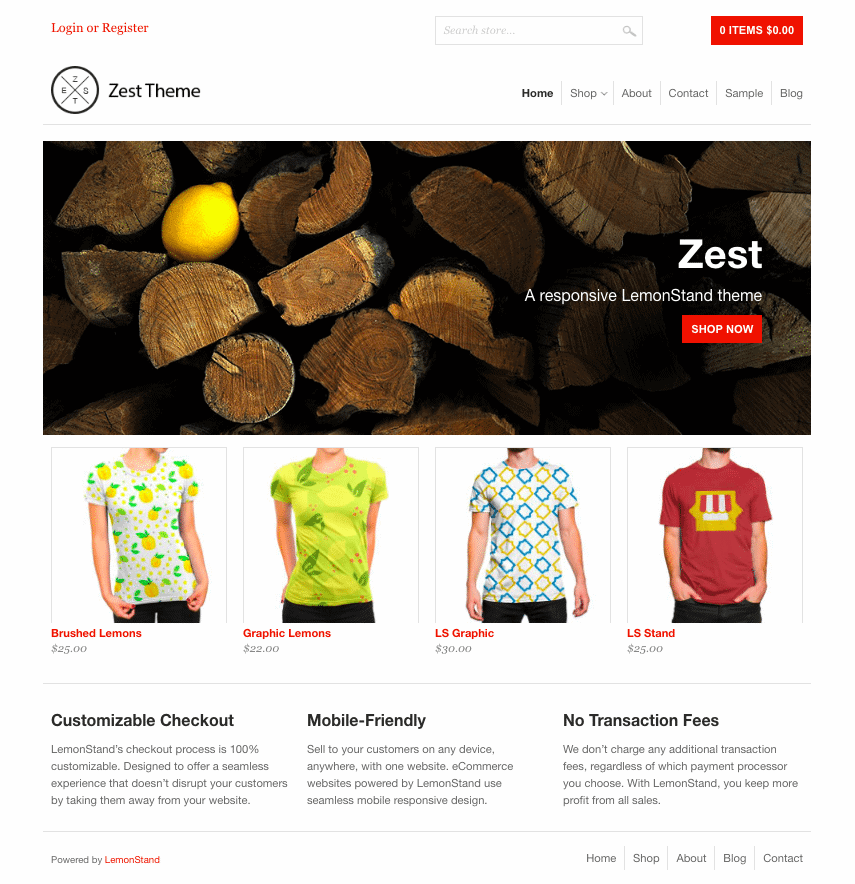 To this: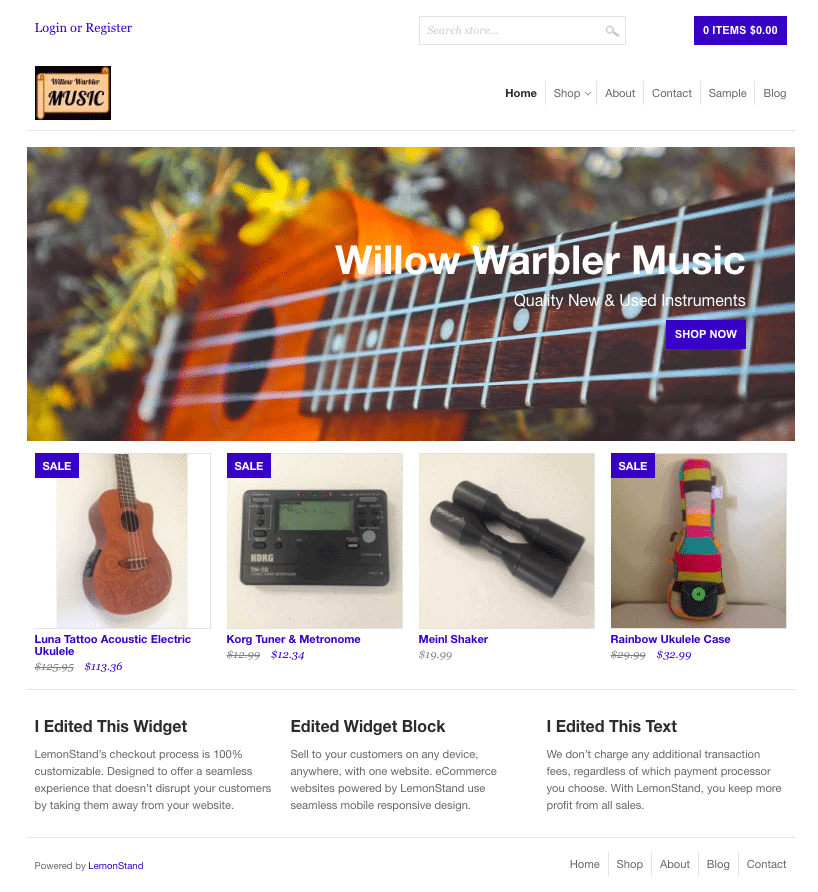 I'm sure you're very impressed, but in case you didn't catch my changes, I uploaded a new logo and banner image, edited some text inside widget blocks, and switched every font color I had access to from red to blue. Now I'm really ready to sell things!
Each theme's editor is slightly different, but you're generally limited to these types of changes without diving into the HTML and CSS. LemonStand also offers its own design services for hire if you choose to go that route.
Integrations & Add-Ons
LemonStand provides several ways to access integrations, but still refers to launching a traditional app marketplace in the future tense. In the meantime, LemonStand heavily promotes its integration with Zapier, which is a service that allows you to connect with hundreds of other software programs. In fact, my impression is that LemonStand expects most subscribers to also have a Zapier account. You can tell which integrations are offered within Zapier by the little red Zapier flower logo in the top right-hand corner of each app: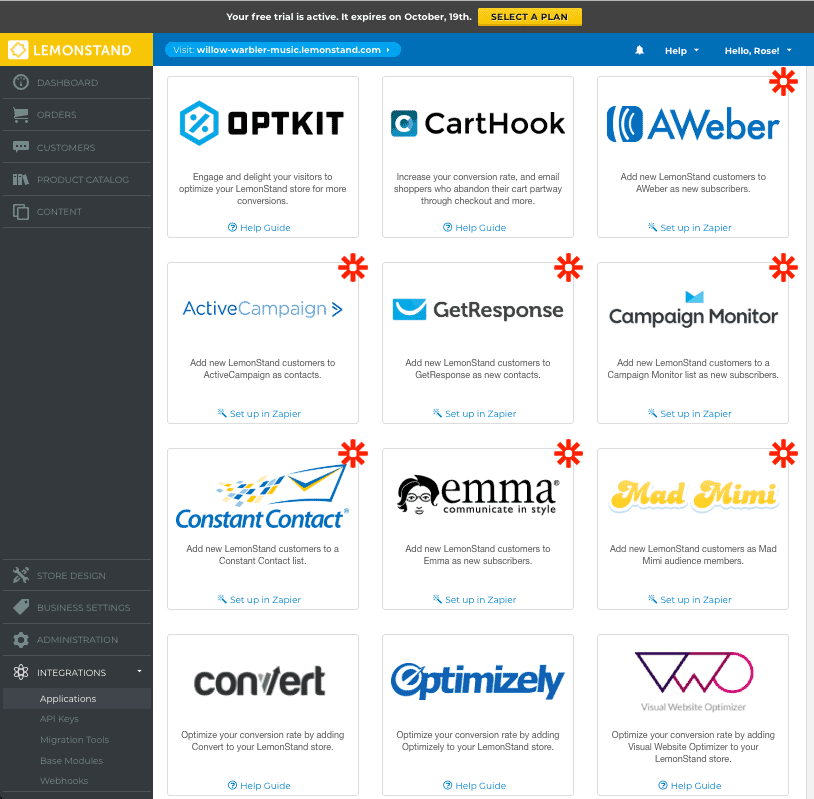 The rest of the integrations come in two main groups. The first are native, built-in integrations that only require a few clicks to configure inside your LemonStand dashboard. This is a very small list, and currently includes:
Zapier (of course)
MailChimp
Google Analytics
Avalara
ShipStation
Quickbooks
The second group of non-Zapier integrations are also classified by LemonStand as "pre-built" and native, but these really require some extra steps and knowledge, such as adding code to your site or dealing with API keys. Clicking on these apps in your dashboard takes you to a "Help Guide" that documents the procedure. This group of integrations is larger, but here are just a few examples:
ShipRush
KissMetrics
CartHook
Ordoro
LiveChat
ShipWorks
ReferralCandy
I should also mention that some integrations promoted on the main LemonStand website are accessed secondarily through an integration with something else, similar to the Zapier setup. For example, to integrate with Square POS, or marketplaces like Amazon and eBay, your LemonStand account would already need to be integrated with Ordoro (a shipping and fulfillment app) or similar.
So, depending on how you look at it, LemonStand easily integrates with just a handful of apps, over 1000 with Zapier, or somewhere in between. Approximately 50 integrations are currently promoted inside the LemonStand trial dashboard, including a sampling of Zapier-facilitated connections.
Of course, if you don't see what you're looking for, LemonStand also comes with a powerful RESTful API that allows your developers to build integrations for you. In that sense, LemonStand actually integrates with infinite apps! Again, the general assumption with LemonStand is that there is at least one person on your team who doesn't run for the hills at the sight of code.
Payment Processing
With LemonStand, there are over 95 payment gateways available in over 100 countries. Unlike many other ecommerce platforms, LemonStand does not have an in-house, white-label processor, nor does it promote one gateway partner over others. The company is quite proud of its equal opportunity approach to payment processing.
Another rather unique aspect of LemonStand is the way your payment options are organized and presented in your dashboard. "Standard" gateways (shown in blue) keep customers within your site while they check out, whereas "Alternative" gateways (shown in yellow) redirect customers to an offsite payment form hosted directly by the payments provider. Examples of alternative methods include Amazon Pay, BitPay, and some PayPal configurations. The good news is that with either type of gateway, your checkout pages don't actually touch or store card data, but it's helpful to be aware of this difference. Note that the alternative gateways do not support LemonStand's recurring billing feature at this time.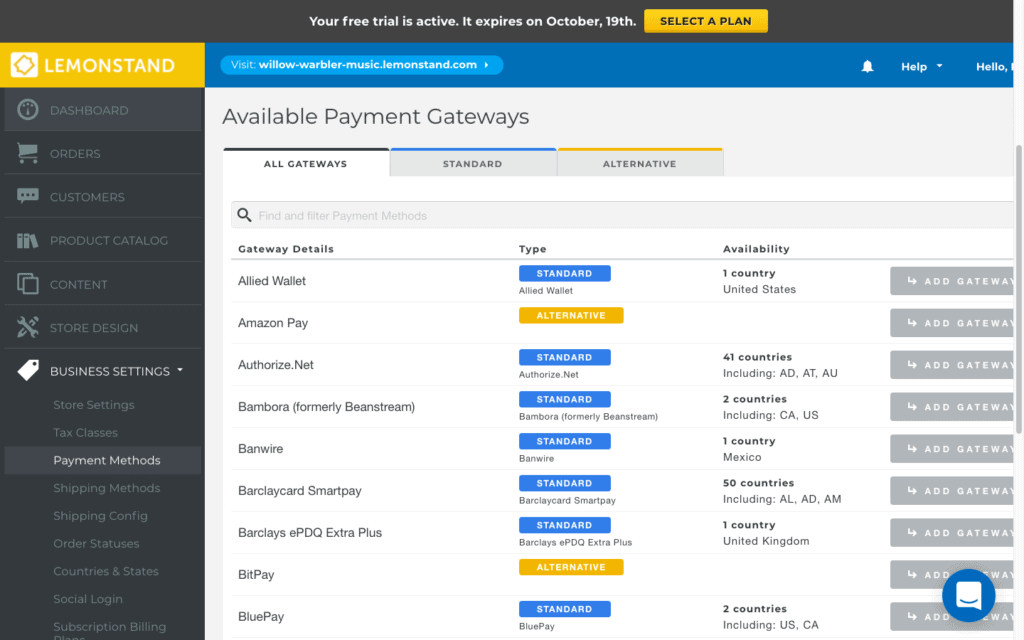 In no particular order, here are several LemonStand payment acceptance options we've reviewed at Merchant Maverick:
Authorize.Net
Braintree
PayPal
Bambora (formerly Beanstream)
Stripe
Amazon Payments
BluePay
Moneris
WorldPay
WePay
Global Transport (Global Payments)
Elavon
Heartland (Global Payments)
Sage Payment Solutions
USAePay
Intuit (Quickbooks Payments)
Cayan
BlueSnap
Forte
Merchant e-Solutions
PayJunction
Customer Service & Technical Support
LemonStand's support is available by email and live chat for all users and is accessed via your admin dashboard. Unfortunately, only LemonStand Premium customers have access to any phone support. If you ask me, it's tricky marketing for LemonStand to state that premium customers get "priority" phone support, implying other customers get "regular" phone support. I wish the website was clearer on this. On the bright side, you can always try the sales phone number between 9AM-5PM Pacific time.
Let's recap LemonStand's technical support options:
Phone: Premium Plan only
Email/Web Ticket:

Available 24/7
Typically reply within one hour between 6AM-6PM PST
Longest response time is 24 hours

Live Chat:

Monday-Friday 8AM-6PM PST
Typically reply within three hours
Personally, I was pleasantly surprised with LemonStand's customer support. I did have to wait until Monday morning for an answer to a question I emailed on a Saturday, but it wasn't an urgent request. I have definitely received responses within the hour, and even within four minutes on one occasion. Compared to many other platforms' response times, this is lightning-quick. Plus, all replies I received were clear and helpful.
If you're up for finding answers on your own, here are some additional resources:
Documentation: Support articles, tutorial videos, API documentation, code examples, and more are accessed at the main website or from your control panel.
Blog: New feature announcements and ecommerce tips.
Ebooks & Webinars: In-depth guides and ecommerce advice.
Roadmap: LemonStand maintains a public Trello page tracking feature updates.
Custom Support: Fill out the web contact form for a quote.
Social Media: Reach out to the team or follow company news on Twitter, Facebook, Instagram, and Dribbble. (Yes, Dribbble has three "bs." It's a network for artists and designers. Cute, eh?)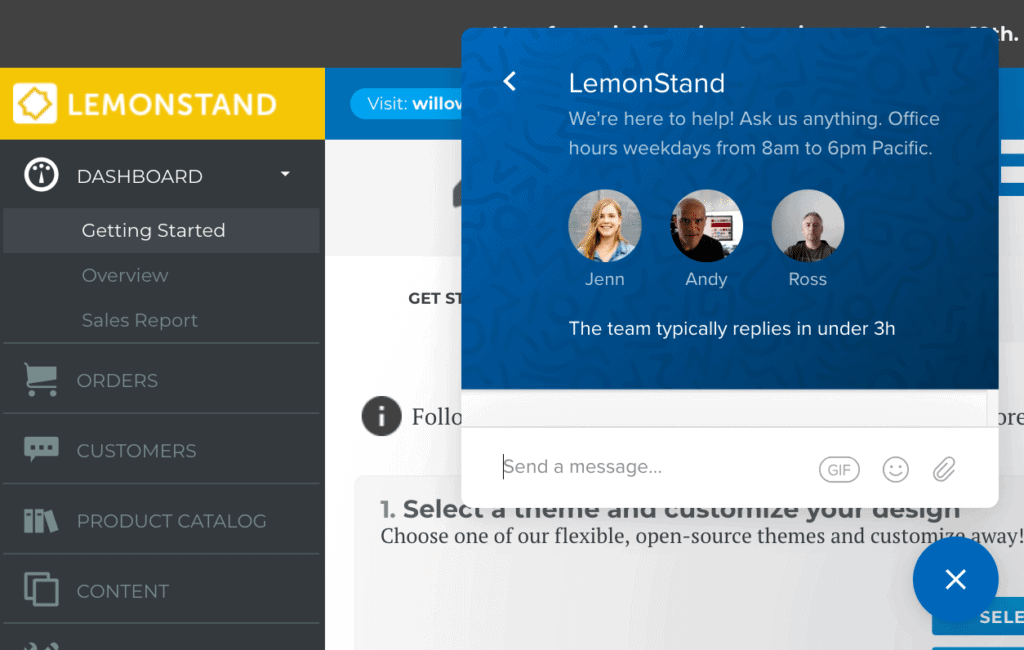 Negatives Reviews & Complaints
For the most part, LemonStand customers are happy with their platform. However, they also admit that LemonStand still has a few things to improve upon. Here's what real LemonStand customers say about the platform:
Lacking Features: Customers say that LemonStand is still working on developing some important features and integrations. All of these comments express the hope that LemonStand will develop those features in the future.
Some Skill Required: In order to really design your store, you'll need to have some knowledge of HTML and CSS, or at least be able to hire someone who can take care of it for you.
Difficult Discount Features: I've seen a few complaints that LemonStand's discount feature is not flexible enough to create very specific discounts. However, I don't find that to be the case. LemonStand actually has a fairly robust discount engine; it's just a little difficult to figure out at first. I suspect that this complaint is largely related to user error.
Documentation Missing Detail: Customers report that LemonStand's documentation is difficult to follow in places. Some features are not explained in detail.
Positive Reviews & Testimonials
As I've mentioned, customer feedback on LemonStand is overwhelmingly positive on most comment boards. In particular, the platform has ranked in the "High Performer" quadrant by users on G2 Crowd in recent months. Here's what customers love about LemonStand:
Control & Customizability: It's true that it takes some tech ability to manage a LemonStand account. However, if you have that ability, there's very little you can't change about your store. In particular, customers find their storefronts (the actual look and feel of their stores) to be very flexible.
Continued Development: LemonStand is continually and consistently upgrading its existing features and adding new ones. You can view the company's roadmap to see what they're working on right now.
Good Customer Service: I can attest to this one. I found LemonStand's customer service to be courteous and responsive.
Built-In Subscription Features: Subscription sellers love that the features they need are available out-of-the-box.
Other features LemonStand customers like (but mention less frequently) include:
Open API for development
No transaction fees
Quick setup if you have basic web knowledge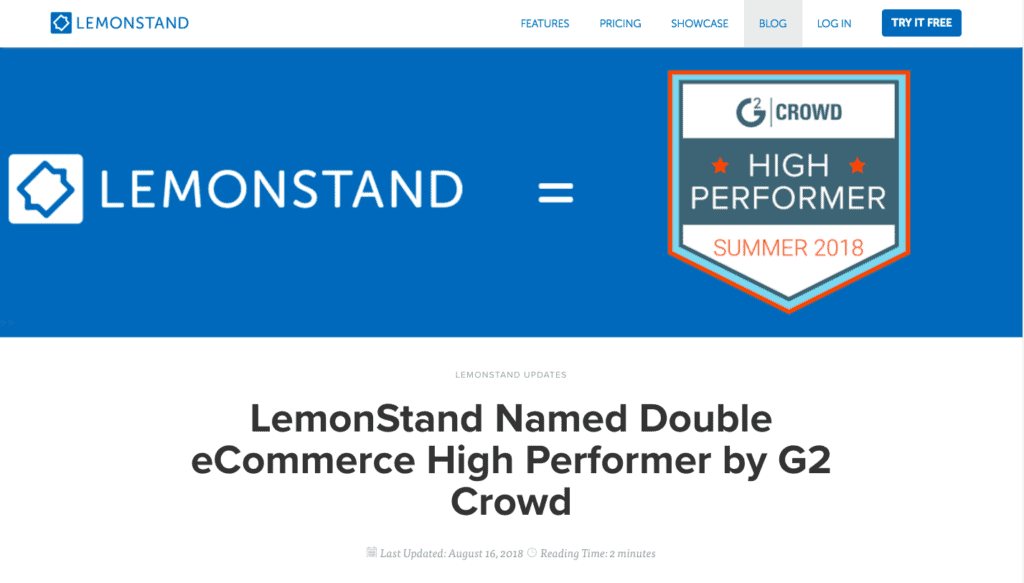 Security
LemonStand comes with site-wide SSL certification, which is good for both your customers' peace of mind and your search engine rankings. LemonStand stores are also PCI DSS compliant.
Your information will be secure in LemonStand's global CDN (content delivery network) and will go through automatic backups.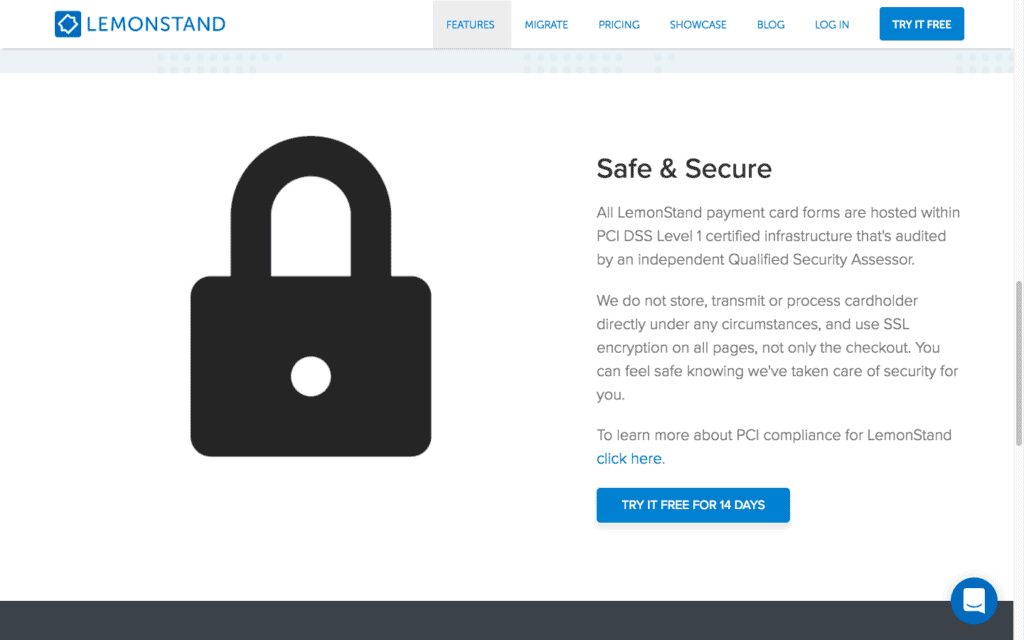 Final Verdict
If you've considered Shopify but prefer a shopping cart with more customizability, LemonStand may be the way to go. You'll have access to solid customer support, a beautiful admin, and 100% open-source themes. Since you've made it this far in our review, you're also already well aware that some technical know-how is required to make the most of this platform. If you have the resources to hire someone to do your web development for you, then LemonStand is definitely worth your consideration.
Although LemonStand's pricing starts out very affordable for small sellers, keep the prices of the higher level plans in mind. Of course, I'm assuming you'd like your monthly order numbers to increase over time, in which case you'll eventually hit those automatic price bumps. If you sell a small number of large ticket items, however, you'll really hit LemonStand's sweet spot. (Sour spot? Sorry, the lemon analogy broke down on me there.)
Click the link below to sign up for a free (no commitment) trial of LemonStand to get a better understanding of what this platform can do for you.
---
Featured Free eCommerce Plan 🔥
Square Online


---
Get a free website builder, online ordering, gift cards, in-store pick-up options, and dozens of other features for eCommerce and hybrid businesses. Free options available. Learn more from Square.
Featured Free eCommerce Plan 🔥
Square Online


---
Get a free website builder, online ordering, gift cards, in-store pick-up options, and dozens of other features for eCommerce and hybrid businesses. Free options available. Learn more from Square.
To learn more about how we score our reviews, see our
eCommerce Software Rating Criteria
.