Expert Analyst & Reviewer

UPDATED
Advertiser Disclosure: Our unbiased reviews and content are supported in part by
affiliate partnerships
, and we adhere to strict
guidelines
to preserve editorial integrity.
LessAccounting

Pros
Cash-basis and accrual accounting
Basic accounting reports
Fair customer support
Cons
Limited features
No mobile apps
Limited integrations
Poorly-designed UI
LessAccounting Overview
LessAccounting was created by Steven Bristol and Allan Branch in 2006. Reacting to a market where QuickBooks was the obvious choice, Bristol and Allan based their company around software that would be less complicated, less confusing, and less overrun by unused features. LessAccounting is intended to be a simple solution "for business owners who dislike bookkeeping."
The company was acquired by American SMB Services and Big Half in June of 2016. The new owners have plans for reinstating the accounts payable feature, adding more tax reports and payroll, and enhancing reports. While a few new reports have been added, the company has not lived up to its promises. Years later, the software is still missing accounts payables as well as key features like inventory, project management, and time tracking.
LessAccounting, unfortunately, has lived up to its name in a sense that I don't think was ever intended. The company offers far less than its competitors. Fewer features, the lack of mobile apps, and the small number of integrations don't put LessAccounting in a good light. The software has lowered its prices since our last review and is fairly easy to use, which is nice, and there is a bookkeeping service where you can pay for LessAccounting to handle your bookkeeping for you.
If you're looking to outsource your bookkeeping while still having control of some business aspects like invoicing and running reports, LessAccounting might be worth looking into. But, if you're looking to do your own accounting, you'll get more bang for your buck with another accounting software.
If you are still interested in LessAccounting, continue on to read our full review.
Pricing
LessAccounting has two types of plans: a do-it-yourself plan and full-service bookkeeping plans. The DIY plan has a flat fee that is paid monthly. There is a free trial available of this plan, but a credit card is required, which is unheard of in the accounting software world (hence the poor rating). So, if you don't like the software, be sure you cancel your account right away. The company does offer a 60-day money-back guarantee, but unless you cancel your account, your card will automatically be charged after the 14 days are up. For the full-service bookkeeping plans, there is no free trial.
While I dislike that you have to include a credit card for a free trial, a positive note is that LessAccounting has changed its pricing structure for the better. Previously, there had been three DIY tiers that varied based on the volume of your business transactions. Now you have access to all features for a set price regardless of how many expenses or sales transactions you process. Here are the details of LessAccounting's DIY plan:
LessAccounting
$20/month
Invoicing
Proposals
Contact management
Expense tracking
Live bank feeds
Reports
Multi-currency support
Extra Costs
There are a few extra services available with LessAccounting.
Bookkeeping: As we mentioned earlier, you can pay for a personal LessAccounting Bookkeeper to handle your business's bookkeeping tasks. This service starts at $70/month and can include payroll. Contact the company directly for details.
Cloud-Based Or Locally-Installed
Cloud-based. No downloads or installation required.
Hardware & Software Requirements
Since LessAccounting is cloud-based, the software is compatible with nearly any device so long as there is an internet connection. The software is optimized for Google Chrome but will work with any browser. There are no mobile apps at this time, although you can access LessAccounting on your mobile web browser.
Specific Size Of Business
LessAccounting is geared toward small businesses and micro-businesses. LessAccounting is particularly ideal for small business owners who don't have the time or experience to do their own bookkeeping and would rather pay a company to manage their bookkeeping tasks for them (while still being able to control some business aspects like invoicing and running reports).
The software's feature set does not support larger businesses. Additionally, for small business owners looking to do their own accounting, there are more developed options out there which may give business owners more bang for their buck in terms of features. Check out our post on the best small business accounting programs to explore all of your options.
With LessAccounting, you can add additional users and invite an accountant. There are three user roles — owner, trusted, or untrusted — and there's no way to customize these roles or the individual feature access for your users.
Accounting Method
Both cash-basis and accrual accounting.
Ease Of Use
With a simplified feature selection, you'd think LessAccounting would be very easy to navigate, but it's almost as if the software is too simple. Finding features can be a bit difficult initially. That being said, the software takes very little time to learn and is easy to use once you know where all of the features are located.
Features
When compared to the leading names in accounting, LessAccounting has a small feature set. Granted, that's the whole point of LessAccounting — less unnecessary features, less confusion for users. However, some of the missing features seem pretty necessary to fit the needs of most small businesses. Read on to see if LessAccounting's basic features meet your business needs:
Dashboard: LessAccounting has a simple dashboard with a list of notifications, financial balances, spending stats, and invoices stats on the left, and a set of graphs to break down your business spending and profit and loss.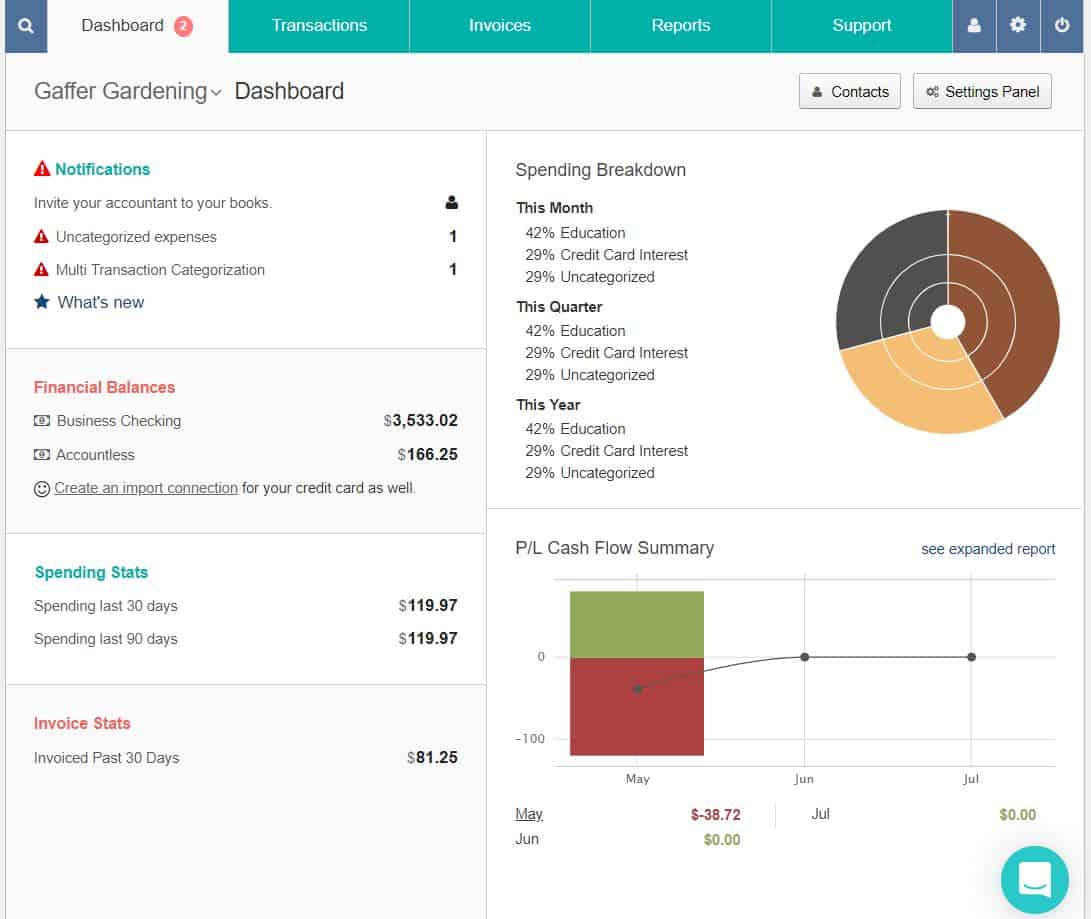 Invoicing: LessAccounting offers a single invoice template. You can customize your invoice with headers and footers and by adding a company logo, but that's about it. Also, the software does not allow you to create separate headers, footers, or email messages for invoices and proposals. The custom text will show up on both forms. Creating an invoice is simple enough and you can easily select the sales tax rate you need. There is no items list in LessAccounting. However, the software does save previous items, along with the quantity and rate. The item will appear when you begin typing in the item box. You can create recurring invoices as needed and send invoices in multiple languages, but there are no invoice reminders. There is also no client portal, so customers receive invoices and estimates as an email .pdf.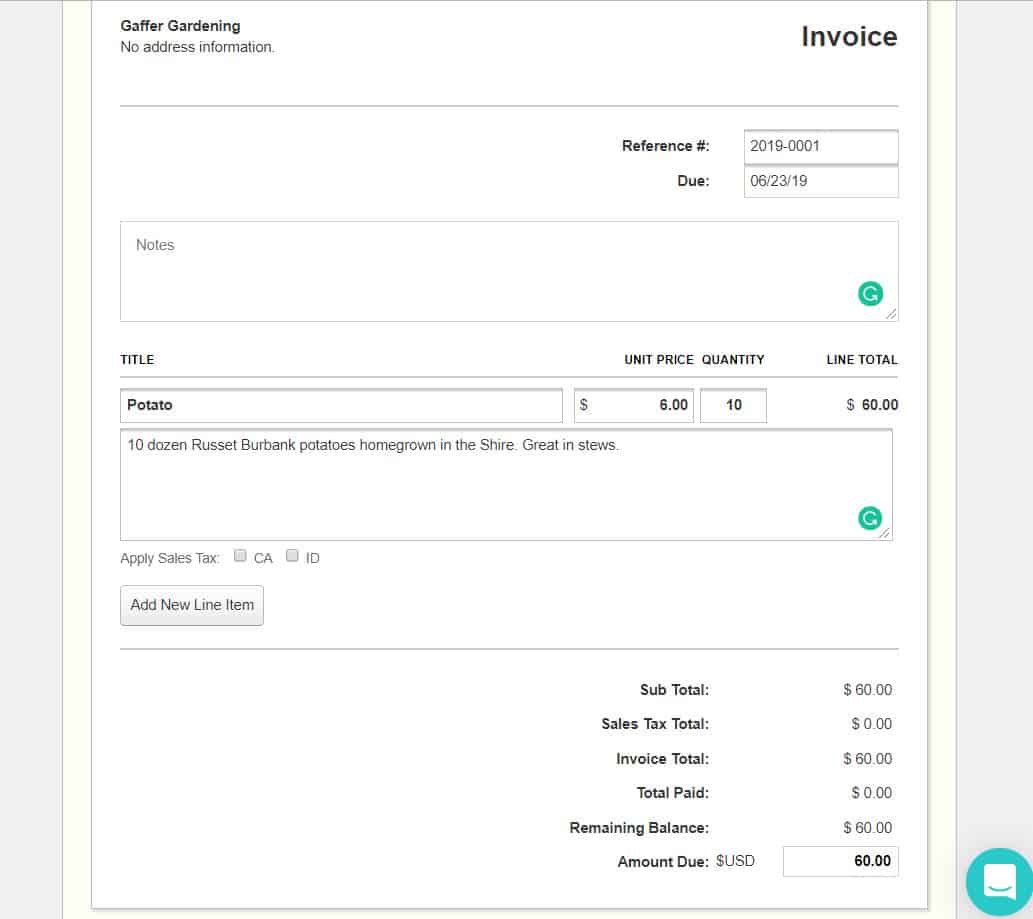 Proposals: You can create proposals in the same way you create invoices, and you can easily convert proposals to invoices.
Contact Management: With this feature, you can save and keep track of basic contact information. You can save contacts, employees, or subcontractors. There is no way to import contacts unless you are importing directly from Highrise or Basecamp.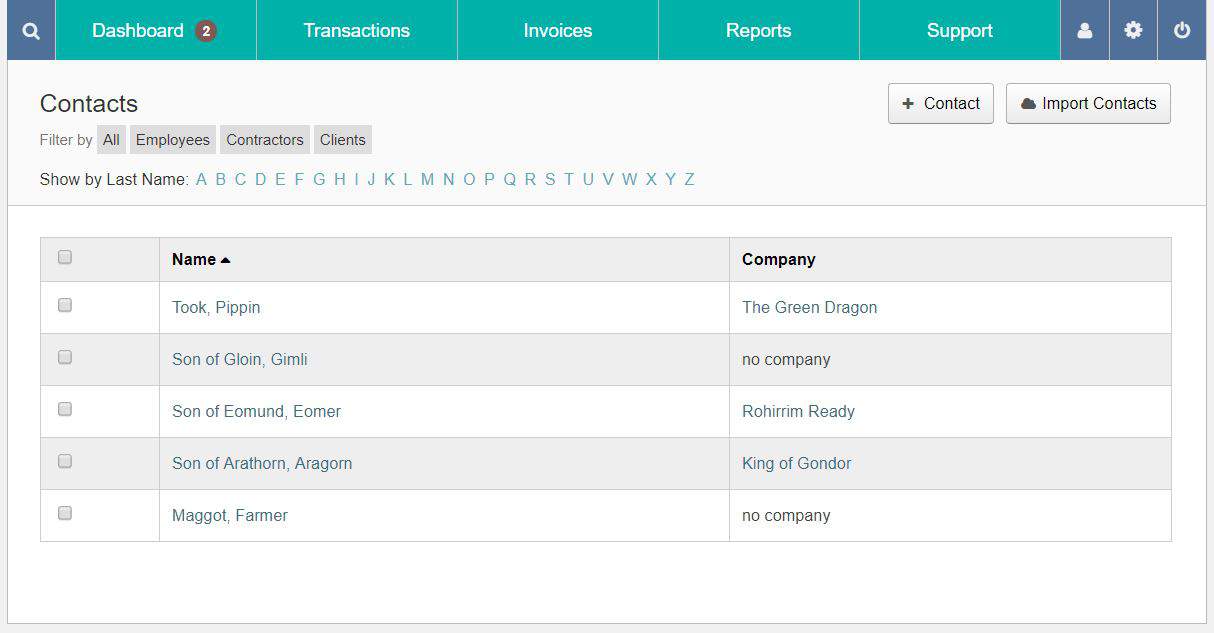 Expense Tracking: You have the choice to use live bank fees or to manually import bank statements via .qif or .qfx. LessAccounting does provide a link to a csv > qif converter, but the trustworthiness of the site is questionable. You can add automated bank rules, and the duplicate transaction detection is well-developed. The transactions screen also makes it easy to see which expenses still need to be categorized. Note: Like most software using bank live feeds, LessAccounting partners with Yodlee, which may violate some banks' Terms and Conditions. Consult with your bank to see whether live bank feeds are a good choice for you.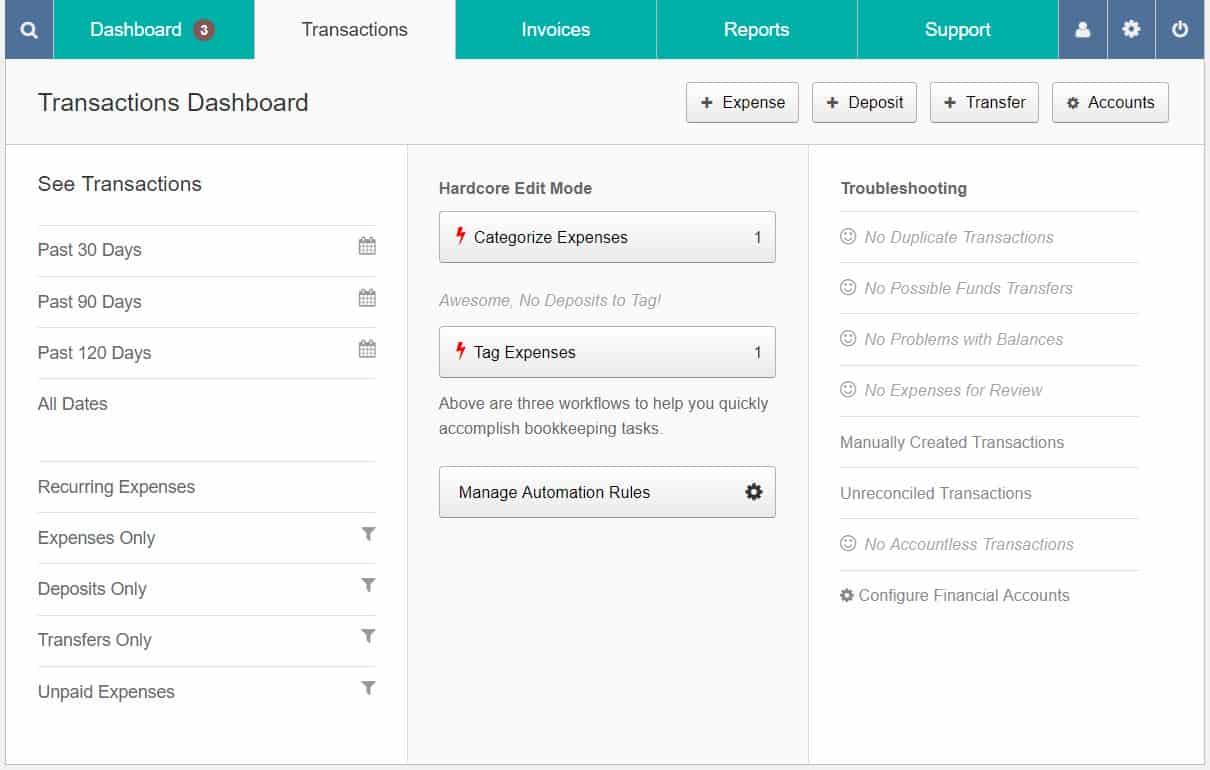 Bank Reconciliation: You can run a bank reconciliation report in LessAccounting.
Chart Of Accounts: LessAccounting does not have a complete chart of accounts. The software only has a list of expense categories. You can edit and add categories as needed.
Fixed Asset Management: You can run an asset value depreciation report to help manage your fixed assets.
Reports: LessAccounting provides 23 reports. All your basic accounting reports show up for this roll call, and most reports can be customized by date range.
Journal Entries: You can't create journal entries in LessAccounting. However, you can run a Journal Detail Report to view journal entries that have been automatically generated by the software.
Budget: Under reports, you can create monthly, quarterly, or yearly budgets for each category. You can run an Actual VS Budget report as well.
Sales Receipts: When you enter an invoice payment, you can choose to have the software automatically email a sales receipt to your customer.
Tags: I was pleasantly surprised that such a small software supports tags. Tags are a way of categorizing and organizing your transactions. You can use tags to make searches easier or run more detailed reports.
Default Email Messages: You can set a default email message for your invoices/proposals. There's no way to create separate messages for each type of form in LessAccounting.
Sales Tax: The sales tax allows for an unlimited number of sales tax rates. VAT support is available as well.
Mileage Deduction: Under reports, you can enter vehicle mileage.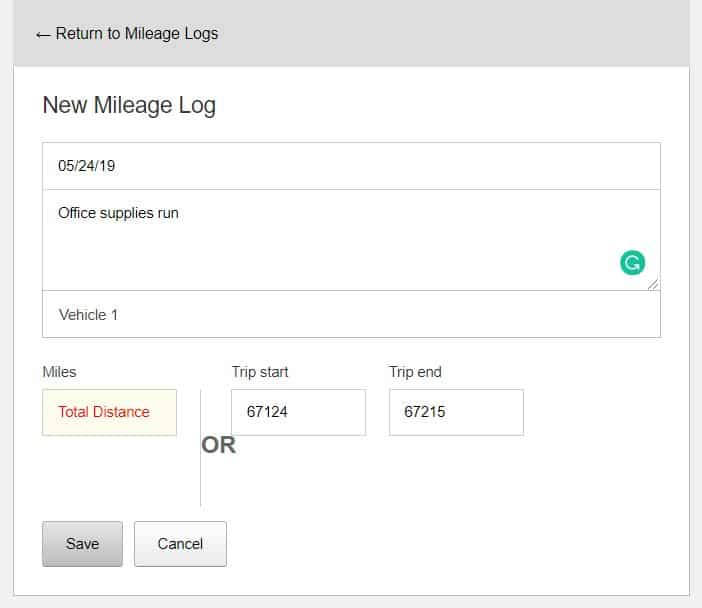 Multiple Currencies: LessAccounting supports 160+ currencies.
Importing & Exporting: LessAccounting has hardly any importing and exporting capabilities. You can import bank statements and contacts via Basecamp or Highrise, but that's about it. You can download reports as .pdfs, but that's about as far as exporting goes.
Customer Service & Support
In my experience, customer support with LessAccounting is a hit or miss. Sometimes representatives are quick to respond and other times you're left waiting. The knowledge and thoroughness of each rep vary as well. The company does provide chat support and a decent help center as well as a small sampling of other support resources.
Here is how to get in touch with LessAccounting customer service:
Phone: Users can call support directly.
Email: You can contact support by email or by filling out the email support form.
Help Center: LessAccounting has a help center with a good amount of articles (although, the search bar is not always very helpful). There is a particularly helpful Getting Started Guide here as well.
In-Software Support: You can access the chat and support form support options from directly within the software and can quickly switch over to the help center as well.
LessAccounting Blog: The LessAccounting blog features ample advice for small business owners, including topics like year-end taxes and more.
Social Media: LessAccounting has accounts on Facebook, Twitter, and LinkedIn.
User Reviews
Negative Reviews & Complaints
LessAccounting has an incredibly small number of customer reviews — as in barely more than 10. The reviews the software does receive are fairly positive, although there are a few complaints.
Lack Of Features: A couple of users say LessAccounting isn't robust enough. One user said:
This software has very limited functionalities versus other ones in this class. If you can afford more buy a better one.
No Mobile App: A couple of users dislike the lack of mobile apps.
Poor Customer Support: One user complains that the company's customer support has gone downhill in recent years.
Positive Reviews & Testimonials
As we mentioned earlier, there is an incredibly small number of customer reviews for LessAcocunting. The software receives 5/5 stars on G2Crowd (based on one review) and 4/5 stars on Capterra (based on 7 reviews). According to the few customer reviews available, here is a list of LessAccounting's strong points:
Easy To Use: The most common praise is that LessAccounting is easy to use and navigate.
Saves Time: One user said they like LessAccounting because it saves them time. Another enjoys LessAccounting's bookkeeping service for the same reason.
Good Customer Support: A couple of users praise LessAccounting's customer support team.
Here's what a few users are saying:
It's incredibly easy to use with a clean and approachable UI. Since finance isn't my specialty, it's nice to see a software that understands that. I can track my finances and not spend hours trying to figure out the bottom line. Since it is a simple software, some people might want or need something a little more robust. But, for freelancers or small entrepreneurs who don't need anything too crazy, it should fit the bill.

We are a startup without a full-time accountant or bookkeeper. We wanted to be strongly in control of our finances and understand exactly how well we are doing financially with good reporting. Historically the accounting system was more an archive, kept for compliance. LessAccounting allows us to really dig in at any time knowing that it's minutes behind at most.
Integrations & Add-Ons
LessAccounting only offers 11 integrations. Not only is this a small sampling of integrations, but one of the integrations it does offer is flawed. On Twitter, the company said they've received multiple complaints about the payment gateway, WePay, from customers and has urged users to not use the integration, even though the company still hasn't canceled the partnership.
If you need an easy-to-use software with a larger integration selection, check out FreshBooks, Zoho Books, or QuickBooks Online instead.
Security
LessAccounting offers basic security measures including 256-bit SSL encryption. Data centers are hosted in the US and protected by biometric access and constant surveillance. Those are about the only security details LessAccounting shares on its site, so contact the company directly for more information.
Final Verdict
Sometimes less is more, but in this case, I'm not convinced. While striving to create a simple, easy-to-use accounting solution with less jargon and less unnecessary features is admirable, LessAccounting cut out features that business owners actually need like inventory, importing and exporting, and accounts payable. There's also no project management or time tracking, no mobile apps, and only a handful of integrations.
I am also incredibly wary of a company which requires a credit card for a free trial.
For small business owners looking to handle their own bookkeeping, you can get a lot more bang for your buck with another accounting solution. Check out our top-rated accounting programs to find the right software for you.
For small business owners who want to pay for a bookkeeping service, this would probably be the only time I would recommend LessAccounting (although, there are other companies like Wave that offer the same service, without skimping on features or mobile apps). Only time will tell if the acquirement by American SMB and Big Half will bring LessAccounting back into a place of success.
If you're still interested in LessAccounting, you can give the software, you can give the 14-day trial ago if you're comfortable with sharing your credit card information. Otherwise, I'd give LessAccounting a pass and look for more with the best small business accounting options instead.
---
Try A Top Pick For Payroll
ADP Payroll


---
We like ADP Payroll for its advanced employee management, strong payroll features, and great customer support. Get three months free when you sign up through our links! Get Started.
Try A Top Pick For Payroll
ADP Payroll


---
We like ADP Payroll for its advanced employee management, strong payroll features, and great customer support. Get three months free when you sign up through our links! Get Started.
To learn more about how we score our reviews, see our
Accounting Software Rating Criteria
.