Expert Analyst & Reviewer

UPDATED
Advertiser Disclosure: Our unbiased reviews and content are supported in part by
affiliate partnerships
, and we adhere to strict
guidelines
to preserve editorial integrity.
LiquidPlanner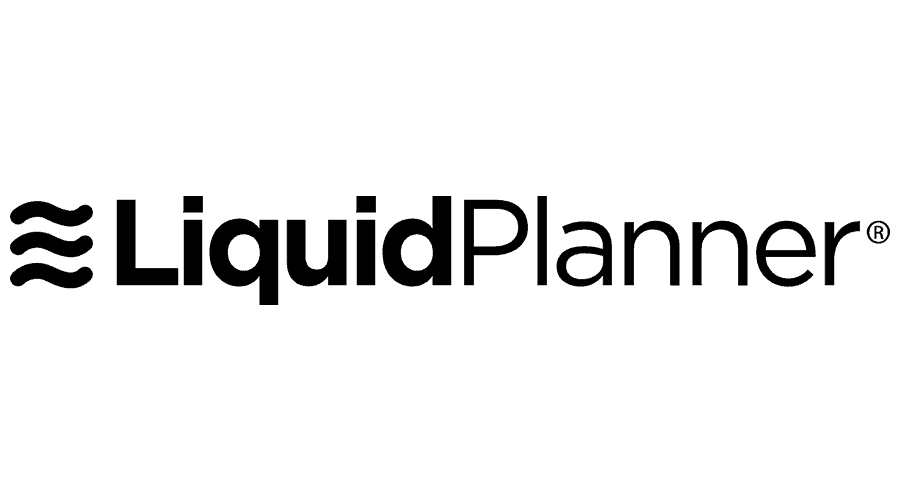 Pros
Excellent customer service
Advanced user permissions
Advanced features
Free starter plan
Cons
Steep learning curve
A basic paid subscription is somewhat expensive
LiquidPlanner Overview
LiquidPlanner is a cloud-based project management software package with broad ambitions. The software is challenging to learn, but for the business prepared to take advantage of it, LiquidPlanner offers features that go beyond project management. With its focus on task prioritization and workforce management, LiquidPlanner can transform the way your team works for the better.
LiquidPlanner's approach to work management has made it the choice of 1,300 companies worldwide, including corporate giants, such as T-Mobile and Twitter. Our LiquidPlanner review will walk you through the product's pricing scheme, features, public reception, and more. Read on for the full scoop on LiquidPlanner!
LiquidPlanner Pricing
LiquidPlanner recently revamped its subscription tiers and now offers a free plan for you to test out the software with no time limit. Should you decide you like the software enough to use it more broadly throughout your businesses, LiquidPlanner offers three pricing plans to choose from, each one offering a higher level of capability than the next.
Pricing is per month and per user, and the prices listed on LiquidPlanner's website are based on annual billing plans. If you want a month-to-month subscription, you'll have to ask the company about pricing details.
Here are the details of the LiquidPlanner pricing plans:
Free
LiquidPlanner's free plan includes:
10 users
300 tasks
Three small projects
One workspace
Essentials
LiquidPlanner's Essentials plan costs $29/month/user and includes:
Unlimited users
5,000 tasks
50 projects
One workspace
Professional
LiquidPlanner's Professional plan costs $39/month/user and includes:
50,000 tasks
500 projects
20 workspaces
Available add-ons include:
PRO+ Tracking
PRO+ Custom Data
PRO+ Groups & Access
PRO+ Dashboards
Ultimate
LiquidPlanner's Ultimate plan costs $59/month/user and includes everything in the Professional plan, plus:
All PRO+ add-ons included
Negotiated contracts
Ultimate service
Unlimited tasks, projects, and workspaces
Cloud-Based Or Locally-Installed
LiquidPlanner is entirely cloud-based and does not require any manual updates.
Hardware & Software Requirements
Because LiquidPlanner is web-based, you only need a computer with a reliable internet connection and an up-to-date web browser to use the software. LiquidPlanner supports the most recent versions of these browsers: Mozilla Firefox, Google Chrome, Safari, Internet Explorer, and Microsoft Edge.
LiquidPlanner also offers mobile apps for Android, iPad (iOS 7 and above), and iPhone (iOS 7 and above). LiquidPlanner's mobile apps allow users to view projects, write comments, view tasks, track time, and more. These mobile apps do not let users access all of the platform's features, but they are useful for checking on assignments and tracking time.
Specific Size Of Business
LiquidPlanner states that its software is designed for teams of five or more. In fact, you cannot use the software if you have fewer than five team members.
I would recommend LiquidPlanner for mid-size to large companies that have a dedicated project manager.
Ease Of Use
LiquidPlanner is not the easiest software to use. Users frequently mention having to overcome an initial learning curve. Fortunately, for the most part, LiquidPlanner is logically set up, with nesting categories and subcategories.
In general, your daily operations should run pretty smoothly. However, I have seen a few user comments that mention irritating features, such as the inability to open certain links in a new tab (resulting in frequently having to click the back button to get back into LiquidPlanner).
To get an idea of LiquidPlanner's ease of use, we recommend signing up for the free plan before committing to a paid subscription.
LiquidPlanner Features
LiquidPlanner focuses on automatically organizing tasks based on priority. This sets LiquidPlanner apart from other project management software applications that don't focus as strongly on automation. Take a look below to see what's included in LiquidPlanner's feature-set:
Dashboard: LiquidPlanner's dashboards allow you to create custom views to visualize data quickly. You can get an overview of select projects or your own scheduled work. The rest of LiquidPlanner's admin panel is organized with links on the left side of the page. LiquidPlanner utilizes nesting folders, projects, and tasks to organize the software further. While we've seen reports that LiquidPlanner is difficult to learn, it seems to be logically organized.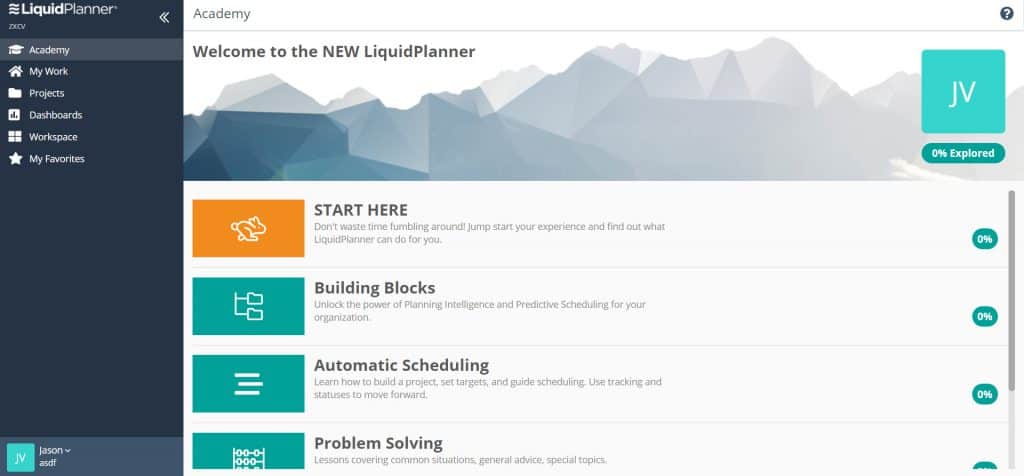 Project Management: LiquidPlanner goes about project management with a slightly different method than most software. As you might expect, your first step is to create projects, tasks, and subtasks. But unlike most project management software, LiquidPlanner does not require you to set a specific end date for a project. Instead, each time a new task is created, you are asked to enter a range of the working hours required to complete the task. For example, you might estimate that a job could take anywhere from five to nine actual hours to complete. LiquidPlanner calculates this level of uncertainty into your schedule and then predicts a range of dates on which the project might be finished. This is an awesome feature for so many reasons. When paired with LiquidPlanner's scheduling features, this predictive scheduling allows you to automatically take into account your team member's working hours, workload, and scheduled vacations.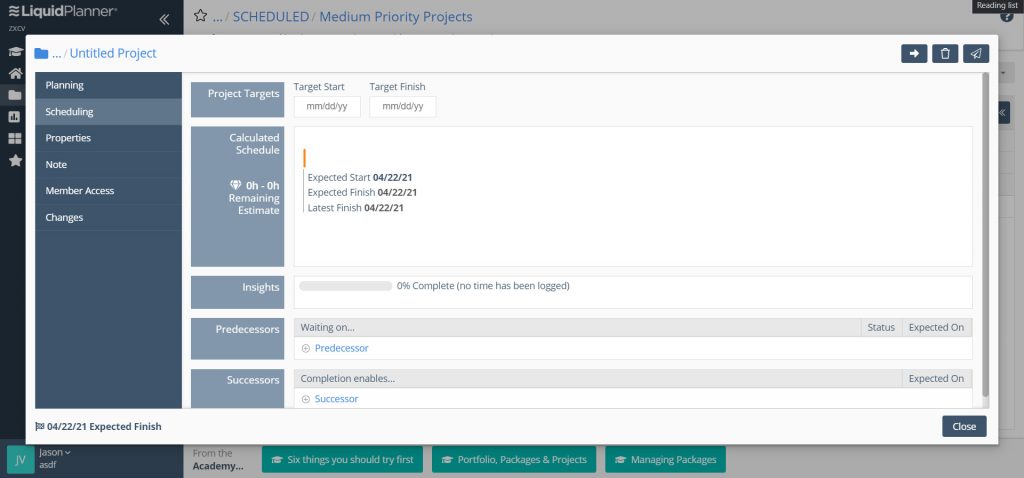 Tasks: You can easily create and assign tasks for each of your projects. Then, each of your tasks can be broken down into subtasks. These subtasks are automatically assigned to the task owner, but you can give one or more checklist items to a coworker (any workspace member, virtual or otherwise). Checklist items, like everything else in LiquidPlanner, are arranged according to priority. Be warned, however, that LiquidPlanner does not schedule times for individual checklist items. Your schedule is calculated based on the number of hours estimated to complete the task as a whole.
Job Costing: LiquidPlanner automatically calculates the cost of a project based on submitted timesheets. This will help you keep an eye on your profits.
Resource Management: LiquidPlanner provides a Resource Workload Report, which shows the work currently assigned to each team member and when they're scheduled to work on it.
Gantt Charts: LiquidPlanner's priority-based scheduling model automatically creates Gantt charts for each of your projects. If you need to make changes to these charts, you can set up task dependencies. Tasks that are dependent upon the completion of other projects or tasks are automatically delayed until these other jobs are done. Dependencies always override prioritization.
Time Tracking: This is a complex feature that lets you both automatically and manually log worked hours. Time tracking reduces the labor of doing payroll and can give your company's higher-ups a realistic view of how much time a project is eating up.
Payroll: Although LiquidPlanner does not have any built-in payroll features, you can export timesheet information to your payroll software.
Billing Expenses: LiquidPlanner's project costing system lets you model the cost of your projects as you go. After setting up your company's billing and pay rates, the system calculates the expected value of the labor each task requires. After considering billing and pay rates, LiquidPlanner calculates the estimated profit.
Team Management: LiquidPlanner lets you set access levels for your team members to determine what each employee can see and do in your workspace, portals, or dashboards. You can classify each team member as an Administrator, Manager, Full Member, or Restricted Member. You can also add Virtual Members, Portal Guests, and Dashboard Guests, but they won't have access to your full workspace.
Messaging: Communicate with your team members using comments within the project management software. Utilize @mentions and tags to organize comments and to notify specific team members.
Scheduling: LiquidPlanner makes it simple to handle a large and varied workload by scheduling your daily work based on priority. Each time a new task or project is created, you can drag and drop it on your screen to whatever position suits it best. Tasks at the top of your personal account are scheduled before other work.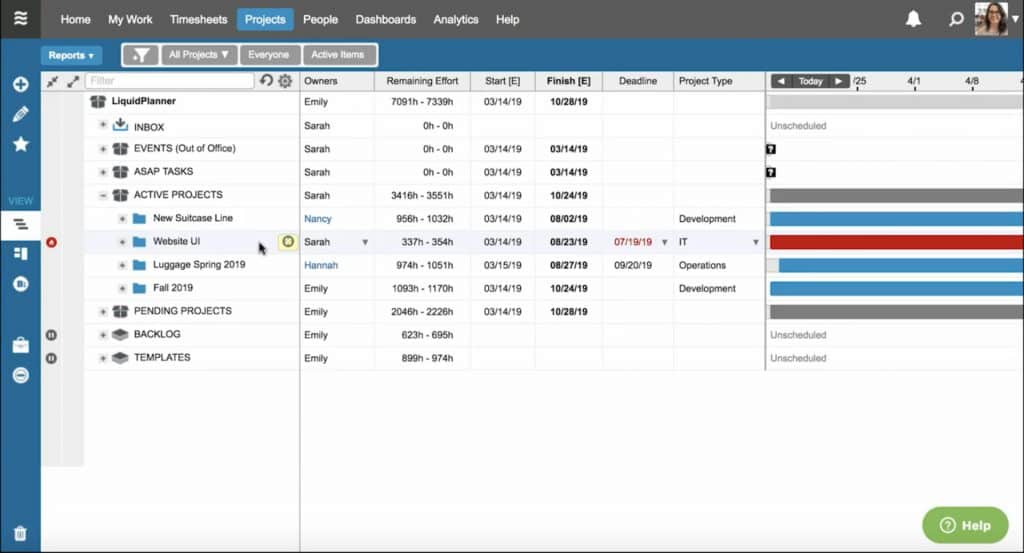 Email Settings: You can customize LiquidPlanner's email notifications to notify you daily or weekly on a variety of factors, including progress on your projects, new tasks, new comments, and more.
Reports & Analytics: One of the best features of this software is the wide variety of research and reporting tools available to users. LiquidPlanner provides many ways to process data, from workload reports to histories of task time estimations, project status reports, remaining trend reports, and total trend reports. The personal status report, which tells you how many task hours you have left to complete within a specific range of days, is especially useful.
Card View: LiquidPlanner offers a card view, allowing you to view your projects in the style of a Kanban board. With a Kanban board, you can rearrange tasks and projects visually by dragging them into different columns.
LiquidPlanner Customer Service & Support
LiquidPlanner requires a significant investment of time and patience when you first begin using the software. Fortunately, the designers seem to be aware of how overwhelmingly complex their software can be, and they provide a wide range of services and tutorials to help people get started.
Here's what LiquidPlanner's customer support has to offer:
Phone: You can contact a support representative by phone Monday-Friday from 7 AM to 5 PM (PST).
Contact Form: Alternatively, you can submit a contact form online, and LiquidPlanner will get back to you via email.
In-Software Help: You can also use the in-app help button to access the help team.
Knowledgebase: LiquidPlanner has created a knowledgebase where you can search for answers to common questions.
Guides: LiquidPlanner has a helpful Getting Started Guide, complete with written articles and tutorial videos.
Videos: I particularly like the step-by-step video tutorials offered on the LiquidPlanner site. All of these short, instructive films are well-made and address the needs of real consumers. The narration is clear and concise and manages to avoid complicated technical jargon.
Webinars: If you want an intense, crash-course introduction to this software, you can sign up for one of LiquidPlanner's free online webinars. Each webinar is one hour long and concludes with an extensive Q&A session. In general, these live tutorials address LiquidPlanner's unique scheduling capabilities and demonstrate how to handle multiple projects.
Developer Resources: LiquidPlanner provides developers with useful resources, such as API documentation and a user forum exclusively for developers.
Find An Advisor: To deal with problems that are too complex or time-intensive to be addressed by basic customer service, LiquidPlanner provides in-depth private consulting services (if you're willing to pay for it).
Blog: The LiquidPlanner blog is regularly updated with new articles focused on project management.
Social Media: LiquidPlanner has active accounts on Twitter, Facebook, and LinkedIn.
LiquidPlanner Reviews
Negative LiquidPlanner Reviews & Complaints
While LiquidPlanner comes in for plenty of praise, we've also come across a number of complaints about the software. Here are the issues that come up most frequently in LiquidPlanner reviews:
Steep Learning Curve: The most common complaint we've seen involves the steep learning curve associated with LiquidPlanner's complexity. One user griped that it took months for employees to become comfortable with, let alone master, the program. Another grumbled that most users at their company simply use the surface features and don't get close to leveraging LiquidPlanner's capabilities.
Expensive: In the past, LiquidPlanner subscriptions started around $40/user/month, so it isn't shocking that LiquidPlanner is still getting feedback about being too costly. However, the existence of an unlimited-time (but feature-limited) free subscription tier takes some sting out of the "too expensive" argument.
Positive LiquidPlanner Reviews & Testimonials
Despite the negatives, LiquidPlanner has attracted a devoted following, earning a respectable 4.2/5 stars on G2 Crowd. The company fares even better on TrustPilot, earning an average user score of 4.6/5.
Many users appreciate the software's unique scheduling features and have positive feedback for the software company. Here's what these positive comments tend to focus on:
Convenient: Project management users like LiquidPlanner's automatic scheduling features. The ability to enter estimated work time and then have work scheduled out automatically can be a huge advantage.
Efficiency Booster: Many commenters note that LiquidPlanner helps streamline projects, leading to significantly faster completion rates.
LiquidPlanner Integrations & Add-Ons
LiquidPlanner integrates with Box, Google Drive, Dropbox, Single Sign-On, and Zapier. LiquidPlanner also allows for easy data importation from MS Project of up to 500 tasks at a time. You can also export data from LiquidPlanner timesheets into CSV, XML, and QuickBooks. Finally, there are lots of developer tools if you want to dive into the LiquidPlanner API.
Security
LiquidPlanner meets our standards for data security. LiquidPlanner uses Amazon Web Services, meaning your data is stored in SSAE16-audited data centers around the United States. LiquidPlanner stores redundant data in multiple different geographic locations, so your data will be safe even in a disaster. All files are encrypted at rest, and LiquidPlanner performs regular security audits. LiquidPlanner is committed to maintaining a 99.9% uptime record.
Additionally, LiquidPlanner offers features that businesses can use to secure their information. You can take advantage of integrated Single Sign-On for user authentication. You can also assign different member access levels and privileges to different employees.
Final Verdict On LiquidPlanner
LiquidPlanner's approach to project management is a real breath of fresh air. The company takes risks and thinks outside the box, and the end product demonstrates this. It's a practical, intuitive, efficient, and usable work management tool.
Indeed, there are a few significant objections to LiquidPlanner — basic paid subscriptions are a bit pricey, and the software can be challenging to learn. And yes, it's not as widely used as other, more mainstream project management platforms.
However, when these objections compete with the advantages of using intelligent software that continues to be created, improved, and supported by a skillful team, LiquidPlanner comes out ahead. This software is a time-saver, but more than that, it is a hassle-saver.
Managers of many employees will love LiquidPlanner, especially if they are currently spending most of their time babysitting a complex schedule. Large businesses could benefit from it, and small businesses should sign up for a free subscription to see if the money, time, and manpower saved is greater than the price tag of a full-featured paid plan.
If you've had experience using LiquidPlanner, please leave us a comment and tell us what you think! If LiquidPlanner doesn't quite fit the bill for your project management needs, read up on another vendor that we rate highly in our Wrike review.
Also, check out our article, Must-Have Time Tracking Software Businesses Should Know About, to learn about other options.
---
Featured Free Corporate Card
Ramp


---
Ramp offers a free corporate card for virtually any business. Start earning rewards with your corporate spending today. Get your free card.
Featured Free Corporate Card
Ramp


---
Ramp offers a free corporate card for virtually any business. Start earning rewards with your corporate spending today. Get your free card.
To learn more about how we score our reviews, see our
Project Management Software Rating Criteria
.