UPDATED
Advertiser Disclosure: Our unbiased reviews and content are supported in part by
affiliate partnerships
, and we adhere to strict
guidelines
to preserve editorial integrity.
Pros
Nearly 1000 features
Integrates with Shopify
Unique employee management features
Simple set up
Cons
Slightly higher cost
Mediocre customer service
Interface not as intuitive as some competitors
Overview:
Self-proclaimed the "cloud point of sale system for Chains and Franchises," LivePOS is a system designed for the retail industry. Back in 2006, LivePOS became the first software company to ever release a cloud-based point of sale system. Even though the POS market has become inundated with cloud providers in recent years, LivePOS has continued to successfully develop their software and offers many distinguished features.
By taking a global approach, LivePOS has set itself apart from many other POS providers elbowing for attention. Based in La Jolla, California, LivePOS has offices in the United States, China, Israel and the Philippines; over 100 employees support the company's 15,000 customers in 20 different countries with 24/7/365 support.
LivePOS is a hybrid system that has two parts: the front end app that wirelessly handles checkout transactions and the back end management area that's accessed from any web-browser. A lot of cloud-based POS software is built exclusively for Apple devices like the iPad or iPhone. LivePOS, on the other hand, works with Windows-based applications that run on Windows XP, Windows 7, Windows 8, or Windows 10 for its front end checkout software while also offering a mobile checkout application. All actions taken in both the front and back end dashboards are immediately sent to cloud servers in real time. A copy of each action is also stored within the software so that even if you lose your wireless connection to the cloud you can continue to operate your POS (with the exception of running credit card transactions). Then, once your internet has come back online, all of your transactions will be synced to the cloud.
Don't have time to read an entire review? Take a look at our top rated Point of Sale solutions for a few quick recommendations. Every option we present here offers excellent customer support, detailed user interfaces, and easy-to-use software, all for a reasonable price.
Pricing:
LivePOS gives users the option of scheduling a demo with a sales consultant or of playing around for themselves in a 14-day free trial. LivePOS has four pricing tiers: Starter, Small Chain, Large Chain, and Franchise. All tiers include the following: Quickbooks integration, customer management system (CRM), hardware support, mobile access, employee commission and payroll, 24/7/365 live support, and pay-as-you-go contracts. See below for more details:
Starter, $99/month
Additional Checkout Lane

Real Time Dashboard

Sales and Inventory Reports

Inventory Management
Small Chain, $129/month
Everything included in the Starter plan

Employee Payroll and Commission

Vendors and Purchase Orders

Custom Access Levels
Large Chain, $169/month
Everything included in the Small Chain plan

Chat and SMS Alerts

Customized Tenders

Word Order and Repair

Invoicing and Account Receivables

Analysis and Franchise Reporting
Franchise, Custom Pricing
Plan and Feature Customization

Enhanced Support and Training

Franchise Dashboard and Custom Reporting

Marketing and 3rd Party Business Intelligence
Cloud-Based or Locally-Installed:
While LivePOS is a hybrid, it is primarily a cloud-based software that also incorporates a locally-installed front end app, allowing you to keep your register running during a Wi-Fi outage.
Specific Industry:
LivePOS is designed for the retail industry. It can be used by a wide variety of businesses such as clothing boutiques, cosmetics kiosks, sports shops, and bookstores to name just a few.
Specific Size of Business:
LivePOS markets itself to businesses that are small to mid-tier sized and can work for most large businesses as well. The mid-tier features are really stand out for a cloud-based POS. LivePOS can handle multiple locations with independent inventories, warehouses, and managers. There are a few other interesting twists for larger businesses too: live video feed from any location, advanced reporting options by location, manager text alerts, inter-store chat, and the options for franchise management.
Ease of Use: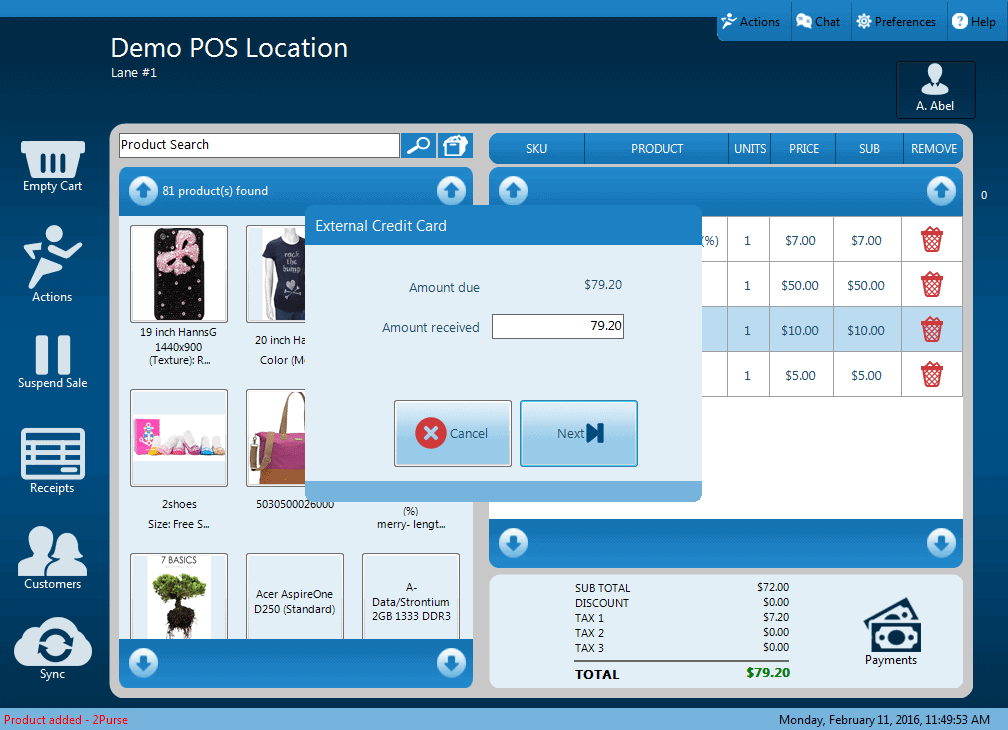 While well-designed, LivePOS is not nearly as sleek or intuitive as some of the newer POS systems out there. What LivePOS may lack in looks, though, it makes up for in brawn. LivePOS is loaded with so many features it puts some of the average cloud-based apps to shame. Although, if you are a minimalist, you might find this plethora of features to be a tad overwhelming.
Aside from my mild complaint about the cosmetic look of LivePOS's back end navigation, setting up my demo shop was actually pretty straightforward and, dare I say, easy. Again, since it's so feature-rich, the learning curve for using LivePOS is a bit tougher than other systems, but it can be mastered in a day or two.
I had no problem creating products and was impressed by how many parameters I could assign to each product, including an automatically generated barcode and image. Vendors were also easy to organize. All of the reporting and accounting features were solid. I was impressed by the highly customizable employee management features, which were extensive and included clocking in and out, scheduling and even payroll. Despite the slight navigation difficulties, I give LivePOS decent marks for the general ease of setting up shop.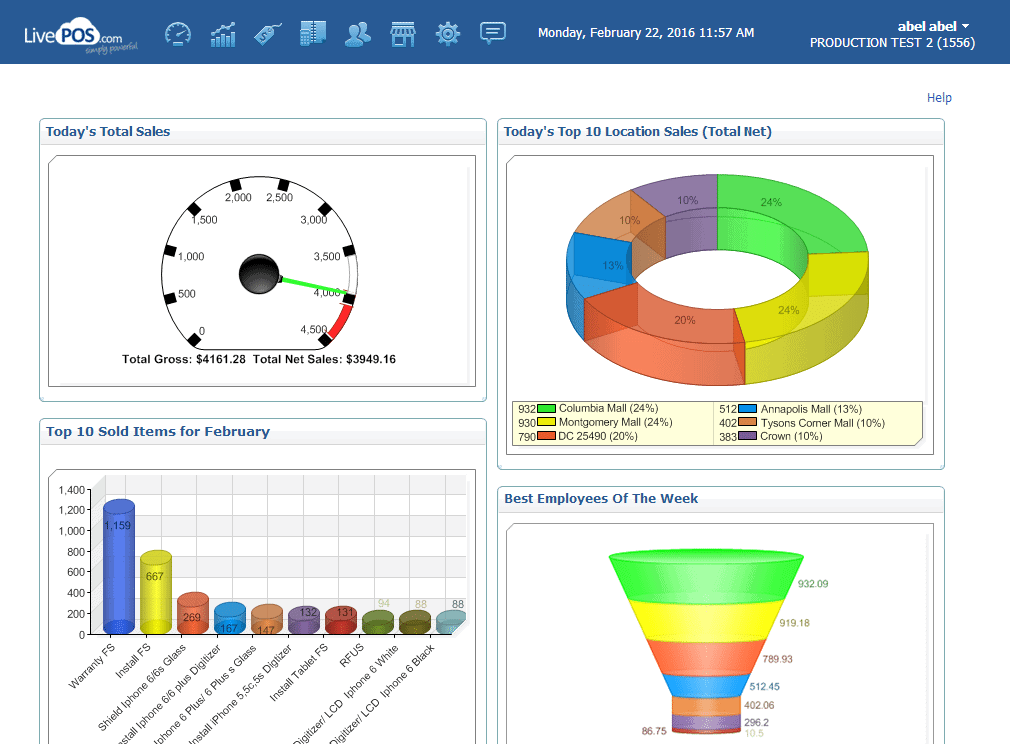 Hardware and Operating System Requirements:
The Windows checkout software needs to be installed on a Windows 7, Windows 8.x, Windows 10, Windows XP, or higher computer with 2GB of RAM, 100MB of free hard drive space, and at least 2 USB ports for the printer and credit card swipe (3-4 USB ports recommended). LivePOS is compatible with just about any printer or cash register, but users are advised to call and ask if they have any questions. When it comes to hardware, you can design your setup independently and then purchase your choice of peripherals or you can buy one of LivePOS's hardware bundles.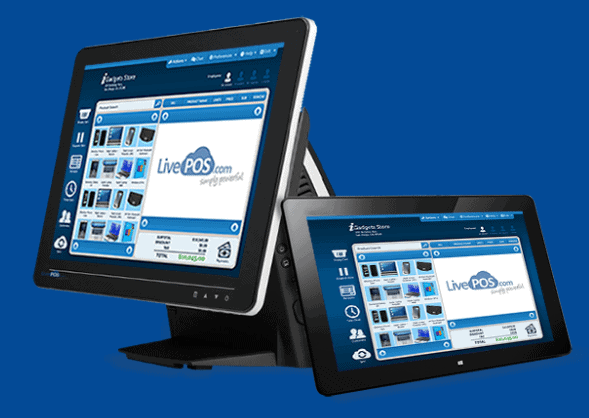 Product Features:
LivePOS has over 900 features, and they claim to introduce a new one every week. Below are some features worth highlighting:
One of my favorite LivePOS features is their direct integration with Shopify. The LivePOS/Shopify partnership is a tremendous opportunity for businesses that want both a brick and mortar shop (or shops) and an integrated online storefront. With just a few clicks you can export your entire inventory–including pricing, stock levels, and product descriptions–to your Shopify account. Stock levels, sales data, and customer contact information is also synced between the two programs. With LivePOS you have the ability to move inventory products from one location to another, you can assign warehouses to specific locations, and you can create vendor product orders that can be assigned to either a warehouse or a store site.The fact that a business owner can use a central management point to control inventory and reporting for multiple brick and mortar shops, plus a top-notch eCommerce shop, is impressive to say the least.
The Work Order Module is a godsend for businesses that provide services such as repairs and customizations. The module records product intake, work order specifications, customer information, and service tagging and keeps them all on the same screen. It also allows you to take pictures of work order products the moment you receive them and features an automatic customer notification system to minimize micro-tasking.
If your business has multiple locations, LivePOS's management features will be able to keep up with the demands of your business. As a shop owner you can set dashboard accessibility according to an employee's location, task, and employment level. For example, you would be able to limit an inventory manager at one location to being responsible only for the inventory at his or her store. You could even set parameters so he or she wouldn't be able to view sales data or other sensitive information. Beyond that, LivePOS is able to track all administrative actions taken by any employee. I was able to click on my own history and found a five page record of every move I had made starting at the moment my account was created. Although slightly creepy to think about how this technology can be utilized in other scenarios, it is very useful for management purposes in POS systems.
SalesBlitz is another feature that is worth mentioning. It allows you to create a friendly competition, showing 1st, 2nd and 3rd place trophies for locations and employees that have the highest sales and it could be used as a sort of incentive for success. LivePOS also offers a chat service for businesses with multiple locations. Instead of calling every store for information, managers can just send out a mass request via chat and get a quick response. Managers can also receive text alerts about several different functions such as low inventory and sales reports. LivePOS support told me that the chat and text features are one of their most popular features. The camera feature is also pretty sweet. You can install cameras at your stores and both watch and adjust the view right from the LivePOS dashboard. Again, I haven't seen these options with many other cloud-based POS.
As of 2015, LivePOS has put a lot of extra support and features into its Kits functionality. Kits are specially designated groups of products that allow for easier price alteration, discounts, and other tweaks to your inventory. Kits have been around since a big update in 2014, though the latest bits and bobs focus on accountability and ease of use for employees. My favorite is the new Dynamic Kit that lets you select items from a master list, then select individual items within the Kit to apply special parameters like discounts and package deals.
Being able to set special parameters for individual products in a Kit and even bundle together specific products takes the pressure off of employees to honor sales by memory or outside notes. Other new, employee-facing features include the option to make transaction comments at the end of each order, the ability to set up pop-up notifications to complete fully-paid work orders, and even the ability to save suspended sales reports for 100% accurate bookkeeping. LivePOS also finally launched the new SPIFFs notations. They're already very popular, allowing you to attach commissions and incentives details to specific products.
Sales data and tracking have also become a bit more robust with the new updates. For extra tracking and accountability, you now have the option to force collection of the product's serial number for manual input before completing the sale. Receipts now also print with a work order barcode for easy scan-and-search when customers have questions or returns. Credit card transactions now come with the ability to specify which kind of card the customer used, finally replacing the vague "Credit Card" notation with more helpful details like "Mastercard" or "Visa". All of this, naturally, shows up in the ever-expanding list of sales report features.
Integrations and Add-Ons:
LivePOS has some superb integrations and add-ons housed in their App Center. Integration with LivePOS is free, though your accounts with the outside apps will require a separate fee. LivePOS has an open API and also offers the following pre-fab integrations:
Shopify –

I already covered the LivePOS/

Shopify

alliance above. When paired, the two services are basically a full turn-key solution for both in-store and online sales.
MailChimp –

MailChimp

is an email and marketing service for newsletters, social media networking, and promotional campaigns. Channel all of your LivePOS customer data into MailChimp with this integration.

Contact Constant –

Constant Contact

is another email and marketing service similar to MailChimp in which you can create newsletters, surveys, coupons, and promotions.

Perkville –

Perkville

is a point-based customer loyalty program.

Groupon –

The built-in Groupon feature isn't exactly an integration, but LivePOS does have the ability to generate large volumes of coupons for use with Groupon.
Compatible Credit Card Processors:
It always bothers me when a POS system is only compatible with one credit card processor.Fortunately, LivePOS is on the opposite side of the spectrum, compatible with ALL merchant service providers in the United States. That means if you already have a provider, you won't have to switch to a different one. Even better, if you don't have a provider yet, you can shop around for the best rates. After you've created a LivePOS account, staff members at LivePOS will work directly with your credit card processing provider to make sure everything gets up and running properly.
Just remember that finding the right merchant service provider for your business can be overwhelming, so let us know if you would like some help. Merchant Maverick offers excellent consulting for merchant accounts, point of sale, and eCommerce carts.
Customer Service and Technical Support:
LivePOS may have at one time been lauded for its amazing customer service, but I was left unimpressed with LivePOS's quality of support. Some emails were responded to in about 10 hours time but a few of my emails went unanswered. A couple of phone calls I made were never returned, one of the phone calls I made left me on hold for a long time before disconnecting me without so much as a peep. LivePOS support is supposedly staffed 24/7, but the quality of that support is certainly nothing to brag about.
Here's a list of ways you can connect with LivePOS for support and information:
Support Center –

LivePOS has a

Support Center

hub with tons of helpful articles on every aspect of LivePOS.

LivePOS University –

LivePOS offers helpful videos and information on its

LivePOS University

page.

Community Forum –

The

community forum

is somewhat active, though I've seen forums that are much more engaged. It's possible that LivePOS clients don't use the forum much when they have support easily at hand.

YouTube –

LivePOS has dozens of short, easy-to-understand video tutorials on their

YouTube page

. Most of them range from about two to three minutes. A great resource.

Facebook –

The LivePOS

Facebook

has a lot of positive customer feedback as well as photos of the staff and info about new features. Definitely worth checking out.

Twitter
Linkedin
Vimeo –

LivePOS offers 84 videos on it's

Vimeo site

.

Blog –

LivePOS has a very active

blog

that is well worth the time to check out.
Negative Reviews and Complaints:
I found very little in the way of negative reviews after trawling through multiple Google search results. I tried to find unhappy clients on the user forums, but everyone seemed content with the support responses. I only have a few hesitations to note based on my own trial with the software.
Slow Processing –

LivePOS isn't the fastest software I've ever worked with. Often when I saved a change or edited a product I found myself staring at the spinning pinwheel for a little while. This isn't a huge complaint, but it could definitely be improved. I'm not sure if it was just my internet connection but every page took at least 5 seconds to load.

Learning Curve –

There's a lot to learn with LivePOS compared to most other systems. Even if it's considerably smoother than analog methods, in the long run, expect a bit of an onboarding period and don't be shy about reaching out to customer service.
Positive Reviews and Testimonials:
Most of the positive LivePOS reviews I found were posted on the LivePOS Facebook page. LivePOS also has an A+ rating with the Better Business Bureau. Outside of Facebook, the main positive statements I found were regarding how great the LivePOS support is. In my opinion, the following are some great points about LivePOS:
Advanced Features –

LivePOS is a true turn-key product; it's way more than a payment processing system. It's obvious that the LivePOS developers are putting a lot of energy into coming up with features that businesses really need. Aside from practical functions, there are a lot of innovative ideas too (inter-store chat and the camera monitoring system). I'd expect to see these advanced options in a major corporate retail system, but to find them in a cloud-based POS aimed at small to mid-sized businesses says quite a lot.

Good Price –

While the LivePOS monthly subscriptions aren't as cheap as some POS systems aimed at small businesses, I still think LivePOS gives a great bang for its buck, especially given all the services it comes with. If I were trying to create an online business along with a brick and mortar shop, the direct integration with

Shopify

alone would be worth the higher monthly fee–and that doesn't even include the long list of other interesting features LivePOS offers.
Final Verdict:
I'm giving LivePOS two thumbs up with just a few caveats. I wouldn't recommend LivePOS to someone with a really small business, a limited inventory, and only one terminal for checkout. The reason being, a small business would pay a much higher subscription fee for advanced LivePOS services they may never even use. If anything, the more features LivePOS adds to their already rather complex array, the more the system seems to be geared toward larger operations and multi-store businesses.These extra features clutter up the system, which could account for why it doesn't run as smoothly as its competitors, and add to a higher learning curve.
If I owned a small to medium-sized business with multiple locations (or had plans to develop an online eCommerce shop), LivePOS would be at the top of my list of potential POS contenders. I highly recommend giving the demo software a spin, it could be the perfect match for you and your business.
---
We've done in-depth research on each and confidently recommend them.
We've done in-depth research on each and confidently recommend them.
To learn more about how we score our reviews, see our
Point Of Sale (POS) Software Rating Criteria
.