Expert Analyst & Reviewer

UPDATED
Advertiser Disclosure: Our unbiased reviews and content are supported in part by
affiliate partnerships
, and we adhere to strict
guidelines
to preserve editorial integrity.
Mad Mimi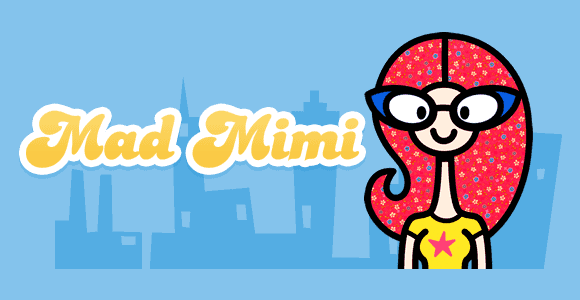 Pros
Clean user interface
Easy to use
Excellent list management
Cons
Limited integrations
Sparse templates
Mad Mimi Overview
At the core, Mad Mimi seeks to bring playfulness and an easy learning curve to email marketing software. That it succeeds is a testament to its excellent features and user-friendly design. (After all, Mad Mimi is personified by a welcoming yet zany character who you can imagine delivering your emails in some all-knowing, madcap fashion.) Founded in 2008 by Gary Levitt and developed by Tobie Langel, Dave Hoover, and Jeff Patton, Mad Mimi is touted as "the world's most sensible and enjoyable email marketing tool."
In 2014, Mad Mimi was purchased by internet domain registrar, GoDaddy. The features may have evolved with the times, but the approachability of Mad Mimi remains. Read on to see why we've given this email marketing service provider (ESP) 4.5 stars.
Pricing
Mad Mimi keeps pricing plans pretty simple, with several plans featuring unlimited emails and storage. Instead, your dollars pay for higher subscriber caps and increased send speeds. There are four pricing plans, and they shake out as follows:
Basic:
500-5,000 subscribers
$10-$27 per month
"Normal" speed
Unlimited emails
Unlimited storage
Pro:
10,000-35,000 subscribers
$42-$139 per month
2x speed
Unlimited emails
Unlimited storage
Silver:
50,000-250,000 subscribers
$199-$749 per month
3x speed
2.5 million emails
Unlimited storage
Gold:
350,000 subscribers
$1,049-$1499 per month
4x speed
5 million emails
Unlimited storage
You'll notice that in cheaper plans, you don't have an email cap send limit, while in higher tiers you do. While you can send over the amount listed, you'll pay an additional $0.40 CPM (cost-per-thousand) to send as many as you need.
Cloud-Based Or Locally Installed
Mad Mimi is a cloud-based, SaaS service with unlimited storage.
Hardware & Software Requirements
You'll need a computer, internet connection, and any of the following web browsers to run Mad Mimi correctly:
Internet Explorer 10 or later
Firefox 22 or later
Safari 6.1 or later
Chrome 21 or later
Keep in mind that you'll need to be careful with copy and pasting. Mad Mimi Email Marketing uses UTF-8 encoding, so if you copy and paste from Apple, Word, or other Microsoft programs, you'll need to save in UTF-8 to ensure that any special characters remain consistent.
You'll also need high-speed internet. Sending a campaign on the go may yield you a "bad gateway error," as your ping rate needs to be under 100 milliseconds with a ping test.
Specific Size Of Business
With unlimited storage and email limits, Mad Mimi is appropriate for a small to mid-sized business.
Ease Of Use
Mad Mimi is designed (presumably) to warmly invite you into a web of email madness. From the cartoonish pastel colors to the simplified layout, Mad Mimi seeks to remove as much intimidation from the user process as possible and, perhaps, add a playful sense of fun to the idea of email marketing. This is achieved in clever little ways, like visual effects that trigger when you click on buttons and graphical assets that "pop" on the screen. It's mostly window dressing, but it greatly improves the user experience.
Colorful, contextual tutorials will guide you through your first email. The whole program is light and breezy, and with only two tabs, it's nearly impossible to get lost. The drawback, of course, is that all of this might frustrate or even annoy marketers who don't appreciate the levity of the program.
Mad Mimi may look absurdly simple, but it's not quite as bare-bones as it seems. By clicking on Add-Things, you can add additional functionality to your account by turning more advanced features on and off. It's a clever design approach that would likely reduce anxiety for someone starting their first email campaign.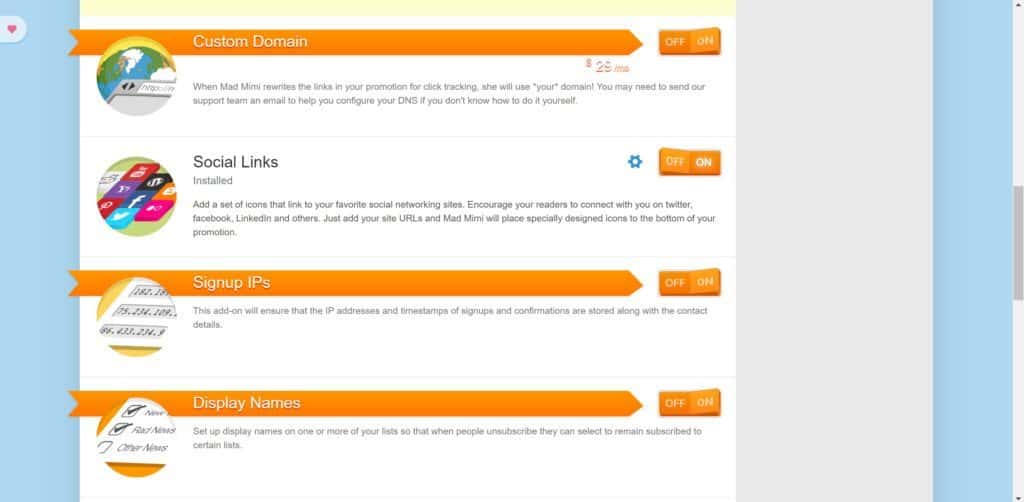 Easy to Manage Contacts
Like most things "Mimi," managing your contacts is easy and highly visual. Simple, animated icons let you know whether you're trashing something, renaming it, or moving it. Your contacts are accessible through your Audience tab. On a left sidebar, you'll find the lists you've made so far and the tools for making new ones. You can easily add new contacts by importing them from a .csv, .txt, vCard, or Excel file, or you can add them one at a time. I like that unconfirmed contacts, bounces, or unsubscribes are added to your "suppressed" list, where they aren't counted against your maximum number of subscribers.
Features
Overall, Mad Mimi offers a good feature-set that would satisfy most small business marketing needs. Here's an overview of what you can expect.
Email Editor
Mad Mimi's email editor is pretty simple and straightforward. Unlike many of the ESPs I have tested, however, it doesn't offer traditional templates. Instead, you choose what kind of message you are sending from a short list and are left to customize the message yourself. With stock images, an intuitive interface, and helpful tips that pop up as you build your email, it remains a simple but effective tool.
You can add images, banners, text boxes, and more to your heart's content, supplementing the base design with your own additions as you see fit. As I have already mentioned, it is extremely intuitive and even a little fun to use.
While it's not prominently displayed as an option, it is possible to import HTML into Mad Mimi to build your campaign by clicking on the arrow on the right side of the Compose button, and selecting it from a pulldown menu.
Autoresponders
Though not immediately accessible, autoresponding can be turned on in the Add Things section by toggling Drip Campaign. While there's no true A/B split-testing, Mad Mimi does offer a tool that mimics some (but not all) of its functionality. The Compare button will allow you to check the stats of two different campaigns against each other. My campaign arrived promptly and managed to clear my spam filters without any problems.
Reporting Tools
Given how simple and streamlined most of Mad Mimi is, I was expecting its reporting tools to offer minimal information. While that seems to be the case at first, the aforementioned Compare function raises Mad Mimi's reporting game by giving you visual representations of engagement rates on multiple campaigns and seeing how they stack up to each other. You won't find too much information on industry trends or heat maps or anything like that, though, so you'll want to integrate Google Analytics if your campaign is data-driven.
Free Add-On Features
Mad Mimi offers additional add-on features that you can enable at your dashboard. It is a little curious that you have to enable features that are already included in your plan, but my hunch is that Mad Mimi was just trying to keep things simple for you at your dashboard in the beginning. Here's what you can add if you're wanting to get your money's worth:
RSS: Automatically send a formatted and email-friendly blog update to your email list by enabling this feature.
Customer data: IP addresses and timestamps of your contacts are stored along with contact details.
Add social links: Add any of your social icons to display in your email
Sign-up forms: Sign-up forms allow contacts to choose which list they want to be added to with simple HTML code you can copy/paste anywhere on your site or landing page. Mad Mimi also offers an add-on for your Facebook page.
Google Analytics: When you integrate with your Google Analytics, you can start to track promotion stats.
Multi-user accounts: Mad Mimi offers a multi-user platform that allows you to clone promotions to "child accounts" you can color code.
Custom domains: Mad Mimi rewrites the links in your promotion with your domain.
Etsy: With an Etsy integration, you can sync your shop listings and add them to your newsletter and promotions.
We'll talk more about Mad Mimi's external integrations in an upcoming section. What's missing from our feature list is transaction emails, which is a feature that is unfortunately hidden behind a paywall of an additional $10/month, and it's only available in the Pro plan or above.
Overall, Mad Mimi provides a good feature set of what you'll need to set up an email campaign and track results.
Customer Service
Mad Mimi offers a few options for resolving technical and sales issues. Like many low-cost SaaS providers, it doesn't offer technical support by phone, but they will schedule a call with you by request. Service tends to be prompt, however. You can information and support in the following ways:
Live Chat available in-app Mon. – Fri. 9 am – 6 pm. EST
Email support (response time target is 60-minutes or less)
Online knowledge base
YouTube video tutorials
User Reviews
Overall, Mad Mimi retains a great reputation among its users and receives overwhelmingly positive reviews, though the number of available reviews is admittedly sparse. Mad Mimi has a 4 out of 5-star review with the G2 crowd, but only 41 people have left them a review. When I checked Trust Radius, there were 17 reviewers with an average score of 9.2 out of 10.
Negative Reviews & Complaints
People like Mimi. Negative impressions are far and few between, with gripes mostly confined to:
Design Limitations: A number of users complained that they couldn't get their emails looking exactly the way they wanted to due to limitations with the editors.
Lack Of Split-Testing: While Compare does soften the blow, it isn't a true split-testing feature. Some veteran marketers found that to be a problem.
Overly Simplified: Most complaints were from advanced users who felt like the features weren't quite robust enough for high-level campaigns.
Here is an example of a ding:
Mad Mimi can improve their marketing automation as their present autoresponder limits us to send emails only on certain time intervals and special dates.
And one reviewer sums it up like this:
It is well suited for school newsletters, flyers, announcements, and less so for regular emails or communication.
Positive Reviews & Testimonials
Most reviewers leave Mad Mimi positive testimonials. What people like most about Mad Mimi email marketing include:
Pricing: With low-costed price tiers, users found Mad Mimi to be a great value.
Easy Learning Curve: Mad Mimi is extremely beginner-friendly.
Fun To Use: This isn't something you normally hear about email marketing software, but many users appreciated Mad Mimi's design and style
Here's an example of a happy user review:
In our use, we have used it for a lower-end number of contacts. It is very well suited for smaller organizations with limited staff and time.
And
Actually, in almost every instance Mad Mimi was better for our client's needs than that of its competitors based on the [number] of options we had to help promote their brand, as well as how easy it is for our clients to use the tools themselves.
Integrations & Add-Ons
Mad Mimi has 66 available integrations, which is a fair amount but may not be sufficient for more industrious marketing needs. That being said, you'll find integrations to cover your needs in:
CRM
Analytics
CMS
Social
eCommerce
File sharing
Video
And more
Here are a few you'll find in the gallery:
Google Analytics
SurveyMonkey
Salesforce
Etsy
Eventbrite
WordPress eStore
Facebook
While Mad Mimi does get the bases covered, you won't necessarily have as many options under each category, so make sure that any currently used integrations made the list.
Security
As part of the GoDaddy family of companies, Mad Mimi is protected under the standards of TRUSTe Certified Privacy. Additionally, GoDaddy hosting is very stable with a 99.97% uptime rate.
Anti-Spam Policy
Everything has its limits, even Mimi's insanity. Mad Mimi abides by the dictates of the CAN-SPAM Act, which means you'll be put on notice if a suspicious number of your emails wind up in Spam folders. You can read more about Mad Mimi's Anti-Spam Policy here.
Final Verdict
Many email marketing software providers do what they promise but many struggle to stand out from the crowd. That's just not the case with Mad Mimi. With its very distinct style, a welcoming design, and a focus on simplicity, there's only one Mimi.
The question is whether this is the right choice for your business. While I really appreciate the expandability and simplicity of this software–not to mention the fact that it's legitimately fun to use–I can see some of those traits rubbing certain users the wrong way.
That's because when you strip the dashboard of its shiny coat of paint, some of the inherent flaws become apparent —namely the rigidity and opaqueness of its editor as well as the conspicuous lack of A/B split-testing.
However, for beginners or even businesses with modest email marketing campaigns, Mad Mimi is a spectacular way to ease yourself into the world of email marketing software. If you've been at it longer, however, and you have complex marketing needs, you're likely to encounter some hard ceilings in Mad Mimi's functionality.
Overall, Mad Mimi earns a 4.5-star review for its ease of use and good feature set, especially for unfamiliar users. Do you have experience with Mad Mimi email marketing software? We'd love to hear from you!
---
Featured Free Corporate Card
Ramp


---
Ramp offers a free corporate card for virtually any business. Start earning rewards with your corporate spending today. Get your free card.
Featured Free Corporate Card
Ramp


---
Ramp offers a free corporate card for virtually any business. Start earning rewards with your corporate spending today. Get your free card.
To learn more about how we score our reviews, see our
Email Marketing Software Rating Criteria
.