Magento Enterprise Review
Expert Analyst & Reviewer

UPDATED
Advertiser Disclosure: Our unbiased reviews and content are supported in part by
affiliate partnerships
, and we adhere to strict
guidelines
to preserve editorial integrity.
Magento Enterprise Cloud Edition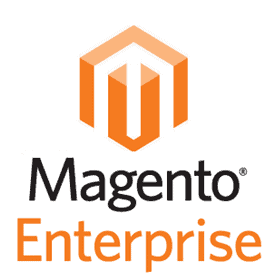 Pros
Suited for large businesses
Scalable
Highly customizable
Numerous features
Cons
Developer skills required
High monthly expense
Moderate learning curve
Overview
As the platform for more than 250,000 active eCommerce sites powered worldwide, Magento is one of the most commonly used eCommerce software. In fact, Magento accounts for about 12% of all online stores and with more than 200 Magento users in the Internet Retailer Top 1000 list, Magento is the top choice of some big name users. Magento sites account for about $155 billion in annual sales.
As you might expect from a top-tier service, Magento has a lot to offer merchants of all sizes. Some of its biggest users are drawn to Magento Enterprise Cloud Edition (ECE), which is built on a Magento 2 frame.
Launched in April 2016, Magento ECE is a PaaS (Platform as a Service) that is very similar to other software companies' SaaS (Software as a Service) programs. It is a fully hosted, cloud-based service with superior features and priority customer service. Magento ECE is both flexible and scalable, to support rapidly growing businesses. If yours already has grown to enterprise level, Magento ECE is ready to support you, with the ability to handle up to 3.5 million page views and over 250,000 orders per hour. And thanks to Magento's Apache Varnish caching system, pages load faster, which should keep your customers happy.
Magento ECE is perfect for a large company looking for a better, more versatile platform for its online store. In order to provide that versatility, however, Magento ECE sacrifices user-friendliness. If you're just starting out, or if you can't yet afford to hire a developer to do PHP coding for you, Magento ECE might not be right for you.
On the other hand, if you're excited at the prospect of customizability, and about the almost endless features that Magento ECE offers, keep reading.
Pricing
As with most Enterprise solutions, Magento ECE's pricing depends on your business's gross revenue and needs. The bigger those are, the more you can expect to pay. Magento's self-hosted Enterprise Edition starts at around $22,000 per year. Since ECE is fully hosted, it's priced even higher.
If you're considering using Magento ECE as a solution for your business, you should contact a sales representative who can give you an assessment and custom quote.
Cloud-Based or Locally-Installed
Although there is are versions of Magento that can be self-hosted, as the name implies Magento Enterprise Cloud Edition is a fully hosted web-based service. Everything occurs online.
Hardware & Software Requirements
All you need to operate Magento ECE is a good computer, an internet connection, and an up-to-date web browser. However, Windows OS and Mac OS do not support Magento 2, so you will want a Linux distributor such as CentOS, Ubuntu, Debian, or RedHat Enterprise Linux.
Specific Size of Business
Magento ECE is recommended for large businesses and medium-sized business that are looking to grow. Current users include Burger King, Body & Fit, Fraport, and Marie Claire.
As previously mentioned, Magento's platform requires at least intermediate coding ability. If you can't do that in house, you will need to hire someone who can. In other words, if you're operating on a shoestring, this might not be the right product for you.
Ease Of Use
Yes, specialized knowledge is necessary for setting up a Magento ECE web store. However, it's not terribly difficult to manage that store, thanks to an inclusive and intuitive admin. In fact, Magento specifically focuses on two types of users, the business user and the technical users, with the goal of giving each the right tools to run the business and grow it online. Day-to-day maintenance and updates are available through the admin tool that's designed for the non-technical user. Check out this screenshot:
While Magento's dashboard looks similar to those found in other eCommerce software, don't be deceived. The admin is more complicated, because there are many more features available. If you're a fan of useful complexity, you're going to love digging through this dashboard, because no matter what size your business is or how many stores you're operating, you'll find the tools you need to manage every aspect of your business. And you won't need a ton of specialized training to make that happen.
The page builder tools, for example, include a WYSIWYG editor you can use to add products and more. Or you can use Magento's advanced page builder tool to access a page view that mirrors what customers will see on the front end. That tool lets you drag and drop content and rearrange blocks to your heart's content as you build pages. You can update instantly, or schedule updates far in the future. If you're running a holiday sale in two months, for example, it's easy to do the work now to schedule sale prices, make special offers, or highlight groups of products — and you can add not only a start date for your special events but also an end date.
Magento's Commerce edition is built specifically to support multisite architecture. From a single code base, a single admin panel, and a single database, users can manage multiple sites for multiple types of customers, including retail and wholesale. That complexity is reflected in the admin panel. Check out the options available under the sales tab, for instance, in the screenshot below. Remember that Magento is completely customizable, so you can add or delete functions as you wish.
One of the great things about Magento 2 is the software's filtering capabilities, both for the administrator and the customer. Customers have filtering capabilities, so they can find exactly what they're looking for. It's easy for you to add product attributes; it takes only a few clicks. You can filter products in your fully customizable master catalog, and even drag and drop columns to make organizing and planning easier.
Overall, for such a complex product, Magento 2's back-end and storefront are not nearly as daunting as they could have been. Spend a little time exploring there, and work with your favorite designer to do some customization, and you'll soon know your way around.
Features
Even at its lower Community Edition level, Magento really takes the cake with its features. There are just so many. In fact, the features list for Magento ECE that a sales rep provided to me ran to 11 full pages. Here are a few of the highlights:
Dashboard: Control multiple websites and stores from one admin.
Products: Choose from seven product categories, including single items, grouped or kit items, virtual products, and downloadable products.
MultiChannel Selling: Seamlessly sell and distribute via Amazon.
Sell Internationally: You can set up multiple online stores, aimed at different nationalities, using different currencies and tax rates. Accented characters are available as well as right-to-left text.
Checkout: Offer guest and registered checkout — it's a one-page form. You can allow customers to save their carts for completion later, display an order summary with product images in checkout, show tax and shipping estimates, and offer gift-wrapping and gift messages by order and by item. You can also offer a customer loyalty program and set up gift registries.
Inventory Management: Receive notification when inventory runs low, and choose out-of-stock messaging.
Marketing: Adobe Sensei continually analyzes shopper behavior and processes it with machine learning algorithms that drive nine recommendation types you can place across your storefront, such as Now trending, Customers also viewed, and Customers also bought.
SEO Tools: Automatically generate Google sitemap, create and edit search-engine friendly URLs, and benefit from automatically added structured data markup on your product pages.
Advanced Features: Magento 2 offers integrated B2B functionality, including multiple buyers enabled per company, with defined roles and permissions, and more than 25 B2B-focused reports. You can assign custom catalogs and pricing to different companies to reflect contract terms and enable customers to create requisition lists and quickly reorder frequently purchased items.
And Magento still has loads more to offer. Check out all of the available Magento features, including many specific to ECE on the last few pages.
Web Design
Magento ECE comes with two out-of-the-box themes: Luma (the demonstration theme) and the Blank theme. Both themes are Responsive Web Designs, meaning that they will adjust to be both viewable and attractive on all browsing devices.
Magento really is geared toward customization; they recommend that you start with the Blank theme for building your own custom site. But, if you're not up for building from the ground up, third-party developers offer themes for Magento 2. Look for them in the Magento Marketplace.
Integrations & Add-ons
Because Magento is open-code, developers are continually innovating and trying new things. Many of the results can be found on the Magento Marketplace, where you can find thousands of integrations to customize your site. You can browse the customizations and modules, download them locally and auto-install them. The Marketplace includes reviews and comparisons, and many integrations include a demo you can use to test integrations. Although not all the integrations in the Marketplace will work with Magento ECE, it's easy to add a filter so you can focus on apps you might want to work with.
For example, under shipping integrations available for ECE, you'll find 64 options ranging in price from free to $399. Options include the following five-star rated apps:
ShipperHQ (free)
MageWorx Shipping Calculator ($99)
XTENTO Custom Carrier Trackers ($89)
Marketing extensions for Magento ECE included these top options:
WeltPixel Rich Snippets (free)
Aheadworks Abandoned Cart Email ($79)
Poptin Smart Popup & Contact Forms (free)
HubSpot Contact Sync (free)
Of course, because Magento 2 is open-source and fully customizable, you can always work on your own or with a developer to add the functions you need to your store.
Payment Processing
Magento ECE integrates easily with many payment methods, including many international gateways. These integrations include:
Stripe & Stripe Global
Moneris
Sage Pay
Meetanshi
Aheadworks
PayPal
Opayo
PagSeguro Transparente
Braintree
eShopWorld
eWay
Again, remember to filter search results to make sure that the payment gateway you're considering is compatible with Magento 2.
Customer Service & Technical Support
Like most open-source products, customer service is a bit lacking for clients below Magento's Enterprise levels. With Magento ECE, though, you gain access to technical support, account management, and security support, with phone support available 24/7 to Magento ECE clients. You'll be assigned a Customer Success Group Account Manager to help you navigate Magento resources and escalate support issues when necessary. You can raise support issues by phone, web portal, or email.
Magento breaks down support requests by priority:
Priority 1: a catastrophic production problem within the software that severely impacts you or your site. Magento promises 24/7/365 support and resolution as soon as is "commercially reasonable."
Priority 2: a software problem that lets your system function but with reduced capacity or significant impact to your business operations. Magento will work during its normal hours of operation, 24 hours a day Monday to Friday, to solve the problem.
Priority 3: a medium- to low-impact problem that involves partial or non-critical loss of functionality or that impairs some operations but lets you continue to function. Magento will work on this problem during normal hours of operation to provide a resolution before the next minor release of the software.
Priority 4: a general usage question or issue that may be cosmetic but allows the software to work. These types of issues will be resolved in time for the next major release of the software.
Enhancement Request: a recommendation for future enhancement or modifications. Magento takes these into consideration but does not promise to deliver requested enhancements.
The following support options are always available to users:
Sales representatives are very attentive via the live chat feature online. When I requested information and a demo of Magento ECE, I was pressed to provide detailed information about my company and my needs. Although I declined to provide that information, I received exactly what I asked for and more via email within 10 minutes.
User Reviews
Like any product, Magento ECE doesn't work flawlessly for everyone, every time. Although the platform gains high marks overall, there are some drawbacks to consider.
Negative Reviews & Complaints
The majority of Magento ECE's complaints are directed at Magento's overall lack of usability. Customers tend to use the term "steep learning curve" in their comments. That being said, here are the most common complaints:
Out-Of-The-Box Does Not Mean Simple: Just because you get loads of cool features within the software does not mean they're easy to work with at the beginning. Users say it "takes a lot of time to get familiar with it."
Specialized Knowledge Required: Magento isn't a product that lets you get by with a little technical knowledge. As one user put it: "If you don't have an in-house development team, this likely isn't a good fit."
Slow Support: Some users report that Magento is over-reliant on "escalating the ticket" as a first response to service requests. In reality, that can mean passing the problem on instead of solving it which, one user said, "adds more wait time to the ticket actually getting resolved."
Buggy: Magento releases frequent updates. The problem is THAT not all extensions will be compatible, and that can result in errors on your website. Fortunately, Magento allows you to schedule updates when it's convenient for your business, so you can deploy upgrades when you have time to clean up.
Positive Reviews & Testimonials
Here's the good news: Once you overcome that steep learning curve, you've got the know-how to make use of all of those features. Here are some things customers report loving about Magento ECE:
Everything Can Be Customized: From your dashboard to your store front, you can customize every aspect of your Magento site to fit your brand and your business's needs, on both the back end and the front end. "The only limit," one user said, "is your imagination."
Open Source Documentation: Open source makes it easier for developers to create and integrate resources for your site. "It offers the best platform to customize development work on top of an enterprise level site," one user said.
Supportive Community: Open-source often means users are open to assisting others. "A lot of people are facing the same problems as you. They can help you," one user said.
Multi-store setup: If you have more than one online store, you can manage them all from within the same dashboard. This is an advantage, one user said, "if you have an almost identical version of your website targeting different countries."
Magento maintains a list of case studies that features more than 100 stories of successful Magento websites. The stories are overwhelmingly positive, for obvious reasons, but you may find a site in the list that you recognize or identify with; the stories may help you determine if Magento ECE would be a good fit for your business.
Security
Magento ECE is PCI certified as a Level 1 Solution Provider; that paves the way for you to secure your store's PCI compliance. That includes Transport Layer Security (TLS) protocols. Here are some more ways Magento promotes site security:
Strong data encryptions based on AES-256 and hashing based on SHA-256
Google ReCAPTCHA and Two Factor Authentication
Regular scanning, external penetration testing, and bug bounty programs to promote core platform security
Magento Security Scan Tool offered for free
Final Verdict
Although I'm not a developer and could not set up my own website, I find myself a fan of Magento ECE. It's the way to go if you have the technical know-how or the resources to hire someone who does. If you're looking for customizability, never-ending scalability, and loads of features, Magento ECE has you covered. It's everything you'd expect from enterprise software.
There's a reason Magento powers 12% of all online retail stores. It's definitely among the best of the best eCommerce platforms. Click here to get in contact with a Magento ECE representative.
---
Featured Free eCommerce Plan 🔥
Square Online


---
Get a free website builder, online ordering, gift cards, in-store pick-up options, and dozens of other features for eCommerce and hybrid businesses. Free options available. Learn more from Square.
Featured Free eCommerce Plan 🔥
Square Online


---
Get a free website builder, online ordering, gift cards, in-store pick-up options, and dozens of other features for eCommerce and hybrid businesses. Free options available. Learn more from Square.
To learn more about how we score our reviews, see our
eCommerce Software Rating Criteria
.