Expert Analyst & Reviewer

UPDATED
Advertiser Disclosure: Our unbiased reviews and content are supported in part by
affiliate partnerships
, and we adhere to strict
guidelines
to preserve editorial integrity.
Magento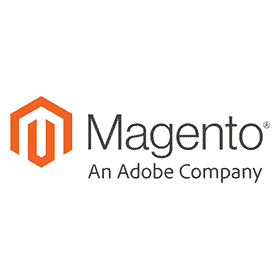 Pros
Free to download
Excellent feature set
Highly customizable
Highly scalable
Active global user community
Cons
Developer skills required
Steep learning curve
No customer support
Magento Overview
With over 260,000 merchants on board, Magento is one of the eCommerce industry's most popular store-building platforms, and it isn't hard to see why. Magento's expansive feature set and complete customizability make it an excellent platform for merchants who have the resources to successfully implement advanced technology.
Magento eCommerce software comes in two forms:
Magento Open Source: Formerly called the Magento Community Edition, the software is free to download and install.
Magento Commerce: Formerly called the Magento Enterprise Edition, this software aims at enterprise-level businesses with developers on hand. It comes with a high price tag.
This Magento review will focus on Magento Open Source. (Check out our Magento review for enterprise sellers if you are a large, enterprise-level online seller.) Magento Open Source is a robust platform with powerful capabilities, but it's not for beginners. Magento can pose a serious challenge to merchants with little to no tech experience. Despite shortcomings in the ease-of-use category, there is no doubt that Magento is an excellent tool. Magento is trusted by high-volume merchants worldwide and facilitates well over $155 billion in gross merchandise volume annually.
Keep reading to find out if your business could benefit from joining the Magento community.
Magento Pricing
Although Magento Open Source is free to download and use, it is not free to implement. Magento pricing may ring up at $0/month, but you should expect to pay ongoing costs for web hosting, domain names, add-ons, an SSL certificate, and payment processing.
Remember, Magento is far from simple. If you don't have experience coding (especially with PHP), you're going to need a developer. You can anticipate hiring a theme designer as well.
Cloud-Based Or Locally-Installed
You can download Magento Open Source from Magento's website. You'll then be responsible for installation and finding web hosting.
Hardware & Software Requirements
As mentioned above, you'll have to find your own web hosting when you begin with Magento. Keep in mind that Magento is a powerful eCommerce platform, requiring a similarly powerful web host.
There are several other technology "stack" requirements to install and run Magento. The exact specification depends on the release number of the software (we're on version 2.4.2 at the time of this review). You'll have to check the installation guide for the version of Magento you're using, but these are the types of technologies involved:
Operating System: Various Linux distributions. Magento is not supported on Windows or Mac OS.
Memory: Check the amount of RAM required for the current release. If you're using a system with less than 2GB of RAM, you may need to create a swap file.
Web Server: Apache 2.4, Nginx 1.x
Database: MySQL 5.6 or 5.7
Scripting Language: PHP 7.2 or 7.3
Composer: Package manager for PHP, for developing Magento extensions or contributing to the Magento codebase
SSL Certificate: A valid, security certificate is required to enable secure HTTPs protocols in your store URLs. Self-signed SSL certificates are not supported.
You'll also need an up-to-date web browser (e.g., Chrome, Edge, Safari) to accommodate the storefront and admin.
Specific Size Of Business
Most Magento reviews conclude that Magento works best for mid-size to large businesses, mostly because it takes so much time, money, and energy to get your site up and keep it running. It's important that a store using this platform has the resources to hire a developer to do the heavy lifting.
If you're just starting up, Magento probably isn't the best option. Instead, look into a shopping cart that helps beginners ease into eCommerce. For example, both Shopify and BigCommerce specialize in ease of use, and you can use either to get a store up and running with far fewer resources than are needed to use Magento effectively.
Ease Of Use
A balanced Magento eCommerce review has to start by saying that for all its positive features, as free, self-hosted software Magento Open Source does not make any pretense of user-friendliness. It's true that Magento's admin and daily operations are fairly simple, but the actual setup and customization process is not. If you have no or little experience in web development, I'd recommend hiring a developer to help you create and implement your store.
While I've tested and reviewed many eCommerce platforms, I have very little (read: zero) experience with web development. As I suspected, downloading and setting up Magento was beyond my ability, not to mention my distinct lack of a web server on which to install the platform!
You can sign up for a demo of Magento Commerce 2 through the website, but you won't be able to test the open-source platform yourself. I've found the best way to play around in the software without downloading it is to visit a partnered website that offers a working demo. Google "Magento demo," and you'll find a few — just double-check which software version the demo is running. I happened to locate some demos at a Magento extension marketplace called Mageplaza:

Magento is a bit of a pain to set up, but once you've done it, it isn't all that difficult to operate. Because Magento comes with so many features, there's more to sift through (so it isn't as simple as, say, Shopify). That said, after a slight learning curve, you shouldn't have too many problems navigating the admin.
Magento also provides a detailed user guide to assist merchants in learning the basic functions of the admin: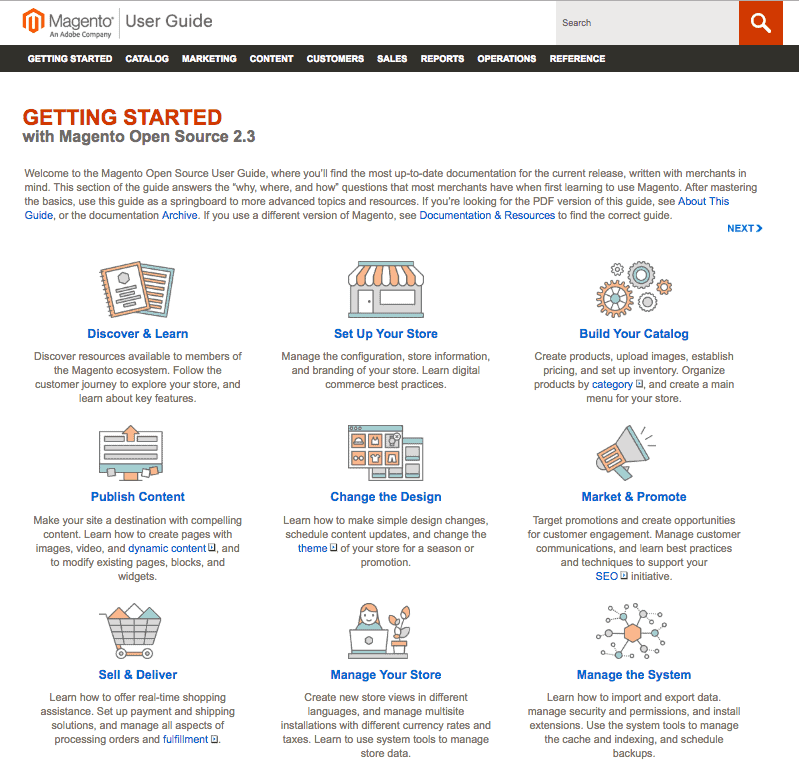 Adding products with Magento is just about as easy as adding products to other shopping carts. You begin by adding basic information: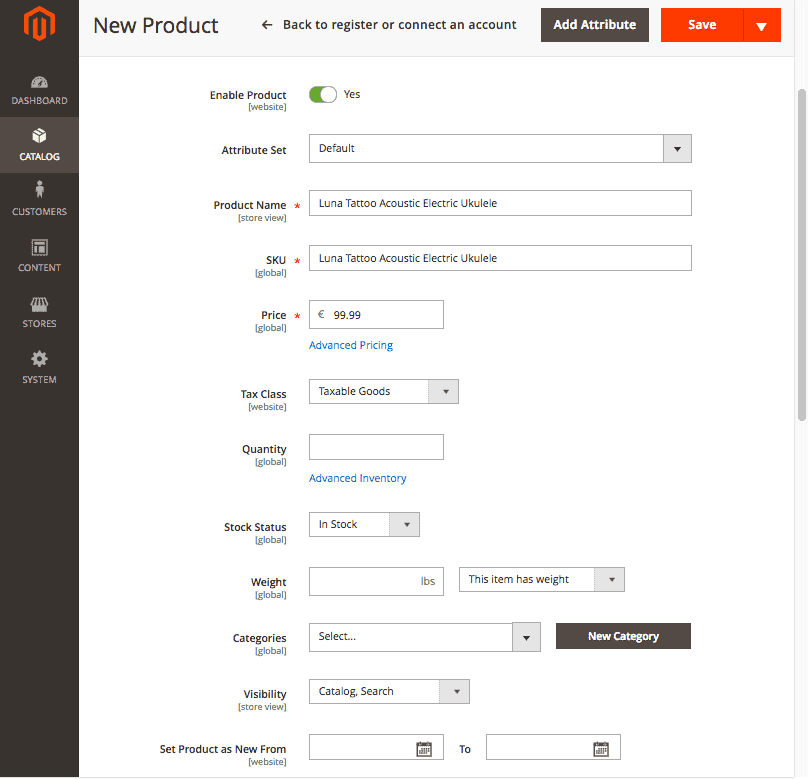 Further down this New Product panel, you can expand additional menus to manage detailed aspects of each product, such as tweaking metadata for better SEO.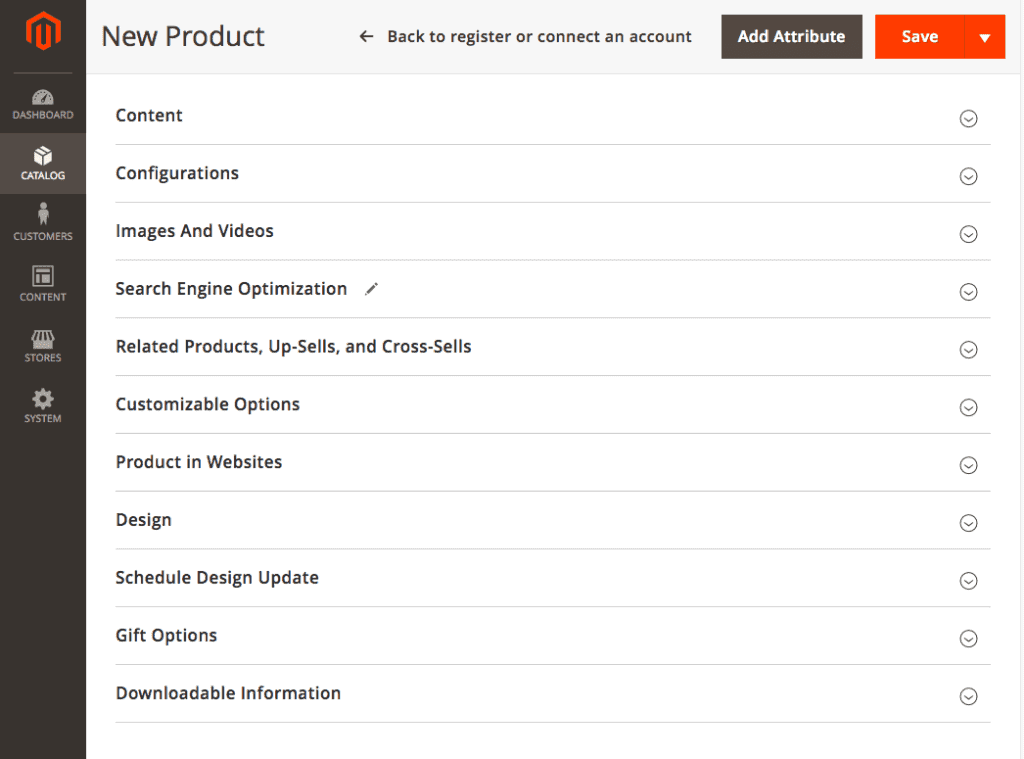 Describing all the advanced functionality that's possible when simply adding and configuring products in your Magento catalog would be overkill for this review. Instead, I'll give you a basic idea with a couple of quick examples.
First of all, Magento is already set up to handle lots of different product types, including bundled products, virtual products (such as intangible services and subscriptions), and downloadable products
Another very powerful feature is the ability to create and manage unlimited product attributes and configurations (think size, color, material, and so on, plus all the resulting combinations). You can even create special attribute "sets" to be assigned over and over again to certain products: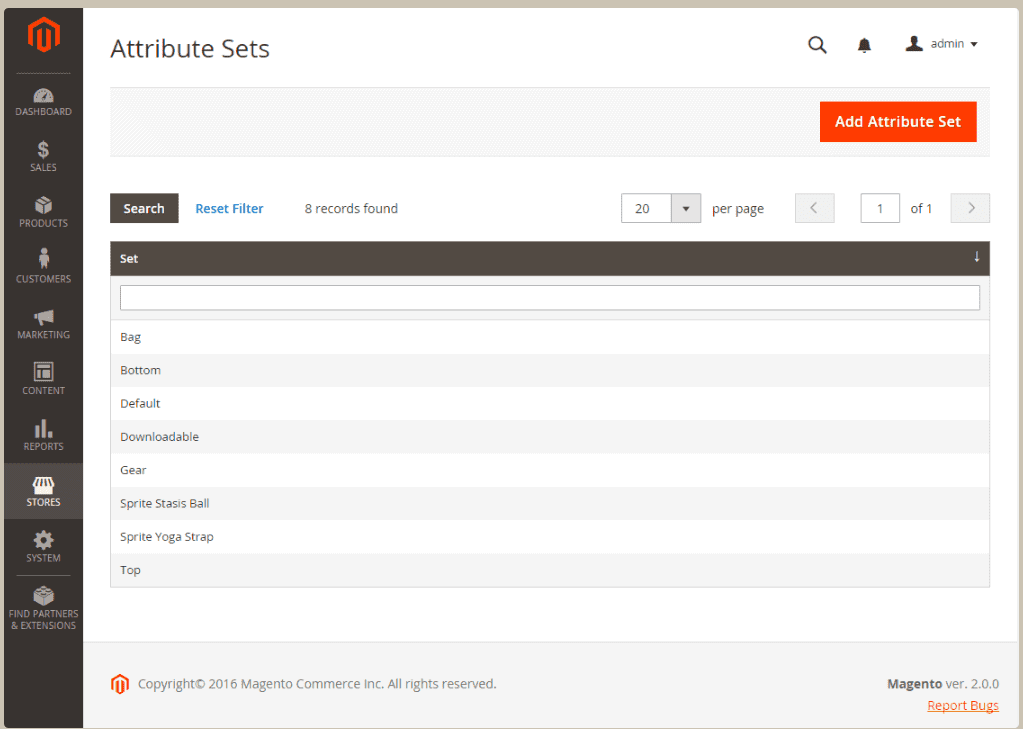 Maximizing all these features to their full extent will take some patience, trial and error, and a lot of referring back to the user guide. I know we keep saying that accomplishing the basics shouldn't be too difficult after your initial learning investment, but in case the advanced features become too overwhelming or time-consuming, there are lots of third-party Magento implementation experts out there who'd be happy to lend a hand for the right price.
So far, we've focused on operating the back end of your store. To make radical changes to your storefront, you're going to have to delve waist-deep into source code or hire someone else to do so. There are a few WYSIWYG (what you see is what you get) editors available to update the content for your pages, blog, and products, but real design changes will require coding.
Magento Features
Magento has one of the most impressive feature lists I've ever seen. Even the free open-source version is jam-packed. Here's a quick feature comparison Magento throws at you right before you go to download the open-source version: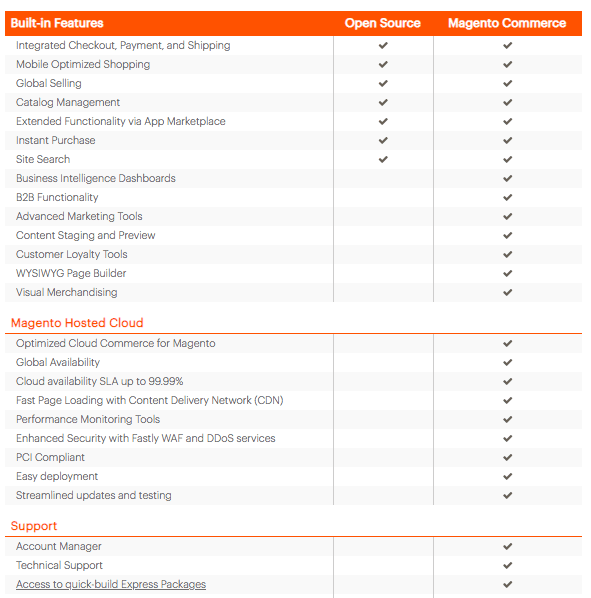 Clearly, this checklist isn't placing Magento Open Source in the most favorable light. That makes sense if you think about it. The company would rather have you pay for a Magento Commerce subscription, if possible. But I promise that even the open-source version does more than just seven things! Below, I've compiled a more expansive list of my favorite features to give you a general idea of Magento's capabilities.
Dashboard: Magento's dashboard is clean and intuitive, and it's easy to find the features you need. (You may notice that this particular example in the image happens to use Euros as the currency.)
Products: Magento lets you know which products have recently been viewed and compared so you can enhance and target the shopping experience. You can also set up related products to inspire customers to spend more. You can also have multiple product types like virtual, digital/downloadable, grouped, bundled, configurable, and personalized products that can all be offered with Magento out-of-the-box. Unlimited product attributes are also available. You can add product images as well to better market your online goods.
Multi-Store Capabilities: Manage multiple stores and websites from one admin.
Checkout: Magento's one-page checkout makes checkout quick and painless for shoppers. Furthermore, they can choose to check out as guests or create an account. Customers can split their orders, so that one order can be shipped in multiple directions and split among multiple invoices. And with tax and shipping estimates in the shopping cart, customers won't be surprised by extra expenses at checkout.
Inventory Management: Magento offers bulk import/export, allowing you to use CSV files to make migration easier.
Marketing: Create flexible coupon codes and make those codes available for offline distribution. Create customer groups based on location and demographics, and market to them accordingly. Use the persistent shopping cart to save customers' carts when they leave your site, and allow them to send wish lists via email to share what they'd like from your store. Add social buttons to let them share your products to Facebook, Twitter, and other social media sites.
SEO Tools: Magento includes SEO tools like Google Site Map, customizable URLs, and customizable meta-information so you can optimize your store and its products for SEO.
Reports & Analytics: Magento integrates with Google Analytics and also offers built-in reporting so you can view things like sales, taxes, abandoned shopping carts, and more.
Permissions: Allow different users to access different aspects of the admin.
Create & Edit Orders: Use your admin panel as a virtual terminal to create and fulfill orders.
Printing: Print your invoices, packing slips, and shipping labels from the admin panel.
Advanced Pricing Rules: Give discounts on products ordered in bulk. Offer special prices, including customer group prices (wholesale, retail, etc.) and tiered pricing.
Order Tracking: Allow customers to track their orders on your site.
Mobile-Responsive Design Compatible: Use a base design reference theme to create a site optimized for any device quickly.
A few features Magento Open Source is missing out-of-the-box include abandoned cart recovery, store credits/gift cards, and a reward points program. These are the types of features that come standard with Magento Commerce (the cloud-based, SaaS version of Magento). That said, you can always add missing features with integrations or work with a developer.
Features-wise, Magento Open Source is still one of the best platforms out there.
Web Design
Magento does not come with any premade themes. They're all available from third-party developers. A couple of them are free, and while some cost up to $500 for the starter package, you'll also find some under or around $100. The good news is that a lot of the more expensive themes come with their own sets of advanced extensions.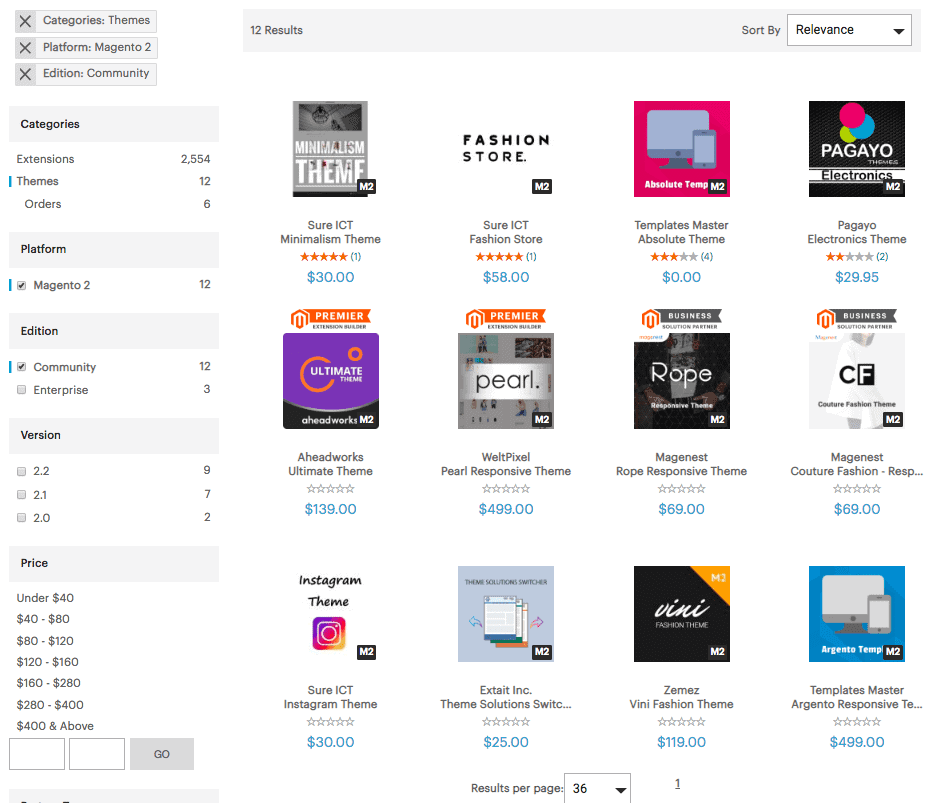 As of the date of this article, Magento promotes just 11 themes in its marketplace for Open Source. This number is deceptively low, however, since several themes include multiple style variations that are refreshingly distinct from one another. I've also seen hundreds of Magento-compatible templates advertised on third-party websites that aren't specifically listed in the Magento marketplace, so be sure to check out those options as well.
We touched on this in our Ease Of Use section, but customizing your storefront design with Magento Open Source is much more complicated than with SaaS platforms that typically come with a built-in theme editor. Magento has introduced its own flexible drag-and-drop editor, called Page Builder, that provides a greater degree of design flexibility, without coding/technical knowledge. Check out the Page Builder tutorials on the Magento User Guide to see if it will be a good option for you.
In addition to Page Builder, here's a summary of your design options with Magento Open Source. In all likelihood, you may end up using a combination of these methods:
Create a theme from scratch with the help of a front-end developer/designer
Purchase a third-party theme or theme generator, and utilize the theme's in-dashboard customization tools (which may or may not involve coding)
Purchase a Magento extension that provides additional user-friendly customization tools
Integrations & Add-Ons
Because Magento is open-source, it's easy for the Magento community of developers to create new applications and extensions for the platform. As a result, there are thousands of free and premium integrations available in the Magento Marketplace. Over 2,500 extensions are now compatible with Magento 2, but it can take a while for each extension to catch up with the specific latest release (i.e., 2.4.x and beyond).
Some popular integrations include QuickBooks, ShipStation, ShippingEasy, MailChimp, ZenDesk, and many more.
While many Magento integrations are available free of charge, the actual software you integrate with may have associated monthly costs. Other integrations cost several hundred dollars at the outset. Research carefully before you buy and always check for release compatibility.
Payment Processing
Magento has out-of-the-box capacity to accept purchase orders, checks, and money orders. However, you must integrate with a payment gateway to accept card payments from most customers. Magento has an in-house processor option through a partnership with PayPal/Braintree, but you're not limited to that option.
A quick search for payment integrations for Magento Open Source 2 in the extension marketplace pulls up 544 results, so needless to say, you'll have lots of choices. Prices range from free to around $3,000, with all but a very few add-ons coming in under $699.
While about 225 results came up as free, don't forget to research the pricing structure for each processor. Credit and debit card payment processing itself is decidedly not free. If you're new to this topic, we've recommended several online payment processors to get you started.
Another option is to have a developer create an integration for you. Some of the prebuilt processor integrations available with Magento Open Source include Square, PayPal, Stripe, Braintree, and other popular payment processing solutions.
Magento Customer Service & Technical Support
As is the case with most open-source solutions, customer service is essentially nonexistent with Magento. Magento reviews show no support options using live chat, email, or phone for merchants using Magento Open Source.
Users have to make do with the resources available on Magento's website. Fortunately, there's an active user community that can help you out on forums and through paid assistance. Be sure that your search for answers focuses on the resources that are specific to the version of Magento you're using — Magento Open Source vs. Magento Commerce, Magento 1 vs. Magento 2, and so on.
Here are the support avenues Magento provides:
User Guide
Knowledgebase Articles
Community Forums
Developer Documentation
Blog
User Guide For Magento Marketplace
Resource Library: Webinars, tutorial videos, topical guides
Sales Portal: Sign up for a demo of Magento Commerce
Phone: For sales and general info, but not specific tech support questions
Magento U: Training courses and certification, with costs ranging from free to several thousand dollars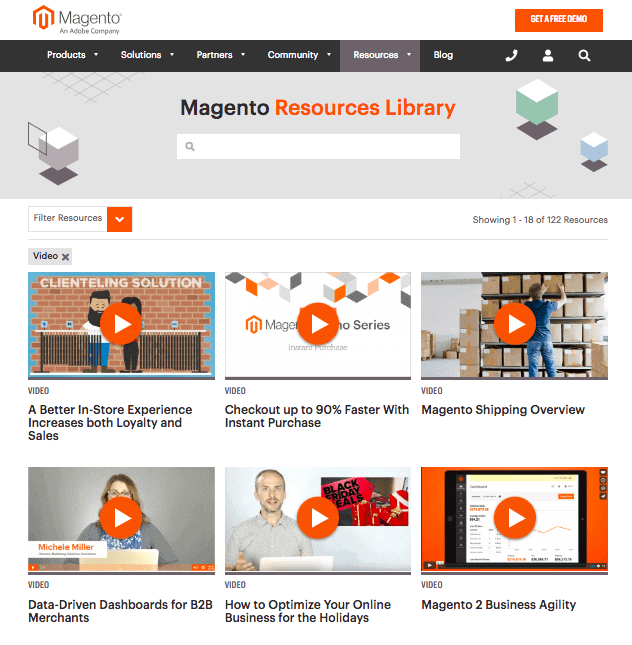 Magento Reviews
Most Magento customers are satisfied with the platform. Magento reviews show that the software earns consistently high marks across customer comment boards. As always, there are still ways that Magento could improve.
Negative Magento Reviews & Complaints
Here are a few of the most common negative remarks that show up in online Magento reviews:
Steep Learning Curve: It takes a while to get the hang of Magento, and coding skills are required. However, customers generally agree that there's a high ROI once you get over that curve. As one user put it, Magento is "a big tool with potentials and pitfalls."
Expensive: When you add up web developer costs, web hosting, and any additional integrations, your "free" platform can become quite costly. In fact, some users say it's simply not suitable for small companies with no in-house team or the ability to hire help.
Slow: Magento can often run quite slowly, which isn't exactly conducive to managing your admin effectively or achieving that top spot on a search results page. Speed issues can be avoided or mitigated, however, with adequate hosting capability.
No Customer Support: You're on your own with Magento Open Source, support-wise.
Bugs: A few users report that the latest releases are still a bit buggy. Note that the extensions you purchase may not be included in major updates.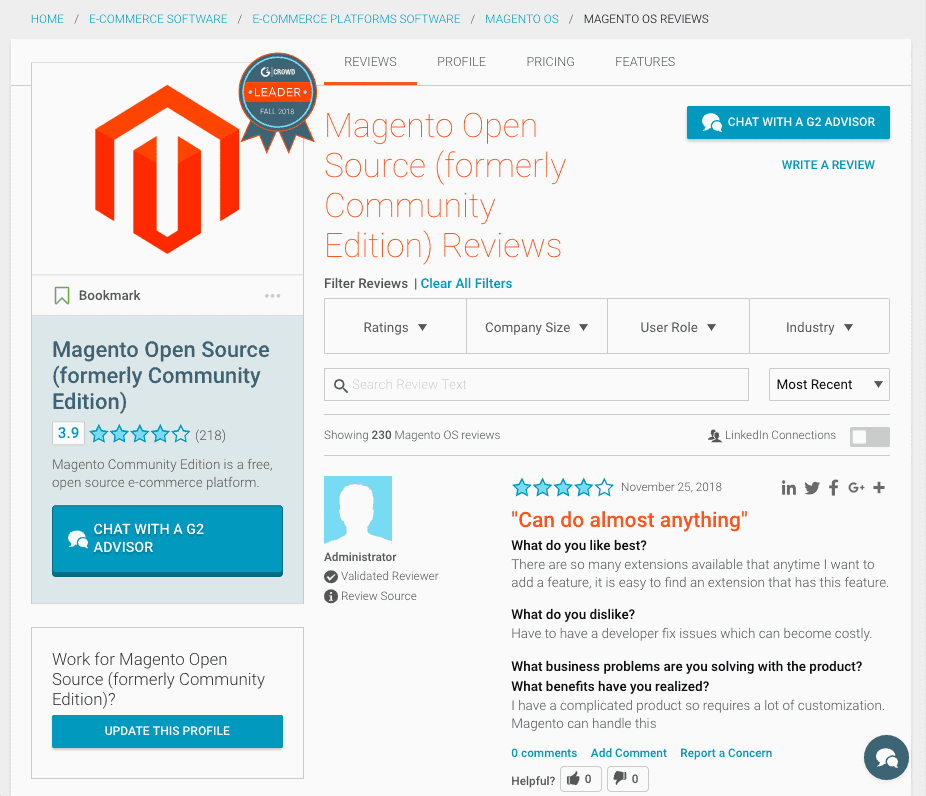 Positive Magento Reviews & Testimonials
As I've said, merchants and developers generally love Magento, and here's why:
Features: Magento has almost everything you could ever want, fresh out of the box.
Lots Of Apps: If you somehow can't find what you need, chances are good that you'll come across a solution in the Magento Marketplace. There are hundreds of ways you can extend your store's capabilities.
Large User Community: There are lots of users out there working on the same problems you have. Community forums let you tap into that knowledge pool.
Scalable: Magento has unlimited potential to grow with your business.
Customizable: You can customize any aspect of your admin and storefront to fit your specific needs.
Free: Magento is absolutely free to download, and if you have developer skills you can keep costs down by doing a lot of the work yourself. If you don't have those skills, see the section labeled "Expensive" above.
Security
Because Magento is a self-hosted option, you are responsible for establishing your site's security. You'll have to ensure that your site is PCI compliant and install an SSL certificate. You or your developer will monitor security, installing new patches from Magento as security issues emerge and are resolved.
Also, consider that at some point, older versions of Magento won't be supported anymore by the company, and that includes security patches. If you're a new adopter of the software and downloading the latest version, however, you should enjoy a nice long run of supported patches.
Happily, Google reCAPTCHA and two-factor authentication come standard with the latest Magento 2 release. Check out security tips and best practices on the Magento website for more information.
Magento FAQs
Magento Final Verdict
As far as open-source software goes, Magento Open Source (formerly known as Community Edition) is one of the best platforms out there. Its rich feature-set and ever-expanding pool of add-ons and integrations make Magento a reliable option for any store that's hoping to grow. I think any store offering a large number of detailed products with tons of options, variants, and customizations will be particularly pleased with Magento Open Source right out of the box.
That said, any Magento review must note that the software is difficult to set up and customize for users without any experience in web development. However, the basic business operations are fairly straightforward. after a bit of practice. If you have extra resources you can use to hire someone to take care of the "techy" stuff, you should be able to handle the platform's day-to-day operations without too much trouble. And, if you're prepared to trudge up the rather steep initial learning curve, Magento could definitely be the robust software solution you've been looking for. If that doesn't sound like you, or if you're concerned that Magento might not be right for your needs and abilities, check out some of the other top-rated eCommerce platforms available.
If you're thinking Magento is the right approach for your business, there's no harm in signing up for a free demo, keeping in mind that you'll be looking at the more advanced (and very much not free) Magento Commerce version. A Magento representative will guide you through the admin and storefront, so you can get a good feel for the platform without the trouble of downloading and installing.
Happy shopping, and happier selling.
---
Featured Free eCommerce Plan 🔥
Square Online


---
Get a free website builder, online ordering, gift cards, in-store pick-up options, and dozens of other features for eCommerce and hybrid businesses. Free options available. Learn more from Square.
Featured Free eCommerce Plan 🔥
Square Online


---
Get a free website builder, online ordering, gift cards, in-store pick-up options, and dozens of other features for eCommerce and hybrid businesses. Free options available. Learn more from Square.
To learn more about how we score our reviews, see our
eCommerce Software Rating Criteria
.