Mailchimp Review 2023: Pros & Cons, Pricing, Features
Expert Analyst & Reviewer

UPDATED
Advertiser Disclosure: Our unbiased reviews and content are supported in part by
affiliate partnerships
, and we adhere to strict
guidelines
to preserve editorial integrity.
Mailchimp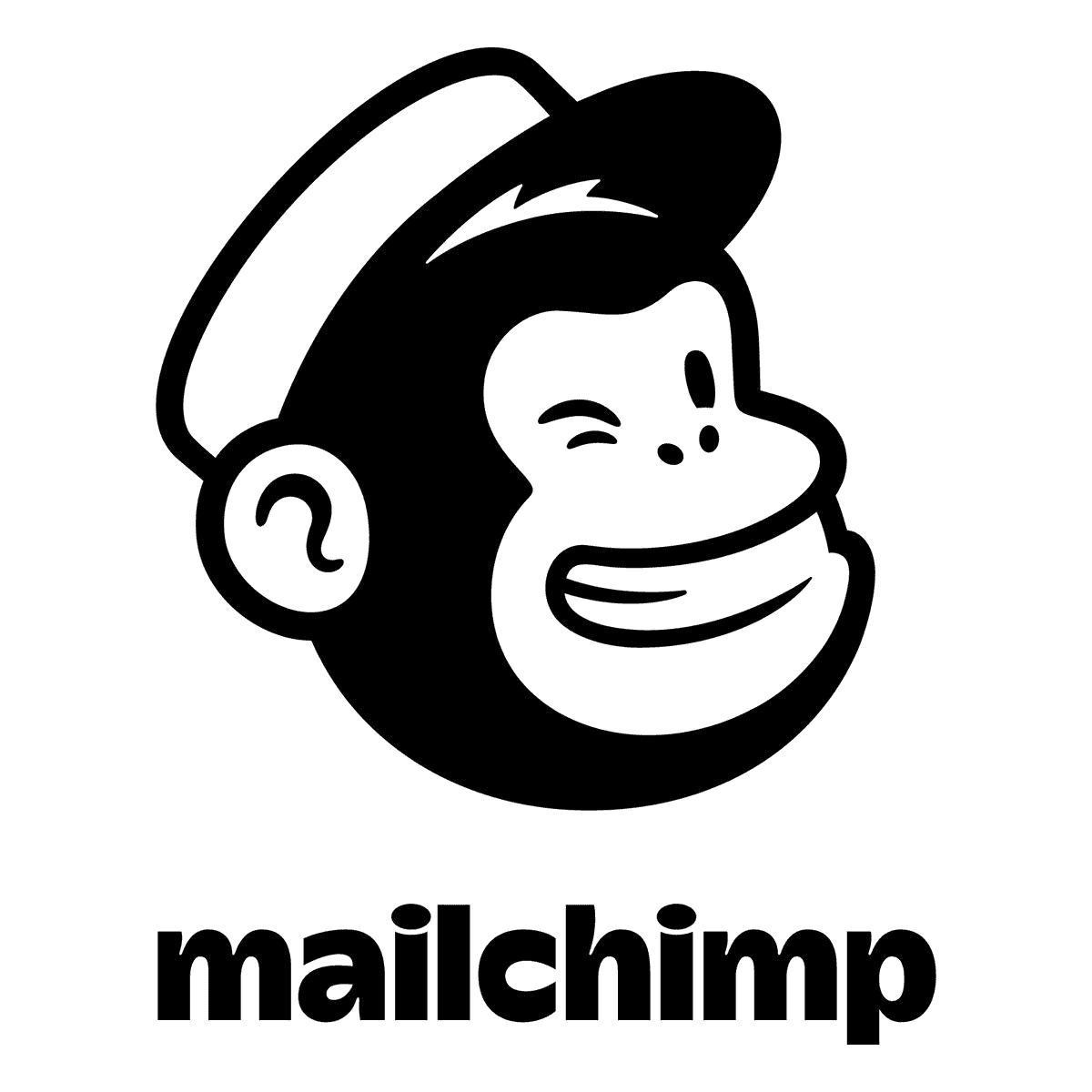 Pros
Easy to use
Low monthly cost
Advanced features
Cons
Mailchimp Overview
Mailchimp's brand is likely the most powerful in the ESP (email service provider) market. Plus, the company's free option is surprisingly generous, making it hard to beat, with no one on the horizon threatening it quite yet. It also helps that Mailchimp really shines with a feature-set that grows more enticing each time we review it.
Paid users get high-level marketing features, including autoresponders, spam filter diagnostics, list segmentation by time zone, and various tools for social networking integration. With over sixteen million users ranging from community groups to well-known companies, such as Vice UK, The Economist, and TED, Mailchimp sends out billions of emails every month.
What we truly appreciate: Despite its reputation and size, Mailchimp doesn't rest on its laurels and continues to iterate on its services to make them both easier to use and more versatile.
Mailchimp Pricing
Mailchimp has simplified its pricing plan pretty drastically since we last reviewed its services in March 2020. Here is how it has reorganized its structure:
Free Plan: New Businesses
For users with modest needs, Mailchimp offers a robust free plan. You can have up to 2,000 subscribers and send up to 12,000 emails per month to one audience. While you won't get all the bells and whistles of the paid plans, you still get a laundry list of features, including:
Audience dashboard
Tags
Segmentation
Behavioral targeting
Purchase behavior
Marketing engagement
Subject line helper
Basic templates
Websites and domains
Landing pages
Creative Assistant
Content Studio
Facebook and Instagram ads
Social posting
Postcards
Pop-up forms
Marketing calendar
Single-step automations (welcome email, order notifications, abandoned cart, and more)
Basic reports and recommendations
30 days of email support
Essentials Plan
The Essentials plan starts at $9.99/month, and with it, you can send emails out to 50,000 contacts and three audiences. You get everything that comes in the Free plan as well as:
All prebuilt templates
Removing Mailchimp footer
Emailing scheduling
A/B testing
24/7 email and chat support
Standard Plan
The Standard plan starts at $14.99/month, and with this plan, you get up to five audiences at 100,000 contacts as well as everything in the Free and Essentials plans, plus:
Advanced audience insights
Retargeting ads
Custom template designs
Curated customer experiences with the Customer Journey Builder
Event-based automation series
Multistep custom workflow
Delivery by timezone
Testing for social posts
Premium
The Premium plan starts at $299/month and gives you up to 200,000+ contacts, unlimited audiences, everything that's in the other plans, plus:
Advanced segmentation
Multivariate testing
Unlimited seats and role-based access
Phone support
Web-Based Or Locally-Installed
Mailchimp is entirely cloud-based; the company also offers a mobile app for iOS and Android devices.
Ease Of Use
Signing up for a Mailchimp account is simple: enter a name and email address, and you're on your way. A bit more information is required when you first sign into the program: physical address, organization name and details, and website (if you don't have a company page, you can enter a Facebook or Twitter page, a personal page, or blog). You'll also have the opportunity to upload a profile photo and to subscribe to Mailchimp's series of "Getting Started" emails if you wish.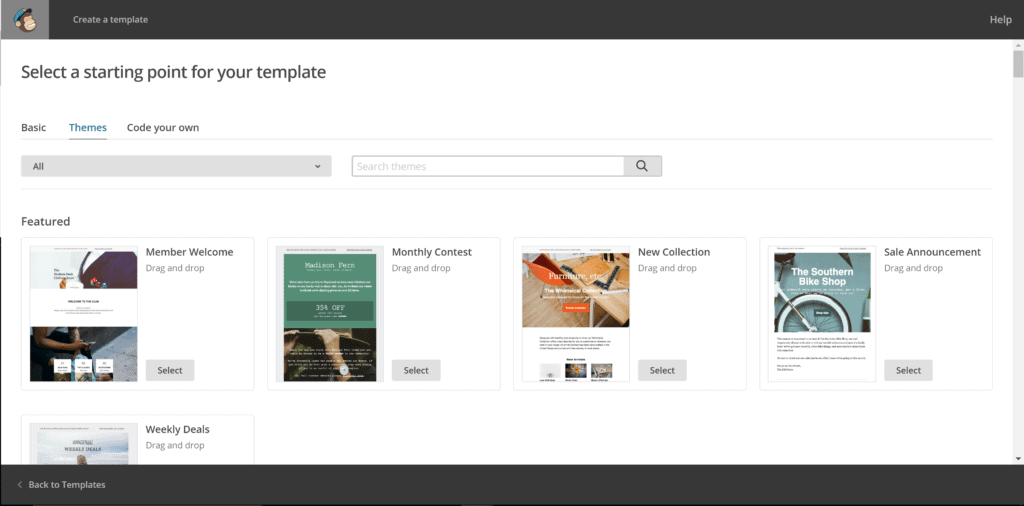 The dashboard isn't much to look at — Mailchimp uses color very sparingly and mainly to draw your attention strategically — but it's clean and very simple to understand, even for beginning users. Initially, you'll have three main options: create and send a campaign, create (or import) a list, or start building an audience (with signup forms). Once you've gotten started, this will be replaced by a dashboard showing your recent campaign activity, list growth, and a news feed of recent events.
One area that had fallen short until recently was contact importing, which, while versatile, felt like it was a part of an older, less user-friendly site. That problem's gone now, and you can easily import from several integrated sources or file types. You'll also get a warning in advance if the size of your imported list would bump you up to a new pricing tier. Previously, the warning would come mid-import, freezing the process while it waited for approval. It's a small but significant time-saver.
Email Campaign Creation
You won't need an established list to design a campaign. The software offers a "send to yourself" option, perfect for the newbie looking to test the system.
You'll be prompted to enter campaign info and select tracking options, social media settings, and other options. Mailchimp provides a pretty good selection of merge tags, allowing you to customize your emails.
Next up: choose a template. Mailchimp features basic templates and hundreds of theme templates; the latter covers a wide variety of industries and occasions, including sales, announcements, newsletters, follow-up, and templates to help you educate and tell a story.
Whether you start with a basic blank template or a predesigned theme, Mailchimp's editor is extremely simple to use. The drag-and-drop editor allows you to easily add text blocks, dividers, images, buttons, and social share icons. You'll have loads of layout options, and you can save whatever you develop as a new template for future use. Your work is auto-saved every 20 seconds, so no worries about your computer crashing — Mailchimp has you covered.
If you prefer to code your own work, you can use HTML to design your email however you want. If you already have a design you like to use, you can import the HTML code from a website or a zip file.
Regardless of what method you use to design your email, you can preview how it will look on both desktop and mobile devices.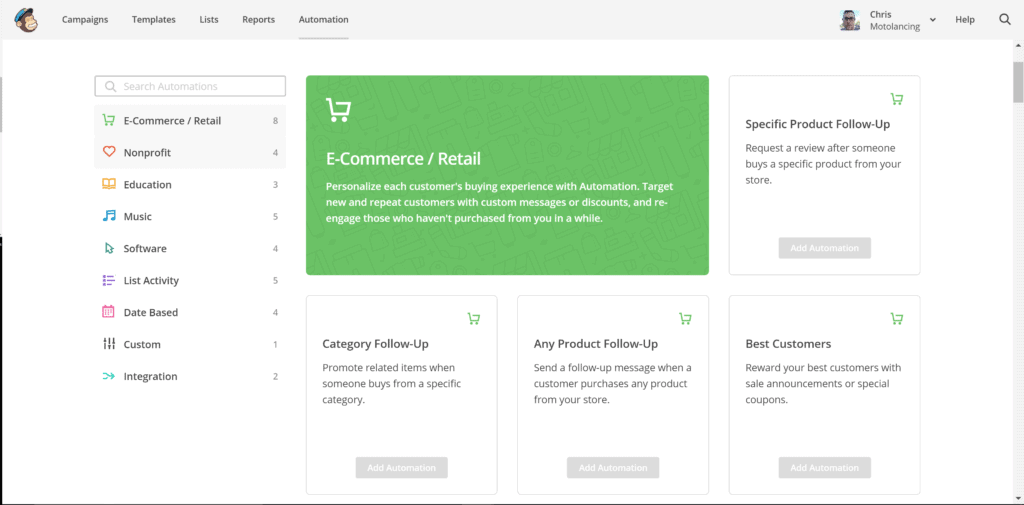 Sending The Email Campaign
Sending the campaign is pretty straightforward. Once your email is designed and ready to go, you'll have the opportunity to select (or change) the list to which it should be sent, test your subject line, and make any last-minute adjustments. You can either schedule the email to be sent on a future date or send it right away.
There are a variety of ways to add a list to Mailchimp. You can upload an existing list (CSV or XSL), or you can import your contacts from a different program, such as Salesforce, Highrise, Zendesk, Eventbrite, Batchbook, and Google. Like all legit ESPs, Mailchimp emphasizes the importance of permission-based opt-in lists.
Mailchimp offers a couple of nice features for list management. First, when you create a new list, Mailchimp will automatically create a signup form for it. You can personalize this and add it to your website or social networking sites.
One area where Mailchimp excels is in list segmentation. It's usually just one of many features your email marketing software offers. Mailchimp turns segmentation into a genre with an exhaustive number of built-in ways to sort and target contacts on your list as well as automation presets that can account for a wide range of scenarios. If you want the benefits of automation, but you don't want to have to break out the wireframes and diagram your own logic tree, it doesn't get much better than Mailchimp.
Since Mailchimp is a paid and/or rationed service, users don't want to waste precious emails on mistakes. With that in mind, Mailchimp walks users through a checklist that flags sections of the campaign that might be problematic and confirms that you want to use a feature, such as Social Cards.
Mailchimp Features
In the last few months, my podcast feed has been inundated with Mailchimp ads claiming how the company now handles much more than email. It is true, too; with the likes of Mandrill, Mailchimp has gone from just email marketing to a more generalized CRM service, giving you new ways of interacting with customers. Mailchimp's features are universally available to all paying users, whether those users have 500 subscribers or 50,000. Even users on the Free plan get access to the majority of the program's features. Here are the highlights:
Email Designer: Includes a WYSIWYG drag-and-drop editor. Users can select from Mailchimp's wide variety of preset templates or code their own. The interface includes support for basic photo editing and is optimized for mobile.
Multiuser Accounts: All Mailchimp accounts support multiple users with distinct logins and permissions (owner, admin, manager, author, viewer). This is an unusual feature for an ESP, and it's very handy.
Mandrill: Mandrill is a transactional email API designed to give your eCommerce communications a more personal touch. It's data-driven, so you can use this to communicate with customers about their activity on your web store and build the relationships that good business demands.
Analytics & Reports: All users have access to A/B split testing and a wide variety of reports, including revenue, click maps, domain performance, and subscriber activity. Mailchimp fully integrates with Google Analytics, allowing for additional data collection and email marketing optimization.
Automation: Automation runs your campaigns for you by using a set of triggers and responses. You'll probably want to tweak them for optimal effect, but Mailchimp offers a vast number of preset scripts to get you started.
Custom Forms: Mailchimp offers its users easy-to-create custom signup forms for permission-based email marketing lists. These can integrate with both company websites and Facebook pages.
Geolocation: The software records subscribers' locations, allowing you to segment your lists and target subscribers in specific geographic areas.
Delivery By Time Zone (Paid Plans Only): Delivery by time zone allows users to automatically segment their lists to ensure that each subscriber receives email messages when they are awake.
Reporting: Mailchimp has a fairly strong reports section with a scroll-down list of stats that range from the common open and click rates to top links clicked and performance over the first 24 hours post-send. Also included is a list of subscribers with the most opens and a physical map of the world that visually portrays the locations of the people who have opened emails.
Mailchimp Customer Service & Support
Mailchimp's customer support system is pretty extensive. However, it's important to note that telephone support is limited to the Premium plan at the moment. My experience with Mailchimp's customer service was generally good, however. Representatives were courteous and well-informed, and my inquiries got responses in anywhere from 20 minutes to 20 hours. (The 20-hour delay applied to a question that was not in any way urgent.) Here are the support resources Mailchimp offers:
Email Support: You can reach support representatives 24/7, but for the Free plan, email support is only free for the first 30 days.
Live Chat Support: Generally available Monday-Friday from 8 AM-6 PM EST. Currently only available to paying customers due to a surge in support requests.
Social Media: Mailchimp actively monitors its Twitter account and Facebook page. Representatives generally answer customer inquiries on these sites within a matter of hours, if not minutes.
Searchable Knowledgebase: Mailchimp's user guides and tutorials were recently redesigned to make them easily searchable across a broad array of devices. Users can specify the type of information they're looking for by using one of four categories: "Need Help Getting Started?," "Quick Answers," "Glossary," and "Video Tutorials."
Mailchimp Reviews
Negative Reviews & Complaints
On the whole, users seem to like Mailchimp…but that doesn't mean they don't have suggestions for improvement. The iPhone app has improved significantly since our last review in March 2020, going from 1.8 to 4.9 stars in the iTunes Store. The original low score appeared to be due to limitations in functionality and bugs that have now been improved for greater stability. Non-mobile users are holding steady at 4.3 out of 5 stars on G2. Here are some of the most common criticisms of the program as a whole:
Uneven Customer Service: Users seem to have mixed opinions of the customer service.
Transferring Lists Requires Re-Opt-In Process: Some users have complained that when transferring a list into or out of Mailchimp, you need to go through its opt-in process.
Confusing Plans: The à la carte nature of Mailchimp can initially make it a little difficult to figure out what you're getting and even what you need to run the type of campaign you want to run. However, Mailchimp has made plans (and explanations) much clearer with the recent updates.
Positive Reviews & Testimonials
Most of the user reviews I saw for Mailchimp were positive. The software gets 4.7/5 stars based on 9k user reviews on Google Play and 4.5/5 stars on Capterra.
Simple & User-Friendly: This was the number one positive comment I saw regarding Mailchimp (somewhat amusing since the wish for simpler customization options was the number one negative comment). On the whole, users find Mailchimp easy to use and the interface simple to navigate. For first-time email marketers, it seems to be a good place to start.
Free: There may be no such thing as a free lunch, but there are free email service provider packages, and Mailchimp's Free plan has generated plenty of buzz. Some customers say it's the highest-value free ESP they've found.
Good Analytics & Reports: While Mailchimp's free version doesn't have all the bells and whistles you'll find on the most expensive ESP packages, the Google Analytics integration and the variety of available stats and reports are well above par for the price point.
Good Editor/Designer: Some find customization difficult, but most users seem to enjoy the editor's ease of use and the available templates.
Mailchimp Integrations & Add-Ons
Mailchimp offers hundreds of integrations and add-ons. You can filter by category or search for the app directly by name. Integration categories are numerous and include payments, loyalty, marketing, booking, social media, eCommerce, content, and much more. Below, we highlight a few options for you:
Google Analytics: You can add conversion tracking in your Google Analytics account to track data from your Mailchimp email clicks to purchases your readers make.
ClickTale: You can also use the ClickTale integration to track subscriber behavior from your email to your website, gaining further insight to help you customize your campaign.
CRM Integrations: Mailchimp provides integration options for several popular CRMs, including Zapier, Square, and LiveChat.
Zendesk: Users who offer their customers support through Zendesk can track support tickets and manage subscriptions. Mailchimp offers two add-ons.
Eventbrite: The Mailchimp Sync for Eventbrite allows you to enhance event management capabilities using Mailchimp's built-in tools. Users can target event invitations to subscribers in select geographic locations or personalize event invitations and follow-ups.
eCommerce: Mailchimp integrates with many eCommerce stores, including Shopify, Magento, Bigcommerce, and Woocommerce.
Social Media Integrations
Because of the integral connection between social media and email marketing, it is important to look at the specific social media aspects of Mailchimp.
Organic Social Posting: Available with all plans, this feature allows you to post to Facebook, Instagram, and Twitter.
Social Post Scheduling: With the Standard plan and above, you can now schedule and manage your posts ahead of time in Mailchimp's new feature that provides a content studio with design tools and images, in-depth reporting, and scheduling for up to three months ahead of time.
Security
With over 7 million users, Mailchimp takes security — and privacy — seriously. The company has message transfer agents (MTAs) located in data centers located throughout the United States, and both physical and electronic safeguards protect those centers. With DDOS mitigation in place at all data centers and even an "in case of a nuclear attack on a data center" continuity of service plan, Mailchimp seems unlikely to be caught off guard.
Large mailing lists are stored in individual databases to protect against data corruption or overlap. (Smaller accounts, including free accounts, share databases). The company is PCI DSS and SOC II compliant and will provide its full SOC II report to anyone who wants it, provided that the individual first signs an NDA.
Additionally, Mailchimp has a dedicated internal security team that monitors and tests for vulnerabilities. Mailchimp also provides its users with resources to better understand email security, including a downloadable Email Security Guide. Additionally, the company supports Google Authenticator, a free, optional add-on that provides users with two-factor authentication when signing into Mailchimp.
As for privacy, Mailchimp is TRUSTe approved and EU Safe Harbor compliant.
Anti-Spam Policy & Protection
Mailchimp takes a strong anti-spam stance. As with any respectable ESP, its terms of use prohibit users from sending emails that violate the CAN-SPAM Act. You are responsible for ensuring your emails do not conflict with any local laws that may be more severe than the CAN-SPAM regulations. Additionally, Mailchimp requires that you notify it as to the origins of your contacts list and that you also include an unsubscribe link in your messages.
Final Verdict
Mailchimp ticks a lot of boxes in email marketing features and is continuously improving value to all plan levels by adding new services and even more features. The Mailchimp brand is mature, time-tested, and easy to pick up. Not only does it offer a great selection of features at a reasonable price, but its security and privacy policies are also at the top end of the industry.
The software's basics are easy to use, and updated tutorials and guides have made advanced features even more accessible to a broader range of users. The free plan is very generous for users with basic requirements in sending emails. With the added social tools and single-use automations, including a welcome email, we think the free price tag is a pretty amazing find. Mailchimp's recent upgrades have focused on segmentation and automation features as well as social and even a hosted free website. All of these add an incredible amount of depth to what was already a robust program.
As far as the downside to this platform, we have to recognize that the lack of phone support is potentially a downside, particularly if you need help immediately or are having difficulty phrasing the problem. Another thing to remember is that only paid accounts receive email support after the first 30 days. Balancing this issue, however, is the fact that since so many people use Mailchimp, it's usually not that hard to find a third-party video or guide that addresses your problem.
If you're in the market for an email marketing platform, there's little risk in giving Mailchimp a test drive yourself to see if it meets your business's needs.
---
The Merchant Maverick Seal of Approval 🏆
Mailchimp


---
After hours of in-depth research and evaluation, we can confidently recommend this brand to our readers. Get started today and see Mailchimp for yourself.
The Merchant Maverick Seal of Approval 🏆
Mailchimp


---
After hours of in-depth research and evaluation, we can confidently recommend this brand to our readers. Get started today and see Mailchimp for yourself.
To learn more about how we score our reviews, see our
Email Marketing Software Rating Criteria
.