Mastercard Black Card Review
Expert Analyst & Reviewer

UPDATED
Advertiser Disclosure: Our unbiased reviews and content are supported in part by
affiliate partnerships
, and we adhere to strict
guidelines
to preserve editorial integrity.
Mastercard Black Card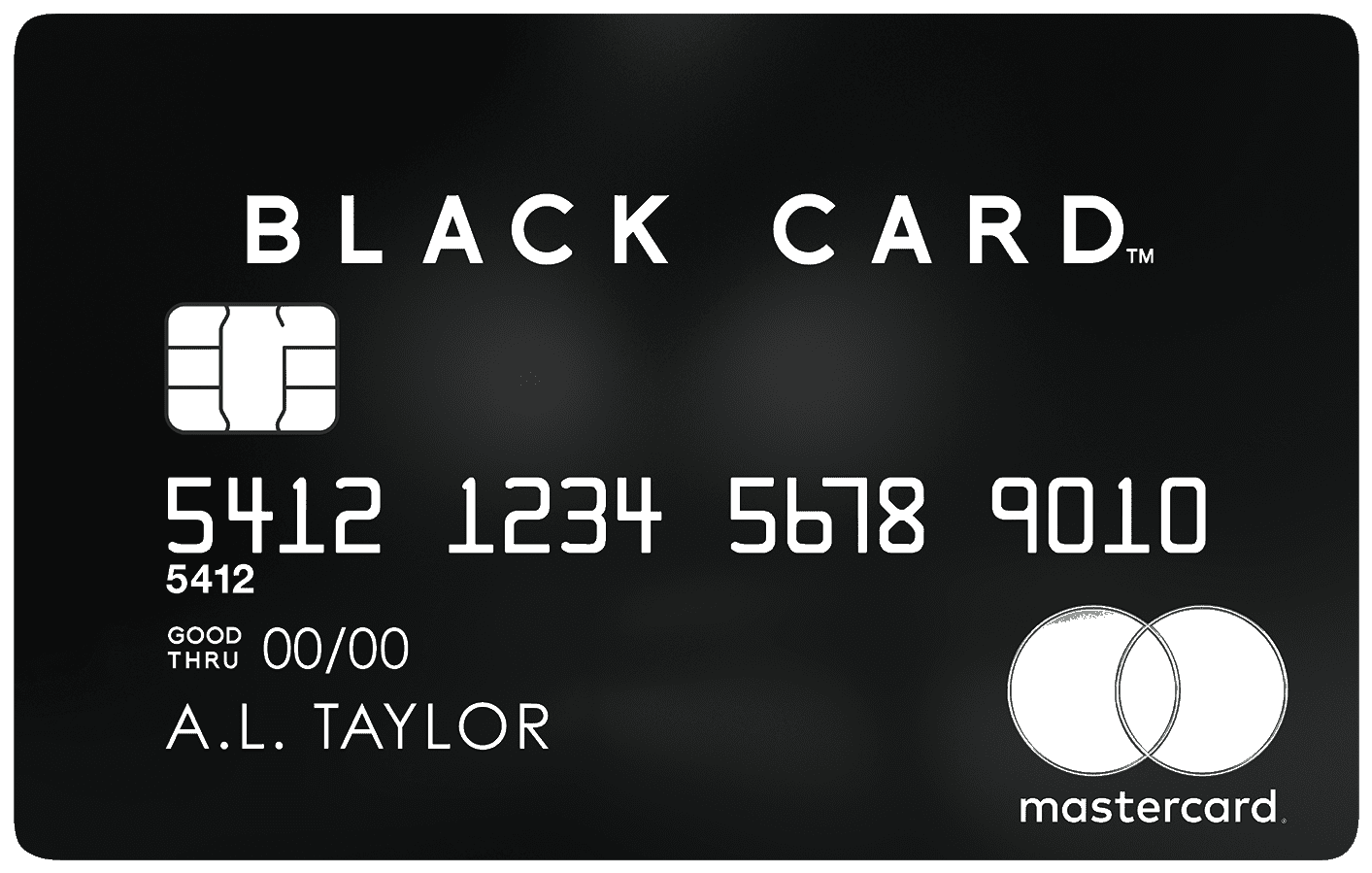 There are credit cards, and then there are credit cards in the Luxury Card line. Constructed out of stainless steel and carbon, the Luxury Mastercard Black Card's build has 46 patents globally and promises to catch anyone's eye when you whip it out of your wallet.
Of course, the Mastercard Black Card doesn't just look flashy. The card also boasts an excellent rewards scheme, although it does carry a hefty annual fee. It also contains numerous unique benefits that simply don't exist with other more "regular" cards.
Business owners should note that the Black Card is labeled as a personal credit card. As such, it won't contain certain perks, such as free employee cards or the ability to help your business build credit. However, using a personal card for business can still be a great choice.
Think the Black Card deserves a spot in your business's credit card arsenal? Keep reading to get all the details!
Eligibility
You'll need to have excellent credit in order to qualify for the Mastercard Black card. This means you'll want to have a credit score in the upper 700s or higher.
Don't know your credit score? Find out for free with one of our favorite credit score-checking websites!
Additionally, as is the case with most credit cards, you'll need to be 18 years or older and reside within the United States to qualify.
Rewards & Fees
The Mastercard Black Card comes with a fairly straightforward one point for every dollar spent. This rewards rate has no limit, nor does it carry any limitations on how you can earn points. While the earnings scheme is pretty simple, you'll start to see the benefits of the Black Card once you redeem your points (see the next section for details).
You'll need to pay $495 per year to use the card. Every additional user will cost $195 extra. With this in mind, you'll only want to sign up for the Mastercard Black Card if you plan to spend frequently with it. Additionally — if planning on using it for business purposes — you'll only want to hand out cards to employees if it will get actual use.
While the annual fees are hefty, there is no foreign transaction fee to bother with. This could be beneficial if you travel abroad frequently for business. Cash advances do, however, cost $10 or 5% of the advance (whichever is higher), and balance transfers require either $5 or 3% of each transfer (whichever is higher).
Redeeming Rewards
Things get interesting when it comes to redeeming rewards. Points are worth double when redeeming them for airfare. That means the card effectively grants you a 2% rate when redeeming for travel. If you redeem them for cash back, they're worth 1.5 times the standard rate. That's essentially a 1.5% cash back rate for those keeping score at home.
You can additionally redeem points for hotel stays and car rentals, although they keep the standard one-point-equals-one-cent when redeemed. There are also options to redeem for gift cards and merchandise, but the actual reward value varies depending on what you're redeeming.
All told, these rewards are some of the best in the business. Very few cards offer 1.5% cash back and even fewer offer additional rewards on top of that rate. However, these benefits don't come without a price.
As a reference point, to offset the $495 annual fee with rewards, you'll need to spend at least $24,750 a year while only redeeming for air travel to break even. If you plan to redeem for cash back, you need to spend $33,000 in one year to reach $495 in rewards. Redeeming at the standard one point per $0.01 requires annual spending of $49,500 to cover the annual fee.
Note that these numbers are the amount required to equal the base annual fee; you'll need to spend more before the card starts earning money. Also, note that you do get a $100 airline credit annually and a $100 Global Entry application fee credit every five years; both of these credits can help offset the annual fee.
Other Benefits
The Mastercard Black Card comes with a range of unique benefits. These include 24/7 access to the Luxury Card Concierge via phone, live chat, and email. This service provides travel and entertainment arrangements as well as sourcing items for purchase and making recommendations.
Occasionally, Mastercard Black Card holders will receive what Luxury Card calls "Luxury Gifts." These gifts come from well-known and recognized brand names. Note that this benefit is not on a predefined schedule.
There are additional travel benefits for the Black Card. These benefits cover room upgrades, complimentary food and beverage, and spa credits when booking with Luxury Card Travel. You can also make use of global luggage delivery and 24/7 chauffeured transportation. Additional bonuses include competitive car rental rates, privileges on more than 20 cruise lines, and the ability to charter a private jet or yacht for a day, a week, or longer. You can further take advantage of the professional airport meet and greet program, which schedules a representative to meet and guide you through the airport process quickly.
On top of all this, you'll get an annual $100 airline credit that can be put toward flight-related purchases ranging from airline tickets and baggage fees to upgrades and more. You'll get another $100 credit for your Global Entry and TSA PreCheck application fee. There is also baggage delay insurance that reimburses you the cost of essential personal and business items when your baggage is delayed in transit for tickets purchased using your Black Card.
Continuing with air travel perks, the Black Card gives you complimentary access to over 1,000 VIP airport lounges through the Priority Pass Select program, which extends to all cardholder guests, including family and others. This is in contrast to some other cards' lounge programs which only work for a select number of guests, cost extra money, and/or are limited to immediate family members.
Beyond the airport, you'll have access to perks such as free shipping with Shoprunner and Lyft credits as part of Mastercard World Elite benefits. These bonuses are designed to reward routine spenders rather than those who jump at a one-time welcome offer.
As another exclusive bonus, you'll receive a subscription to the quarterly Luxury Magazine. This publication features articles covering topics such as travel, fashion, home design, real estate, vehicles, and technology. Luxury Card tailors the magazine to its target demographic: an affluent audience.
Beyond its unique bonuses, the Mastercard Black Card comes with numerous standard credit card benefits, including price protection, travel insurance, $0 fraud liability protection, extended warranty, and an auto rental collision waiver.
Final Verdict
With such a high annual fee, the Black Card will only be for a niche set of users with plenty of cash to spend. However, for those niche set of users, it can be a very lucrative card that tacks on some impressive benefits.
Is the Mastercard Black Card right for your business? You might want to apply for this card if:
You can afford to spend enough to offset the high annual fee.
You travel frequently.
The card's unique benefits fit with your business's travel needs.
On the other hand, you might want to pass if:
The high annual fee is too expensive for your spending habits.
You don't travel often.
Your credit score is not high enough.
---
Featured Free Corporate Card
Ramp


---
Ramp offers a free corporate card for virtually any business. Start earning rewards with your corporate spending today. Get your free card.
Featured Free Corporate Card
Ramp


---
Ramp offers a free corporate card for virtually any business. Start earning rewards with your corporate spending today. Get your free card.
To learn more about how we score our reviews, see our
Business Credit Card Rating Criteria
.