Expert Analyst & Reviewer

UPDATED
Advertiser Disclosure: Our unbiased reviews and content are supported in part by
affiliate partnerships
, and we adhere to strict
guidelines
to preserve editorial integrity.
Mavenlink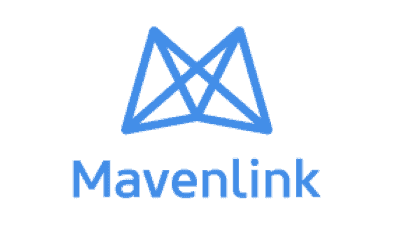 Pros
All-in-one solution
Scalable
Free plan available
Cons
Expensive monthly cost
Moderate learning curve
Poor mobile app
Mavenlink Overview
Founded in 2008, Mavenlink is a well-featured project management platform that combines resource management, team collaboration, and time tracking — among other functions — into one scalable PSA (professional services automation) software package for businesses large and small.
Referred to by the company as the Mavenlink Industry Cloud for Professional Services, the cloud-based platform aims to help your business facilitate internal communication, talk with clients, keep projects on track, manage schedules, and generate invoices all in the same place. Mavenlink does all this while maintaining a steady stream of updates, ensuring the software does not fall behind current trends in design and functionality.
Mavenlink is a powerful business tool. However, as Mavenlink reviews from users confirm, the Mavenlink package is not without its deficiencies, with its sub-par mobile "app" being prominent among them.
All things considered, is Mavenlink a good fit for your business? Read our full Mavenlink review to find out!
Mavenlink Pricing
Tracking down the details of Mavenlink's prices and subscription plans is a real chore. On its Pricing page, Mavenlink invites the would-be user to contact the company with your business details so that it can review your business and offer you a package that fits your needs. Of course, this makes it impossible to make a quick pricing/features comparison between Mavenlink and other leading project management platforms.
Mavenlink offers a limited free plan and four paid subscription plans: Teams, Professional, Premier, and Enterprise. However, the company's Plans page only details the features of the latter three subscription plans. What's more, Mavenlink gives no pricing details whatsoever on its website. To discover what the subscription plans actually cost, you'll need to start a free trial and click on "Upgrade Trial." As a result, Mavenlink loses some transparency points here.
While Mavenlink does not currently mention the free plan on its website, if you sign up for a free trial, go to your settings and click "I'd like to downgrade my account," you'll get access to this "downgraded" free plan. Speaking of which, you can sign up for a free 10-day trial of the Teams, Professional, and Premier plans. You can also preview the Enterprise plan for free, but you'll first have to contact the company to request a demo.
With the Teams, Professional, and Premier plans, you can subscribe on a monthly or annual basis, and you'll get a discount for subscribing annually. The Enterprise plan is by annual contract only. Additionally, nonprofits with a 501(c)(3) designation are eligible to get a 50% Mavenlink cost discount.
On the whole, Mavenlink's plans run on the pricey side. Here's a quick breakdown of all the available plans:
Free Plan
Unlimited users
No file sharing, project timelines, or private messages
Teams
Mavenlink's Teams plan costs $19/month per five users and includes:
10GB storage
Project management
Task assignment and scheduling
Gantt charts
File sharing
Project workspaces
Access permissions
Public and private messages
Google Apps integration
Custom branding and subdomain
24/7 live support
Professional
Mavenlink's Professional plan costs $39/user/month (annual contract only) and includes everything in the Teams plan, plus:
50GB storage
Custom branding, subdomain, and fields
Schedule management
Task dependencies
Critical path analysis
Portfolio management
Project plan templates
Change request management
Project accounting
Time and expense tracking
Budgeted projects and tasks
Time cards and expense reports
Invoicing and online payments
Premier
Mavenlink's Premier plan costs $59/user/month (annual contract only) and includes everything in the Professional plan, plus:
100GB storage
Hard and soft resource allocation
Resource scheduling (task and project level)
Real-time availability forecasting
Resource shaping
Project baseline and variance analysis
Portfolio management
Project accounting
Job costing
Rate cards (cost and bill rates)
Resource planning and scheduling
Team collaboration
Proofing
API Access
Custom Fields
SAML support
Real-time analytics
Professional services
Enterprise
For the Enterprise plan, you'll have to negotiate with Mavenlink for a custom rate. The Enterprise plan includes everything from the Premier plan, plus:
One TB storage
Audit logging
Business intelligence
Expert-built reports
Custom reporting
Trend analysis and forecasting
Data visualization
SAML single sign-on (SSO) support
Audit log
RESTful API access
Advanced integrations (Salesforce, Intacct, JIRA, NetSuite, QuickBooks)
Uptime SLA
Testing sandbox (Level 1)
Cloud-Based Or Locally-Installed
Mavenlink is cloud-based. It does not require installation, and it updates automatically.
Hardware & Software Requirements
Mavenlink is compatible with all modern web browsers. Mavenlink works best on computers with a screen resolution of at least 1440 pixels, as this best fits the dashboard.
Mavenlink does not have a downloadable app. However, it does offer a mobile version of its site, which the company refers to as its app. The site is m.mavenlink.com, and you can access it on iPhone and Android. You can also save the Mavenlink icon to your mobile device so that you can quickly access the dashboard. I've seen a number of negative reviews that call out this app for not working correctly, so keep that in mind if you need a lot of mobile functionality.
Specific Size Of Business
Small and enterprise businesses alike can benefit from Mavenlink. Mavenlink's lowest pricing plan covers five users, while its enterprise-level plan can be customized to fit a large business's needs. Mavenlink works for businesses in a variety of industries. You can use the software to track projects related to developing a new product, solving an IT issue, creating a marketing campaign, and more.
That said, available features change with each pricing plan, which may make Mavenlink less accessible for smaller businesses that need advanced features. For example, businesses that need budgeting features will have to sign up for the Professional plan or higher to gain access to the necessary features. This may be a limiting factor for businesses with a small software budget.
Another feature we expect from project management software is the ability to set user permissions. This feature is necessary for businesses of all sizes. Mavenlink makes this feature available to users on all paid plans (starting with the Team plan). The free plan does not include user permissions, which may be frustrating for very small teams.
Ease Of Use
To test out Mavenlink, you have to sign up for a free trial. When I logged into my trial, I was immediately directed to create my first project. Then, I was able to view my complete dashboard. Fortunately, Mavenlink's interface is pretty well organized, and after a little clicking around, I began to understand what everything was for. Most helpful for me was the left-hand menu, which makes it pretty easy to move around the site. I was glad to have a predictable method of navigation.
My main criticism of Mavenlink's ease of use is that it is not always clear how to operate certain features. For example, I wanted to assign different tasks to a couple of users that I had already added to the system. It turns out, in order to assign tasks, you first have to invite those users to the project. This was not immediately clear to me, and I had to dig into the support resources to find out what I needed to do. All in all, Mavenlink does well in terms of ease of use, although there is still room for improvement. New users should expect a moderate learning curve in the first few weeks of learning the software.
Mavenlink Features
Mavenlink can be powerful, depending on how much you're willing to pay for it. In my test, I had access to all of Mavenlink's features, many of which are only available in the Premier plan. Keep that in mind while reading about the following features:
Dashboard: Mavenlink's dashboard gives you a quick view of all your projects as well as current communications regarding tasks. You can use the toolbar on the left to navigate to different pages of the software.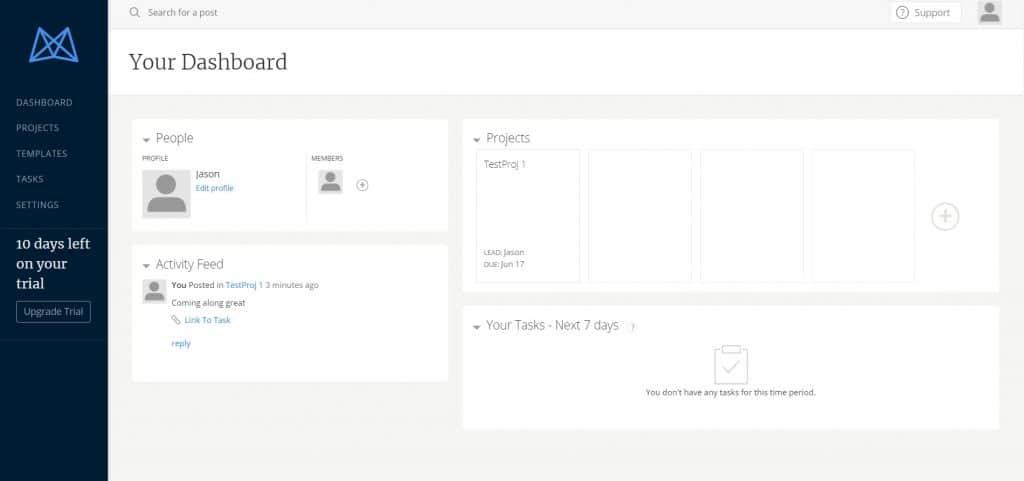 Project Management: It wouldn't be a project management program if there weren't a way to create projects, generate task lists, and assign employees to them. Mavenlink packs a lot of capabilities into its Projects section, with an Activity page, Task Tracker, and Gantt chart page available to all users.
Tasks: Tasks can be designated as a "Task," "Deliverable," "Milestone," or "Issue." This makes it easy to see exactly what each task is really about. Further, depending on your subscription, budgeting tools are built into each task. Mavenlink also makes it easy to create subtasks and assign tasks to different team members.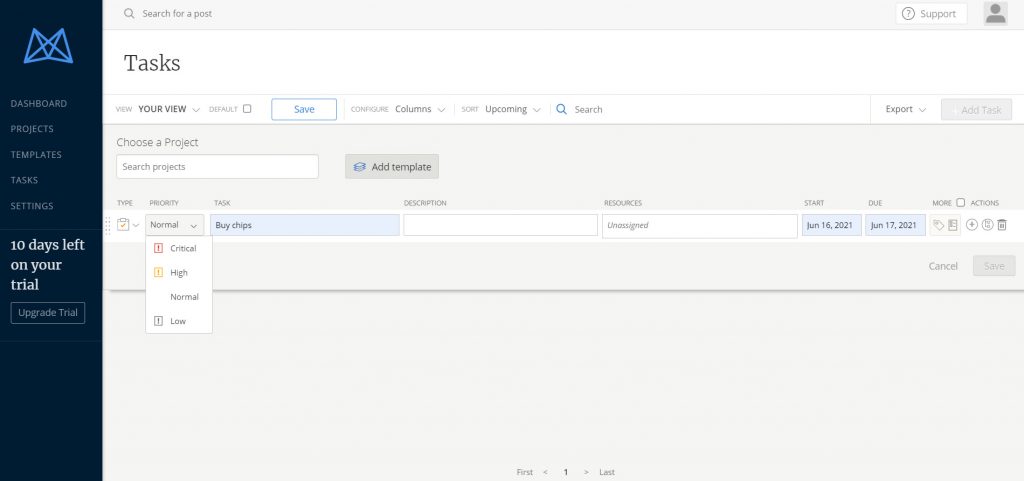 Resource Management: Make informed decisions by looking into your employees' skills, planned time off, and workload.
Gantt Charts: Check the status of your tasks and projects.
Time Tracking: Starting at the Professional plan, users have access to Mavenlink's timer, located in the upper right of the UI. Pressing the start button will get the timer moving on whatever project you last logged out on. It is pretty simple to switch projects and tasks within those projects in the Time & Expense section of the main menu. The Time & Expense section is also where you can view timesheets, weekly schedules, and expense reports.
Billing Expenses: Create invoices for a single project or across projects by client.
Messaging: I am impressed by how easy it is to communicate with employees and clients. Fear not, though: Should you want to keep a conversation private within your team without involving the client, this is also easily accomplished.
Scheduling: Users on the Premier and Enterprise plans can set weekly schedules and holidays.
Reports & Analytics: Mavenlink Insights reports give you access to data and forecasting. Users on the Premier plan and above have access to advanced analytics on invoices, expenses, WIP, and more.
Mavenlink App: Mavenlink doesn't offer a bona fide mobile app — instead, you can use the software on a mobile-optimized website that somewhat mimics the functionality of an app. Unfortunately, by the standards of a modern project management platform, it's not really adequate as a mobile solution, though you can perform basic tasks, such as expense logging and time tracking.
Mavenlink Customer Service & Support
Mavenlink has a number of support options available to users, ranging from personalized support to self-help tutorial videos. I've seen a handful of customer reports that praise Mavenlink's support team. Most notable, however, is the absolute lack of complaints about the Mavenlink support team. It seems they're doing a pretty decent job.
Here are Mavenlink's support options:
Email: You can submit a support ticket from Mavenlink's support portal, and the Mavenlink support team will respond via email.
Live Chat: Mavenlink offers a 24-hour live chat support service.
In-Software Help: In your dashboard, you can find links to the Help Center, announcements, the changelog, the Mavenlink training center, sales inquiries, and the blog. You can also access live support via chat within your dashboard.
Help Center: Get access to support articles, video tutorials, developer documents, and training resources. When you enter the Knowledge Base section of the Help Center, you'll find that all the articles are arranged in helpful categories.
Guides: In Mavenlink's Resource Library, you can find ebooks, infographics, research reports, and more that discuss how to make your business more profitable.
Videos: The Help Center currently includes eight tutorial videos and 15 webinars.
Changelog: For a service (such as Mavenlink) that is updated often, a developer changelog is a great, helpful idea. This regularly updated log helps you keep track of the changes that are being made to Mavenlink. If you use Mavenlink, it would be a good idea for at least one member of your team to keep themselves familiar with it.
MavenOps: This new support option is effectively a subscription service for onboarding Mavenlink. The web page dedicated to describing this service is full of nebulous statements, such as "Mavenlink's flagship service offering" and "A packaged program of services leveraging Mavenlink's methodology and best practices." Mavenlink uses these and a number of other business buzz words to explain that, essentially, it's offering strategies to help you get the most out of the software. Mavenlink then proceeds to not tell you how much it will actually cost to use this subscription service. If you think this kind of thing is worth your time, you can schedule a call to discuss pricing.
Partners: Look through Mavenlink's partner network to find affiliated technology services and consultation services.
Training: Mavenlink has its own training center, which you can access from the Help Center. Here, you can find online courses that teach you a few fundamentals of project management and how to best use Mavenlink. Pricing for these courses ranges from $0 to $450.
Blog: Mavenlink's blog includes tips and best practices on various topics, such as project management, resource management, and productivity. This is also where you can find product news and new feature announcements.
Social Media: Mavenlink has an active presence on Twitter, Facebook, LinkedIn, and Instagram.
Mavenlink Reviews
Negative Mavenlink Reviews & Complaints
In general, customer reviews of Mavenlink are positive. However, nearly every commenter had a few things to say about how Mavenlink could improve its software or service. Here a few of the trends I noticed in these comments:
Overwhelming User Interface: Mavenlink users say that the UI is not the most intuitive. There is a lot of information present on each page of the dashboard, and it can take a while to get accustomed to the software. Prepare to experience a moderate learning curve.
Trouble With Mobile: Users say that they often experience difficulties with Mavenlink's mobile site.
Difficulty With Customization: Users say that there aren't enough customization options available, and those that are available are difficult to implement. In particular, I noticed comments that mentioned how difficult it is to create customized reports.
Positive Mavenlink Reviews & Testimonials
I should point out again that most users appear happy with Mavenlink. Scores across third-party review boards are overwhelmingly positive; Mavenlink scores an average rating of 4.1/5 on G2.com (out of 457 reviews). Though Mavenlink had an A+ rating with the Better Business Bureau at the time of our last update in August 2019, it is no longer accredited with the BBB. However, it doesn't have any complaints on its BBB site, either.
Here are some things users love about Mavenlink:
Time Tracking: Users love the ability to track their own time and their employees' and contractors' time. They say that the time tracking tool is easy to use.
All-In-One Solution: Mavenlink is a great tool for an entire company. Each department can use the software, and they can use Mavenlink's communication tools to track progress in projects easily.
Helpful Reports: Mavenlink's reports allow users to monitor many aspects of their projects, and it can help to see which teams are busy and which teams have space for new tasks. Many users say that Mavenlink's reports inform the decisions they make for their companies.
Easy Collaboration: Many users comment that Mavenlink allows for painless client collaboration and note that their clients and contracted employees genuinely enjoy using the program.
Mavenlink Integrations & Add-Ons
Mavenlink is a little lean on available integrations and add-ons. There are 12 integrations prebuilt, including integrations with accounting software such as Xero and Quickbooks and communication tools such as Slack and Google G Suite. Many of these integrations are reserved for higher-tier subscribers, however.
Mavenlink also makes its API available to users on the Premier and Enterprise plans, so you can build connections to software that aren't already integrated.
Security
Mavenlink protects its users with reasonable security precautions, including data encryption, a single sign-on system (SSO), and a 99.9% uptime record. Mavenlink also houses your data securely with 24/7 monitoring and annual audits. Your data is stored on multiple servers, which creates data redundancy. Mavenlink meets or exceeds the security standards of SSAE 18 (SOC1 Type II) and AICPA SOC2 Type II.
Mavenlink FAQs
Final Verdict On Mavenlink
"Scale" is the word that best summarizes Mavenlink. If you have a small business that needs a bit more organization but little else, there is a version of Mavenlink for you. If your business is growing and needs to get on top of employee scheduling, there's a version for you as well. If your business has reached the size where you need detailed reporting from your teams, Mavenlink has a solution for you too. Mavenlink is designed to scale with you as your business grows. This is certainly an admirable pursuit, but it makes for a difficult-to-understand application. Is it really fair to claim to be an all-in-one when only one of your four subscription plans includes all of your features?
Mavenlink's features all work well on their own. They offer details that are on par with or better than other project management software I have seen. I genuinely like the task manager, the timer, and the communication tools. But because the features have so many working parts, I continually found myself feeling lost and a little confused.
What's more, the lack of a genuine mobile app and a pricing scheme that disfavors smaller businesses means that, for now, Mavenlink remains at 3.5 stars out of 5. However, for the right business, Mavenlink could be an ideal project management tool. So take Mavenlink for a test drive to find out for yourself if the platform is right for your business!
If you intend to continue your search for project management software, here are some helpful resources!
---
Featured Free Corporate Card
Ramp


---
Ramp offers a free corporate card for virtually any business. Start earning rewards with your corporate spending today. Get your free card.
Featured Free Corporate Card
Ramp


---
Ramp offers a free corporate card for virtually any business. Start earning rewards with your corporate spending today. Get your free card.
To learn more about how we score our reviews, see our
Project Management Software Rating Criteria
.