UPDATED
Advertiser Disclosure: Our unbiased reviews and content are supported in part by
affiliate partnerships
, and we adhere to strict
guidelines
to preserve editorial integrity.
Megaventory Overview
"Mega" is one of my favorite modifiers. Maybe it's my background in computing (where the megabyte is ubiquitous), or maybe it's Mega Man, the blue, digital robot from my past. For whatever reason, the prefix carries some weight with me. So, when it came time for me to take a look at Megaventory, I had to shed a level of annoyance. I appreciate companies that shy away from two-syllable nonsense words, but dropping a first letter and replacing it with an adjective is something that usually draws my ire. In this case, I'll let it slide.
Megaventory is the union of the words "mega" and "inventory". Specifically, it's a web application available to entrepreneurs under the Software-as-a-Service model. Based out of Austin, TX, the designers of this solution want to give you the tools to simplify the management of your company's backend.
The software aims to help you manage your stock, create customized documents, integrate with eCommerce and accounting systems, and generate reports that will help you keep track of your bottom line.
How well does it work though? Let's find out.
Pricing
There are three plans to choose from:
Starter

$9.90 per month
1 user
1 inventory location
300 product codes

Business

$49.90 per month
5 users
5 inventory locations
5,000 product codes

Corporate

$99.90 per month
10 users
10 inventory locations
20,000 product codes
Web-Based Or Locally Installed
Megaventory is cloud-based, meaning there's no need to download or install anything on your computer.
Hardware & Software Requirements
All you need is a device with an internet connection.
Ease Of Use
It's pretty obvious that the team behind Megaventory has put a lot of thought into the user experience. The software is well designed, and appears to have been thoroughly tested; I didn't run into any bugs during my trial period (which is less common than you would think).
The application consists of three main dashboards: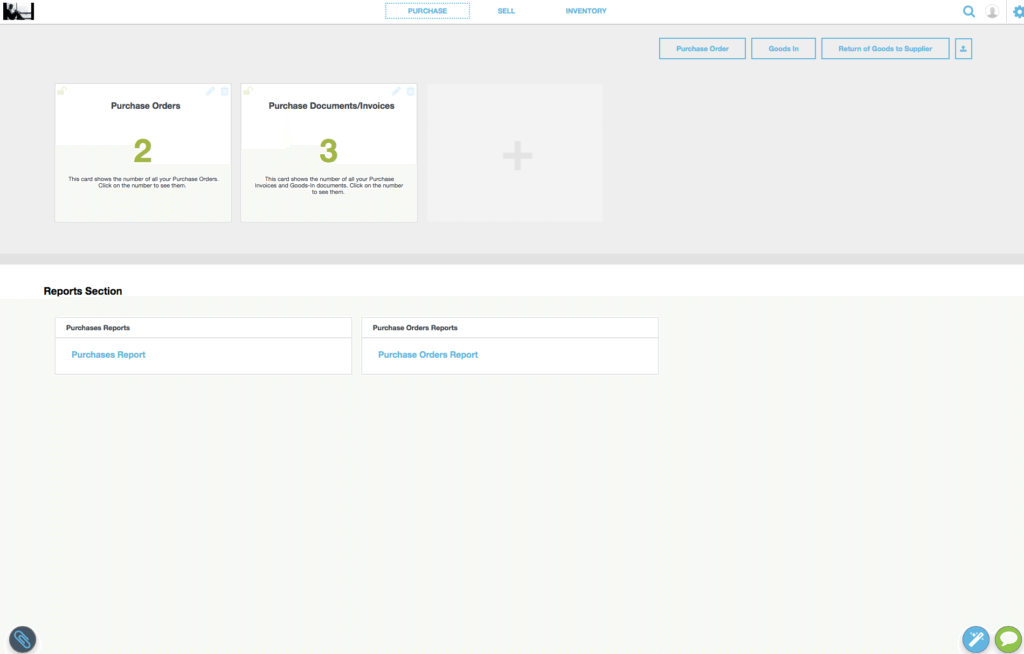 The purchase section is for managing incoming goods. There are three tools in this branch of the application: one that lets you create a purchase order, another that lets you manage receiving goods from a supplier, and one for returning goods to a supplier.
The sell page handles outgoing goods. The functions available in this dashboard are for generating sales quotes and sales orders, recording outgoing goods, and managing returned goods.
The inventory dashboard is pretty simple. It offers you tools for doing stock transfers and taking inventory.
Megaventory uses an organization system called "cards". There are basics such as "purchase orders" which show you the total number of POs you've created, but you can also create custom ones. For example, you could create a card that lists purchase orders during a specific time period, like the holiday season. This could be very useful for certain vendors. Each card you create is easily accessible from the home page of whatever dashboard you happen to be on.
When you signup, there is an interactive tutorial that takes you through the basics of the software. Several others are available as well (via a magic wand icon in the bottom right) to give step-by-step instructions for more specific tasks.
The overall workflow of the application is pretty simple. Most users will start by importing their products from a spreadsheet, then adding their contacts via the same method. You can follow that up by creating and naming your warehouse locations. Finally, you can create your document templates for invoices, sales orders, purchase orders, and the like. It shouldn't take more than a day or two to get setup, unless your company is absolutely massive.
The interface does have some design choices that aren't very intuitive. Products are hidden under the "settings" icon, for instance. Why not make that a separate dashboard? On top of that, the integrations settings are even harder to find. They're located under this heading: [Profile Icon] > Company & Billing (Admin) > Integrations. Anytime you need to consult documentation to access a basic feature, it leaves a bad taste in my mouth. While the initial confusion was annoying, I will say it didn't take long for me to get situated. It's a pretty minor complaint.
The only other issue I have regarding usability is the lack of integrated image hosting. Users need to host their own images for products, and then provide Megaventory with a link to said image. That's a hassle.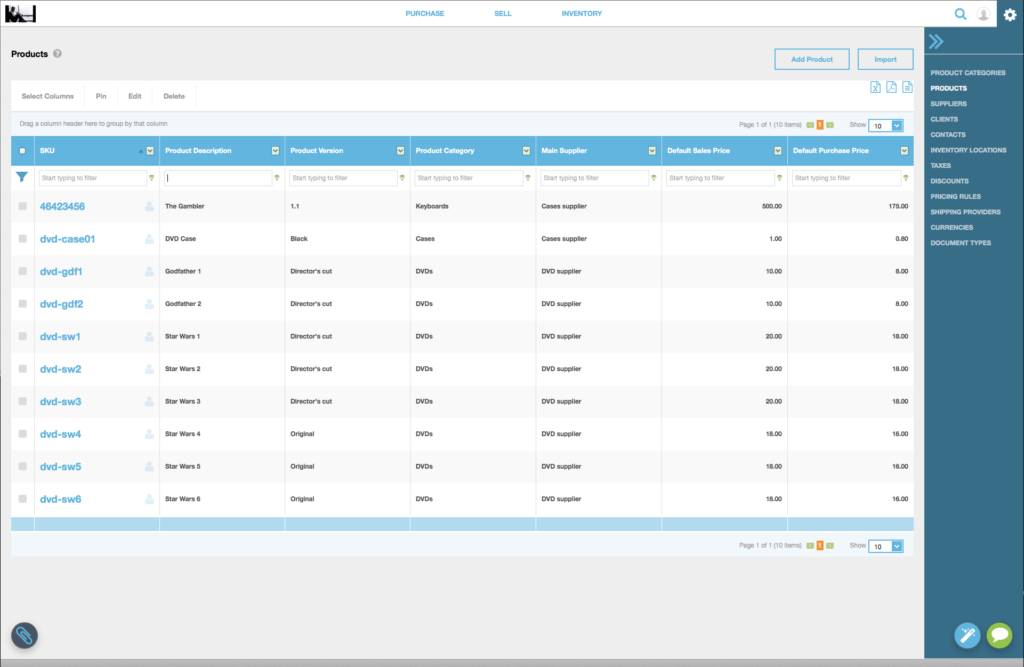 Customer Service and Technical Support:
There are five ways to get help:
Chat: Chat is accessible through an icon in the lower right hand corner of the application.
Support Ticket: This is a thread that tracks your correspondence with customer support. Any updates are automatically emailed to you.
Screen Share: A customer service representative will set up an appointment to screen share with you, and step through any questions you have about the software.
Interactive Tutorials: These are found by clicking the magic wand icon in the bottom right. There are currently 8 to choose from.
Knowledge Base: This contains an FAQ and a large number of articles on how to use the various features in the application. There is a search bar that you can use to look up specific stuff. It's pretty comprehensive, featuring well over 150 entries (I counted).
From what I can tell there are no set hours for the support team. I don't know if they consider themselves to be on call 24/7, but I will say that response times have for the most part been a few minutes, and never more than a few hours.
Features
Megaventory has a lot of great perks built into it. I'd like to highlight a few of my favorite.
One of the most noteworthy is the clipboard. This lets you pin up to 50 products, which can then be pasted directly into any documents that you're preparing through the software. This is a cool bit of functionality that I haven't really seen used this way before. Pretty sweet.
There are also a lot of options for localization. First off, you can select your number format, the two options being "10,000.00" or "10.000,00". The interface can also be adapted to one of seven different languages:
English
Spanish
French
Portuguese
Greek
German
Arabic
There is a also a great user permissions system. It gives you options for customization, and setting up accounts is a snap. If there's a part of your Megaventory system that you don't want an employee to see, just make sure the corresponding checkbox is not selected and you're good to go.
Multi-warehousing is another great feature that's included with the "Business" and "Corporate" pricing plans. Keeping track of stock transfers is managed in a few clicks.
There is also support for barcode scanning integrated into the software, which makes managing stock a lot easier. It's done in a really elegant way, too. Probably my favorite instance of this feature in an inventory solution.
Reports
Reports are customizable and can be filtered by a lot of different criteria. You can also save a report template to be used again later. However, the tools Megaventory offers for this are a little basic. If you're looking for a wide range of graphic business intelligence diagrams then you'll be disappointed. What you get is raw data, in number form.
Reports cover the following areas:
Product Movements
Availability Levels
Inventory Value
Purchases Report
Sales Report
Orders Report
Integrations & Add-Ons
Here are the integrations that are currently available:
eCommerce
Business Intelligence
Accounting
Getting these set up takes a few steps, maybe a little more than other inventory solutions. Thankfully, the instructions in the knowledge base are comprehensive, so it's not that difficult.
MAGENTO USERS TAKE NOTE: A customer service rep warned me that when integrating Megaventory, you should make sure to test it on a non-production Magento environment before going live. They can't guarantee that Megaventory won't interfere with other extensions that have been installed.
Negative Reviews & Complaints
I had a tough time finding bad reviews for Megaventory online. As I've stated in other pieces, a lack of bad reviews is a good sign, but it could also just indicate a small user base.
One of the few complaints I found was that once a work order for a product is submitted, it isn't possible to edit the Bill of Materials (BOM). I can see how that would be frustrating.
Another complaint is about the lack of currency conversion. For companies that do a lot of international business, this could be a big hindrance. UPDATE: I've been informed that Megaventory does, in fact, support conversion from one currency to another. What it does not do, however, is automatically calculate the conversion rate. That must be set manually by the user.
Positive Reviews & Testimonials
Megaventory gets a lot of support from entrepreneurs on the web. Here's a couple testimonials taken from GetApp:
We use [Megaventory] on a daily basis for delivery notes, stock control and tracking of deliveries sent. The cloud based system allows for an easy set-up in the office and we can access all information on the go at any time.

– Mark Steinbach, Eshanima Fabrics

I love [Megaventory] because of its simplicity in the way it achieves the target. It helps me manage all the basic functions I need for our wholesale clothing business. The speed has improved greatly from the previous version.

– Umair Arif, Three Layer Sportswear
Security
The application uses 128-bit SSL encryption to keep your data encrypted and secure.
Final Verdict
Megaventory is dependable, has good support, and reasonable prices.
The tutorials stick out in my mind as being particularly well made. They address a lot of the initial "how do I get started?" questions that come with using software, and they do it in a straightforward, efficient manner. There are no annoying cartoon mascots either. Other clever features like the clipboard and the "card" system are great ways to stay organized and improve the workflow enough to give Megaventory a different feel from a lot of their competition.
That being said, there aren't many advanced features, either. There are a surprisingly low number of integrations available, currency conversion isn't supported, and the reporting tools are very basic. The interface is also convoluted at times, requiring the user to click two or three times, where one click would do.
With all of this in mind, I'm maintaining our previous score of 4 stars. If you're looking for an inventory solution, give Megaventory a try. You can access the free trial here.
That's all for now. See you next time.
---
Featured Free Corporate Card
Ramp


---
Ramp offers a free corporate card for virtually any business. Start earning rewards with your corporate spending today. Get your free card.
Featured Free Corporate Card
Ramp


---
Ramp offers a free corporate card for virtually any business. Start earning rewards with your corporate spending today. Get your free card.
To learn more about how we score our reviews, see our
Inventory Software Rating Criteria
.