Microsoft Dynamics 365 Review
Expert Analyst & Reviewer

Updated on:
Advertiser Disclosure: Our unbiased reviews and content are supported in part by
affiliate partnerships
, and we adhere to strict
guidelines
to preserve editorial integrity.
Microsoft Dynamics 365 For Financials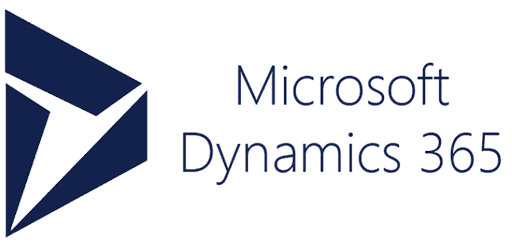 Pros
Numerous features
Scalable
Numerous integrations
Suited for large businesses
Cons
Unintuitive UI
Buggy
Expensive monthly cost
Over-complicated pricing plans
Limited support materials
Microsoft Dynamics 365 For Financials Overview
We all know Microsoft as perhaps the most recognizable name in the PC industry, but can Microsoft build the same reputation in the accounting world? Well, they sure are trying. After launching Microsoft Dynamics in 2009, the company has been adding more and more Dynamics solutions. The most recent addition, Dynamics 365, is an attempt to combine the capabilities of ERP and CRM software.
Microsoft Dynamics offers multiple distinct applications, including Microsoft Dynamics for Sales, Customer Service, Human Resources, Operations, Field Service, Project Service Automation, Marketing, Commerce, Finance, and Customer Insights. Users can purchase individual apps or bundles depending on their needs. In this article, however, we are going to focus specifically on the Microsoft Dynamics 365 Finance application.
Microsoft Dynamics 365 Finance is an accounting solution complete with invoicing, contact management, expense tracking, inventory, reporting, and more. The software is designed for mid – to enterprise-sized businesses. (Enterprises can benefit greatly from bundling Dynamics 365 apps; smaller businesses may find the Finance application alone to be limited and expensive.) Severe navigational difficulties and slow loading times make this program less than a joy to use.
If it sounds like the pros might outweigh the cons for your business, or if you simply want to find out more about this product, continue reading.
Pricing
Microsoft Dynamics 365 offers many pricing options (maybe too many). Pricing varies by application, but you can save money by purchasing multiple applications at once. There are also a number of add-ons that you can purchase for your applications. Free trials and guided tours are available for each individual application, and you can add to or cancel your plan at any time.
This pricing is for individual Microsoft Dynamics 365 applications.
Microsoft Dynamics 365 Supply Chain Management is priced at $180/month per user and includes these features:
Production floor management
Financial insights
Manage merchandise
Microsoft Dynamics 365 For Sales is priced from $50 – $162/month per user. You can choose from the following apps:
Dynamics 365 Sales Professional
Dynamics 365 Sales Enterprise
Microsoft Relationship Sales
Dynamics 365 Sales Premium
Dynamics 365 Sales Insights
Microsoft Dynamics 365 For Customer Service costs $50 – $95/month per user. The following apps are available for purchase:
Dynamics 365 Customer Service Professional
Dynamics 365 Customer Service Enterprise
Microsoft Dynamics 365 For Project Service Automation is priced at $95/month per user and includes these features:
Project management
Scheduling
Time tracking
Microsoft Dynamics 365 For Field Service is priced at $95/month per user and includes:
In-depth scheduling
Contact management
Inventory
Microsoft Dynamics 365 Finance costs $180/month per user and includes:
Invoicing
Expense tracking
Contact Management
Inventory
Reports
You can save by purchasing multiple applications. For example, the Field Service application is priced at $95/month per user if it is your first app. However, if you have other apps, you can add on the Field Service app at a price of $20/month per user. At one time, Microsoft offered app bundles featuring multiple apps at a reduced price, but these no longer appear to be available.
You can also purchase a variety of add-ons, such as Customer Voice surveys or Customer Insights. The costs of these add-ons vary but are priced from less than $100/month to over $1,500/month.
The pricing could be competitive based on how you plan to use Microsoft Dynamics 365. A larger business that can use multiple apps may find great value, especially with reduced pricing after purchasing the first app. On the other hand, businesses that only need one app may be better off seeking more affordable solutions. The pricing structure is a little bit complicated, and the elimination of app bundles makes things a little confusing to weed through.
Cloud-Based Or Locally-Installed
Cloud-based. No downloads or installation required.
Hardware & Software Requirements
As a cloud-based software, Microsoft Dynamics 365 operates on most devices. Accepted browsers include Internet Explorer 11, Microsoft Edge, Mozilla Firefox, Google Chrome, and Apple Safari. Users can access the web applications through Windows 7, Windows 8, Windows 8.1, and Windows 10, as well as the two latest versions of Mac OS.
Some features within Microsoft Dynamics 365 require the use of Microsoft Word and Excel. The supported versions consist of:
Microsoft Office 365
Microsoft Office 2016
Microsoft Office 2013
Microsoft Office 2010
Additional (minimum) requirements include:
1.9 GHz x86 or x64-bit dual core processor with SSE2 instruction set
2-GB RAM
Display resolution of 1024 x 768
Latency under 150 MS
Bandwidth of over 50 Kbps
Visit Microsoft Dynamics 365's hardware requirements page for more details.
Microsoft Dynamics 365 also offers a mobile app for Androids (5.0+) and an iOS app (10.0+).
Specific Size Of Business
Microsoft Dynamics 365 combines CRM software and ERP software. The company markets itself as a software solution for those who have outgrown QuickBooks, but who aren't quite ready for the feature capabilities — or high pricing — of NetSuite (and other ERP software providers). This makes the software ideal for mid-enterprise sized businesses who need ample software applications. You can add any number of users (for an additional cost), and strong user permissions allow you to set security levels for each user.
However, for small businesses looking for accounting software alone, I fear that Microsoft Dynamics 365 Finance isn't worth the trouble. The software is limited in terms of features (if you don't add the other applications) and serious navigational defects make the software harder to learn than QuickBooks Pro.
Accounting Method
Accrual.
Ease Of Use
I was incredibly disappointed with Microsoft Dynamics 365 in this regard. The interface is cluttered and difficult to navigate. Load time is beyond slow and customer support is hard to find when needed (which is often).
Setup: I focused my testing on Microsoft Dynamics 365 Finance, so I cannot speak to how multiple applications or the enterprise bundle are set up. With Finance, users create an account and add company information to begin. After this, there is an Assisted Setup feature which is particularly helpful. It can be found under Home > Setup & Extensions > Assisted Setup. This tool will help you migrate past data and set up sales tax rates, cash flow forecasting, Outlook for financials, email, dimensions, and reporting. In addition to these, I also recommend verifying your chart of accounts, setting up your invoice template, adding contacts, and adding items before going any further.
Organization: The organization of Microsoft Dynamics 365 Finance is unnecessarily complicated and confusing, but I'll try my best to help it make sense. If you click on the Home button outlined in blue in the picture below, you will be taken to a dashboard with five Departments: Home, Finance, Sales Purchasing, Setup & Extensions.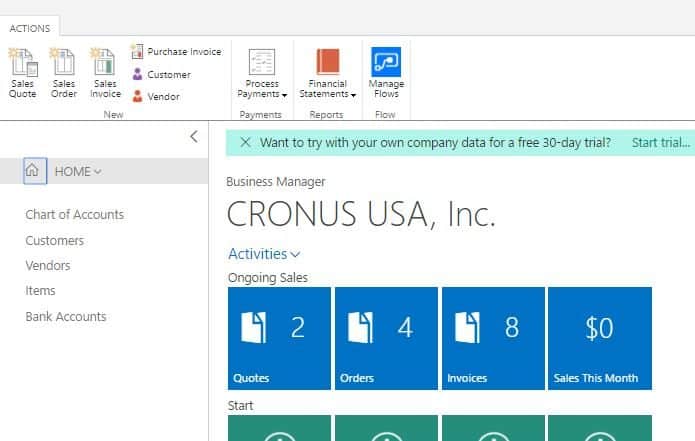 Each Department has its own dashboard and a set of tabs on the left-hand side. The tabs for each department read:
Home Department: Chart of Accounts, Customers, Vendors, Items, and Bank Accounts
Finance: General Journals, Chart of Accounts, Account Schedule, G?L Account Categories, Cash Receipt Journals, Payment Journals, Bank Accounts, Payment Reconciliation Journal, and Bank Account Statements
Sales: Customers, Sales Quotes, Sales Orders, Sales Invoices, Sales Credit Memos, Posted Sales Invoices, and Posted Sales Credit Memos
Purchasing: Vendors, Incoming Documents, Purchase invoices, Posted Purchase Invoices, Purchase Credit Memos, and Posted Purchase Credit Memos
Setup & Extensions: Assisted Setup, Manual Setup, Service Connections, and Extension,
Whenever you click on any of these tabs, you will find an action bar along the top of your screen. This action bar will be where you can send invoices, run reports, etc. The action bar divides features into Home, Navigate, Actions, and Reports.

If you can't tell from this incredibly long-winded section, it is incredibly difficult to navigate Microsoft Dynamics 365 Finance. Finding what you need is difficult; clicking so many tabs is redundant; having a Home department and a Home actions bar category is unnecessarily confusing.
Instructions & Guidance: What makes the organization of Microsoft Dynamics 365 Finance even more annoying is that customer support options are equally difficult to find. If you're willing to do a bit of searching, though, there are a few good support options. You can call Microsoft directly or search the Microsoft Dynamics Community for specific questions. If you can fit your question into 140 characters or less, the @MicrosoftHelps Twitter feed is also a good place to go for fast responses.
Problems: The features and complex accounting offered by Microsoft Dynamics 365 Finance seemed promising. However, the less than ideal user experience has ruled out the software completely in my book. The features offered may be commendable, but navigational difficulties and slow servers are too much for my sanity to bear. Here are the main issues I find with this software:

Difficult To Navigate: As mentioned earlier, the software is incredibly difficult to navigate. I had a harder time learning this software than QuickBooks Pro, which is notoriously complicated. The organization is redundant and unintuitive. Almost all features can be found in multiple locations. There is no way to consolidate things, like reports, in one spot; instead, you have to hop around again and again to find the report you're looking for. There is a search bar to aid this process, but it only works if you know the exact phrasing and spelling of whatever it is you are trying to find.
Runs Slow: The software runs incredibly slow. One time, a screen froze on me for five minutes and I had to exit the software, losing all of my unsaved data.
Limited Invoicing Customizations: Microsoft Dynamics 365 simply isn't made for invoicing. Yes, there is an invoicing feature, but there is only one invoice template and hardly any invoicing customizations available. There are some handy automations, but I would like to see more improvements to the invoice aesthetics.
Too Expensive: As an ERP solution, Microsoft Dynamics 365 might be a good choice (if you can get passed the navigational difficulties). However, as an accounting solution alone, Microsoft Dynamics 365 Finance isn't worth the money when compared to other solutions like Xero or QuickBooks Pro. The latter are easier to use and offer more features and much better organization.
Features
Microsoft Dynamics 365 Finance offers many basic accounting features, alongside a few unique business tools. There is a full feature tour available if you would like more details.
Dashboard: The main dashboard has charts labeled Business Assistance, Favorite Accounts, Trial Balance, Report Inbox, and Power BI reports.
Invoices: Microsoft Dynamics 365 Finance is fairly basic in terms of invoice creation. One interesting addition is the ability to control the order of the items on the invoice (ex. ascending by amount, descending by amount, etc.). The main drawback is that there is a single invoice template and hardly any invoice customizations available. There are also hardly any automations; I expect more from a software claiming to be better than QuickBooks. Microsoft Dynamics 365 Finance also support sales orders and credit memos.
Estimates: Estimates are created and sent in a similar fashion, and, again, there is only one template available.
Contact Management: The contact management feature is nice and surprisingly well-organized. You can easily add all necessary contact information. When you click on a contact, you can see their outstanding balance and invoices, past invoices, payments, and statistics, which is pretty cool. You can also add special prices and discounts to a customer. You can manage vendors and purchase orders within the software.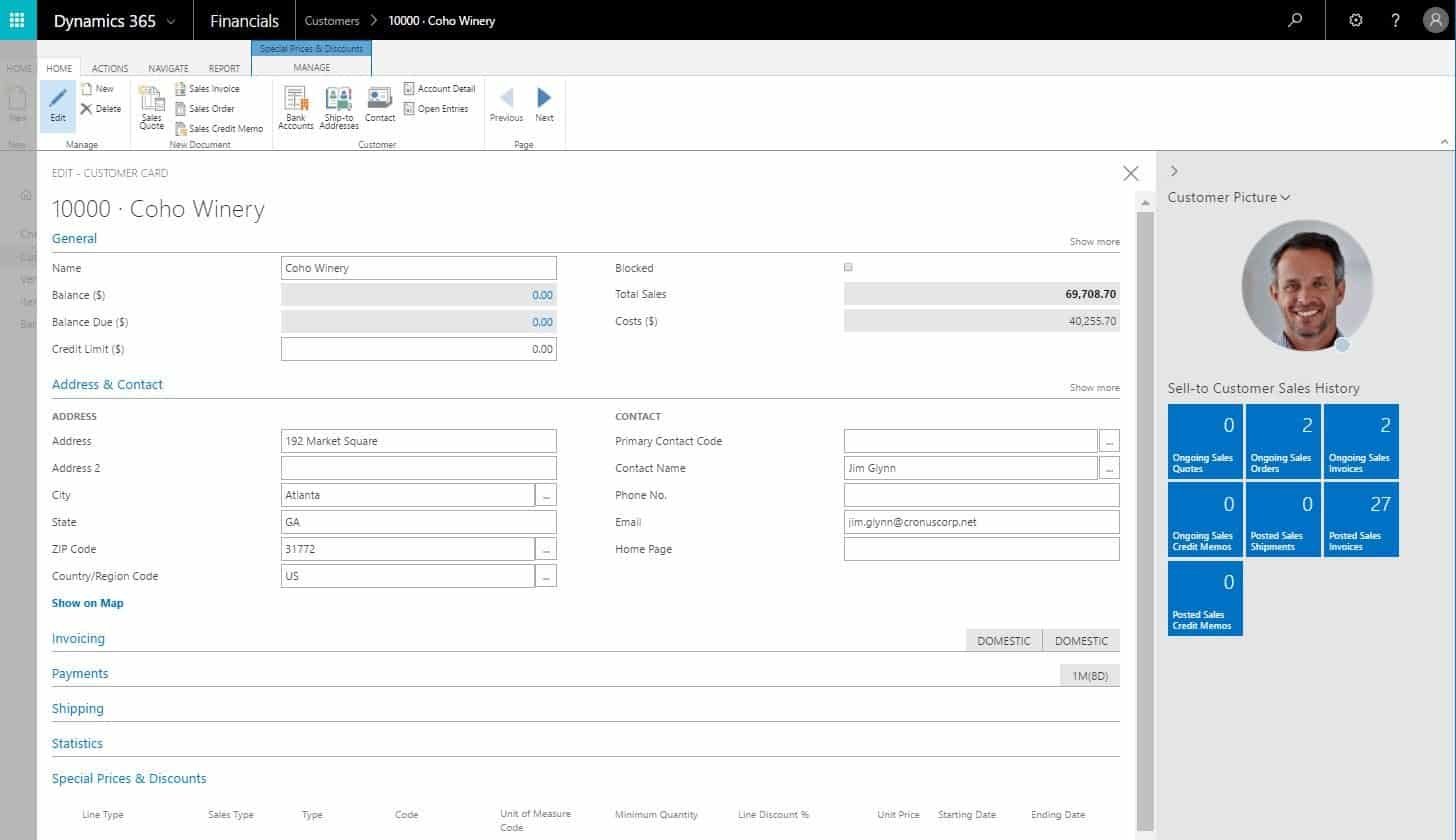 Bank Reconciliation: You can opt for live bank feeds or import transactions manually. Microsoft Dynamics 365 Finance will then automatically categorize everything for you; you just have to go in and approve the categories. The software also gives you a "confidence rating" for how well they think they've matched a transaction. Note: Like almost all software using bank live feeds, Microsoft Dynamics 365 partners with Yodlee, which may violate some banks' Terms and Conditions. Consult with your bank to see whether live bank feeds are a good choice for you.
Inventory: Microsoft Dynamics 365 Finance has an incredibly complex and capable inventory system. You can add pictures, attributes (color, height, depth, etc.), and special prices and discounts to each item. You can also set "stockout" reminders when items run low and run various inventory statistics and reports. To top things off, there is even a sales forecaster.
Reports: Microsoft Dynamics 365 Finance offers an impressive number of reports; the issue is, these reports are hard to find. There are over 45 reports scattered throughout the software. You will find reports in the action bars above corresponding features.
Sales Forecast: One of the coolest features is sales forecasting. Each week, the software will automatically create a sales forecast based on your previous data.
Journal Entries: Microsoft Dynamics 365 Finance comes complete with journal entries.
Flows: Another interesting feature available is Flows. Flows are basically automations that Microsoft or an API developer designed that helps ease processes in Microsoft Dynamics 365. For example, you can add a Flow like "get a push notification when you receive an email from your boss," or "translate non-English emails," or even "get a daily digest of the top CNN news." Visit Microsoft Flows for more information.
Sales Tax: You can create any number of sales tax rates in Microsoft Dynamics 365 Finance.
Excel Editor; Many features give you the option of editing information in Excel. For importing, this feature is incredibly useful; however, I wonder how popular it is for editing information since so many people sign up for accounting software to get away from their messy Excel spreadsheets.
Customer Service & Support
I wasn't overly impressed by Microsoft Dynamics' customer support. The company offers premium help options, but these can be quite pricey. Maybe an enterprise business doesn't mind paying $2,000 for support, but that is out of the question for most other businesses. There are other free options available; however, the level of effectiveness varies. The live chat and phone support almost always end in an attempt to connect you to a Microsoft Dynamics Partner near you, making me wish the company offered email support like everyone else. Luckily, there are a few helpful resources thrown in the following mix.
User Reviews
Negative Reviews & Complaints
Microsoft Dynamics 365 doesn't have a very strong Internet presence in terms of customer reviews. It's rather difficult to find reviews on the software, so finding reviews specific to Microsoft Dynamics 365 Finance is almost impossible. Here are the recurring issues users have with the Microsoft Dynamics 365 program overall:
Too Expensive: Quite a few users complain that the software is too expensive. Another user took issue with the pricing structure, saying, "While options can be a good thing when selling a product, too many options can get confusing for customers."
Buggy & Glitchy: The most common issue with the software is a buggy interface that runs slow.
Poor Support: Some users complain that Microsoft offers poor customer support for their product.
Positive Reviews & Testimonials
Despite the negative reviews, there is an equal (if not slightly higher) number of users who love Microsoft Dynamics 365. The software receives 3.78/5 stars on Software Advice, 4.3/5 stars on Capterra, and 3.7/5 stars on Google Play Store.
Easy To Use: The most common praise is that the software is easy to use. Most reviews of this nature revolve around the CRM side of Microsoft Dynamics 365, but it's hard to tell exactly which application users are speaking about (I'm almost certain it isn't Microsoft Dynamics 365 Finance).
Tons Of Features: Users like that Microsoft offers an integrated software solution with feature after feature after feature.
Integrations & Add-Ons
Microsoft Dynamics 365 offers over 150 integrations. While the sheer number is impressive, the complete lack of payment gateways is incredibly troublesome (there is a PayPal integration, but only with Outlook). Some of the integrations the company does offer include:
Security
Microsoft offers strong security measure including data encryption, vulnerability tests, intrusion detection, and DDoS prevention. The Microsoft data center has numerous physical security measure as well. To learn more, visit the Microsoft security details page.
Final Verdict
Microsoft Dynamics 365 is an interesting product that is trying to bridge the gap between ERP software and CRM software by offering customers the specific applications they need. While there are many great aspects to this plan, I don't believe the software is fully realized.
For the concept of Microsoft Dynamics 365 to work well, each application needs to be strong and capable. A chain is only as strong as its weakest link—so the saying goes—and right now, Microsoft Dynamics 365's weakest link is their financial software.
Yes, there are a few great features like sales forecasting and advanced inventory, but these can hardly make up for the completely unintuitive, poorly organized software. Poor customer service, slow servers, and limited payment gateways are potential drawbacks. Not only do these issues rule out Microsoft Dynamics 365 Finance as an accounting solution, they also rule out Microsoft Dynamics 365 as an enterprise solution in my book. Businesses would receive an incomplete, or at least impractical, accounting tool for running their business, which could be incredibly problematic.
Despite this issues, I wouldn't throw every application out the window yet. Microsoft Dynamics 365 for Sales has received incredibly high praise and numerous awards for its CRM capabilities. This individual application and some of the other individual Microsoft Dynamics 365 applications may still be of a huge benefit for your business. The software is also still young, and hopefully, we will see many updates and improvements as time goes on. (Take these applications for a spin with the Microsoft Dynamics 365 free trials.)
If you are interested in a different accounting solution, I would recommend that mid- to large-sized business look at Xero, and enterprise sized business look at NetSuite. Both of these companies have high-quality software and offer better accounting with more features.
---
Need A Simple Accounting Solution?
FreshBooks


---



This easy-to-use and feature-rich software is ideal if you have no bookkeeping experience and want top-notch customer support. Get Started.
Need A Simple Accounting Solution?
FreshBooks


---



This easy-to-use and feature-rich software is ideal if you have no bookkeeping experience and want top-notch customer support. Get Started.
To learn more about how we score our reviews, see our
Accounting Software Rating Criteria
.
Read Next