Expert Analyst & Reviewer

UPDATED
Advertiser Disclosure: Our unbiased reviews and content are supported in part by
affiliate partnerships
, and we adhere to strict
guidelines
to preserve editorial integrity.
Mindbody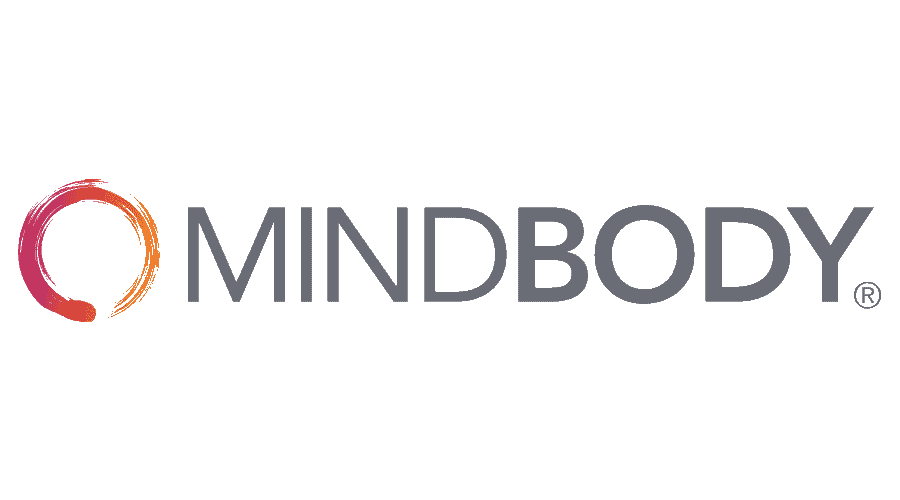 Pros
Robust feature-set
Varied support materials
Designed specifically for wellness industries
Cons
Steep learning curve
Buggy
Expensive monthly cost
Customer service can be uneven
Mindbody Overview
If Mindbody sounds more like your neighborhood yoga studio than scheduling software, that's not a coincidence. Mindbody Software is one of two companies founded in 2000 by Rick Stollmeyer, a naval submarine officer who set out to create internet-enabled tools that could help small businesses be more efficient. His target audience was businesses that provide wellness services, a focus his company has kept to this day.
Today, Mindbody offers a huge suite of small business solutions, software, hardware, and connectivity to the fitness world's community. Mindbody is costly, sprawling, and highly specialized, making its niche very specific.
However, I still have a few reservations about recommending it even for those companies that do fit Mindbody's profile. Read on for more information.
Mindbody Pricing
Mindbody bucks the common and usually very welcome practice of offering a free trial. The closest thing you'll find to a free trial here is a 20-minute guided demo with a Mindbody customer service representative through join.me.
Mindbody's pricing tiers have changed significantly since our last update in July 2018. The tiers have been retooled and renamed. More strangely, there's a different pricing tier for some industries. Mindbody breaks its packages down into four industry clusters: integrative health, fitness, spa, and salon.
Depending on your industry cluster, there are some slight differences in plans. For example, there's no stated limit on the number of staff you can manage with fitness or integrative health, but you're limited to up to 15 active staff profiles for salons and spas. On the other hand, spas and salons will get up to 3,000 one-way text notifications and reminders, a feature missing from the other two clusters. Fitness and integrative health get dynamic pricing, salons and spas do not. There are a few more instances of this kind of asymmetry, so make sure you scrub through Mindbody's pricing page to see what features are supported for your industry and at what price point.
Mindbody's pricing plans are as follows:
Starter
Mindbody's Starter plan costs $129/month, is available for all four industry clusters, and it includes the following:
Mindbody app listing
Class, Appointment, Workshop, and Event Scheduling
Client management
Memberships and autopay
Retail POS
Inventory tracking
Automated emails and texts
Basic reporting (you get 25, can buy more in packages of eight)
Mindbody University on Demand
1:1 onboarding and training
Accelerate
Mindbody's Accelerate plan costs $259/month (fitness and integrative health) or $269/month (spa and salon) and includes the following:
Everything in the Starter package (by industry cluster)
Advanced automated emails and texts
Smart contact lists
Comprehensive Reporting (90 for fitness and integrative health, 35 for spas and salons)
Email campaign builder
Streamlined intake process
Client forms
Book rooms and equipment (fitness and integrative health)
Self-check-ins for classes on iPad kiosk (fitness and integrative health)
Unlimited staff management and roles (spa and salon)
Arrival tracking (fitness and integrative health)
Class assistant management (fitness and integrative health)
Sales rep management (fitness and integrative health)
Business intelligence dashboard (spa and salon)
Two-way SMS scheduling (spa and salon)
Ultimate
Mindbody's Ultimate plan costs $399/month (fitness and integrative health) or $429/month (spa and salon) and includes the following:
Everything in Accelerate by industry cluster
Automated email and text marketing
Prompt clients to post reviews
Incentivize referrals
Ultimate Plus
Mindbody's Ultimate Plus costs $599/month, is available for fitness and integrative health only, and includes the following:
Everything in Ultimate (fitness and integrative health)
Create your own branded mobile app
Extra Costs
Some features, such as the ability to create your own branded mobile app, are available as add-ons to lower-tiered plans if you don't want to jump up a tier. All add-on features do eventually get rolled into the regular feature-sets of the higher tiers for the fitness and integrative health clusters.
The story's a little different with the spa and salon clusters. There's no Ultimate Plus tier for these industries, so the ability to create your own branded app is always an add-on feature. Additionally, the AI Booking Assistant is only available as an add-on feature.
Cloud-Based Or Locally-Installed
Mindbody is browser-based, but there is a locally-installed app for mobile devices.
Hardware & Software Requirements
Mindbody runs on just about every modern, up-to-date browser, although some Java-based features may not function should you access the web app from a mobile device. That said, Mindbody has a highly-rated mobile app on both iOS and Android, which is also a big part of their overall marketing strategy. The app is primarily customer-facing, offering exercise tips and programs as well as recommending businesses that use Mindbody.
Specific Size Of Business
Whether or not Mindbody fits your business has less to do with its size than the type of business it is. This software is specifically designed for wellness businesses.
That said, smaller businesses may find Mindbody's price tag prohibitive unless they can maximize the utility of the platform.
Ease Of Use
Mindbody is designed to be a one-stop-shop for the industries it serves. Since it's a very comprehensive software, you should expect a bit of a learning curve. That said, the current iteration of Mindbody appears fairly streamlined, with self-explanatory tabs and submenus.
Mindbody Features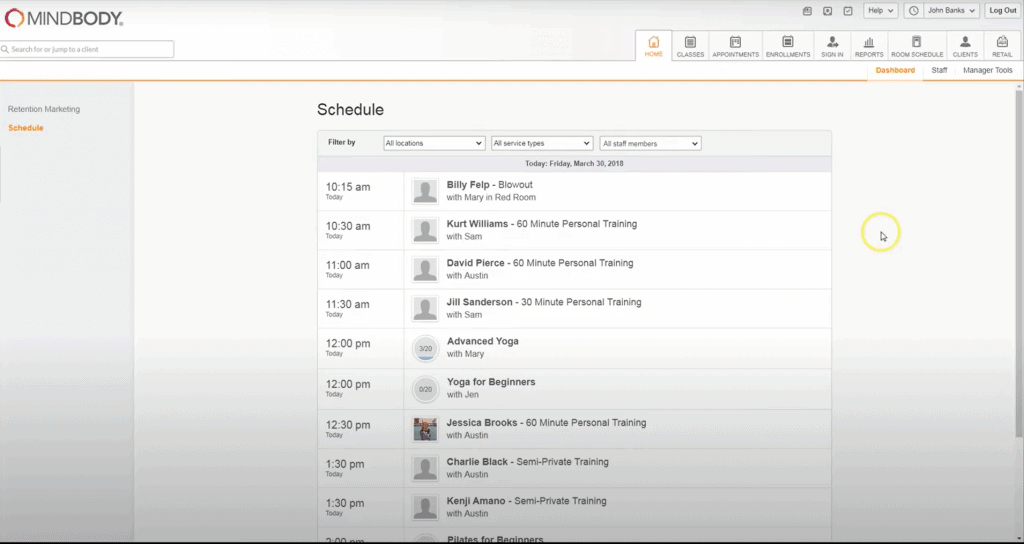 Scheduling: Mindbody's scheduling features offer a great deal of flexibility, with the ability to set staff permissions, assign classes, clients, and tasks to specific staff or rooms, and offer a number of different products and price points to potential customers. Once you've assigned the appointment to a staff member, you can view the entire staff's scheduling on a column chart and easily edit appointments with a click or a drag.
Customer Booking Experience: Clients can book appointments through links on your site to Mindbody's scheduling system. Once there, clients are given the option to create an account (if they've never booked an appointment with you previously) or connect via Facebook. They'll see a list of available appointments or classes, separated by day. A neat option for clients is the ability to book recurring appointments by week or month. Depending on the settings, they'll be able to book paid or unpaid reservations.
Calendar: For those who like all their appointments in one place, Mindbody features a Google Calendar integration at every pricing tier. The software's calendar can be accessed under the appointments tab, which will pull up a column chart of each staff member's appointments for the day. You'll see a calendar displaying the current month and the next month in the upper left corner. Appointments are shown as colorful blocks within the scheduling columns and shaded squares on the calendar. You can easily drag appointments around to reschedule them or click on them to modify their details.
CRM & Analytics: Mindbody tracks all of your interactions with your clients, storing them in a profile that you can access online or through the mobile app. The profile can track sales, appointments, referrals, relationships to other clients, and custom fields. Interestingly, clients can also access and update their profiles, which is handy when dealing with a highly engaged user. On the data end, Mindbody will generate a number of reports every month, depending on the plan you've selected. Number crunchers will find plenty to like on the analytics end of Mindbody, which can generate over 100 different types of reports, tracking everything from sales to payroll. You can also view daily breakdowns of sales, bookings, and similar data and view them year over year. You can view that information on your mobile device at the higher tiers.
Mindbody App: The Mindbody app plays an integral role in the overall marketing strategy of the Mindbody system, serving as both a customer tool and a marketing platform.
Payments: A big draw for Mindbody is its inclusion of a payments system, which will allow you to sell your retail products and services through the program. If you're inclined toward one-stop shopping, it's worth noting that Mindbody also sells POS hardware for in-person transactions. Out of the box, Mindbody POS can process:

Cash
Checks
American Express
Visa
Mastercard
Discover
Gift cards
Groupon coupons
Tips
One of the neat aspects of the POS system is that, because it's integrated with other Mindbody products, you'll have access to a lot of information about many of your clients, allowing you to track sales and set up recurring payments easily.
Mindbody uses a flat-rate pricing scheme as follows (customers processing volumes greater than $25,000 per month may qualify for a better rate) :
Card-Present: 2.75% per transaction
Card-Not-Present: 3.5% + $0.15 per transaction
ACH/DD/SEPA/EFT: 1% + $0.50
Chargeback Fees: $15 per chargeback incident
Mindbody Customer Service & Support
Mindbody offers quick and responsive customer support across several channels.
Phone: Available 8 AM to 8 PM ET in the Western hemisphere; 7 AM to 7 PM GMT in Europe, Africa, and the Middle East; and 7 AM to 7 PM AEDT in Asia and the Pacific Islands.
Email: There's an email ticketing system available on Mindbody's contact page.
In-Software Help: There's a convenient help button in the software that can take you to various resources.
Videos: Tutorial videos are available on YouTube and embedded within Mindbody's online resources.
Product User Guide: A collection of online resources, tutorials, and demonstrations.
Training: Mindbody provides 1:1 guided learning sessions at every pricing tier.
Blog: Mindbody maintains a blog that offers advice on business scheduling, management, marketing, and wellness.
Mindbody Reviews
Negative Reviews & Complaints
While Mindbody maintains an A+ rating by the Better Business Bureau, there are a number of very negative reviews that give it an average of 1.05/5 stars. It rates a dismal 1.3 stars on TrustLink. This Mindbody review also happens to be one of the most "active" in its category in terms of users sharing their experiences. These user reviews are overwhelmingly very negative.
Difficulty: Mindbody is a comprehensive piece of software with numerous tabs and features to navigate. Many users complain that Mindbody is not user-friendly.
Customer Service: Many of the complaints revolve around customer service, which is depicted as slow, hard to reach, and unresponsive.
Billing Issues: Several users claimed they did not receive promotional rates offered by Mindbody sales staff. Others complained about sudden rate hikes.
Expensive: Mindbody isn't cheap, and it's gotten increasingly more expensive over time. The payment processing rates aren't that bad, but at $129/month for the Starter package, they had better be. Also, the difference in pricing by industry makes it pretty hard to know if you're getting a good value.
Buggy: A number of users reported encountering bugs that made the program harder to use. This problem does not seem to have improved substantially over the years. Integrations may not function consistently or as expected.
Positive Reviews & Testimonials
Mindbody's app rates well on both the Apple App Store and Google Play. Mindbody has mostly positive reviews on Capterra, where it currently ranks 4/5 stars after 2,106 reviews. And, of course, the Mindbody website features testimonials from happy customers. Here's what customers liked about the software:
Breadth Of Features: This software covers a lot of ground, from scheduling to point of sale to the kitchen sink. Many users remarked that the service feels complete.
Networking: Mindbody also serves as a tool for promoting and discovering small fitness businesses.
Support & Training: Mindbody offers training sessions and documentation in addition to its online knowledgebase.
Mindbody Integrations & Add-ons
Mindbody runs an integration marketplace where you can find a number of possible add-ons for your app. These include:
Weebly: A build-your-own website service.
Emma: An email marketing service.
Trainerize: A software program for personal trainers.
WaiverKing: Allows customers to sign documents electronically.
ClassPass: A fitness studio network.
HealCode: For an additional charge, you can use this drag-and-drop Mindbody partner to create websites and integrate Mindbody into your website. It also provides a roundabout way to integrate with WordPress, with which Mindbody does not directly integrate.
Constant Contact: An email marketing service provider.
Fitbit: The mobile app integrates with the popular fitness tracker, Fitbit.
Security
Mindbody's subscriber information is stored on secure servers with multiple, redundant firewalls or backup directories that require access authentication. SSL encryption is used to protect data being transmitted across the net. Data centers are hardened against earthquakes and feature numerous redundancies to protect data from loss.
Mindbody passes Webutation's Google Safebrowsing and Website Antivirus standards.
Final Verdict
Let's cut to the chase: Mindbody is a complete and comprehensive software suite designed for businesses that offer gym classes or wellness-related appointments. While bending it to some other purpose might be possible, you won't be able to take advantage of all its features and use it at an optimal level. You also can't take the software for a free trial test drive to see if it offers the functionality you're looking for. More importantly, you could probably find what you're looking for elsewhere at a much lower cost.
If you're in its target audience of the wellness and workout world, Mindbody can pretty much take care of all your digital needs, from scheduling to sales to app design, as long as you're willing to cough up the cash. It's a big, somewhat complex program, but it's not necessarily as complicated as learning a scheduling program and POS program separately would be.
While the company's formal reputation seems good, there are a number of red flags reported by users that give me pause, including bugs, price hikes, and unresponsive customer service (a big problem for complex programs). You tend not to hear from happy customers as often as unhappy ones, but the sheer number of dissatisfied customers is worth pricing into your calculations.
Those who own spas, salons, and fitness clubs may find a lot to like here, but everyone else should steer clear.
If you're interested in learning about other options, take a look at our article, The Best Appointment Scheduling & Booking Software For Small Businesses.
---
Featured Free Corporate Card
Ramp


---
Ramp offers a free corporate card for virtually any business. Start earning rewards with your corporate spending today. Get your free card.
Featured Free Corporate Card
Ramp


---
Ramp offers a free corporate card for virtually any business. Start earning rewards with your corporate spending today. Get your free card.
To learn more about how we score our reviews, see our
Booking Software Rating Criteria
.