Expert Analyst & Reviewer

Updated on:
Advertiser Disclosure: Our unbiased reviews and content are supported in part by
affiliate partnerships
, and we adhere to strict
guidelines
to preserve editorial integrity.
Mint

Pros
Free
Easy to use
Excellent mobile apps
Modern UI
Numerous automations
Cons
Poor customer support
Buggy
Limited reports
Mint Overview
Mint, or Mint.com, is an easy-to-use personal accounting software that was created in 2007 and acquired by Intuit (the makers of QuickBooks) in 2009. Mint, is a cloud-based personal finance management tool that helps individuals manage their money better. The software automatically imports and categorizes your banking transactions and uses the data to show you exactly where your money is going. It also features budgeting, bill management, investment tracking, and even lets you check your credit score.
Many of the features are not fully realized yet, and the bills, budgeting, and goals modules could all use some added functionality. However, Mint's great mobile apps, easy-to-use interface, and free pricing may definitely make up for these downfalls if you're looking for a simple, affordable way to track your spending.
Read on to learn more and to see if Mint is the finance management solution for you.
Mint.com Pricing
Mint is completely free. There are no monthly or annual payments and you can cancel your account at any time.
So, what's the catch?
Ads. Mint makes its money by encouraging clients to sign up for credit cards, investment plans, and Turbo Tax. Depending on how much information you put into Mint, the software will target these promotions specifically to fit your financial situation. While the excessive advertisements may become annoying to some, it's the price you pay for free software.
Cloud-Based Or Locally-Installed
Cloud-based. No downloads or installation required.
Hardware & Software Requirements
As cloud-based software, Mint works on nearly every computer so long as you have internet access. Mint also has mobile apps for Apple devices (iOS 11.0+), Apple Watches (watchOS 5.1+), and Androids (5.0+).
Specific Size Of Business
Unlike most of the accounting solutions we review, Mint is not for business use. Mint is a personal finance management tool designed for people who want an easy, simple, and affordable way to manage their money. Mint is best for individuals who want to view their spending trends and get a basic handle on their finances (without all of the details of something like Quicken).
Need business-specific accounting software? Check out our comprehensive small business accounting reviews.
Ease Of Use
Mint is incredibly easy (and I daresay fun) to use. The software has a beautiful, modern UI with tons of built-in automation. Setting up an account and connecting to your banks and cards takes very little time, and the software is well-organized and easy to learn. This is by far the biggest appeal of Mint (okay, well, maybe aside from the pricing).
Mint.com Features
Mint has a good selection of features that are incredibly easy to use. Here are some of the most notable features:
Overview: Mint has a dashboard with graphs showing your accounts, upcoming bills, suggested offers, spending, spending trends, credit score, budget, goals, and ways to save. The software also tallies your net worth on the side of the screen.
Expense Tracking: This is where Mint shines. Mint automatically pulls your transactions into the software and categorizes them for you. You can easily split transactions, create custom categories, and create category rules. Mint will use this information to show your spending trends. The software will also send you notifications for unusual spending and will alert you when you have low funds.
Bills: You can connect directly to your online lenders and track your upcoming bills through Mint. You can also add bills manually. You can set bill reminders so you don't miss a payment.
Budgeting: Mint uses your spending habits to automatically create a budget for you. You can adjust this budget as needed and have the budget show (or not show) whichever categories you prefer. Mint will then track whether you are on budget and send you notifications when you overspend. Unfortunately, you can only create a budget for the current month you are in, although you can create a recurring budget for each month.
Savings Goals: You can create savings goals within Mint. Tell the software how much you want to save, when you want to save it by, and which account the savings will be attached to, and Mint will tell you how much you need to contribute every month. While this feature sounds great, I was disappointed with the actual application of it. You can only create one saving goals per account. Moreover, say you are trying to save $1,000 for a new car in your existing savings account of $2,000, Mint shows that you've already met that goal because of the existing savings. In my opinion, this makes the feature obsolete. You can also share your goals on Facebook if you want extra accountability.
Property Management: You can add your assets, like cars, property, art pieces, etc., so you can know exactly what your net worth is. One plus about Mint is that it connects directly with Kelly Bluebook to show you exactly what your car is worth.
Investment Tracking: You can connect to existing investment and retirement accounts or sign up for one directly in Mint.
Credit Score: You can check your credit score from within Mint.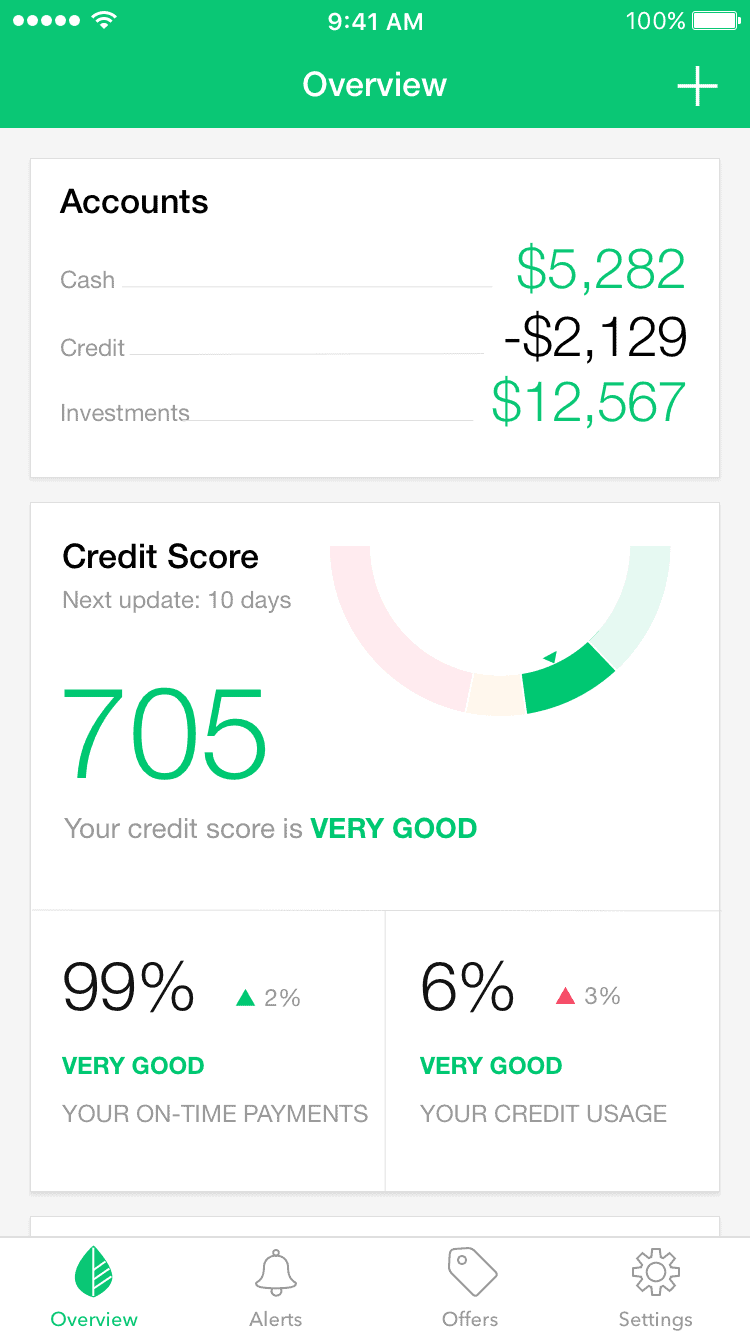 Mint.com Customer Service & Support
Mint has a surprising lack of customer service options. While the software is simple enough that you most likely won't need much help, I was still disappointed to not see phone or even email support as options. Here are the few Mint customer service options that do exist:
In-Software Help: There is an in-software help section where you can search for how-to articles and live chat with Mint representatives.
FAQs: Mint has an FAQ section answering common questions about the software.
Blog: One win for Mint is their blog, which offers tons of financial advice.
Mint.com Reviews
Negative Mint.com Reviews & Complaints
For the most part, users really enjoy using Mint and customer reviews are predominantly positive. Intuit receives a number of complaints on the BBB, but none are about Mint. However, there are a few recurring issues:
Issues With Bank Connections: Several users experienced issues getting their accounts to connect correctly with Mint, and a few say their bank is not supported by the software at all. A few also complain about glitches connecting to online lenders in the bills module, which I also experienced, as well as issues with duplicate transactions.
Needs More Features: Some users complain that Mint is lacking key features. One feature users want is the ability to pay bills online, which used to be possible with Mint Bills. Even though Intuit has acquired Mint Bills, this feature no longer exists (although, Mint does say this feature is coming back soon).
No Kindle App: One of the biggest complaints is that Intuit discontinued the Kindle app.
Doesn't Delete Account: One user complained that Mint doesn't delete accounts when told to. I personally can attest to this as an account I had deleted back in 2015 was still active.
Positive Mint.com Reviews & Testimonials
Most users appreciate Mint's features and ease of use. The software receives 4/5 stars on Sitejabber (based on 92 ratings), and both the iPhone and Android mobile apps are well-loved, receiving 4.8/5 stars on the App Store and 4.5/5 stars on Google Play. Here are some of the most common praises:
The Price Is Right: You can't beat free. Users appreciate that managing their finances doesn't cost them anything.
Easy To Use: The most common praise is that the software is easy to use. Users like the interface and being able to see all of their finances in one place.
Makes Finances Simple: Many users appreciate how simple Mint makes managing finances, creating budgets, and staying on top of bills. They also like that the mobile apps allow them to track spending on the go.
Mint.com Integrations & Add-Ons
Mint integrates directly with Turbo Tax and QuickBooks. The software also connects with thousands of online lenders and banking institutions so you can view your bills and transactions in one place.
Mint.com Software Security
Mint is not incredibly detailed about its security. The company says,
Mint comes from the makers of TurboTax and QuickBooks, trusted by millions with sensitive data.
But how exactly does Intuit store that sensitive data? Mint says they use multi-factor authentication and a 4-digit mobile app protection code. You can delete your data remotely in case your phone is lost or stolen. Mint stores login credentials at a data center using software encryption. Mint also uses Intuit's own bank connection service rather than Yodlee (which is known for violating some banks' terms and agreements).
Final Verdict On Mint.com
Mint is one of the easiest programs I've ever used. The interface is well-organized, modern, and attractive. The software also has tons of automations, including automatic transaction importing, automatic categorization, and even a Kelly Bluebook automation. The program is great for tracking your income and expenses, and the eye-opening spending feature is helpful for knowing where your money actually goes.
Despite all the praise, there are a few drawbacks to the software. The savings goals feature is very limited and you can only create a budget for the current month. Additionally, there is no bank reconciliation feature and no financial reports. But my biggest issue with Mint is that it only keeps transactions in the system for 90 days. If you want to see how much you spent in December last year to prepare for the holiday season, you won't be able to.
However, I know that for many people, these aren't issues. If you are looking for a simple way to track your finances, stay informed about upcoming bills, and don't need (or have time for) a ton of detail, Mint will get the job done and get the job done well. The only issue that won't change is the severe lack of customer support. But the free pricing, mobility, and sheer ease of use make this personal accounting software a contender that is more than worth looking into.
Sign up for an account and give Mint a test run to see if it's right for you — after all, it's free. Or, see if you would prefer Quicken's personal finance software in our complete Mint VS Quicken software comparison post.
Mint.com FAQs
---
Need A Simple Accounting Solution?
FreshBooks


---



This easy-to-use and feature-rich software is ideal if you have no bookkeeping experience and want top-notch customer support. Get Started.
Need A Simple Accounting Solution?
FreshBooks


---



This easy-to-use and feature-rich software is ideal if you have no bookkeeping experience and want top-notch customer support. Get Started.
To learn more about how we score our reviews, see our
Accounting Software Rating Criteria
.
Read Next