Mint Review
Mint is not a business solution. Mint is for individuals who want more information about their spending trends and habits and want to create and reach financial goals.
Expert Analyst & Reviewer

UPDATED
Advertiser Disclosure: Our unbiased reviews and content are supported in part by
affiliate partnerships
, and we adhere to strict
guidelines
to preserve editorial integrity.
Mint

Mint At A Glance
Mint is a free cloud-based personal finance management tool that helps individuals manage their money better.
Mint's platform also features budgeting, bill management, investment tracking, and even lets you check your credit score.
With great mobile apps, an easy-to-use interface, and free pricing, Mint is a great option for anyone looking for a simple, affordable way to track your spending.
---
Pros
Free
Easy to use
Excellent mobile apps
Modern UI
Numerous automations
Cons
Poor customer support
Limited reports
Ads
What Is Mint?
Mint, or Mint.com, is free personal accounting software that allows individuals to visualize their spending, budget, and money management.
Although businesses may be attracted to the accounting platform's free price tag, Mint is not a business solution. Mint is made for personal use by individuals who want more information about their spending trends and habits and want to create and reach financial goals.
If you are looking for business-specific accounting software, check out our small business accounting reviews.
Mint Pricing
Mint's default plan is completely free and ad-supported. There are no monthly or annual payments, and you can cancel your account at any time. Mint makes its money by encouraging clients to sign up for credit cards, investment plans, and TurboTax. Depending on how much information you put into Mint, the software will target these promotions specifically to fit your financial situation.
While the excessive advertisements may become annoying to some, it's the price you pay for free software. For Mint's mobile app users, the platform offers an ad-free experience and a few additional reports for those who upgrade their plan.
Mint Ad-Free
Mint's Ad-free Mobile Plan costs $0.99/month and includes:
All of Mint's classic features
No ads (mobile app only)
Mint Premium
Mint's Premium Mobile Plan costs $4.99/month or $46.99/year and includes everything on the Ad-free plan, plus:
Daily budget trends update
Monthly spending projections
Subscription management help
Money's growth potential projections
Is Mint Easy To Use?
Mint is incredibly easy to use. The software has a beautiful, modern UI with tons of built-in automation. Setting up an account and connecting to your banks and cards takes very little time, and the software is well-organized and easy to learn.
As cloud-based software, Mint works on nearly every computer so long as you have internet access. Mint also has mobile apps for Apple devices (iOS 13.0+), Apple Watches (watchOS 5.1+), and Androids (6.0+).
Mint Features
| Mint Features | Availability |
| --- | --- |
| Budgeting | |
| Tax Support | |
| Invoicing | |
| Estimates | |
| Client Portal | |
| Contact Management | |
| Expense Tracking | |
| Bank Reconciliation | |
| Chart Of Accounts | |
| Accounts Payable | |
| Inventory | |
| Time Tracking | |
| Project Management | |
| Number Of Reports | |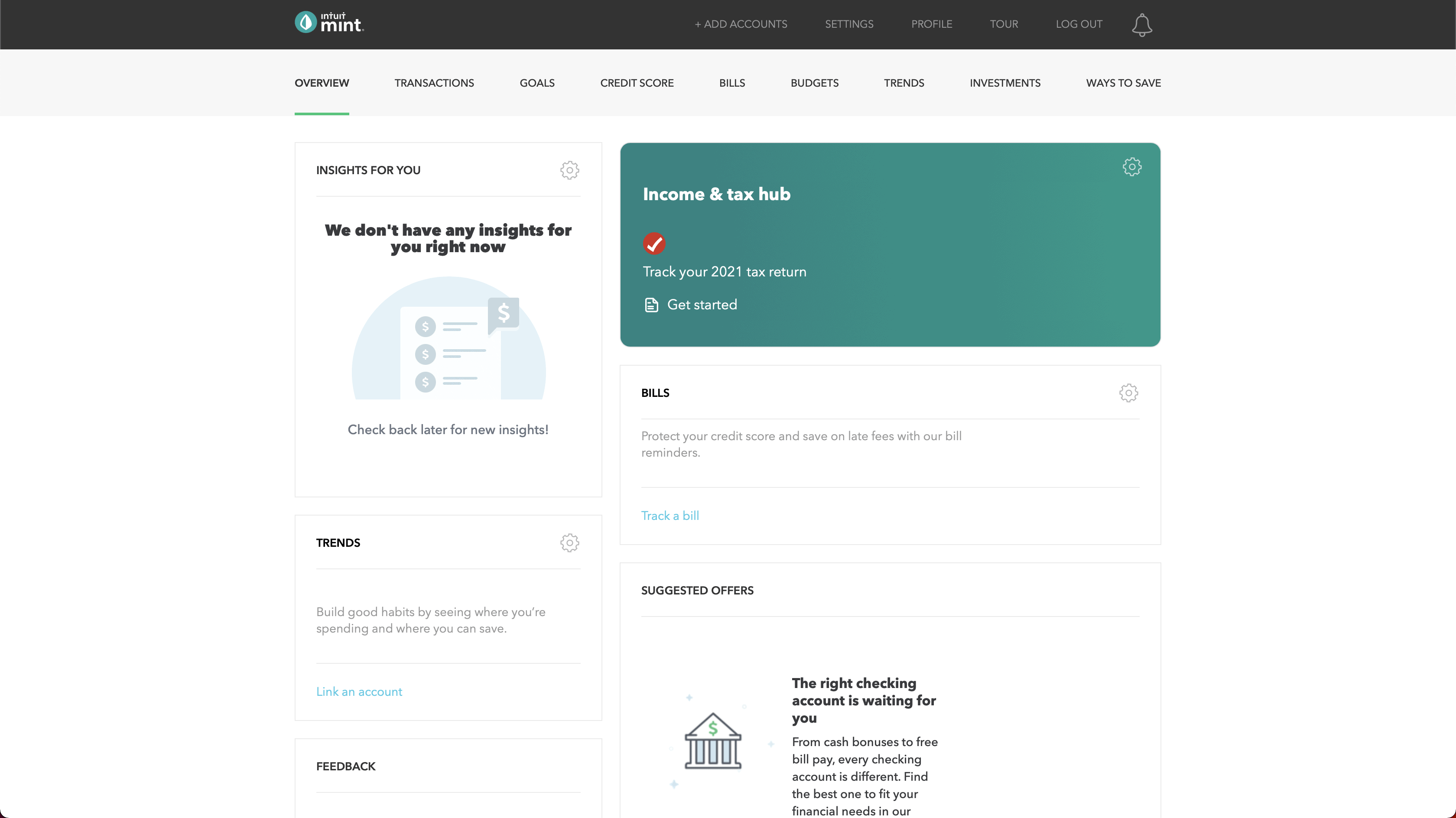 Mint's feature set is everything you would expect from a personal accounting app. With automatic account syncing, subscription management, investment tools, and more, Mint makes it easy to visualize where your money is going. Additional goal-setting solutions, customization options, and trends reporting allow users to take control of their money.
The user interface is simple and easy to navigate. When it comes to money management, Mint is one of the best in the industry at making it easy. However, fans of the envelope budgeting method may find that Mint isn't the best solution for their needs; YNAB or EveryDollar may be a better fit.
Mint Customer Service
| Mint Support | Availability |
| --- | --- |
| Phone Support | |
| Email Support | |
| Support Tickets | |
| Live Chat | |
| Dedicated Support Representative | |
| Knowledge Base or Help Center | |
| Videos & Tutorials | |
| Company Blog | |
| Social Media | |
Mint's customer support options are surprisingly lacking. Although Mint maintains an in-software help section, FAQs, and a regularly updated blog, you won't have a way to contact Mint directly via email or phone if you run into a problem.
Mint Integrations
Mint integrates directly with TurboTax and QuickBooks. The software also connects with thousands of online lenders and banking institutions, so you can view your bills and transactions in one place. The software has not released an official API through its platforms.
Mint Reviews
Customer reviews for Mint are overwhelmingly positive. Mint's mobile apps rate an impressive 4.5/5 stars on the Play Store and 4.8 on the App Store over a combined 918K reviews. Customers generally rave about how easy Mint makes budgeting and spending tracking.
The few negative reviews zero in on Mint's poor customer service options and how the company fails to delete data when users delete their accounts.
Negative Mint Reviews
Doesn't delete accounts
No online bill pay support
Bank connectivity issues
Too many ads
Positive Mint Reviews
Easy-to-use interface
Free pricing tier
Solid reporting features
Is Mint Secure?
Mint offers users a secure platform in which to track their spending. The company is owned by Intuit and benefits from the extensive data protection and user privacy protocols. However, the software's most glaring data privacy issue is the fact that it doesn't delete your account after you request account deletion.
I deleted my account in October 2020 and received confirmation that my account deletion request was being worked on. Two years later, I was able to sign in with my old credentials.
Multifactor authentication
Security scanning through VeriSign
Mobile app passcode and Face ID
Remote account deletion
Software encryption
The Final Verdict: Is Mint Worth It?
Mint Review Summary
Choose If You Need

Spending visualization
Strong transaction tracking
Simple personal budgeting tools
Mint's interface is well-organized, modern, and attractive. The software also has tons of automations, including automatic transaction importing, automatic categorization, and even a Kelly Bluebook automation. The program is great for tracking your income and expenses, and the eye-opening spending feature is helpful for knowing where your money actually goes.
Despite all the praise, there are a few drawbacks to the software. The savings goals feature is very limited, and you can only create a budget for the current month. Additionally, there is no bank reconciliation feature and no financial reports. On top of that, Mint only keeps transactions in the system for 90 days. If you want to see how much you spent in December last year to prepare for the holiday season, you won't be able to.
However, for many people, these aren't issues. If you are looking for a simple way to track your finances, stay informed about upcoming bills, and don't need (or have time for) a ton of detail, Mint will get the job done and get the job done well. The only issue that won't change is the severe lack of customer support. But the free pricing, mobility, and sheer ease of use make this personal accounting software a contender that is more than worth looking into.
Sign up for an account and give Mint a test run to see if it's right for you — after all, it's free. Or, see if you would prefer Quicken's personal finance software in our complete Mint vs. Quicken software comparison post.
Mint FAQs
---
Try A Top Pick For Payroll
ADP Payroll


---
We like ADP Payroll for its advanced employee management, strong payroll features, and great customer support. Get three months free when you sign up through our links! Get Started.
Try A Top Pick For Payroll
ADP Payroll


---
We like ADP Payroll for its advanced employee management, strong payroll features, and great customer support. Get three months free when you sign up through our links! Get Started.
To learn more about how we score our reviews, see our
Accounting Software Rating Criteria
.