Expert Analyst & Reviewer

UPDATED
Advertiser Disclosure: Our unbiased reviews and content are supported in part by
affiliate partnerships
, and we adhere to strict
guidelines
to preserve editorial integrity.
Mobirise

Pros
Core product is free
Very easy to use
Intuitive editor
Inexpensive eCommerce
Cons
No blogging tool
Limited features
Limited design customization
You'll have to find your own web host
Mobirise Overview
Mobirise is a free website builder that does things differently. It's an offline program, available as a free download. With nearly every other website builder following the web-hosted SaaS model, it's refreshing to see Mobirise using a different approach. But the fact that Mobirise is an offline program comes with its inconveniences — unlike with Wix or Squarespace, hosting and a domain are not included as a package deal, so you'll need to find your own web host and domain. This arrangement has an upside, though — you'll be able to take your Mobirise website to a new host whenever you like. With many hosted website builders, you can't take it with you.
Thankfully, Mobirise lets you publish your site to a Mobirise subdomain if you don't mind using a branded domain.
The fact that Mobirise's available features are limited this many years into its life-cycle is fairly discouraging. You won't find a proper blogging tool with Mobirise, and eCommerce is only available via a limited PayPal shopping cart extension. At this point, I had hoped the product would offer a more comprehensive feature set.
Read on for our full review of the Mobirise website builder.
Business Types Supported
The free Mobirise program doesn't come with templates in the traditional sense. Your Mobirise site will be comprised of one of the available full-screen headers, along with whatever content blocks you wish. This simplified approach to responsive website building lessens the need for a large selection of templates, as a personalized site can be so easily created without one.
The premium themes on offer are really collections of content blocks that are tailored for specific business types. Essentially, you create the template, but you do it with the premium content blocks provided. While the lack of eCommerce features make Mobirise a poor fit for an online store (check Shopify, BigCommerce, or Square Online for eCommerce site building) and many premium themes are quite general (e.g. "industry" and "startup"), some premium themes are specific to certain types of businesses:
Law firms
Health clinics
Photography studios
Gyms
Churches
Video game makers
Restaurants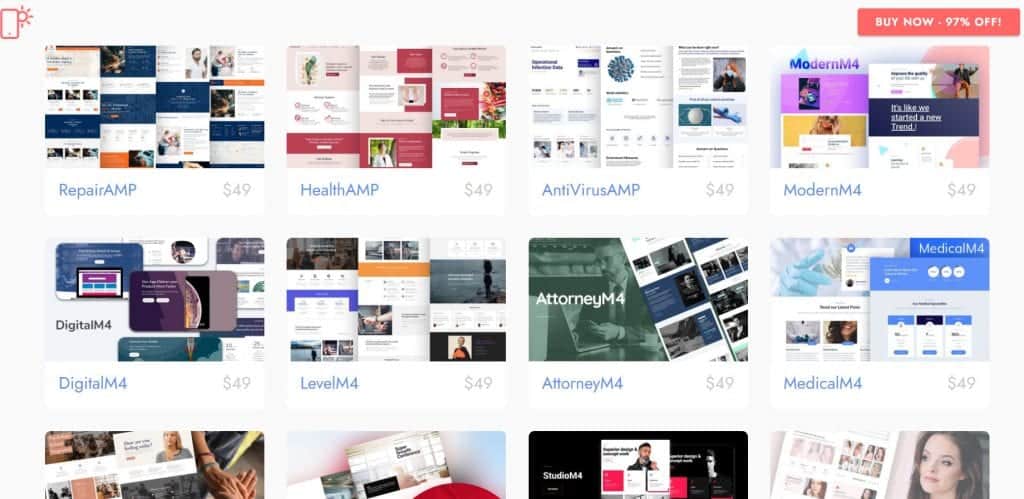 Most businesses requiring a relatively simple web presence could easily build what it needs with Mobirise. However, if your business needs an advanced eCommerce system, sophisticated publishing features, or lots of third-party integrations, I would look elsewhere.
Mobirise Pricing
Mobirise is free to download and use. However, certain features are only available for purchase. When you check Mobirise's extensions page, it shows 92 premium themes available for $49 each along with the following paid extensions:
Chat Button – $49
BlockPack for AMP – $99
BlockPack for M4 – $99
Lazy Load (CSS optimization tool) – $39
PWA (progressive web application) Builder – $49
Popup Builder – $49
Form Builder – $59
WOW Slider – $49
PayPal Shopping Cart – $59
Icons – $49
Code Editor – $69
If you were to buy a bunch of themes and extensions individually, things would get expensive pretty quickly. Thankfully, Mobirise offers an all-in-one package that includes every theme and extension along with all future themes & extensions for one year, plus product support and updates for one year. Depending on the button you click on the website, this all-in-one package will appear in your shopping cart as either a $99 or a $149 charge, so if you're interested, click around on the site until it offers you the $99 price.
Note that if you want to continue getting theme/extension updates and product support after a year, you'll have to subscribe on an annual basis. Even still, $99/year is a very competitive price for a solid website building package.
Mobirise offers a refund to paying customers within 14 days of purchase.
Ease Of Use
I'd be hard-pressed to name a website builder easier to use than Mobirise.
The software makes the website creation process about as easy as it could possibly be. Click the "Add Block To Page" button in the bottom right of the screen, and every addable element pops up in a scrolling menu. Just click on any of the content blocks and it will be affixed to the bottom of your stack of content. From there, you can drag it up or down the page as you wish.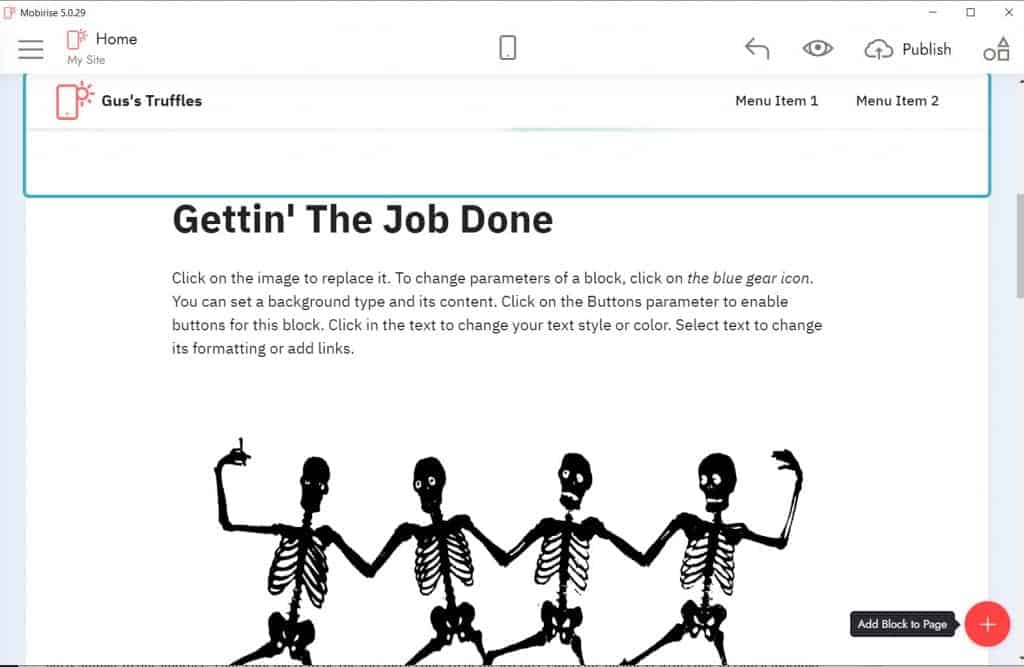 Mobirise continues the trend of simple, block-based responsive website building seen in many contemporaries. Of course, no coding knowledge is required.
It's a formula that makes it easy for even the least tech-savvy web jockey out there to get a website going, though it does result in a generation of websites that all look fairly similar to one another. That's not likely to be the foremost concern of the average emerging business struggling to gain a foothold, though. Clarity and mobile responsiveness, by contrast, are likely to be primary concerns, and Mobirise seems to recognize this.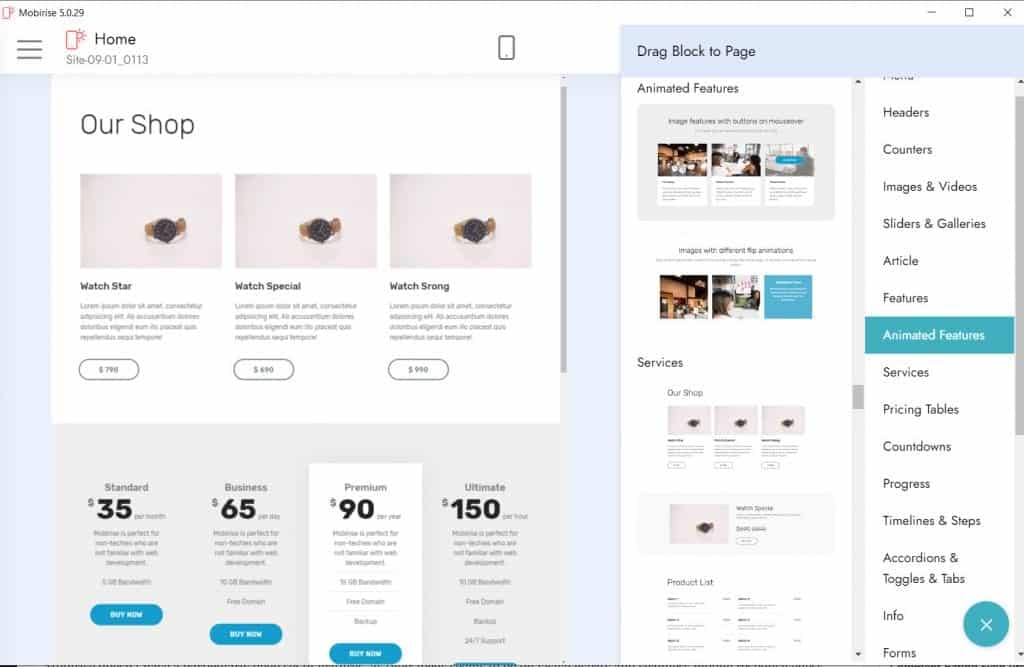 Hardware & Software Requirements
The Mobirise web builder is available as a free download for Windows (XP or newer), Mac (OS X 10.7+), and Android (4.4+). Just make sure your operating system is up-to-date before installing.
Mobirise Features
Mobirise doesn't have a particularly deep set of features, as their focus seems to be on visual clarity, hassle-free website creation, and mobile responsiveness. Still, a number of features are available.
Dashboard: Mobirise doesn't actually have a dashboard. When you open the app, you're simply taken to the last site you were editing.
Form Builder: Mobirise offers three free forms — two contact forms and a "subscribe" form. You're quite limited in your ability to edit these forms, though. You can either include or not include name, email, phone, and message fields, and that's about it. Thankfully, there's a decent form builder extension available as a paid add-on.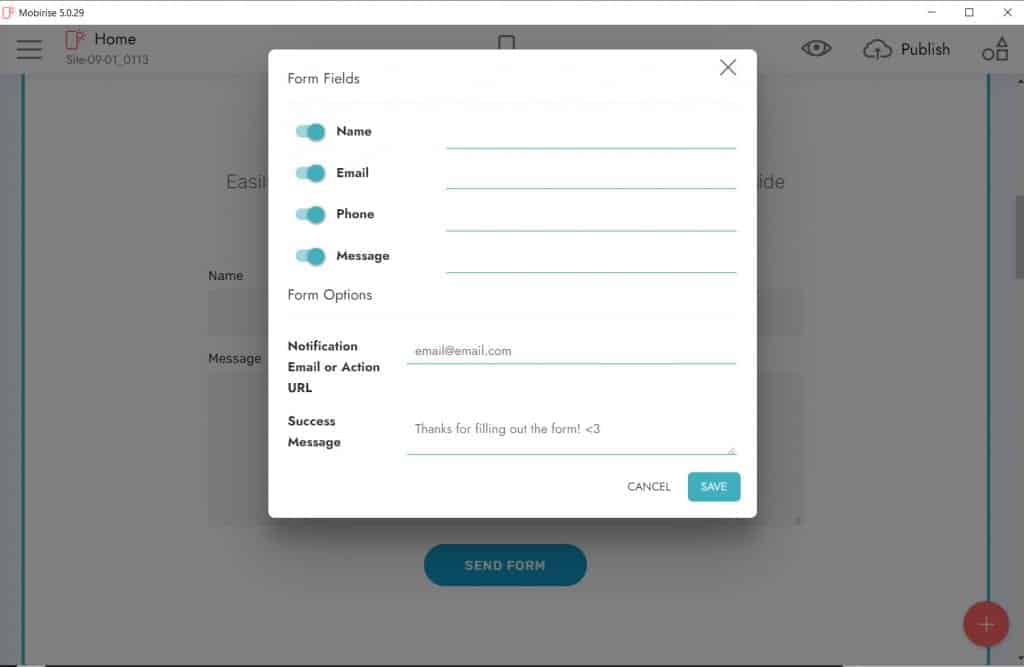 Online Store: Available as a paid add-on, the PayPal Shopping Cart will allow you to offer both physical and digital products to your customers. It's available for $59, though it'll probably make more sense for you to buy the full Website Builder kit for $99. Even at that price, it's cheaper than what you'd pay for an eCommerce website with many competitors. However, while the PayPal Shopping Cart is fine if you're just looking to sell a few items, it's not what I'd use for a full-fledged online store.
Blog: Sadly, Mobirise lacks blogging capabilities. It's one of the bigger holes in Mobirise's feature arsenal.
Marketing: Beyond offering a sign-up form for you to collect e-mail addresses that you can then use towards creating a mailing list, Mobirise doesn't offer any marketing tools.
SEO Tools: Mobirise integrates with Google Analytics and features some basic adjustable SEO settings.
PCI Compliance: PCI compliance is handled at the hosting end of things. As Mobirise is an offline website building tool, you'll need to pair it with a host that offers PCI compliance if you want a secure website (hint: you do).
Social Media: Mobirise offers the standard array of social media icons and buttons.
Google Maps: Mobirise does, in fact, offer Google Maps as a standard feature. Given how many other features are missing here, I wasn't sure I'd find Google Maps as an addable block, so I was happy to do so.
Without blogging, a photo editor, or a newsletter tool, Mobirise's feature list is a bit underwhelming. However, I'll give Mobirise this: You can work in dark mode if you wish.
Mobirise Web Design
Templates
Mobirise seems to point towards a post-template website building world. With customizable image-focused headers and easily-added content blocks, the need to start from a pre-arranged template is reduced. However, this means that if you're looking to start from a thoughtfully-designed template and tweak things from there, you won't really be able to do so.
That being said, the content blocks you have to choose from — both free and premium — are attractive and functional, and it's remarkably easy to build yourself a website by adding/arranging them and customizing them to fit your needs.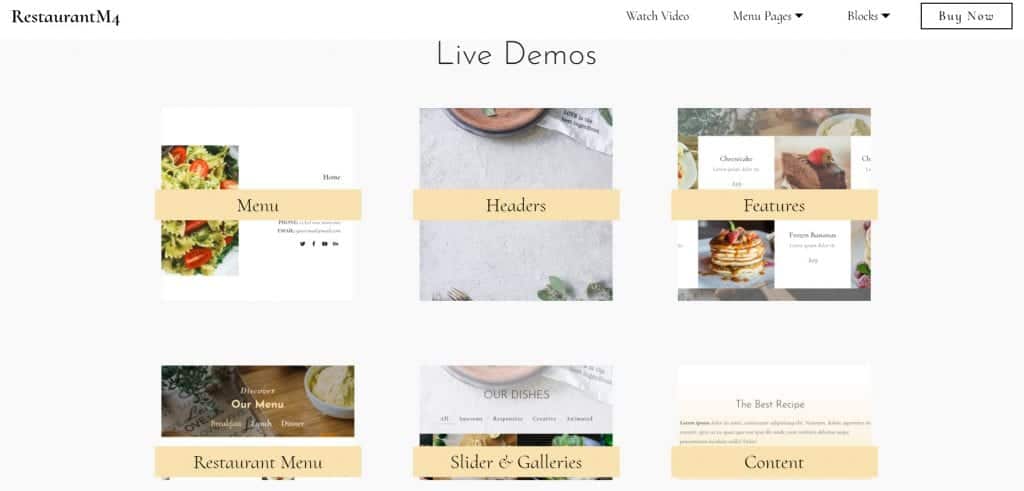 Desktop & Mobile Editors
As I said earlier, Mobirise's desktop editor couldn't be more user-friendly. Adding and arranging content blocks is a breeze, and even the least tech-savvy among us should be able to create an attractive and functional website without professional assistance. No coding knowledge required (though an HTML/CSS code editor is available as a premium add-on).
As for a mobile site editor, Mobirise offers one, but it's only for Android devices, not Apple/iOS devices. By most accounts, the mobile editor works reasonably well, though it may be better suited to a tablet than a smartphone.
Mobile Responsiveness
Mobile responsiveness is at the core of Mobirise's web design philosophy, and all Mobirise sites will display well on screens of all sizes, though the simple, minimalist approach of the content blocks you have to work with is arguably best suited for mobile browsing.
Mobirise Customer Service & Support
Mobirise's customer support is provided in the following ways:
Email
Help Center: Includes a knowledgebase, tutorial videos, and an FAQ
Community Forum
An actual manual would have been nice, as would phone support and live chat, but the email support is fairly prompt in my experience. What's more, the user forums seem to be pretty active, which is a good indicator of interest in the product. If you find a website builder with near-empty user forums, they're usually empty for a reason.
Mobirise Reviews
Negative Reviews & Complaints
As demonstrated by the user comments posted to our review, Mobirise has received its share of user complaints during its existence. Here are some of the most common complaints:
Inadequate customer support/emails to the support team can get ignored
Few free themes
Mobirise-created sites look quite similar to one another
The PayPal Shopping Cart is too limited
The software can be buggy
Positive Reviews & Testimonials
Many users seem quite satisfied with the core product, and have had the following compliments to pay to Mobirise:
Very easy to use
Can publish your site via whatever hosting method you want
Pricing is reasonable
Code plugin works well
On the whole, user complaints about Mobirise are outnumbered by positive comments. This is reflected in Mobirise's Trustpilot rating average of 3.3 out of 5.
Mobirise Integrations & Add-Ons
Mobirise isn't an integration-heavy website builder by any means. Perhaps the most prominent of the integrations is the PayPal eCommerce integration. You'll also get a few others, such as a SoundCloud integration, social media links, Google Analytics, and Google Maps. That's about it.
Security
Mobirise is an offline website building program, and as such, it doesn't handle security. To secure your Mobirise site, you'll need to do it through your hosting provider.
Mobirise FAQs
Final Verdict Of Mobirise
Mobirise is a solid website builder, and while the offline approach has its pluses and minuses, it's good to see some variety in a field largely populated with barely distinguishable products. Small businesses seeking a simple website or landing page have a cost-efficient option in Mobirise.
Unfortunately, the level of features provided by Mobirise means that the product doesn't quite merit inclusion in the same class as the heavies of the industry. There just isn't quite enough functionality in place yet. Given the undeniable potential of Mobirise, however, a few good feature additions would bring Mobirise closer to the Squarespaces and Wixes of the world. We're giving Mobirise a solid 3.5 star score.
If you want to explore other top website building options, check out our website builder reviews.
---
We've done in-depth research on each and confidently recommend them.
We've done in-depth research on each and confidently recommend them.
To learn more about how we score our reviews, see our
Website Builders Rating Criteria
.