monday.com Review
monday.com is a beautiful, effective, and different (usually in a good way) option for project and task management.
Contributor

UPDATED
Advertiser Disclosure: Our unbiased reviews and content are supported in part by
affiliate partnerships
, and we adhere to strict
guidelines
to preserve editorial integrity.
Pros
Excellent graphic design
Easy to use
Customizable
Cons
High monthly cost
Inconsistant feature set
monday.com Overview
monday.com was born out of a two-room apartment, built by two pals hoping to create a tool that would not only increase workplace engagement, enhance efficiency, and drive productivity, but also maybe be enjoyable to use. The resulting software, an innovative project platform with snappy graphic design and interesting features, is now used the world over in a wide variety of industries.
Honestly, monday.com is a major contender for my favorite visual design of any project management app. Seriously, this software is beautiful. Fortunately, that beauty is more than skin deep; monday.com just works, with a good feature set and generous integrations. Having said that, though, I wouldn't exactly describe monday.com as cheap; to access such features as Time Tracking and Custom Fields, you will have to shell out around $12 per month; higher than average.
With that in mind, is monday.com worth your time and consideration? Let's find out.
Web-Based (SaaS) Or On-Premise
monday.com is web-based and is not installed on your computer.
Pricing
monday.com offers four different subscription levels. Here is a breakdown of what you get for your money:
Basic:
$5/user/month
Unlimited Boards
20+ column types
Mobile Apps
Kanban view
Embedded forms
5 GB storage
1-week Activity log
Standard:
$7.99/user/month
50 GB Storage
Unlimited activity log
Timeline, calendar, and map view
Advanced search
Forms customization
Integrations
Pro:
$11.99/user/month
Time tracking
Chart view
Formula column
Custom Tags
Private Boards
Enterprise:
$23.98/user/month
SSO (Okta, One login, Custom SAML)
Audit log
Session management
99.9% uptime
One-on-one training
Dedicated customer service manager
When picking your plan, keep in mind that most project management tropes are unlocked at the "Standard" level. Basically, you want to pay extra for that one. Of course, if you want time tracking, you will have to pay for the "Pro" subscription. As I mentioned above, the extra cost may smart a little, especially when there are other apps out there that include time tracking features for less.
According to the monday.com website, the company accepts all major credit cards (and possibly cookies).
Ease Of Use
The sign-up process for monday.com is somewhat more involved than others I have experienced. In addition to the usual username, email, password and the like, you also enter your industry, team size, intended use cases, and several other indicators. It wasn't enough extra that I got frustrated, but I noticed the extra steps involved. Once you get into the app you need to set up your first board. Don't worry; if you make a mistake and forget a column you wanted, or add one you didn't, you can customize your board later. From there you are off and running.
monday.com boasts an extremely well-designed, highly unique UI. That said, I test a lot of project management programs, so I was thrown off for a moment by the one-term-for-everything philosophy of this app. Basically, everything you do in monday.com comes down to 'Pulses.' You can assign team members or clients to a pulse, add deadlines, send messages, and even create hashtags for pulses. This methodology required an adjustment period for me, accustomed as I am to the more common "task-list" format of monday.com's competitors. Fortunately, I think that users that are new to project management applications will not find pulses as flummoxing, especially with the help of some good onboarding training. On the other hand, it could be argued that the monday.com developers are hanging on to an old term for no good reason; pulses seem to really just be tasks by another name.
All that said, though, I think Monday.com is pretty easy to use. Despite issues of nomenclature, this app is well-designed and intuitively laid out. I was able to figure out most of the features without resorting to support documents, and felt like I quickly understood how everything worked. I think that with a week or two practicing with the software, I would be working quickly, efficiently, and confidently.
Customer Service & Support
monday.com offers three primary avenues of customer support: webinars, written guides, and direct contact:
Webinars: monday.com hosts webinars every day of the traditional workweek. These events begin at different times; some in the evening, some in the morning, to accommodate international audiences. Topics include "how to monday.com," "Advanced Walkthroughs," "All Things Admin," and much more.
Written Guides: Like most software publishers, monday.com provides users with a large library of written guides with which they can suss out any issues they might be experiencing.
Direct Contact: You can send in a help ticket through the Monday.com website and also through a button in the app itself. Of course, if you are willing to pay for the "Enterprise" subscription, you will also unlock access to one-on-one training, as well as a dedicated support rep.
Negative Reviews & Complaints
monday.com gets generally positive reviews across the board. As always though, there is always room for improvement. Here are a few things users would like to see improved:
High Price: By far the most common complaint about Monday.com is the relatively high price. Normally I ignore price complaints in reviews, but the sheer number of comments about this convince me that the complaint is genuine.
No Birds-Eye View: Other business software providers employ a Dashboard or similar feature that allows users to get the pulse of their work at a single glance. Monday.com currently lacks a similar feature, which gets annoying.
Not Effective For Some Businesses: In particular, sales teams will not find monday.com helpful, since there are no invoice features. Likewise, some aspects of monday.com's feature list are somewhat inflexible, stopping users from truly customizing their experiences.
Positive Reviews & Testimonials
Monday is generally loved by those who use it. Here are some excerpts from reviews of satisfied customers:
"Wow, this software is so beautifully designed. Being a type-A list-making person, it initially eased so much of my list-induced stress. The software has many of the to-notch qualities I'd want in a task-management tool, from layered lists, calendar view, color-coding, assigning, etc."

"I liked the the visually appealing nature of the program – the colors, the ease of moving tasks around and keeping things within given groups of projects. Additionally, their support team and help center are excellent."

"Monday has a variety of features​ to add to "pulses" which function as projects within a board. This can help customize a board with multiple possibilities. From timers​ to money amount, to tags, to paragraph-length comments, pulses can be customized to the specific board's needs. Collaboration is enhanced on Monday and maintaining​ people updated on the status of boards is easy and simple. You can set certain pulses for specific team members and work "together" within a board."
"Easy to use, very intuitive. Customizable to your projects and company. You can easily monitor step by step processes in however many Departments you have in your company. I like that its now an app that can live in my button dock. One click and its open. I like that you can discuss clients back and forth between team members.

"What we found was a great visual project management tool. 1) The ability to work on project plan together including adding our documents to a specific task or to do item makes it great to keep track of how far a project has come. 2) The visual appeal of the tool helps, as you can mark specific tasks with different colors to help know who is doing what and where that falls into the overall plan."

"Provides some structure (red, yellow, green status, links to Drive) without being inflexible. We dropped in a lean project and executive reporting set of rules without having to rely on a bunch of manual workarounds. The team can collaborate internally and externally with our clients. "Done" items are clearly distinguishable, as are trouble spots and emerging risks."
Features
Here is a breakdown of monday.com's best features:
Boards: Boards are your primary way of interacting with monday.com. When you make a new board, you can select a layout from a comprehensive list of templates, or build it from scratch. The result is that boards are highly customizable, and finding the right template or layout for your task can greatly alter your experience. Take the time early on to find the templates that work best for you!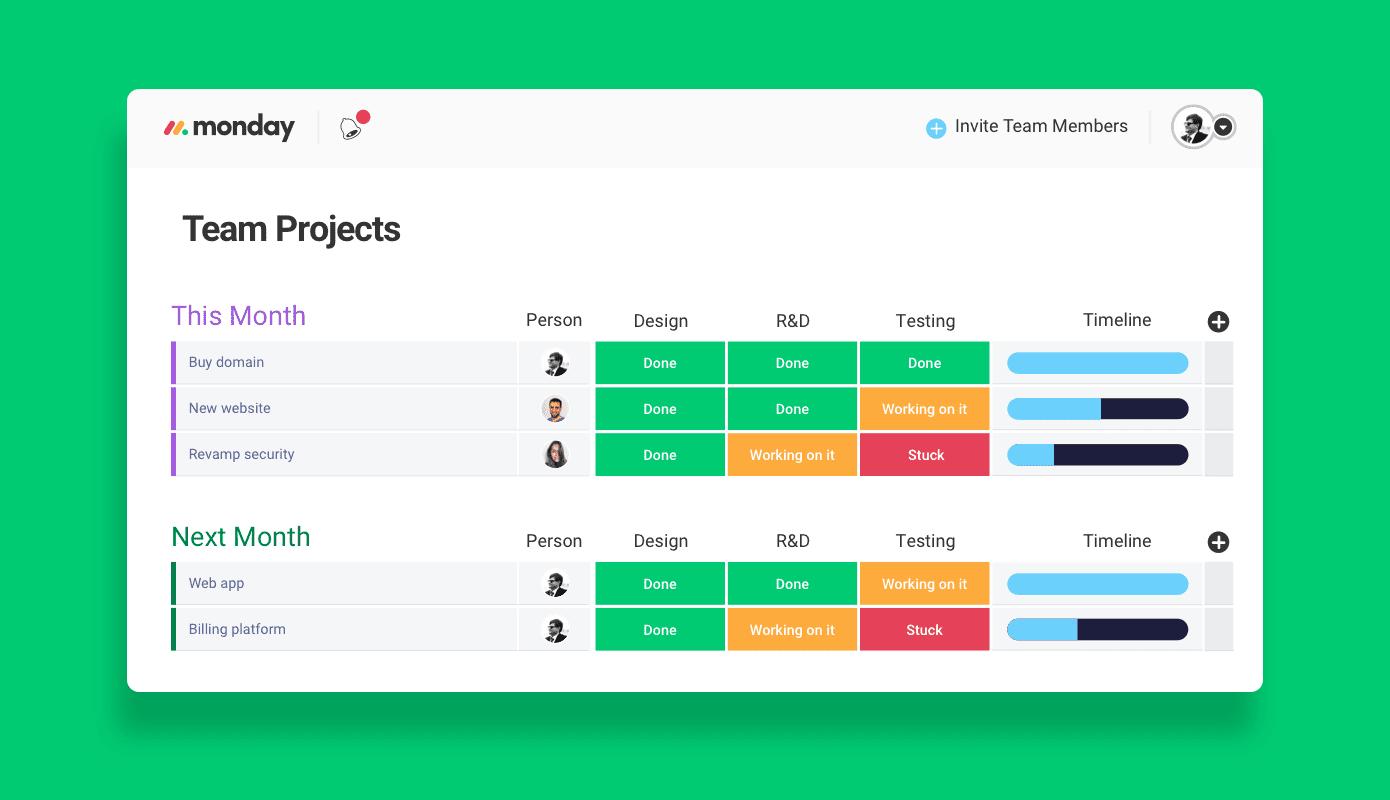 Pulses: Also called "rows" in the default view of monday.com, Pulses are the individual elements within your board. They are most analogous to tasks in other project management apps, but you can do many things with a pulse that might not make sense with a standard "task." You can add statuses, communications, individuals, and much more to each pulse on your board. It is a fairly complex system, but once you get the hang of it, it works rather well.
Inbox: This is your communication hub in monday.com. While it isn't a true chat service like Slack or the Campfires of Basecamp, it is nice to see dedicated communication tools here.
"My Week": While monday.com doesn't have a true dashboard that gives you a birds-eye view of all pulses and projects in which you are involved, the "my week" page comes close by giving you a look at all your pulses that are due in the next 7 days. I do wish there was a full dashboard, but I would be more annoyed if there were no comparable features at all.
Multiple "Views": If the default board view is not quite what you need from your project management, monday.com has a few other options. Depending on your subscription, though, you may not have access to each and every one of them. Your options may include the following: Kanban, Timeline (Gantt), Calendar, Map, and Chart views. Of these, the most useful are probably Kanban and Timeline, at least in terms of traditional project management. I recommend trying them out as you have access to them and finding the one you personally like best.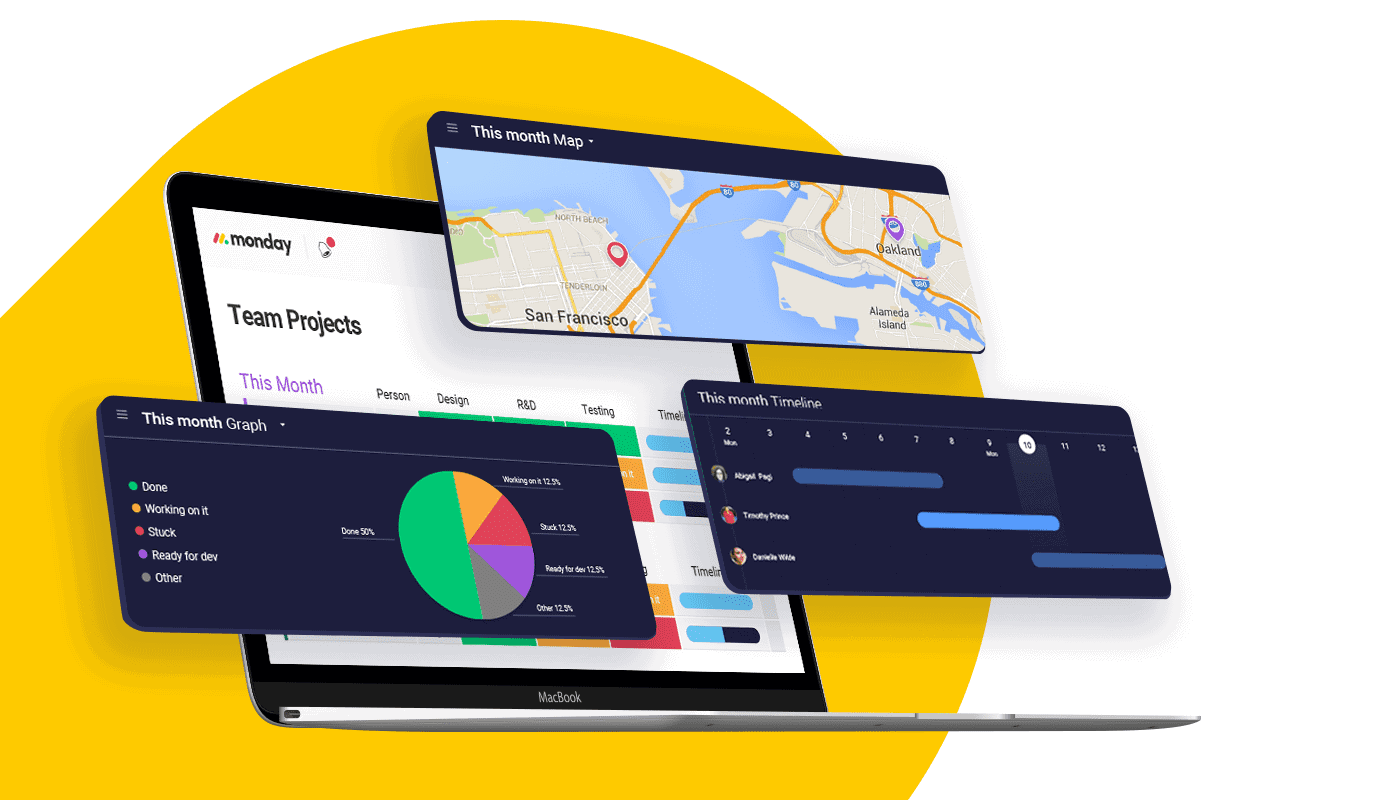 Integrations & Add-Ons
monday.com integrates with the following third-party apps:
Final Verdict
monday.com is a beautiful, effective, and different (usually in a good way) option for project and task management. It is easy to use and has a handy set of features. I think the biggest thing this app has going in its favor is how customizable and flexible it can be; you can tailor your monday.com experience to nearly any industry. On the other hand, monday.com is not the cheapest project management app I have ever covered. It is, however, entirely competitive and reasonably priced when compared with other, similar applications.
So should you buy it? Fortunately, you can try it out before committing. I recommend signing up for a free trial and giving it a go yourself.
---
The Merchant Maverick Seal of Approval 🏆
monday.com


---
After hours of in-depth research and evaluation, we can confidently recommend this brand to our readers. Get started today and see monday.com for yourself.
The Merchant Maverick Seal of Approval 🏆
monday.com


---
After hours of in-depth research and evaluation, we can confidently recommend this brand to our readers. Get started today and see monday.com for yourself.
To learn more about how we score our reviews, see our
Project Management Software Rating Criteria
.