Expert Analyst & Reviewer

UPDATED
Advertiser Disclosure: Our unbiased reviews and content are supported in part by
affiliate partnerships
, and we adhere to strict
guidelines
to preserve editorial integrity.
Pros
Good blogging and eCommerce tools
Membership pages
Cons
Outdated editor (still uses Flash)
Outdated templates
Steep learning curve
Paid plans let you build just one website
Moonfruit Overview
Moonfruit was created by a "team of developers, creatives, and entrepreneurs who are passionate about great design, great products and supporting startups, small businesses, and design communities." The first version of this flash-based, website editing software was released in January 2000, just prior to the bursting of the original dot com bubble. Early iterations of Moonfruit relied on income from advertisements to fund the service, which was then completely free. While still using advertisements as a source of cash flow, the company has moved in a somewhat different direction and now offers subscription-based services to its users.
This London-based company, founded by Wendy Tan White, Joe White, and Eirik Pettersen, is now the number one hosted site builder in the UK. Currently, the company boasts upwards of five million users, a third of which are located in the United States.
It's no secret that Moonfruit has become dated in comparison to the competition. Even Moonfruit has acknowledged this, and in a February 2016 blog post, they put forth a commitment to remaking their platform in accordance with modern standards. Since then, a number of new features have been introduced, including Moonfruit's long-promised responsive pages. What this last update means is that Moonfruit now has two website editing tools: the responsive editor and the original editor, which was widely acknowledged (by Moonfruit themselves, no less) to be several steps behind the times. Moreover, Moonfruit's new logo is another indication that their focus is on the responsive future and not the past.
Read on for more information about Moonfruit's website building platform.
Pricing
You can use Moonfruit freely for 15 days upon signing up, but if you want to publish your site, you'll have to enter your payment info, which some may find off-putting. If you want to use the service beyond the initial 15 days, you've got to pony up and spring for a subscription. Now, when you check Moonfruit's pricing page. you'll notice something peculiar. Moonfruit's two eCommerce packages are shown but are not yet available. For now, you have two choices: Basic and Professional.
Basic

$5.99/month (if paid annually)
$7.99/month (if paid monthly)
1 Website – Unlimited Pages
500 MB Site Storage
Moonfruit Ads
Connect Your Domain
Professional
$11.99/month (if paid annually)
$15.99/month (if paid monthly)
All of the Above PLUS:
No Ads
10 GB Storage
Free Domain Voucher
$100 AdWords Voucher
Ecommerce Lite (Coming Soon)

$18.99/month (when it is available)
All of the Above PLUS:
20 GB Storage
Online Store with Unlimited Products
Product Options & Customization
Ecommerce Pro (Coming Soon)
$25.99/month (when it is available)
All of the Above PLUS:
Sell Digital Goods
All plans include free hosting, templates, the drag-and-drop editor, and chat support.
Moonfruit offers a 14-day, money back guarantee on new subscriptions. If you cancel within that time period, you will receive a refund in full. You may upgrade or downgrade at any time.
The company accepts payment via credit card in the form of British Pounds, Euros, American Dollars, and Australian Dollars. If you don't feel comfortable using a credit card, you can mail a payment (in the form of a UK check, a GBP Postal Order, or an International Money Order) directly to the London office. Moonfruit does not accept American checks.
It has to be said that Moonfruit's two subscription packages aren't terribly compelling from a value perspective. Each one gives you one solitary website, and the first one makes you carry ads on your site.
Note: Each domain name granted by the Standard, Plus, or Max packages comes with five free Email mailboxes; the Google Adwords Coupon may only be used in either the U.S. or U.K.
Web-hosted or Licensed
Moonfruit is web-hosted.
Hardware/Software Requirements
To use Moonfruit, you'll need an updated version of any of the major web browsers.
Business Types Supported
Like most other website builders, Moonfruit doesn't cater to any specific industries, but they do offer a wide variety of templates. These templates, however, are all only for use with the original, non-responsive editor.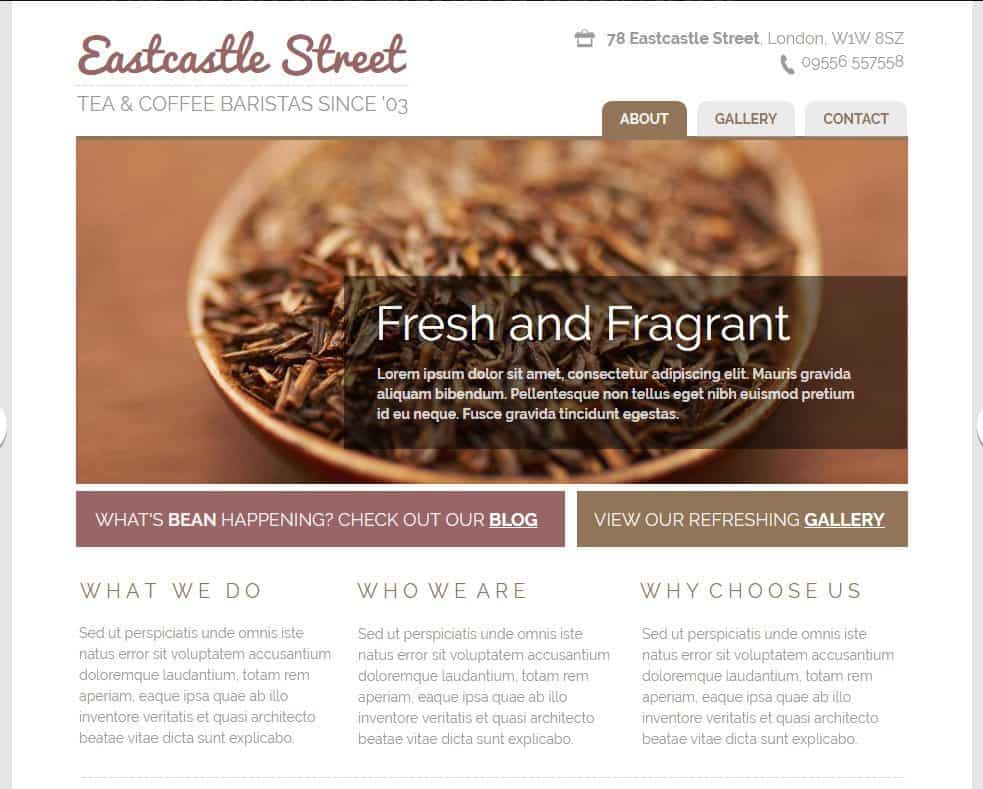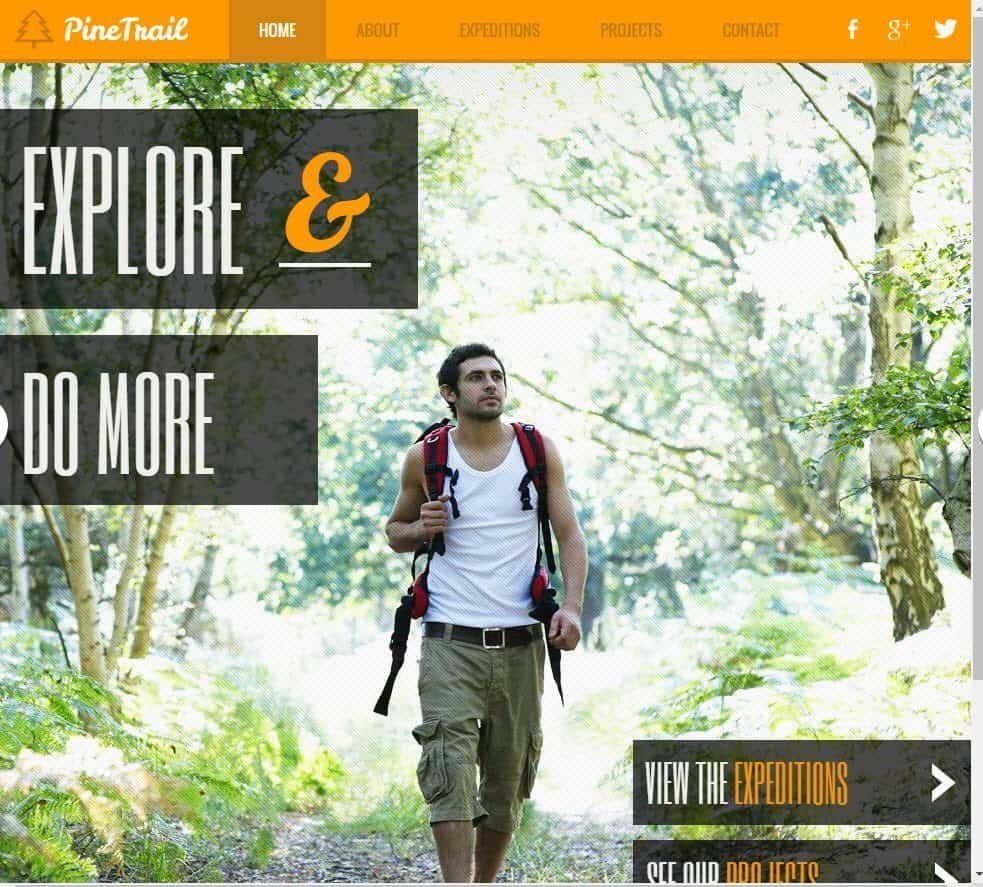 If you want to use the responsive editor and not the original one, you'll need to choose the responsive template (the first one that comes up). It's not really a "template" as we have come to know them — it's more of a blank canvas into which you can plop responsive elements.
Ease of Use
As Moonfruit's original non-responsive editor is still their most complete and well-featured editor, I'll start by focusing on that one. Moonfruit's traditional website editor, while outdated and clunky, allows for a high degree of customization. At times, though, the tools provided can seem a bit complex. This is not a program one can learn in ten minutes; it comes with a definite learning curve and does require an initial time investment. Some of the functions are intuitively designed and user-friendly, but there are many which could stand to be improved as well. I'll note that Moonfruit does give the new user a tutorial that covers the basics of editing, though it is far from comprehensive.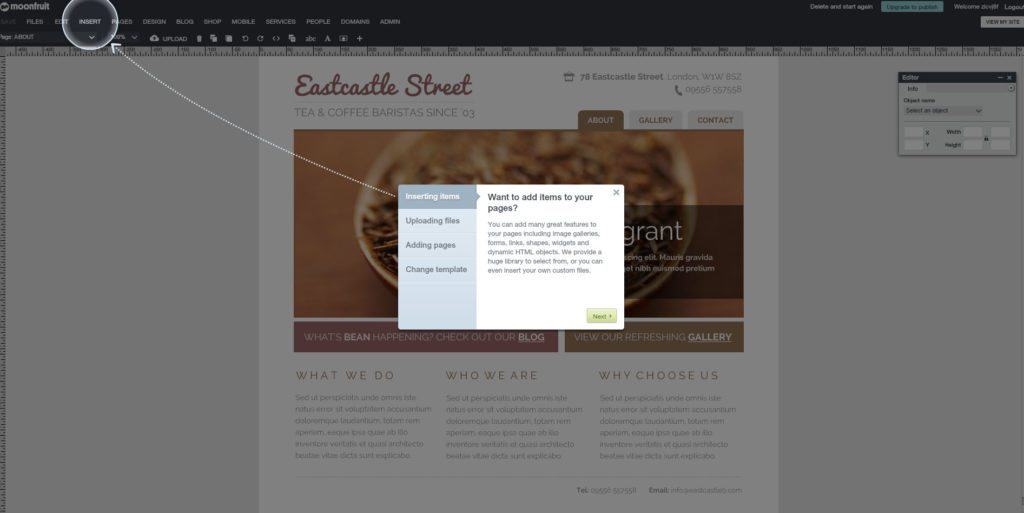 One example of Moonfruit's peculiar approach to user-friendliness: You can undo and redo the edits you make to your site, but the undo and redo buttons are buried under the Edit tab rather than being placed out front in the editor as with a typical website builder. This is odd, because it's not as if Moonfruit hasn't had time to adapt to the ways of modern website building.
Insert Panel: Moonfruit's Insert Panel is an easily navigable tool which gives users the ability to add text boxes, images, widgets, shapes, HTML coding, links, and forms to their websites. It's a small but well-organized panel, offering direct access to the features mentioned above.
Page Master: The Page Master is a separate portion of the Moonfruit editor which displays all editable elements throughout an entire website (rather than showing one page at a time). This tool provides a nice overview and allows users to see the big picture as they edit, modify, and/or customize various part of their websites.
File Folder: Moonfruit does not allow people to upload images or files directly onto their sites. Instead, users must upload all new files to a special folder which stores them until they are needed. This is actually quite practical, especially during a stylistic edit where a user may need to switch out pictures rapidly or try new layouts.
Page Editing: The page editing feature is quite well-designed, allowing users to adjust the length of a page, create specific access and permission settings, and everything in between. This feature is organized and accessible, arranged to assure a maximum level of user-friendliness.
Copy/Paste: This is a simple feature, but one that is rarely seen in modern website editors. Users can copy and paste entire pages or single elements (text boxes, titles, images, etc.). At its most basic level, the copy/paste feature is handy for duplicating elements (like buttons or titles) which will appear on multiple pages. However, this function is perhaps best utilized when performing processes like design editing, as it allows for experimentation and the easy placement of items in multiple locations.
Design Panel: Moonfruit's Design Panel is intricate and almost unnecessarily complex. Whereas most other drag and drop editors approach design from a "click and edit" standpoint, Moonfruit's panel is dedicated to margin adjustments, alignment, and size changes (all based on a HxW ratio that the user must calculate themselves unless the default settings are active). Frankly, I find this feature a little overwhelming, far beyond the reach of most amateur web builders.
Blog: The blog element of this builder might be considered a little simple for this day and age. All the standard features you would expect to find are there, including an RSS feed and a comments box, but there aren't many extra bells and whistles. It manages to get the job done, but without finesse. Note that the blog feature is not available for responsive pages.
Shop: The Moonfruit shop feature is impressive, enabling builders to set up varied categories and currencies for their merchandise and select different pricing, size, and color options. It allows for large picture galleries and even sends out customized notifications when stock runs low. For no additional charge, users also have the option to establish Facebook shops that connect directly to their stores. Really, the one downside to Moonfruit's shop is that the only payment gateway currently available is PayPal; people who make online purchases usually prefer a more direct payment option (a credit/debit card), and some may shy away from the hassle involved with a PayPal transaction. Like the blog feature, the shop is not available for responsive pages.
Features
Let's take a look at what Moonfruit brings to the table in terms of features:
Responsive Pages: When you add a Responsive Page to your site (available to add as a page type), you enter what is essentially an entirely new editor – one much more akin to that of Moonfruit's more contemporary competitors. You'll start by selecting a layout, after which you can place whatever content you wish into the empty slots in your layout. You don't really get a "template" per se — you start with nothing and build your site from scratch using the pre-formatted elements available to you — but the site building process is so simple that you probably won't mind this. Though Moonfruit's responsive pages are a welcome development, several features, including blogging and eCommerce, are not currently available in responsive mode. Moonfruit has some ways to go before its responsive editor can truly stand on its own.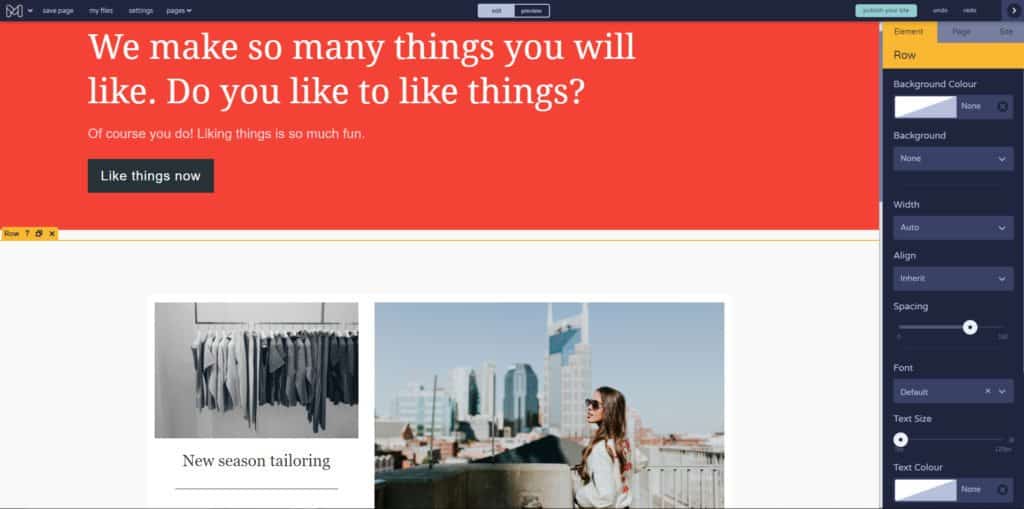 Apps: Moonfruit's app selection, formerly the Widget Library, provides users with an array of practical and whimsical tools, ranging from randomly-shaped buttons to more specific buttons (like a Facebook or Google+ icon) to various preset HTML embeds for services such as SoundCloud and Google Maps. This app collection, while impressive, offers a fairly small collection of widgets and might benefit from additional options.
Google Analytics: Moonfruit provides free access to Google Analytics so that people can accurately track their website traffic and monitor the efficacy of their marketing.
Google Webmaster: Google Webmaster, an extremely practical tool, allows users to view detailed reports about both the visibility and accessibility of their sites on the Google search engine. Many web-builders provide access to Google Analytics, but not many also offer Webmaster. Moonfruit distinguishes itself in that aspect, which speaks to a high level of commitment and a sense of responsibility towards their users.
Search Engine Optimization: Moonfruit allows for custom SEO, which means users can improve search engine visibility by inserting specific meta tags on every page of their websites.
HTML Snippet: This tool enables the placement of custom HTML lines. Certain sites (YouTube and SoundCloud, for example) provide embed codes for things like songs or videos. Moonfruit allows users to copy/paste these codes into the HTML Snippet tool and insert the videos/songs in their own websites. When utilized correctly, code input can increase the overall functionality of a user's website.
Membership Pages: Displaying a renewed commitment to updating their product, Moonfruit recently rolled out its new Membership feature. This new feature can be used to:

Create members-only pages
Add and manage individual page permissions
Create member lists
Email your contacts directly through the Moonfruit editor
Web Design and Editing
Templates: For the standard site editor, Moonfruit offers a decent number of diverse and professional-looking templates (60+), all of which are well-designed from the outset and give users — especially those with little-to-no prior site building experience — the best chance to create a visually appealing end product.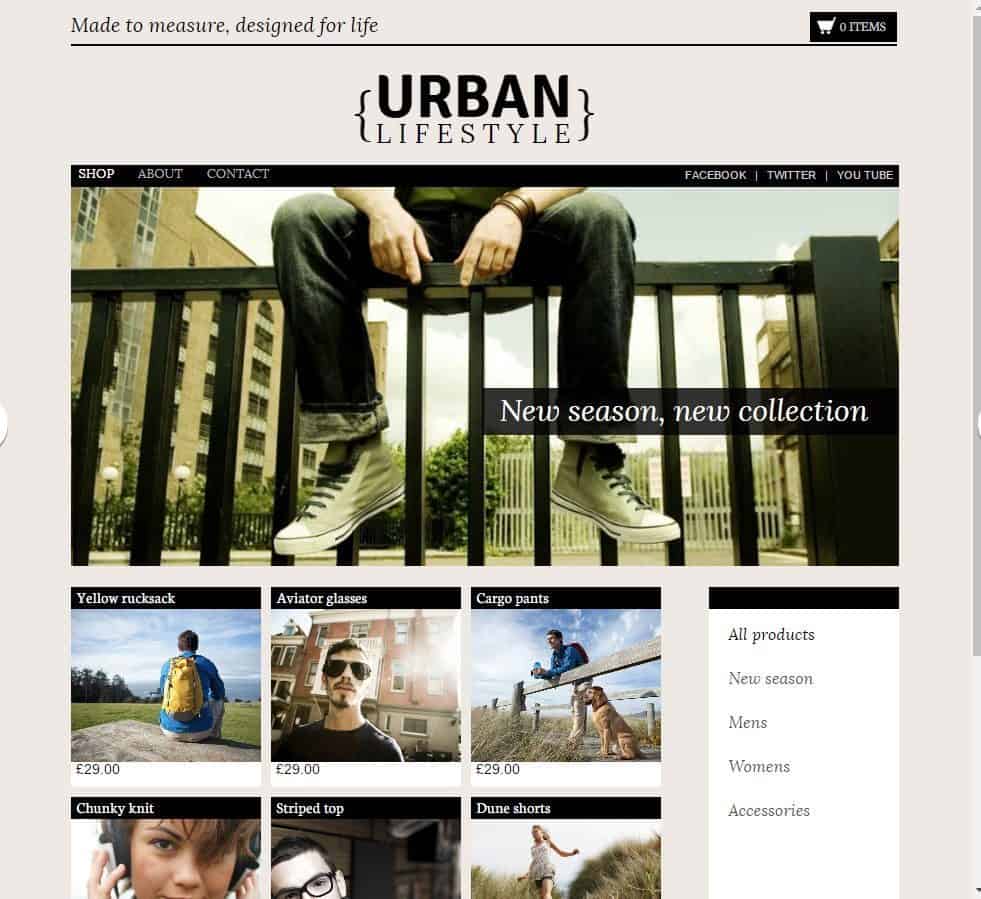 Mobile Editing: At times, the Moonfruit mobile editor seems a bit muddled and it is at most underwhelming. Apart from the ability to modify the most basic elements of a mobile site, such as the position of images or text boxes, users are not given many practical tools to optimize the look/feel of their mobile sites.
Desktop Editor: For the most part, the Moonfruit standard desktop editor is well-designed and functional. It provides users with control over almost every aspect of a site and allows for a high degree of customization and creativity. However, excellent qualities notwithstanding, this editor seems almost painfully outdated at times. Everything is vaguely reminiscent of Windows 98 and the whole program seems about 15 years behind the times – not surprising when one considers that Moonfruit was launched around the turn of the century. By contrast, the responsive editor is much simpler and more contemporary but lacks such essential features as blogging and eCommerce.
Integrations and AddOns
Using Moonfruit's HTML Snippet tool, users have an excellent opportunity to expand the capabilities of their websites. As was mentioned above, the HTML Snippet tool allows for the extraction of embed codes from all over the internet. This eliminates the need for users to add their own codes (a task above the pay grade of most of Moonfruit's client base) while providing the benefit of third-party-designed, custom HTML solutions. It's essentially a win-win.
Thankfully, Moonfruit has made a number of recent additions to their app library that give you some handy built-in integrations. These additions include a Google Search bar, a Spotify player, an Instagram widget, a Pinterest button and the ability to embed a WordPress blog.
Payment Processing
PayPal is currently the only payment processor available directly through the Moonfruit online store, though users can add their own shops and payment processors via the HTML Snippet tool.
Customer Service
In terms of support, Moonfruit offers users several choices, including a contact form, a "technical query" ticket page, and a support page with help articles, several FAQs, a user forum, and a variety of video tutorials.
Customers have mostly positive feedback to offer about the support system and praise the company for providing quick and easy-to-understand responses to questions and complaints. Most complaints about support services are minor, and Moonfruit makes an effort to keep customers happy by responding individually to any issues that may arise.
Negative Reviews and Complaints
Moonfruit has been critiqued as "boring, outdated, and unruly," and the majority of the negative feedback about this program surrounds the following issues:
Old-school user interface
Limited tech support
Inconsistencies in the editor
Use of Flash rather than HTML

Another complaint often heard is the fact that, unlike most modern website builders, you can't switch templates without re-creating your site from scratch.
Note: More than one customer has claimed online that Moonfruit deleted their sites without warning or provocation. This seems unlikely to me and is, at worst, an extremely rare occurrence, but something to take into account nonetheless.
Positive Reviews and Testimonials
Moonfruit is praised by both software reviewers and actual users for features such as:
Automatic SEO
Good blogging tool
Well-designed templates
Overall user-friendliness
Unique approach to drag-and-drop web design
Highly customizable editing system
Simplistic mobile optimization
PayPal integration
Responsive Customer Service
Moonfruit receives praise from many longtime users happy with the services and support they've received from the company. On balance, Moonfruit certainly seems to deliver what longtime users have come to expect, as shown by the company's average customer rating of 8.6 out of 10 on Trustpilot. Whether they meet the needs of an up-and-coming business owner in 2017, however, is another matter entirely.
Final Verdict
Moonfruit has an essentially alluring quality. Its standard, non-responsive editor may not be the most evolved or visually appealing web builder on the market, but it provides ample practical tools, elegant ready-made templates, and the option to use custom HTML input for those who choose to branch out. What's more, it's admittedly out-dated interface just feels…familiar…like a beloved and well-worn pair of tennis shoes. It is practical, reliable, and flat-out comfortable.
That said, comfort is not what most look for in their web editing software, and I don't blame them. Moonfruit is still very much stuck in an older paradigm. Non-intuitive editing, subpar mobile readiness, tired editorial themes, and a lack of choice in payment gateways make for a dulled-down, somewhat unimpressive experience. Can Moonfruit produce a good-quality website? Yes. But at the end of the day, most users are looking for – and would be better served by – a more modern and up-to-date web builder. Moonfruit is great up to a point, but if it's perfection you're striving for I wouldn't necessarily start here.
That said, it is encouraging that Moonfruit has acknowledged the need to modernize their dated product, and their responsive editor is promising indeed. If the responsive editor gets all the features of the older editor, including blogging and an online store, Moonfruit will have come full circle. Let's hope it happens soon.
---
We've done in-depth research on each and confidently recommend them.
We've done in-depth research on each and confidently recommend them.
To learn more about how we score our reviews, see our
Website Builders Rating Criteria
.