Expert Analyst & Reviewer

UPDATED
Advertiser Disclosure: Our unbiased reviews and content are supported in part by
affiliate partnerships
, and we adhere to strict
guidelines
to preserve editorial integrity.
Pros
2,500+ solid templates available for purchase
Exceptional customer support
Excellent eCommerce
Mobile responsive
You can take your site to any web host you want
Cons
No free plan
You'll need to buy web hosting separately
Mediocre blogging tool
MotoCMS Overview
MotoCMS occupies a unique place in the world of DIY website creation. Launched in 2008 by Demetrio Fortman, MotoCMS, as its name subtly suggests, is a CMS (Content Management System), which would seem to place it in the same category as products like WordPress. With a CMS, you use the software provided to manage your site content, but (unlike website builders along the lines of Wix and Squarespace) the CMS itself doesn't host your site — you need to purchase hosting and a domain separately. What's more, website creation is typically a much more laborious and difficult process with a CMS given the high degree of control you have over your website and the various modules and plugins you'll need to install.
MotoCMS aims to narrow the gap between the CMS and the website builder by providing a user-friendly cloud-based website editor that anyone can use — not just techies. By allowing users to create their own websites with a familiar-feeling WYSIWYG editor, MotoCMS's goal is to combine the non-threatening usability of a website builder with the flexibility and versatility of a CMS.
For the average small business owner, do the advantages of MotoCMS's website creation system outweigh such CMS-related complexities as having to choose your own web host? Read on to find out!
Pricing
Most website builders require you to buy a monthly (or yearly) subscription which covers the cost of the website builder, hosting, your domain, and everything else. MotoCMS works differently.
When you sign up to use MotoCMS, you're directed to choose one of the 2,500+ available templates for your site. You can then try out your template freely for a trial period of 14 days. Afterward, you'll need to purchase your template. Buying a template doesn't require a subscription — instead, you make a one-time payment and it's yours forever.
Template prices vary based on the kind of template chosen. As of the writing of this article, MotoCMS 3 templates and eStore templates are about $129-$139, while HTML templates are $99 and landing pages are $29. You'll also need a $39/year subscription to keep the website building interface updated (it receives several updates per year).
You'll then need to buy a hosting plan from a web host. MotoCMS sites have particular requirements of hosting providers, so not just any host will do. MotoCMS recommends three hosts that fit its requirements: InMotion, BlueHost, and GoDaddy. In fact, MotoCMS now has a deal with InMotion in which you get a year's worth of hosting and a domain name for the reduced price of $16.
Additional website services offered by MotoCMS include:
Installation (MotoCMS installs your template to your hosting server): $35
Advanced contact form: $19
Template customization (also covers the cost of hosting and installation): $96
GDPR compliance audit: $45
eCommerce plugin: $39
Promo banners for social media: $79
On-page SEO optimization: $299
Premium support for 3 months: $29
SEO audit: $27
White label (retail a MotoCMS template under your own brand): $18
Developer's license (use one template on up to 3 domains): $200
One year positive SSL certificate: $15
Web-Hosted Or Licensed
MotoCMS provides SaaS software for which you must find a host.
Hardware & Software Requirements
MotoCMS works with all the major browsers. The hosting requirements are as follows:
PHP version v.5.4, 5.5, 5.6, 7.0, 7.1
Zend Guard Loader (for MotoCMS HTML templates)
With MySQL database support (for MotoCMS 3 templates)
Business Types Supported
A CMS like MotoCMS will always be a good solution for companies in the business of online publishing, as well as any other business that involves a large amount of data or other information. If your business doesn't need much from your website and you just want a web presence in as little time as possible, a traditional website builder may better fit your needs, but if you need something more powerful and adaptable, MotoCMS delivers.
There's a MotoCMS template for just about every business type. With over 2,500 templates to choose from, it's highly unlikely your business will be left out.
Ease Of Use
If you've had any experience using modern website builders, you should feel right at home using MotoCMS's website editor. It's a familiar drag-and-drop WYSIWYG system, and you won't need prior experience with a CMS in order to use it.
With such a vast repository of functional and attractive templates available, you shouldn't have to work too hard to make your template work for your business (though you certainly have the tools to do so). When you open your template in the editor, you'll see all the pages of your website on the lefthand side of the screen along with the option to create new pages or pop-up boxes (which can be great tools for collecting your site visitors' email addresses for a mailing list). Your page's properties will appear on the left, allowing for adjustment of your page's SEO settings, design, and the like.
When you click on one of the elements on the page you have displayed, further customization options appear along the right side of the editor. For instance, when you select a block of content, you can choose whether you want the content block to appear on all devices (desktop, tablet, smartphone) on which your site is viewed. On the left side of the editor, the option to add either a) "blocks" of content or b) individual widgets appears.
These content "blocks" are simply arrangements of content pre-assembled by the template designer to fit the purpose of your site. For example, along with blocks for headers and footers, a template designed for a law firm to use may have content blocks available under categories called "Partners And Clients" and "Teams". However, you don't have to add entire blocks of content to your site — you can always add individual widgets instead for precision editing. In fact, certain eStore templates appear to allow only for adding individual widgets, not entire content blocks. Either way, it's a very intuitive process — just click on the block or widget you want to add to your page, plop it where you'd like, and customize it to your heart's content.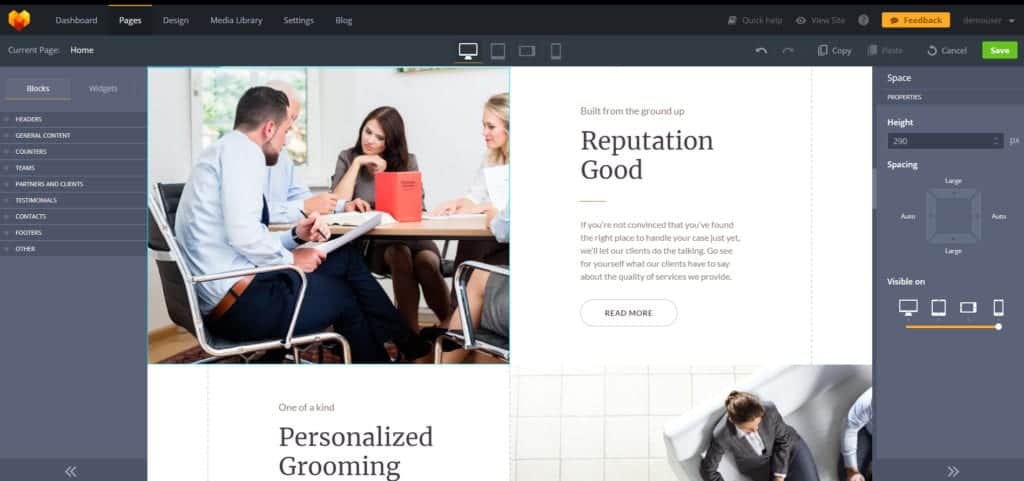 MotoCMS provides undo and redo buttons so that your edits aren't set in stone — you can undo them at any time. (This is such a no-brainer when it comes to ease of use that I'm astounded whenever I see a website builder lacking such buttons.) You can also preview your website as it will display on a desktop, tablet, or smartphone screen. Your site will automatically adjust to fit different screens as MotoCMS sites are mobile responsive so long as you aren't using one of their oldest templates.
When it comes to creating a website, MotoCMS's site creation tool is simple and powerful and is much more reminiscent of Wix than a typical CMS.
Features
Let's take a look at some of the core features offered by MotoCMS.
eCommerce: MotoCMS's fully-featured eCommerce solution, eStore, is a very solid eCommerce tool, very reasonably priced at $39 (one-time charge). Adding products, tracking your orders, checking your daily customers and sales in the Dashboard — it's all quite seamless and intuitive. 15 different payment processors are available, and you can sell products in any currency you wish, though you have to add the specifics of the currency yourself. MotoCMS also provides a series of tutorial videos to help you through the specifics of generating invoices, offering product variations, shipping rates and types, etc.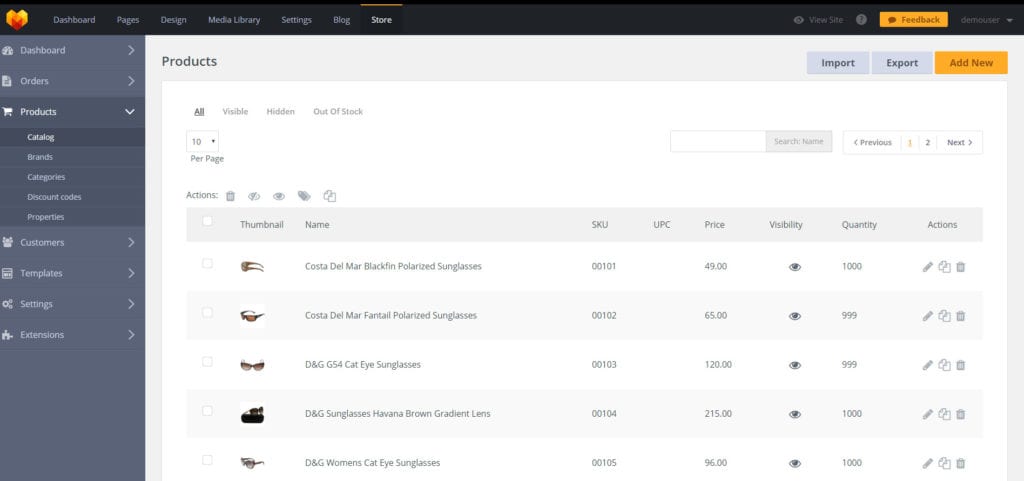 Blogging: MotoCMS's blogging tool allows you to compose blog posts just as if you were building a page using the website builder. Typing out a blog post can actually feel kind of awkward due to the fact that the text field is minuscule when you begin to type out your post and only expands as you type. Otherwise, it's a solid blogging engine. You can connect your blog to your Disqus account to enable comments. Unfortunately, there doesn't seem to be any way to set an automated schedule for when you want your posts to be published. If you're looking for WordPress-level blogging, MotoCMS doesn't quite fit the bill.
Contact Form: MotoCMS's built-in contact form is nicely customizable, both in aesthetics and function. Some website builders give you a relatively fixed/static contact form, and what good is a contact form to a public-facing business if it's not customizable? Thankfully, MotoCMS's contact form allows for customization, and you can specify an email address to which all submitted forms will be sent. If you want a more fully-fleshed form builder, MotoCMS has other options available for a price.
And that's just the beginning. Other features include:
Detailed SEO features
Social media widgets
Google Maps (regular and Pro)
OpenTable reservations
Airbnb app
Appointment scheduling
SlideShare
PayPal button
In addition, web developers can purchase a White Label license with any template so they can sell MotoCMS templates to clients under the developer's own brand.
Web Design & Editing
Templates: As I said, MotoCMS has over 2,500 templates on offer. They may not quite have the style and pizazz of Squarespace's templates, but their functionality and attractiveness are consistent. With such a wide variety of options, you're quite likely to find something that fits your business.
Mobile Editing: There's no MotoCMS smartphone app so you can't edit your site from a mobile device, but you can make edits that are specific to the device on which your site will be viewed. Using the Size and Values tab under the Design Options lets you specify how you want your site elements to look when viewed on different devices.
Customer Service & Support
MotoCMS offers the full range of customer support options: a knowledge base, email, live chat, and phone support.
Negative Reviews & Complaints
It's a real testament to MotoCMS that I had such a hard time finding criticism of the product — either from reviewers or regular users. This is decidedly not the case with most website builders. MotoCMS's blogging capabilities have been criticized, but that's about it.
Positive Reviews & Testimonials
MotoCMS's ease of use, versatility, and powerful eCommerce have been roundly praised, but what's been striking to me is how much MotoCMS users love the customer support they've received from the company. Frankly, I'm not used to seeing a company in this industry get such near-universal praise for how they treat their customers. Don't believe me? Compare and contrast MotoCMS's Trustpilot page with that of Wix or Squarespace and you'll see what I mean. Clearly, MotoCMS enjoys a rare level of rapport with its user base.
Final Thoughts
Here's another big advantage of using a CMS like MotoCMS: you can use any web host you like, and you can change hosts at will! Most website builders lock you into using their platform — you can't just take your site to another host if you want.
If all you want is a website for your business with as little time and effort invested as possible (and there's nothing wrong with that! Time is money and most SMB owners have limited resources), you'll probably be just fine with a simple website builder that includes hosting.
If you need something a cut above the rest, however, MotoCMS makes a very compelling case for your business. Building your website is simple and enjoyable with MotoCMS's intuitive website editor, and with the high level of customer support offered by the company, you should be able to get your site up and running without an inordinate amount of fuss.

---
We've done in-depth research on each and confidently recommend them.
We've done in-depth research on each and confidently recommend them.
To learn more about how we score our reviews, see our
Website Builders Rating Criteria
.