Expert Analyst & Reviewer

UPDATED
Advertiser Disclosure: Our unbiased reviews and content are supported in part by
affiliate partnerships
, and we adhere to strict
guidelines
to preserve editorial integrity.
Pros
Good templates
Good blogging and eCommerce
Excellent contact form
Free plan includes eCommerce
Cons
Limited design customization
Limited features and integrations
Limited customer support
Difficult to use
Mozello Overview
Emerging from Latvia in 2015 to fight for a foothold in the increasingly crowded field of DIY website builders, Mozello is a young site builder specializing in multilingual websites, mobile-friendliness, and easy eCommerce.
Upon launching Mozello, CEO Karlis Blumentals described the product thusly:
"The focus was on creating a minimalist tool that provides anyone looking to build a website with all the key features they need to promote their brand or business."
A visit to Mozello's stripped-down homepage – available in 15 languages – gave me a good feeling about their minimalist approach. It just seems to fit the aesthetic tone and tenor of the times.
Read on to see if there's enough meat on Mozello's bones to substantiate my vaguely positive first impressions.
Pricing
I've noticed that freemium website builders have been increasingly likely to offer some form of eCommerce at the free subscription level, and Mozello, thankfully, is cognizant of this trend. Their pricing details are spelled out here:
Free
Mozello-branded URL
Mobile device support
0.5 GB Storage
Marketing features
Millions of possible designs
Online store for 10 items
Shows small Mozello link
Premium
$7/month (annual plan)
$9/month (quarterly plan)
All of the Above PLUS:
Connect your existing domain
Register a new domain for free
50 GB storage
Online store – 30 items
No Mozello ad
Premium Plus
$14/month (annual plan)
$17/month (quarterly plan)
All of the Above PLUS:
Unlimited storage
Online store – Unlimited items
The free domain has to be factored in when assessing the competitiveness of Mozello's prices. And for including eCommerce without an item limit, the Premium Plus plan is a pretty sweet deal.
For payment, Mozello accepts credit cards and PayPal. EU residents can also pay via wire transfer. Sorry, Brits, but it looks like the wire transfer payment option has an expiration date for you.
¯_(ツ)_/¯
Web-hosted or Licensed
Mozello is web-hosted.
Hardware/Software Requirements
All you'll need is an updated browser. And to answer the question I'm assuming has been burning a hole through your brain since you clicked on this review: Yes, you can use Mozello with Mozilla Firefox.
You're welcome.
Business Types Supported
Mozello's 48 templates appeal to the same sort of businesses (restaurants, gyms, design firms, photography studios) that most website builders cater to. They range from dull to decent.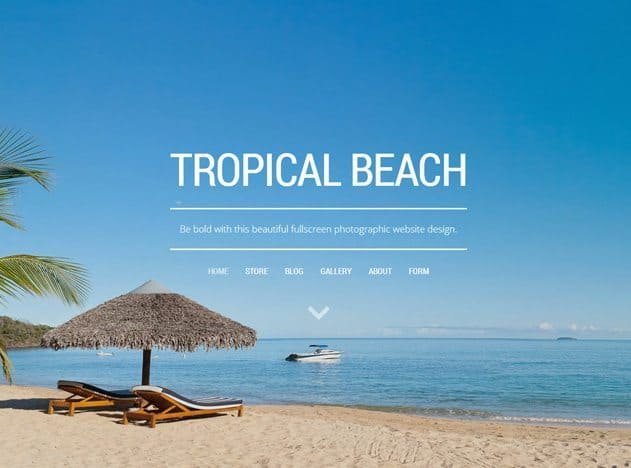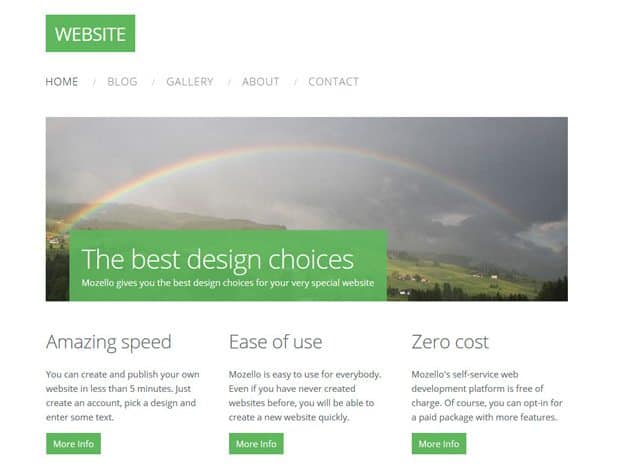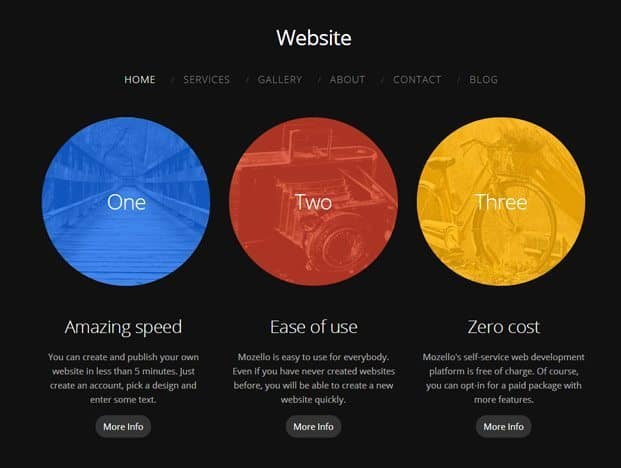 Ease of Use
At first glance, the Mozello editor appears to be quite similar to other website builders of recent vintage, with a live preview as your canvas and editing options laid out along the left of the screen. Play around with the editor, however, and you'll discover that you have less design freedom with Mozello than you do with many competing website builders. You can't just drag an element from the left-hand bar over to your site and place it where you'd like it to go, nor can you drag the elements on your site from location to location. To rearrange elements on your site, you must click "Edit Layout" in the lower right of the editor. Options will then display in the corner of your elements (though not on your header or navigation bar, which will remain fixed) that let you reorder your elements on the page. Basically, you can move them up or down, and that's about it. This approach to website building may lock you into non-embarrassing design choices, but it's not true drag-and-drop. I prefer a bit more freedom.
Because Mozello advertises itself as a minimalist tool, I wasn't expecting to have a plethora of features and widgets at my command. What I didn't anticipate, however, was being unsure as to how to add an element at all. The editor's visual similarity to some of the more seamless website builders out there masks the less-than-user-friendly process of adding elements to your pages. To add an element of your choosing to your current page, you have to go into the layout editor and click on one of the "+" buttons that appears in-between your content blocks. From there, you'll find that you can only add text blocks, a photo gallery and a contact form. You won't find eCommerce as an addable element here – for that, you have to create a new page and select "Catalog or store" as the page type to get started on your online store.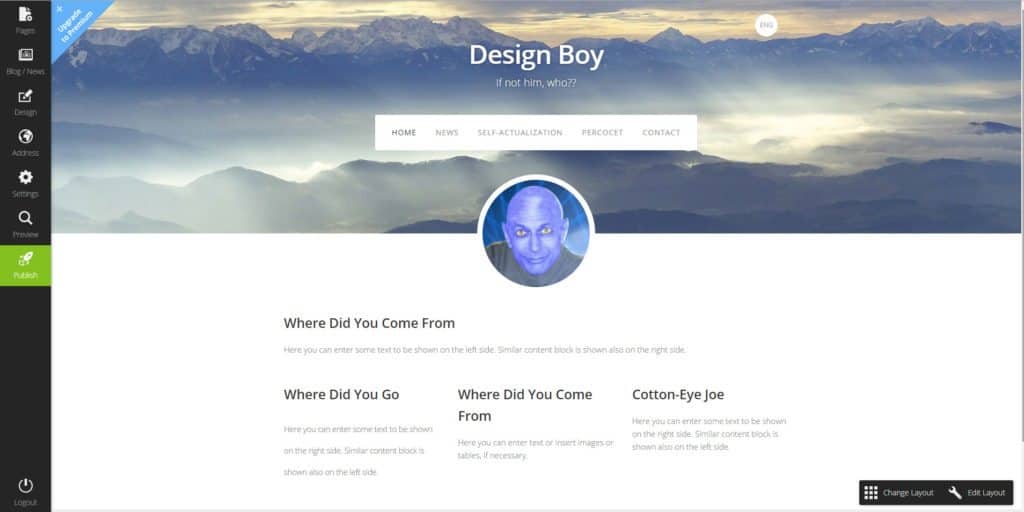 While it's still perfectly possible to create a passable Mozello website without much trouble, it's not as intuitive a process as it could be. What's more, the Preview function doesn't allow you to preview your site in mobile mode, and there are no universal undo/redo buttons that let you revert to previous versions of your site (though individual content blocks do have undo/redo buttons).
Features
When Mozello's CEO described Mozello as a minimalist tool, he meant it. There isn't much of a feature haul here, though Mozello does give you three essential features: Blogging, eCommerce and a contact form. How do these features stack up, you ask?
Blogging: Mozello's blogging tool is basic but attractive and functional. You edit your blog posts as if they were standard content blocks, which means you can add images, videos, files, HTML code, and tables to each post. Comments can be enabled via Mozello's own commenting system or via Disqus. You can't allow for multiple authors, however, nor can you schedule your posts in advance. Nonetheless, it's a decent feature – I've definitely seen worse blogging tools.
eCommerce: Mozello's online store is a robust eCommerce option, though not exactly intuitive – I had to discover how it worked through trial and error. You can place your products into different categories, choose among dozens of currencies in which to display prices, add delivery methods, set EU or US-specific tax settings, and choose how to accept payment. While you can't adjust your store's visuals, it's a good basic eCommerce system, and remember, with a Premium Plus subscription, there's no limit to the number of products you can offer.
Contact Form: Mozello's contact form is highly customizable, which is the main requirement for a website builder's contact form to be useful for a small business. Add as many elements as you like, set them as required or not, and add checkboxes and combo boxes (if you desire). You can receive user form data on your Mozello site or have it sent to your email. As contact forms go, it won't let you down.
Beyond these three essentials, there isn't a great deal else to be found. One handy aspect of Mozello is that you can create multilingual sites. You can choose from dozens of different languages, and unique pages will display for your site visitors based on the language of their browsers. You'll have to do the translating yourself, of course.
Beyond the above, you can embed videos from YouTube or Vimeo, add maps, insert HTML code into the body of your page (the ability to insert HTML into your header is a premium feature), and add a table to your page.
Mozello promises minimalism, and it delivers!
Web Design and Editing
Templates: Mozello's 48 responsive templates are good enough to provide a foundation for your small business or hobbyist website. I found most of them rather mundane, though.
Mobile Editor: While Mozello has no native app for editing, it is possible to edit your Mozello site from a mobile device. I wouldn't recommend it, however. I stopped attempting to make edits to my site with my smartphone after about a minute of struggling.
Integrations and AddOns
Mozello is integrated with Google Maps, Google Analytics, Disqus comments, and YouTube/Vimeo. In keeping with the whole minimalist vibe, Mozello won't bother you with any further pesky integrations.
Payment Processing
Mozello's eCommerce makes use of the following payment processors:
Customer Support
Mozello's customer support is a bit minimalist as well: there's email support and a not-terribly-extensive FAQ. A more extensive knowledge base and some form of live support would be nice, but Mozello is just one year old, and a more thorough customer support system is usually something that comes along later in a website builder's evolution. There's no guarantee that said evolution will occur, but come on, let's be optimistic for once.
Negative Reviews and Complaints
Mozello has yet to attract much attention from the reviewer community. In fact, I found just one review of Mozello. Therein, the reviewer found fault with the lack of design customization options and scant customer support options.
Positive Reviews and Testimonials
The aforementioned lone Mozello review I found was largely complimentary of the product, praising its simplicity, ease-of-use and decent online store options.
Final Verdict
Mozello is what it is: a simple website builder for creating clean, functional, slightly spartan websites. The blogging and eCommerce are more than adequate, and the solid if unspectacular aesthetics won't leave you embarrassed. I would appreciate a more intuitive drag-and-drop editing system and deeper design customization options, but Mozello's particular focus on being lean and mean isn't really conducive to design creativity. Nonetheless, for the right kind of user, Mozello may be just the tool for the job. It's easy, quick, and you won't break the bank.
I'll keep you updated on this emerging website builder. I can see Mozello growing into something more with just a few feature additions and more extensive customer support.
---
We've done in-depth research on each and confidently recommend them.
We've done in-depth research on each and confidently recommend them.
To learn more about how we score our reviews, see our
Website Builders Rating Criteria
.