Expert Analyst & Reviewer

UPDATED
Advertiser Disclosure: Our unbiased reviews and content are supported in part by
affiliate partnerships
, and we adhere to strict
guidelines
to preserve editorial integrity.
Pros
All-in-one payments
Free mPOS app
Solid web dashboard
Advanced reporting tools
Advanced customer database
Cons
iOS only
Limited features
Limited ecommerce support
MX Merchant Overview
Not that I want to sound like a hipster, but you probably haven't heard of MX Merchant. It's not exactly a well-known service. But it got on our radar because Dharma Merchant Services, one of our favorite processors, offers it as a centralized platform for its merchants. Completely free of charge, too! However, I was a bit wary coming into my MX Merchant review. It's a little-known name that promises to deliver a lot: In essence, MX Merchant is a quasi omni-channel payments platform. It covers brick and mortar, mPOS, and online sales.
However, I say "quasi" because the eCommerce features aren't fully fledged at the moment (that should change soon). In addition, MX Merchant isn't exactly forthcoming about how its actual payments processing works, or rates and fees. Part of that non-disclosure is because of how modular MX Merchant is. You can pick and choose which elements of the service you need to use, including specialized apps targeted at different industries. On the MX Merchant site, there's no reference whatsoever to who does the payment processing, or what the rates are, either.
If you do some digging, you'll learn that MX Merchant was developed by a company called Priority Payment Systems (PPS). We don't currently have a review for PPS on Merchant Maverick, but it seems to be a small company with some documented shady practices. So that automatically makes me a bit wary.
But here's the thing: PPS has also opened the platform up to licensing from other ISOs (that's where Dharma comes in), as well as banks and even developers. MX Merchant can be totally uncoupled from PPS's payment processing, and that's definitely awesome.
I got a chance to test drive MX Merchant's services and see how they work. Some of it is pretty solid, while I'm a bit more skeptical of some of the other aspects of the service. But overall, I think it's a useful tool for merchants, and I do like that it caters to a variety of niches and industries instead of forcing a one-size-fits-all approach onto merchants. For that reason (and others), we're awarding it 4 stars.
I don't recommend signing up with Priority Payment Systems to get access to MX Merchant. It's essentially a gateway, so you can bring your own payment processor, which means you'll get rates and contract therms that are (hopefully) clear and fair. Likewise, I don't think you should sign up with a processor just because they offer MX Merchant. Do your research, look for pricing that is transparent and affordable. Obviously, we highly recommend Dharma Merchant Services. You'll get a fair, affordable interchange-plus plan with no hidden costs or expensive early termination fees, as well as excellent service. Dharma provides excellent customer service, as well.
So read on for my full MX Merchant review. If you've got experience with any of MX's services, whether it's the mPOS apps, or the dashboard, or something else, we would love to hear from you! Be sure to check out our comment guidelines, then leave your thoughts!
Products & Services
Unlike a lot of other platforms and packages that offer similar services, MX Merchant has a very modular approach. Most of the time, you pay a flat fee and get access to everything. That's not true here — merchants, for developers, or ISOs, can choose from multiple apps and build a custom package tailored to their business. In essence, that means value is relative, but it could still be a good deal for you.
MX's core offerings are as follows:
Mobile Point Of Sale (mPOS)
If you need an mPOS, MX Merchant offers three options for merchants:
MX Merchant Express (Entry-level version)
MX iPOS (Pro version)
MX Merchant Retail
If you're using Dharma, you'll get access to MX Merchant Express, the basic iteration of the app, for free. My biggest frustration is that all of the mobile apps are iOS only, which means the entire Android ecosystem is shut out.
I'm also a little bit disappointed by just how truly basic the MX Merchant Express app is. When you log into the app, you'll be presented with a quick-sale screen, which is pretty common in the mPOS space. But then you'll want to explore everything the app can do…and there isn't much. There's not even a cash recording feature. That means no split tenders, no auto-calculating change, etc.
You can set custom tax, tip, and discounts (even set discounts by dollar amount or percentage), all of which are nice to see. You can even connect a receipt printer if you want.
However, there's one very, very obvious missing feature: an item library.
Most mPOS systems have at the very least a basic item library, where you can list items with prices and descriptions. They may or may not also support item variants, multiple price points, or add-ons. The MX Merchant Express app doesn't have any capability for storing items. I suppose that's why they call it "Express," though.
The one thing that did surprise me: the app does support camera scanning for card data. PayPal and a handful of other apps support this, but it's far from a common feature.
If you just need to occasionally punch in some sales or you sell too many products/rotate inventory often enough to justify manually loading them into an item library, this will definitely work for you. (Apart from Square, most mPOS systems don't support bulk uploading of items through the web dashboard, either.)
Something else that leaves me less than impressed is the card reader options. It appears there's some flexibility in which device you use. Dharma offers the Walker CX2 from AnywhereCommerce; the iPOS pro app supports (at minimum) MagTek's iDynamo and uDynamo readers. all of these connect to phones via the headphone jack, which means they're useless on the iPhone 7, and EMV support is inconsistent.
If you want an mPOS with more detailed reporting, an item library, and more robust features, you're going to have to look at MX Merchant's other options: Retail and MX iPOS.
As far as features go, MX iPOS seems to be a step up from Express. It's not tablet optimized (so it's built for iPhone), but it has an item library, support for barcode scanning and a cash drawer, and a loyalty program.
MX Retail, though, is clearly the heavy-duty solution. First, it's iPad-exclusive. It has a searchable interface for product names or SKUs, as well as cash and check recording. Retail even offers multi-location support and allows you to keep multiple carts/tabs open.
Web Dashboard & Virtual Terminal
The core of any sort of payments platform is always the web dashboard. Personally, I was more impressed by the web dashboard than the mobile app. When you log in, you're taken directly to a pretty page with a couple of basic reports on it.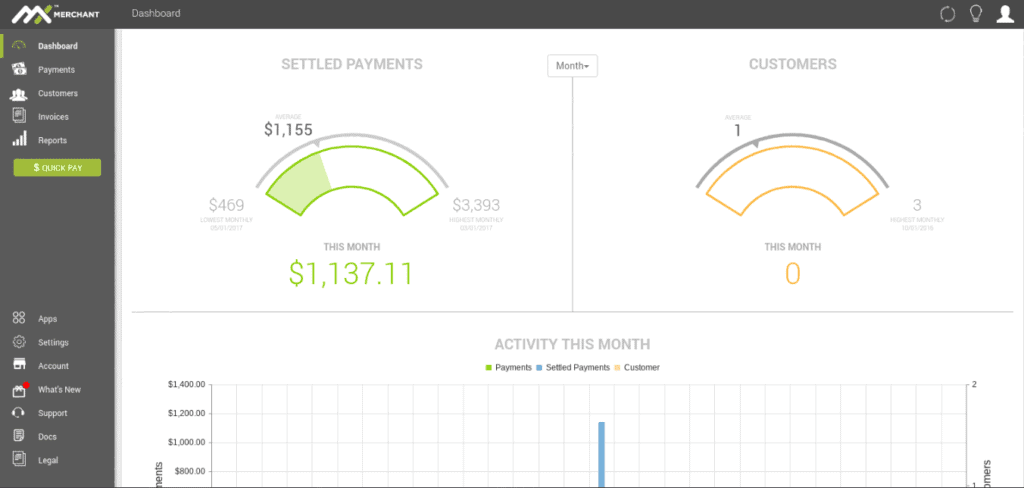 Dig around and you'll find a reports page where you can pick from an assortment of reports, a customer database that you can fill with information, and even a page with all of your invoices, a summary of their terms and the current status.
The customer database is fairly comprehensive, which is nice. You can put in a lot of information to get to know your customers. Plus, the database syncs even with MX Merchant Express. You can search for customers in the database from within the app. That's definitely not something you find in every mPOS.
Don't forget that MX Merchant also gives you a secure virtual terminal. Plus, you can send invoices out from within the dashboard (linked to your customer database). There's even a recurring billing option. This is nice to see.
So, here's where we start to see more of MX Merchant's modular design: Yes, you can use the dashboard for invoicing — but there's also a mobile app for it, which syncs up with the dashboard. This isn't a part of the mPOS apps like you see with PayPal Here or Square, though. It's a standalone invoicing app.
And while we're on that topic: MX also offers a separate app for B2B payment acceptance. If you go through Dharma for this, it'll lower your processing rates, though your experience may vary depending on who you're signed up with. There's also an additional Insights app for more robust reporting on the go.
Having multiple apps to run different aspects of your business is definitely a daunting prospect. But it really does seem like MX Merchant targets the features most needed by particular industries and develops tools for them. That's nice to see, because for a long time, it felt like payments solutions were either incredibly niche, or one size fits all. However, the dashboard really unifies it all and gives you all the information you need. You can see which apps are connected and which ones are available to you. It also looks like syncing between the apps and the dashboard is solid enough that you can manage your business from either side. Obviously you can do more with the dashboard — but if you're in the field without computer access, a phone or tablet can get you by just fine to do what you need.
eCommerce Support
I think MX Merchant's online sales options are very much a work in progress, but I have hopes for it. The company's actual eCommerce system, called MX Storefront, doesn't appear to have a release yet — but it's in the works and coming soon. This looks to be your standard hosted storefront plan, like Square and others that have integrated an online store into their payments systems. It probably won't be as fully featured as say, Shopify, but I am reasonably hopeful that it'll cover everything you need to run a proper online store.
That's good because the current option is adding payment links to the site. Not buttons, links. Yes, you heard that right.
Don't get me wrong — this is a very, very good feature to offer. It's a lot simpler for merchants who only sell one or two products or nonprofits that want to just collect money. However, if you need more than that, you're going to find it frustrating. Payment links don't work like shopping carts — so you can't add multiple items to an order and check out. All you can do is buy one item at a time. The more options you have, the less thrilled your customers are going to be.
It took me a moment to wrap my head around the payment links because they work a bit differently than your standard "buy button." Basically, you'll fill out some some information and MX will generate a link. You can either redirect customers from your page to that link, or embed the link as an object on your page (you might need some coding knowledge for that option). You can then redirect shoppers to "success!" "failure!" pages depending on whether the payment goes through.
I'd like to see more MX invest more in the web store, because that will go a long way toward making it a viable option for merchants.
Final Thoughts On Services
Overall, though, I think the unified dashboard is what makes MX Merchant shine. Despite how many apps are available, they all play nicely with the dashboard and you can easily run your business from practically anywhere. The modular approach actually seems to work in this context, but at an individual level your opinion will vary based on how many separate apps you need to download to run your business on a daily basis. If only some people in your organization need certain apps, it's probably less frustrating than 1 person having to switch between 3 or more apps. But I don't think every merchant experience will be the same here.
MX Merchant Rates & Fees
Priority Payment Systems doesn't post anything about pricing on its website or the MX Merchant site. I never like this approach, but I get that it's a customizable platform, and that makes price quotes more difficult.
I suspect most ISOs that license the platform for its use will provide it at little to no cost to its merchants — at least the web dashboard part. You might incur additional fees depending on the app used. For example, Dharma provides the MX Merchant Express app for free, but charges $10/month for the Insights app.
If you sign up with MX Merchant directly, you can expect to pay monthly fees for access to the software on top of your processing fees. I encourage you to explore options other than PPS, and don't let yourself get suckered into signing a contract for processing. Read everything before you sign anything.
Sales & Advertising Transparency
There isn't a lot of advertising out there for MX Merchant. Honestly, there's not even a separate Facebook page for MX Merchant, just the Priority Payment Systems page. And without too much user chatter, it's hard to see whether MX Merchant delivers on its promises.
The biggest problem is the lack of any sort disclosure about payments. I'd love to see at least something about how payments even work for merchants.
So let's call this one a wash? We'll keep an eye out and see if more merchant chatter appears.
Contract Length & Termination
Nothing in the user agreement mentions contract length or termination — which isn't surprising, given that MX Merchant is functionally a gateway with payments uncoupled from the software. This seems to be like your standard SaaS package, billed monthly.
However, make sure you read whatever processing agreement you sign, in addition to the MX Merchant legal terms.
Customer Service & Technical Support
Check out he website and you'll see access to both phone and email support. That alone is unusual — I'm used to a world where phone support is a luxury reserved for the most elite of services. But yes, you do in fact get round-the-clock phone support, which is absolutely crucial for merchants.
Log into the MX platform, go to "Support" in the dashboard, and you'll also see that MX Merchant offers a live chat option
This makes me happy. Email based support is just not enough for merchants to get buy. They need fast answers, not 24-hour turnaround times. I like that you don't even need a code to access the phone support system.
However, just because it exists, doesn't mean it's effective. We don't have enough evidence to say one way or another, but if you've used MX Merchant's support, please leave a comment!
And don't forget — actual payments-related issues (not software issues) will go through whoever handles your processing, not MX Merchant.
Negative Reviews & Complaints
There is, at this time, not a lot of chatter about MX Merchant online. I honestly hope that will change. Most of what I see relates to MX's parent company, Priority Payment Systems. However, given that the platform is processor-agnostic, it's not easy to fully judge MX products by Priority's payment processing business.
I can see some shortcomings to the system, and I imagine others will feel similarly. The mPOS app is very basic, and you could easily wind up having to download and use multiple apps to run your business effectively. The payment links feature is so-so, so we'll have to wait and see how MX Storefront fares a valid eCommerce solution.
Positive Reviews & Testimonials
Again, there isn't a lot in the way of merchant word of mouth right now. We'll keep an eye out in future review updates for more chatter.
Those of you who are processing through Dharma and get access to MX Merchant, we'd love to hear from you! Check our comment guidelines and then leave us your thoughts! Good or bad, your commentary is important to assess these services
Final Verdict
MX Merchant is a sort of obscure service compared to big brands — but I think it's a capable one. There's a lot of niche apps targeting many kinds of businesses. The eCommerce element could use some work, and I wish the entry-level mPOS app were just slightly more advanced. But… that said, the other mPOS apps make up for it. What impresses me is the integration between all the services. The web dashboard and customer database do a really good job at connecting everything, but the apps are still functional without the dashboard.
The signs point to MX Merchant having the capacity for really good customer support, given that you get both live chat and phone support. However, there isn't enough commentary from actual merchants right now to say whether PPS actually delivers. I encourage you to be careful in choosing a processor to pair with MX Merchant — if you don't have one already, make sure you shop around and find the best deal. I don't advise that you sign up with PPS just because it's convenient. If you do want to enjoy the best of both worlds, you're in good hands with Dharma Merchant Services.
All in all, I think it's worth giving MX Merchant 4 stars right now. We'll keep an eye out for more information. For those of you who are using MX Merchant right now, we'd love to hear from you! Check out our comment guidelines and leave us your thoughts!
As always, thanks for reading!
---