Namecheap Review
Namecheap is an inexpensive option for website hosting, but its website builder options might frustrate some users. Read our review to find out more.
Expert Analyst & Reviewer

UPDATED
Advertiser Disclosure: Our unbiased reviews and content are supported in part by
affiliate partnerships
, and we adhere to strict
guidelines
to preserve editorial integrity.
Namecheap Website Builder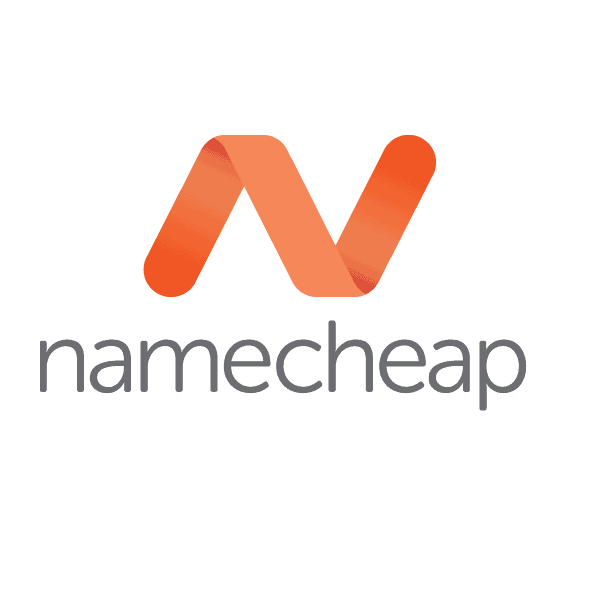 Namecheap Website Builder At A Glance
One-stop-shop for purchasing domains, web hosting, SSL certificates, and building websites
Very limited template-based website builder
Best for building portfolio, "about us", and simple one-pager websites
---
Pros
Inexpensive site hosting
Free domain for one year (on annual plans)
Full feature set on all plans
Cons
Not ideal for highly-trafficked sites
Very limited features and integrations
Not suited for businesses
What is Namecheap?
Namecheap is a domain registrar and web hosting provider that now offers website builder software with each shared web hosting plan. Users choose a template, then customize it by adding, editing, and removing pre-built elements all in a simple dashboard.
Namecheap Pricing
| Namecheap Website Builder Plans | Price | When To Use |
| --- | --- | --- |
| Namecheap Stellar | $4.48/month | If you want to create an online presence or sell a few items online |
| Namecheap Stellar Plus | $6.48/month | If you want to create several websites for clients or different product offerings |
| Namecheap Business | $9.48/month | If you want unlimited cloud storage for your websites |
To access the Namecheap website builder, you must first purchase a shared web hosting plan and connect at least one domain. Shared hosting means that you share server space with a bunch of other websites, which is why it's so inexpensive.
Namecheap offers free (for the first year) and discounted domains to users on their shared hosting plans, and you can always transfer your current domain from a different registrar.
Note: If you purchase a yearly or two-year shared hosting subscription, you get around a 50% discount. After that, pricing increases to the monthly rates listed below.
Namecheap Stellar
Namecheap's Stellar shared hosting plan costs $4.48/month and includes:
Up to three websites (three unique domain names tied to your hosting plan)
30 subdomains (for example, a site called small.com might have a subdomain dedicated to their store, which would be shop.small.com)
Backups twice a week
20 GB SSD
Free domain name for the first year (annual plans only)
Free content delivery network (CDN) that stores your website data in datacenters closest to your target audience and serves up your web pages faster
300,000 file limit
Unmetered bandwidth
50 FTP users, so 50 different people can have an account on the backend of your website
30 domain-specific email accounts (e.g. [email protected], [email protected])
Lifetime free WhoisGuard privacy protection for your domain
50 PositiveSSL (Secure Sockets Layer) certificates, which keep your site secure, are free for the first year (but will renew at regular pricing)
30-day money-back guarantee (for new Namecheap customers)
24/7 live chat customer support
Stellar Plus
Namecheap's Stellar Plus plan costs $6.48/month and includes everything in Namecheap Stellar plus:
Unlimited websites, which means that you can add as many new domain names to your hosting plan as you want
Unlimited subdomains
Unmetered SSD-Accelerated disk space (subject to Namecheap's Acceptable Use Policy, which specifies exactly how much CPU and physical memory your site can take up normally and during bursts of high traffic)
AutoBackup
Unlimited FTP users
Stellar Business
Namecheap's Stellar Plus plan costs $9.48/month and includes everything in Namecheap Stellar Plus, as well as:
50 GB Pure SSD disk space
Cloud storage available in US datacenters (datacenters are the physical places where physical servers are held)
Personal nameservers
600,000 file limit
Namecheap Extra Costs & Fees
| Namecheap Website Builder Extra Costs | Price |
| --- | --- |
| Domain Name | Starts at $14.98/year after first-year discount |
| Dedicated IP Address | $2/month |
| SSL Certificate | $7/year-$70/year after first-year discount |
You may get a free or discounted domain name for the first year of your Namecheap subscription. However, your domain renewal price will start at $12.98/year. This fee is associated with just about every website builder.
Your SSL certificate, which secures your site and site visitor trust, is only free for the first year. After that, you must purchase a certificate annually. Prices vary widely based on your security needs and subscription length (1-5 years), but those offered via Namecheap range from $7-$70 per year for one domain.
The only other cost listed on the shared hosting pricing page is $2/month for a dedicated IP address. While not a requirement, this is a good idea for some business types.
Namecheap Features
Namecheap Themes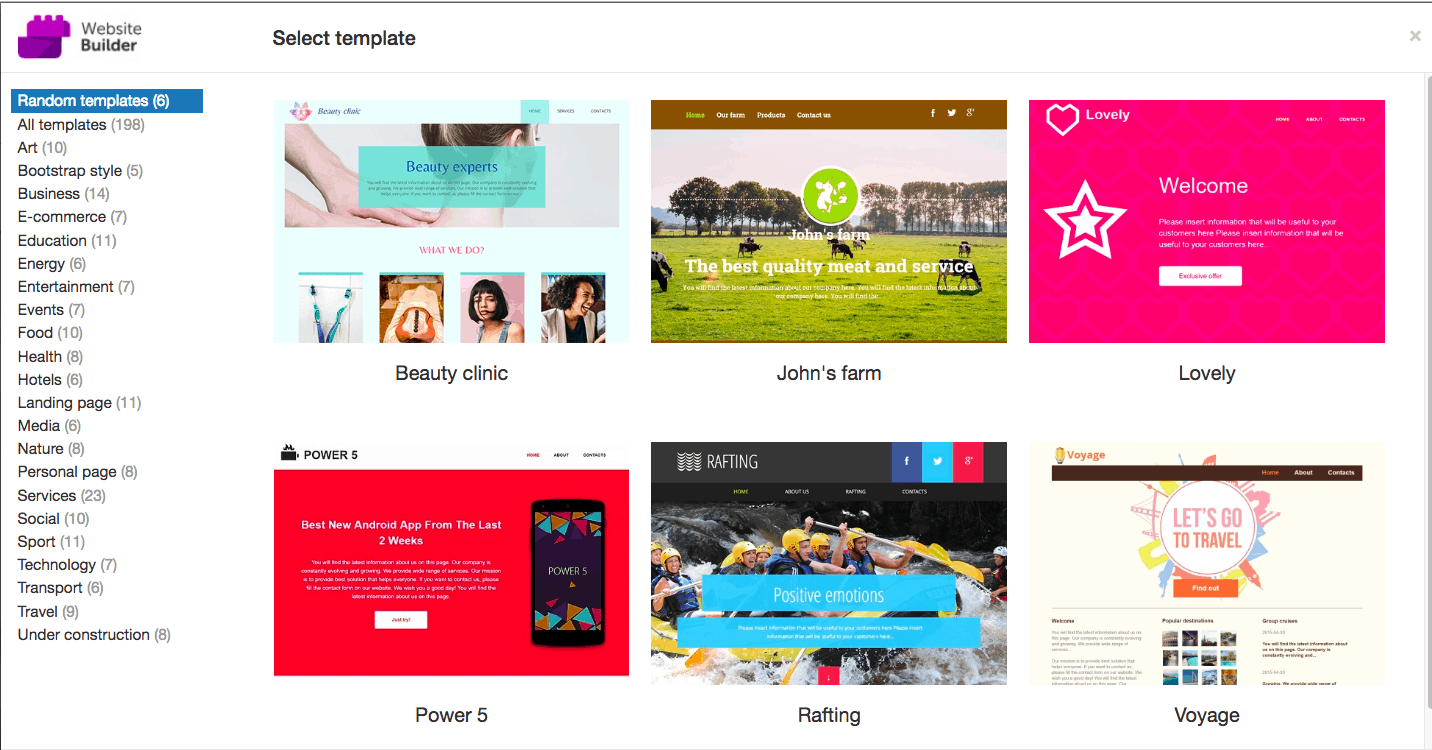 To build a Namecheap website, you must select a template. You cannot start from scratch. Namecheap offers approximately 230 templates.
Templates come with pre-built pages that you can edit using a line grid or freely dropping elements onto the page. The overall quality of templates is respectable, but many are dated or basic. Most are not quite as elegant or contemporary as a Wix or Squarespace design.
Website templates are supposed to be mobile-responsive and look excellent on all devices. However, after a 2021 update, many users complain about the lack of responsiveness.
Note: If you change templates after editing, the changes to the current template will be lost. You can save the website as a file on your computer and restore it later if needed.
Types Of Payments Accepted With Namecheap
Namecheap accepts:
Alipay
Mollie (not supported in the US)
WebMoney (no longer available in the US)
Easypay
PayU
Qiwi (US buyers cannot open a Qiwi account)
Paysera
PayFast (need a South African bank account to accept payments via PayFast)
2Checkout (now known as Verifone)
Paytrail (not available for US merchants)
Namecheap does not have in-house payment processing capabilities.
Selling On Multiple Sales Channels Using Namecheap
You cannot directly sell on social media or any marketplaces using Namecheap.
Does Namecheap Offer Buy Buttons?
Buy buttons (read our guide on how to use buy buttons on your blog or website) are pieces of code that, to the user, show up as buttons that, when clicked, will take them to the product checkout page. There are many benefits of using buy buttons on your website, including a faster checkout experience.
You can add buy buttons for the third-party payment processors listed above on your Namecheap website.
However, each buy button must be individually configured. You cannot sync your product inventory with buy buttons, so you have to enter the associated product's information within a specific button manually.
Selling Internationally
You can manually change the currency you accept. It does not appear that the web builder has currency conversion functionalities.
Namecheap has a "language switcher" feature for web content translation. However, you must manually create different versions of your website. You must rewrite almost all the site's content in another language, repeating the process until you have all the translations you want to include.
Namecheap Marketing Features
You can link your Facebook, Instagram, Pinterest, Flickr, and Twitter account feeds to show on your web pages. You can also add the Relate Social app (which is a paid monthly add-on) to schedule social media posts and monitor how your posts perform.
There's also an option to create Google AdSense ads and paste the HTML code into your website.
Otherwise, Namecheap is pretty light on the marketing features.
Namecheap Product Limits
Namecheap does not appear to have any product limits, mostly because the website builder does not have an inventory management component at all.
Inventory Management With Namecheap
Namecheap does not offer a native inventory management solution. There are currently no straightforward integrations with any inventory management software.
You must manually edit product quantities for each product, which is why selling in large quantities, selling variable items, and having any complex sales setup at all is not recommended.
Namecheap Shipping Tools
Namecheap does not offer a native shipping solution or integration with any third-party shipping app.
Namecheap SEO Tools
You can customize the title, description, and URL of your site's pages, add metadata, force users to land on an SSL-certified version of your site, generate a sitemap, enable robots.txt so that search engine robots can find and categorize your site, and designate pages that search bots should not look through.
Unlike other web builders, Namecheap expects you to understand and use these SEO fundamentals. There is no "enable SEO" tool or automated page optimization for site owners who don't want to learn and then manually enter SEO information.
Read our post on how to improve a business website to learn more about site optimization and getting found on Google.
Blogging
Namecheap does have a blog option. You choose a layout, write out the post, and then publish.
There are blogging integrations via the Softaculous script library, which Namecheap store owners have access to. However, they are mostly open-source options and will require some coding skills to install. I recommend sticking with the built-in blog.
Namecheap Coupons & Discounts
Namecheap does not give you the ability to offer discount incentives for potential buyers.
Developer Tools
Within the website builder itself, there are just a few API connections you can make to external accounts such as Google Maps.
You can make API calls through the developer tools section of your Namecheap profile. There are several steps you must take to get API access and make those calls. It's not a straightforward "copy-and-paste a string of letters into a box" process like it is for other web builders.
You can paste HTML code to your website.
In-Person Selling Tools
There are no in-person selling tools available at this time.
Is Namecheap Website Builder Easy To Use?
Getting to the website builder itself is a multi-step process, especially if you don't quite understand what the cPanel is and what it's for. Your cPanel account is separate from your main Namecheap account, and that frustrated many users.
It's relatively easy to drop elements into the visual page builder, but customizing each element, positioning it via the line grid, and trying to make each page mobile responsive gets old, fast.
The "undo" tool does not work very well. If you want to get back to a previous version of a website, you are supposed to store your whole website as a file on your desktop, close your browser window, and then upload the site file again later.
Incredibly, the most irritating part of the Namecheap Website Builder is not the web builder itself. It's the fact that there is so little guidance out there on how to set up and use a Namecheap website.
In general, if you're building more than a simple landing page, Namecheap gets unnecessarily difficult to work with.
Customer Service & Support
| Namecheap Website Builder Support | Availability |
| --- | --- |
| Phone Support | |
| Email Support | |
| Support Tickets | |
| Live Chat | |
| Dedicated Support Representative | |
| Knowledge Base or Help Center | |
| Videos & Tutorials | |
| Company Blog | Not site builder-specific |
| Social Media | |
In terms of customer support, Namecheap offers:
Live Support: Namecheap offers 24/7 live chat support on all shared hosting plans.
Email: You may email support tickets to Namecheap and customer support will reach out.
Blog: Namecheap maintains a blog, but the posts are generic and not focused on the web builder itself.
Knowledgebase: Namecheap has a knowledgebase that is, admittedly, difficult to navigate.
Social Media: Namecheap is active on YouTube, Facebook, Twitter, and Instagram, but you'll be redirected to the company Help Center if you click "Contact Us" on the company's social media profiles.
It should be noted that when you go to submit a ticket, "Website Builder" is not currently listed as a specific department you can take to, even though the website builder has been an available service for some time now.
Namecheap Integrations & Add-Ons
Namecheap has a small app store of around 15 third-party integrations, most of which are store builders that are supposed to connect to your domain and hosting plan, not necessarily a website.
Namecheap customers have access to Softaculous, a script library with 100+ scripts you can install in the cPanel of your Namecheap profile. Most require some coding knowledge to get up and running. There are very few "popular" web applications that you can connect to through Softaculous.
Namecheap Reviews
Namecheap's main selling point is not the website builder but its domain and web hosting services. So, the majority of positive and negative reviews are about those two offerings.
Since you need a Namecheap shared hosting plan and domain name to access the web builder, it makes sense to look at the whole picture.
Negative Namecheap Reviews & Complaints
In general, Namecheap customers complained that:
Customer service is poor
There are too many web builder limitations
The web builder is not beginner-friendly
Multi-page websites are difficult to maneuver
Positive Namecheap Reviews & Testimonials
Other Namecheap customers appreciated that:
Pricing plans are flexible
You can get domain names, SSL, site hosting, and your web builder all from one place
Namecheap has domain, hosting, and site migration tools available
Final Verdict Of Namecheap
The draw of Namecheap is and always has been the price. The fact that you get a domain name, shared web hosting, SSL, and a web builder all in one low-priced subscription is naturally appealing.
However, the Namecheap website builder is not the best option for most people, especially if you have no coding experience. It's certainly not the right option if you want to sell anything online. The software lacks basic eCommerce features for every kind of business.
If Namecheap's web builder piqued your interest because it's free, read our post on the best free eCommerce platforms to build your business website. You'll probably find something to suit your needs, and you can still attach your web builder to a Namecheap domain and web hosting if you want.
Namecheap FAQs
---
We've done in-depth research on each and confidently recommend them.
We've done in-depth research on each and confidently recommend them.
To learn more about how we score our reviews, see our
Website Builders Rating Criteria
.