NetSuite ERP & SRP Review
Expert Analyst & Reviewer

Updated on:
Advertiser Disclosure: Our unbiased reviews and content are supported in part by
affiliate partnerships
, and we adhere to strict
guidelines
to preserve editorial integrity.
NetSuite ERP and SRP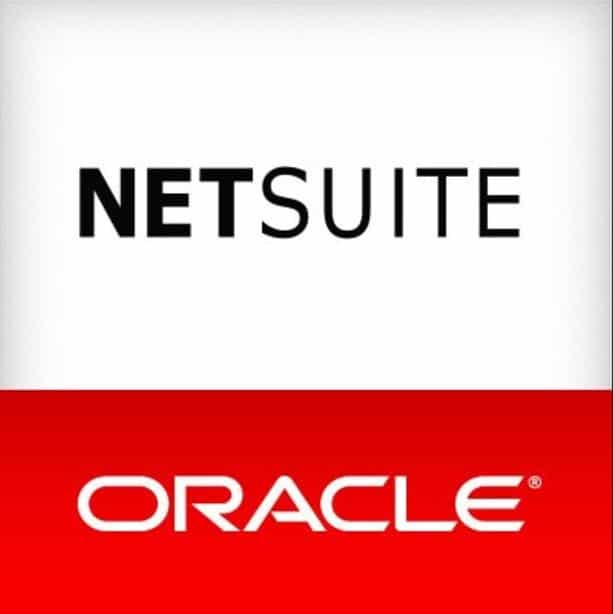 Pros
Impressive feature-set
Suited for large businesses
Advanced permissions
Ample accounting reports
Numerous integrations
Cons
Unsuited for small businesses
Expensive yearly cost
Moderate learning curve
NetSuite Overview
Some small businesses can get by with basic bookkeeping tools, but others have long outgrown simple accounting software programs and need to bring in the big guns — we're talking Enterprise Resource Planning software (ERP). That's where NetSuite comes in. But is it the right software for you? This NetSuite review will help you determine whether this solution is a good fit for your business or if you should continue your search elsewhere.
NetSuite is considered "the world's #1 global cloud ERP" and provides users with a robust feature-set, customizability, and global compliance. The software is incredibly well-developed and feature-rich; however, it does have a bit of a learning curve. NetSuite is also on the high end of ERP software — and when we say high end, we mean NetSuite pricing can start at $10,000/year. For some enterprises, the cost is more than worth it, but if you just balked at this number, we recommend checking out other ERP options like Odoo Accounting instead.
So what do you get with an ERP at this price range, and is NetSuite worth the cost for your business? Read on to find out.
NetSuite Pricing
NetSuite offers multiple enterprise solutions, including ERP, Service Resource Planning (SRP), eCommerce, Point of Sale (POS), you name it. When you sign up with NetSuite, the software is tailored to your business, and your business could end up using just one or any combination of the programs above. Because the software is custom-tailored to your business, there are no definitive prices. The representative I spoke to said clients might pay anywhere from $10,000/year to $1,000,000/year. The good thing about NetSuite is that you will never outgrow the software. Its features are so comprehensive and flexible that the software will expand as your company does. The sky's the limit with this one.
The best way to learn how much NetSuite costs is to talk to a NetSuite representative directly. You can request a free consultation to get an idea of what you might be paying.
If you're looking for a more affordable accounting solution, check out our post on the Best Accounting Software For Large Businesses, or read our Odoo review for a cheaper ERP option.
Cloud-Based Or Locally-Installed
NetSuite is cloud-based. However, there is an implementation process to set up the software initially.
Hardware & Software Requirements
As cloud-based software, NetSuite is accessible anytime, anywhere, as long as you have an internet connection. The software is compatible with nearly any device. NetSuite also offers an Android app (6.0+) and an iPhone/iPad app (iOS 12.4+).
Specific Size Of Business
NetSuite is designed for enterprise businesses. The software is ideal for companies that have long outgrown QuickBooks and need a full business management solution, not just accounting software.
NetSuite ERP is optimized for businesses with inventory in multiple locations that need to track information by warehouse or department.
NetSuite SRP is ideal for large service-based businesses that need complex project management, project billing, and time management features.
Both NetSuite ERP and Netsuite SRP also handle global business for companies looking to expand into the international business sphere. The software offers strong global compliance, international invoicing, and multiple currencies, making NetSuite one of the best accounting programs for international business. There are also incredibly strong user permissions available as well as an audit trail with complete transaction history (even down to saving the searches made within the software).
To give you an idea of what NetSuite is capable of in terms of business size, here are some of the companies that use NetSuite as their business management solution: Land O' Lakes, Williams and Sonoma, Guitar Center, and even Quicken. For large enterprises, NetSuite is a robust, scalable solution. But if you don't fall into this category, there are more affordable ERP solutions out there as well as great large business accounting programs.
Accounting Method
NetSuite uses both accrual and cash-basis accounting.
Ease Of Use
There is an implementation process for NetSuite — and a quite lengthy one at that (depending on your enterprise's needs). From what I gathered from customer reviews, this implementation process can take anywhere from a couple of weeks to six months, depending on your business and the NetSuite solution you choose. Speak to a representative for more information as well as a price quote.
NetSuite is tailored to each business and can be incarnated in a number of different ways. While the features your enterprise has access to may vary, the software's well-organized design doesn't. With so many features available, there is a moderate learning curve with NetSuite; however, the company tries to simplify navigation as much as possible with a logical UI. Paid customer support plans and training are available if you need extra assistance with learning the software.
NetSuite Features
NetSuite is an incredibly well-developed software with tons of features and ample customizations. There are many overlapping similarities between the NetSuite ERP and NetSuite SRP, but each software focuses on a different business model and provides distinct features. Below is a brief overview of the key features that both software options share.
Dashboard: Unlike most software we review, the NetSuite dashboard doesn't consist of one uniform template. Each employee has their own dashboard with feature access that is specific to their role in the company. CEOs, CFOs, CIOs, sales managers, sales representatives, and designated accountants will all have completely different dashboards. Each dashboard is also incredibly customizable, with dozens of different charts and graphs to choose from. You can resize and move everything on the dashboard and can even change the color theme.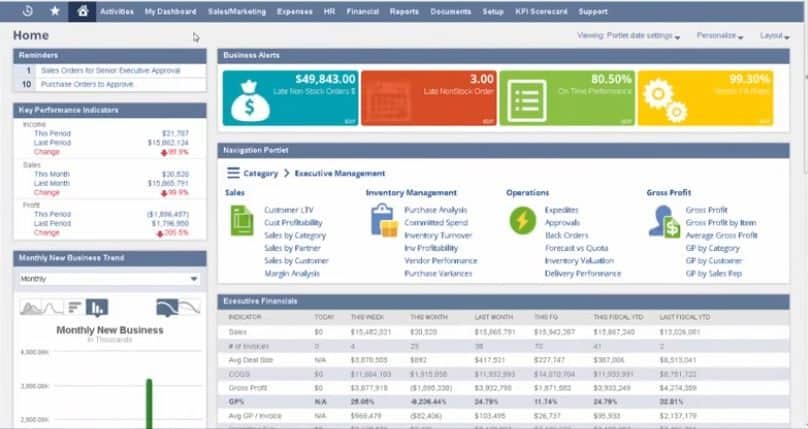 Invoicing: NetSuite offers multiple, customizable invoice templates. Invoices can be sent via email or fax, or you can print them and mail them the good ol' fashioned way. You can add a class, department, and/or sales representative to any invoice you send. Business owners can also make representatives submit invoices for approval first.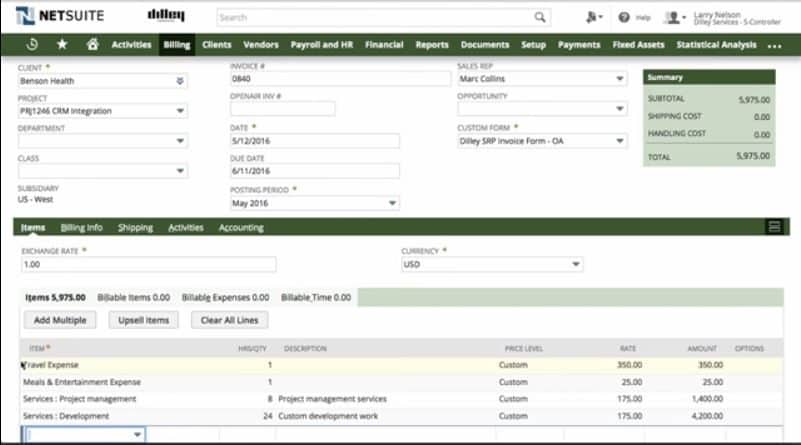 Estimates: Estimates are created similarly and can be printed or mailed to prospective clients. After you send an estimate, you can easily convert it into an invoice.
KPIs: NetSuite supports Key Performance Indicators (KPIs). You can add KPIs to the dashboard for a quick look at your company's overall health. They can also be completely customized to show anything from sales to COGs.
Reminders & Alerts: One of my favorite parts of the dashboard is that you can set reminders and alerts. You can customize the dashboard so the Charges on Hold and/or Hours to Approve boxes will blink at you when action is needed. You can also set more specific reminders to stay organized and on top of your work.
Class Tracking: You can categorize information by location, department, practice, subsidiaries, and more for detailed reporting.
Default Email Messages: You can save any number of default email templates and send them automatically.
Multi-Currency: NetSuite lets you bill in twenty different currencies. Exchange rates are automatically updated nightly. You can also run reports by currency to see how your business is performing globally.
Importing/Exporting: NetSuite has strong importing and exporting capabilities. You can export files via .xls, .csv, or .pdf. You also have the unique option of scheduling reports to be sent.
ERP Features
NetSuite ERP's feature-set is designed for inventory-based enterprises. In addition to the features above, here is a list of features specific to NetSuite ERP:
Contact Management: With the contact management feature, you can add ample contact information and any number of custom fields. The contact page is set up with tabs for Relationships, Company Profile, Communication, Address, Sales, Marketing, Support, Financial, Preferences, System Information, and Bank Payment Details. To make the deal even sweeter, you can add tasks to contacts. You can also attach files to contacts.
Vendor Management: In addition to contact management, NetSuite ERP helps you easily manage vendors, which is incredibly important for enterprises receiving inventory from all over.
Finances: This is where you would find the ability to pay bills and complete other necessary business tasks.
Bank Reconciliation: NetSuite ERP supports bank reconciliation.
Chart Of Accounts: You'll find a complete chart of accounts in NetSuite ERP.
Fixed Asset Management: NetSuite ERP also offers fixed asset lifetime tracking.
Inventory: This is where NetSuite ERP shines. NetSuite ERP allows you to track and organize the items you sell. You can even track items by location, which comes in handy for businesses with multiple warehouses or departments. The best part is that NetSuite will help you upsell items on your website by suggesting products that other buyers also purchased. NetSuite ERP also offers supply chain management.
Payroll & HR: NetSuite ERP allows you to control payroll and HR all in one spot. The software is capable of tracking time, incentives, and reimbursements.
Reports: NetSuite ERP provides an unbelievable number of reports. All reports are customizable with custom fields, classes, and even charts and graphs. To top it all off, NetSuite ERP has country-specific tax reports built into the software.
Budgeting: NetSuite ERP offers complex budgeting to help you plan for growth.
Cash Flow: There's a cash flow management tool as well to help you stay on top of your finances.
SRP Features
NetSuite SRP's features are tailored to service-based enterprises. Here are the features specific to NetSuite SRP:
Contact Management: With the contact management feature, you can add ample contact information and any number of custom fields. The contact page is set up with tabs for Activities, Messages, User Notes, Opportunities, Projects, Transactions, Items, Campaigns, Cases, Files, Subcustomers, System Notes, and Collection Notes.
Lead Management: You can track leads and record opportunities in NetSuite. NetSuite SRP even provides a web form that businesses can add to their web page that will gather a prospective customer's information and automatically generate a lead from it.
Resources: The resources feature is a sort of employee database where you can store information about employees, consultants, and contractors alike. The coolest part about this feature is the search capability, which allows you to view a person's skill level, availability, years of experience, and even their resume. This way, you can always be sure you are choosing the best person for the job. It's just about one of the coolest features you could ever imagine — and one that's incredibly handy for big enterprises with many consultants to choose from.
Expense Tracking: You can track expenses with NetSuite SRP and assign expenses to projects. Employees and contractors can send expenses in for approval (or even multiple levels of approval if you'd like). You can add attachments to expenses as well.
Project Management: NetSuite's project management feature is incredibly detailed. The project dashboard comes complete with KPIs, tasks, profit and loss, and a GANTT chart. You can create project templates and save them for future projects. With each project, you can create phases and tasks, add a baseline and extensive budgets, track markups and discounts, and you can even set milestones. You can easily view the labor, expenses, and suppliers attached to a specific project, and you can assign projects and tasks to employees and contractors via the resources feature.
Job Costing: You can view a project's profit and loss directly from the project dashboard and run extensive reports.
Time Tracking: Anyone assigned to a task can track time, marking it as billable or unbillable. Employees can add comments and send hours for approval. You can also restrict employees from being able to track time on specific projects if needed. You can run timesheets weekly and send billable hours to clients. NetSuite SRP gives users plenty of billing options, including billing by expense, time, charges, a fixed rate, and more. You can also set up fixed-fee rules, time-based rules, and expense rules to make billing easier.
Reports: NetSuite SRP provides an unbelievable amount of reports. All reports are customizable with custom fields, classes, and even charts and graphs.
Commissions: Users can track commissions easily with NetSuite SRP. Business owners can set up multiple commission plans and price levels and can run commission reports as well.
Accountant: The accountant dashboard allows a user to manage the financial state of the company via the chart of accounts, billing, statistical analysis, fixed assets, AR Aging and AP Aging reports, and more. There is also a handy end-of-month checklist that helps keep the company's accounting tasks on track.
NetSuite Customer Service & Support
In addition to the $10,000+ a year for the software and the cost of implementation, NetSuite also charges for customer support. There are two paid support plans. The company is not transparent about its pricing, so you'll need to contact NetSuite directly for pricing details. One nice touch is that with both plans, you have the option to add authorized support contacts, so other members of your team can talk directly with NetSuite's support.
Customer reviews show mixed feelings about NetSuite's customer service. Some users seem really happy with the help they received, while others report poor customer support. In addition to the paid support plans, NetSuite does provide several other support options, including some free resources. The following customer support options are available to all users:
Phone & Fax: You can contact each office location via phone or fax. There are ten offices in the US and 18 internationally.
Help Center: There is a help center within the software in the top right-hand corner of the screen.
Demonstrations: NetSuite has recorded several software demonstrations that can be found online.
Webinars: NetSuite also hosts a couple of webinars each month. Check out the webinar schedule for topics and times.
Datasheets: NetSuite offers datasheets — basically a PDF with important information and info graphs about each NetSuite product. There are over 60 topics covered in these datasheets, and they can help you decide which NetSuite software is right for you.
White Paper: White papers are available on topics varying from "Cloud ERP Systems for Enterprises — Key Considerations," to "Empowering Financial Services Firms to Reach Beyond the Limitations of QuickBooks," to "The Great Debate: One Integrated Business System vs. Soiled Applications." Categories include advertising, back office management, eCommerce, energy, financial services, front office management, healthcare, manufacturing, media/publishing, nonprofit, retail, services, software, and wholesale distribution.
YouTube: NetSuite has a comprehensive YouTube channel with hundreds of videos. You can find everything from demonstrations to customer testimonials. I probably used this more than any other support form.
Additional Training & Certification: You can also register for training courses to learn more about using NetSuite. These courses cover a range of topics and vary in price and length, so be sure to check out the online course catalog if you're interested.
Blog: NetSuite also offers a blog full of advice and news.
Social Media: NetSuite actively maintains Facebook, Twitter, and LinkedIn accounts. It also has Flickr and Instagram accounts that focus primarily on business conventions.
NetSuite Reviews
Negative NetSuite Reviews & Complaints
NetSuite has a large internet presence, and the majority of customer reviews regarding the company are positive. However, there are still a few issues users have with NetSuite.
Here are the most common recurring complaints about the software:
Too Expensive: Many users find NetSuite too expensive, and from a small business mindset, I can understand this. But even for an ERP solution, NetSuite is on the pricier side, and users dislike the cost of add-ons such as customer support and training.
Difficult To Learn: Quite a few users claim that the software is too complicated and difficult to learn. Most users seem to like the software after the initial learning curve, though.
Long Implementation Process: A couple of users complain that the implementation process takes far too long and is expensive. One user even said that the "implementation was a nightmare."
Poor Customer Service: Several users report poor customer support experiences, while others complain about having to pay for support.
Positive NetSuite Reviews & Testimonials
While there are some complaints, most users seem to enjoy NetSuite. NetSuite receives 4.1/5 stars on Capterra (based on 733 reviews), and 3.9/5 stars on G2 Crowd (based on 1,163 reviews). Testimonials and videos can also be found on the company's site.
The most common highlights from users include:
Incredibly Robust: One of the most common praises is that users like all of the features NetSuite offers. They also appreciate that all of these features are located within one software and accessible on the cloud.
Customizability: Many users praise the software for its customizability.
Easy To Use: Despite the learning curve, many users praise the software for being easy to use.
Ideal for Global Business: NetSuite has the capabilities needed to support global businesses. Users like how the software handles multiple currencies; languages; and locations, warehouses, and departments.
Reporting & Analytics: Again and again, users comment on NetSuite's strong reporting capabilities.
Here is what a few customers are saying about the NetSuite user experience:
In a bigger company I had to depend on other people for reports and things that I needed, and here with very little training I could get into NetSuite. And it was inventory, it was everything right at our fingertips.

Having used SAP, Oracle, PeopleSoft, JD Edwards and other accounting and ERP software in the past, I can confidently say that NetSuite is by far the easiest to use and easiest to report out of. The controls and features and functionality NetSuite offers are outstanding for this fully cloud-based solution.

NetSuite SRP software is very easy to use and robust. We operate our business with a very lean staff with the help of NetSuite. Every business should migrate to the cloud and NetSuite is the only provider that really gives the customer a single data core solution. We have used NetSuite to build out new features and add the functionality that is cutting edge for a small business like ours. We have used it on many occasions to differentiate ourselves from our competition and provide valuable information to our customers.
NetSuite Integrations & Add-Ons
NetSuite offers over 450 integrations, including 20 payment processing apps. The number of integrations is impressive, especially considering that NetSuite is such a full software package already and doesn't need the added functionality of integrations as much as other programs.
Security
NetSuite provides its users with incredibly strong security and meets many security standards, including OC 1, SOC 2, PCI-DSS, and EU-US Privacy Shield framework. The software models security measures after the National Institute of Standards and Technology (NIST). Data is protected by 256-bit TSL encryption, regular monitoring, regular security audits, and firewalls as well as 24/7 physical security and surveillance at its data centers. To protect your software, NetSuite also provides IP restriction and access control. To learn more, contact NetSuite directly.
NetSuite FAQs
NetSuite Overview
Overall, the feature-set that NetSuite offers is far beyond the competition in terms of quantity and quality. The software is robust, offers over 450 integrations, receives relatively positive customer reviews, and provides strong security, global compliance, and international invoicing — all from the cloud.
That said, NetSuite is only the "#1" choice for businesses that fit a very specific profile. Enterprises and large-scale businesses needing complex accounting tools, project management, and inventory features could benefit from NetSuite SRP or NetSuite ERP. The software is ideal for companies in need of highly customizable accounting, global compliance, or subsidiary management — and companies with a big pocket. Seriously, though, while NetSuite is incredibly robust, the software is on the expensive end of ERP solutions. The software's complexity and feature-set may make the price more than worth it for some enterprises. However, if you've only just outgrown programs such as QuickBooks, NetSuite is probably going to be too big of a jump in terms of functionality and price.
If you are looking for a more affordable ERP, check out Odoo Accounting, or read our post on the Best Accounting Software For Larger Businesses. If you're not scared of the price tag and think your business could benefit from NetSuite, schedule a free product demo. Watch as many tutorials as you can, pick the brain of a NetSuite representative, do your homework before jumping into any contracts, and let us know what you think!
---
The Merchant Maverick Seal of Approval 🏆
NetSuite ERP and SRP


---



After hours of in-depth research and evaluation, we can confidently recommend this brand to our readers. Get started today and see NetSuite ERP and SRP for yourself.
The Merchant Maverick Seal of Approval 🏆
NetSuite ERP and SRP


---



After hours of in-depth research and evaluation, we can confidently recommend this brand to our readers. Get started today and see NetSuite ERP and SRP for yourself.
To learn more about how we score our reviews, see our
Accounting Software Rating Criteria
.
Read Next