Expert Analyst & Reviewer

UPDATED
Advertiser Disclosure: Our unbiased reviews and content are supported in part by
affiliate partnerships
, and we adhere to strict
guidelines
to preserve editorial integrity.
Pros
Ease of Use
Affordability
Simple set up
Easy to reach customer service
Cons
Slightly clunky back office
Nobly POS Overview
Founded in 2013 in London, England, Nobly hasn't taken long to rise through the ranks in the iPad point of sale industry. The company specializes in the hospitality industry, gearing its product toward smaller, independent businesses. Nobly seems to have planted its flag on customer service, building up a loyal base of customers, many of which have helped contribute to its top rating on Trustpilot.
Nobly is remarkably simple to set up, and one of its best features is that, for a small business, it can be configured to start making sales in just minutes out of the box. Nobly has an intuitive design, and even a barista or server on their first day on the job could probably figure out the system on their own in a pinch.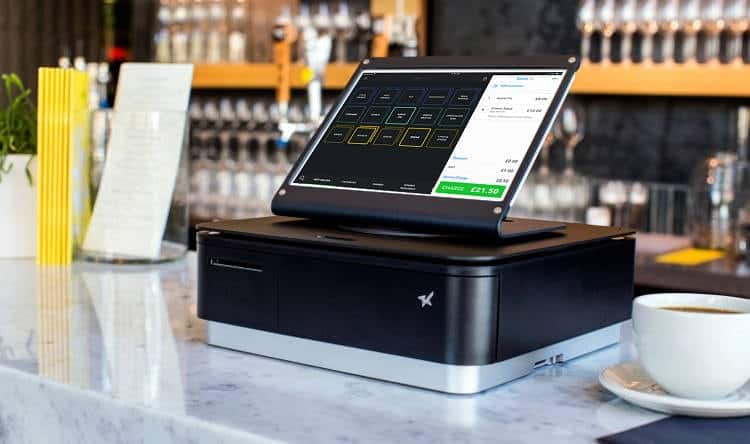 It isn't the most robust system around, but Nobly features everything a small or even mid-sized business would need to get off the ground for a very competitive price. The back end is functional (though not remarkable). Nobly has sunk more than $1 million into completely retooling it — they plan to roll out the product of that investment in the near future.
There's a lot to like here for sure, particular in Nobly's confidence and commitment to its product. With loads of integrations that are constantly being updated, Nobly has the foundation and the affordability of a system that is competitive with many of the top products on the market.
Pricing
When it comes to cost, whether it's high or low, you have to appreciate simplicity. And that's what you get with Nobly. You don't have to sign up for a long-term contract if you want to test out the product first, and you get everything included in the software for a single flat rate. That rate also happens to be very affordable compared to similar products on the market.
Nobly costs vary depending on the number of registers you need, and pricing is customized for each business individually.
It's as simple as that. That price includes:
One POS license
Free onboarding
24/7 support
Fortnightly software updates (that means every two weeks for those who don't watch British period pieces)
Back Office suite
If you're confident enough in the product after taking a tour or receiving a demo, the yearly price is exceptionally affordable. There are also enterprise options available — contact Nobly directly for a quote.
Cloud-Based Or Locally Installed
Nobly is entirely iPad-based and will work with pretty much any iOS device. It also sells compatible products and packages through its website. Like most good systems these days, Nobly has an offline mode that can keep your business up and running almost seamlessly, retaining the ability to process payments and storing data that will sync up once internet service is restored.
Specific Industry
Nobly is probably best suited for the food and restaurant industry with some nice features for quick-service establishments, cafes, and food carts. It has all of the capabilities to run a full-size restaurant as well. Nobly is also equipped for retail businesses and, assuming you don't need an incredibly wide array or inventory management features or reports, it should meet the majority of your small business needs.
Specific Size Of Business
Nobly is definitely geared toward small to mid-sized establishments. Its cost, mobility, and simplicity make it an appealing option for a small food truck or a cafe or bar. However, it has more than enough features and strong enough management functions to handle a full-scale restaurant or retail establishment across multiple locations.
Ease Of Use
Functionality and simplicity were clearly in mind when Nobly's designers set up the interface. It's not the most modern looking system but it's exceptionally easy to use and I can't imagine that either the initial set-up or the training of new employees would take much time.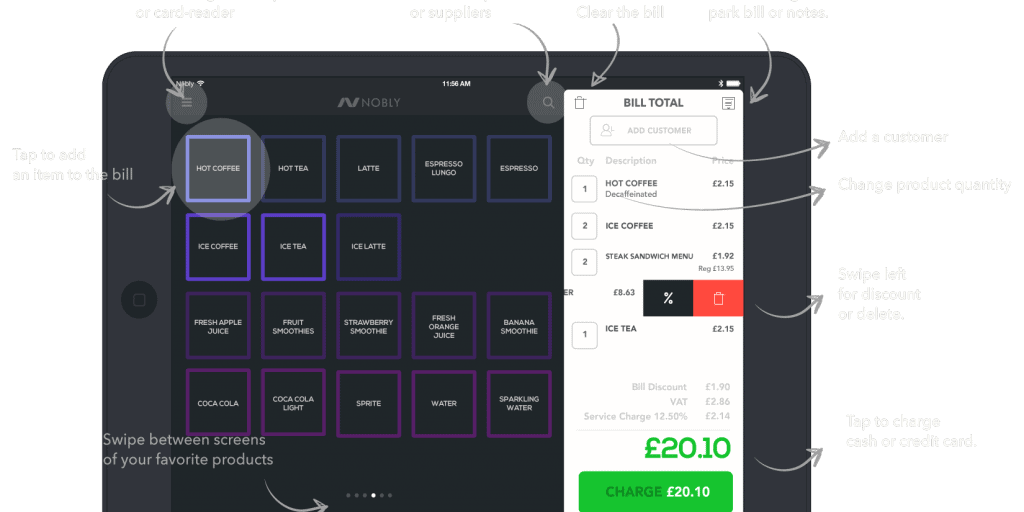 When you get into the front-end of the system, the layout isn't flashy but virtually everything is designed with the user in mind. Changing the table layouts and setting up your cafe or restaurant is extraordinarily simple. When you start entering purchases, the ticket is easy to read and basic functions like tip management and ticket splitting are simple (and easy to rectify if you make a mistake).
The backend isn't quite as intuitive but, if you have any experience with POS systems, it shouldn't take long to master. Nobly will be rolling out an entirely new back office soon, which should take the POS to a new level. Currently, despite having 32 reports and everything you would expect, it can be a tad clunky at times.
Hardware & Operating System Requirements
Nobly works exclusively with iOS devices and offers some basic hardware bundles or individual items through its website. Here's what's available in its bundles:
Budget Bundle:

5th generation iPad
mPop all-in-one cash drawer and receipt printer
Heckler Windfall iPad stand

High Volume Bundle:

5th generation iPad
Star LAN receipt printer
Star cash drawer
Heckler Windfall iPad stand

No Wires Bundle:

5th generation iPad
Star cash drawer
Star WiFi or Bluetooth printer
Heckler Windfall iPad stand
You can also purchase individual Star printers, card readers by Barclays, Ingenico, SumUp and iZettle.
Features
Nobly has pretty much everything you would expect from a sleek and modern POS system but I'll try and highlight a few of its standout areas:
Reporting: Nobly has a strong reporting system that gives you a significant amount of bang for your buck. You can compare your top sellers and quickly assess when your location is at its busiest. You can quickly export data via Xero or QuickBooks. It's also easy to view your sales by product, category or location.
Table Mapping: Nobly offers a simple and customizable table mapping system that easily lays out your establishment and can be changed around simply by dragging your finger across the touchscreen. The system also allows for tableside ordering to increase efficiency. It's easy to label each table so you can see how far along each customer is in his or her meal, making it simple to plan ahead.
Inventory Management: Nobly tracks ingredient levels in real time and provides easy to digest reports, allowing you to analyze sales and costs as well as how much of a particular ingredient is being used. Nobly allows you to set reminders to reorder inventory and allows for bulk importing. You can also categorize your stock in a number of ways that are all fully customizable.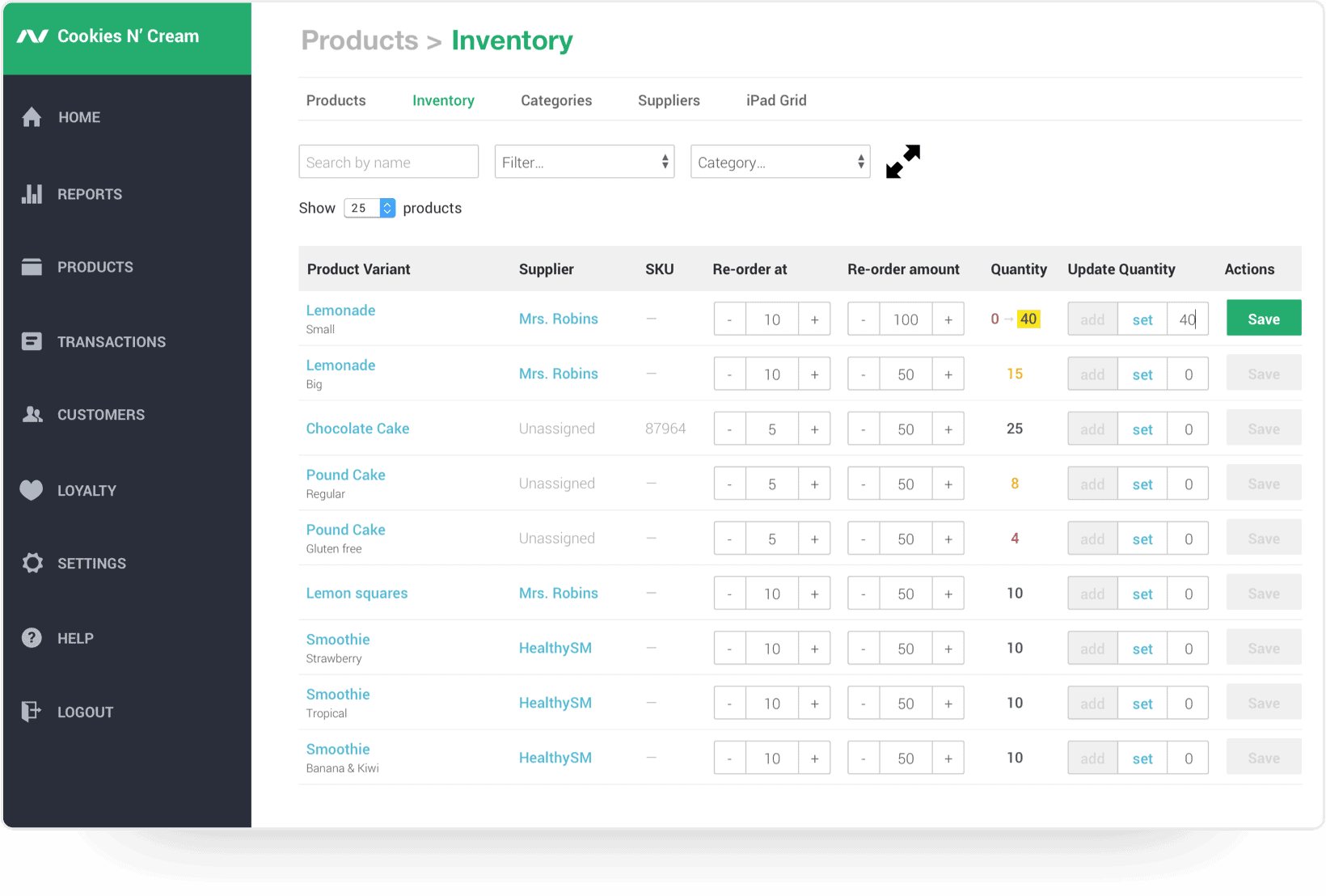 Offline Mode: In what is becoming an increasingly vital factor in POS systems, Nobly functions almost like normal with its offline mode. You can still accept card payments even without an internet connection and that data is automatically synced once internet is restored.
Loyalty: Nobly allows for custom-designed gift cards. Customers can be easily searched to pull up any rewards or points they have earned. You can search customers by how much they purchase and create custom promotions or discounts to keep them coming back.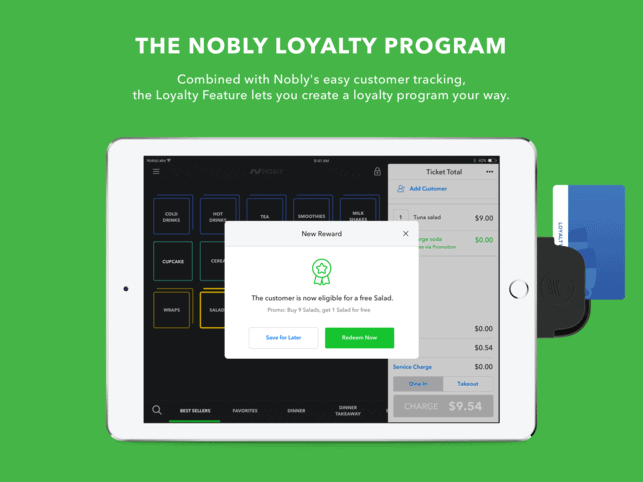 Customer Service & Support
Nobly has a fairly inclusive section of support articles on its website for help with troubleshooting, getting started, and how to use various features. They also have a 24/7 support phone number or can be reached via email for less urgent issues.
The company also operates a fairly active Twitter account and Facebook page. Nobly's YouTube page features close to 20 videos which provide some useful demos and walk-throughs. There is a live chat function through the Nobly website which I found to be fairly responsive and capable of answering some basic questions in a timely fashion.
Nobly features a well laid-out blog with some useful articles as well on its site. Perhaps most interestingly, they also have an extensive list of food bloggers (121 to be exact) covering a wide range of topics (nine separate blogs just about brunch!)
Compatible Credit Card Processors
A big plus with Nobly, in general, is that a customer has a wide breadth of options when it comes to choosing a processor. The company integrates with most major processors so you can find the options and rates that work best for you. Nobly can accept VISA, Mastercard, Maestro, and American Express and they are integrated with PayVision, Barclays, Elavon, FirstData, WorldPay, and PaymentSense, among others. They also sync up with ApplePay, Magstripe, and EMV Smartcard.
Integrations & Add-Ons
Nobly's list of integrations is constantly changing and upgrading and the company is always listening to its customers to find out other services that may be needed. They also have an open API for developers to create their own integrations, something which Nobly encourages. As you might expect, Nobly does integrate with some of the big names in a variety of industries, including:
Xero
Quickbooks
Vantiv
Velocity
Market Man
Deputy
Negative Reviews & Complaints
Nobly is one of the best-reviewed systems I've come across in a while — in fact, they are Trustpilot's No. 1 rated system — and I truly had to do some digging to find any consistent complaints. That said, a few quirks and issues did seem to crop up on multiple occasions for various users.
Less Than Intuitive Backend: A few reviewers found that the back end of the system was slightly difficult to navigate and accessing its features took some getting used to.
Customer Service: The most common complaints surrounding Nobly's customer service were that, after easily getting in touch with the company, business owners would often not hear back for more than 24 hours after explaining their problem. A few other reviewers mentioned pushy sales tactics.
Positive Reviews & Testimonials
Nobly has an A+ rating from the Better Business Bureau and, particularly from small businesses, has mostly favorable reviews. There were a handful of positive aspects that cropped up repeatedly while perusing comments.
Ease Of Use: Multiple reviewers commented on how simple the system was to set up, needing very minimal training for staff members. Others appreciated its intuitive layouts and how quickly the system was to get up and running
Affordability: Many reviewers appreciated the generous free trial and were then pleased with the number of features that came with the system for the price.
Customer Service: Positive reviews cite how easy it is to get in touch with a live human at Nobly and the majority of those found the representatives friendly and knowledgeable.
Customization: A few reviewers mentioned how easy it was to make changes within the system. Whether it was adding menu items or modifications, the format was simple and fast.
There are also multiple testimonials on Nobly's website.
Nobly's been brilliant for my business. The back-office has helped me cut costs and boost my sales. -Pepe's Italian Pizza Bar

Nobly is the best solution for our small business. It lets me know which days are busiest and which are not, so I can buy and stock the freshest ingredients each day. -Essential Vegan Cafe

Having used Nobly from the start, it has been an incredible tool to collect and analyze data on what and when we are selling as well as what stock we have. – 90′ Melt Sandwich Bar
Final Verdict
Nobly is one of those rare products where, barring an unfortunate incident with customer service or an outlier glitch in the software, it's difficult to ascertain where a business owner would be significantly disappointed. All of the features are there and they come at a very affordable price. In fact, Nobly's pricing is exceptionally competitive and, with a free demo, you can see the product for yourself and decide if you want to purchase the software annually, driving the price down even further.
If you're a small business owner just getting started, particularly within the food industry, Nobly is well worth looking into. The table mapping features and the simplicity in order taking, check splitting, and tip management should set employees up for success and limit mistakes. At its best, Nobly is a system that you shouldn't have to think about, which is perhaps the highest compliment you can pay point of sale software.
The back office is serviceable right now and, for small businesses, there won't be any features lacking. However, when its new back office is rolled out, Nobly should be an even stronger contender.
---
We've done in-depth research on each and confidently recommend them.
We've done in-depth research on each and confidently recommend them.
To learn more about how we score our reviews, see our
Point Of Sale (POS) Software Rating Criteria
.