nopCommerce Review
This free app boasts an impressive feature set but isn't exactly user-friendly for those without web development training.
Expert Analyst & Reviewer

UPDATED
Advertiser Disclosure: Our unbiased reviews and content are supported in part by
affiliate partnerships
, and we adhere to strict
guidelines
to preserve editorial integrity.
nopCommerce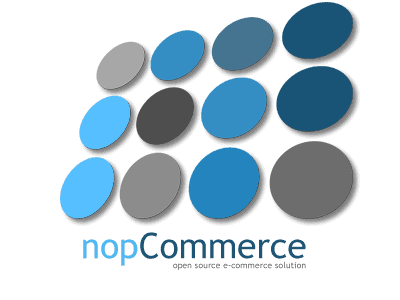 Pros
Free to download and use
Impressive feature set
Highly customizable
Strong user community
Well-designed UI
Cons
Developer skill required
Design limitations
Expensive customer support
nopCommerce Overview
Powering more than 16,000 live websites today, nopCommerce is a small but respected eCommerce platform. Built on the free ASP.NET open-source web framework created by Microsoft, nopCommerce is rich with features and free to download and use, provided users have the skills to implement it or the funds to hire someone who does. nopCommerce is especially popular overseas, with just over half of the websites it powers located outside the United States. The number of live nopCommerce sites has declined over the past few years, in a reversal of the previous trend of increasing use noted at the time of our last nopCommerce review. Still, nopCommerce is the eCommerce option of some well known and high volume brands, such as Bully Sticks, Casio Online, Xlibris, and the Bloomsbury Group.
If you're considering nopCommerce for building your online store, be aware that you'll need a solid understanding of .NET, MS SQL, HTML, and CSS. You also should be generally into Microsoft-based systems, or else you won't get very far with nopCommerce. ASP.NET works for building web apps and services that run on MacOS, Linux, Windows, and Docker. If you're already working with those systems and languages, it might be worth taking a longer look at nopCommerce. On the other hand, if you you don't have these skills, you'll need to hire someone who does if nopCommerce is your top choice.
As open-source software, nopCommerce offers users almost endless possibility for customization and growth. It comes loaded with the features you'll need to open your online store, such as payment, shipping, warehouse managment, marketing and SEO tools, and more. It's particularly well suited for users doing international business, with built-in GDPR compliance, multiple currency and language options, regional tax and legal support, multiple store management tools, and integrations with local services and suppliers. And all of it comes to you at no cost. You'll pay no monthly subscription or service fees to nopCommerce, no transaction fees, nothing.
Keep reading to find out if nopCommerce is the right platform for your online store.
nopCommerce Pricing
Like most open-source platforms, nopCommerce is free to download and use. However, you will need to budget for web hosting, themes, add-ons, an SSL certificate, and the cost of any custom development you can't do yourself. Plus, if you haven't already, you may need to invest in some Microsoft products to use in conjunction with nopCommerce. Read more on system requirements in the Hardware & Software Requirements section below.
If you require significant assistance using nopCommerce, you can spring for a support plan, which can be very pricey. Plans start at $399 for three months' support.
Cloud-Based Or Locally-Installed
nopCommerce is downloadable software. However, once you find a web host, you can operate your entire platform in the cloud.
Hardware & Software Requirements
Instructions and links for downloading nopCommerce are available on the company website, including an automatic installation option, which you should use only if you don't plan to make any changes to the source code. For the automatic install, you must use Microsoft Azure or an ASP.NET host. nopCommerces manages a GitHub repository, so you can always find the latest source code. For the most current release of nopCommerce at the time of this writing, here are further technology requirements and supported systems:
Operating Systems
For Windows:
Windows 7 SPI or above
Windows Server 2012 R2 or above
For Linux:
Red Hat 7/ CentOS 7 or above
Fedora 32 or above
Debian 9 or above/Ubuntu 18.04 or above/Linux Mint 18 or above
OpenSUSE 15 or above/SUSE Enterprise or above
Alpine Linux 3.11 or above
For MacOS:
Web Servers
Internet Information Service (IIS) 7.0 or above
.NET Core 2.1 runtime or higher, depending on which version of nopCommerce you install
Databases
Microsoft SQL Server 2012 above
MySQL 5.7 or above
PostgreSQL 9.5 or above
Supported Browsers
Microsoft Internet Explorer 9 and above
Mozilla Firefox 2.0 and above
Google Chrome 1.x
Apple Safari 2.x
nopCommerce partners with nine hosting providers, so you're welcome to compare the hosting deals from these partnerships to those you find on the open market. However, nopCommerce is compatible with nearly all Windows-based hosting providers, so feel free to explore options outside the listed partners.
Specific Size Of Business
Although nopCommerce's "free" pricetag can be tempting to small companies and startups, we believe nopCommerce is typically best for mid-size to large businesses. The exception would be if you or someone in your company has significant coding experience. Lacking that expertise, you'll almost certainly want to hire someone who has the technical skills necessary to get the most out of nopCommerce. Furthermore, sellers who are just getting off the ground may need to focus their time and resources elsewhere, so they should probably look into simpler store-building platforms.
Ease Of Use
If you're prepared with the proper system requirements, nopCommerce is readily available to download, install, and test. Alternatively, you can take advantage of the demos provided on the nopCommerce website, which gives immediate access to a sample admin and separate storefront. Note that the front- and back-end demo sites are not connected to each other. The shared site resets itself once per hour, so don't get too attached to any of your own modifications.
Looking past the not insignificant technical challenges of building a store, once that work is done, nopCommerce is relatively easy to use. When I test eCommerce software, my first course of action is always to add a product. Using the nopCommerce demo site, I easily located the "Add a new product" page under "Catalog" and went to work.
First, I was able to choose to add "Basic" or "Advanced" product information. Further streamlining data entry, I also had the ability to control which fields show up on my basic and advanced pages under "Settings." That extra little piece of customization aside, here's what I found on the default basic page: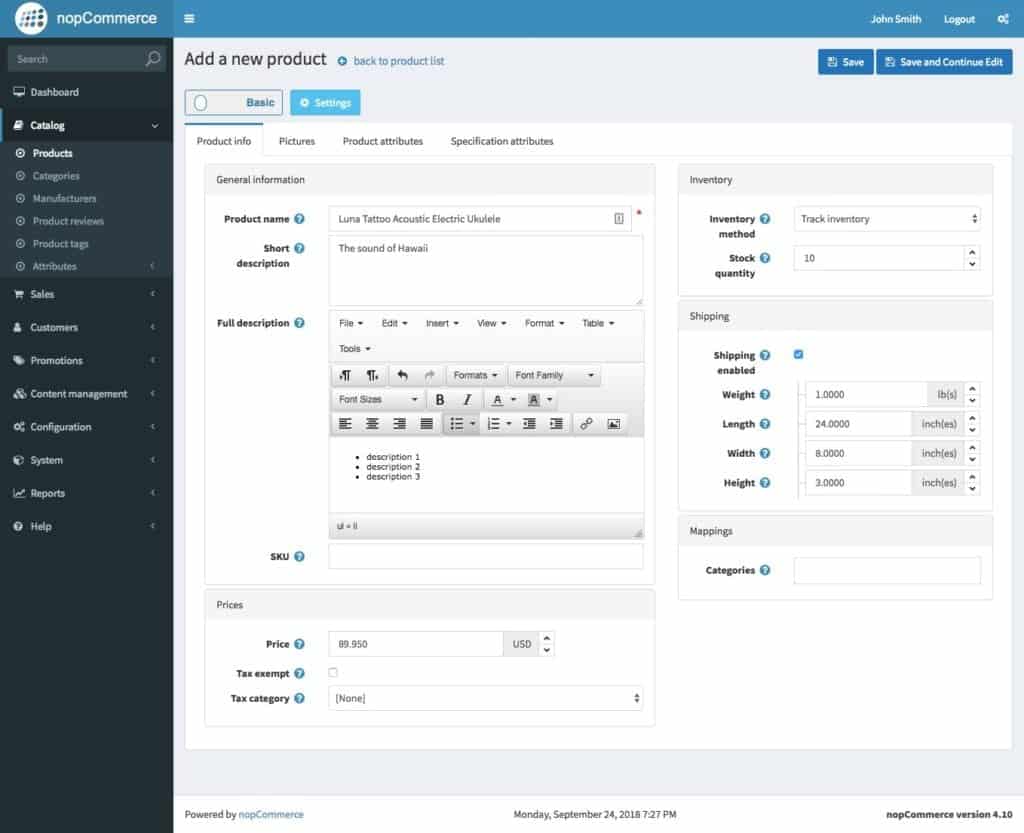 After entering the basic information, I quickly tried adding some product attributes to a T-shirt that was preloaded into the demo. I added color and size as attributes, and chose multiple values for each: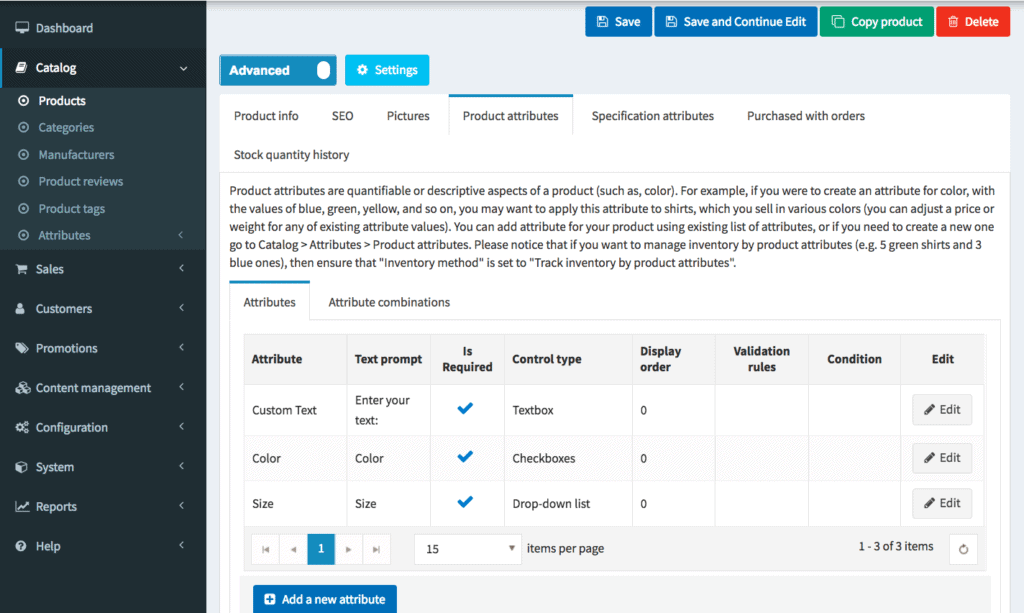 If I wished, I could then auto-generate all the combinations of those attributes and their values (blue small, blue medium, blue large, and so on) in order to manage further details of each item. I eventually even figured out how to add brand new attributes that weren't preloaded choices (and by "figured out" I mean I finally noticed the paragraph right in front of my eyeballs that told me exactly how to do it!). All in all, this was a very flexible feature.
Discounts may be applied to specific products or categories. Using the "requirements" settings, you can limit discounts to orders that include a specific product. This feature was serviceable, but by then I'd also seen several discount extensions in the app marketplace that would have given me more complex parameters (BOGO deals, for example).
Everything worked pretty smoothly so far, but I was beginning to bump up against the limitations of the shared demo. The main problem is that there is no storefront preview to view changes you make in the demo control panel. You just have to hope that whatever you tried would have actually worked on your storefront. There is a separate storefront demo you can play around with, but all that shows you is how the default theme operates. It runs completely separate from the brilliant work you've done (or the stuff you've totally screwed up) in the admin demo. So, while I felt I was picking up the nopCommerce admin quite quickly, there's a chance I was only kidding myself with my newfound nopCommerce skills.
Of course, nopCommerce is more than just a demo. If you're serious about trying nopCommerce, you'll need to download it to give it a fair shot. From what I explored, the dashboard itself appears fairly well organized and logical, so it's potentially easy to use once you install it and begin working with your own copy of the software. At that point, you'll be able to decide if nopCommerce is worth your time and resources.
nopCommerce Features
One of the things merchants love most about nopCommerce is its robust feature set. nopCommerce releases a new version of the software every six or seven months, adding new features and continually improving performance, security, and stability. As a result, this cart comes with loads of features right out of the box. Here's my summary of the most important features:
Dashboard: The dashboard is clean and easy to navigate, with all the most important functions accessible in the sidebar on the admin page. More advanced features are organized in drop-down lists within those categories.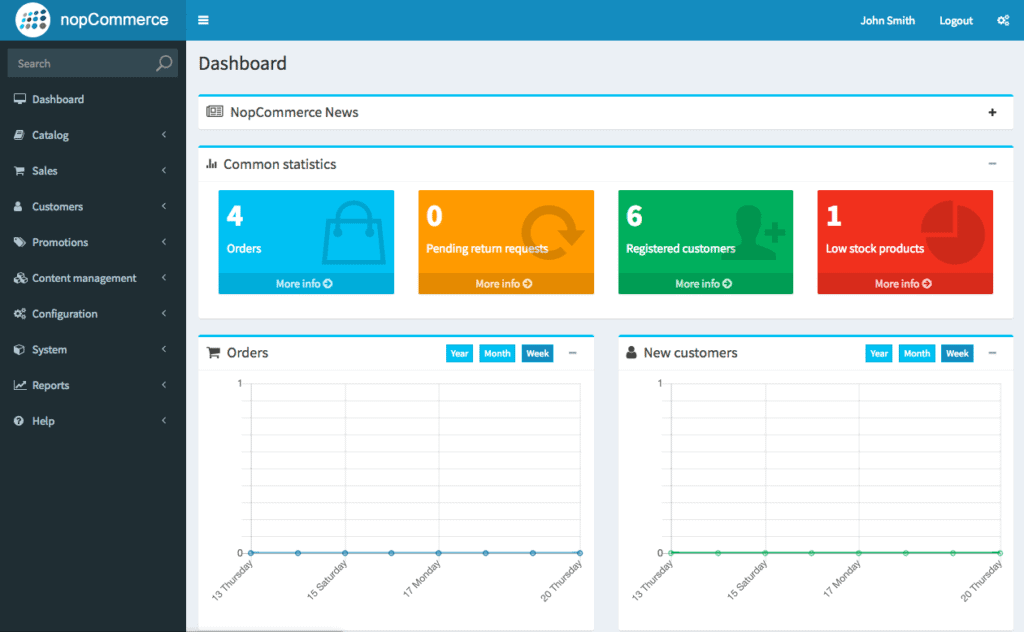 Products: Create as many attributes, such as color and size, as you'd like for your products. Each can have its own SKU, price, weight, image, and stock level. You can add options for customization, such as monogramming. Product comparison features allow customers to view products side by side. You can set different prices for groups of customers. Downloadable products are supported, as are rental products, recurring products, product tags, return management, featured and sale products, bundles and grouped products, bulk import and export, bulk editing, and more.
Multi-Channel Selling: nopCommerce has impressive multi-store capabilities. You can host more than one frontend store on different domains and manage operations from a single admin panel. That allows you to create stores for multiple brands, products, B2B, B2C, affiliates, and more. Every online store shares a single database, so you can share data between stores and customers can log in using the same credentials.
Sell Internationally: nopCommerce is GDPR-compliant and includes multilingual and multicurrency support. And because you can build and manage more than one store, it's relatively easy to work in different countries at the same time.
Checkout: nopCommerce supports one-page checkout, and also allows anonymous checkout so customers can buy without creating an account. At checkout, customers can customize their order with various options, such as gift wrap or personal messages. A shipping calculator is built-in, and can provide shipping estimates on products based on customers' location. Integrations with major carriers allow real-time shipping rates from UPS, USPS, FedEx, and more. Use nopCommerce's built-in tax calculator or integrate with your preferred service. nopCommerce supports phone orders, configurable weight and dimensions, PDF receipts, and mini shopping carts as well. nopCommerce also supports in-store pickup.
Inventory Management: Stock management lets you see physical stock and available quantities, and you can manage backorder and pre-order status for products. Multiple warehouses are supported.
Marketing: Reward customers for their loyalty with redeemable points. Use cross-sell and upsell techniques with related products. Establish credibility with reviews from current customers. Discount and coupon features allow you to set either a fixed value or a percent off, and you can specify start and end dates. Assign discounts to products, entire categories, shipping, order totals, and more. Quantity discounts and other complex discounts are supported. Use virtual gift cards and physical gift cards. nopCommerce is fully integrated with major product feeds, such as Google Shopping, PriceGrabber, Yahoo Shopping, and become.com.
Dropshipping Features: nopCommerce's multi-vendor feature supports dropshipping. If dropshipping is your goal, you'll find resources such as YouTube videos to support you.
Blog: nopCommerce supports news, blogging, forums, polls, and custom pages.
SEO Tools: Use XML and HTML sitemaps to facilitate search engine and customer navigation of your site. Manage your own keyword tags and URLs, or keep the automatically generated SEO-friendly versions. Customize metadata and rich snippets, including Twitter and Facebook tags. Use breadcrumbs to simplify site navigation, and URL canonicalization to reduce indexing of duplicated pages. Google Analytics integration lets you track transactions and other data from your site.
Reports & Analytics: View reports right from your dashboard, including current sales, sales history, return requests, customers, low stock orders, bestsellers, incomplete orders, and more. You can also view sales by country.
nopCommerce Templates & Web Design
The first step in building your online store is choosing among the nopCommerce templates available in the nopCommerce marketplace. You have a choice of 11 free themes, or you can browse 37 other nopCommerce templates priced between $79-$249. As I browsed the marketplace, I noticed that several themes are only compatible with earlier releases of nopCommerce, so keep this in mind as you explore the collection, or use the available filter to select the version you're using. The themes are rated by users and include user reviews, although not all nopCommerce templates have yet been rated. All the themes are mobile responsive.
Some of the free themes look outdated, but others are more modern and perfectly respectable.
A couple of developer teams have dedicated websites just for nopCommerce templates. The most prominently featured design partner in the nopCommerce marketplace is Nop Templates. Although the themes from Nop Templates are on the higher end of the cost spectrum ($200-$250), they each come with a set of plugins that greatly expand the functionality of your storefront. These extra plugins and advanced features may make the investment worth it to you. What's more, you can view several testimonials referring to the quality of the themes and satisfaction with Nop Template's customer support.
Here's an example of a $199 Nop Templates theme:
I was unable to find any type of theme editor in the nopCommerce admin, which suggests to me that the only way to change the look and feel of your site beyond installing a pre-made theme is by diving into the actual source code. You do have the option to purchase a theme editor plugin in the nopCommerce marketplace for $49, but it's difficult to say from the description exactly how far this will get you in making significant design changes, nor how easy it will be to use.
Integrations & Add-Ons
nopCommerce has around 500 integrations available in its marketplace. These integrations are grouped into categories like shipping, widgets, payment modules, marketing and sales, customers, administration, and tax calculation, and may include connections to services you may already be using. The total also includes translation packages, payment processors, and lots of small extensions for minor features and widgets. You can search by name to find the extension you're looking for, or browse by category.
Integrations are priced by nopCommerce or third-party developers. Some integrations are available for free, but most cost between $25-$250, and some are more expensive. They are all available as one-time purchases. User ratings and reviews are available, but it doesn't seem like many have been posted.
I especially appreciate that the marketplace is sortable based on which release of nopCommerce you are using. Besides providing a quick way to verify the compatibility of any add-ons you might want, this level of detailed organization gives me confidence that the nopCommerce team has a good handle on its ecosystem of integrations. This is not always a given with open-source solutions.
You can also search the marketplace by ratings, price, and development status. With over 200 free extensions listed, it's worth browsing a bit; you never know what useful integrations you might find at no cost. I spotted an abandoned cart recovery plugin priced at $0, for instance. This is a hot-button feature in today's eCommerce landscape and one that comes at a premium on some highly-rated SaaS shopping cart builders.
nopCommerce Payment Processing
nopCommerce offers about 200 payment integrations and gateways, including PayPal, Stripe, Authorize.net, Braintree, Klarna, QualPay, 2checkout, Affirm, Moneris, and others. International payment options are listed as well, with a good variety of country- and region-specific payment methods supported.
Besides online payment methods, nopCommerce supports cash on delivery, gift cards, in-store payment, purchase orders, and a manual gateway for offline processing.
nopCommerce Customer Service & Technical Support
nopCommerce doesn't offer a lot in the way of personal support. If you need guidance, you should first turn to nopCommerce's documentation, followed by the community forums. Personal assistance is available only via a premium support plan, which isn't cheap.
No support is available from nopCommerce via phone or email. Here's a summary of available nopCommerce support options:
Contact Form: Submit your query via a form on the nopCommerce website.
Community Forum: Users are very active in the community forums. Get help from other nopCommerce merchants and developers.
Documentation: Comprehensive information is available for users and developers.
Videos: Check out the nopCommerce channel on YouTube for numerous helpful video resources.
Premium Support: For a price, premium nopCommerce support is available to users. Expect to pay $499 for three months or $999 for a one-year period. Support is available in English and Russian only, with a 24-hour response window guaranteed. It does not include support for third-party plugins or underlying technologies like SQL or Windows, but it does allow unlimited service requests via nopCommerce's internal ticket system on weekdays, excluding holidays.
Find An Advisor: If you need support with one specific aspect of your site, you can pay for nopCommerce professional services. They include customization services, web design services, installation and upgrade services, usability analysis, and SEO optimization.
Blog: Regular articles are posted featuring selling tips and product updates.
Social Media: You can find regular updates on Facebook, Twitter, LinkedIn, and YouTube.
NopCommerce Reviews
nopCommerce users are overwhelmingly happy with their choice of eCommerce software. Of 96 nopCommerce reviews on G2 Crowd, 67 rate it 5/5 stars, with just one rating each at 1 and 2 stars. Users' nopCommerce reviews at Capterra are similar, with 87 reviewers giving the software a composite 4.7/5 stars. Of course, not everyone is perfectly satisfied. So let's take a look at the plusses and minuses.
Negatives Reviews & Complaints
I've spent a good chunk of time combing through online review sites and complaint boards to find the most commonly voiced comments and recommendations for nopCommerce. Web developers most frequently discuss nopCommerce, whereas not many ecommerce newbies try their hand at the platform without assistance.
Here are a few of the most frequent gripes:
Cumbersome Upgrades: Developers complain that when new versions of the software are released, it's difficult to make all your customizations work with the software again. You may have to manually reapply certain changes. I noticed the company's roadmap includes plans to improve this process.
Limited Theme Design: If you don't understand code, you won't be able to make changes to your theme. Sure, there are a few "template" features in the backend that let you make minor changes to your content pages, but you can't make any global changes to the look and feel of your site from the admin.
Relatively Unknown: Although the platform has devoted users, the fact remains that nopCommerce isn't as well-known as other open-source shopping carts. That means that you won't find as many plugins to customize your store. And you might have trouble finding a developer to work with you on building and maintaining your site.
Expensive Support: While users praise the self-help options available, they correctly note that premium support comes at a steep cost.
Positive Reviews & Testimonials
In general, nopCommerce users seem to really like the platform. Here's what they talk about most:
Feature-Rich: nopCommerce comes with lots of useful features built-in. And, you can use the same software to build a multi-store or multi-vendor platform. I was impressed with all that nopCommerce has to offer, especially since you don't have to pay for any of it.
Highly Customizable: If you've got the technical know-how, you can change any aspect of your online store. You can develop new features, tweak old ones, and change the design of your site.
Good Community Support: nopCommerce's user forums are lively. Users are always posting their suggestions, requesting bug fixes, and answering one another's questions. Developers often release plugins, translations, and themes in the nopCommerce marketplace.
Continual Improvement: nopCommerce regularly releases new versions of the software, keeping up with the latest (mostly Microsoft) technology. While this can be a bit of a pain regarding your customizations, it's good to stay ahead of the curve.
Security
Because nopCommerce is downloadable software, you will be responsible for maintaining your site's security. You'll have to obtain an SSL certificate and check regularly for any security patches. That said, nopCommerce claims to have required only one security patch since its the software's original release in 2008. Color me impressed.
nopCommerce meets all the requirements of European Union laws, tracking legislative changes and updating accordingly. The platform also meets all PCI compliance requirements. Microsoft's ASP.NET core framework brings built-in security. You'll also find SSL support, honeypot support to prevent spam, encryption, and strong and flexible password policies.
You can enable a few security settings from the nopCommerce backend as well, including CAPTCHA and reCAPTCHA, restricting IP addresses that access your admin, and enforcing your SSL certificate on all pages. These settings are all described in nopCommerce's documentation.
nopCommerce FAQs
nopCommerce Final Verdict: Is It Best For Your Store?
I suspect I'm not the only nopCommerce reviewer who was unfamiliar with the software at the start, and I'm likely not the only one who came out of it impressed with what I learned about nopCommerce. If you're an experienced developer, a novice developer with time to learn on the job, or someone with a Microsoft-friendly developer who owes you a favor, nopCommerce may be just the way to go. It's a robust and secure platform that, most of the time, seems to work without a hitch. The admin is well organized, and daily operations are easy to navigate. Best of all, it's free!
Especially for those developers who are devoted to the ASP.NET framework and other Microsoft-oriented systems, I'm frankly not really sure who is competing for your eCommerce business besides nopCommerce. Meanwhile, if that whole world turns you off, or if you're looking for an easy-to-use and fully-hosted cart builder. I'd especially recommend you explore SaaS options like Shopify or BigCommerce.
Otherwise, why not take nopCommerce for a spin? As long as you're aware of the limitations of the shared demo, you can at least get a feel for the dashboard before you go to the trouble of downloading and installing the software. If you're all set up with the system requirements, however, you might as well jump right in with the download and see what you think. It may be the best decision you make today!
---
We've done in-depth research on each and confidently recommend them.
We've done in-depth research on each and confidently recommend them.
To learn more about how we score our reviews, see our
eCommerce Software Rating Criteria
.