Expert Analyst & Reviewer

UPDATED
Advertiser Disclosure: Our unbiased reviews and content are supported in part by
affiliate partnerships
, and we adhere to strict
guidelines
to preserve editorial integrity.
Odoo Accounting

Pros
Highly customizable
Scalable
Open-source
Shipping integrations available
Cons
Limited features
Over-complicated pricing plans
Limited invoicing features
Odoo Overview
If your current accounting software isn't enough for your business, maybe it's time to check out Odoo Accounting. Odoo is a little different from the accounting software we usually review, for a couple of reasons. First off, it isn't a simple bookkeeping tool; it is enterprise resource planning (ERP) software. Secondly, Odoo is open-source software — meaning it can be customized and modified to fit your specific business needs.
Odoo offers over 40 different small business applications, and the software can be hosted online or on-premise. These applications, as well as the user-designed add-ons, allow the software to grow alongside your business. This review, however, will be focusing specifically on Odoo Accounting.
Odoo Accounting offers strong accounting with a full chart of accounts, fixed asset management and depreciation, accounts payable, basic reports, and more. For key features, such as project management, time tracking, and estimates, you'll have to buy Odoo's other applications. While this modular pricing model can seem expensive (especially if you're used to accounting software, such as QuickBooks or Xero), Odoo is far cheaper than most of its ERP competitors.
For users looking only for a small business accounting solution, you can get more features for less money with other accounting programs. But if you are interested in a full ERP solution or are a developer drawn to the idea of completely customizing your software, Odoo could be a good option for your business. Continue reading the full review to learn more.
Odoo Pricing
Odoo offers 30 different open-source software applications ranging from accounting to CRM to POS and more (plus thousands of user-designed add-ons). A 15-day free trial is available for you to test out the software.
Odoo's pricing scheme can be a bit hard to wrap your mind around. Bear with me as I try to make it as simple as possible. Basically, the pricing model can be broken down into two choices: online or on-premise.
Online
Odoo offers a web-hosted option with two different pricing options: free and paid.
Free
Odoo Online's free plan is cloud-based and gives you access to one Odoo application of your choice. The only catch is that there is no customer support available for the free plan. If you want just accounting software, you could use this version, especially if you're okay with not having customer support.
Paid
If you need more than one online application, then you pay $35/month for one user plus the cost of applications. Each application's cost varies. Most range from $15-$30/month, with some as high as $72/month. Odoo Accounting specifically costs $30/month for a single user. Visit Odoo's pricing page to calculate your monthly payment by selecting the applications you'd like plus the number of users you have.
Discounts vary depending on the number of users you select. Discounts are also available if you opt for annual billing.
Here's an idea of some of the applications available with Odoo:
Odoo Accounting
Odoo CRM
Odoo eCommerce
Odoo Point of Sale
Odoo Project
Odoo Timesheets
Odoo Inventory
Odoo Events
Odoo Email Marketing
Odoo Helpdesk
Odoo Appointments
Odoo Subscriptions
Odoo PLM Manufacturing
Visit Odoo's website for a full list of applications and pricing.
On-Premise
Odoo recommends the on-premise solution for users with more than 50 users. There are two on-premise versions of Odoo: Odoo Community and Odoo Enterprise.
Community
Odoo Community is the completely free version of Odoo that you can download onto your computer. This version of Odoo has a lot of the same great features as Odoo Enterprise — and if it doesn't have all the features you need, odds are a fellow community member may have created the code for it. There are over 14,000 add-ons in the Odoo Community marketplace, so if you need highly customizable small business accounting or a full-on enterprise solution, Odoo is a great choice.
Enterprise
Odoo's paid locally-installed plan is called Enterprise. The Enterprise plan is priced similarly to the paid version of Odoo Online but gets billed annually, so you'll receive a slight discount on users and applications. For Odoo Enterprise, you'll pay $28/month for one user plus the cost of applications. Each application's cost varies. Most range from $12-$24/month, with some as high as $72/month. Odoo Accounting specifically costs $24/month for a single user. Visit Odoo's pricing page to calculate your exact annual payment. Discounts vary depending on the number of users you select.
If you opt for the Enterprise edition, you can either set up the software yourself or pay an Odoo partner an additional implementation fee to set up the software for you. Implementation fees are not regulated by Odoo and are subject to the Odoo partner's discretion.
Note: These prices are specific to US users. Prices vary by country.
Extra Costs
There are a few additional add-ons you might want to consider when signing up for Odoo:
Success Packs: Success packs start at an additional $3,600. New users can receive 15% off their chosen Success Pack. When you buy a Success Pack, you're paying for a personal Odoo developer who is assigned specifically to you and will work as a contractor to address any business needs you have. These packs are great if you're a small business without an IT department or internal developers. Contact an Odoo representative for more details.
Integrations: In addition to its Apps, Odoo also has integrations. Available integrations include everything from UPS and USPS shipping to VOIP and Amazon. Integrations start at $36/month.
Odoo.sh Cloud Platform: If you need hosting, the Odoo.sh Cloud Platform offers a number of benefits to your business, including staging servers, backup servers, DNS and routes, and email gateways. Contact Odoo for more information about features and pricing.
Cloud-Based Or Locally-Installed
Both, as Odoo offers a SaaS, web-hosted accounting program (Odoo Online) as well as on-premise options you can install on your computer (Odoo Community and Odoo Enterprise).
Hardware & Software Requirements
Odoo Online is compatible with nearly any device so long as you have an internet connection. Odoo Online is optimized for Google Chrome and Mozilla Firefox.
Odoo Community and Enterprise are a bit more particular in terms of system requirements. Odoo details its implementation process and system requirements on its website.
Odoo also has a MyOdoo ERP mobile app for iPhones and Androids.
Specific Size Of Business
Odoo's ideal business size range varies, depending on the needs of each organization. Small businesses that need just one app, such as accounting, can easily use the stand-alone Odoo Accounting application. However, if you're looking for only accounting, I'd recommend a program such as QuickBooks or Xero instead unless you are anticipating a lot of growth and will require Odoo's application collection in the future.
As your business grows, you can add as many Odoo applications as you need. The open-source nature of the software makes it optimal for developers and tech-savvy business owners who want to customize and modify their software.
Both Odoo's online and on-premise plans only allow for a single user. Adding more users can become quite spendy, although the company does offer a slight discount for each additional user. You can set three different levels of user access within the software.
Accounting Method
Odoo uses both cash-basis and accrual accounting.
Ease Of Use
Odoo Accounting is generally intuitive, and a recent redesign makes the software easier to navigate and more organized. Another nice touch is that the software walks you through how to use the features, making it easier to get started.
Odoo Software Features
Odoo Accounting offers most basic accounting capabilities. However, for specialized features, such as project management, inventory, time tracking, etc., you'll have to purchase additional Odoo applications to receive the feature depth we're used to in our reviews. You can go on a feature tour or schedule a demo of the software to see these features in action.
Dashboard: The Odoo Accounting dashboard is neatly divided into boxes and graphs, which can be moved and customized. The dashboard shows Customer Invoices, Vendor Bills, Banking, and Cash by default.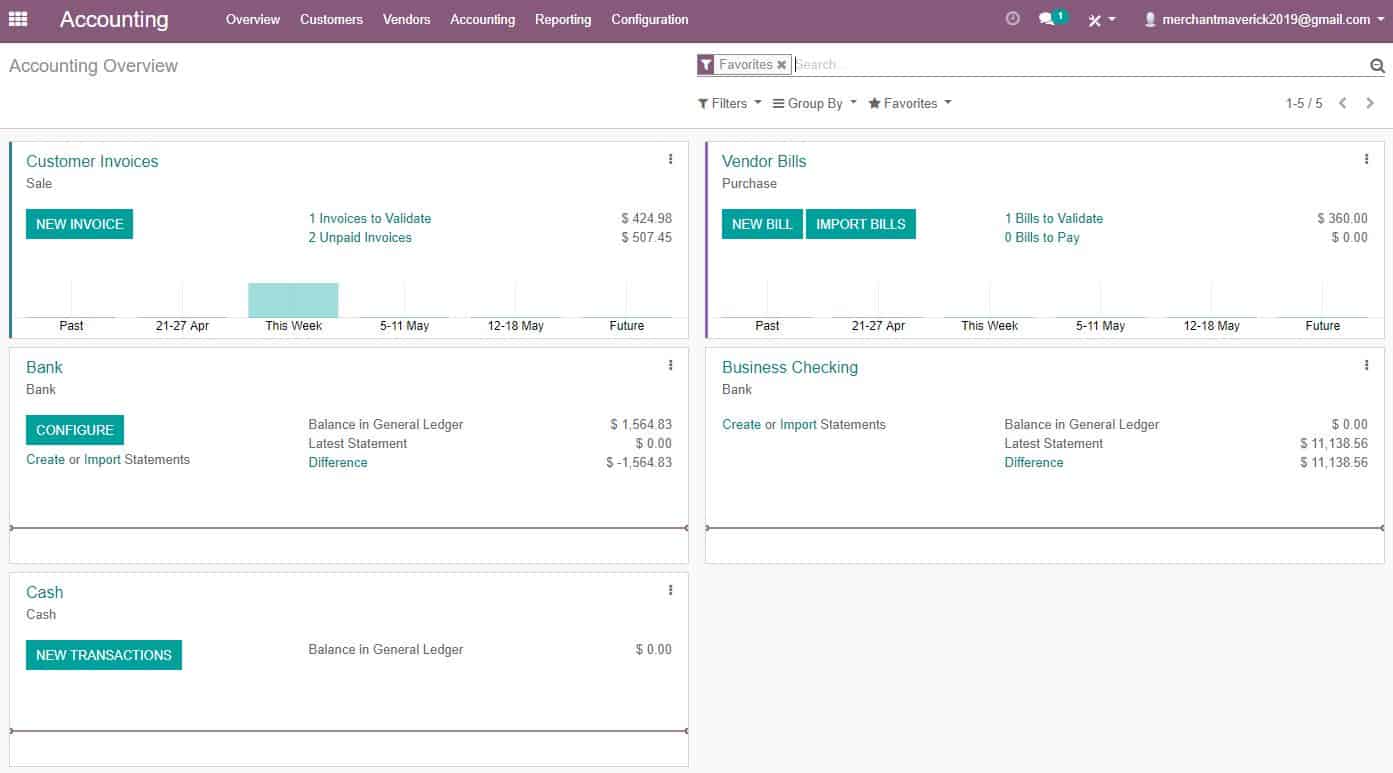 Invoicing: Odoo offers four invoice templates. You can add a logo and header, but that's about it in terms of customizations. You can set invoice reminders and warnings for when you're invoicing a specific customer (e.g., "this customer is always late"). Invoices are sent as a .pdf, and you can require staff members to send invoices for approval before being sent. There are no recurring invoices available.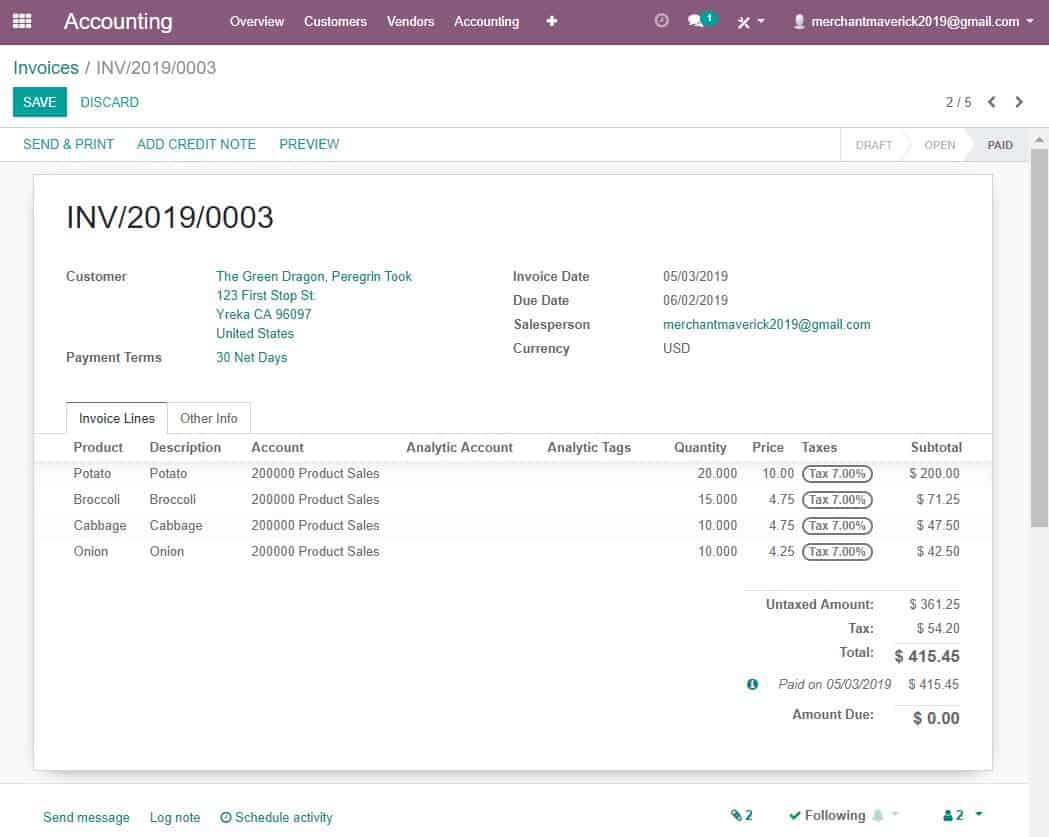 Client Portal: Odoo has added a nice client portal where customers can view their invoices and pay them directly online.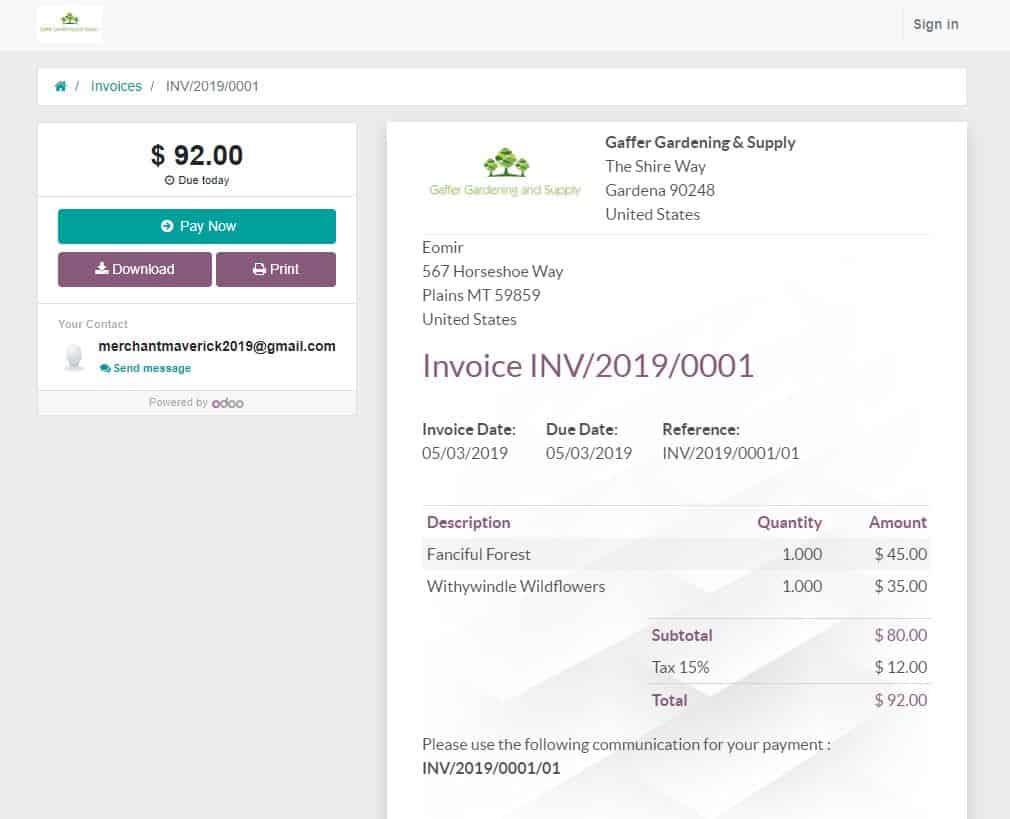 Contact Management: Odoo Accounting supports basic contact and vendor management. You can record relevant contact information, an image, internal notes, default sales/purchasing settings, and more to each contact. The main contact dashboard is a bit underwhelming and doesn't show much information, which seems like a missed opportunity.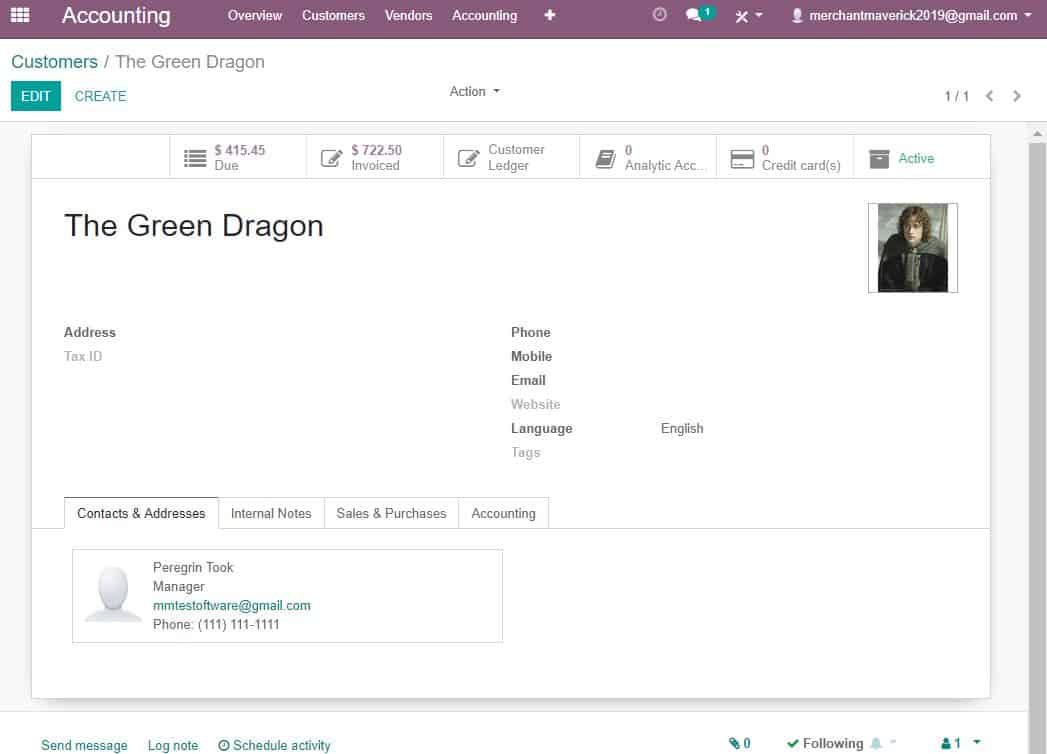 Expense Tracking: You can track expenses in Odoo by connecting to live bank feeds or manually importing your bank statements via .csv, .ofx, .qif, or .camt. Note: Like most software using live bank feeds, Odoo partners with Yodlee, which may violate some banks' Terms and Conditions. Consult with your bank to see whether live bank feeds are the right choice for you.
Bank Reconciliation: You can reconcile your bank accounts and group payments for easier reconciliation.
Chart Of Accounts: Odoo automatically creates a default chart of accounts for you. You can edit and add accounts as needed, or you can import your own chart of accounts.
Fixed Asset Management: You can manage fixed assets and run depreciation in Odoo. The software also automates amortization entries.
Accounts Payable: You can record and manage bills in Odoo. You can manually mark bills as paid or match them to their corresponding imported expenses. Odoo users can also write internal messages on bills for the rest of the staff to see.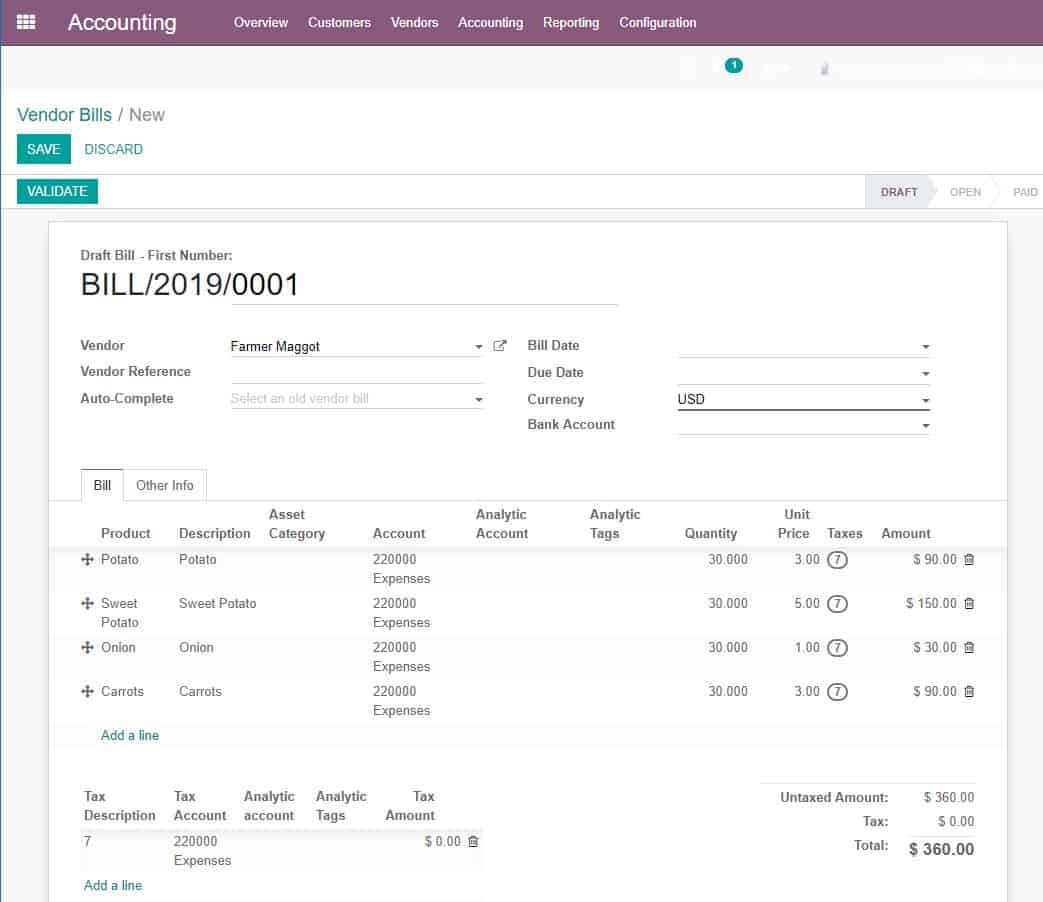 Inventory: When you add items to the software, you can mark them as items sold and/or items purchased. You can record basic information and set tracking categories as well to help keep your items organized and give you better insight on your reports down the road. You can add sales and purchase information as well as images to your items. For a full-fledged inventory feature (with low stock reminders, COGs calculations, etc.), you'll need to purchase the Odoo Inventory application.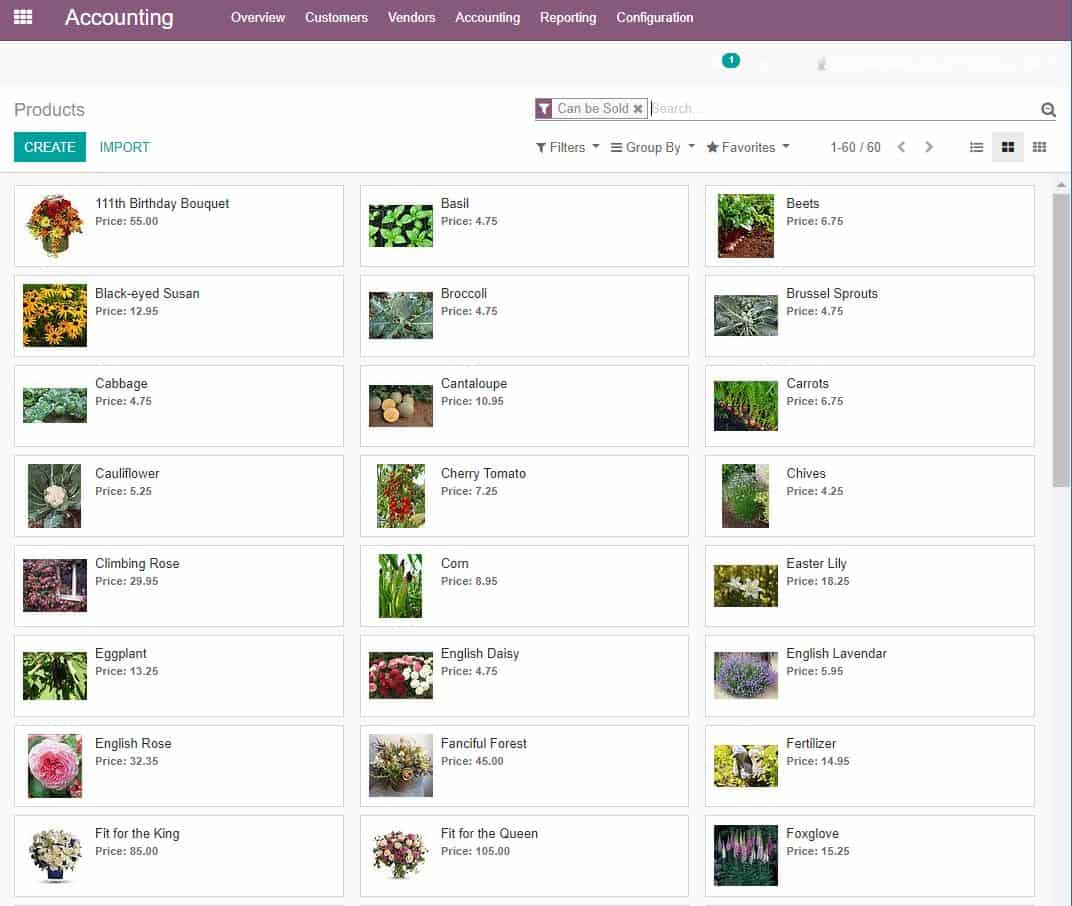 Reports: Odoo Accounting offers 18 reports. The software covers most basic accounting reports and tosses in a few analytic reports as well.
Budgeting: You can create budgets, but the feature is quite confusing and could definitely be reworked to be more appealing and intuitive. You can run a budget analysis report, which is a nice new addition to Odoo.
Journal Entries: Odoo supports journal entries.
Credit Memos: You can create credit memos.
Internal Messaging: One of the coolest features in Odoo Accounting is the internal chat feature. You and your employees can message each other directly within the software using general channels, private channels, or direct messages.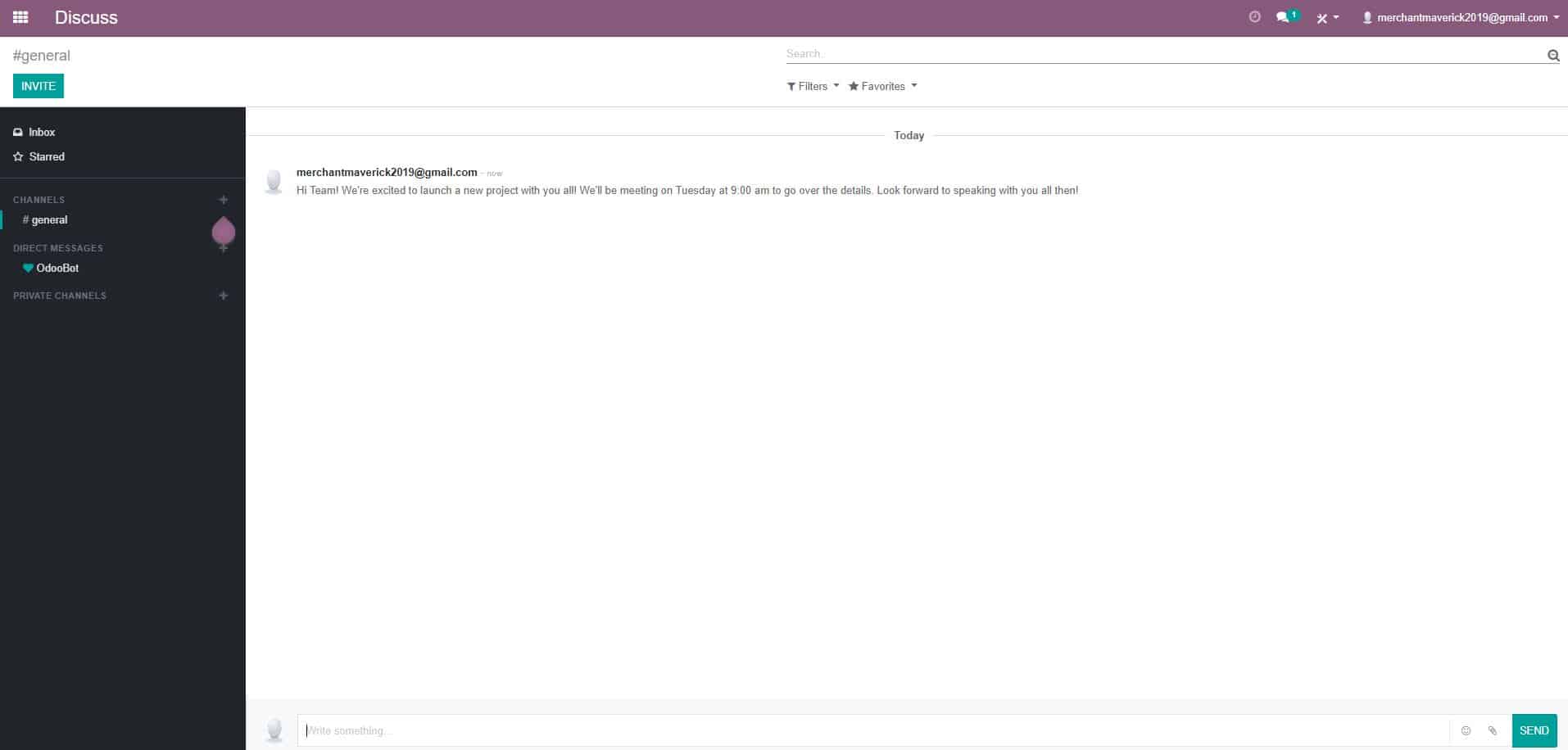 Sales Tax: The sales tax feature, while workable, is a bit underdeveloped. You can only set one default sales tax rate, which you cannot adjust on invoices unless you add an item line and manually calculate the sales tax total. One way to work around this is by adding default tax rates to each client to override the set tax rate.
Multiple Currencies: You can send and receive invoices in over 80 currencies. Exchange rates are updated daily, according to Yahoo Finance and the European Central Bank.
Importing & Exporting: You can import contacts, items, and bills via .csv or .xls. You can import bank statements via .csv, .ofx, .qif, or .camt. You can export your financial information as well.
Odoo Accounting Customer Service & Support
With Odoo's customer service, answers are hard to come by. Sometimes, the email responses are thorough, while other times, they are incomplete and incredibly difficult to understand. Most responses take anywhere from a few hours to a few days.
Besides the occasional slow response and lack of real phone support, the main issue is that when talking to different representatives, you'll get different answers about the software and its capabilities. It's hard to get a straight answer when phone support is only for emergencies, and scheduling a demo can take over a month. There's also no support for the free version of the software, and IT support and training cost extra. Odoo's one saving grace is its comprehensive and thorough help center.
Here are all of the support options available for Odoo:
Email: There isn't a support email for Odoo, but you can reach out for general information.
Phone: There is a phone number, but it is only "for emergencies and functional questions."
Support Form: In my experience, one of the best (and only) ways of contacting support is by filling out a support form. Sometimes responses take hours; other times, I was waiting for days to hear back.
Help Center/Documentation: Odoo has a documentation page, which is basically a help center for each of its applications. In the accounting section, you'll find how-to articles and frequently asked questions about nearly every feature in Odoo Accounting. These articles are incredibly helpful, and I recommend turning to this source first for any questions you may have.
Community Forum: There is a community forum where users can ask and answer questions about Odoo's apps.
Live Chat: There is a live chat feature on Odoo's website where you can ask general and sales-related questions.
Training Center: You can pay for software training either by the class ($125/each) or by the year ($1,000), which gives you unlimited access to all of the Odoo training courses.
Blog: Odoo has a company blog that features customer reviews and Odoo news.
Company News: You can look up additional Odoo news on the company website as well.
White Papers: Odoo offers detailed white papers. However, you have to share them on social media to download them, which is a bit annoying.
YouTube: There is a YouTube channel with recorded webinars and a few customer stories.
Social Media: Odoo regularly maintains Facebook, Twitter, and LinkedIn profiles.
Odoo Reviews
Negative Reviews & Complaints
There is a good handful of customer reviews for Odoo as a company. The software receives 4.2/5 stars on Capterra (based on 398 reviews). It's a bit harder to find reviews specific to Odoo Accounting, but there are a few out there.
These were some of the most common complaints:
Limited Support: The most common complaint is that customer support is limited and hard to reach.
Expensive: Quite a few users find the software expensive.
Weak Mobile Apps: A couple of users complain about Odoo's mobile apps.
Positive Reviews & Testimonials
As we mentioned, reviews specific to Odoo Accounting are limited. Odoo Accounting only has 44 reviews, but the application receives 4.2/5 stars on G2Crowd for those reviews. Odoo also has a customer testimonials page where you can learn how business owners are making use of the software.
Here are some of the positives users note about Odoo:
Everything's In One Place: Users like that Odoo is one completely integrated system where all of their Odoo applications can work together. Users also appreciate the modular pricing structure and being able to choose applications based on what their businesses need.
Easy To Use: A couple of users praise the software for being easy to use and well-developed.
Good For Developers: The software is loved by developers who can take the open-source nature of the software and run with it.
Here's what a few users have to say about Odoo Accounting:
I must say that Odoo ERP is among the best ERP software I have used in terms of simplicity, completeness and above all it meets most of the clients' needs.

This tool is very good especially for accounting. Excellent product. Designed to interact in accounting, statistics and reports. As an executive, I have been using Odoo Accounting all this time to improve the commercial relationship with my clients.

It is an excellent software to keep accounts of your projects, the inventory module is the best, the interface is sophisticated and easy to use, it even has an application available for mobile devices, provides solutions in all accounting areas, a complete software.
Odoo Accounting Integrations & Add-Ons
Odoo offers over 40 software applications altogether, covering a wide range of small business industries. Odoo has an API for developers and an Odoo Studio application for users who want to build custom apps but have no coding experience.
In addition to these applications, Odoo offers a few third-party integrations and an incredibly large app marketplace. Odoo and its users have collectively created 14,000+ applications through the Odoo API. These developers have created apps and modified the Odoo software to fit the needs of hundreds of small businesses. You'll find capabilities, such as dental clinic management, a website booking calendar, a Magento connector, and even Sudoku. You'll also find more traditional third-party integrations, such as USPS, UPS, FedEx, and eBay integrations. Explore Odoo's marketplace yourself to learn more.
Security
For its web-hosted solutions, Odoo uses 256-bit SSL encryption and runs regular security audits. The company has servers in multiple undisclosed locations, and the facilities have controlled access. Odoo only keeps data backups of your records for three months, so be sure to export your data often. Visit Odoo's security page for more details.
If you use Odoo Enterprise, you are responsible for your network and your computer's security. Read our article, How to Keep Your Locally-Installed Accounting Software Secure, to optimize your security.
Odoo Accounting FAQs
Final Verdict Of Odoo Accounting
Odoo is a great, easy-to-use, and affordable option if you are looking for open-source ERP software. However, if you're just looking for accounting software, Odoo's features are quite limited and underdeveloped compared to other accounting software. One user summed Odoo up well, saying:
Odoo works very well as long as it has… other applications such as inventory, point of sale, but if you only acquire an application it is very unlikely that you will get the most out of it.
In terms of actual accounting features, Odoo Accounting does well with features, such as a chart of accounts, bank reconciliation, fixed asset management and depreciation, and more. But Odoo Accounting's reports and additional features that you would usually see in accounting software (project management, time tracking, etc.) are lacking. Considering Odoo's pricing structure, it makes sense — the company wants you to buy multiple applications. Another drawback is Odoo's limited customer support.
Ultimately, Odoo is going to be a good fit for a certain type of business. Odoo could be a good fit if you're looking for:
A highly customizable, open-source software
An affordable ERP solution
Scalable software that will grow alongside your business
The software is ideal for developers who want the freedom to custom-design their software. It is also a good alternative to more expensive ERP solutions, such as NetSuite, since Odoo is both cheaper and easier to use.
However, if you're just looking for an accounting software solution, I would not recommend Odoo Accounting (unless you are planning on growing your business and will need Odoo's additional features in the near future). You'll get more bang for your buck with full-fledged accounting solutions, such as QuickBooks Online, Xero, and even Wave.
If you are interested in Odoo, be sure to use the free 15-day trial to see if this software is a good fit for your business.
---
Featured Free Corporate Card
Ramp


---



Ramp offers a free corporate card for virtually any business. Start earning rewards with your corporate spending today. Get your free card.
Featured Free Corporate Card
Ramp


---



Ramp offers a free corporate card for virtually any business. Start earning rewards with your corporate spending today. Get your free card.
To learn more about how we score our reviews, see our
Accounting Software Rating Criteria
.