One.com Website Builder Review
Expert Analyst & Reviewer

UPDATED
Advertiser Disclosure: Our unbiased reviews and content are supported in part by
affiliate partnerships
, and we adhere to strict
guidelines
to preserve editorial integrity.
Pros
Excellent eCommerce
Excellent customer support
Good contact form
Starter plan is free for one year
Cons
Over-complicated pricing
No free plan
Must give CC info to use free 15-day trial
Non-intuitive blogging tool
One.com Website Builder Overview
One.com is a web hosting company that includes a website builder in its services. My review is exclusively focused on the website builder, because that's how I roll.
Saddled with a name that doesn't seem to comport with modern SEO best practices, One.com was founded in Denmark in 2002, and currently serves more than one million clients around the world. One.com employs 270 people across three corporate offices (Denmark, Dubai and India), and though it doesn't have a big presence in the US, it is the market leader in Denmark. In fact, One.com notes that "Denmark is according to EIU's 2009 e-readiness rankings the most e-ready country in the world, even above the US." Lest you think it's all windmills and Hans Christian Andersen gift shops over there.
Having reviewed a few website builders put out by web hosts (GoDaddy and 1&1), I've found them to suffer a bit for being just one of a collection of products released by their respective parent companies. They just don't feel as polished as many of the systems developed by companies for whom website building is the sole focus. Does One.com's website builder follow in that pattern? Read on to find out.
Pricing
Unfortunately, One.com doesn't give you credit-card-free access to their product for a limited time, though they do offer a money back guarantee for the first 15 days. Here's what One.com has to offer:
Starter
FREE for the first year, $2.45/month for subsequent years
25 GB Storage
Unlimited Visitors
Publish up to 5 pages
Responsive
Single Domain
Free Domain for 1 Year
SSL Security
Premium
$3.72/month for the first year, $7.44/month for subsequent years
All of the Above PLUS:
Publish up to 200 pages
Exclusive Premium Templates
HD Image Support
Backup & Restore
Webshop
$12.45/month (annual subscription)
All of the Above PLUS:
Fully-featured Webshop
I'm generally not a fan of staggered pricing. This model serves mainly to allow One.com to advertise its "free" Starter rate as the cheapest hosting deal around, but the real result is a needlessly complex pricing scheme that has an air of sketchiness about it. For example, from the pricing page, you'd think the price for the first year of a Starter subscription would be free, but no — there's a "setup fee" of $13.80 (this setup fee applies to all of One.com's website builder subscriptions).
Payment is accepted via credit/debit card (Visa and Mastercard) only. One.com offers a 15-day money-back guarantee.
Web-hosted or Licensed
One.com is web-hosted.
Hardware/Software Requirements
Just make sure your browser is up-to-date.
Business Types Supported
One.com gives you 100 templates to choose from, divided into the following categories:
Business & Services
Portfolio & CV
Family & Recreation
Food & Hospitality
Events
Music & Art
Webshop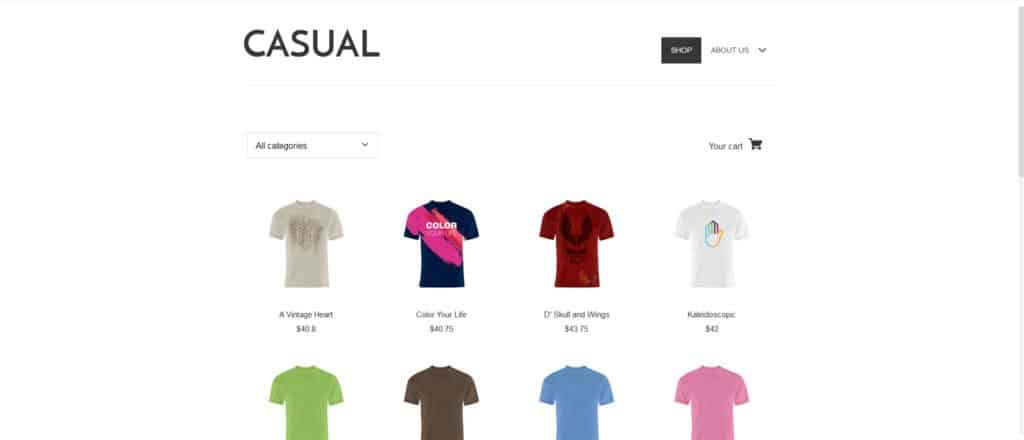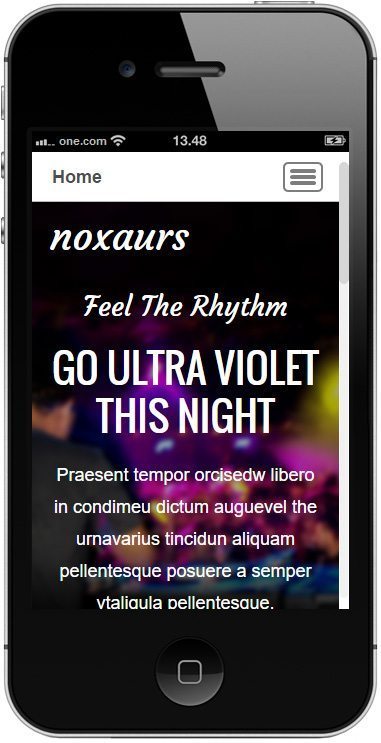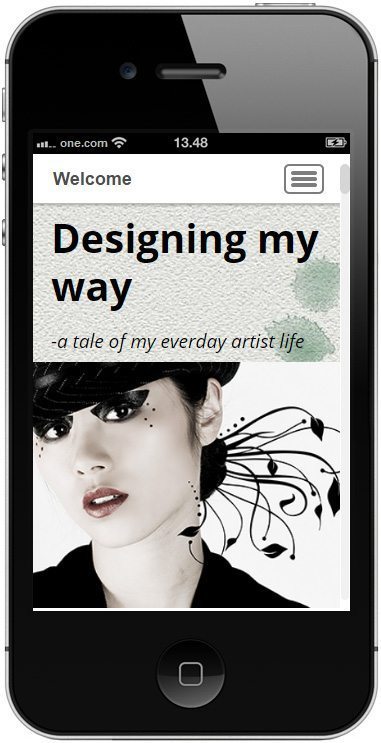 Ease of Use
One.com provides an introductory video for those seeking to familiarize themselves with the website builder.
Using One.com's website builder gave me something of a throwback feel – and not necessarily in a bad way. One.com gives you the design freedom to place elements wherever you wish. You're not constrained by limits on where you can place your elements. Most other responsive website builders of recent vintage tend to have more rigid templates which allow the placement of elements only into designated slots (in-between other designated content slots). One.com's website builder lets you place anything anywhere, and the elements can be resized to your precise specifications. Of course, with design freedom comes design responsibility, so designing a website that looks nice and clean may take you a bit longer here than it does with some of the more cookie-cutter editors. While this means One.com's website builder isn't the easiest possible website builder you could use, I don't mind this approach.
You'll also find a great deal of style/design options available for every element you place. More options than you'll probably ever take advantage of.
Need to preview your site? One.com has you covered – you can preview the look of your site in both desktop and mobile configurations. And don't worry if you screw up – there's a set of undo/redo buttons that will let you revert your site to any point in your editing history.
Features
In terms of features, One.com is no Wix or Weebly: you won't find a plethora of widgets at your beck and call, nor a repository of third-party solutions. You'll find the basic features you've come to expect from website builders, though.
eCommerce: One.com's eCommerce feature, known as the Webshop, is only available if you purchase a Webshop website builder subscription for $12.45/month. As it turns out, the Webshop is actually quite a nice SSL-encrypted eCommerce system. It's all done in-house, so it's not a third-party integration. You can add as many products in as many categories as you like. You can even sell each product in up to three different size/color variants and in any one of 19 different currency options. For payment processing, One.com offers Stripe, PayPal, and manual payment methods. The end result is an attractive and flexible eCommerce feature.
Blog: If you actually manage to jump through all the hoops necessary to set it up, the blogging tool is decent and attractive. Sadly, as blogging is considered to be a feature separate and distinct from the website builder, it's a huge pain to set up. With most of One.com's competitors, adding a blog is something that can be done by simply dragging "Blog" from the features over to your page. With One.com, a laborious 6-step process is required just to create your blog. Expect further hurdles should you wish to actually post to your blog or display it on your website. Tsk tsk.
Contact Form: One.com's contact form is perfectly customizable, which is the essential quality that makes a website builder's contact form useful for small businesses. Add as many fields as you like, select from different button styles, and tweak the visual style to your liking. There's nothing not to like about the contact form.
Other One.com features include:
WordPress hosting
Google Adwords
SEO Optimizer (a paid extra)
Embedded Facebook pages
Social media buttons
A YouTube video link
A photo gallery
The ability to add HTML/Javascript to your page
Notably absent is any integration with Google Maps. This may seem like a small sticking point, but a map is an invaluable tool for businesses that wish to be found by their potential customers!
Web Design and Editing
Templates: One.com's 100 templates are responsive and mostly attractive, if a bit basic.
Mobile Editor: One.com does not include a mobile app, nor is it possible to edit your website from a mobile device.
Integrations and AddOns
There aren't many integrations to be found here. You've got WordPress hosting, Google Adwords, social media buttons and YouTube video.
Customer Support
One.com's customer support comes in the form of email assistance, live chat, and an extensive FAQ. There's also that dry introductory video with the lonely voice-over I posted in the Ease of Use section.
I, for one, found One.com's live chat is both prompt and helpful.
Negative Reviews and Complaints
One.com has been criticized by reviewers for the following:
Some users have opined that One.com's relative cheapness masks the fact that the sites are unable to handle a lot of traffic. If yours is a business site and you intend to be successful, this isn't ideal in the long run. Others have complained of billing issues.
Positive Reviews and Testimonials
One.com has earned some reviewer plaudits as well:
One.com's customer base is largely complimentary of the quality and speed of their customer service, though some claim to have experienced significant delays. Overall, One.com earns an 7.5 out of 10 by users on Trustpilot.
Final Verdict
One.com's website builder is a pretty good product in and of itself. It's easy to use and allows for a high degree of design freedom and flexibility. Its features are mostly solid (though blogging is really too much of a pain to bother with) and its Webshop is well fleshed-out. On the downside, the pricing scheme is not what I would consider consumer-friendly, especially if you want more than just the bare minimum. Furthermore, if you ever intend to receive significant traffic (and shouldn't we all!), the limitations of One.com being an economy web host will become apparent.
It's a decent website building solution if you're looking to build a basic, no-frills website. If your sights are set higher than that, it might be worth exploring the alternatives first.
---
We've done in-depth research on each and confidently recommend them.
We've done in-depth research on each and confidently recommend them.
To learn more about how we score our reviews, see our
Website Builders Rating Criteria
.