Expert Analyst & Reviewer

UPDATED
Advertiser Disclosure: Our unbiased reviews and content are supported in part by
affiliate partnerships
, and we adhere to strict
guidelines
to preserve editorial integrity.
OrderCup
Pros
Free trial, no credit card required

Free plan available
Numerous features
eCommerce integrations
Cons
Shipping limits on plans
Additional cost for premium support
OrderCup Overview
It's natural to focus on sales when you're building an online store. As your sales start to grow, however, you may need to shift your focus to a new priority: getting all those orders out the door!
The less time and brain power you spend on your growing company's shipping needs, the more time you'll have to focus on sales, partnerships, product development — and whatever else pops up on your to-do list. So why not turn to shipping software to make the process run as smoothly as possible?
That's where OrderCup comes in. Designed to take the hassle out of order fulfillment, OrderCup promises an easy-to-use interface that integrates with multiple shipping carriers and sales channels. OrderCup users can access discounted USPS shipping rates without needing a separate account, and the software offers tons of value-added services, like discounted shipping insurance, returns processing, and free address verification. And due to a recent change, OrderCup now supports multi-channel selling, with unlimited channels included in all paid plans.
With even more goodies, like web-based direct printing, zero configuration scale support on PCs and Macs, global address validation and 24/7 support, OrderCup shipping sounds like a good option, with affordable plans to fit every budget, including a free plan. Will an in-depth OrderCup review show that this shipping software delivers on its promises?
OrderCup Pricing
OrderCup pricing is made to order, no matter how big or small your business is. You can choose between five tiered plans, with each step up in pricing allowing access to more user accounts and higher shipping volume. There's even a free plan, for those sending out fewer than 50 shipments per month.
All subscriptions are billed monthly, with no setup or cancellation fees or hidden charges. You can sign up for a free 30-day trial, no credit card required, though you will need to enter payment information as you use postage. You can upgrade or downgrade your plan at any time, with a pro-rated credit applied to your next payment. Your anniversary date automatically resets to the date of the change in your service.
Here's what the different plans offer:
Short
OrderCup's Short plan costs $25/month and includes:
Unlimited sales channels
500 shipments/month
One user
Access to all carriers
Standard customer support
Tall
OrderCup's Tall plan costs $45/month and includes everything in the Short plan plus:
1,500 shipments/month
Two users
Custom templates
Security & Administration
Grande
OrderCup's Grande plan costs $65/month and includes everything in the Tall plan plus:
3,000 shipments/month
Three users
Venti
OrderCup's Venti plan costs $95/month and includes everything in the Grande plan plus:
6,000 shipments/month
Five users
Trenta
OrderCup's Trenta plan costs $180/month and includes everything in the Venti plan plus:
12,000 shipments/month
12 Users
Premium customer support
Premium Support
Although free customer support is included on every plan, premium support that includes toll-free phone service and priority support tickets is included only on the top-tier plan. Users on any other plan can add premium support for an additional fee of $50/month or $500/year.
Cloud-Based Or Locally Installed
OrderCup shipping software is cloud-based. Users can access OrderCup from any computer or tablet via their web browser.
Hardware & Software Requirements
All that's required for using OrderCup is an Internet connection and a web browser. And OrderCup shipping supports printing on both Windows and Mac OS X.
OrderCup works with most USB scales and scanners. You can also use most laser and inkjet printers, as well as thermal printers that support the EPL2 and ZPLII formats.
Shipping Volume Of Business
With a free plan for users shipping 50 or fewer packages a month and five tiered paid plans, OrderCup holds appeal for businesses from small to large. However, with a shipping cap of 12,000 shipments per month on the top-tier Trenta plan, OrderCup shipping may not be suitable for very large businesses with high shipping volume (more than about 3,000 per week). If you're shipping 500 to 12,000 packages a month, OrderCup is definitely worth a look.
OrderCup may hold special appeal for companies doing significant international business. The software offers integrations with several global carriers, including in Canada and Europe, with increasing expansion currently underway across Asia and Australia.
Ease Of Use
Like many web-hosted software solutions, OrderCup offers prospective clients a free 30-day trial of the system. You'll need to connect OrderCup to your eCommerce platform in order to start your trial. Enter your store's platform and admin URL, along with a bit of basic contact information, and you'll receive an email with a link to log in to your new software. You can keep your credit card in your wallet. You won't need it until you go to integrate your shipping carriers.
Once you've completed setup, you'll have full access to your dashboard and your orders will transfer over quickly and automatically from your online store(s). I clicked "Fetch" at the top to have OrderCup import new orders as I created them. From there, you can select an order and begin processing. Here's what your order processing page looks like: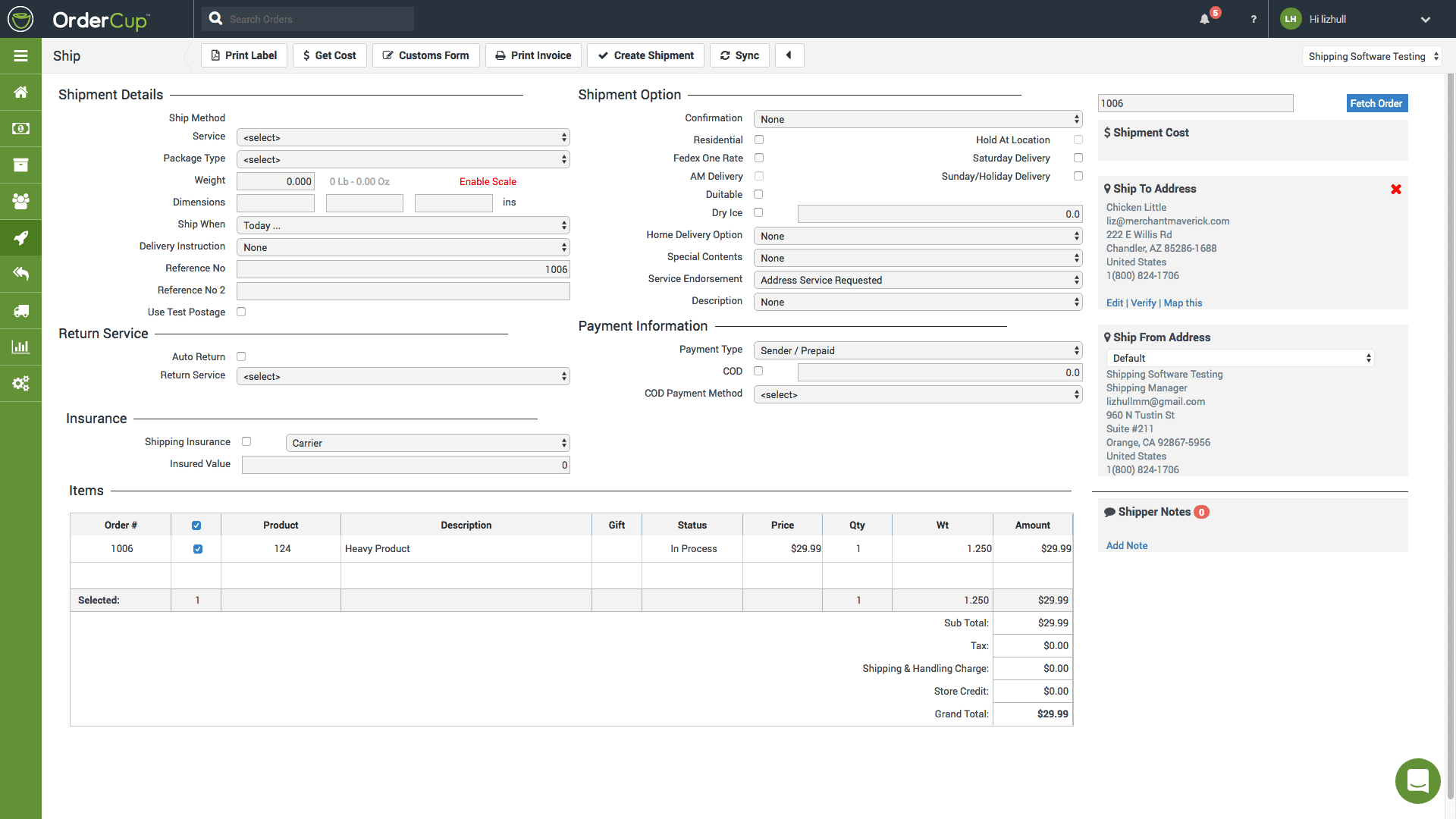 You can also schedule UPS and FedEx pickups from your admin. I was able to create a pickup in just minutes. On the whole, I can see OrderCup's dashboard smoothly integrating into a business's workflow, after the initial learning curve.
OrderCup Features
OrderCup comes loaded with features, and they're all available at any plan level, not just the upper tiers. OrderCup lets you create shipping labels, packing slips, and invoices for both individual and batch shipments. But that's not all you'll find included in the OrderCup shipping software. Here are some key features:
Dashboard: OrderCup's dashboard seems easy to navigate and learn to use.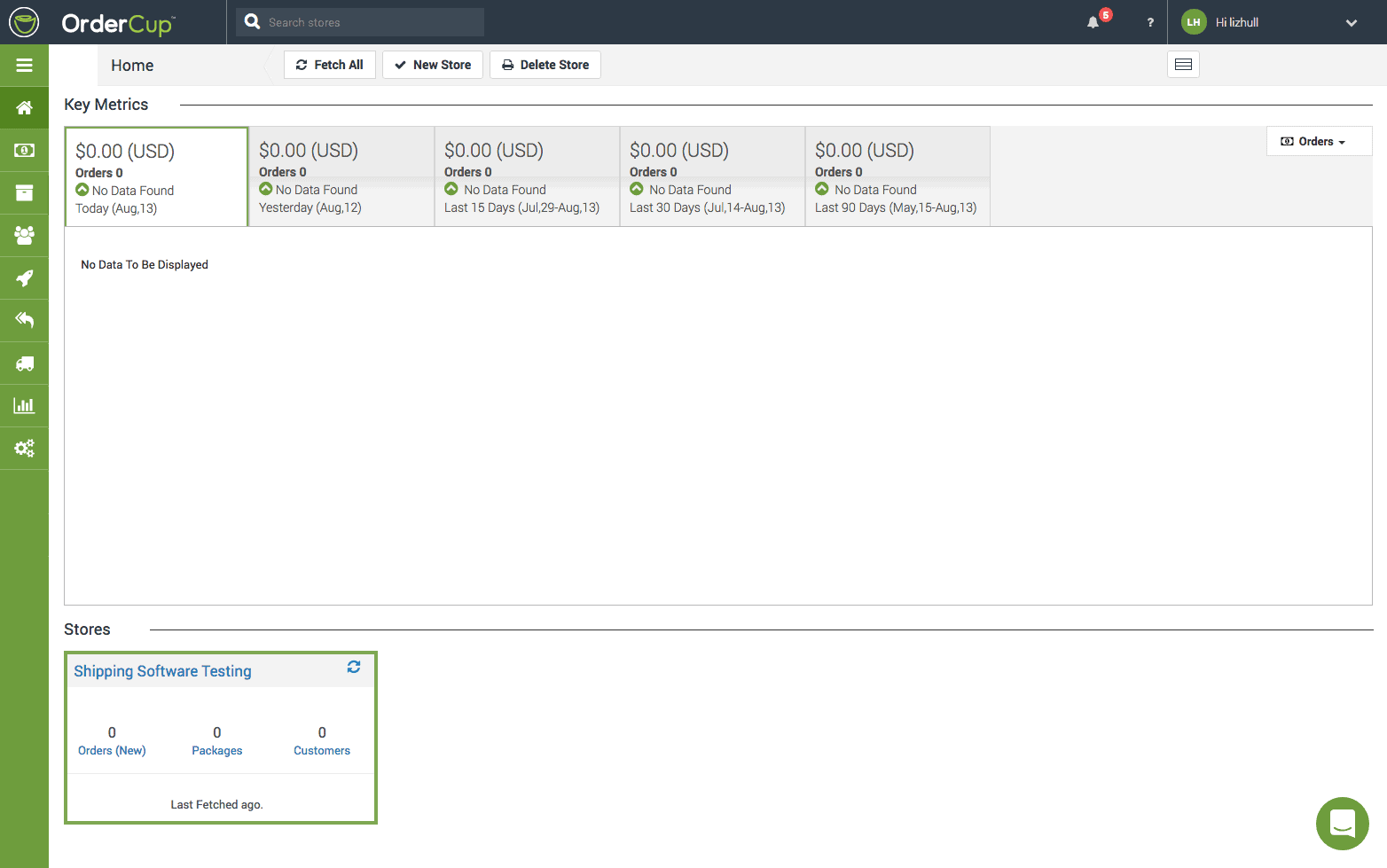 Shipping: OrderCup has organized arrangements with USPS, DHL, UK Mail, DX, and others to offer discounted shipping rates. Other perks include discounted shipping insurance, free pickups, free supplies, and free global address verification.
Multi-Channel Sync: Sync your sales channels using direct integrations with major eCommerce platforms, marketplaces, and shipping carriers. Use CSV files to upload orders from sales channels that OrderCup doesn't support.
Shipment Tracking: Real-time shipment tracking through the Packages page on your dashboard.
Order Management: Set up shipping and insurance rules to automate order processing. Sync with your sales channels to automatically import orders and products, or use CSV files to bulk import orders. Or you can manually create shipments in your admin panel.
Inventory: Automatic syncing though multiple channels.
Supplier Management: Add information about your warehouses and assign select products to warehouses.
Reports: View reporting features in your dashboard, including top selling items, daily shipments and shipments by users, order list report, account billing report, and more.
Shipping Labels: OrderCup includes support for both emailed return labels and printed return labels, which you can include in your shipments. Keep up with orders by batch printing hundreds of labels and invoiced at a time.
International Shipping: Integrate with shipping carriers worldwide, including Canada Post and regional carriers across Europe, Asia, and Australia.
Hardware Support: OrderCup supports a number of leading printers, scales, and scanners.
Schedule Shipment Pickup: Schedule pickups from FedEx or UPS.
Customer Management: View customers' past and pending orders.
OrderCup Customer Service & Technical Support
OrderCup has two support tiers: standard and premium. The standard tier, included on all paid plans, gets you chat and email support, which is based on a ticket creation system. You'll also have access to a web support portal, a knowledge base, live screen sharing, and outbound telephone support.
Premium support allows you to bypass the ticket system and talk to someone whenever you have an issue (as long as it's during business hours). Premium support includes toll-free telephone support and priority response. This option is only included on the Trenta plan. Other customers have the option to add this service for $50/month or $500/year.
My experience with the support team was very positive. I got prompt responses to all my inquiries, and the agents were friendly and well spoken.
Here's a quick rundown of the available support options:
Phone: Available seven days a week, except public holidays, from 7AM to 6PM PST, and in Europe.
Email
Support Form: Submit queries via email.
Live Chat
Knowledge Base: OrderCup hosts a comprehensive knowledge base containing articles on setup and configuration, usage operations, troubleshooting tips, and more.
Web Portal: OrderCup has an integrated single sign-on support portal that lets you create tickets and access a history of your previous tickets. Screen Sharing
In addition, initial setup support and consultation is available for $150. You get up to one hour of consultation and setup for your stores, carriers, and printers, as well as answers to your questions about OrderCup usage and best practices.
OrderCup Reviews
There aren't a lot of reviews for OrderCup online, and I found no recent complaints. So I turned to a few of the big eCommerce platforms to look into how users feel about the software.
Negative OrderCup Reviews & Complaints
It's a great sign for OrderCup's potential users that very few complaints are to be found online. On the Shopify App Store, for example, with about 300 reviews, OrderCup has a solid 4.9/5 star rating, with just 20 of those 300 users rating the shipping software anything less than 5/5. Those less-than-perfect reviews were almost all from 2012 or earlier, and they seemed to reflect more on individual users' expectations and experiences rather than spotlighting some trends that could raise red flags. Keep in mind that new users can test the software with a free 30-day trial, so you can avoid paying for something that just doesn't jibe with your needs.
In the interest of presenting a thorough OrderCup review, I have one observation of my own to share:
A Bit Simpler Than Some Options: While OrderCup has plenty of features to fit the needs of most merchants, this software does not seem to offer as many bells and whistles as some of their competitors. However, it could be that they just don't flaunt these features as much as other software companies. And it may be that, like many bells and whistles, what's missing isn't really essential anyway.
Positive OrderCup Reviews & Testimonials
It's easier to share positive reviews about OrderCup, because there are a lot of them. In fact, OrderCup has a perfect 5/5 rating on BigCommerce's app store. Here's what customers on various sites have had to say recently about OrderCup shipping:
Easy To Use: OrderCup simplifies shipping by providing merchants with easy-to-use software. Merchants love how quickly they were able to learn the software and how well the software does its job.
Responsive Customer Support: Customers' favorite part of OrderCup by far is customer support. OrderCart's support team is responsive and patient, often spending up to an hour on the phone with clients to make sure everything is set up properly. Some reviewers even name-check their favorite service reps. (It sounds like Ed deserves a raise.) "It is amazing and the response is always so fast, which is important when you're working hard to get orders out daily," one user said.
Good for Canadian Shipping: Canadian merchants and merchants who ship to Canada are equally grateful for OrderCart's support of Canadian shipping carriers.
Good Price: OrderCup's plans are reasonably priced for businesses of many sizes. If you factor in the discounts that OrderCart provides on shipping and insurance, OrderCup pricing plans look even better.
Integrations & Add-Ons
OrderCup has 44 integrations for eCommerce software, shipping carriers, and online marketplaces. To make eCommerce easier, OrderCup integrates seamlessly with Amazon, Walmart, Shopify, Magento, eBay, WooCommerce, and a few others. Shipping partners include USPS, DHL, UPS, FedEx, Canada Post, UKMail, DX, and more.
You'll also find interesting and perhaps useful apps such as Sendle, that can help you find carbon-neutral delivery options, and First Mile, which uses the USPS work-share program to get speedier deliveries. If you ship internationally, be sure to search for carriers. You'll find them sorted by North America and Europe.
Security
OrderCup's software is protected with the latest GeoTrust SSL 128-bit SSL encryption. That ensures that your credit card and other private information stays secure.
Final Verdict
I'm glad to see OrderCup closing the gap between itself and its major competitors. It's a good product with very loyal customers. That loyalty was probably won through their customer service department, and that's something that should inspire confidence in anyone who wants to give this software a try. OrderCup earns a glowing 4.5-star rating. I think it'll be a great fit for many companies.
Not convinced that OrderCup is right for you? Check out our shipping software comparison chart to see your other options. Whatever you do, don't wait too long to decide on a shipping solution. The benefits of using shipping software are clear, and your business can see real improvements once you implement a shipping solution.
Once you've got shipping under control, spend some of your free time working through some other smart fixes for your eCommerce business. You'll be selling more and more easily, and your business will benefit!
---
We've done in-depth research on each and confidently recommend them.
We've done in-depth research on each and confidently recommend them.
To learn more about how we score our reviews, see our
Shipping Software Rating Criteria
.