Ordoro Review
Ordoro is a solid shipping software solution for mid-size businesses. It is easy to use and has an expansive number of functionalities but might be more expensive than its competitors.
Expert Analyst & Reviewer

UPDATED
Advertiser Disclosure: Our unbiased reviews and content are supported in part by
affiliate partnerships
, and we adhere to strict
guidelines
to preserve editorial integrity.
Ordoro

Pros
Excellent customer service
Numerous integrations
Good dropshipping features
Cons
More expensive than competitors
Free plan discontinued
Limited features on basic plan
Ordoro Overview
Ordoro is a shipping and inventory application mostly for medium-sized businesses and dropshippers. This product is available to subscribers for a monthly fee under the Software-as-a-Service (SaaS) model.
Ordoro integrates with USPS, UPS, FedEx, DHL, and the Canada Post to quickly generate shipping labels and get your orders out the door. And if you need access to more advanced features for dropshipping and inventory management, you can get them through Ordoro at an additional expense.
Enough background, though. If you're reading this, you probably want to know if the software is any good, so let's get to it.
Ordoro Pricing
Ordoro previously offered four pricing plans, which included a free plan for businesses shipping under 50 orders per month, as well as an unlimited number of orders for the two highest pricing plans. A free plan and unlimited orders was an attractive feature of Ordoro and gave the company an edge over other shipping software providers.
Unfortunately, Ordoro has since done away with those features, and now offers three pricing plans, and implements a "flexible pricing" model.
Flexible pricing allows you to stay on one plan and pay a little extra each month if you go over your maximum number of orders or add another sales channel (sales channels include your own online store and/or an online selling platform such as Amazon or eBay). The idea behind this model is that your business's activity may fluctuate throughout the year, but you shouldn't need to get bumped up to a higher plan just because you have a few very busy weeks or months.
Ordoro's billing system will automatically increase and decrease your bill on a monthly basis depending on your order numbers or sales channels.
Here's a breakdown of which features each pricing option includes:
Express
Ordoro's Express plan starts at $59/month and includes:
Up to 1,000 orders/month
Two sales channels
Unlimited number of users and warehouses
Unlimited phone and email support
USPS, UPS, FedEx, DHL, and Canada Post Shipping
Up to 67% off USPS rates
Discounted shipping insurance
Automation rules and presets
No seller-fulfilled prime (SFP) fees
Shipping rate comparison across carriers
Printer integration
Barcode scanning
Multiple ship-from locations
Create return labels
$20 for every additional 1,000 orders above baseline
$10 for every additional sales channel above baseline
$100/month if you want to access Ordoro's API
Pro
Ordoro's Pro plan starts at $499/month and includes:
Up to 3,000 orders/month
Up to six sales channels
All features of the Express plan
Inventory management
Dropshipping
Supplier management
$100 for every additional 1,000 orders above baseline
$50 for every additional sales channel above baseline
Free API access
Enterprise
Ordoro's Enterprise plan starts at $999/month and includes:
Up to 4,000 orders/month
Up to eight sales channels
All features of the Pro plan
Four vendor portals
Dedicated account manager
Custom workflows and integrations
$100 for every additional 1,000 orders above baseline
$50 for every additional vendor portal above baseline
Free API access
This shipping software obviously has a lot of benefits but costs much more than competing shipping software providers such as ShippingEasy and ShipStation.
Ordoro offers a 30-day free trial for you to try out the application before committing to it.
Shipping Volume Of Business
Ordoro's smallest plan allows for up to 1,000 orders per month, while the largest plan allows for 4,000 orders per month. Ordoro's flexible pricing feature is helpful for businesses with fluctuating sales numbers since Ordoro's automatic billing will increase or decrease your bill for the month based on your sales numbers.
Since there is no free plan and no plan with an unlimited number of orders, Ordoro may not suit businesses that are just starting out or businesses that ship a very large number of orders every month.
Ease Of Use
Ordoro's interface is clean and simple. While this doesn't differentiate it from its competitors a whole lot, I will say that, of the shipping solutions I've reviewed, this one skews the most toward minimalism.
A navigation bar at the top of the page displays the five main tools:
Dashboard: Displays an overview of your account along with product updates from Ordoro.
Orders: Store all of your orders with filters for sales channels, tags, and date range.
Products: View your products with their weights and package dimensions. Upgrade to Pro to use inventory management features on this page.
POs: Create and send purchase orders.
Analytics: Assess your store's stats. Filter those stats by sales channel and date; view top sellers, top customers, inventory stats, and more.
The workflow is pretty straightforward. During account creation, there's a wizard that helps you link your account to whatever eCommerce platform(s) and marketplaces you're using. Once you've successfully integrated these sales channels, the software automatically syncs any new orders you receive and pushes them into Ordoro for fulfillment.
I was pleased by how quickly Ordoro pulled orders from my connected Shopify account.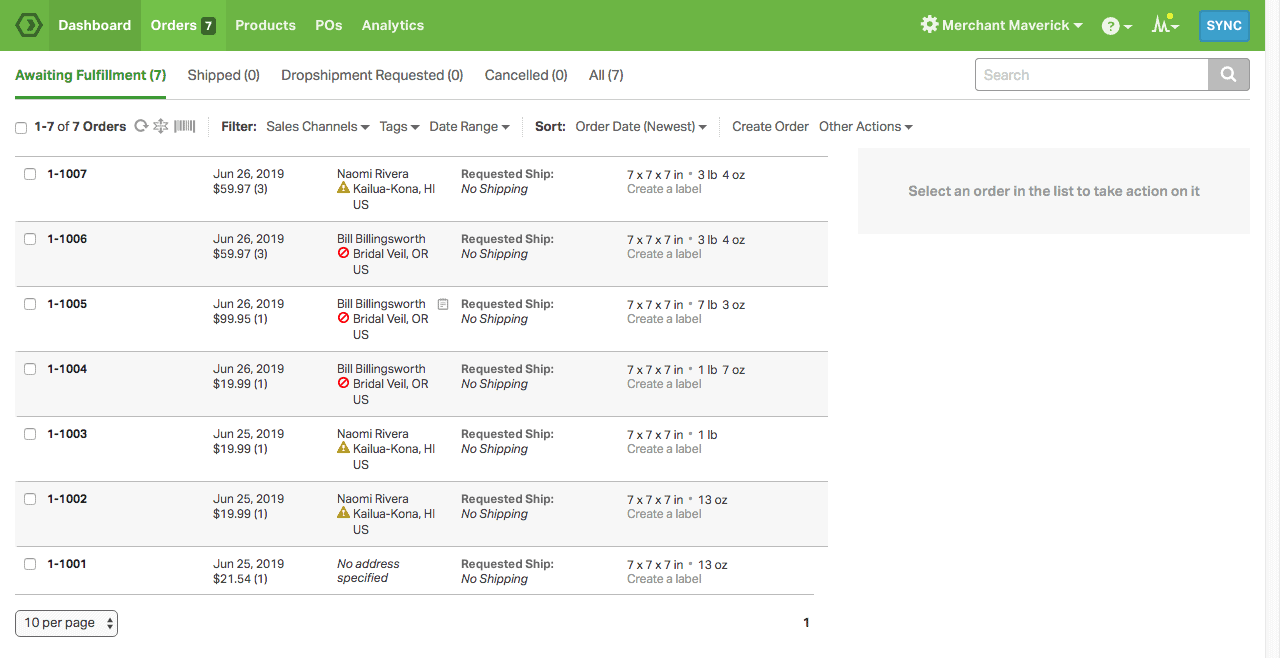 On the orders page, the user can select any pending sales orders (either individually or in bulk) and begin processing. When you choose an order, a label generator for shipping and return labels appears on the side of your screen. You just need to select your carrier, package type, and shipping methods to create a shipping label. I like that I can view pricing for multiple shipping methods on the same page. Many shipping software applications do not offer this feature.
Head over to Ordoro's settings page to set up your automations and shipping presets, integrate with third-party logistics providers, and more.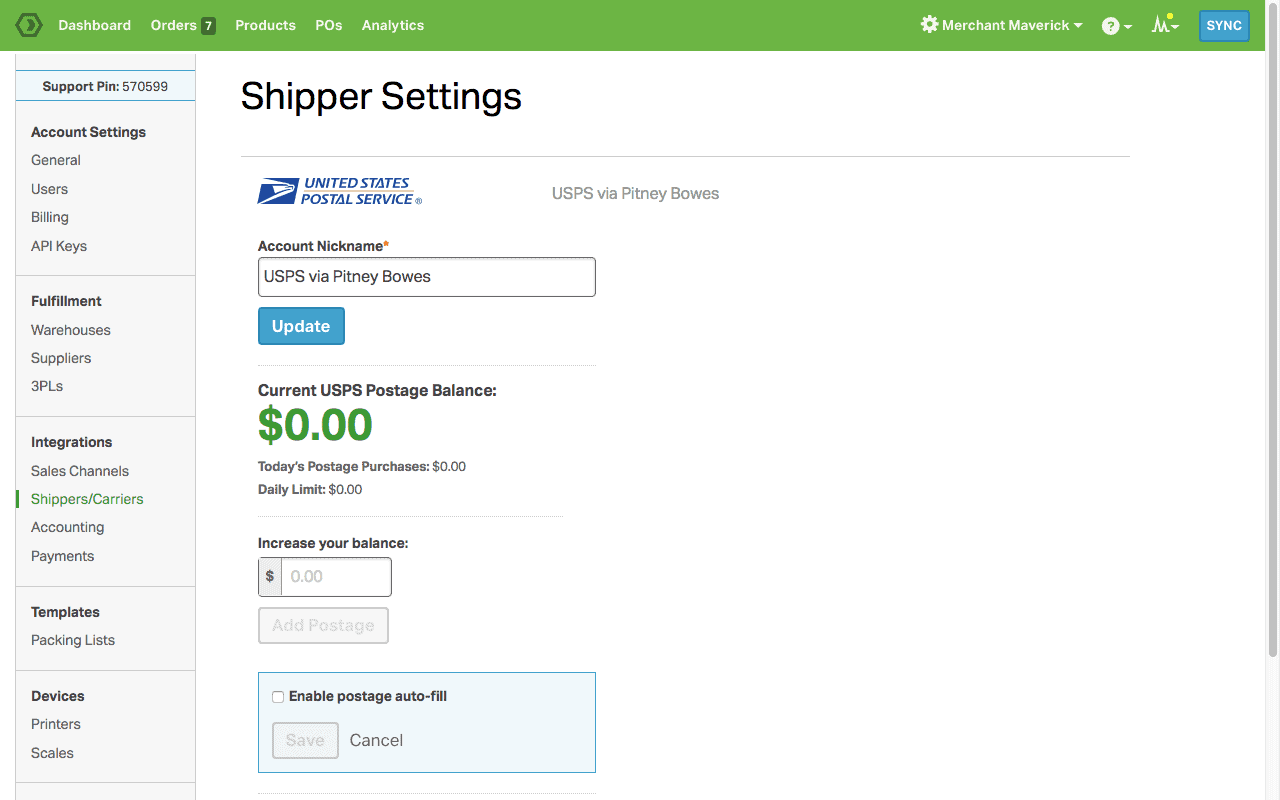 While Ordoro has a minimalistic dashboard, it isn't immediately apparent how to use all of Ordoro's features. Fortunately, Ordoro has plenty of support resources available to help you figure out the software, and after an initial learning curve, daily operations should feel natural.
Ordoro Features
The software offers a host of tools in the following categories:
Dashboard: Your dashboard displays the latest product updates. From here, you can access Orders, Products, POs, and Analytics.
Shipping: Set automation rules and shipping presets that apply to orders as soon as they import to Ordoro. Ordoro lets you choose shipping methods from multiple carriers, including the USPS, DHL, UPS, FedEx, and Canada Post. You can compare rates between various shipping methods all on the same page, which is a big advantage. Here's a screenshot of the rate comparison feature from my trial (since I was trying out the Pro plan, I also have a dropshipping option on this page):
Multi-Channel Sync: Download orders from multiple online stores and manage them on one admin. Ordoro syncs your orders automatically every hour. Or you can click the "Sync" button manually to make sure your order list is as up-to-date as possible.
Shipment Tracking: Have your tracking numbers sent automatically to customers upon shipment.
Order Management: Allows you to batch print hundreds of shipping labels and packing lists.
Inventory: With the Pro and Enterprise plans, sync inventory across all sales channels, set stock thresholds, generate and send POs, and bundle your products with built-in kitting features.
Dropshipping: Dropshipping features are available on Pro and Enterprise. Create dropshipping SKUs and set up vendor portals to let your suppliers access and fulfill orders. The dropshipping option on the Pro plan is pretty cool, and it gets a lot of love from Ordoro enthusiasts. Once it's set up, all you need to do is approve an order, and Ordoro handles the rest.
Reports: You can view total revenue and total costs. Track the cost of taxes and discounts, view revenue data for each of your sales channels, and more.
International Shipping: Send your products globally with international carriers.
Integrations & Add-Ons
Ordoro currently integrates with 41 popular software solutions. These integrations allow you to easily transfer information from your online store to Ordoro, from Ordoro to your accounting software, and more. Ordoro integrates with the biggest names in eCommerce, including Shopify, BigCommerce, and Amazon as well as with a variety of shipping carriers, fulfillment services, accounting software, and point of sale (POS) software. Check Ordoro's complete integration list to ensure that your favorite software applications are connected.
There is also an API available, which you can use to develop custom connections to software not included in Ordoro's integrations list. However, API access is only available for free on Pro and Enterprise level plans. Those on the Express plan need to purchase API access for an additional $100 per month.
Customer Service & Technical Support
Ordoro lets you access support resources through a range of channels. Ordoro makes all support channels available to all users, no matter how much you pay. Also, Ordoro users absolutely love the company's technical support. Users say they can reach a helpful representative quickly, and their issues get resolved in little time.
Here are a few ways you can contact Ordoro as well as a list of its self-help resources:
Phone: Monday – Friday, 9 AM – 6 PM Central Time. Ordoro says that you should leave a voicemail if you don't get ahold of someone the first time you call, and they'll follow up on the same day.
Email: Available during business hours. Ordoro says they also offer "limited" email support over the weekend.
Help Center: Find lots of articles and videos that explain how to best use Ordoro. Use an internal search bar to find answers to your specific questions. There is also API documentation available, which helps developers build connections between Ordoro and other software.
Community Forum: Ordoro has a forum designed specifically for developers.
Guides: These guides include general information and advice on shipping.
Videos: Ordoro has a YouTube channel full of five to 10-minute videos that show how to use some of the basic features.
Blog: Read up on Ordoro's product updates.
Social Media: Ordoro posts fairly infrequently on Facebook, Twitter, Instagram, and LinkedIn.
Ordoro Reviews
Negative Ordoro Reviews & Complaints
To get a bigger picture of the ways Ordoro serves its customers, I searched all over the internet for user reviews, both positive and negative. While I was able to find plenty of reviews from past years, I only found a handful of comments from this year. This lack of feedback is reflected at the BBB where Ordoro scores an A+ with only one complaint in the past three years.
Overall, the reviews that I did find had more positive things to say about Ordoro than negative. I did, however, notice one trend in the few negative reviews that I found. Here's what they say:
Slow Sync: A few customers mention that it can take a while for Ordoro to sync with their sales channels and import new orders. One merchant says they would like Ordoro's automatic sync to happen more often than once an hour. It's worth noting that my own experience with the software was different. Orders transferred into the software almost immediately. I did not have to wait an hour, and I did not have to click the "Sync" button.
To supplement this complaint, I've come up with my own. Here's where I think Ordoro needs to improve:
Limited Features On Express Plan: To access dropshipping, kitting, and inventory management features, you have to sign up for a Pro plan, which begins at $499/month. Other shipping software programs include one or two of these features in their basic plans, which are typically priced based on the number of orders merchants ship per month.
Positive Ordoro Reviews & Testimonials
In general, Ordoro users are happy with the software. Ordoro scores an A+ rating on the Better Business Bureau and a solid 4.7/5 on G2 and a 9.7/10 on Trustradius.
Ordoro's website also includes a "Customer Spotlight" page that includes a few customer testimonials along with a handful of articles that talk about how Ordoro has helped real businesses. These articles are, of course, written by Ordoro, and you'll want to keep that in mind as you read them.
Here's what happy users talk about most often on review sites:
Discounted Shipping Rates: Customers can receive up to a 67% discount on USPS shipping.
Excellent Customer Service: Users report that Ordoro's support team is friendly and speedy. You can expect a timely response to your concerns.
Good Dropshipping Features: Ordoro's dropshipping capabilities are especially popular with Shopify users. Dropshipping features (available only on the Pro and Enterprise plans) let users automatically send orders to their suppliers. Vendor portals allow suppliers to access orders via a designated login.
Many Integrations: Users like that Ordoro integrates with many popular software solutions. You can integrate with many sales channels and manage orders from all those channels in your admin.
Security
The web application employs SSL (Secure Socket Layer) security for all web traffic. SSL means your data is encrypted and secure. Ordoro also allows users on higher-level plans to set up user permissions, which you can use to grant team members access to different parts of your admin panel.
Final Verdict Of Ordoro
Overall, Ordoro is a solid shipping solution for mid-size businesses and dropshippers. The software is easy to use and has an expansive number of functionalities.
Ordoro is not suited for smaller merchants, as the minimum plan pricing may be inaccessible to many businesses with low-volume sales or entrepreneurs who are just starting out. Large businesses will find themselves paying way more than the industry standard due to the fact that Ordoro does not allow for an unlimited number of orders.
If Ordoro sounds like the right solution for your business, take advantage of the free demo to see if Ordoro is the best shipping software for you! If you're not sure about whether Ordoro will fit your needs or your budget, then check out our post The Top Shipping Software Platforms For Small Business In 2022.
---
We've done in-depth research on each and confidently recommend them.
We've done in-depth research on each and confidently recommend them.
To learn more about how we score our reviews, see our
Shipping Software Rating Criteria
.