Ordyx POS Review
This flexible POS system works particularly well for the food and hospitality industries as well as having competitive pricing.
Expert Analyst & Reviewer

UPDATED
Advertiser Disclosure: Our unbiased reviews and content are supported in part by
affiliate partnerships
, and we adhere to strict
guidelines
to preserve editorial integrity.
Ordyx POS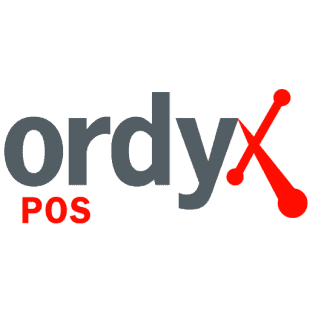 Pros
Numerous integrations
Competitive monthly cost
Loyalty program
Online ordering
Cons
Limited features
Outdated UI
Moderate learning curve
Ordyx POS Overview
Ordyx POS has understood the cloud for over a decade, claiming to be the first cloud-based POS system in the United States. This program's adaptability and low price point make it a solid budget POS choice for various industries, particularly hospitality.
Ordyx is a flexible web-based POS that works on virtually any device or operating system and pairs with scores of other business apps. Some Ordyx integrations are specific to the beer and wine industry, others to the hotel industry, and still others are for reporting and accounting. If a client requests an additional feature or integration, it is sent to Ordyx's developers and made available quickly.
The company's newest version of its product, OrdyxOne, was released in 2020. The functionality is basically the same as the previous version. The only difference is that it can work with multiple operating systems, including Android, iOS, Mac, and Windows. It also renders the same across each platform. For example, if a store uses iPad and Android devices, the software will look the same on both devices, making it easier for training purposes.
There are a few concerns with Ordyx. The system lacks a purchase ordering mechanism, and there are enough negative reviews about its customer service to be a bit of a red flag. I'd suggest signing up for a demo if you've done your research and have Ordyx as one of your finalists. Read on for more information about Ordyx.
Ordyx Pricing
Ordyx has a relatively simple pricing structure with no contract necessary and no yearly fees. It also has enterprise options available for multiple locations.
Ordyx has tinkered with its pricing structure a few times in the past few years and has settled on a quote-based system. While it's nice not to have to pay for services you don't need, it can also be a frustrating experience to go through a sales representative to get a quote or a straight answer on what you might expect to pay monthly.
Overall, the quotes I received were fairly competitive, but when you want to narrow down your POS options quickly, you'd probably rather not spend time giving all of your information to a representative from a company you may not end up choosing.
Cloud-Based Or Locally-Installed
Ordyx claims to be the first cloud-based POS offered in the United States.
Specific Industry
Ordyx offers dozens of restaurant- and bar-specific integrations that make it particularly appropriate for bars or nightclubs. Most small to mid-sized restaurants, cafes, and food trucks could benefit from Ordyx. Ordyx also bills itself as ideal for the hotel or property management industry, and there are a few nice features that would support that claim.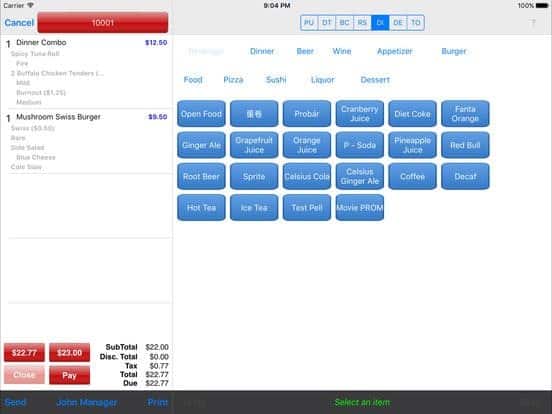 Specific Size Of Business
Small, one-station businesses might get the most from Ordyx; the product is cost-effective if you don't need many frills. However, Ordyx is also capable of handling multiple stations or franchises, so smaller hotels, retail shops, and small to mid-sized restaurants would be a good fit as well.
Ordyx POS Ease Of Use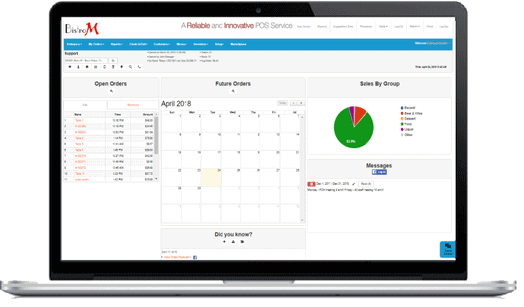 Ordyx's interface is fairly standard and easy to maneuver with a moderate amount of training. It's a little basic and dated in appearance but functional all the same. Tables are color-coded and easily distinguishable. Switching tickets from a bar to a table is as easy as dragging the order on the screen. Ticket splitting can be done in several different ways (by seat, by item, etc.) and easily separated on a visible ticket on the side of the screen. When scrolling through menu items while taking orders, modifiers pop up on separate screens, walking you through the process.
The table layout is not the most visually appealing interface I've seen and can get a little confusing with a large number of tables. If you have any experience with restaurant POS systems, though, it's intuitive. The back end appears a bit unwieldy at first glance when you're in the manager's mode. Once you sort out where to find features, such as inventory, accounting, and reporting, some nice graphic elements make those raw numbers more easily digestible, especially if you're familiar with Windows.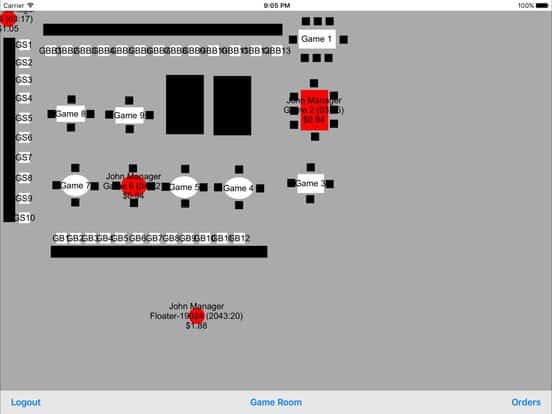 Hardware & Operating System Requirements
Ordyx can work with a client's existing hardware, and it also makes hardware available for purchase. The POS was originally built for Windows-based systems but also runs on iOS and Android platforms. Ordyx additionally has mobile dashboard apps for iPhone and Android.
Ordyx Features
Ordyx has most of the bells and whistles you would expect with an established POS system. It hits a few areas hard, such as online ordering and loyalty, while skimping in a few other areas. I'll try and highlight a handful of unique features below:
Online Ordering: Ordyx has a nice system for placing orders online. The system can even handle future orders (for example, a customer could set a pickup time for 4 PM, and the kitchen would know to start filling it at roughly 3:30). You can set up online ordering through Ordyx directly using REST API or use the third-party online ordering software MenuDrive (for an additional fee).
Delivery: You can set up in-house delivery with Ordyx via an integration with Google Maps or the new Chowly integration, which lets you deliver through Uber Eats, Doordash, and other delivery services.
Order Histories: The back end of Ordyx can be accessed remotely and only by those who have the correct permissions. From there, orders are held in the system for five years, so you can easily review them. Every transaction gets logged, and managers can see which employees are handing out discounts, voiding orders, utilizing gift cards, etc.
Mobile Dashboard: Ordyx's mobile dashboard app provides some basic daily sales information that business owners can use to monitor their restaurants when they're away from work.
Demo Mode: Like many other systems, Ordyx offers a demo mode, which is convenient for new employees or anyone needing to learn the system. Once enabled, the software operates like normal, but nothing done in demo mode is saved, and nothing can be altered or damaged.
Reporting: Ordyx's reports are fully customizable. More than 30 reports come standard with the POS. Managers, or those who grant permissions, can see reports by date, food group, or even comps. Sales histories can also be quickly accessed by date (or even down to the hour to easily track which times are busy or slow from day to day). Item counts are also conveniently displayed. A unique feature is that items sold can be viewed in a grid format, which allows the kitchen to get a quick overview of inventory and history. The reports are logically laid out and easy to access. Visually, Ordyx has done a fine job with easily-digested graphs and spreadsheets.
Kitchen Display System: Any screen can double as a kitchen display system within the Ordyx app, making it easy to turn your iPad into a KDS.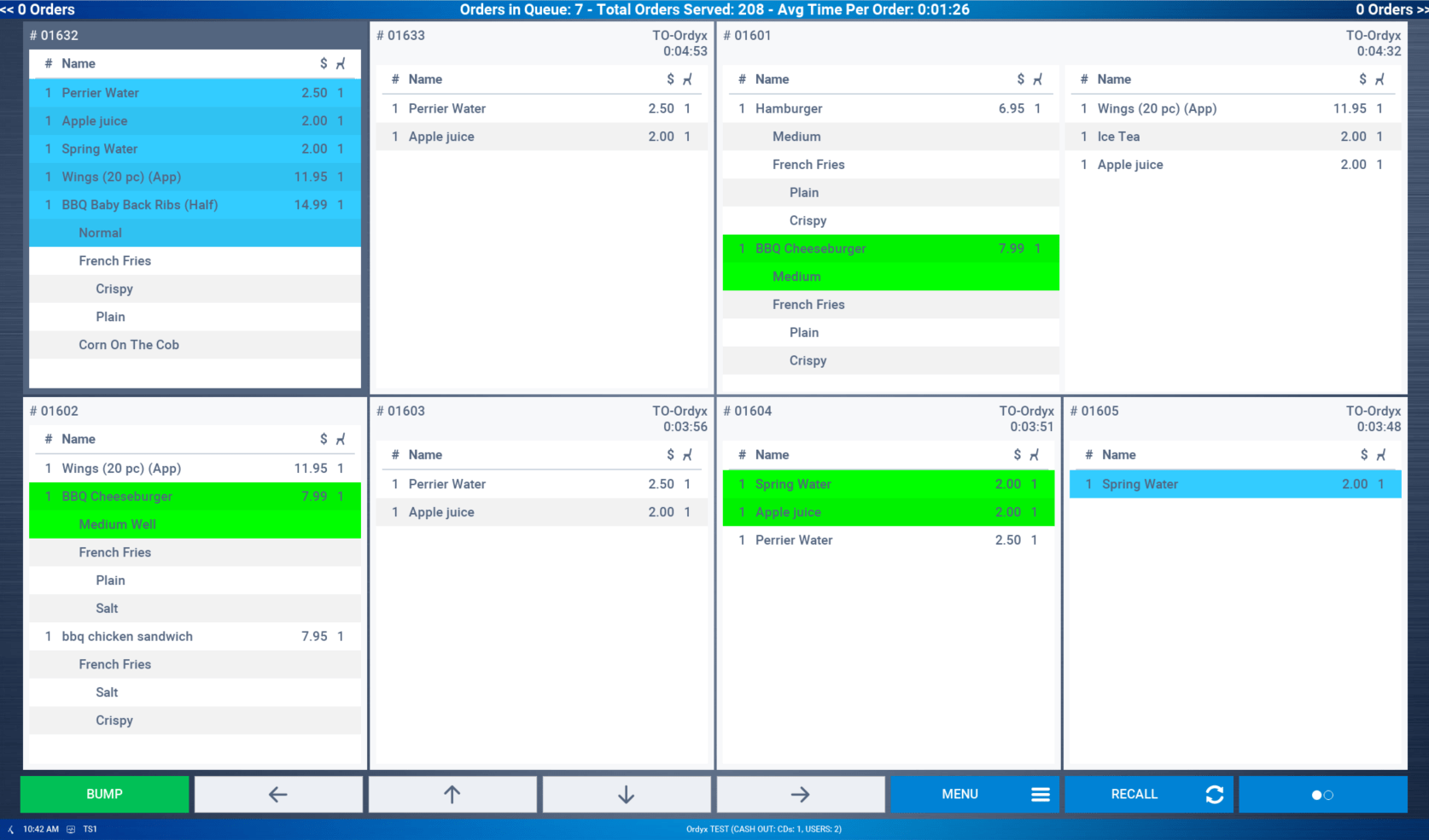 Employee Management: Ordyx has a few attractive features for both managers and employees. Employees can easily clock in or out, and permissions can be assigned in a matter of seconds. Managers can allow servers, bartenders, hosts, etc., to access different functions, and those permissions can be changed remotely if necessary. A feature that displays employee hours easily shows which workers are nearing or are in overtime. There is also a function for alerts that can inform individuals or stores about closures, item removals, or price changes to various items.
Recipe Information: A button next to menu items gives a detailed description of all ingredients and can be customized for employees to memorize. If a customer needs to know whether an item is gluten-free or if a particular wine will pair well with an entrée, the server can retrieve the answer with a single click. Also, for bartenders, the button can provide a quick review of how to make each drink.
Text Alerts: This feature sends managers SMS alerts about certain transactions, including voids and high comps.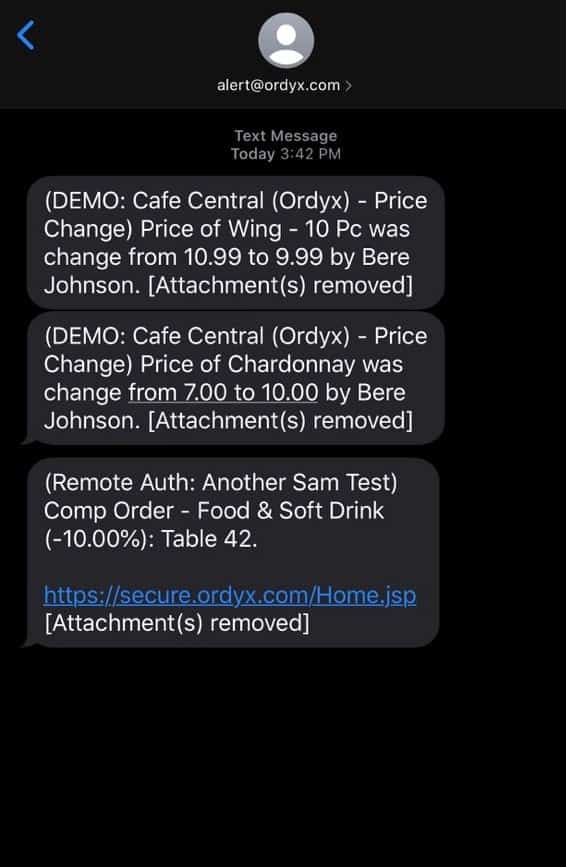 Customer Loyalty: Ordyx has a built-in loyalty function. The database preserves customer information and can send out promotions for birthdays or alert customers if an item they've regularly purchased is going on sale. It's possible to create gift cards through Ordyx, and the POS integrates with multiple gift card programs. It also integrates with Mailchimp, making it easy to set up email marketing campaigns for specific groups of customers. Checking individual loyalty points and benefits is also simple.
Inventory: You can keep track of your inventory counts in real-time and on any device with an internet connection for an additional fee. You cannot create purchase orders within the system, however.
Tableside Ordering & Payments: Ordyx's handheld POS hardware options all have tableside ordering, tableside payments, and receipt printing available.
Updates: Ordyx continuously updates and adds features to its software, promising new updates at least once every two months. If one customer has requested a specific add-on from Ordyx's developers, that feature becomes available for all of its clients.
Customer Service & Support
Support: Ordyx can be contacted via email or phone for basic information and offers a 24/7/365 phone number for customer support. There's also a live chat feature during business hours. During a few calls, I generally received the answers I needed after a quick transfer or, in one case, via an email a few hours later (though I was forwarded to voicemail one of the times I tried to call). The support staff is friendly and knowledgeable, but they could probably beef up their first line of defense to customers.
Social Media: Ordyx has a Twitter feed where it posts somewhat frequently. There's also a Facebook page that is up to date, linking to relevant articles and highlighting the company's employees. There is also a link from the website to the company's LinkedIn page.
Demo: Ordyx offers a free demo that you can schedule via the website, and, in general, the company is eager to show off what it can do.
Website: Ordyx's site is okay but somewhat dated-looking. It is easy to navigate, but there is not quite as much information about the product as I would like. For example, it does not list pricing or supported hardware.
It should be noted, however, that a handful of the more recent reviews of Ordyx have claimed that its customer service has taken a hit lately, with support being difficult to track down and problems going unresolved.
Compatible Credit Card Processors
Ordyx does not provide in-house payment processing, but options for partnered payment processors are plentiful. Ordyx works with the following:
Sacoa
SwipeIt
Repeat Rewards
Valutec
RedFin
Mercury
Sterling Payment Technologies
Mainstream
Ingenico
Verifone
Pax
Integrations & Add-Ons
Ordyx offers a wide variety of integrations, including several hotel industry software apps — this is one of its biggest selling points. However, some integrations carry an additional monthly charge, depending on your plan level (Lite plan users are limited to five free integrations). Also, some of the integrations seem a bit clunky. For example, the MenuDrive online ordering integration ($30/month on top of MenuDrive's fees) requires you to call MenuDrive every time you change your menu, instead of the system propagating menu changes automatically.
Notably, Ordyx recently started integrating with Chowly, allowing customers to place orders using third-party delivery apps (such as Uber Eats and Doordash).
For the hotel industry, Ordyx pairs with:
Frontdesk Anywhere
Magpie Systems
Roomkey
Webrezpro
Comtrol
Other integrations include:
Chowly
OpenTable
CTUIT
Chef Tec
Avero
Inventory Xpress
MarketMan
Google Maps
eBeer
Wineemotion
Beer Saver
BarVision
Craftable
HotSchedules
MenuDrive
Tidel
Remote Eyes
ADP
Paycor
Paychex
Paymaster
Ordyx Reviews, Complaints & Testimonials
There aren't many reviews of Ordyx online, and the reviews I could find were quite mixed. On the BBB website, Ordyx's parent company, Dare Solutions, LLC, has an A- rating, zero reviews, and one complaint filed in the past 12 months.
There are also a few scattered reviews for Ordyx's mobile dashboard app on the iTunes store and Google Play and on software reviews websites (such as Capterra). As follows are some of the common trends with Ordyx reviews.
Negative Ordyx Reviews & Complaints
Ease Of Use: There are a few complaints that the front-end elements aren't easy to pick up, with some users describing "clunkiness." One review claims that it is difficult to split tickets and that setting up quick updates for happy hours isn't as easy as it should be. Another user claims the interface isn't as responsive or quick as it should be in their experience.
Employee Management: One reviewer struggled with the inability to set permissions on their own.
Difficulty Mastering Features: A few reviews stated customers struggled with tracking and entering inventory. A few other users struggled to access and read the system's reports.
Customer Service: This is where the bulk of the complaints come in. The biggest issues seem to stem from either a lack of responsiveness or a significant delay when problems arise. Calls are allegedly not returned, and complaints are shuffled around to multiple tech support individuals before issues are solved. Here is a typical complaint:
Customer support is severely lacking. Payment issues from Ordyx' end once locked me out of the back end for several days. While some staff tried to help, calls were not returned, commitments to reprogram the menu were ignored, and managers generally didn't help at all. All of the issue was caused by Ordyx, but I never got an apology. Several issues were beyond tech support's means for 3 days, then another tech would solve it in a moment. Weird side menus that appeared on some items, or the system rearranging menu items at random because of a setting only Ordyx can change, required me to follow up for days before it was resolved.
Positive Ordyx Reviews & Testimonials
Affordability: A few reviewers appreciated the system's cost-effectiveness and felt the services they received for the money were excellent.
Ease Of Use: A few other reviews praised Ordyx for how easy it was to pick up and how simple the interface was to use. Though setup seems to be a somewhat tedious process, many customers are happy with the system once it is fully up and running. Below is a review that is pretty representative of why people who are happy with the product enjoy it:
Easy to use, fast and with a very good technical support. We are using Ordyx for more than a year and it's our third system since we opened 8 years ago. Is the easiest to handle and we could base the system on an Apple Mini what means no freezes or scares.
Back-End Management: Multiple reviewers appreciated the number of reports that could be generated. One person specifically liked how easy it was to manage and train employees on the system.
Ordyx POS Final Thoughts
Ordyx is a good system with a solid interface and functionality that is comparable to other budget POS systems on the market. Its reporting is acceptable, and the ability to set highly specific permissions for individual employees or groups of employees makes for a secure and efficient system.
While the price point is strong in general, Ordyx might not be as strong for quick or full-service restaurants as some competitors. However, its online ordering system is a highlight if that's something your business will utilize heavily. Also, Ordyx can hold its own nicely in the hospitality business.
Where Ordyx stands out is in its integrations. Customers wanting to integrate with a specific or even obscure program that could help their business can ask for what they want, and, if possible, Ordyx will make it happen. The POS is flexible and is updated often.
While customer service has been a sticking point for some clients, I had no issues during several interactions with the company and received quick responses to questions. If you're looking for something specific or want a system that can work closely with your needs, Ordyx is worth a look.
If you're interested in checking out some more options, take a look at our Square POS App review and Vend POS review. Good luck!
---
We've done in-depth research on each and confidently recommend them.
We've done in-depth research on each and confidently recommend them.
To learn more about how we score our reviews, see our
Point Of Sale (POS) Software Rating Criteria
.