Expert Analyst & Reviewer

UPDATED
Advertiser Disclosure: Our unbiased reviews and content are supported in part by
affiliate partnerships
, and we adhere to strict
guidelines
to preserve editorial integrity.
Pros
Canadian merchant accounts offered

Supports Interac debit

eCommerce integration

Easy to use

Excellent website and advertising
Cons
Buggy app (especially for Android)

Expensive for low-volume merchants

Complicated pricing plans

Mediocre customer support
PAYD Overview
We haven't focused much on mobile processors outside the U.S., and especially not on those available in Canada, which makes our PAYD review a bit of an anomaly. To be fair, the mobile scene there is very different, namely in that the mPOS infrastructure has actually moved toward supporting debit. (It's something I am hoping we'll eventually see here in the U.S., but I'm not holding my breath.) Furthermore, many Canadian solutions aren't available in the U.S. at all, and U.S. based solutions often don't support debit in Canada (looking at you, Square).
Moneris, the processing company behind the mPOS solution PAYD, seems to defy all of that. It's a Canadian business with a U.S. presence. It supports debit (at least in Canada).
It's also worth noting that Moneris' U.S. division was recently acquired by Vantiv, which means it's a separate entity from the Canadian firm. Despite this, it seems you can still use the PAYD app in the US — though the only confirmation of this is a line on the Moneris USA site.
For American merchants, PAYD appears only to be available if you first sign up for a full merchant account through Moneris USA/Vantiv. Then it'll be available to you as an add-on service, and your rates will likely be based on your processing history, industry, and other factors.
On the other hand, while you do need to apply for a merchant account through Moneris to use PAYD in Canada, it appears to be more limited and scope and targeted specifically at PAYD services. In addition, you will pay flat rates for your processing, which is a key difference.
While the app features and capabilities are likely to be identical, or at least very similar, there's no question that the contract terms and marketing will be very, very different. This review focuses on the Canadian service.
Products & Services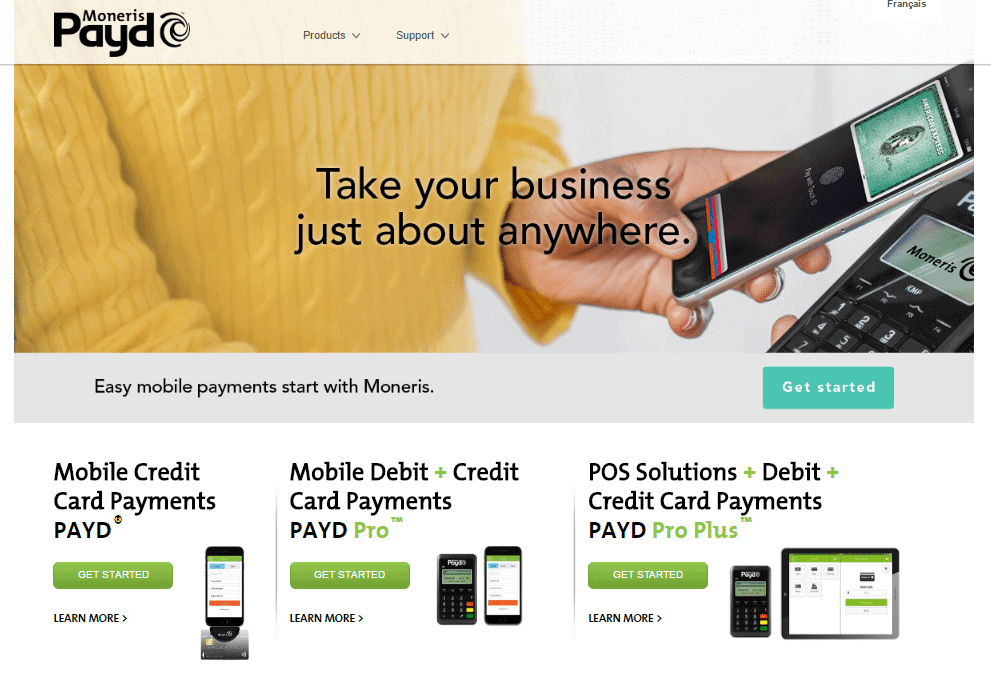 PAYD has three services available: PAYD, PAYD Pro, and PAYD Pro Plus. The basic and Pro offerings are pretty similar and use the same app. The Pro Plus offering is an iPad-exclusive and entirely different app, which is worth taking note of.
PAYD: Available for Android and iOS (both smartphones and tablets), the standard PAYD plan will let you accept credit cards online. You get a standard magstripe reader that connects via the headphone jack.
PAYD Pro: The Pro plan uses the same app and supports the same devices, but also lets you accept Interac debit transactions. The reader is a Bluetooth device that supports EMV (and NFC) as well as magstripe cards.
PAYD Pro Plus: The Pro Plus uses an entirely different, iPad-exclusive app. You can accept debit and credit transactions using the same reader as with the Pro plan.
So that's a good starting point, right? Now let's take a look at specific features for both apps:
PAYD/PAYD Pro App Features:
Process Credit Cards: Accept Mastercard, Visa, Discover, JCB and Don't forget, if you want to process debit, you need at minimum a Pro account. Interac debit transactions are totally free, which is pretty awesome, but there's no support for Visa debit.
Cash recording: Standard fare here.
Customizable tax and tip: You can apply both tax and custom tip suggestions.
Manual Entry for Card Transactions: You'll have to unplug the reader first before you can key in the transaction, but it's still a feature that you can access.
Login via Quick Pin: Skip the password and log into PAYD with a pin instead.
Signature capture for transactions: Again, standard fare.
Email or SMS Receipts: Not surprising for an mPOS. However, if you want to print a receipt, you'll have to log into the online dashboard or get PAYD Pro Plus.
Refunds and Voids: These are available in your transaction history within the app.
This is a pretty basic feature list, but it's one that has everything you need. Best of all, you can manage features from within the app itself. I do wish there was an item library, though, instead of just a "quick sale" mode where you punch in the amount. However, for that and a few more typical mPOS features, you'll have to look at the PAYD Pro Plus.
PAYD Pro Plus App Features:
The PAYD Pro Plus is its own app, and one that's only available for iPads running iOS 8.0 or above. There is also a web-based "in-store" POS setup that appears to have most of the same features, although configured in a slightly different way. The web browser app is, sadly, optimized for Windows Explorer on Windows 7 or 8; it'll work on other systems but may not be perfectly. Frankly, I'd stick to the iPad version of the app myself, given a choice.
You'll get everything found in the basic app, plus more. However, it bears mentioning that it comes at a higher cost. And there are multiple "Pro Plus" plans available…but we'll get more into pricing in the next section.
Discounts: Apply discounts to purchases in the app, either to an entire transaction or individual items.
Register Setup: the Pro Plus appears to have both "In-Store" and "Mobile" setups. Your ability to access some features will vary depending on which setup you opt for (such as promotions), though it doesn't appear to affect pricing. You can add a tablet stand, a cash drawer, a receipt printer, and a barcode scanner.
Cash-In/Cash-Out: Account for starting and ending amounts of cash in your cash drawer. This tends not to be very important in a mobile setup, but is very important for a register setup.
Inventory Management: Depending on the monthly plan you choose, you'll have a limit on the number of items — 1,000, 10,000, or 50,000, which are very, very reasonable amounts.
eCommerce Integration: Get a domain and PAYD will supply a web store complete with your choice of themes, inventory tracking, and more. You shouldn't expect something as comprehensive as some of the more advanced shopping carts (think Shopify), but it appears to tick the right boxes.
Employee Accounts: Depending on your plan, you can get one user, ten users, or 100 users. You can also add individual users for an additional $5 per user per location.
Locations: The Pro Plus plan allows you to configure additional locations for reporting purposes.
Customer Management Database: PAYD gives you a fairly comprehensive database with the Pro Plus option. You can save customer information including birthdays, check whether they're subscribed to your newsletters, even store tax exemption numbers for clients.
Auto-setting of tax rates: While the basic app requires you to set your own tax rate, with the Pro Plus all you need to do is plug in your business ID. The app will automatically configure the appropriate tax rate and will auto-update the rate if it changes.
I'm pretty impressed by the feature set here. There's no question that PAYD is crossing into the territory of full mPOS, not just a mobile solution. However, as is almost always the case, that comes with a higher cost.
PAYD Fees & Rates
PAYD's pricing structure can be a bit confusing if you're not paying attention. I can also see how the costs could easily start to pile up if you are careful. That said, I don't necessarily think PAYD is overly expensive or a ripoff. You just need to weigh the benefits of what you get against the cost to get it and make sure you look for the best value. Let's take a look at pricing for each of the PAYD plans one by one:
PAYD Fees
The cost for the standard PAYD plan is pretty simple:
2.65% for swiped credit card transactions.
You can't process debit, but you can enter transactions manually at a cost of 2.85% + $0.15. That's a much lower cost than solutions like Square, which typically run 3.5% + $0.15 for keyed transactions.
However, there's a catch: Your monthly limit is $5,000. After that, PAYD may start implementing a reserve fund (check the terms of your merchant agreement). That's usually the lower threshold for businesses to start switching from pay-as-you-go options to merchant accounts, so it does make sense to me.
PAYD Pro Fees
PAYD Pro charges 2.65% for swiped, chip card, and contactless transactions; you pay nothing for Interac debit transactions. And like the standard plan, you'll pay 2.85% + $0.15 for manually entered transactions.
And then there's the monthly fee: $19.95.
It's technically a rental fee for the PIN pad/credit card reader. This isn't a practice we generally approve of because long-term it equates to high costs. Terminal leases are some of the worst deals on the planet.
But if you think of the $19.95 as more of a monthly service fee, it's less problematic. Most companies that offer monthly plans usually offer a rate reduction. However, you get completely free debit processing, which could make up the difference.
You're still going to have a limit — which is not disclosed, which means you're probably going to get a custom rate based on your processing history. But it's sure to be higher than the $5,000 you encounter with the basic plan.
PAYD Pro Plus
You're not going to be surprised to hear that the PAYD Pro Plus plan charges 2.65% for magstripe, chip, or NFC transactions, 2.85% + $0.15 for keyed transactions, and nothing for Interac debit.
One again you'll encounter a monthly fee of $19.95, because the Pro Plus plan uses the same little PIN pad reader as the Pro plan.
But then there's a monthly plan on top of that. You can choose from Small, Medium, or Large:
Small: $44.95/month
Medium: $74.95/month
Large: $99.95/month
It's worth noting that all plans have an unlimited customer database and only a single register. Additional registers are available as an add-on, along with additional users and additional locations.
Additional locations: $5/month
Additional users: $5/user/location/month
Additional registers: $29.95/month
And of course, there's the cost of the hardware. We were unable to get information about the cost of PAYD's hardware. None of it is available in the Moneris accessory shop where you'll find the PIN pad case and various terminals, terminal stands, printers, etc. However, given that the equipment includes a Bluetooth printer, a wireless cash drawer, a swiveling tablet stand, and a Bluetooth barcode scanner, I would expect each item to run in the $100 to $200 range, and the whole kit to run at least $500 to buy. As a rental, it's hard to say what it would cost, but don't rent or lease if you can avoid it. Please.
It starts to feel like a lot of add-ons, but there's a lot of customization here. The pricing system reminds me very much of Square, and I like that you can get everything you need without paying for what you don't.
Contract Length & Cancellation Fees:
I knew that for PAYD Pro Plus and PAYD Pro you were going to sign a proper merchant agreement. However, you'll also sign one with the standard PAYD agreement. It appears that when you sign with Moneris, you agree to a 3-year contract with 6-month autorenewal increments. You can check out the standard PAYD merchant agreement here (it's dated to January 2017).
As with most mPOS processors, there's a clause that says Moneris can terminate the agreement whenever it feels like it provided that it gives you written notice, and that it can terminate the agreement if you fail to meet certain criteria (all pretty standard stuff for any merchant agreement).
You are also able to cancel your account under the following terms:
You have the right to terminate the Agreement in accordance with the provisions of the Code of Conduct by giving us written notice within 90 days following notification by us of a Fee increase, the introduction of a new Fee or a reduction in applicable posted interchange rates by the Card Brands the savings of which have not been passed through to you in full, unless such Fee increase or new Fee is made in accordance with your pre‐determined Fee schedule, as set out in the PAF and/or Fee Disclosure Boxes (if applicable).
This is really nice, and I wish more merchants included this in their terms. In essence, if Moneris informs you of a rate change, a new fee, or a lower interchange rate (that isn't passed onto you), you can cancel your contract within 90 days of being notified.
There's no mention of an early termination fee in the contract, and I don't see any reference to one elsewhere on the Internet (it tends to be a common complaint where it exists). However, you'll want to ask when you talk with Moneris. I do know that Canadian merchants have been hit with ETFs from Moneris to the tune of $300 in the past, and we've seen some complaints of liquidated damages (which is a tactic that Vantiv, which acquired Moneris' U.S. division, uses).
The sample merchant agreement we found also covers terminal rentals and purchases. It's all pretty standard stuff. Please buy outright when you can, and always check the terms of the agreement. Leases and rentals tend to be very expensive.
Sales & Advertising Transparency
Moneris seems to have a bit of a spotty reputation. Part of that I am sure is the split between the U.S. and Canadian divisions. There are definitely complaints about hidden fees or contract terms. However, they don't seem to apply specifically to PAYD, which makes sense — PAYD seems to be a self-contained service, not just an add-on available for merchants who process through Moneris.
I haven't found a lot of complaints specific to PAYD or its marketing tactics. While I am frustrated with parts of the service (skip down to the customer service and negative reviews sections for more on that), I'm also relatively happy with the quality of information available on the GetPAYD.com site. The support site isn't hidden; you can access the knowledgebase and all the other resources. The site also highlights actual features of each of the services and spells out pricing clearly. These are all very good things, and pretty uncommon for mPOS solutions offered by large processing companies.
On the social media front, it seems that Facebook is PAYD's primary front. The Twitter link on the website goes to a non-existent Twitter account (which is disappointing). However, there is a Twitter account for Moneris in general.
People do post of the Facebook page when they're in need of assistance, and PAYD responds. There's an interesting mix of content, though the posts seem to be tapering off. There's no blog for PAYD either. None of this is a serious red flag, but, frankly, I've seen it done better.
Customer Service & Support
PAYD offers phone support, email support, a "direct messaging system" for secure account-related issues, and a so-so knowledgebase for merchants. If you look closely, you'll see that PAYD Pro Plus uses a different support email address than the general PAYD and Pro plans; though it's not clear whether that also comes with premium support or it's separate for logistical reasons.
There are some really useful setup documents (available for each PAYD plan, the hardware, and the eCommerce integration). However, the knowledgebase is confusing, the search feature isn't the best, and you turn up a lot of dead pages (or at least I did in my research). A good knowledgebase is really, really important for merchants because it allows them to resolve most non-account-specific questions without having to tie up the support lines. So I'm rather dissatisfied in that regard.
Negative Reviews & Complaints
There's a curious lack of merchant opinions about PAYD. We looked. There's far more information about Moneris as a whole, though obviously PAYD is a significantly different creature, given its pricing structure and its own merchant terms. You'll find a little bit of chatter online, mostly from comments on old announcements. Most of the helpful comments come from the Google Play store reviews, where the app has a 3-star rating on 195 ratings. You'll also see that the PAYD iOS app has 3 stars on 60 ratings in the iTunes store. The PAYD Pro Plus app has a 5-star rating..but only three reviews. Looking at the comments, here's what some of the biggest issues are:
Difficulty Connecting the Card Reader: It seems that some users have trouble getting the Bluetooth reader to connect or stay connected. This appears to be mostly isolated to Android devices, and only to the Bluetooth PIN pad, not the headphone jack reader.
App crashing: Again, this seems to be more related to Android than Apple. Users complain about having restart the app and phone to get PAYD to work.
Mediocre Tech Support: While PAYD does seem to offer comprehensive support, the quality of it appears to be hit or miss. Some users say the tech support reps are useless and aren't able to isolate the issue.
Positive Reviews & Testimonials
In the U.S., mobile processors just don't support debit. However, it's far more common in Canada. PAYD was one of the first to introduce debit processing, but it's certainly not the only one. And that's clearly one of the biggest perks to using PAYD Pro: you can process Interac debit at no additional cost beyond the PIN pad rental fee.
Other things merchants seem to like about PAYD and all its variations include:
Ease of Use: Merchants have described the app as intuitive and straightforward. I'm generally of the opinion that if you've used one mPOS, you can probably find your way around most of them, but it's good to hear from merchants.
Good Customer Service: There are most definitely merchants who think that Moneris' support is a bit rubbish, but others say they've had great support and have gotten their problems resolved.
Convenience: Unsurprisingly, merchants also like the convenience of being able to accept credit and and debit cards anywhere they have data, and it seems their customers like it as well.
That's really about it as far as praise goes. You'll see some pretty generic testimonials on the home page of the GetPAYD.com site, on a rotating basis and a handful of older articles about PAYD and PAYD Pro.
Final Verdict
I've sat on the fence for most of this review. PAYD looks so promising. Free debit processing. A Bluetooth-enabled EMV reader that supports NFC. A good mix of features (especially for the Pro Plus option). Fair pricing and the right mix of add-ons. By all accounts, PAYD looks like it's one of those rare solutions capable of growing along with a business.
I don't find the merchant agreement to be particularly worrisome, but I do get a faint idea that there are documents included for merchants that you won't see until you're signing the agreement. The spotty Android support is disheartening, as are reports of lackluster customer support.
I think this could be a good starter option for low-volume businesses that don't want a monthly fee and don't need debit. If you're going to opt for the Pro plan, you're safest going with an iOS device. The Pro Plus plan appears to be a good register substitute, and you can still take it mobile if you need. There's even an eCommerce integration that makes it a true omni-channel solution.
I'm awarding PAYD 3.5 stars for now. For the right people, this could work, and work really well. There's certainly some glimmers of promise there. But until there are some improvements on the reliability front (especially for Android), and we see more definitive proof of reliable customer service, we're not going to raise that rating.
Have experience with PAYD, either here in the US or in Canada? Leave us a comment about your experience, and be sure to specify which service you're using!
---
We've done in-depth research on each and confidently recommend them.
We've done in-depth research on each and confidently recommend them.
To learn more about how we score our reviews, see our
Mobile Credit Card Processing Rating Criteria
.