Expert Analyst & Reviewer

UPDATED
Advertiser Disclosure: Our unbiased reviews and content are supported in part by
affiliate partnerships
, and we adhere to strict
guidelines
to preserve editorial integrity.
Payfirma

Pros
Powerful integrated payments platform
Interchange-plus pricing available
Low complaint volume
No early termination fee if the equipment is purchased
No PCI compliance fee
Cons
Long-term contract with early termination fee if the equipment is leased
Uses tiered pricing
Charges account setup fee
The mobile payment system is magstripe-only
Payfirma Overview
Payfirma is a Canadian merchant services provider headquartered in Vancouver, British Columbia. Established in 2010, they've built a solid reputation as a technology-oriented provider with an omnichannel offering that serves both the retail and ecommerce sectors equally well. Payfrima provides services to merchants in both Canada and the United States.
Payfirma produces software services in-house, but they rely on powerhouse US processors such as First Data (see our review) and Chase Merchant Services (see our review) to provide credit and debit card processing services for their merchants. This arrangement can potentially allow them to offer better overall deals than you might get if you signed up with one of these companies directly.
Unfortunately, it doesn't look like Payfirma's contract terms or prices offer any notable advantage in this regard. You're still likely to end up with a long-term contract, an expensive early termination fee if you close your account, and a tiered pricing plan that may result in you paying more than you should for processing, though this largely depends on your business size. Additionally, Payfirma leases credit card terminals through First Data Global Leasing, one of the worst terminal leasing companies in the industry.
Looking for the best Canadian credit card processing company? Check out our post about payment processing in Canada.
Despite these obvious drawbacks, it's not all bad news at Payfirma. Their PayHQ integrated payments platform appears to be a solid product, integrating payment gateway, analytics, and reporting features into a single service. That's particularly useful to merchants that sell their products and services through several channels, including online, over the phone, or through a traditional brick-and-mortar retail location. Another bright spot is that Payfirma has a low complaint volume, indicating that most of their merchants are happy with the service they're receiving.
We're awarding Payfirma an overall score of 3.5 out of 5 stars but realize that this is an average score and may not reflect your individual experience with the company. There's a lot of variability in Payfirma's contract terms that strongly influence the overall value of its services. Your ability to negotiate for the best possible terms will be the overriding factor in determining how good of a deal you'll get. Because of this, Payfirma is a better fit for larger, more established businesses that have the leverage and the capital to get the lowest rates and the most flexible terms.
Smaller businesses should probably approach the company with extreme caution, as the chances of getting stuck with higher processing rates and a long-term contract are much greater. Payfirma recommends that their model is likely not cost-effective for businesses that gross under $40,000 a year or for seasonal businesses.
If you'd prefer to work with a First Data reseller that openly advertises their rates and contract terms with no haggling needed, check out Dharma Merchant Services (see our review). They're one of our favorite providers and can offer you many of the same products and services as Payfirma but with more transparency overall.
Products & Services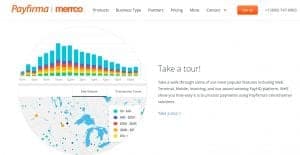 Payfirma offers all the basic products and services you'd expect to find in a full-service merchant services provider, with an emphasis on analytics through their cloud-based reporting services. You'll also find a range of hardware products for small businesses with a storefront as well as proprietary products focused on ecommerce. Here's an overview of what Payfirma offers:
Merchant Accounts: Your account allows you to accept any major credit card, including Mastercard, Visa, American Express, Discover, China Union Pay, and Diners Club. You can also accept Interac Debit and Visa Debit. As noted above, a larger processor takes care of your transactions behind the scenes, but Payfirma is still your first point of contact for all customer and technical support issues. They offer round-the-clock availability to various support resources with your dedicated merchant account.
Credit Card Terminals: The company advertises the availability of several terminals on its website, including the Verifone Vx820, the Verifone Vx680 wireless terminal, and the Ingenico iWL250 (also wireless). These are all dependable terminals with magstripe, EMV, and NFC capability. Their FAQ section states that optional hardware starts at $25/month. While Payfirma offers equipment leases, we strongly advise against this due to the lengthy contracts, early termination fees, and the fact that you will end up paying many times more than what the equipment is worth over the life of your lease. Also, be aware that you will have to purchase a wireless data plan (usually around $20 per month) for the wireless models. A month-to-month rental option should also be available for Canadian merchants, as EMV terminals cannot easily be sold or transferred in Canada.
Integrated Payments Platform: Payfirma's flagship product is PayHQ, an integrated software platform that's the real distinguishing factor in its product offering. It allows you to manage transactions and many other aspects of your business with features including a customer vault for securely storing customer payment method data, an employee database, and robust analytics and reporting functions.
Mobile Payments: Like almost all processors these days, Payfirma offers a mobile payments system similar to Square (see our review). The system consists of the free Payfirma MobileHQ app (available for both iOS and Android) and a card reader. Surprisingly,

their current card reader only supports magstripe payments and requires a headphone jack to connect to your device

.

The mobile reader is $99, which is a bit steep considering it's a swiper that's lagging behind the times in design and isn't EMV compliant. By this stage in the game, we'd expect any payment processing company to offer mobile readers that are EMV-chip compatible at the least.
Payment Gateway: The PayHQ payments platform includes a payment gateway (provided by BluePay — see our review) with all the payment and security features you'll need for your ecommerce business. PayHQ users also have access to Payfirma's ecommerce API, which integrates with WooCommerce, Magento, OpenCart, and other popular online shopping carts.
Payfirma API: Payfirma offers a flexible API that uses standard code structure to integrate payments into your app or software. Payfirma's site has a checklist and developer instructions to walk you through the process.
Recurring Billing: For subscription-based businesses, automating payments is a must-have item, but it's not always a sure thing with merchant accounts. Payfirma offers secure recurring transactions that are encrypted and stored off your system. This setup reduces your scope, making it simpler for your business to remain PCI compliant. You can set up your payment flow for the needs of your customers by frequency, payment amount, number of payments, and even currency.
Tablet POS Compatibility: Payfirma advertises a Payfirma Tablet POS you can use with an existing iPad as a floating cash register. You get access to all of your inventory, reporting tools, and of course, you can process a sale with your attached Payfirma swiper. (It's not EMV compliant, however.)
Virtual Terminal: The Payfirma Web Terminal is a web-based virtual terminal that turns your computer into a credit card terminal for manually entering transactions. It also integrates with the company's tokenized Customer Vault. Although virtual terminals can also process card-present transactions with a USB-connected card reader, Payfirma doesn't appear to offer this option.
White Label Platform: For merchants in the financial space, Payfirma also offers a white-label solution for you to create a fully branded and integrated payment flow from payment processing to reporting and analytics. Your members also get a dedicated merchant account and funding in one to two days.
Fees & Rates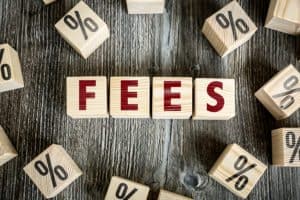 We're always happy to see a pricing page on a provider's website, mostly because it's so rare to find one. Unfortunately, Payfirma is unique in that they include a prominently-displayed pricing page but they have no actual prices on it. This lack of information indicates that the company may use a mix of both tiered and interchange-plus pricing plans, and that account fees are variable and subject to a little negotiation.
On the one hand, we're glad to see that the company isn't using the common "rates as low as" sales gimmick where their website only quotes the lowest possible rate available without disclosing that it's only available to very high-volume businesses and only applies to a very small percentage of transactions. On the other hand, we'd like to see at least a little more transparency when it comes to rates and fees. Advertising the availability of interchange-plus pricing, for example, would be a step in the right direction but disclosing standard, fixed fees would be another. For example, there's no information on how different types of credit cards affect your rate as well as ecommerce transaction fees.
Payfirma discloses a monthly fee of $19 per month for the suite of Payfirma payment and reporting tools. The company also charges an account setup fee, a monthly minimum, and a cross-border fee for international cards. You can also expect to pay other pass-through costs, such as the Visa FANF fee.
According to Payfirma's website, they do not charge an annual fee, a PCI compliance fee, a statement fee, or batch fees. However, it's critical that you review your contract thoroughly before signing up for an account, as you'll find all potential fees disclosed somewhere in the fine print of that document. Word of caution: Don't rely on your sales agent to verbally disclose those fees!
Contract Length & Early Termination Fee
Payfirma appears to impose an industry-standard three-year contract for ecommerce and terminal accounts, which probably also includes an automatic renewal clause for one-year periods after that. However, they don't impose any cancellation fees if you were only to use their cloud-based services (PayHQ).
According to what Payfirma has disclosed on their site, you can also expect an early termination fee (ETF) of $300 to $500 if you close your account before your contract has expired. However, we've received feedback indicating that the company only imposes the ETF on merchants who are also leasing their processing equipment. This is another good reason to buy your equipment outright and avoid leasing! Because many of Payfirma's accounts are processed by First Data, these equipment leases are likely provided by First Data Global Leasing, one of the worst credit card terminal leasing companies in the industry.
If you don't have an early termination fee in your contract, you might think that you'll only be billed on a month-to-month basis. However, this isn't always the case. Most companies that use long-term contracts include an early termination clause in all their contracts but provide a separate, written waiver for the ETF. Unless the three-year provision is also waived (which it usually isn't), you're still under a long-term contract despite whatever your sales agent may try to tell you. Of course, you can still close your account early without having to pay an ETF. However, we've received many reports from merchants who were under this type of arrangement, and their provider continued to charge them monthly and annual fees for months after they closed their accounts. Providers like Payfirma rely on automated billing software to manage their merchant accounts, and if your account isn't properly shut down on their end, it's entirely possible that you'll continue to be charged these fees even if you think you've already closed your account and you aren't using it. Pay close attention to your monthly account statements and contact the company immediately if this happens to you.
Regardless of whether you have a long-term contract or a month-to-month one, it's imperative that you carefully review the fine print in your contract before you sign it. The words on the contract take precedence over anything your sales agent might have told you, and you'll want to be clear about what you're agreeing to before you commit to anything.
Sales & Advertising Transparency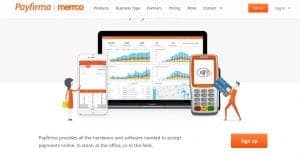 Payfirma has a clean, professional design and is easy to navigate, but the content is surprisingly sparse for a company that tries to project a tech-savvy image. As noted above, there is little to no pricing disclosures. Only limited information is available about the equipment and software the company sells. While there is a brief FAQ, it doesn't offer very much information. Most of the site's content includes very little detailed information and mostly serves to induce you to contact their sales team.
One interesting feature of Payfirma's website is a detailed comparison of the top payment processors in Canada. Perhaps unsurprisingly, it covers the various pros and cons of each processor but doesn't find any fault with Payfirma itself (except for an admission that the company is best suited for merchants that process over $40,000 a year). Criticism of the company's back-end processors First Data and Chase Paymentech is included, and we can say that it's accurate. However, there is one glaring omission. Helcim (see our review), which we consider to be one of the best Canadian processors in the industry, isn't included at all. While this comparison has merit, we suggest checking out Helcim before you decide to sign up with Payfirma.
The company appears to use a combination of both in-house sales representatives and independent sales agents. Independent agents are the source of much misery for merchants, as they frequently lack the proper training to provide good advice and are under tremendous pressure to sell accounts. This combination often leads to unethical behavior on their part, and it's easy to find a lot of complaints alleging failure to disclose important contract terms, outright lying, and even occasional fraud on the part of independent agents. Fortunately, we found very few complaints about Payfirma's sales agents, so it's possible that they do a better job of supervising them than most companies do.

We did, however, find a fair number of complaints against the company on Glassdoor, a site that allows current and former employees to rate and comment on their experience anonymously. What's clear is that Payfirma has had a high amount of internal unrest in the last several years. Of relevance to merchants and our review here is that salespeople cite a high amount of pressure and the expectation for overtime. This situation can lead to a perfect storm of high-pressure sales for those salespeople scrambling to close a contract. Be sure to read your contract thoroughly and never rely on any verbal assurances from a sales agent.
Payfirma has a robust social media presence, with active accounts on Facebook, Twitter, and LinkedIn. They also have a YouTube channel that features educational videos and interviews with the company's CEO. However, Payfirma hasn't created any new content on YouTube in more than two years.
Customer Service & Technical Support
Payfirma offers 24/7/365 telephone customer support, and you can also contact them via email. While we haven't received any feedback on the quality of their support, the lack of negative feedback is a good indication that they're doing at least a decent job in this area. Poor customer service is all too common in the processing industry, and merchants are quick to complain when they have a bad experience.
You should also remember that Payfirma's customer support should be your first point of contact if you encounter a problem that you can't fix on your own. Because the company relies on so many third-party partnerships to provide its services, there can be some confusion as to who is responsible in the event of a hiccup. In most cases, Payfirma will be able to resolve your issue without referring you out to one of their partners.
Payfirma's website also includes the Payfirma Support Center, an impressive online knowledgebase that includes informative articles, tutorials, and tips for fixing common problems. It's a great self-help option if you have a technical problem and would like to solve it without having to contact customer support.
User Reviews
Payfirma is not accredited by the BBB but has an A+ rating nonetheless. Additionally, this company only has one complaint filed within the last three years. There's also one negative review to which Payfirma provided a non-canned response and an offer to rectify the situation, which we like to see.
Negative Reviews & Complaints
There are, however, several complaints on the company's Facebook page. Issues raised here include failure to disclose important contract terms, noncancelable terminal leases, and difficulty in canceling accounts. Many of these issues could have been prevented if the merchant had read their contract before signing up. Again, we cannot emphasize enough just how important it is to do this before you commit to a contractual relationship with any merchant services provider. That said, Payfirma has been very proactive in responding to merchant complaints in this forum, although it's unclear whether they were able to resolve the problem to the merchant's satisfaction.
We were also amused to see that every complaint against Payfirma on their Facebook page has received the same cut-and-paste sales pitch from an agent of a competing Canadian provider. Note to any sales agents reading this: This is not an effective way to build your business. People can see through this sort of scammy behavior, and you're probably driving away potential customers rather than encouraging them to contact you.
Positive Reviews & Testimonials

Payfirma has several very brief testimonials from merchants scattered throughout its website. Unfortunately, they're too short to create much of an impression — often only one or two sentences. We'd like to see the company develop some longer, more detailed video testimonials from business owners who are using their services.
At first glance, the review section of Payfirma's Facebook page appears impressive. The company has an average rating of 4.5 out of 5 stars, with 85 reviews. Upon closer inspection, however, it's obvious that something isn't right. There are 56 separate 5-star reviews — without comments — that were all posted on the same day. Additionally, we "spot-checked" a few of these entries and found something even more disturbing. The statuses of these questionable profiles appear disjointed, they don't make actual sense, and they have zero interactions with friends or family. All of this leads us to believe these profiles aren't genuine. While we can't say for sure that Payfirma is behind this attempt to dilute the other 1- and 2-star reviews, it would certainly seem to be the case. Remove these questionable reviews, and the company's overall rating would, of course, be much lower.
Final Verdict
Overall, there's a lot to like about Payfirma – but there are also a few things we don't like. The company's products and services are their strong point, and omnichannel merchants will find their PayHQ platform to be beneficial in running their businesses. At the same time, the use of tiered pricing, equipment leases, and long-term contracts with early termination fees are aspects of their service that you'll want to avoid.
If you're intrigued by what Payfirma has to offer, you'll want to be prepared to negotiate for the best terms you can get. Insist on an interchange-plus pricing plan and buy the equipment rather than signing up for a lease. If you do this, you should also be able to get a waiver of the early termination fee. While you won't enjoy true month-to-month billing, you won't have to worry about being charged an expensive penalty for closing your account.
Payfirma earns a very respectable 3.5 out of 5 stars rating, assuming that you buy your equipment and get an interchange-plus pricing plan. Smaller businesses or those on a tight budget might want to look elsewhere, but for a larger, established business, they should be able to provide you with a top-notch payments platform for a reasonable price. For Canadian merchants looking for a very high-quality provider that's more suited to the needs of small business owners, check out our list of the best Canadian credit card processors.
---
Our Top Pick To Save On Payment Processing 💰
PaymentCloud


---
PaymentCloud has an excellent track record for service quality, support, and fair pricing. Learn more from PaymentCloud.
Our Top Pick To Save On Payment Processing 💰
PaymentCloud


---
PaymentCloud has an excellent track record for service quality, support, and fair pricing. Learn more from PaymentCloud.
To learn more about how we score our reviews, see our
Credit Card Processor Rating Criteria
.