PayPal Chip & Tap Credit Card Reader Review
The Chip Card Reader is a beautiful design that works just as well in a mobile setting as it does in a countertop register environment.
Expert Analyst & Reviewer

UPDATED
Advertiser Disclosure: Our unbiased reviews and content are supported in part by
affiliate partnerships
, and we adhere to strict
guidelines
to preserve editorial integrity.
Pros
Supports all-in-one payments
Bluetooth connection
Solid design
Charging dock available
Cons
Expensive compared to other options
PayPal Chip And Tap Credit Card Reader Overview
in February 2018, PayPal introduced two new (and affordable) readers to its lineup of PayPal Here-compatible hardware: its entry-level Chip and Swipe Reader and the full-featured Chip and Tap Reader. Both are EMV-enabled so that you can accept the more secure chip cards and reduce your liability in the event of a fraudulent card use.
Where do these devices fit into the grand scheme of things? Well, unlike Square (read our review) PayPal no longer offers a free magstripe reader. If you want the cheapest reader available (a basic magstripe reader), it'll cost you $15. However, there's no reason in 2018 that you should not be accepting chip card EMV transactions.
So that leaves the question, which of these two new readers should you choose? The Chip and Swipe reader is the cheaper of the options, but the Chip and Tap reader adds support for NFC/contactless transactions from apps such as Apple Pay or Android Pay.
I think that PayPal's Chip and Tap reader is going to more suitable/appealing to retail businesses that need a countertop solution. However, mobile enterprises certainly can adopt the Chip and Tap reader just as easily and accept contactless transactions. PayPal has certainly thought about both kinds of merchants in developing this card reader, and I really like that.
All in all, the PayPal Chip and Tap Reader merits a solid 4-star rating. The primary concern holding it back from a higher rating is the price: It's a little bit expensive, especially with the charging cradle. There are other small failings, like the battery life, and the fact that PayPal doesn't supply a power cable for the charging dock. But the price is the single biggest factor holding it back; if PayPal dropped that price even by $10, I think it would make a world of difference to merchants who are on the fence about which model to get.
Read on for a closer look at the Chip and Tap reader, and whether it's a good choice for you and your business.
Overall Design
My experience using PayPal Here and other mobile apps comes primarily from working mobile setups: artist tables, merch booths, and even registration tables at conventions. So I tend to think a lot about how practical certain pieces of hardware are these situations where you don't have a permanent register (or even a tablet stand) to work with — not just micro-merchants at pop-up events but mobile service businesses that may visit clients' homes.
The Chip and Tap reader is designed for businesses with a permanent storefront, mostly because PayPal also offers a permanent dock for the device. However, PayPal was also smart enough to design a clip for it, which you can attach to the back of a phone or tablet. I'm not super keen on this idea because I use my phone for a lot of other things besides payment processing and I don't want a clip permanently attached for something I won't use all the time. But if you have a dedicated device (a work phone or tablet), it could definitely work.
PayPal's Chip and Tap reader is a boxy black device. Measuring 2.64 x 2.46 inches, it's not quite perfectly square, but it's pretty close. Some might call it clunky because of how thick it is (0.74 inches) –, but if I'm honest, I like how it feels in hand. If you're like me and even the slightest bit inclined to being a total klutz, you're going to like to like it, too. This reader doesn't feel like it's going to slip out of your hand if you're not careful, in part because of the textured surface and in part because of its weight. However, it's also not super heavy (the PayPal site says it weighs 2.3 oz).
On one side, you'll find a micro USB charging port and power indicator light. On the other is a Bluetooth/Power button and indicator light. And at the top, you'll find a series of 4 lights to indicate transaction status. I feel like all of this is pretty clever, but it would be nice to see a little icon or labeling around these lights.
The Chip and Tap Reader charges via your standard micro USB charging cable. The included cable (no wall plug) is only two feet, which is a little bit short for my tastes.
PayPal also throws in a free clip to mount the Chip and Tap reader to your phone or tablet. It has an adhesive backing, and not the thick foam padding kind. The clip is sort of generic to me — it doesn't stand out as anything brilliant, but I am not offended by it, either. I wouldn't call it flimsy, but you probably want to be careful with it: a drop from higher than about three feet could break the case, especially if the weight of a phone lands on top of it. But the reader snaps in with ease and feels snug in the clip.
Charging Base Design
When I first looked at the dock for the new PayPal reader, I wasn't impressed. I didn't hate it; I just didn't see anything particularly outstanding. Having unboxed it, held it in my hand, and looked at it with the card reader placed, I still don't think it's the best-looking piece of hardware out there. But I will say the photos online don't really do it justice.
Part of the problem is scale. Product photos on the internet are hardly ever to scale. Unless you're used to it and can look at the numbers and adjust your expectations, the dock and the reader both seem quite a bit larger than they are in real life. And for the dock, that's not flattering.
But having held it in my hands, having looked at on a real, flat surface, it's actually rather nice looking. The curves and angles that seemed to stick out so badly for me aren't as apparent, so it looks far less awkward.
The charging base weighs just shy of 12 oz, or about 3/4 of a pound. The heft is nice, and PayPal's placed a nonskid rubber base on the bottom. Despite the lack of adhesive, you shouldn't have to worry about the dock going anywhere. You can also mount the dock to a countertop with screws, and PayPal gives you a template to do so in the box.
The thing I was most worried about was actually the micro USB charging port. It juts out all on its own, a solitary piece of metal. If it gets knocked even the tiniest bit to one side or another, lining up your card reader is going to be some dodgy business. I poked at the plug a little bit, and I think it's fairly sturdy. I had no trouble sliding the card reader into the dock (and thus the charging port). I just encourage you to be careful and not force anything if the reader doesn't want to dock the way it should.
PayPal also throws in a locking screw. It's a tiny little thing, but once you've plugged in the card reader, you just screw it in and it'll keep anyone from popping out the card reader. The screw is tiny, and you'll need a similarly tiny screwdriver (I used an eyeglass screwdriver).
The one thing that annoys me is the lack of any sort of included charging cable. I assume that PayPal thinks most merchants will buy them together and therefore use the cable included with the card reader. But two feet of cable may simply be too short for some setups. And neither reader includes any sort of wall plug. So before you can use your dock, you may need to purchase additional supplies.
Card Reader Specs
As the name implies, the PayPal Chip and Tap reader accepts both EMV/chip cards and contactless/NFC transactions. It also has a built-in magstripe reader for swipe transactions.
Now, don't get me wrong. I am EAGERLY awaiting the day that magstripe technology disappears entirely. But we're not there yet. And I like that the magstripe reader is integrated into the device (whereas Square's Contactless + Chip reader offers a separate magstripe reader).
But while magstripe and chip cards are a dime a dozen, there is one big question to answer: Do you really need support for NFC/contactless payments? Realistically, the use of "Pay" apps (Apple Pay, Android Pay, Samsung Pay, and now even Chase Pay, LG Pay, or Microsoft Pay) is still pretty infrequent. But this payment method is going to become more popular as more people start upgrading their old phones and as consumers become more concerned about their data security. "Pay" apps usually rely on tokenization and cloud storage that means the card numbers are never stored on the phone nor given to the merchant, which is a really good way to make sure you aren't affected by data breaches.
Having an NFC-enabled card reader is a good way to future-proof your setup so you don't lose sales. (And if you're already turning away people who want to pay with their phones, maybe that's a hint that you should upgrade.)
I think NFC/contactless acceptance is more of a concern for merchants with a permanent storefront than mobile businesses or pop-up sellers. So I wouldn't worry too much about this.
System Requirements
The Chip and Tap Reader connects to iOS and Android devices via Bluetooth. You'll need a smartphone or tablet running the following:
Android OS 4.0 or higher; OR iOS 8.1 or higher
Bluetooth 4.0 or above
PayPal says it should be compatible with "most" devices; if you've routinely had trouble with other card readers in the past, you might consider looking at upgrading to a different smartphone or tablet. There's no detailed list of supported phone/tablet models, but if you download the app you can test whether your device can connect to a card reader.
Battery Life
The Chip and Tap Reader charges via micro USB port. I am unable to find any sort of official specs for the battery, unfortunately. However, a fully charged card reader can accept payments for approximately 8 hours, according to the Quick Start Guide included with the device. Of course, your battery life will depend on the number of transactions processed during that time.
For me, this is a little disappointing. A-10 hour battery life would make a big difference because you'll never have to worry about the reader running out at 7 hours on a busy day. However, we are living in the age of portable battery packs. They're not expensive and even a small-capacity battery — less than 2000 mAh — would be enough to keep the reader charged for the day (and probably well beyond).
And of course, if you're in a stationary environment, you can use the dock to keep your Chip and Tap reader fully charged throughout the day.
Getting Started
Right off the bat, I'll give PayPal points for packaging. The box with the reader is easy to open, and the slanted edges just remind me of PayPal and its triangles. Then you open the box and there's a lovely, clearly labeled envelope that says "Read me, I'm important."
In the envelope, PayPal includes a sticker you can display to indicate that you use PayPal and what methods of payment you accept, as well as a Quick Start Guide.
Something I've learned the hard way as a writer and reviewer (and occasional assembler of IKEA furniture) is to always read the instructions first. Seriously. No matter how much you think "oh, how hard can it be?" or "I've done things like this before," take two minutes and look over the instructions you're given.
Fortunately, PayPal's instructions are pretty simple:
Charge your device. The blue light next to the Bluetooth device will indicate that it's ready.
Enable Bluetooth on your phone.
Open the PayPal Here App.
Go to the menu on the top left of the screen.
Select "Have a new reader?" and follow the steps to find your device and pair it.
Once you've connected your reader, PayPal Here will search for and download any firmware updates. This can take a bit of time, so make sure you set up and test your reader well in advance of when you plan to use it for the first time, and not 5 minutes before your first customer appears.
Firmware updates will happen periodically. If you only use your reader infrequently, I recommend always checking for updates the night before you plan to use it. That will save you a headache or two.
Generally speaking, you'll have fewer headaches if you make sure that your reader is on and Bluetooth is enabled before you sign into the app.
Once your reader is paired the first time, you shouldn't have to constantly re-pair the devices. Your phone or tablet should be able to detect and pair your card reader automatically, and you'll be able to process transactions!
https://www.youtube.com/watch?v=CvuJmLDBvbI
Charging cards with the Chip and Tap Reader is fairly easy. After you press "Charge" in the app, you can tap, dip, or swipe to finish the transaction. The indicator lights at the top of the reader will tell you when a charge is successful: 1 light means the transaction is initiated, two or three lights indicate that it is processing, and four lights mean the transaction is complete.
I like that PayPal's gone through the effort to show you how to process each type of transaction in a separate video (check out the videos for contactless/NFC and swipe transactions, too). While these videos show how to use the card reader without the dock, the dock won't substantially change anything.
Compatible Software & Apps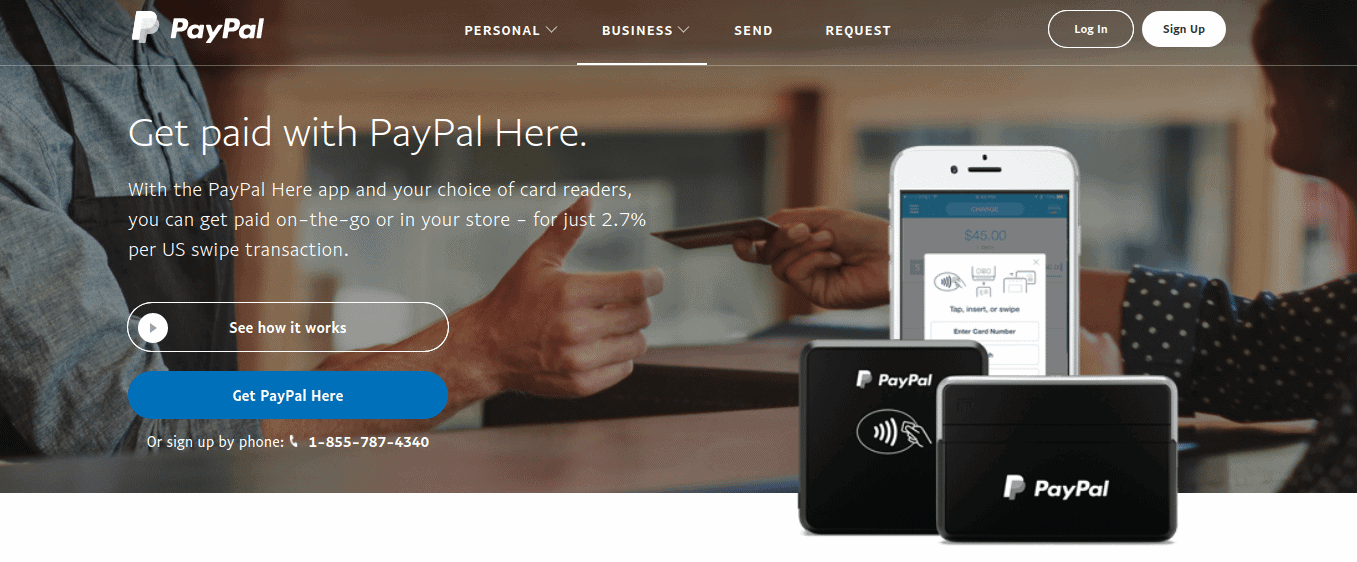 Time for me to say something pretty obvious: The PayPal Chip and Tap reader works with the PayPal Here mPOS app. PPH is overall a solid mobile processing app, though it doesn't have advanced inventory tools or reporting comparable to Square's offerings. Still, it's at the top of the list for most advanced features, second only to Square. For a detailed look at the PayPal Here app and its capabilities, check out our complete, in-depth review.
The most important piece of information to take away is that PayPal is a third-party processor, which means that while you can get set up with an account almost instantly, you do face a higher risk of account terminations or funding holds than you would with a traditional merchant account. You can minimize your risk by educating yourself on what can trigger an account review. Check out our article, How to Avoid Merchant Account Holds, Freezes, and Account Terminations, for more information.
And now for something that may be less obvious: PayPal can integrate its payment processing with a handful of full-fledged POS systems. You'll pay PayPal's processing rates and get access to all the other PayPal features — including the ability to use PayPal's hardware for processing.
Unfortunately, it doesn't appear that either of PayPal's new readers are compatible with PayPal's integrated setup. For that, you'll need either the magstripe reader (please don't go that route) or the Chip Card Reader ($79). Don't get me wrong — I really like the Chip Card Reader. It's a well-designed piece of hardware that goes well from mobile to countertop setup. But it's a bit sad that PayPal isn't making its other card readers compatible with its point of sale integrations.
However, at the very least if you're using PayPal's developer tools to integrate PayPal payments into your own mPOS, the new readers are both compatible, as confirmed by PayPal's blog post announcing the new readers.
If possible, I recommend buying your hardware directly from PayPal. If you're a new user, you can sign up and buy a reader all at once; if you're an existing merchant, you can just buy the hardware and have it shipped to you.
Pricing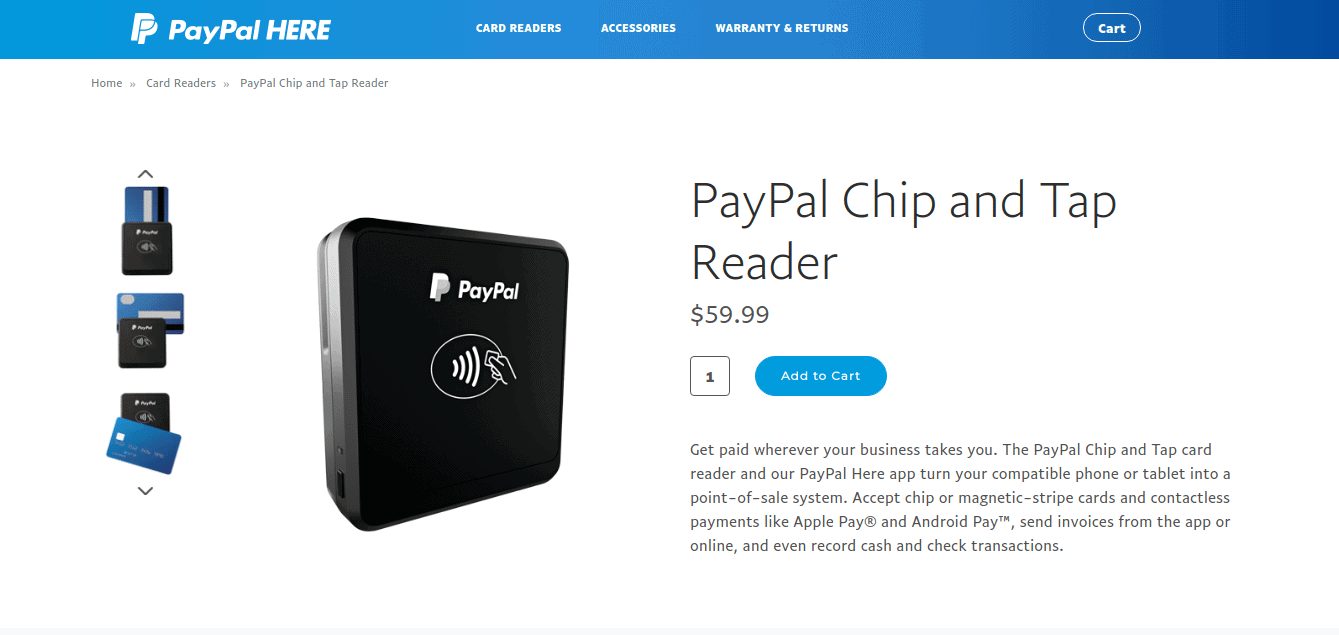 You can buy the PayPal Chip and Tap reader for $59.99 through PayPal's webstore. You can also get the PayPal readers through Staples. The reader is listed online for the same price or buy in stores, though when I checked the closest store that had any in stock was about 75 miles away. Depending on where you live, your chances of finding one in stores may vary.
On its own, the Chip and Tap Reader's docking base sells for $29.99, but you can buy the reader and the dock for $79.99, a $10 discount.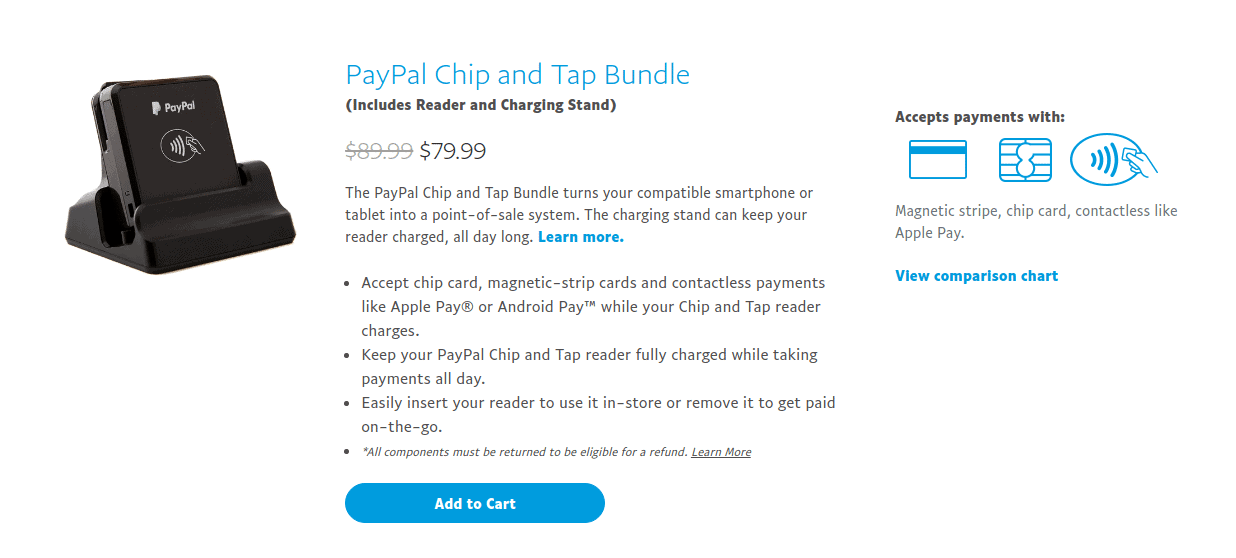 That $60 price tag is a little high, considering Clover Go sells its All-In-One reader for $40, and Square sells its Contactless + Chip reader for $49. I don't think it's an unreasonable price, though. Also, it's not the first time PayPal's chosen to go with expensive hardware. The Chip Card Reader initially sold for $149, with a $50 rebate for eligible merchants. PayPal seems to have permanently lowered that price to $79, plus an additional $30 for a compatible countertop-mounting charging dock.
For comparison, PayPal's Chip and Swipe reader sells for just $24.99, which makes it a strong contender. I'm not surprised most merchants, especially mobile ones, seem to be opting for that device instead. It's a $35 markup just to accept NFC.
However, don't forget intended audiences. If you have a countertop setup, the Chip and Tap Reader plus its dock is going to look better as part of your register, and it'll stay put. If you have a mobile setup, you can still use the Chip and Tap reader just as easily, and it still clips to your phone or tablet. It's just a matter of whether you want to pay extra to be able to accept contactless payments.
Customer Service & Support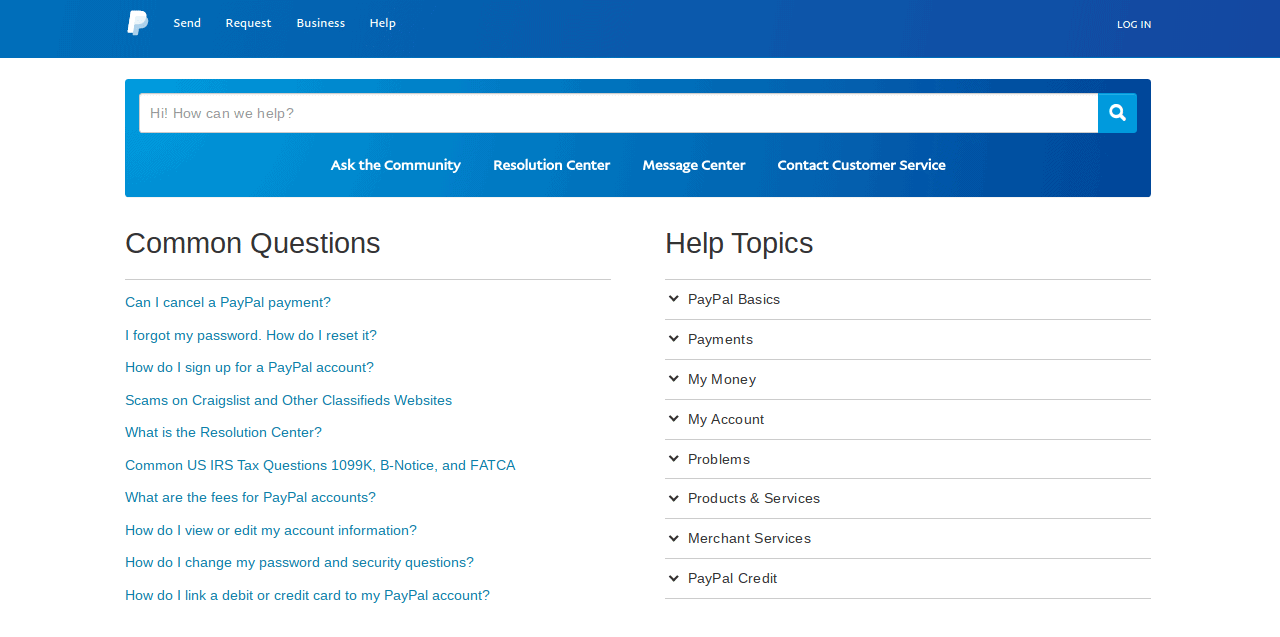 To be honest, PayPal doesn't have a great reputation for customer service. The reports from PayPal merchants indicate that it's inconsistent at best, especially regarding phone support. That's really unfortunate, but fortunately, you will probably only need to get PayPal on the phone for account-related issues such as a hold. For everything else, PayPal's other customer service channels should suffice.
Here's what you get as far as access to customer service:
I will offer you this piece of advice: your keywords matter. I got completely different results in PayPal's sites using just the term "card reader" versus "chip and tap reader." It seems like most merchants are good about using the specific reader name, which is a good thing!
User Reviews
I expected to find a lot of information from merchants who were using the reader. I found a lot less information than I expected. Most of the user reviews (video and text-based) talked about the Chip and Swipe reader.
And that makes sense to me, now that I've managed my expectations. The Chip and Swipe reader is a lot cheaper and more mobile friendly, so it makes sense that it would be the more popular option.
I was able to find a little bit of data from PayPal Here merchants, though, mostly in the PayPal community forum. The two biggest problems merchants seem to have with the Chip and Tap reader are:
Bluetooth pairing: This doesn't surprise me, because one of the top complaints about any Bluetooth device ever is always pairing issues.
Device Not Recognized: I have seen reports from users (using iOS devices, but also some Android) that during the pairing process they get an alert that their device is not supported. PayPal says "most" phones and tablets running iOS or Android should be compatible, so long as you have Bluetooth and GPS enabled and are running the most recent version of your operating system. These kinds of reports tend to be very scattered and difficult to duplicate because it depends on your phone model as well as your carrier network. (To be honest, I'm convinced phases of the moon and alignment of the planets also factor into these sorts of things, too.)
Other than that, I've seen a couple of isolated reports about defective readers not charging or glitching out and getting stuck during a firmware update. If you contact PayPal, you may be able to get a replacement (and this is why I recommend purchasing direct from PayPal rather than Staples).
Given a bit more time, we'll start to see whether any of these complaints persist. When it comes to reports about common problems, you're definitely playing a numbers game.
Final Verdict
I have generally been a fan of PayPal Here's hardware designs. The simple triangle magstripe reader has always worked well without a lot of fuss, and the Chip Card Reader, while expensive, is a beautiful design that works just as well in a mobile setting as it does in a countertop register environment. PayPal's Chip and Tap reader is no exception.
I think it's a good device. PayPal clearly took the time to consider what is necessary to make a card reader appealing to both mobile and storefront merchants. The addition of the adhesive clip for mounting to smartphones or tablets is a thoughtful one. I don't yet see a lot of mPOS apps offering the clip at no additional cost. The charging dock will keep the card reader secure and charged for a full business day.
The design isn't anything flashy, but I do like the way the card reader feels in my hand. And the charging dock doesn't look nearly as cool as some other devices I've seen, but it's not hideous, either. I like that PayPal was thoughtful enough to build the charging port right into the base instead of leaving a cable that will flop about. And the addition of a locking screw makes sure no one is going wander off with your card reader.
It's the little, nit-picky things that bother me. Why doesn't the charging base come with its own power cord? Why isn't the battery just slightly bigger, enough to accommodate 10 hours of use? And of course, there's the matter of price. At $59.99, PayPal's Chip and Tap reader is more expensive than the comparable Square hardware (the Contactless + Chip Reader) as well as Clover's All-In-One Reader. Now, granted, Square's hardware has its own shortcomings and Clover Go is plagued with shady business practices. But for a merchant who is just comparing prices of hardware, the higher price tag sticks out. And if you look at PayPal's other new reader, the Chip and Swipe Reader, you end up paying more than double for addition of a single feature: NFC/contactless acceptance.
If you're on the fence about which of PayPal's new card readers to get, there are two simple questions you should ask. First: Am I interested in accepting Apple Pay and other contactless transactions? Second: Do I need a card reader that works in a countertop setup, or just mobile?
If the answer to the first question is yes, then you'll probably do pretty well with the Chip and Tap Reader. It is, after all, about $20 cheaper than the other PayPal card reader that accepts NFC. If the answer to the second is "countertop," you'll find the Chip and Tap Reader much better suited, so long as you also invest in the charging base.
For all of these reasons, I am happy to give the PayPal Chip and Tap reader a solid 4-star rating and a general recommendation.
Are you using this PayPal reader? Have you used it in the past? If so, we'd love to hear from you, because user reviews play a major role in our evaluation. Leave us a comment about your experiences!
As always, thanks for reading!
---
The Merchant Maverick Seal of Approval 🏆
PayPal Chip And Tap Credit Card Reader


---
After hours of in-depth research and evaluation, we can confidently recommend this brand to our readers. Get started today and see PayPal Chip And Tap Credit Card Reader for yourself.
The Merchant Maverick Seal of Approval 🏆
PayPal Chip And Tap Credit Card Reader


---
After hours of in-depth research and evaluation, we can confidently recommend this brand to our readers. Get started today and see PayPal Chip And Tap Credit Card Reader for yourself.