PayPal Chip & Swipe Reader Review
There's nothing fancy or flashy about it, but the fact remains that it's a free (for new PayPal Here users) device that can accept both dipped and swiped transactions.
Expert Analyst & Reviewer

UPDATED
Advertiser Disclosure: Our unbiased reviews and content are supported in part by
affiliate partnerships
, and we adhere to strict
guidelines
to preserve editorial integrity.
PayPal Chip & Swipe Reader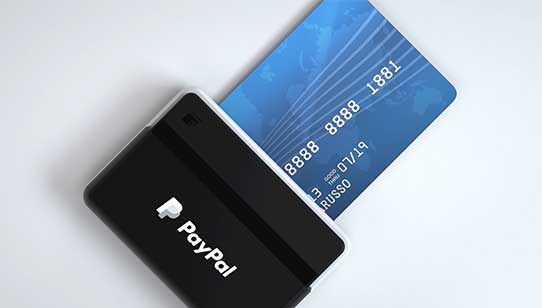 Pros
Free for new PayPal Here accounts
Easy to use
Bluetooth connection
Accepts chip and magstripe transactions
Cons
No charging base available
Does not process NFC/contactless transactions
PayPal Chip & Swipe Reader Overview
What would you say if I told you that you can get a credit card reader that accepts chip and magstripe payments for no cost at all?
When you use PayPal Here to accept in-person payments, you can choose between four different credit card readers to use in processing sales. The PayPal Chip and Swipe Card Reader is PayPal's entry-level chip and magstripe credit card reader and is the only one currently being offered for free. New PayPal Here accounts can get a free Chip and Swipe Card Reader until June 30, 2020. For existing PayPal Here users, the Chip and Swipe Card Reader goes for $24.99.
The Chip and Swipe reader is currently the only PayPal card reader being offered for free to new accounts. While PayPal Here once offered the magstripe-only Mobile Card Reader for free to new account holders, the company now charges $19.99 for the device and subjects transactions above a certain threshold to an automatic reserve. Clearly, PayPal is trying to move merchants away from outdated and relatively fraud-prone magstripe-only technology — though I should note that Square still offers a free magstripe reader.
Regardless of the cost, we recommend using PayPal's Chip and Swipe reader over the magstripe-only reader. Now that we've entered the 20s, there's really no excuse for not being able to accept chip card payments.
Note that while the Chip and Swipe reader accepts chip and magstripe payments, it does not accept NFC/contactless transactions. You'll need PayPal's Chip and Tap Reader — or the pricier Chip Card Reader — if you want to accept contactless payments.
So, how does the Chip and Swipe reader measure up?
Overall Design
Let's take a look at the Chip and Swipe Reader and its packaging.
Measuring 3.0 x 2.1 x 0.47 inches and weighing 1.75 ounces, the Chip and Swipe Reader is a very small and light device. It's so small that I would be nervous about losing it if I were using it without the clip! For this reason, you could consider using the clip included with the device to attach it to your smartphone (or whatever mobile device is connected to PayPal Here) while using it. However, the clip attaches to your device via an adhesive strip, so it's not really removable. For this reason, you may want to pair your reader with a device specifically dedicated to sales rather than to your existing smartphone. You could also attach the device to a cash register.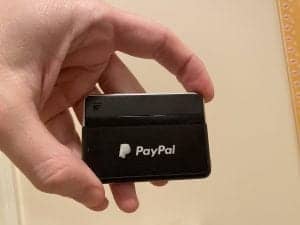 Let's look at the device itself. Along the right side of the unit, you'll find the power/Bluetooth button, a micro USB charging port, a battery indicator light, and a Bluetooth indicator light. It's all quite clear and self-explanatory.
The unit comes with a 2-foot micro USB charging cord, but no wall plug, so you'll either need to provide your own or just connect it to a battery pack or laptop to charge. A longer charging cord would have been nice, but short charging cords seem to be de rigueur these days for some reason.
Device Specs
As the name would suggest, the Chip and Swipe Reader accepts both EMV/chip card transactions and magstripe/swipe transactions. It's nice to have the magstripe reader built into the device — by contrast, Square's Contactless + Chip reader offers a separate magstripe reader, not a built-in one.
The one form of payment that this device doesn't accept is NFC/contactless payments. Considering the fact that this mPOS device is likely to be used mostly by mobile businesses and pop-up sellers, this shouldn't be a huge issue, but it is something to keep in mind as contactless payment apps like Apple Pay and Google Pay gain mainstream acceptance.
Keeping in mind that right now this device is free for new PayPal Here account holders, the Chip and Swipe Reader is quite the value proposition. By contrast, Square doesn't currently offer a free device that can accept chip card payments; its only free offering is its magstripe-only reader and the cheapest device it offers that accepts chip card payments — the Contactless + Chip reader — costs $49.
System Requirements
The Chip and Swipe Reader connects to iOS and Android devices via Bluetooth. Thankfully, the list of requirements to operate the device is rather short:
Compatible with most iOS and Android mobile phones and tablets (make sure your OS is up-to-date)
Bluetooth 4.0 or above
Notice that PayPal states that the device is compatible with "most" iOS and Android devices, not "all". PayPal doesn't provide a list of supported phone/tablet models, but don't be surprised if you encounter problems while using the reader with an aging device — particularly one that cannot install the latest OS upgrades.
Battery Life
The Chip and Swipe Reader charges via micro USB port. The packaging instructs you to charge your device "for at least two hours" upon first receiving it, though mine was fully charged after less than 90 minutes.
According to the included guide, a fully-charged reader should be able to accept payments for approximately eight hours. However, if you're processing lots of transactions, don't be surprised if the battery runs out in fewer than eight hours. Seeing as there is no charging dock available for this device, you may want to keep a portable battery pack handy if you expect to be accepting payments all day and would rather not have to connect the device to your laptop to charge.
Getting Started
The reader's packaging leaves little open to interpretation. The box was easy to open, and once you remove the inner sleeve and open that, you'll find an envelope that says "Read me, I'm important." The contents do turn out to be of some importance, so I will rate this assertion as true.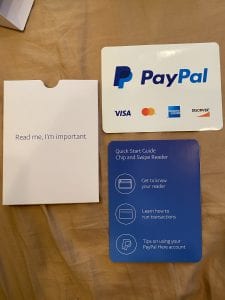 Open the envelope as commanded by your PayPal overlords, and you'll find a Quick Start Guide and a sticker you can display to show your customers that you use PayPal and that you accept Visa, Mastercard, American Express, and Discover payments.
Luckily, the Quick Start Guide could hardly be simpler. Here's what the guide tells you to do:
Charge your reader. When the blue light next to the Bluetooth logo blinks, your device is ready to connect. (The light turns solid once connected)
Go into the settings on your mobile device and turn on Bluetooth.
Open the PayPal Here app and open the menu at the top left, then select "Have a new reader?" — your card reader should appear, allowing you to pair and connect it
Follow the on-screen prompts to update the reader's firmware (this process was rather quick when I tried it)
You should check for firmware updates fairly regularly. Do so the night before you intend to use it, and you won't have to deal with it as you prepare to start a sales day.
The following video summarizes how to accept chip card payments (the process for accepting swiped payments is pretty much the same):
The process of charging cards is pretty intuitive. You enter the amount to be charged at the New Sale page (the page that comes up by default when you open the PayPal Here app) and then press the Charge button at the top of the screen. If a signature is required, a signature box will appear on your mobile device.
As the sale processes and completes, the app will let you know when the customer can remove his/her card.
Software Design & Features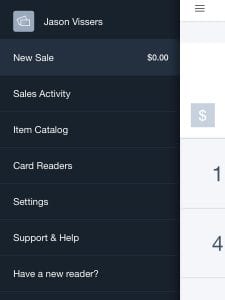 The PayPal Chip and Swipe Reader must be used with the PayPal Here mPOS app. We here at Merchant Maverick like the PayPal Here app, even though it doesn't quite match Square's mPOS app when it comes to advanced inventory tools or reporting. Nonetheless, the app's capabilities are rather impressive.
Read our PayPal Here review to get the complete rundown on what this mPOS app can do. For now, here's a quick list of the features you'll find:
Quick-Sale Mode
Cash & Check Recording
Invoicing
Item Library
Item Variants
Item Add-Ons
Item Categories
Custom Tax
Custom Tip Options
Discounts
Refunds & Partial Refunds
Recurring Billing
Sub-User Accounts
Support For Register Setup
Same-Day Funding
On the whole, even if PayPay Here isn't as fully-featured of an mPOS app as that of Square, it still holds its own and does just about everything a mobile merchant will require.
One thing you need to keep in mind when using the PayPal ecosystem to process payments is this: PayPal, like Square, is a third-party processor. This means that while setting up an account is nearly instantaneous, you'll face a much higher risk of having your account terminated or your funds held than you would with a traditional merchant account. To help ensure the stability of your account, we recommend that you read up on how to avoid attracting the attention of PayPal's account review squad. Have a look at our article on how to avoid holds, freezes, and terminations.
Ease Of Use
Considering the fact that I don't have a great deal of experience with card readers and mPOS software (except on the consumer end), my ability to operate the Chip and Swipe Reader constitutes a good test of how user-friendly the device is to the new or inexperienced merchant. The setup process is pretty self-explanatory, and even if it wasn't, the quick-start guide included in the packaging tells you all you need to know to get started.
The only thing I'd recommend PayPal do on the ease-of-use front is to include more information regarding how to perform basic functions in the PayPal Here app such as adding items to your catalog, allowing for customers to leave tips, etc. However, the FAQs accessible from the Support & Help menu option within the app should answer any questions you might have concerning the app's functions.
Again, it's helpful to compare the entire PayPal Here user experience — of which your use of the Chip and Swipe reader will be a component — to the experience of using a traditional merchant account. With a merchant account, you may have to concern yourself with such things as processing contracts, equipment leases, and researching the integration list of particular merchant account providers. While it is possible to pay less in total processing costs with a full-fledged merchant account — particularly if you're a high-volume merchant and particularly if you can negotiate a custom deal on processing rates with your provider — the PayPal extended universe is unquestionably easier to navigate for small- to mid-size businesses than the experience of using a traditional merchant account.
Pricing
As we've established, the Chip and Swipe reader is free for new PayPal Here users (until June 30, 2020) and $24.99 to existing PayPal Here users. If you want to be able to accept NFC payments, you'll need to go with PayPal's Chip and Tap reader, which goes for $59.99 (or $79.99 when bundled with a docking base, which is not available for the Chip and Swipe reader). Essentially, you'll have to weigh what you'll save by going with the Chip and Swipe reader against any sales you might lose owing to the fact that you can't accept contactless payments (which, for most merchants using mPOS devices to accept payments, probably isn't much at this point)
The cost of payment processing with this device (or with any other PayPal Here-compatible reader) is as follows:
Chip/Swiped Transactions: 2.7% per transaction
Manually Entered Or Scanned Transactions: 3.5% + $0.15
PayPal Transactions: 2.9% + $0.30
International Fees: You can accept non-US cards for the standard 2.7% per swipe plus a 1.5% cross-border fee and/or 2.5% currency conversion
Chargeback Fee: $20
No Monthly Or Annual Fees
No PCI Compliance Fees
No Setup Fees
PayPal's fees are quite reasonable when compared to other companies competing in this space — particularly for small-ticket merchants. Consider the fact that Square — PayPal's closest competitor — charges 2.6% + $0.10 per in-person transaction. While larger sellers may reap the modest benefits of a lower overall per-transaction processing fee, that extra ten cent charge will take a hefty bite out of the profits of merchants with smaller average transaction values (especially under $10). That's why we appreciate PayPal's 2.7% fee as it lacks a fixed per-transaction charge.
Customer Service & Support
PayPal's customer support has long been something of a pain point for the company. It's been the subject of many a merchant complaint (as we'll get into in the next section). The quality of phone support has been a particular point of contention. However, unless you're dealing with an account hold or have otherwise been called to the carpet for doing something PayPal didn't like, you'll probably be better served by using one of PayPal's online support channels.
Here are your customer support options:
Phone Support: Live help is available by phone.
PayPal Here app FAQs: Within the PayPal Here app, you'll find an FAQ section containing answers to questions you might have about PayPal Here services, including information specific to the Chip and Swipe reader.
Community Forum: If you can't find answers to your questions elsewhere, PayPal's community forum is definitely worth a shot.
Self-Service Knowledgebase: PayPal's searchable self-help knowledgebase contains answers to common questions regarding PayPal's service, including technical troubleshooting.
PayPal Here Resource Center: The PayPal Here Resource Center has some solid information regarding how PayPal Here works. Just be warned that there's not a lot of Chip and Swipe-specific information to be found here.
Social Media Support: One way to access PayPal's customer support is to tweet @AskPayPal for help. You can also message PayPal's Facebook page.
User Reviews
I scoured the internet looking for reviews of the Chip and Swipe reader, and here's what I found.
Negative Reviews & Complaints
Most users seem satisfied with their Chip and Swipe readers, though there are some scattered reports of problems:
Some users report problems establishing a Bluetooth connection between the device and the user's smartphone.
Other users report that their reader stopped working after less than a year of use.
One of the more common complaints I found relates to the fact that the reader will power down after a few minutes of inactivity. This is done to preserve the battery, but some merchants report annoyance at having to spend time turning the device back on before making a sale.
A few merchants have complained that the battery and Bluetooth indicator lights are difficult to see in daylight conditions and that the power button is inconveniently placed.
I've seen a few reviewers complain that the device is so small that it is easily misplaced.
On the whole, positive reviews of the device far outnumber the negative reviews, and many of the negative reviews I've seen actually relate to account holds and terminations. These occur with unfortunate frequency among merchants processing transactions with PayPal, but such holds and terminations have nothing to do with the card reader being used.
Positive Reviews & Testimonials
Most merchants seem to like the device. The reader comes in for particular praise from mobile merchants selling on-the-go at fairs and other events. For most users, the Chip and Swipe reader is a simple device that performs the task it's meant to perform, and with a minimum of fuss.
Final Verdict
I'm giving PayPal's Chip and Swipe Card Reader a score of 4.5 out of 5. There's nothing fancy or flashy about it, but the fact remains that it's a free (for new PayPal Here users) device that can accept both dipped and swiped transactions. It's just not common to find a free card reader that accepts chip cards. It may not accept NFC payments, but again: this is a free device.
What's more, for the vast majority of users, it works as intended. The occasional problems I see reported by Chip and Swipe reader users and the lack of an available charging base or dock prevent me from giving the device 5 stars, but let's not lose sight of the fact that the device is a powerful and dependable payment processing tool — one which can be obtained for the literally unbeatable price of $0.
If you've used the Chip and Swipe reader and you take issue with my assessment — or, indeed, if you agree with it — we'd love to hear about it! Drop us a comment and tell us what you've experienced!
Common Questions About The PayPal Here Chip & Swipe Reader
---
The Merchant Maverick Seal of Approval 🏆
PayPal Chip & Swipe Reader


---
After hours of in-depth research and evaluation, we can confidently recommend this brand to our readers. Get started today and see PayPal Chip & Swipe Reader for yourself.
The Merchant Maverick Seal of Approval 🏆
PayPal Chip & Swipe Reader


---
After hours of in-depth research and evaluation, we can confidently recommend this brand to our readers. Get started today and see PayPal Chip & Swipe Reader for yourself.