PayPal Extras Mastercard Review
Expert Analyst & Reviewer

UPDATED
Advertiser Disclosure: Our unbiased reviews and content are supported in part by
affiliate partnerships
, and we adhere to strict
guidelines
to preserve editorial integrity.
PayPal Extras Mastercard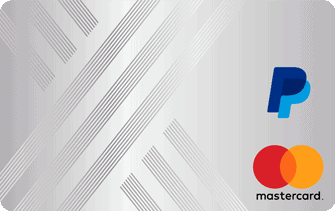 Finding a credit card with the right rewards program can help any business owner save money. The PayPal Extras Mastercard may offer the right fit for businesses that frequently shop online and are looking for their next rewards card.
Co-branded by PayPal and Synchrony Bank, this card provides a tiered rewards scheme, with bonus points on purchases at gas stations, restaurants, PayPal merchants, and on eBay. It also features the benefit of no annual fee, which means that you won't need to worry about breaking even with rewards points.
Business owners should note that this is not advertised as a business-specific credit card. Instead, PayPal markets it as a personal card. While you won't have access to extras such as employee cards, using a personal card for business expenses isn't always a bad idea.
Keen to learn more about the PayPal Extras Mastercard? Scroll on down to get the full picture.
PayPal Extras Mastercard At A Glance
Eligibility
Recommended credit scores for potential applicants aren't stated by either PayPal or Synchrony Bank. Because of this, you'll want a credit score that is as healthy as possible (perhaps in the high 600s or above 700).
Don't know your credit score? Merchant Maverick has you covered with a list of our favorite (and free!) credit-checking sites.
PayPal does require that you be 18 years of age or older and live within the US or its territories. You'll also need to have an open PayPal account in good standing in order to apply.
Rewards & Fees
The PayPal Extras Mastercard comes with a tiered rewards program. Every dollar you spend on gas or at restaurants will net you three points. You'll then get two points for every dollar you spend on PayPal or eBay purchases. Anything else you buy will collect you one point for every dollar spent.
Because you'll collect two points per dollar for purchases at PayPal merchants, this card could be very beneficial if any of your regular online retailers use PayPal.
PayPal has set this card up with no annual fee — an excellent bonus that means you won't have to worry about spending a certain amount before your rewards actually earn you money.
However, do expect fees for cash advances or foreign transactions. If you do a cash advance, you'll need to pay $5 or 3% of the advance (whichever is higher). For foreign transactions, the fee is 3% of the transaction amount.
On top of those fees, anticipate a relatively high APR if you carry a balance. Those who pay off their balance in full each billing period shouldn't need to worry about this; however, those that do have a balance may wind up paying more interest than they might on a different card.
Redeeming Rewards
Points are redeemed through your PayPal account. You have several options for redemption: gift cards, merchandise, travel awards, or cash deposited directly into your PayPal balance.
You're able to receive a PayPal deposit for every 6,000 points that you earn. Once you select this option, you'll collect a $50 credit directly into your account. If you aim for this to be your primary redemption method, the PayPal Extras Mastercard could effectively be compared to a cash back card. It would have rewards tiers equivalent of:
2.50% cash back for gas station and restaurant purchases
1.67% cash back for PayPal and eBay purchases
0.83% cash back for everything else
For travel awards, you can choose to put the points towards air travel, hotel stays, car rentals, or vacation packages. These awards are subject to blackout dates and other restrictions and are booked through Loyalty Travel Services.
Note that your rewards do have an expiration date. You'll have 24 months to redeem points from the date they were first added. This is a fairly large window, but it's worth keeping in mind if you intend on saving them for expensive tickets.
Other Benefits
The PayPal Extras Mastercard also comes equipped with a few other benefits, although these bonuses are fairly standard.
To begin with, you won't need to worry about price drops. That's because you may be able to utilize price protection if an item's price dips within 60 days of purchase. This feature will reimburse you the difference between what you paid and the eventual price drop.
Also, look forward to eligible purchases potentially receiving an extended warranty. You'll get the original manufacturer's warranty doubled up to one year extra.
You'll additionally be protected against identity theft. This benefit comes thanks to PayPal and Mastercard identity theft resolution services. You'll get protection features like ID theft alerts, credit card replacement, and ID Theft Affidavit assistance at no extra cost.
PayPal Extras Mastercard VS PayPal Cashback Mastercard
PayPal doesn't only carry their Extras Mastercard, they also have their Cashback Mastercard available. This card features 2% cash back across all purchases with no cap on the amount you can earn.
This means that the Cashback card beats out the Extras card's reward rate in most spending categories (with the exception of restaurant and gas station purchases). However, keep in mind that the PayPal Cashback Mastercard only allows you to redeem rewards as PayPal credit. The Extras Mastercard is much more flexible because you can earn bank or PayPal credit or redeem points for gift cards or travel.
Besides rewards, the Cashback card includes all the same benefits as PayPal's Extras Mastercard, from price protection to extended warranty to identity theft protection. It also comes with the same generally higher-than-average APR.
As another point in the Cashback Mastercard's favor, business owners who travel overseas will like that this card lacks a foreign transaction fee (compared to the Extras' 3% charge). Beyond that difference, though, fees are similar, including the absence of an annual fee.
For a complete look at PayPal's cash back offerings, check out the Merchant Maverick review.
PayPal Extras Mastercard VS eBay Mastercard
If the PayPal Extras Mastercard caught your eye because of its bonus rewards for eBay purchases, you have an alternative to consider. That alternative comes in the form of the eBay Mastercard.
While the eBay Mastercard's rewards scheme is somewhat complex, you'll effectively earn 2% cash back on eBay purchases right off the bat and 3.35% back once you pass $1,000 spent in a calendar year. Compared to the PayPal Extras' 1.67% back, eBay's offering could double your rewards when you shop at the digital auction house.
However, despite the higher-earning potential for eBay purchases, eBay's card is more lackluster when it comes to other purchases, such as at restaurants or gas stations. On top of this, PayPal's card provides multiple redemption methods, which could increase the value of your reward points; eBay's card only grants you statement credit. This makes the PayPal Extras Mastercard a better all-around option whereas the eBay Mastercard is strictly best for eBay purchases.
Because both cards are Mastercards, you'll gain access to similar benefits. This includes price protection, extended warranty, and identity theft resolution services. eBay's card also posts a similar APR that sits towards the higher end.
To snag all the deets on eBay's Mastercard, read our review.
Final Verdict
Ultimately, the PayPal Extras card plays second fiddle to better choices in both PayPal's and eBay's credit card stables. However, a few niche users might be able to take advantage of the card's offerings.
Is the PayPal Extras Mastercard right for your business? You might want to apply for this card if:
You shop regularly at a PayPal-accepting merchant or on eBay.
You intend to pay off your balance completely each billing period.
You want to avoid paying an annual fee.
You want a PayPal credit card that offers flexible reward redemption.
On the other hand, you might want to pass if:
You won't be able to completely pay off your balance each billing period.
You rarely shop at places in the bonus categories, such as gas stations, restaurants, or PayPal-accepting merchants.
You can qualify for a card with eBay or PayPal rewards that better suits your spending profile.
---
Featured Free Corporate Card
Ramp


---
Ramp offers a free corporate card for virtually any business. Start earning rewards with your corporate spending today. Get your free card.
Featured Free Corporate Card
Ramp


---
Ramp offers a free corporate card for virtually any business. Start earning rewards with your corporate spending today. Get your free card.
To learn more about how we score our reviews, see our
Business Credit Card Rating Criteria
.