Expert Analyst & Reviewer

UPDATED
Advertiser Disclosure: Our unbiased reviews and content are supported in part by
affiliate partnerships
, and we adhere to strict
guidelines
to preserve editorial integrity.
Note: As of March 21, 2018, the Payza.com website had shut down and the company had ceased operation in the US while it settles legal disputes (including allegations that the company was operating in the US without appropriate licensing, and that it conspired to transmit money obtained through illegal MLM schemes. We'll post an update when more information becomes available. In the mean time, we recommend that you look at some of our top-rated mobile processors and merchant account providers for alternatives! You can also explore our top 5 payment gateways for online credit card processing.
Pros
No monthly minimums
Fully PCI compliant
Hosted payment page
Subscription tools available
Cons
Expensive fees to transfer money
No phone support
Poor customer support
Limited pricing disclosed online
Limited support materials
Bizarre business practices
Payza Overview
At first glance, Payza looks pretty much like a PayPal copy. The name, the marketing, the features. It doesn't take much to see that Payza is targeting all the people who are dissatisfied with the giant of the online payments industry.
Initially, it looks pretty good, too. It's available in 190+ countries and 21 currencies, which is no small deal when companies like Stripe and Skrill are far more limited. There's a consumer-facing digital wallet app plus merchant processing. You can accept donations, sell subscriptions, and even send invoices.
But can Payza actually do what no one else to this point has managed — create a viable Paypal alternative that ticks ALL the boxes?
Sadly, no. Payza, like so many others, falls short by a long way. Its mobile wallet is costly for consumers, the terms of service are bizarre and unsettling, and reports indicate that there are some serious shortcomings in the customer service department.
There's no mPOS option, either, which means that sellers who also conduct business in person will still need to find an alternative processor. Given that most mPOS options now also support eCommerce to some extent, it makes more sense to pursue an integrated (or omnichannel) solution.
And don't fall into the trap of thinking Payza is new to the scene. It's not. Before it adopted the name Payza in 2012, it was known as AlertPay, and according to the BBB, it's been around for 12 years (meaning AlertPay came into existence circa 2005). But despite that, Payza doesn't disclose its number of users and only supports about 100,000 merchants, compared to 8 million who use PayPal for Business and 2 million who use Square.
So where does Payza's appeal come from? For merchants who have had a bad experience with PayPal, this could work. Maybe. If you're willing to jump through hoops. It's pretty clear to me that one of Payza's biggest draws is its willingness to work with businesses and consumers in countries that most other companies in the industry avoid. Its willingness to work with high-risk merchants is a seriously undermarketed feature.
I find it difficult to trust Payza. And I highly recommend that you don't either, especially not if you're in a country where there are plenty of other great options, such as PayPal, Square, Braintree, or Stripe. While reports indicate that some merchants and consumers do really well with Payza, the terms of service are incredibly worrisome. Its responses to complaints on the BBB are awkward, fumbling attempts to pacify people after a mistake on the company's part, or an outright gaslighting.
We're awarding Payza 3 out of 5 stars simply because we know the service works. It could, if you've exhausted absolutely all other options, even be a good choice for you. But avoid it if you can. I know there's a group of people who probably don't want to hear this, but PayPal is a much, much better option for just about anyone. If you don't want to consider PayPal (or you can't), look at Square or Stripe.
Read on for a full review of Payza, or check out our favorite online credit card processors. Looking for something with an mPOS option as well? We've got you covered there, too.
Products & Services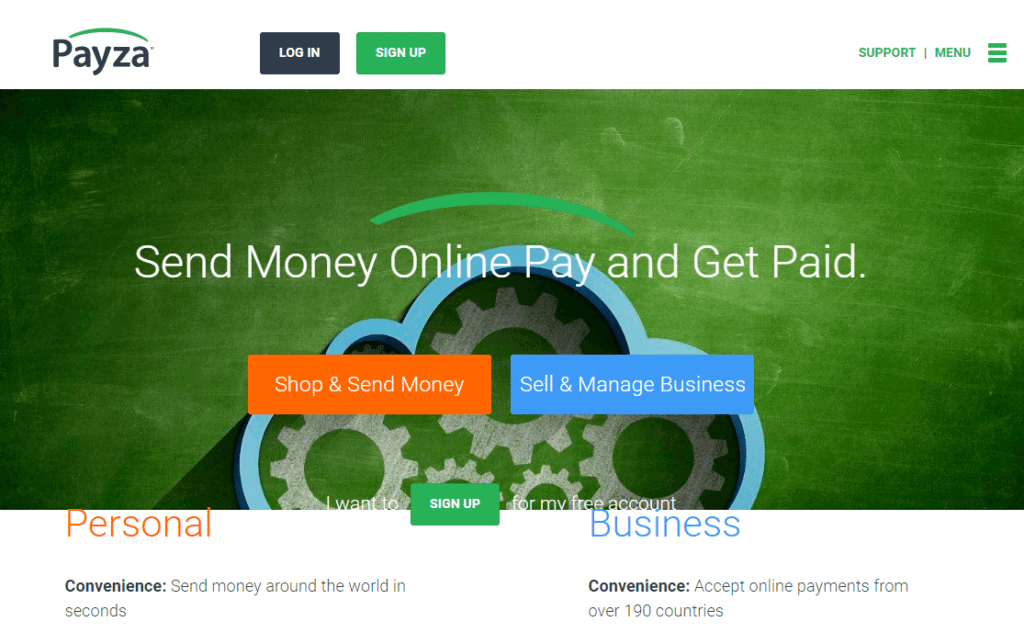 Like PayPal, Payza takes a two-pronged approach to its services. First, there's the consumer mobile wallet, and then there's the merchant services. Consumers can use their Payza wallets to pay merchants, but they can also choose to use their bank account, a credit card, or another local option. This is exactly how PayPal (and Skrill) operate.
This also stands in contrast to Square, whose P2P payments app (Square Cash) has an entirely separate line of services for businesses, which don't integrate with the core merchant offering.
First, let's look at the consumer wallet because that's where the first red flags appear.
Consumer Wallet Features:
If you want to load funds into your Payza account, it's going to cost you, which is a major difference between it and PayPal. How much depends on the method you use. There's the first red flag.
The second red flag is that it's not free to send money to friends and family, which is pretty much the industry standard. Even Square Cash doesn't charge for personal transactions. Payza does have an option where the sender can pay the fees, but this isn't mandatory, and so for people to receive money, they're already losing 2.9% + $0.30 (depending on where you live, of course). You can also request money in the app.
However, it's worth noting that the Payza wallet app is only available on Android, not iOS. That might not be a deal-breaker for some, but it's inconvenient for Apple users.
Merchant Services:
Payza's merchant services are focused entirely on online sales. If you want a mobile POS option à la PayPal Here or Square Register, you'll have to go elsewhere. But that said, if all you're interested in is eCommerce, here's what you'll get from Payza:
Payment buttons: You can implement Payza's customizable payment buttons with just a few lines of code.
Multiple payment options: Accept wallet payments, credit cards, and other "local solutions" based on your country.
Guest checkout: Reach Payza members as well as other consumers with guest checkout.
Bitcoin support: Wallet users can load Bitcoin to their wallets as well as transfer their Payza balances to their Bitcoin wallets.
Recurring purchases/subscriptions: There's not a lot of information available on Payza's recurring payment option, but it seems fairly flexible and is free to use — unlike PayPal, which will cost you $40/month. Stripe and Braintree both offer free and very solid recurring payment options, though, and Square now supports it too.
Mass payments: Whether you operate a marketplace or just want an easy way to send payments to your employees, Payza's mass pay feature will help. Payza also has an option for split payments, which will be useful for marketplaces.
Donations: Nonprofits can also set up donate buttons. Disappointingly, there is no nonprofit discount.
Invoices: You can send an invoice for free with Payza. Like most other online invoice services, you'll pay fees when you get paid. Please note, you might encounter holds on orders that take longer than 28 days to fill.
Hosted payment page: With Payza you do get a hosted checkout page at absolutely no additional cost. With PayPal, that will cost you$30/month (because you need PayPal Pro).
Shopping cart integrations: Payza integrates with Zen Cart, 3dcart, CS-cart, Open Cart, X-cart, and PrestaShop, among other shopping carts.
Remittance: SimplySend BD is a remittance platform where workers can send money from Payza to their families in Bangladesh. It's only available in Bangladesh at the moment, and there are fees associated with it.
PCI compliance: Payza is PCI-DSS Level 1 compliant, which means as a merchant there is precious little you'll have to worry about. This is always nice to see, but it can vary wildly from one processor to the next.
Fraud monitoring tools: Payza isn't clear about what its FraudMatrix is or does, or what fraud prevention tools are available to merchants. Generally, though, something is better than nothing.
Cool features, right? It all looks pretty squeaky clean. However, before you can use those features, you need to sign up for an account. And then you need to get verified. And then you need to submit your website for review.
Signing Up for Payza:
When you sign up with Payza, you'll have to choose your account: Starter, Personal, or Business. All accounts are free, but starter accounts don't require the verification that personal and business accounts do. And as a result, there's low limits on the amount of money you can receive.Personal accounts are, unsurprisingly, for consumers. The limits are lower than for business accounts but higher than starter accounts.
Your limits are as follows:
Verified Business Accounts:
Send/receive up to $50,000 at one time.
Withdraw $9,999 per bank transfer/wire transaction.
Unverified Business Accounts:
Receive unlimited funds.
Verification required to withdraw.
Verified Personal Accounts:
Send/receive up to $50,00 at one time.
Withdraw up to $9,999 per bank transfer/wire transaction.
Add up to $5,000 per bank transfer, or up to $9,999 per bank wire.
Unverified Personal Accounts:
Send up to $999 per transaction.
Send up to $4,999 per account lifetime.
Add up to $999 by bank transfer or wire.
Withdraw up to $999 by bank transfer.
Starter Accounts (No Verification Required):
Send/receive money for free.
Receive up to $400/month (max $2,000 over lifetime).
After you hit the limits of a Starter Account, you'll have to upgrade to a personal account to keep accessing your funds.
If you really want to use Payza fully, you'll need to get verified, which means providing more personal information to prove your identity. For businesses, that means proof of business registration and organization type, business address, and information about any and all stakeholders who control more than 25% of the company. Nonprofit organizations will also have to provide the same sort of documentation.
Then, there's one final step before you can start taking payments: you need to submit your website to Payza for approval. That means you'll have to provide them with a link to your site for review. This can take an additional 3-5 days to go through before you can sell.
It's also worth noting that Payza only supports a set range of business categories. If yours doesn't fit neatly into one, you won't pass the verification process or website review.
For transparency's sake, it is entirely possible that any other third-party processor will also ask you for additional information at any time. However, that typically doesn't happen to US merchants unless you have a high rate of chargebacks or you approach reporting limits for a 1099-K form ($20,000 in income yearly and 200+ transactions). For Payza to require this and not build it into the signup process….just baffles me.
Payza Fees & Rates
Take a look around the website and you won't see any mention of pricing. All you see is mentions of "free account" and "free invoicing" and "free to send" — which is all well and good but incredibly misleading because you're going to have to pay to receive your funds.
Want to know how much that costs? Scroll all the way down to the website footer and click on "Fees," which is the only page where you'll find any reference to actual costs.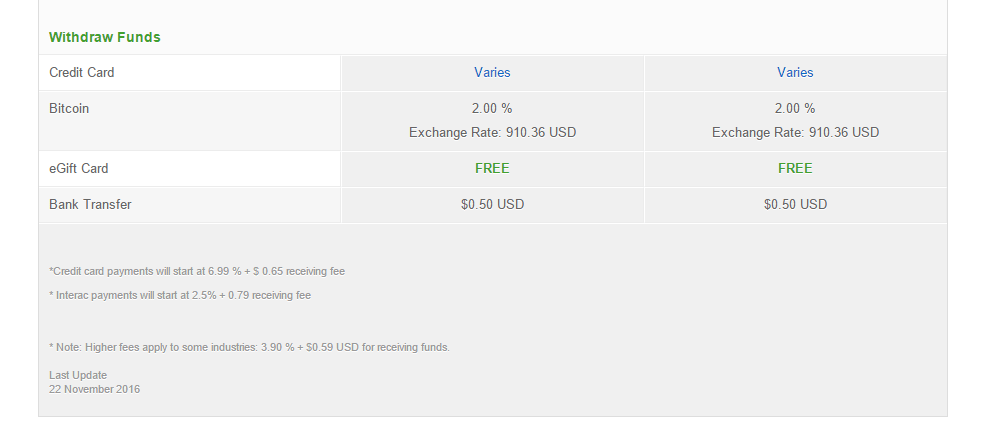 You're going to pay 2.9% + $0.30 to receive money. That's an industry standard price, and it applies to all of Payza's services: invoicing, mass payments, and even donations. It even applies to money sent to family and friends, which is a big difference from most other consumer wallets.
There are even more fees if you want to add funds to your Payza wallet, which depend on which method you use:
Bank wires: 8%
Bank transfers: $2 for under $200, free above that.
Credit card: 3.5%
Bitcoin: free (but check the exchange rate)
(According to Payza support, debit cards backed by Visa and Mastercard are considered credit transactions, by the way.)
And you're going to pay to get your money out of your account, too.
Credit card: $8 per transfer
Bitcoin: 2% over exchange
Bank transfers: $0.50 each
There's also a couple of other ways to get your money: You can convert it into an e-gift card, or you can load it onto a prepaid gift card. Of course, it's going to cost you $19.95 in shipping and handling (and a 4-8 week wait) to get the card first, but after that, there are no charges for reloading it.
As I mentioned at the start of this review, Payza supports 21 currencies. If you accept payments in other currencies, you're going to be subjected to the exchange rate as well as a 2.5% fee on top of that. For comparison's sake, PayPal is available in 25 currencies and charges the same fees for its currency conversion.
Me, I'd be a little bit grumpy about all of this. Moving money in and out of Payza is expensive for consumers as well as merchants. Merchants don't get to take advantage of lower rates for higher volumes, or even for mass payments. There's no nonprofit discount, either.
If you haven't memorized PayPal's rates the way I have, I encourage you to check out our PayPal review. This merits mentioning because just going off the numbers, PayPal is less going to be less expensive for most users. Nonprofits get a discount. The mass-payment feature costs less than standard processing, and you can qualify for volume discounts. There's even a micropayments option for small-ticket transactions.
And then there's the fine print at the bottom of the page:
* Note: Higher fees apply to some industries: 3.90 % + $0.59 USD for receiving funds.
But what industries? To find out, you're going to have to go over the terms of services. We'll get into that later. For now, just know that you could potentially pay more.
Finally, if you plan to rely on invoicing, be warned that Payza has a section in its terms of service stipulating that it might place a hold on funds if the work is to be delivered more than a month after payment. This could be problematic for businesses and services that work mostly on commission.
Contract Length & Cancellation Fee
Payza is a pay-as-you-go processor, which means there are no signup fees, no monthly fees, no annual fees. There's no monthly minimum either. You can close your account anytime with minimal hassle. All of these are good things.
The problem comes if you, like many others, create an account and then forget about it. After 18 months of not logging in, Payza considers your account dormant and will start charging you a $10/month fee until you start logging in again.
This isn't the first company to implement an inactivity fee (PayAnywhere and Phone Swipe did last year, much to everyone's displeasure). However, it's much higher than the typical $3.99 I've seen.
So if you don't want to use Payza anymore after you've tried it out, please close your account right away.
Sales & Advertising Transparency
My biggest issue with Payza are the troubling terms of service and lack of transparency. It's not that it's impossible to find information. If you know what to look for you can find whatever you want. It's the hoops you have to go through.
For example, the lack of any pricing numbers outside the fees page is annoying when just about every other processor is broadcasting their rates on every page. Second, if you want to know if your business will be charged higher rates, you need to head over to the terms of service, under "Regulated Account Types."
"Individuals whose businesses fall under the following "Regulated" industries ARE permitted to use our services. However, accounts and industries that fall under the "Regulated" category must be verified and pay fees associated with their industry. Please note, some industries may be subject to higher fees than regular and other "Regulated" industries. The fees are applied at the discretion of Payza. Please contact Customer Support for more information."
There's a long list of industries, which I won't copy here. But what bothers me is that there's no information about rates here, either, except that Payza can charge whatever it wants, and charge more for certain industries than others. But you can guess most of these industries will play the 3.9% + $0.59. This isn't an uncommon practice among merchant account providers because their rate determination depends on a variety of factors. But Payza is a third-party processor.
Something I find bizarre is that Payza supports multi-level marketing schemes (MLMs). Most of these are very high risk, and so Square and PayPal generally ban them (or certain kinds of them, at least). It seems like Payza almost specializes in high-risk accounts, but it doesn't market this fact. At all.
Payza does have a knowledge base that covers a lot of information. Unfortunately, the search feature doesn't work at all (that's another red flag for me, by the way). So, off to Google I went to uncover Payza's features.
Some knowledge about the features I was most curious about — PCI compliance, its fraud monitoring tools — have hardly any information available about them on the Payza site. The so-called security center is just a couple of paragraphs of generic information that tell me nothing of use. There's absolutely no data on how the FraudMatrix actually detects problematic transactions. All of this makes it very hard to actually compare Payza to other payment solutions.
And it's more than just the "regulated industry" clause that worries me in the terms of service. There are some ridiculous statements, like this one:
Chargebacks and Associated Fees

The customer is not permitted to initiate a chargeback (the return of funds to the customer, forcibly initiated by the customer's credit/debit card issuer, from the seller). If the customer does initiate a chargeback, then the customer's account will be immediately limited and the customer will be subject to a $25 non-refundable penalty fee.
You're reading that right — there's a ban against filing a chargeback, and Payza will penalize you if you do it. But in the next section, Payza outlines the general practices for dealing with a chargeback.
I get the feeling that this is mostly because Payza would rather you use its dispute resolution center to work out issues. Its dispute resolution works pretty much exactly like eBay's: Shoppers file a case, the merchant has to respond. If the two can't come to an agreement, the case gets escalated.
And then you get to this:
Deferred Rendering of Goods and Services

Deferred Rendering of Goods and Services is defined as funds that are received from a client for services or goods to be delivered to the client at a date further than 28 calendar days after purchase. Depending on a seller's goods, services or industry, we %>(sic) reserve the right to temporarily sustain an amount of transactions and/or monies until confirmation is received by virtue of client confirmation or if package delivery information can be substantiated.
Again, this could be a serious inconvenience for people who operate on a commission basis. I highly recommend looking at another option for invoicing.
And then, under the section about warranties, you'll see this little gem:
You will refrain from using abusive and vulgar language with our employees, whether through email, phone or live chat support. Abusive conduct will not be tolerated and will result in account termination.
Obviously, I encourage everyone always to be nice to customer support reps. Please. They're people too. But including this in the terms of service basically feels like a cop-out or an excuse to terminate accounts when people are unhappy, and Payza doesn't want to deal with it.
Now, onto other matters! One thing that I always focus on with companies like this is their social media and content marketing. These resources are essential for merchants, and I feel like they reveal a lot about a processor.
Payza's blog surprised me with the quality The writing is good, and there's a lot of useful information about Payza, industry trends, and global commerce. It's rare that say I couldn't ask for more, but I feel like saying "they can do better" in this case might be holding them to unrealistic — or at least unfair — standards.
Payza has the standard Twitter account (@PayzaOfficial) as well as a dedicated Twitter support channel (@PayzaSupport). The main Twitter channel is active, tweeting multiple times daily. The support channel is also active (and appears to be recently resurrected). I was actually surprised by their Twitter support. They're responsive and helpful, and their communication is clear.
There's also a Facebook page, which posts a lot of the same content. There's not a lot of interaction, but you can comment on the posts. I was surprised by the lack of irate complaints about customer service. Given the reports I've seen elsewhere, I fully expected to see the frustration spill over to Facebook. Then again, it's possible that Payza deletes those comments.
That same content also gets reposted to LinkedIn as well as Google+. Payza also has a Pinterest account, which doesn't seem to be very active, but does have some interesting looking boards.
Customer Service & Support:
Payza offers customer service through your standard channels: there's an email/ticketing system and social media, as well as a self-service knowledgebase and a reference center (targeted at developers, of course). There is no phone support (which is usually a pain point for most payment processors), but you do get access to live chat.
I was irritated that Payza doesn't post its live chat hours on its support page — but once again, Google is my friend. I managed to find out (by Googling) that live chat is available 10:30 a.m. EST to 6:30 p.m. EST, Monday through Friday. That's not the most generous timeframe, but it's better than nothing. Being able to reach a live person is important.
As I mention before, the knowledge base doesn't actually have a working search function, which is incredibly frustrating. The navigation system mostly logical, with everything sorted into neat categories. However, some of the knowledge is superficial and it doesn't cover everything you would want to know if you were setting up your account.
I found the reference center to be more useful in delving into Payza's features and capabilities and the basic setup process. So I recommend that you start there as well.
As I mentioned before, I am impressed by the customer service on the @PayzaSupport Twitter feed. The team gives useful answers and seems capable of escalating issues when necessary.
However, be mindful of the terms of service. I recommend approaching the Payza team with care, no matter how upset you are.
Negative Reviews & Complaints:
There are two unsurprising complaints about Payza that come up again and again. I say "unsurprising" because they are the same complaints I see with a LOT of third-party processors. There's also a common complaint I see with a lot of new wallets, too. They are as follows:
Inconsistent/poor quality support: I saw a few vague mentions of this at first, but then I dove into customer complaints on the BBB and other sites. Most of the complaints relate to reps glossing over the real complaint and "answering" other questions that were never asked. Others complain about the time it takes to get a response — sometimes up to three days or more. For comparison's sake, Square promises 24-hour turnaround on emails.
Holds on transactions: This seems especially common for new account holders who sign up and immediately make a payment, and it's more of a consumer issue than a merchant issue. It likely has something to do with them not verifying their accounts before completing the transaction. I've seen a few oddball complaints where these new transactions are immediately flagged as fraudulent. It's hard to gauge exactly what is going on without more details, but it's a fairly common practice with most third-party aggregators.
Transactions go missing: This seems especially common with Bitcoin, but I have seen complaints about bank transfers and credit card payments that go missing for days as well. Sometimes Payza refunds them, forcing you to start the process all over. To be fair, your bank also plays a role in this.
And then there's one final gem of a complaint:
Reversals as a result of fraud: It appears that Payza will reverse a merchant's transaction if the original payment was from a fraudulent source. It doesn't appear to be a matter of chargebacks here (remember, Payza actively discourages those). They won't contact you for documentation of the transaction so you can fight the reversal, either. Instead, Payza will just deduct funds from your account with no warning.
The way Payza penalizes those who file chargebacks is worrisome. I don't like the lack of transparency in its reversal process, and I question the lack of transparency about its fraud monitoring tools, either. Square has eliminated chargeback fees altogether and even begun providing chargeback protection. PayPal has (albeit limited) seller protections as well. There's of course fine print for both of these, but it's better than nothing, which is what Payza offers.
I struggled to read some of Payza's responses to BBB complaints. The language was stiff, awkward, and not always clear. It was obviously written by someone who has a less-than-stellar command of English.
I am also uncomfortable with the overly defensive tone used when Payza responds to some negative reviews and complaints. It almost feels like gaslighting, and it absolutely reeks of paranoia. I personally wouldn't like to be attacked for expressing my opinion, even if turns out I was misinformed. But I think Payza is more worried about being technically correct than keeping merchants.
It is a serious turn-off and makes me think about that ridiculous clause in the terms of service. And I did, in fact, find one complaint where Payza did actually threaten to terminate a customer's account for "abusive" behavior. This stands as a pretty strong contrast to the way both Square and PayPal respond to BBB complaints. They are generally friendly, helpful, and most importantly, magnanimous even when they don't need to be.
There are only 30 complaints against Payza on the BBB. However, remember that Payza is mostly international. You'll also find complaints and negative reviews on sites such as Trustpilot and SiteJabber, as well as more than 60 complaints on RipOffReport.com. "Scam" is the word I see most often used.
I also have seen claims that Payza may try to spam various pages with positive reviews, and I suspect they've engaged the services of a reputation management firm on at least one occasion to bury negative reviews. However, that's just my gut feeling based on my research. I can't substantiate either claim.
Positive Reviews & Testimonials
I did find a handful of positive reviews about Payza as well. Some merchants really do like the service. When it Payza works, it works well. There are three major themes in these positive reviews:
Ease of use: Merchants seem to like how easy it is to implement Payza on their website. (I'm personally inclined to disagree.)
Security: Several reviewers comment about Payza's security. And we can confirm that Payza is PCI compliant with support for tokenized payments.
International Support: Merchants seem to like that Payza is available in many countries where there are few other options for payment processing.
You'll also find a handful of short testimonials on Payza's page for business accounts. There aren't any video tutorials or greater information beyond that. This isn't surprising, given how small and scattered Payza's merchant base is.
Final Verdict
I've gone back and forth on my opinions of the company in the course of doing this Payza review. At first, I was excited at another potential competitor for PayPal. But then I was worried about the complaints against the company. I was pleased by the features available, even if they didn't tick all my boxes. I was greatly concerned about some of the bizarre terms of service but satisfied with their social media and content marketing.
I feel a bit like a Yo-Yo. But having gone through it all, now, I can say this: Payza might be a good option for you. This is particularly true for international merchants, especially those in Africa and Asia. If you're in the U.S. or Europe, you have much better choices.
While the complaint volume is small, Payza's terms of service and its approach to responses on the BBB are a huge red flag for me. This is a company that is willing to lose business rather than face customer criticism in a dignified way. You should absolutely beware of this. We always encourage you to be kind to customer service reps, but you should use extra care when dealing with Payza.
Not only that, but merchants and consumers alike have issues with missing deposits, holds and freezes, and even random reversals. Moving money in and out of your account could wind up being a costly proposition. The company will penalize consumers for filing a chargeback and provides no recourse for merchants to fight reversals it handles through its own system.
And of course, if you need mPOS to complement your online sales, you'll need to look elsewhere. In these cases, you might as well get Square or PayPal, which tick all of the boxes and then some. If you want a wide assortment of integrations to manage your business, Payza isn't for you either.
Finally, the vetting process is more complicated than other pay-as-you-go processors, but the more complicated signup process in no way gives you greater account stability, which is often the advantage to merchant accounts.
All things said, I don't feel comfortable awarding Payza more than three stars right now. It might work for you. It really might. But until it can grow as a company, I highly encourage you to pursue other options if they are available to you.
Have experience with Payza? Leave us a comment below (be sure it meets our guidelines for ratings), because we'd love to hear from you!
---
Our Top Pick To Save On Payment Processing 💰
PaymentCloud


---
PaymentCloud has an excellent track record for service quality, support, and fair pricing. Learn more from PaymentCloud.
Our Top Pick To Save On Payment Processing 💰
PaymentCloud


---
PaymentCloud has an excellent track record for service quality, support, and fair pricing. Learn more from PaymentCloud.
To learn more about how we score our reviews, see our
Credit Card Processor Rating Criteria
.