UPDATED
Advertiser Disclosure: Our unbiased reviews and content are supported in part by
affiliate partnerships
, and we adhere to strict
guidelines
to preserve editorial integrity.
Pros
Feature-rich
Employee management suite
Cons
Upgrades cost extra
High upfront costs
Interface has multiple bugs
Very poor tech support
Overview:
Unlike most of the POS software reviewed on Merchant Maverick, pcAmerica's Cash Register Express (CRE) and Restaurant Pro Express (RPE) are old-fashioned software that need to be purchased and locally-installed on a computer operating system. Built as a fast and powerful POS systems, CRE and RPE perform all the basic functions involved in completing transactions alongside inventory tracking, customer tracking, employee management, advanced reporting functions, and much much more.
Founded in 1985, pcAmerica is a division of Automation Inc. and has been making POS systems for over 30 years. David Gosman led pcAmerica as its CEO for ten years until the company was acquired by Heartland Payment Systems in 2014. Now, Gosman serves as Senior Vice President of Heartland Commerce while Chairman and CEO Robert Carr heads up one of the nation's largest payment processors and merchant business providers.
Both systems have been highly acclaimed in the retail services industry. The CRE Restaurant Pro system won a 2010 "Best of the Best" Innovative Solutions Award, and the RPE system was voted #1 on the restaurant POS scoreboard by Hospitality Technology Magazine. The RPE system allows servers to be trained quickly, manage high volumes easily, and keep service moving at a quick and efficient pace.
Naturally, locally-installed POS systems like pcAmerica come with their own advantages and drawbacks. Increased functionality is probably the biggest advantage—with such a huge array of features, the system can be tailored for practically any business. Drawbacks usually include the need for servers and backups, the additional cost of continual upgrades, and high start-up costs. In fact, pcAmerica's total costs for software, hardware, supplies, installation, and tech support can result in a POS system priced in the tens of thousands of dollars. This is often the price of reputability and reliability, but it is a subject of some debate whether pcAmerica software should be called reputable or reliable.
Don't have time to read an entire review? Take a look at our top rated Point of Sale solutions for a few quick recommendations. Every option we present here offers excellent customer support, detailed user interfaces, and easy-to-use software, all for a reasonable price.
Pricing:
Unlike cloud-based software that offers its services at a low monthly fee, pcAmerica charges merchants upfront. All prices are per station:
CRE Professional, $599.00
CRE Enterprise, $799.00– Contains functions for multiple stores & server redundancy.
RPE Professional, $599.00
RPE Enterprise, $799.00– Contains functions for multiple stores & server redundancy.
Free online demo videos and downloadable demos (with limited capacity) of all software can be accessed from the website.
Cloud-Based or Locally-Installed:
pcAmerica is locally-installed and must be downloaded onto each terminal. This means you'll have to remember to backup all crucial data on a daily basis. If you're using several registers within one store, you also need a server for a shared database between all the computers. Fortunately, the Enterprise edition of both the CRE and RPE systems come with automatic redundancy built in so that cashiers can continue ringing up customers should your server crash. Registers will continue to operate and process sales transactions with data synchronizing between registers as soon as the server is back up and running.
Things like servers and backups require additional time and cost, factors you'll want to consider when choosing between traditional POS software and cloud-based software. Another thing to keep in mind are software updates (that you'll need to install yourself), and the general upkeep required of locally-installed POS systems.
Specific Industry:
pcAmerica's functionality is so robust that it can be tailored for use in virtually any retail (e.g. gas station, apparel store, market, convenience store, rental store, electronics, grocery, liquor), restaurant (e.g. cafeteria, café, bar, lounge, quick service, fast-food, upscale), or rental (e.g. furniture, party supply, equipment) business.
Specific Size of Business:
There's virtually no limit. Any size business will work with this system. Just remember the bigger your business (i.e. the more registers and stores you have), the more the system will cost. Additionally, businesses with multiple stores require the more expensive Enterprise editions.
Ease of Use: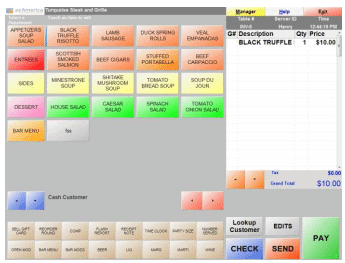 Unfortunately, in my own experience, and that of many of the reviews I've found online, the system is not all that reliable or easy to use. Many users describe the interface as cluttered with no means of hiding/minimizing unused functions. One reviewer even reports that there are "many features . . . but they don't work!" This is a common problem with systems that contain almost too much functionality: both the user and the interface become overwhelmed.
"Unstable" and "buggy" are also frequent utterances from users complaining of constant error screens, freezing, slow operations, or complete non-functioning. Although the RPE system receives slightly more praise regarding its ease of use, it doesn't excel by much. With so many complaints about system glitches, you'd think the customer service would need to be stellar to address everyone's problems, but apparently it's not (see "Customer Service and Technical Support").
Hardware and Operating System Requirements:
pcAmerica software has recently become compatible with PC tablets along with the traditional desktop system. Compatible operating systems include:
Windows Vista 32 or 64Bit
Windows 7 32 or 64Bit
Windows 8 32 or 64Bit
Depending on whether you're using a tablet of desktop, these are the minimum requirements for processors:
Desktop PC – Intel Core 2 Duo 2.93 GHZ Processor
Tablet PC – Atom 1.6 GHZ Dual Core Processor
All systems need at least 2GB of RAM, and pcAmerica recommends different systems for front-end registers and back-office servers. You can find a complete list of supported operating systems and compatible peripheral hardware on pcAmerica's website.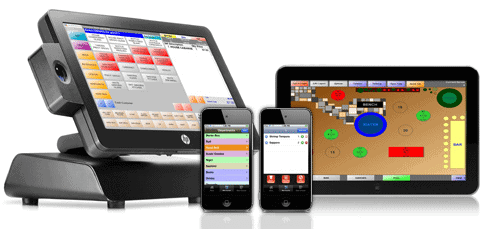 Product Features:
Both the CRE and RPE systems contain so many features I can't mention them all, but I'll list some of the most notable features. I'm going to leave out the basic POS functionality you'd expect to see in most systems so if you don't see a feature, that doesn't mean pcAmerica doesn't have it. All features are available in both systems unless specified.
Multi-Tender Fully Functioning POS – Payment can be made by cash, check, debit card, credit card, EBT (food stamp), or magnetic strip gift cards. Transactions can be placed on hold (temporary suspension) and returned to later. The CRE system also has the ability to store item vendor serial numbers by scanning them when they are rung up. So if people bring an item back without a receipt, you can verify that it really was sold by you and allow the exchange/return.
Cash Management – The POS comes with full cash management tools to account for opening till amounts, cash drops, petty cash expenditures, closing till amounts, and to identify discrepancies per shift/cashier. A built-in cash counting calculator makes closeout quick and easy for cashiers.
Mobility –Tableside ordering is now possible with the integration of portable tablet devices with the pcAmerica system. This mobile POS solution synchronizes in real time with stationary POS stations, allowing servers to view their open tabs and send orders to the kitchen from anywhere in the store.
Inventory Management – Storeowners can see at all times what is selling, what needs to be reordered, and what is missing (or possibly stolen). For a bar environment, ingredient tracking keeps a record of how much liquor should have been used for drinks ordered. When later compared to the actual liquor quantity left, this can help bar owners identify over pours, comps, and theft.
Purchase Order Integration – In cahoots with the inventory side of things, the system also tracks vendor lists, manages item costs, and has the ability to generate purchase orders. Preset re-order levels can either give alerts when stocks are low or automatically complete and send purchase orders for one vendor or multiple vendors at the same time.
Advanced Pricing Features – The pricing options with pcAmerica include sale pricing (a percentage off on certain dates), bulk pricing (a special price for a certain quantity sold), and mix 'n' match pricing (a discount on a special group of related items). Time-based pricing means any price change can be scheduled to take effect (and end) on whatever day or time you prefer. You can also implement time-based coupons/discounts that can be set to expire on certain dates. For the RPE system, menus can be similarly configured to automatically switch in the system based on a preset time schedule (like breakfast 6-11 am, lunch 11 am-5 pm, and dinner 5-10 pm).
Customer Management –The system can set up customer accounts for membership or loyalty programs using unique customer data (i.e. email or phone number), assigning member ID numbers, or providing membership cards with swipable/scannable serial barcodes. Special customers (like restaurant critics or VIPs) can even be assigned special discounts within the system. The built-in AR system allows customers to charge purchases to their account, and the system can generate monthly professional statements for customers buying on store credit.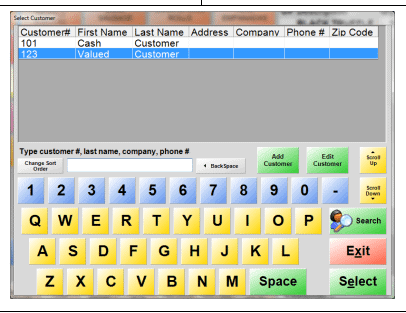 Employee Management – The system comes with a full suite of employee management functions including secure login, time clock, and scheduling. Login can be set by each employee's user ID or swipeable ID cards. Using the job codes function, managers can delegate employee responsibilities so employees always know what tasks to complete. Access parameters can be predetermined based on employee position level. Additionally, the system can create and track commissions that can also be split between two or more employees. Finally the system also has an age verification feature that prompts cashiers to check for ID, swipe ID, or scan ID when selling any alcohol or tobacco products, be it in a store or a restaurant.
Weight Scale Compatible – The pcAmerica CRE system is NTEP certified by the National Conference on Weights and Measures, meaning the system is approved to work with 3 kinds of weight scales: POS interface scales, scanner/scale combos, and deli scales.
Reporting – Both systems come with over 75 different variations of reports based on category (sales, inventory, customer, employee, restaurant, rentals), date/time range, and additional criteria (cashier, dept., station, group, vendor, category, store ID).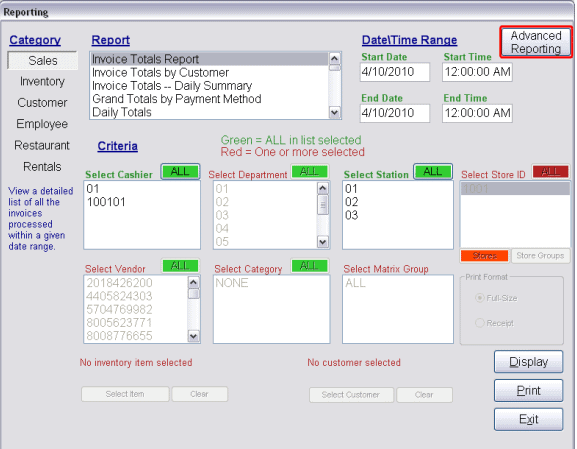 OnCloud Portal – This web tool synchronizes with both CRE and RPE, allowing business owners online access to data and reports even when outside of the office. The cloud software handles employee management, reporting, and inventory management all from the web.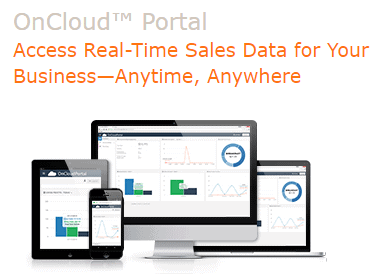 Rental Business Compatible – The CRE system can even be used for rental businesses. In the inventory maintenance tab, simply decide whether you want to sell an item or rent it. Prices can be set on the number of days rented, and you can implement extra charges if an item is returned late. When combined with the customer tracking feature, owners can see who has what and contact late renters. The rental system will provide details on what's in the store, what's rented, what's late, and rental histories.
Gift Registry Capabilities – CRE can create and store gift registries that automatically update with every purchase, so there are no duplicate gifts/extra returns.
Restaurant Specific Functions – pcAmerica can help you set up an online ordering system so that customers can order and pay online, with orders automatically printed out to the kitchen. Additionally, the special "reorder round" button makes reordering a round of drinks quick and easy.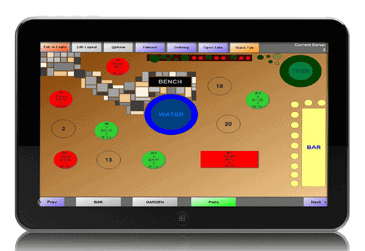 Integrations and Add-Ons:
pcAmerica integrates with the following applications and services:
Compatible Credit Card Processors:
pcAmerica works with a variety of credit card processors depending on the type of transaction being completed (i.e. credit card, debit card, EBT). Chase Paymentech, Vantiv Integrated Payments, Cayan, and Global Payments are some of the bigger players, but the complete list is much longer. pcAmerica is also fully EMV-compliant.
Although pcAmerica is offered worldwide, our neighbors to the north have found the system does not provide enough Canadian tax support, as well as a limited selection of compatible debit/credit vendors in Canada (currently only Chase Paymentech and Moneris).
Customer Service and Technical Support:
Tech support for this software is reportedly dreadful—the number one complaint by the majority of unsatisfied customers. This has something to do with the fact that tech support, although available 24/7/365, is only free for pcAmerica customers for the first 90 days. After that, users must purchase a tech support contract (prices per station):
CRE/RPE Lite/Pro Tech Support/Upgrades for 1 Year, $250.00– This includes 10 incoming calls (you call pcAmerica) or a maximum of 120 minutes, whichever comes first. Available 24/7/365.
CRE/RPE Enterprise Tech Support/Upgrades for 1 Year, $300.00– This includes 10 incoming calls (you call pcAmerica) or a maximum of 120 minutes, whichever comes first. Available 24/7/365.
Charging for tech support is one of my biggest pet peeves. Maybe tech support wouldn't be so necessary with a more stable and easy to learn software. Oh, and speaking of learning, pcAmerica also charges $100 an hour for over the phone training! There is also a FAQ site, but it certainly doesn't contain thorough documentation on all of pcAmerica's functions. Chances are, you'll still need to invest in tech support in order to operate this system.
In terms of the blogosphere, pcAmerica's online newsletter and Twitter page offer general tips on retail and point of sale, new products in the industry, and other newsworthy items, but minimal help articles in relation to their own software.
Negative Reviews and Complaints:
The CRE/RPE systems have one of the largest Internet hate-bases I've seen. Users have called the product "a disaster," "terrible," "a joke," "a borderline scam," and "useless." Directives to "avoid!" and "do not buy!" were also fairly common. One user even created a Facebook page decrying the "extremely cumbersome" software. The main reason for all this hostility seems to be a result of:
Poor Tech Support – Whether people are just angry about the exorbitant tech support fees or the unresponsiveness of the tech support team, not getting reasonable help when you need it is definitely a deal breaker in the POS world. Tech support is reportedly very difficult to get a hold of, taking hours just to speak to someone. Of course, you can't believe everything posted on the Internet (especially when people are more likely to post negative comments than positive ones), but with such a high volume of similar complaints, there must be some truth to the criticism.
Unstable Product – The tech support probably wouldn't matter so much if the product were more stable. Instability was the number two complaint I found, with users reporting "major issues" with "data missing or returning," "random crashes," "random failures to print receipts," and "unexpected use of massive amounts of memory." Bugs, crashes, mysterious slowdowns, and synchronization issues, in combination with an unhelpful tech support staff, results in many users finding the product "minimally effective" and "frustrating."
Unresponsive to Complaints – Never mind that many have complained about the product glitches and customer service support, it's when the company doesn't care about these complaints that you know something really must be up. One user reported that "complaints to the CEO and president of the company get no response. Sales are nasty and arrogant after the purchase."
Trouble Splitting Checks – Several users reported significant trouble in splitting bills with the RPE system, resulting in a complete loss of sales data altogether. Just another one of the many problems people have had with either system's "robust functionality" and "advanced features."
Positive Reviews and Testimonials:
Despite all the negativity, pcAmerica has dozens of customer testimonials on their website praising both the CRE and RPE systems:
"Cash Register Express is just amazingly fast. Even credit card transactions only take a few seconds. Lines move faster, people don't have to wait." – Henry Kosiner, Big Daddy's Liquor

"I was looking for a system that tracked my inventory and was easy to use. I'm happy that I chose Cash Register Express, it's an incredible program that does exactly what I need." – Scott, Cape Cod Chile Shop

"We feel that we have one of the most complex restaurants in the industry, with pizza, restaurant, takeout, catering, delivery, and counter service. Restaurant Pro Express has passed the test. We feel if it can make it here it can make it anywhere" – Frank Genovas, Boccacini Pizza
Elsewhere on the web several reviewers have said it's "easy to add menu items," "easy staff training," and "easy to use for waiters and bartenders."
Final Verdict:
If you're shopping around for a locally-installed POS system, pcAmerica may not be the best way to go. With an abundance of negative reviews regarding software problems and tech support, as well as high prices and extra charge for tech support, it's a wonder I haven't completely dismissed the software altogether. But with years of experience, over 50,000 users worldwide, cloud access to reporting (incorporating one of the best aspects of web-based POS competitors), a smorgasbord of features, and many big name national business chains as customers . . . well, there must be some reason companies are choosing pcAmerica. That being said, it may be that the larger businesses bringing in beaucoup bucks are getting preferential treatment while smaller businesses are tossed aside.
Also, when it comes to POS, cloud-based and locally-installed systems are like apples and oranges; you can't compare the two. Compared to the cloud-based systems out there, pcAmerica seems extremely expensive. But compared to other locally-installed POS software, pcAmerica prices are on the relatively low end.
If you're a big business shopping for a locally-installed POS, and you've got plenty of money to spend, all I can say is try this software at your own risk. If you're small to mid-sized and just looking for something uncomplicated and functional, you'll probably want to try a cloud-based POS system. Cloud technology is on the rise and has become increasingly popular among even large, multi-national franchises and enterprises, not just small mom-and-pop shops. I'd encourage you to take a gander at our top-rated point of sale systems (you'll notice they're all cloud-based), and if you're not quite sure which system will best suit your business, let us know. Our experts are more than willing to lend a hand.
---
We've done in-depth research on each and confidently recommend them.
We've done in-depth research on each and confidently recommend them.
To learn more about how we score our reviews, see our
Point Of Sale (POS) Software Rating Criteria
.