Contributor

UPDATED
Advertiser Disclosure: Our unbiased reviews and content are supported in part by
affiliate partnerships
, and we adhere to strict
guidelines
to preserve editorial integrity.
Pros
Impressive feature set
Competitive monthly cost
Well-designed UI
Scalable
Cons
Limited customer support
Moderate learning curve
No POS integration
PinnacleCart Overview
Created by entrepreneurs for entrepreneurs, PinnacleCart's goal is simple: to provide an all-in-one ecommerce platform that allows merchants with little or no technical skill to start promoting and selling their products.
PinnacleCart gives merchants the power to quickly add and edit products, manage orders, create promotions, and customize their websites. It is a SaaS (Software as a Service) platform, so you don't have to worry about maintaining web hosting and site security. That's all done for you for a monthly fee.
Pricing for PinnacleCart is based on the amount of storage and bandwidth you need for your store. The cheapest subscription is a bit higher than that of some of PinnacleCart's direct competitors, but the cost remains reasonable nonetheless. Meanwhile, all PinnacleCart merchants benefit from the platform's strong core feature set, which is above average for SaaS ecommerce platforms. One notable omission is a point of sale system integration, but if you don't plan on selling in-person, this won't be an issue.
Keep reading for a full and unbiased review of PinnacleCart's online store builder.
Pricing
PinnacleCart offers a free 14-day trial (no credit card required) so you can try out the platform without making any commitments. PinnacleCart does not offer refunds on subscriptions, so definitely try out the product before you buy. On the flip side, PinnacleCart does not charge transaction fees or cancellation fees.
Three pricing plans are offered, along with custom pricing for enterprise-level merchants. All plans come with unlimited products, daily backups, phone and email support, and an SSL certificate.
A huge benefit of this software is that it's scalable: your platform can grow with your company. One way PinnacleCart makes this possible is with scaled pricing based on traffic and storage. As your site garners more traffic, you gradually move up the subscription ladder. Meanwhile, all sellers have access to essentially the same feature set (with a few exceptions), regardless if they're paying $45, $95, or $200 per month. I'll highlight just the features that differentiate between plans below. You can check out the PinnacleCart pricing page for the list of features included with each plan, or head down to the Features section of this review to learn more about the platform's capabilities.
Start-Up: $44.95/month
1GB Website Storage
2GB Bandwidth
Standard: $94.95/month
10GB Website Storage
20GB Bandwidth
Quickbooks Online Integration
Advanced: $199.95/month
Unlimited Website Storage
Unlimited Bandwidth
Quickbooks Online Integration
Priority Customer Support
Dedicated SSL Certificate
In addition, PinnacleCart offers Virtual Private Server Solutions (VPS) for merchants who need more disk space, bandwidth, and control over their hosting. Lastly, I should mention that you have the option to purchase a licensed copy of PinnacleCart to host on your own server for $1495. There are additional costs to upgrade and support this method of operating PinnacleCart, so be sure to check out the website (and talk to a sales rep) to get the full scoop if you're interested.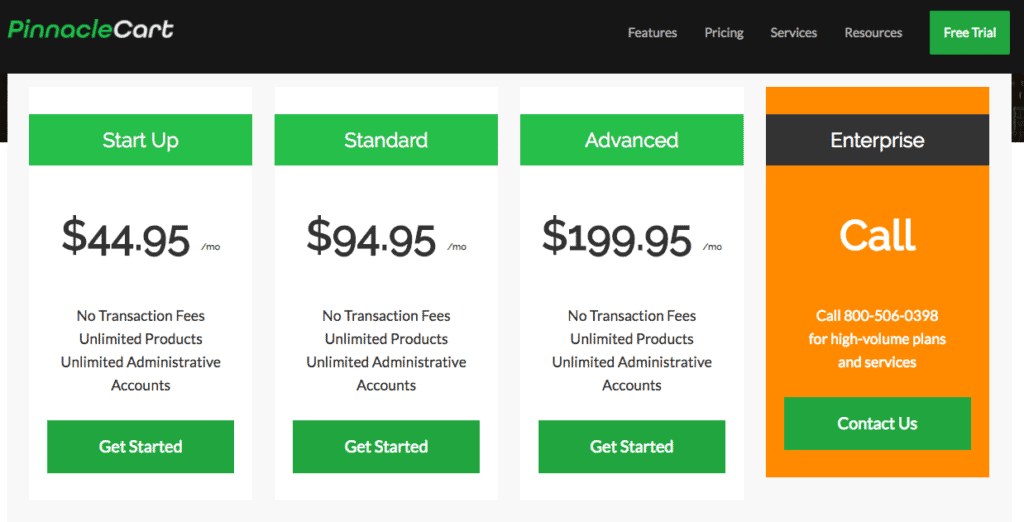 Cloud-Based Or Locally-Installed
Because PinnacleCart is SaaS technology, you can expect all of the benefits of a cloud-based software solution. Your information will always be available across all your devices, and you can easily sync with other cloud-based systems. Additionally, you never have to worry about updating your software; that all occurs automatically with a click of a button whenever a new release comes out.
For this review, we're focusing on this fully-hosted format of PinnacleCart, because it's what most sellers who end up choosing PinnacleCart will be using. As I mentioned in the pricing section, however, PinnacleCart also offers a self-hosted, locally-installed version of the software for purchase. Not only that, but you can even pay a few thousand dollars for full access to the source code if you wish!
Specific Size Of Business
PinnacleCart can scale to fit businesses of any size, from startups to enterprise-level stores.
Hardware & Software Requirements
To use PinnacleCart, all you need is a computer, internet access, and an up-to-date web browser. Further requirements for the downloadable version are outlined on the website.
Ease Of Use
Setting up a free 14-day trial of PinnacleCart is easy and risk-free. Mine was up and running in only a couple of minutes. Once I created my account, I was directed to my new admin panel. I also received an email from PinnacleCart, which included my account details and a few links to help me get started.
When I logged in, I was greeted with a Quick Start Guide which asked for some basic store information and offered to help set up my shipping and payment processing settings.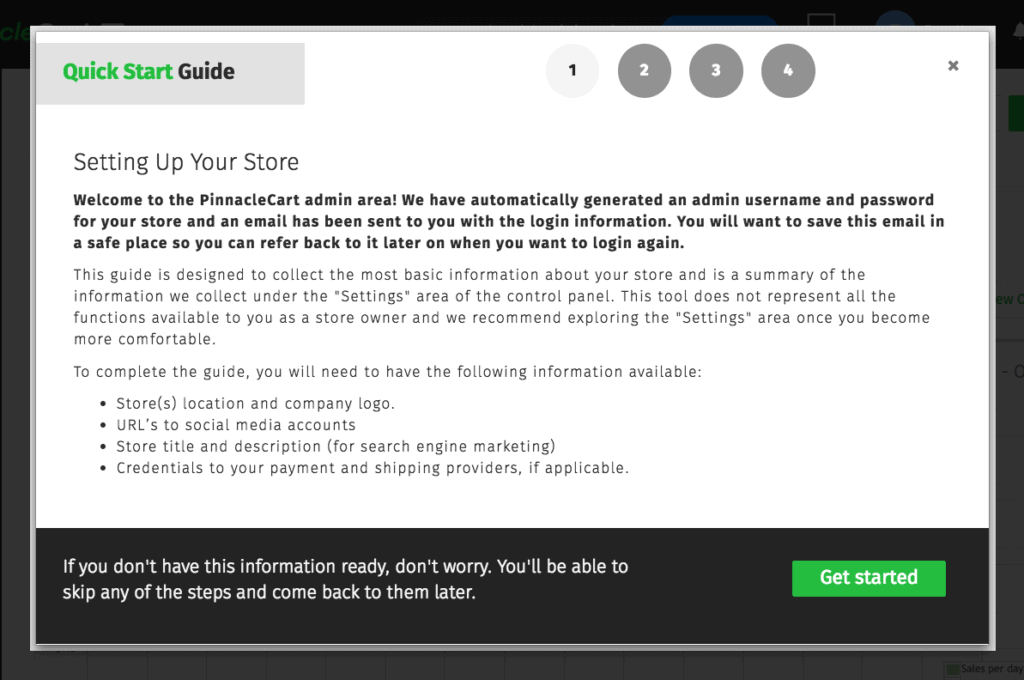 If you decide to skip the guide, you can find all this information and more under Settings: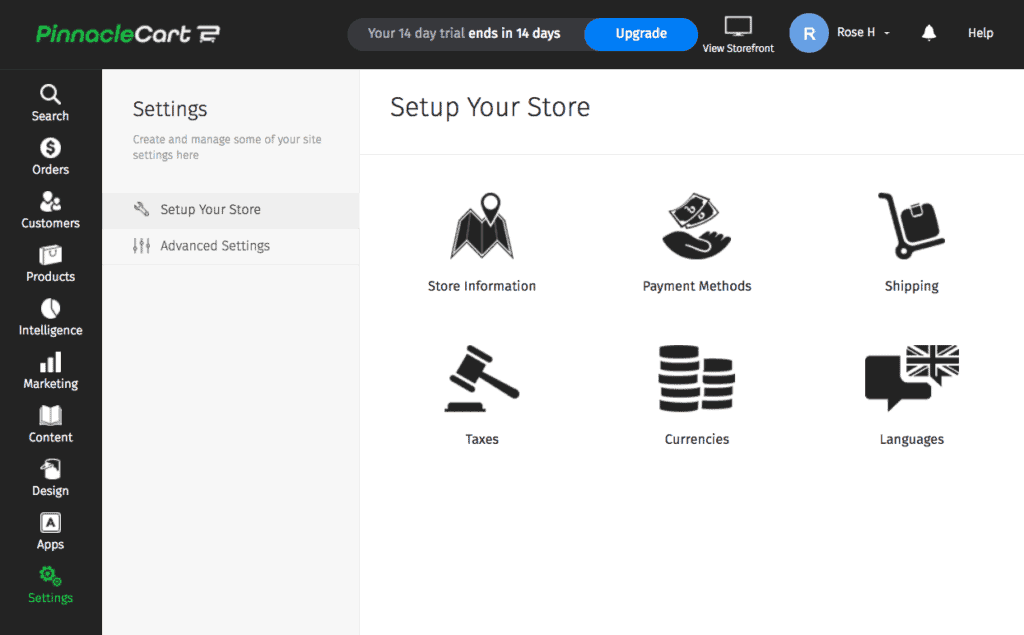 There were no pre-loaded sample products to modify, so I started my usability test by adding a product of my own. After entering some basic information, you can expand additional menus at the bottom of the page to configure more details: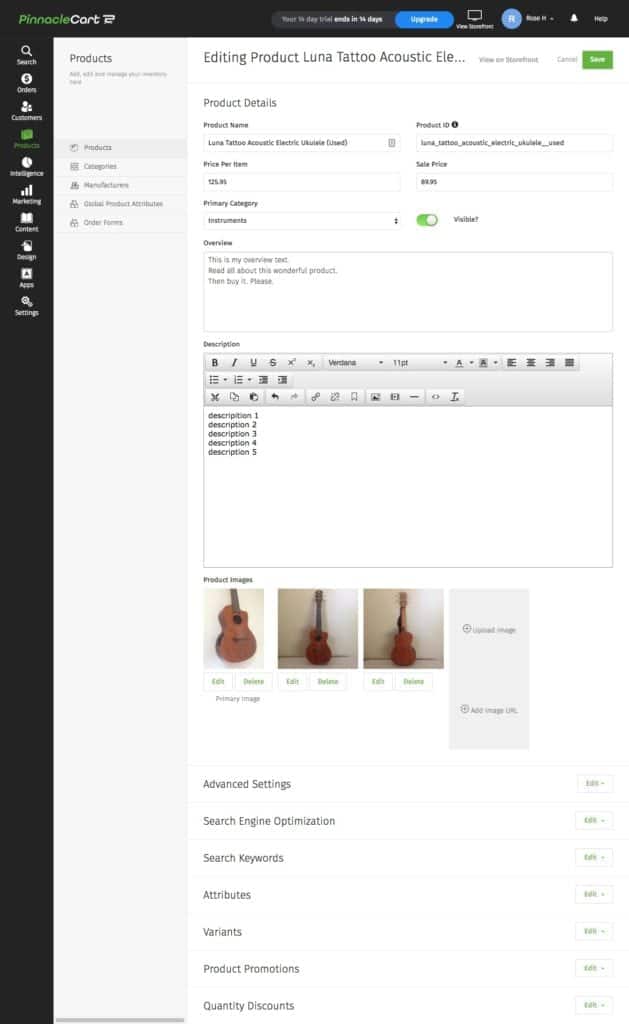 It's also very easy to see a quick storefront preview of each product: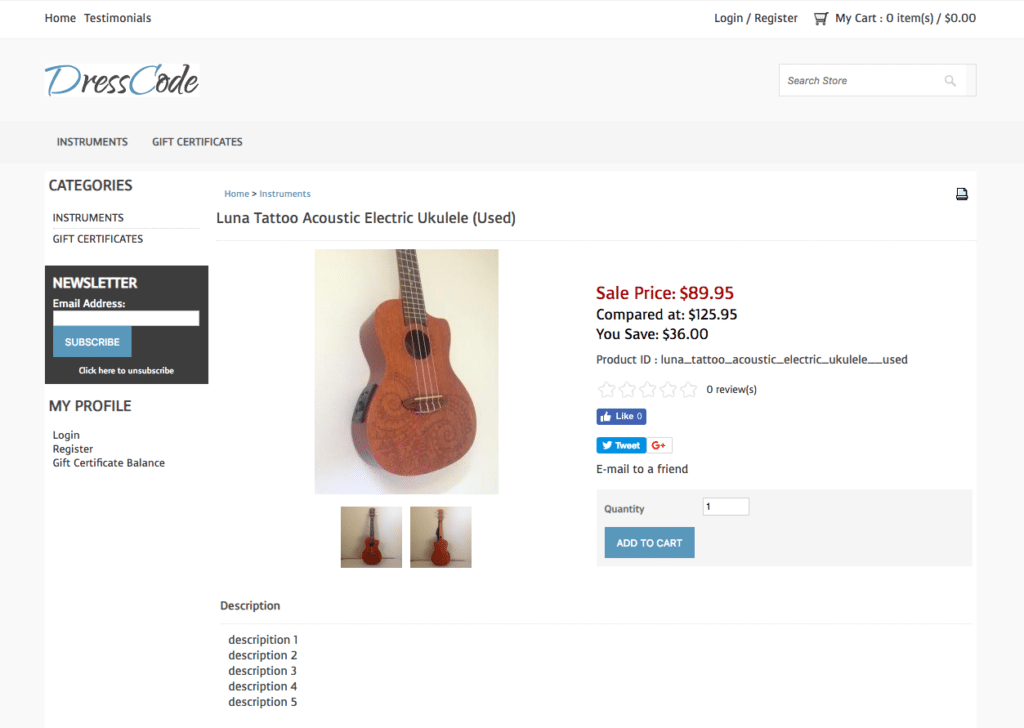 As far as product features go, PinnacleCart has everything you need. You can add multiple product images and customize your URLs and meta descriptions to boost your SEO. There are a few features that are a little tricky to use at first, however. When I went to add product attributes, I found this: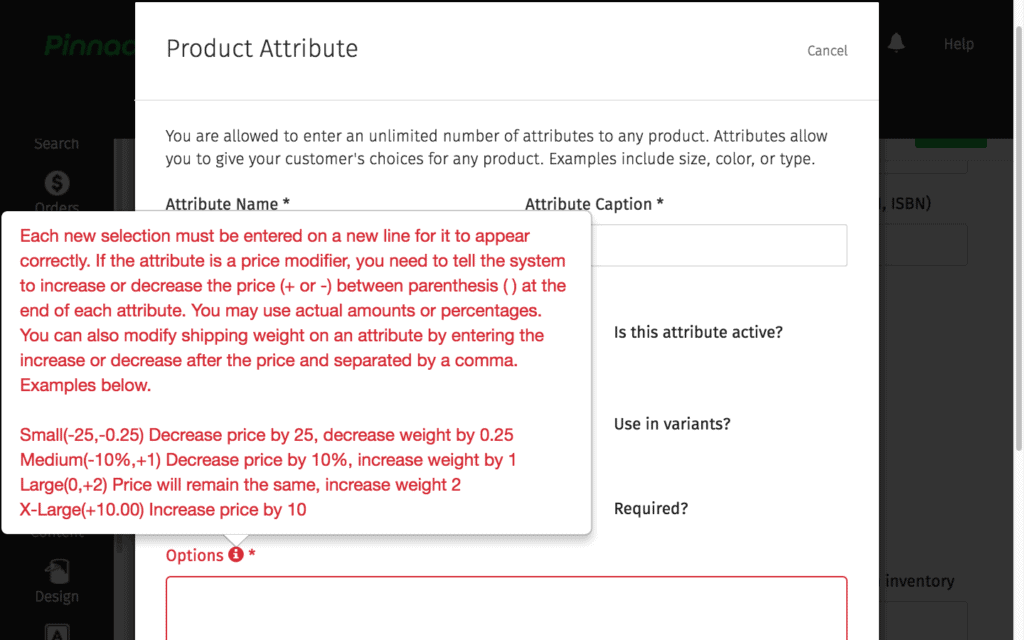 That big swath of red text told me that in order to enter modifiers for different product options (like changing the price or shipping weight for different sizes of the same product), I'd have to enter this information in a single, open-ended text field — all while following the correct rules and formatting. Was I really going to type out all the right numbers, symbols, parentheses and commas in one giant text box without screwing something up? PinnacleCart seems to think so, but I have my doubts.
Maybe I'm being picky, but I've seen other cart software handle product attributes in a more foolproof manner, providing individual and pre-formatted fields that ensure this information is entered correctly. In other words, while this feature is workable in PinnacleCart, I wouldn't describe it as particularly user-friendly. On the plus side, at least you can enter unlimited attributes.
I played around with a few other features on my dashboard, such as creating discounts and setting up drift marketing (abandoned cart recovery) emails. While some of these features were a bit simplistic, I'll grant that they were easier to use than the product attribute feature.
Despite a hiccup or two, PinnacleCart still scores well on ease-of-use. Once you figure out how to use all of the features available to you, you should be able to operate your store independently.
Features
PinnacleCart comes with an impressive range of features already built-in. While I would normally expect this level of functionality from self-hosted software, it's rare to find so many features in a SaaS solution. Below, I've compiled a few features that I deem most noteworthy.
Admin
Unlimited Administrator Accounts: Let your entire team access your admin.
Restricted Access & Permissions: Allow different team members to access different parts of the admin.
Product Merchandising
Physical & Digital Products: Control your digital inventory by placing limits on downloads.
Unlimited Attributes: Let customers choose from sizes, styles, colors, and more.
Product Reviews: Encourage shoppers' trust with customer reviews.
Custom Fields: Allow customers the option to personalize your products with product customization.
Unlimited Product Images: Enable image features like magnify, zoom, magic thumb, and image layover.
Filtered Menus: Let shoppers refine search results to find exactly what they need.
Marketing & Promotions
Multiple Sales Channels: Upload your products to Google Shopping, Amazon, eBay, Yahoo!, and more.
Sell On Existing Websites: Add "buy now" buttons and order forms to any other websites you manage.
Facebook Store: Is Facebook evil? Maybe, but you can still sell there with PinnacleCart!
Discounts & Gift Certificates: Create discount and gift certificate codes from your admin.
Wish Lists: Let customers save the products they want.
"Drift Marketing" Tool: Target abandoned carts to increase sales.
Custom Digital Marketing Services: Inquire about tailored, hands-on assistance from the PinnacleCart team.
Checkout
One Page Checkout: Use order forms to make checkout as easy as possible to increase conversion.
Guest Checkout: Allow customers to choose between creating an account and checking out as a guest.
Product & Category Management
Unlimited Products, Categories, & Subcategories: Use those categories to make site navigation easier for your customers.
Bulk Import/Export: Migrate your products using CSV files.
Inventory Tracking: Receive low stock notifications for your products.
Payment & Shipping
Accept Multiple Payment Types: Includes traditional gateways and custom methods like cash on delivery. List your prices in multiple currencies.
Recurring Billing: Use this feature to let customers pay over time or purchase subscriptions.
Automatic Tax Calculation: Integrate with Avalara Ava Tax or Exactor Tax for accurate tax estimates.
Real-Time Shipping Quotes: Integrate with USPS, UPS, and FedEx.
Split Shipping: Shoppers can specify multiple shipping destinations on a per-product basis.
Shipping Labels: Print labels and generate postage from your admin using Endicia or Stamps.com.
Analytics & SEO
Extensive SEO Tools: Write custom URLs, meta titles, and meta descriptions for your products, categories, and pages. Upload and create robot.txt files, and take advantage of your automatically generated site map.
Reporting Tools: View reports of your sales and site performance.
Integrate With Google: Connect your platform to Google Analytics and Google Adwords.
Web Design
Every PinnacleCart account gives you 30 free, customizable templates to choose from. Fortunately, they are all fully mobile responsive.
I found PinnacleCart's web design to be somewhat of a mixed bag. A few of their templates (like the ones below) are up-to-par with the industry's design standards.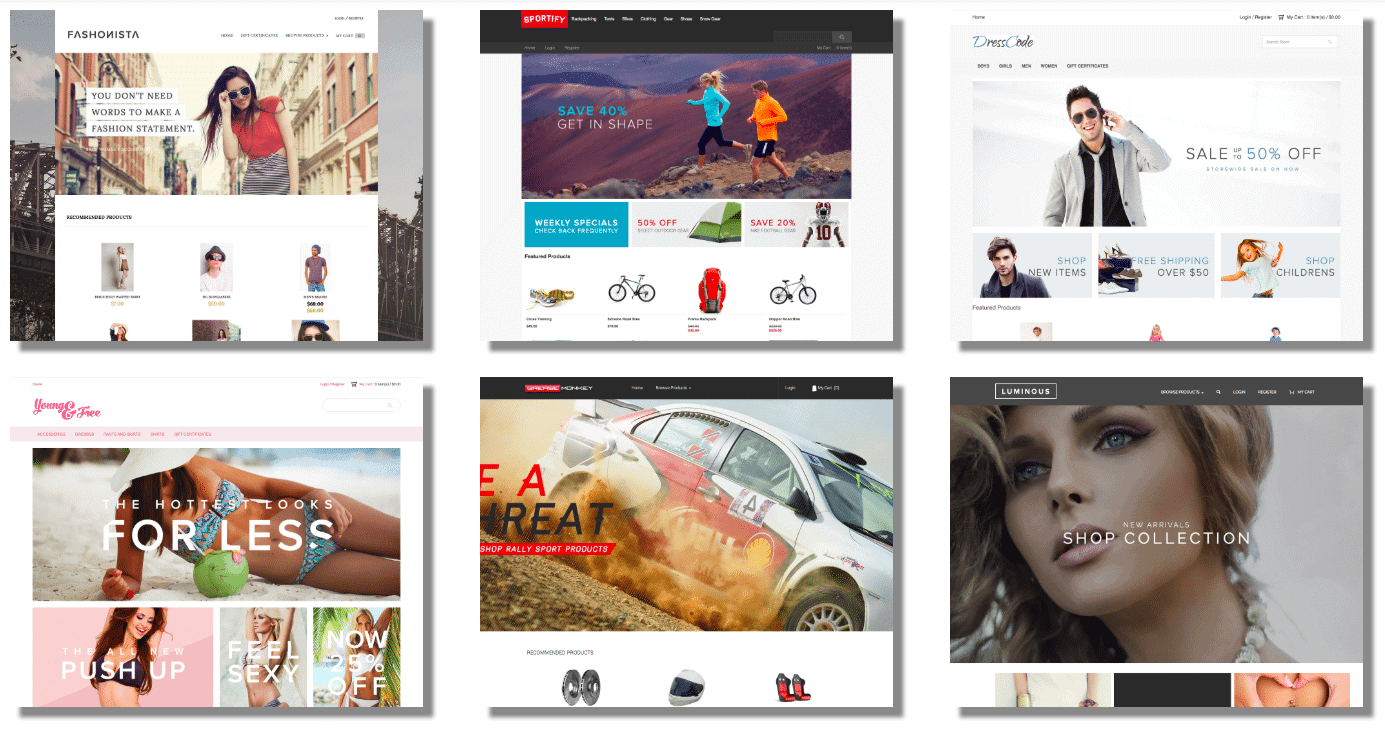 However, quite of few of PinnacleCart's 30 free options need a facelift. They're a bit dated.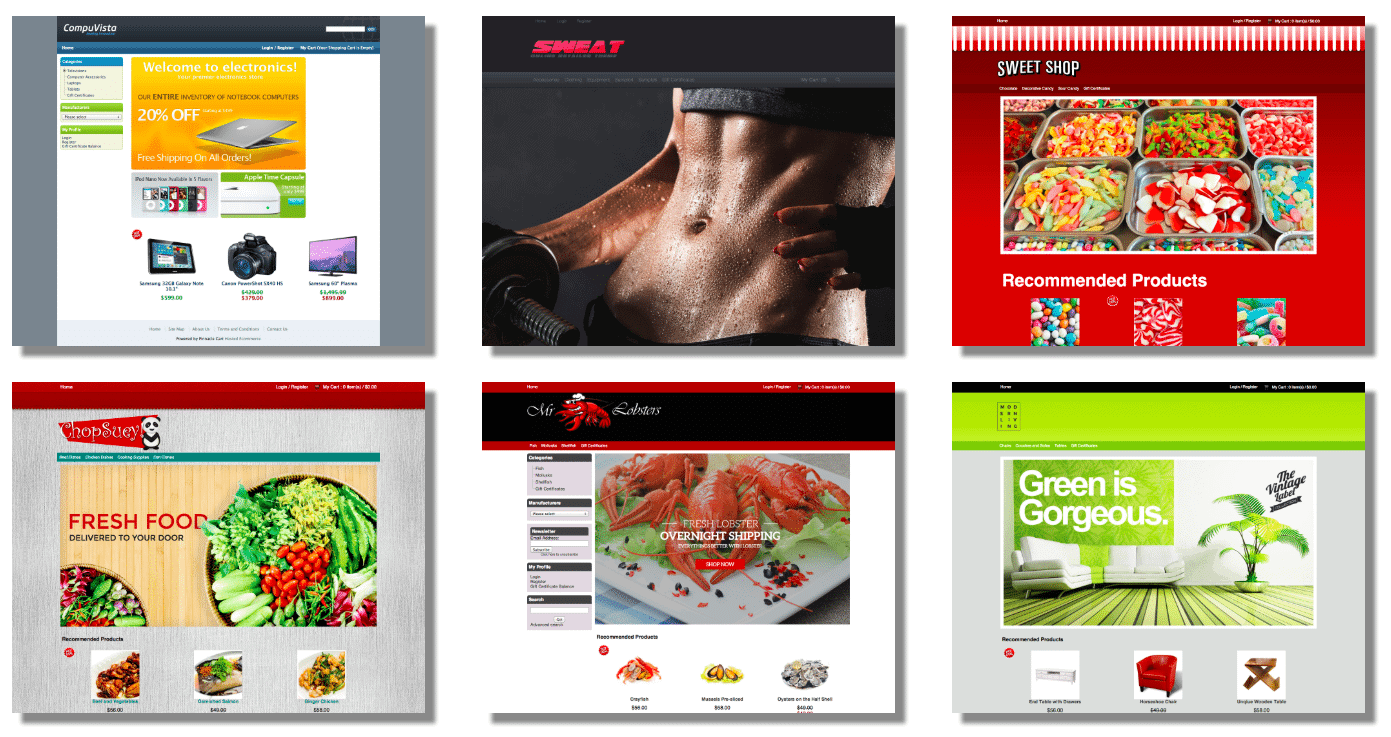 Once you choose a template, you can edit your design in the Cart Designer. Each editable element of your theme shows a dotted red outline when you hover over it. Meanwhile, a small editing menu with a maximum of three editing possibilities pops up when you right-click: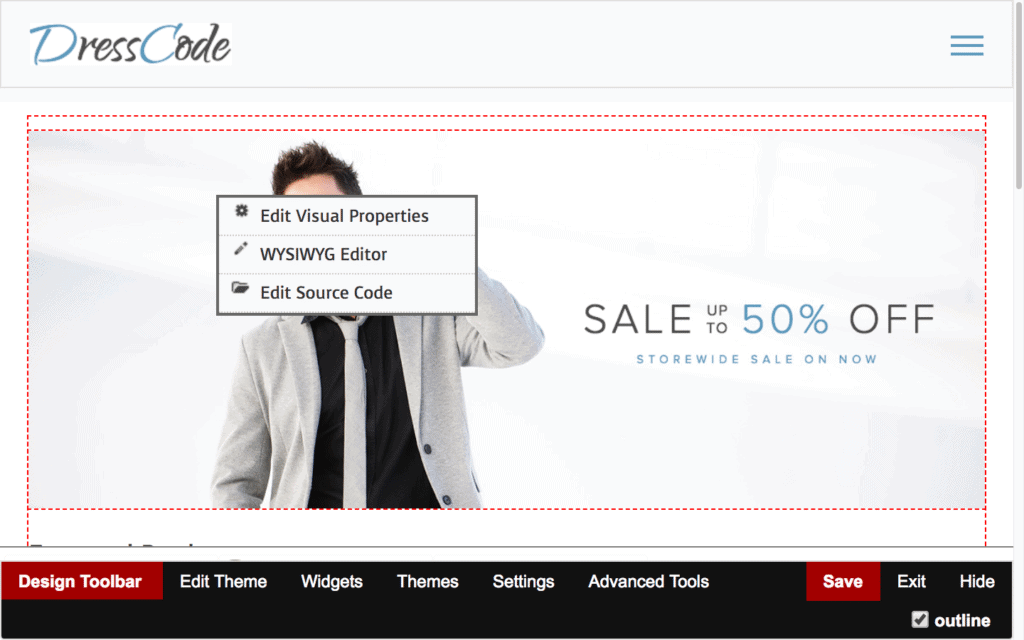 You can see that for this particular design element, I had all three options. I could Edit Visual Properties, use the WYSIWYG (what you see is what you get) editor, or Edit Source Code. That last option is about as complicated as you might expect, so I stuck to exploring the first two.
Inside Edit Visual Properties, I could upload a new image in the Visual Editor, or work with the CSS if I wanted to (I didn't want to):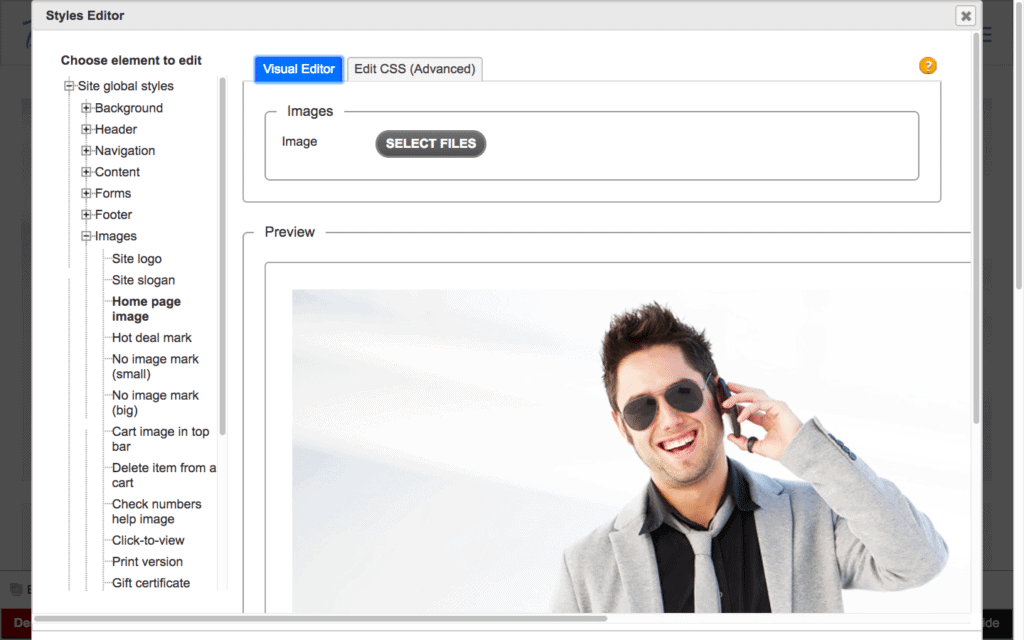 After some adventures in saving, page refreshing, and browser cache-clearing, I finally got a new image to show up on my homepage: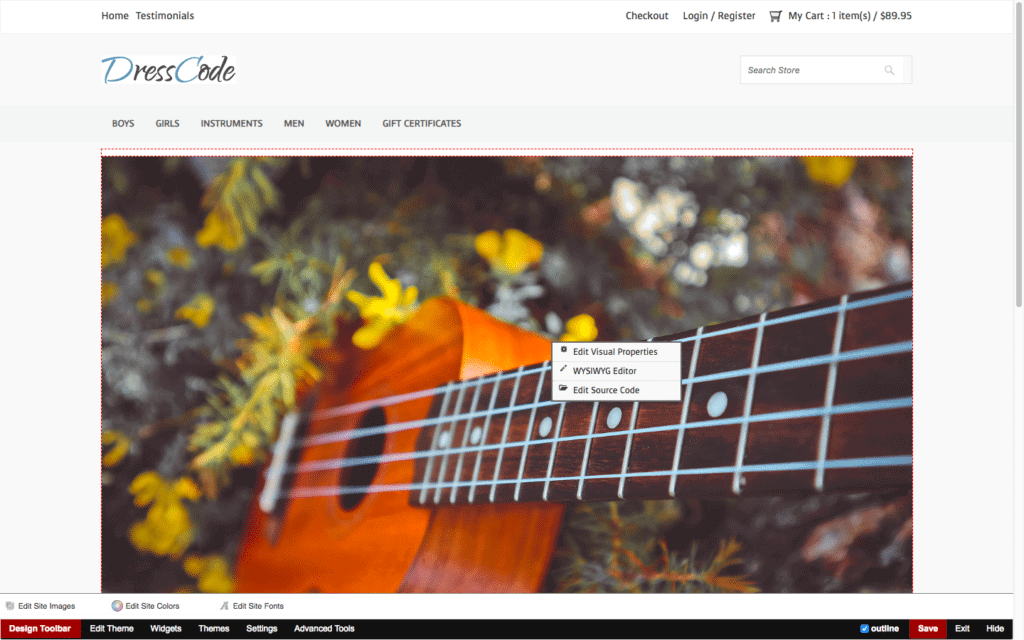 Looking to possibly add some sort of banner, link, or text on top of or near this image, I went into the WYSIWYG editor next. Here's what I found: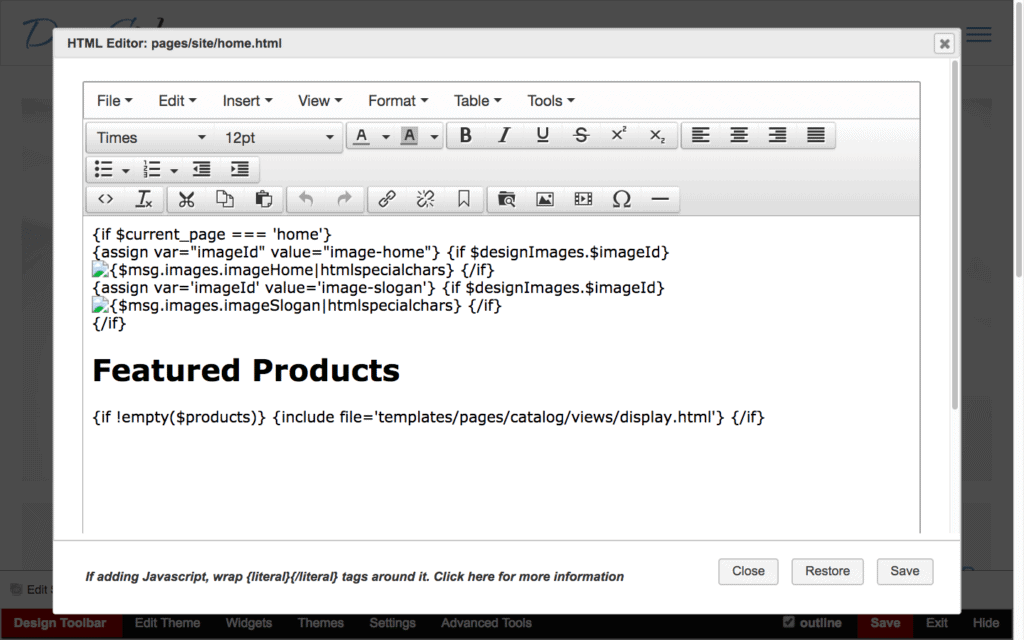 Hey, whoa there, fella! That's wasn't what I wanted. I was suddenly in HTML-land and editing the entire Featured Products widget too. Thanks, but no thanks.
I then discovered that you can actually drag-and-drop a handful of pre-made widgets up from the bottom of the Cart Designer page, but I couldn't find what I was looking for in this case. That's about when I stopped trying to augment this section of my homepage.
Adding my logo to the top corner to replace the default "DressCode" logo was pretty hilarious: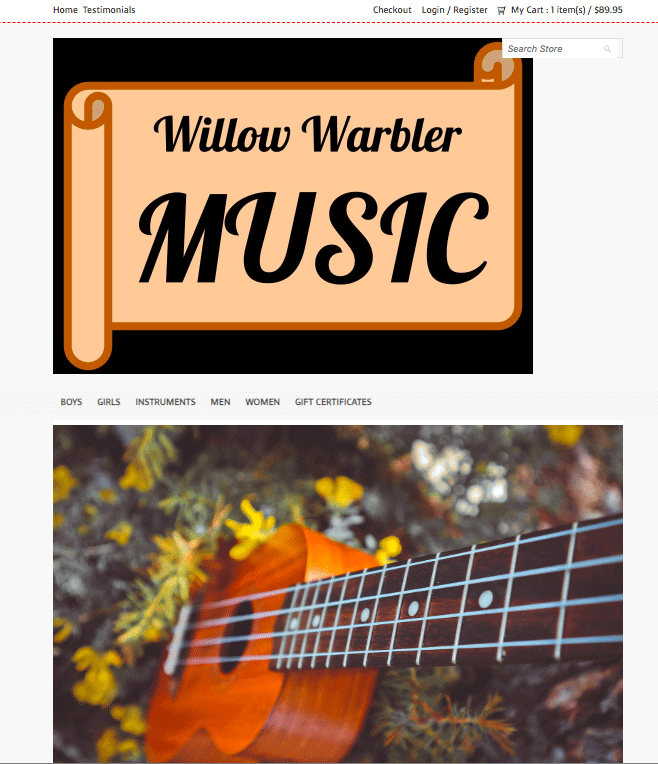 Okay, ignoring for the moment that it's a cheesy logo I made in Google Slides, could that thing be any bigger? There might be ways to resize it in the editor (didn't see any obvious fixes), but it's possible I'd have to adjust my image size before upload. Back to the drawing board on that one.
You can also edit font types and colors with interfaces like the one below: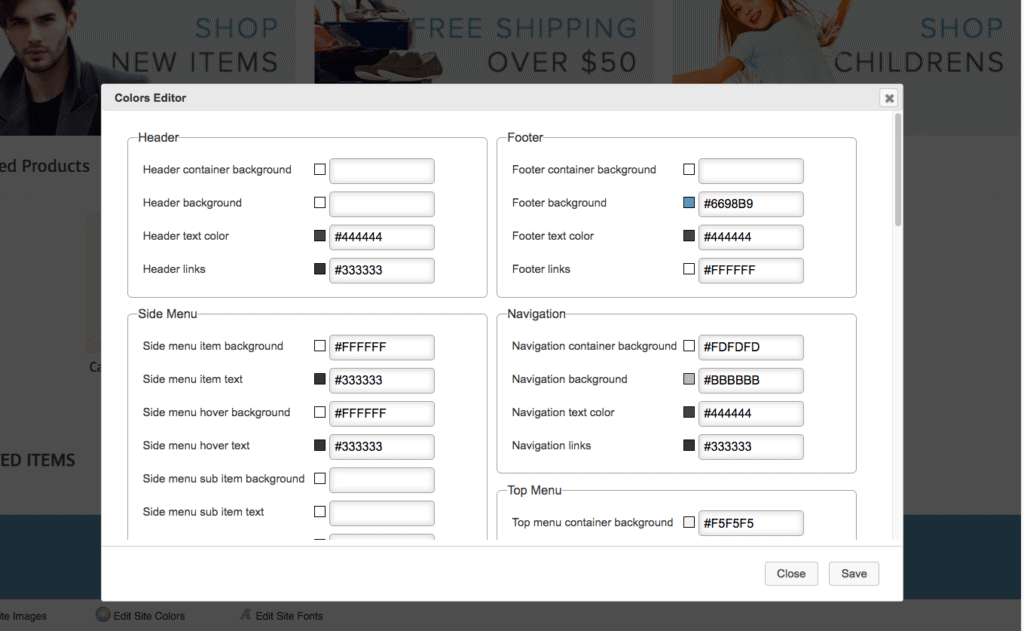 My overall impression is that while PinnacleCart has lots of options for editing themes for users with varying skill levels, the Cart Designer is not the most intuitive at first, especially for merchants new to ecommerce software. If what I've shown you so far looks a bit intimidating, I think you'll experience a slight learning curve with PinnacleCart. However, I am confident that after the initial learning process, you'll be able to make most small changes on your own.
If you need to make larger changes, you can always hire a developer. Alternatively, you can pay PinnacleCart to build a custom site for you. They offer premium design services priced between $2100 and $5200. Or, if you just need help with a couple aspects of your storefront, you can hire PinnacleCart's services a la carte style.
Integrations & Add-Ons
Because PinnacleCart has such an extensive feature set already built-in, you'll need fewer apps than you would with most other eCommerce shopping carts. This is good, because PinnacleCart doesn't have a large number of apps available in the App Center. The grand total is around 50 integrations, and that includes a few that are already promoted as part of PinnacleCart's core feature set (e.g, Facebook store). By the same token, the total doesn't include theme templates or payment processors — these are accessed elsewhere.
Below is a quick sampling of PinnacleCart's integrations, but honestly, it doesn't take long to browse through the entire App Center collection on your own. I should note that the list inside my trial store dashboard was a bit different than on the main site's App Center, so definitely contact a sales rep if you don't see something you're looking for in either spot.
Fulfillment & Shipping
Endicia
ShipWire
Stamps.com
ShipRush
71lbs
Doba
Accounting & Tax
Avalara
Exactor
Quickbooks Online
Webgility
Customer Engagement
Zopim!
LiveAgent
LiveChat
SurveyMonkey
Hello Bar
Marketing
MailChimp
Constant Contact
Google AdWords
AddShoppers
Reporting & Analytics
Kissmetrics
Google Analytics
The only app officially sorted into the "free" category in the App Center is MailChimp, and I'm not sure why. Several other integrations include free plans when you open up the descriptions and read the details. In most cases, you'll need to check the third-party website or reach out to the sales team for the integration for exact pricing.
You can also sync your products to marketplaces and shopping feeds. These include Amazon, Yahoo!, eBay, Shopzilla, Google Shopping, PriceGrabber, and Nextag, among others. I could only see these options properly once I was inside my free trial dashboard.
If you can't find the application you're looking for, PinnacleCart also has an API available, so your developers can create a connection for you.
Payment Processing
PinnacleCart integrates seamlessly with over 30 payment gateways. While this count is on the lower side for a shopping cart this popular, I also read in the FAQ that only the main partners are listed. A call to customer support can confirm compatibility with other options.
The featured payments partner for PinnacleCart is currently CardConnect, a First Data company. CardConnect rates for PinnacleCart customers are advertised at 2.7% + $0.10. While this is a respectable offer, I'd strongly encourage you to conduct your own payment processor research before making your final choice. The decision is highly business-specific and should be based on more than just rates. Our guide to the best online credit card processors is a great place to start!
Meanwhile, here is a list of promoted gateways currently integrated with PinnacleCart:
2Checkout
American Express
Authorize.Net – various plans
Bambora
Bongo Checkout
Braintree
CardConnect (First Data)
Chase Paymentech
CT Checkout
eMerchant
FuturePay
Intuit Payment Services
iTransact
Merchant Anywhere/Transaction Central
Moneris
NetBilling
Payeezy (First Data)
PayJunction
PayLeap
PayPal – various plans
PsiGate
SagePay
Shift4
Skrill
Stripe
USAePay
Virtual Merchant
Worldpay
Customer Service & Technical Support
PinnacleCart provides support through a variety of channels. Phone support is offered, but only during limited hours. If you do find yourself experiencing technical difficulties outside those times, you can always send an email, but you may need to wait up to two days to hear back if it's not an "emergency."
When viewing the availability of customer service for PinnacleCart, keep in mind that everything is in Arizona time — it's Pacific, but they don't observe daylight savings! (Oh, precious Arizona.)
Here are all the support channels and resources:
Phone

Sunday 4PM-1AM
Weekdays 6AM-1AM

Live Chat

Sunday 4PM-1AM
Monday-Thursday 6AM-1AM
Friday 6AM-9PM

Email/Web Ticket

Available 24/7, answered within 24-48 hours
"Emergency" support 24/7/365 (for non-operational stores)

Knowledge Base: Also called the Help Desk, this includes articles and video tutorials.
FAQ: I found a couple — one on the homepage, and a more detailed set within the Help Desk.
User Forum: Not super active. Most discussions are a few years old by now.
Blog: Follow for feature updates, industry news, and ecommerce tips.
By the way, PinnacleCart is so confident in the quality of its customer support that one of the services it offers is to outsource your store's own customer service to the PinnacleCart team. You can fill out a webform on the main site if you're interested.
Negative Reviews & Complaints
By and large, reviews discussing PinnacleCart are quite positive. Customers are consistently pleased with what PinnacleCart can do for their store. As always, there are a few downfalls to the platform. Here's what customers mention most often:
Learning Curve: New users (especially those not accustomed to ecommerce software) may find PinnacleCart to be a bit difficult at first. With time, however, I'm certain nearly every user could learn to perform most operations.
Tricky Code: Programmers report that PinnacleCart's coding can be difficult, especially if you're trying to make serious modifications to features.
Problems With Customization: Users report that PinnacleCart isn't the easiest platform to customize.
Not International Friendly: PinnacleCart has limited language capabilities, and while you can list your products in multiple currencies, merchants report some difficulty accepting payments outside of US and Canada.
Missing Features: I was surprised to realize that though PinnacleCart has a huge feature set, there are some important aspects missing. Most notably, PinnacleCart is missing a customer loyalty program and a POS application. PinnacleCart also does not use a CDN (Content Delivery Network).
Positive Reviews & Testimonials
Here are a few good aspects of PinnacleCart:
Ease Of Use: After that initial setup phase, everyday operations should become very simple. That is, after all, the goal of PinnacleCart.
Good Support: Although PinnacleCart's support is unfortunately not available by phone 100% of the time, customers are generally pleased with the responses they receive from the PinnacleCart team. My own experience with support was positive as well.
Marketing Features: Customers love the marketing features available with the platform. You can integrate with social media to further your products and use embeddable widgets to place your products on any website. Also, PinnacleCart's SEO-friendly features score highly in public opinion.
Easy Integrations: PinnacleCart platforms integrate easily with a variety of other software. In particular, customers appreciate the Quickbooks integration and the Doba integration, which facilitates drop shipping.
Security
All PinnacleCart stores are PCI (Payment Card Industry) Level One compliant. PinnacleCart is also PA-DSS certified. Every PinnacleCart store comes with a free shared SSL certificate, although you are upgraded to a dedicated certificate from Rapid SSL on at the Advanced ($199.95/month) subscription. These and other SSL options with PinnacleCart are summarized below: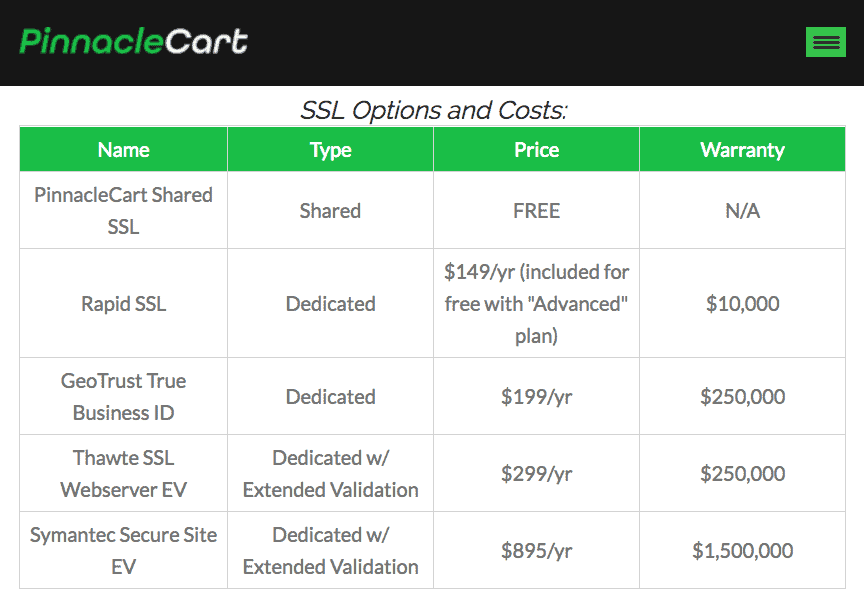 To learn more about SSL certificates and why they're important, check out our site security article.
Final Verdict
PinnacleCart is an excellent option for both beginner merchants and large sellers with years of experience. With such a vast feature set, it's easy to see why PinnacleCart fits the needs of so many sellers. Although ecommerce beginners may encounter a moderate learning curve when it comes to some of the more nuanced admin functions or working with the theme editor, the curve is not insurmountable.
I still have reservations about PinnacleCart's limited support hours by phone. The internet does not operate within normal business hours. If you have a crisis, it's nice to have someone's hand to hold. I'd also like to eventually see some POS integrations added to PinnacleCart's arsenal.
Regardless, PinnacleCart is worth looking into. If you've got the time (it doesn't take much), sign up for the free trial to see if PinnacleCart is the right choice for your online store.
---
The Merchant Maverick Seal of Approval 🏆
PinnacleCart


---
After hours of in-depth research and evaluation, we can confidently recommend this brand to our readers. Get started today and see PinnacleCart for yourself.
The Merchant Maverick Seal of Approval 🏆
PinnacleCart


---
After hours of in-depth research and evaluation, we can confidently recommend this brand to our readers. Get started today and see PinnacleCart for yourself.
To learn more about how we score our reviews, see our
eCommerce Software Rating Criteria
.