Updated on:
Review by: Wesley Kriz
Advertiser Disclosure: Our unbiased reviews and content are supported in part by
affiliate partnerships
, and we adhere to strict
guidelines
to preserve editorial integrity.
Pros
Good customer support
Advanced features
Scalable
Cons
Steep learning curve
Over-Complicated pricing plans
Overview
Pivotal Tracker is an unusual project management tool created by Pivotal Labs. While this product can be used for general purposes, it was designed for use in agile software development and is best suited for that purpose. Pivotal Labs itself is a giant in the software development industry, and Pivotal Tracker was conceived in order to meet the company's own project management requirements.
Pivotal Labs began construction on Pivotal Tracker in 2006. Shortly afterward, they started using the program to track software development for clients, many of whom were favorably impressed. The company began receiving "word-of-mouth, friends and family type requests" to share their new management tool, and soon other companies and organizations were depending on Pivotal Tracker to keep things running smoothly. The software became so popular that Pivotal Labs decided to make it available to the general public. A free beta version of Pivotal Tracker was released in 2008; it immediately won the Jolt Product Excellence Award for project management.
Pivotal Tracker is currently used by over 580,000 customers worldwide, including major organizations like Groupon, Best Buy, and Get Satisfaction. The software focuses on simplicity above all else. Work is broken down into small deliverables and scheduled according to the rate of past performance. It is intended to "accelerate development, reduce risk, and increase responsiveness to market trends."
Web-Based (SaaS) Or On-Premise
Pivotal Tracker is SaaS software that requires no manual updates or installation.
Pricing
Tracker is actually free, up to a certain point. If you want this software for personal use, have three (or fewer) collaborators, and do not require more than two projects, you don't need a paid subscription. The gratis version of Pivotal Tracker allows you 2 GB of storage capacity.  Pivotal Tracker is also absolutely free for qualified non-profits and educators, which I think is pretty admirable.
Everyone who creates a new account with Pivotal Tracker is automatically enrolled in a 30-day free trial (no credit card required). This trial provides access to all the software's features and allows you to add an unlimited number of users and projects. If you don't want to switch to a paid plan at the end of your two-month trial period, your account will automatically be downgraded to the free, individual version. I would also like to point out that the team behind Pivotal Tracker have lowered their prices since my last update, which is nice!
If you decide to spring for a paid subscription, there are two basic Start-up plans:
$12.50/month
5 Collaborators
Unlimited Viewers
5 Projects
5 GB Storage
Community Support
$29.17/month
10 Collaborators
Unlimited Viewers
10 Projects
25 GB Storage
Community Support
There are three Pro plans as well:
$62.50/month
10 Collaborators
Unlimited Viewers
Unlimited Projects
Unlimited Storage
Priority Email Support
$125/month
25 Collaborators
Unlimited Viewers
Unlimited Projects
Unlimited Storage
Priority Email Support
$250/month
50 Collaborators
Unlimited Viewers
Unlimited Projects
Unlimited Storage
Priority Email Support
Note that all prices presented here are true for plans that are paid annually.
If you have a larger organization and need more collaborator space, you can contact Pivotal Tracker directly to arrange for a custom plan. Those of you who are pinching pennies can save the equivalent of a two-months subscription by paying on an annual basis. Subscription may be increased, downgraded, or canceled at any time, but Pivotal Labs does not offer refunds on charges incurred during the current billing cycle. Major credit cards — Visa, Mastercard, American Express, and Discover — are the only valid form of payment for a subscription.
Ease Of Use
Pivotal Tracker is easy to use once you actually learn how it works. Unfortunately, this software operates on an unnecessarily complicated system. No doubt in an attempt to separate themselves from other project management solutions, Pivotal Labs has created an unusual language to describe their system. Much of the terminology employed may seem familiar to other software developers, but it doesn't cross over well and seems a bit forced at times. For example, a week's worth of work in Pivotal Tracker is called an "iteration." Okay, I understand that "iteration" is a word used often in software design, but wouldn't it have been easier to just say "week"? In the same vein, instead of just referring to small units of work as "tasks," as any normal project management system would do, Pivotal Tracker calls them "stories." Sigh. Cutesy re-appropriation of words breaks my heart. Everyone knows what an actual story is. An assignment to write a line of code is not a story. It is a task and should be called a task. Exit soapbox.
Stories are not given due dates or time estimates. Rather, they are arbitrarily assigned an estimated number of points based on projected difficulty or complexity. After three weeks, Pivotal Tracker averages the number of points that you have completed (per week) and that number becomes your "velocity." For more detailed information about this system, see the "Features" section of this review.
Once you get the hang of Tracker's unique system and master the vocabulary, the software itself works like a dream, especially in the following areas:
Intuitive Layout: The basic layout of Pivotal Tracker is clean and simple. Everything is labeled clearly, and there is very little clutter. I quite enjoyed using the software, actually.
Drag-and-Drop: Stories can be dragged-and-dropped at will, making prioritization a cinch.
Mobile App: Pivotal tracker has produced a highly-rated iOS app (the current version has 5 stars). This app requires iOS 5.0 or later, and is compatible with the iPhone, iPad, and iPod touch. In my experience, the iPhone app works very well and is much more functional than the typical project management mobile app. This application allows you to edit and add stories, attach files, and perform a lot of other essential functions, so it actually can be useful if you're on the go a lot. Recently, Pivotal Tracker was made available on Android as well, so most mobile users are now covered.
One of my favorite aspects of Pivotal Tracker is that it offers a "mini-tour" that pops up as soon as you log in for the first time. This is a great way to quickly get to grips with the new program.
Customer Service & Support
Pivotal Labs has set up a very good support system, even if you aren't on a paid plan.
Community Support: The Pivotal Tracker community forum is a place you can go to present ideas, discuss questions, and interact productively with people who share your problems or interests. The forum features an FAQ section and an "Ideas Under Consideration" section and is basically a good way to connect with representatives of Pivotal Labs as well as other users.
Email Support: Email support is available to all users of Pivotal Tracker, even to those with a free plan. However, preference is given to users with Pro plans, who can expect to hear back from a support rep within a few hours of posing a question. Unfortunately, other users usually must wait 1-2 days before receiving a response. Generally, support emails should include account information, the name of the project or story that is giving you trouble, and the text from any error messages you may have encountered. If you can manage to capture your problem visually, screenshots are also appreciated.
Getting Started: For help understanding and implementing the software, you can see the Getting Started page, which contains written explanations of the software and a couple of video tutorials. The videos are a good introduction to Pivotal Tracker, but I recommend familiarizing yourself with the system first through the written explanations, or the material may just be confusing.
Getting More: This collection of helpful articles is what many other companies refer to as their "knowledge base." Covering every conceivable topic within Pivotal Tracker, the "getting more" guide is a resource you will be grateful for, should you run into confusion.
Social Media Engagement: Pivotal Tracker has an excellent Twitter feed, updated often with pertinent information (like maintenance notices). The feed is a good place to get minor questions answered. The Pivotal Tracker Facebook page addresses a whole other area of support, and you can go there to read articles or press releases and keep current with new apps. The Facebook feed is updated less frequently than the Twitter feed, however.
See the Pivotal Tracker help page for a complete list of support options.
Negative Reviews & Complaints
There aren't too many nit-picky complaints about this software, but I did run into a few common objections to Pivotal Tracker:
Inflexibility: There is really only one way to use Pivotal Tracker: the Pivotal Tracker way. To be fair, Pivotal Labs is brutally honest about this. If you don't want to use the program the way they designed it to be used, you're pretty much out of luck. Pivotal Tracker is based on a prescribed software development methodology, and it is nearly impossible to manipulate the program in any other way. According to one dissatisfied customer, Pivotal Tracker "has an opinionated and relatively rigid model based on Scrum, and if you don't want to use exactly that model, you'll be fighting the tool. If you want to estimate in hours or days rather than points or take work that has been started and back-burner it, or update a task with partial progress—you're out of luck."
Inaccuracy: Many users find that estimating the points for each story can be difficult, and unfortunately, inaccurate estimations tend to throw the whole "velocity" off. As a scheduling tool, Pivotal Tracker leaves quite a bit to be desired.
Pricing Structure: I saw a few complaints indicating the pricing structure stops companies from being able to really implement the program across all employees while still remaining cost-effective.
Positive Reviews & Testimonials
Pivotal Tracker is generally well-received, especially by Agile software developers. Some of the characteristics people appreciate the most about this software are:
Efficiency: Pivotal Tracker has boosted the productivity of many companies, primarily by helping them to organize work in a more efficient manner.
Simplicity: Pivotal Tracker is not cluttered with unnecessary functions.
Great Mobile Apps: The iOS apps are universally beloved, especially when used with iPads.
User-Friendly: Once you can get past the confusing terminology, this software is easy to use and has an especially intuitive interface.
The following are excerpts from customer reviews:
Pivotal Tracker is as simple as a TODO list you might write on paper, but online, shared and collaborative (try the real-time collaboration and be amazed). Every bug or feature request we get ends up on our pivotal list.
We are using Pivotal Tracker to manage all of our new web apps under development. This thing rocks! It has a very nice workflow and has really helped us know what other team members are working on and to know what our velocity of development is.
We use Tracker to plan & communicate what software is being built at any given second, be super responsive to our customers, and stay ahead of our competition. We couldn't do it without it. There's no better tool to manage an agile development process.
Pivotal Tracker is the central nervous system of our product development process. It provides engineers and product owners a single place to holistically manage and visualize product progress. It would be hard to imagine a world without Pivotal Tracker.
Features
Pivotal Tracker is in some ways a very basic software system. It is centered around a few specific features and has little functionality apart from those features. The following are a few of the most vital components of Tracker:
Stories: As I mentioned above, stories are the Pivotal Tracker equivalent of tasks. Each project is composed of several stories, and each story represents a concrete requirement of that project. If you're actually using Tracker for its intended purpose — to develop software — a typical story title should complete the sentence "a user should be able to…" For example, a story could be titled "Request Password Reset" or "Remove Items from Shopping Cart." Usually, in Pivotal Tracker, the story requester is either a client or someone else invested in the project's success. When a story is marked complete, it is sent to the requester for final approval. The store owner is the person, usually a software developer, who is actually responsible for doing the work. There are four different kinds of stories in Tracker: features, chores, bugs, and releases. Most of them are only pertinent to software development. Feature stories "provide verifiable business value to the team's customer" and are worth a certain number of points (more on the point system later). Chores are essential tasks, but ones that do not provide concrete value to the client. Chores may or may not be assigned points, depending on your preference. Bugs represent problems with the software that is being developed, and releases are milestone markers which "allow your team to track progress towards concrete goals" such as product demos or software launches. Neither bugs or releases are worth points.
Points: Each feature story (and some of the chores) are assigned a certain number of points, based on a relative scale of effort, difficulty, and risk. You can assign points to a story as soon as it is created, or wait until much later. Pivotal Labs recommends giving concrete value to your points. For example, you might choose to have a single point represent the work that could be accomplished in one day, or one hour, or whatever works best for your business. Point estimation is more of an art than a science, but it is said to become more intuitive over time. You may choose from 3 default point scales (Powers of 2, Linear or Fibonacci) or customize your own scale from the project settings panel. Generally, stories should be given small point values. Pivotal Tracker focuses on breaking things down into their simplest components, so stories with initially high point estimates may need to be divided into even smaller parts.
Velocity: In Pivotal Tracker, velocity is an overall measure of project output. It is basically an average calculation of the number of points your team has completed within the last one to four weeks. Velocity is calculated automatically and used to schedule your work on a week-by-week basis.
Project Page: The Project Page is where you keep track of your past, current, and future stories, and may be divided into several different panels. By default, new projects are viewed in both a Current and a Backlog panel. The Current panel shows any work that is currently in progress, and the Backlog shows the next few iterations (or weeks worth of work, in normal English). Additionally, you can add a Done panel (to show past iterations), an Icebox panel (to store ideas that aren't ready for active work), a My Work panel (to show only your own stories), a History panel (for getting easy access to story updates), and several other panel options. Stories may be dragged-and-dropped from any panel to another, which makes organization and prioritization easy.
Analytics: This feature helps you see how efficiently you make it through your projects. It basically shows you how your "velocity" changes from project to project. It also measures the rate at which your stories are created, completed, rejected, or put on hold. While this is not the most comprehensive analytics feature I have seen, it is still pretty functional.
Comments: Anyone can comment on a story, providing input or feedback. People who write comments automatically receive future email notifications about any stories they have weighed in on.
Dashboard: This is the most basic Pivotal Tracker screen, and gives you access to all your projects and stories, recent activity, messages, and any other important information. Recently re-designed for a sleeker, more modern look, the Dashboard is the place to be when you need to keep tabs on every part of your project management experience.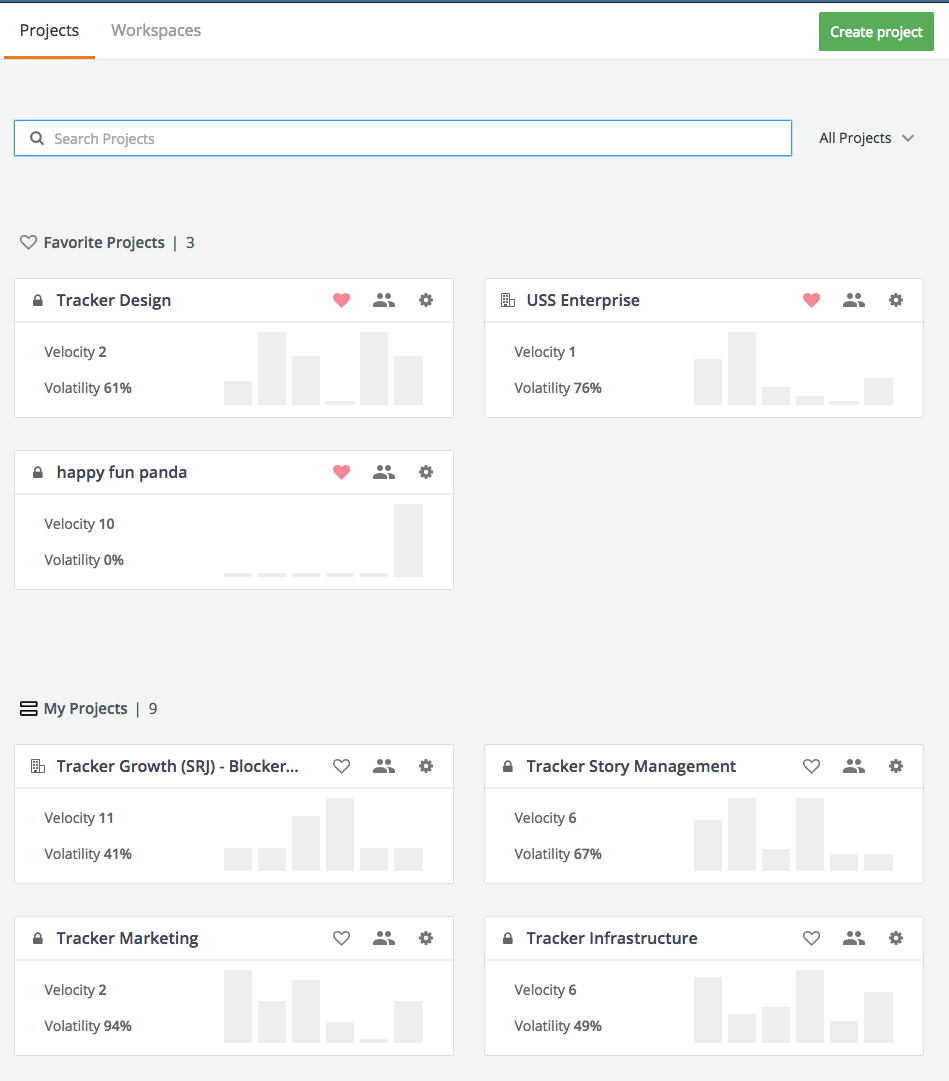 Tracker, like all SaaS software, is a work in progress.
Integrations & Add-Ons
Pivotal Tracker integrates with the following programs and websites:
Twitter
Google Apps
Campfire
Activity Web Hook
Lighthouse
Jira
Get Satisfaction
Zendesk
Bugzilla
Security
Pivotal Labs protects Tracker users by:
Hosting Pivotal Tracker in an enterprise-grade environment.
Employing industry standards and SSL encryption to protect data.
Storing credit card information with Braintree, a Level 1 PCI DSS compliant payment gateway and processor.
Regularly backing up information to a redundant data center: these backups are kept for 21 days.
Final Verdict
I am of two minds about Pivotal Tracker. On one hand, it doesn't have that many features, it uses weird terminology, and the pricing structure is a little wonky. While it is quite easy to use, I don't believe that it has much real-world application beyond agile software development. Normally, given those considerable drawbacks, I wouldn't recommend Pivotal Tracker — I would point you to Redbooth, which accomplishes similar things but makes (in my opinion) more sense for the average user of project management software. Pivotal Tracker is essentially a niche software, and it does not work well outside of that niche.
That said, this program manages software development very well. Pivotal Labs has created an intelligent, unique application in Pivotal Tracker, imminently practical for certain purposes and certainly more well-suited for the software development industry than other management programs. The scheduling apparatus is flawed, but the actual functionality of the software is pretty ingenious.
Fortunately, I am not the one who has to decide. I recommend giving the free trial a go, see if you like Pivotal Tracker for yourselves.

---
Read Next
To learn more about how we score our reviews, see our
Project Management Software Rating Criteria
.