Expert Analyst & Reviewer

UPDATED
Advertiser Disclosure: Our unbiased reviews and content are supported in part by
affiliate partnerships
, and we adhere to strict
guidelines
to preserve editorial integrity.
Pivotal Tracker

Pros
Intuitive UI
Numerous integrations
Designed for software development
Cons
Moderate learning curve
Not intended for general project management
Pivotal Tracker Overview
Pivotal Tracker is a project management tool created by Pivotal Labs. This software is designed to help software development teams manage their projects using Agile and Scrum principles. Pivotal Labs itself is a giant in the software development industry, and Pivotal Tracker was conceived to meet the company's own project management requirements.
Small companies and major organizations alike use Pivotal Tracker, including Groupon, the BBC, and the University of California, Berkeley. Pivotal Tracker is intended to "accelerate development, reduce risk, and increase responsiveness to market trends." Although we do not recommend Pivotal Tracker as a general project management tool for small businesses, it is an excellent option for software development teams that follow Agile principles.
Keep reading our full Pivotal Tracker review for a breakdown of pricing plans, features, customer support options, and more.
Pivotal Tracker Pricing
Pivotal Tracker is available on a few different pricing plans, depending on the number of projects you plan to create as well as the number of users you want to include.
Fortunately, Pivotal Tracker offers a free plan, which is available under a few different circumstances. You can access this plan if you have fewer than three users or plan to list all of your projects publicly. Additionally, nonprofits and educators get access to the software for free.
Also, Pivotal Tracker offers a 30-day free trial, no credit card required. This trial provides access to all of the software's features and allows you to add an unlimited number of users and projects. If you don't want to switch to a paid plan at the end of your two-month trial period, your account will automatically get downgraded to the free, individual version.
Here's what each of Pivotal Tracker's pricing plans includes. The prices listed are for annual plans:
Pivotal Tracker Free Plan
Pivotal Tracker's Free Plan costs $0/month and includes:
Up to five projects
Unlimited file storage
Unlimited viewers
Up to five collaborators
Pivotal Tracker Startup Plan
Pivotal Tracker's Startup Plan starts at $10/month and includes everything in the Free Plan, plus:
Unlimited projects
Up to 10 collaborators
Pivotal Tracker Standard Plan
Pivotal Tracker's Standard Plan starts at $97.50/month and includes everything in the Startup Plan, plus:
Priority support
Volume discounts
Pivotal Tracker Enterprise Plan
Pivotal Tracker's Enterprise Plan is available at custom pricing and includes everything in the Pro Plan, plus:
Single sign-on
System for Cross-domain Identity Management (SCIM)
Purchase orders and invoice-based subscriptions
No limit on adding new users
Live audit trail
Organization — visible projects
A dedicated customer success manager
Here's a breakdown of Pivotal Tracker costs based on the number of collaborators you wish to add:
| Users | Plan | Price |
| --- | --- | --- |
| 1 – 5 | Pivotal Tracker Free | $0/month |
| 6 – 10 | Pivotal Tracker Startup | $10/month |
| 15 | Pivotal Tracker Standard | $97.50/month |
| 20 | Pivotal Tracker Standard | $130/month |
| 25 | Pivotal Tracker Standard | $162.50/month |
| 30 | Pivotal Tracker Standard | $195/month |
| 40 | Pivotal Tracker Standard | $260/month |
| 50 | Pivotal Tracker Standard | $300/month |
| 60 | Pivotal Tracker Standard | $360/month |
| 70 | Pivotal Tracker Standard | $420/month |
| 80 | Pivotal Tracker Standard | $480/month |
| 90 | Pivotal Tracker Standard | $540/month |
| 100 | Pivotal Tracker Standard | $550/month |
| 200 | Pivotal Tracker Standard | $900/month |
| 300 | Pivotal Tracker Standard | $1,200/month |
| 400 | Pivotal Tracker Standard | $1,600/month |
| 500 | Pivotal Tracker Standard | $1,750/month |
| 501+ | Pivotal Tracker Enterprise | Call for details |
Cloud-Based Or Locally-Installed
Pivotal Tracker is a cloud-based software.
Hardware & Software Requirements
Because Pivotal Tracker is cloud-based, you can use the software on any computer with an internet connection. There are no hardware or software requirements. Pivotal Tracker supports the most recent versions of Chrome, Safari, Firefox, and Microsoft Edge as well as Internet Explorer 11.
Pivotal Tracker does not support mobile versions of any browser. The company recommends that you instead download and use one of its mobile apps. Pivotal Tracker has an app for iOS (11.0+) and Android (5.0+). Online reviews give Pivotal Tracker's apps fairly mid-range scores; the iOS app has 2.7/5 stars on Apple Store, and the Android app has 3.6/5 stars on Google Play.
Specific Size Of Business
Pivotal Tracker is designed to fit the specific needs of software development teams that follow Agile principles. Although large organizations use Pivotal Tracker, it best fits organizations that have small teams and departments.
Because Pivotal Tracker is made to operate within the Agile and Scrum frameworks, the designers of this program assume that your team has daily face-to-face meetings. Only a few communication tools are built into the software, which makes Pivotal Tracker best for small-team use.
Ease Of Use
Depending on your familiarity with Agile and Scrum, Pivotal Tracker can be very intuitive software. The software is designed to handle the typical processes of feature development and bug fixes.
For users who are not familiar with Scrum, this software might not be as intuitive. There are certain functions that Pivotal Tracker does automatically that I did not anticipate, such as moving stories from the "Current Iteration" list to the "Done" list at the end of the iteration. This means that some functions (such as starting a story before estimating the amount of time it requires) are not permitted. A few times, I had to dive into the Help Center and go back through the tutorial information to figure out why I couldn't perform certain functions.
In addition, Pivotal Tracker uses terms that are unique to Scrum (e.g., stories, iterations, points, and velocity). Users who are new to Scrum should take some time to familiarize themselves with the terminology before using Pivotal Tracker.
In summary, for users accustomed to traditional project management software, this program will likely be confusing, but that's because the software is designed for a specific purpose. According to the reviews I've seen from actual users of the software, Pivotal Tracker is very intuitive when you use it according to its purpose.
Pivotal Tracker Features
Pivotal Tracker includes many features that you can use to track projects through multiple stages of development. Here are a few key features:
Dashboard: This is the most basic Pivotal Tracker screen. The dashboard gives you access to all your projects and workspaces, recent activity, and other important information.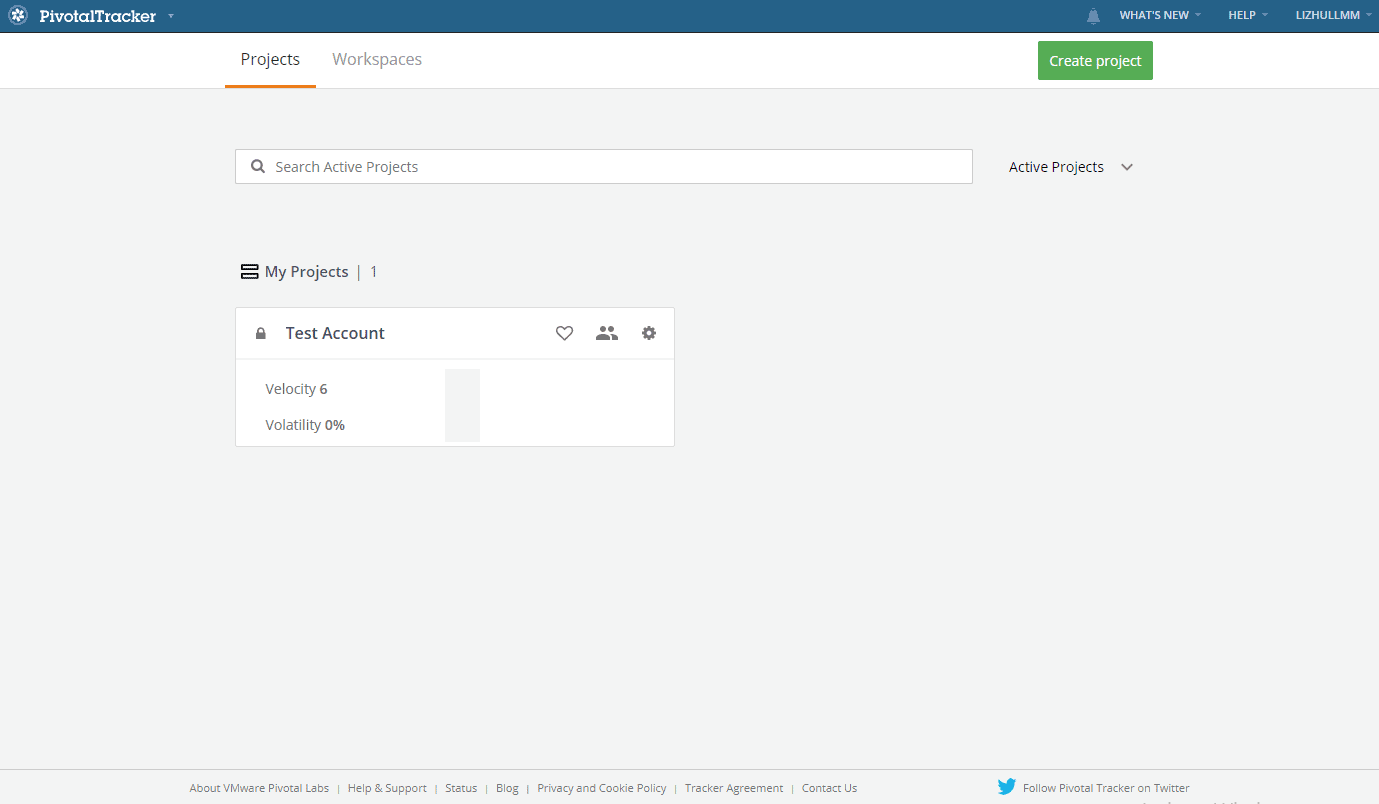 Project Management: The Project Page is where you keep track of your past, current, and future stories. This page is divided into several different panels. By default, new projects are viewed in both a Current and a Backlog panel. The Current panel shows any work currently in progress, and the Backlog shows work that is planned for the next few iterations. Additionally, you can add a Done panel (to show past iterations), an Icebox panel (to store ideas that aren't ready for active work), and a My Work panel (to show only your own stories). Pivotal Tracker also has a handful of other panels that you can use to track activity.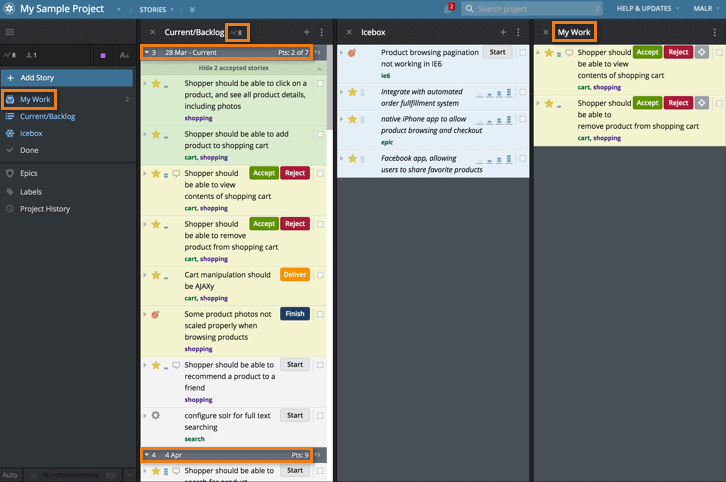 Tasks: "Tasks" are called "stories" in Scrum project management. Each project is composed of several stories, and each story represents a concrete requirement of a project. If you're using Tracker to develop software, a typical story title should complete the sentence "a user should be able to…" For example, a story could be titled "Request Password Reset" or "Remove Items from Shopping Cart." There are four different kinds of stories in Pivotal Tracker: features, chores, bugs, and releases.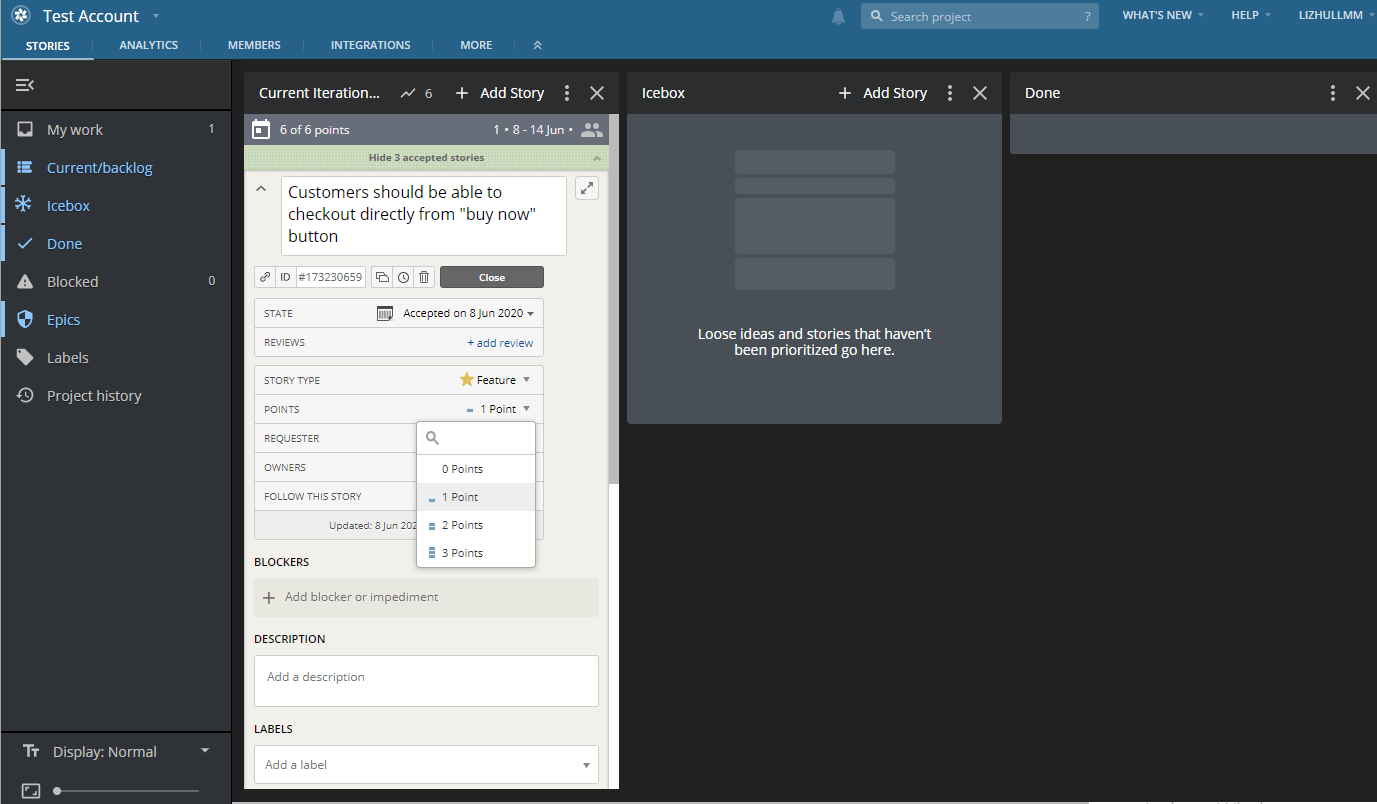 Points & Velocity: In Pivotal Tracker, to create a story, you must set a certain number of "points" for that story. These points are estimates of the difficulty and risk of the task. Pivotal Tracker tracks how many points your team can complete in an iteration (i.e., your "velocity"), then it organizes future stories to fit that average number of points.
Messaging: Pivotal Tracker only has one communication tool: comments. Anyone in a project can comment on a story, providing input or feedback. People who write comments automatically receive future email notifications about any stories they have weighed in on. You can also use @mentions to notify a team member immediately.
Reports & Analytics: The Analytics page includes tools that measure your velocity as well as the rate at which stories are created, completed, rejected, or put on hold. The Analytics page also includes a Burnup Chart, an Iteration Report, a Cumulative Flow Chart, and more.
Pivotal Tracker Customer Service
Customer support for Pivotal Tracker is available primarily through email and self-help resources (there is no phone support available). Users on the Pro Plan gain access to faster support times, while users on the Enterprise Plan can contact a dedicated customer success manager. Here are a few of the available support resources:
Email: The only way to contact support representatives is through email. Pivotal says the team responds to "urgent inquiries" within a few hours and regular support tickets within one to two business days. Their hours are 8 AM-6 PM PST, Monday through Friday (except US holidays).
In-Software Help: Clicking the "Help" button within the Pivotal Tracker software provides you with a link to the Help Center, a form that you can submit to provide feedback, and the Pivotal Labs support email address. You will also find information about keyboard shortcuts and a short product tour.
Help Center: The Help Center is easily searchable with a search bar and nesting categories and subcategories in the sidebar. Here, you can find videos and articles about the software. The Help Center also includes links for Pivotal Tracker's other resources.
Videos: Visit Pivotal Tracker's YouTube page for recent videos to help get you started with the software.
Blog: Pivotal Tracker's blog includes product updates, news, tips to increase productivity, information on integrations, and more.
Social Media: Pivotal Tracker has an active Twitter account, where it mostly posts system status updates. The company also has a Facebook page, but it posts very infrequently.
Pivotal Tracker Customer Reviews
Negative Reviews & Complaints
In general, Pivotal Tracker receives positive reviews from users. That said, there are still a few ways Pivotal Tracker could improve. Here are the most common complaints that we've seen in Pivotal Tracker reviews:
Inflexibility: Pivotal Tracker is based on a prescribed methodology, and it is nearly impossible to manipulate the program in any other way. According to one dissatisfied customer, Pivotal Tracker "has an opinionated and relatively rigid model based on Scrum, and if you don't want to use exactly that model, you'll be fighting the tool. If you want to estimate in hours or days rather than points or take work that has been started and back-burner it, or update a task with partial progress — you're out of luck."
Limited Reports: Users would like to see the Reports and Analytics section expanded to track more data.
Learning Curve: It seems that Pivotal Tracker takes some time to learn. Your experience with Pivotal Tracker will likely depend on your familiarity with Agile and project management software.
Positive Reviews & Testimonials
Pivotal Tracker is generally well-received, especially by software developers who follow Agile principles. Pivotal Tracker has earned 4.1/5 stars (based on 91 reviews) on G2 Crowd and 7.8/10 stars (based on 70 reviews) on TrustRadius. Here's a bit of what people love about Pivotal Tracker:
Great For Agile & Scrum: Pivotal Tracker is designed to follow Agile principles through Scrum methodologies. If your team already follows these methodologies, Pivotal Tracker makes a lot of sense.
Integrates Well With Other Software: Many users appreciate the numerous available integrations. They say Pivotal Tracker integrates well with other software.
Intuitive: Although some users complain of an initial learning curve, I've seen an equal number of comments that say Pivotal Tracker has a very intuitive user interface.
Tracking Progress: Users like how Pivotal Tracker helps them track their progress on projects. The velocity reports help predict how much work they will complete in future iterations. Users also appreciate how the software helps keep everyone on the same page.
The following are excerpts from customer reviews:
Pivotal Tracker is as simple as a TODO list you might write on paper, but online, shared and collaborative (try the real-time collaboration and be amazed). Every bug or feature request we get ends up on our pivotal list.

We are using Pivotal Tracker to manage all of our new web apps under development. This thing rocks! It has a very nice workflow and has really helped us know what other team members are working on and to know what our velocity of development is.

We use Tracker to plan & communicate what software is being built at any given second, be super responsive to our customers, and stay ahead of our competition. We couldn't do it without it. There's no better tool to manage an agile development process.

Pivotal Tracker is the central nervous system of our product development process. It provides engineers and product owners a single place to holistically manage and visualize product progress. It would be hard to imagine a world without Pivotal Tracker.
Integrations & Add-Ons
Pivotal Tracker integrates with 159 apps and software programs. These integrations include tools, such as Slack, GitHub, JIRA, and Zendesk, as well as time tracking software, such as TimeDoctor, Timely, and Toggl. There's also a Pivotal Tracker Kanban integration to display your stories, but it's pretty basic and nothing fancy.
You can also develop integrations and applications using Pivotal Tracker's REST API. For more information, check out Pivotal Tracker's integrations page to see if your favorite software is integrated.
Security
Pivotal Tracker follows regulations to keep its users' data secure. Pivotal Tracker is compliant with the General Data Protection Regulation, and all plans include SSL encryption.
Pivotal Labs uses Braintree to store all of its users' credit card information. Braintree is a Level 1 PCI DSS compliant payment gateway.
Pivotal Tracker also employs Google Cloud Storage, Google Cloud CDN, and Google Cloud SQL to store data, and it uses Amazon S3 for file attachments. All data is encrypted at rest and backed up regularly. Furthermore, Pivotal Tracker performs third-party security audits for vulnerabilities at least once a year.
Final Verdict
Pivotal Tracker is a great solution for software development teams looking for a way to track progress on their projects. Since Pivotal Tracker is based on Agile principles and Scrum methodologies, the software works best when used within this context.
For users looking for some Pivotal Tracker alternatives, we recommend taking a look at a few of our favorite project management solutions. These software options offer more flexibility, and they are more likely to fit a broader range of businesses.
However, if Pivotal Tacker seems like the right solution for you, we suggest you head over to the company's website and sign up for a free trial. You'll be able to test the software for thirty days, and you may find that it's exactly what you were looking for!
Pivotal Tracker FAQs
---
Featured Free Corporate Card
Ramp


---
Ramp offers a free corporate card for virtually any business. Start earning rewards with your corporate spending today. Get your free card.
Featured Free Corporate Card
Ramp


---
Ramp offers a free corporate card for virtually any business. Start earning rewards with your corporate spending today. Get your free card.
To learn more about how we score our reviews, see our
Project Management Software Rating Criteria
.