PNC Cash Rewards Visa Signature Business Credit Card Review
Expert Analyst & Reviewer

UPDATED
Advertiser Disclosure: Our unbiased reviews and content are supported in part by
affiliate partnerships
, and we adhere to strict
guidelines
to preserve editorial integrity.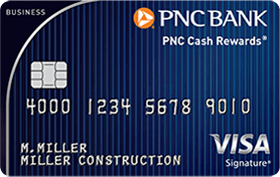 Need help finding a lender?
Date Established

1845

Location

Pittsburgh, Pennsylvania
Businesses that like simple credit cards might not have to look any further than the PNC Cash Rewards Visa Signature Business Credit Card. This card features a basic cash back scheme that is on par with many other cash back cards. It also packs in a number of standard credit card benefits.
Unfortunately, this card is restricted to states where PNC has a physical presence. That means that businesses located elsewhere will need to look at other credit card options.
Ready to learn more about PNC's cash back option? We've got all the details below!
PNC Cash Rewards Visa Signature Business Credit Card At A Glance
Eligibility
You'll likely want to have an excellent credit score before applying for PNC's cash rewards card. The excellent range is usually counted as 740 and above. Note, of course, that this is a recommended score; an excellent score is not expressly required to qualify for the credit card.
If you're unsure of your credit score, here's a list of our favorite free credit score-checking websites to get you set.
Although applying online is an option, you'll need to live in one of 19 states or the District of Columbia. This is because PNC requires that applicants reside in a state where there is a physical PNC branch. Besides Washington D.C. the list of eligible states features:
Alabama
Delaware
Florida
Georgia
Illinois
Indiana
Kentucky
Maryland
Michigan
Missouri
New Jersey
New York
North Carolina
Ohio
Pennsylvania
South Carolina
Virginia
West Virginia
Wisconsin
Rewards & Fees
With the PNC Cash Rewards Visa Signature Business Credit Card, you'll get 1.5% cash back on eligible net purchases. Payments not included under the "eligible net purchases" umbrella include finance charges, annual membership fees, balance transfers, and transactions made at a financial institution. You also won't collect cash back for purchases made at merchants that offer gambling or gaming categories.
While not spectacular, 1.5% cash back is still a solid rate. Plus, because this card does not carry an annual fee, you'll be earning rewards from the get-go; you won't need to worry about paying off an annual fee before your card starts collecting cash.
At the moment, PNC is also offering a bonus deal. This welcome offer nets $200 if you break the $3,000 spending barrier within the first three billing periods after you open your account.
You also will get 0% APR on purchases for the first nine billing periods. After that's up, you'll go back to the card's standard APR. This feature could be beneficial for businesses looking to make a large purchase in the near future.
Also a plus? You won't have to deal with annual or foreign transaction fees with PNC's cash rewards card. On the flip side, for balance transfers, there is a $5 or 3% of the amount of each transfer fee (whichever is higher). There is also a fee for cash advances: $10 or 4% of the amount of each advance (whichever is higher).
Redeeming Rewards
You are able to redeem your cash rewards at any time as statement credit. You also have the option to deposit cash back into an eligible PNC Business savings or checking account.
There is no limit to the number of rewards that can be redeemed annually. However, you can not transfer rewards, nor can they be combined with a separate account.
Other Benefits
Because this card falls under the Visa Signature banner, it comes with some nifty benefits.
On the travel side of things, you can expect an array of features. Highlights include reimbursement for lost luggage, travel accident insurance, and a damage waiver for auto rentals.
Other travel bonuses include:
Roadside dispatch
Lost/stolen card reporting
Cash disbursement
Travel and emergency assistance services
Visa Signature Concierge
Beyond travel, there are a few more additional benefits. These come standard with most Visa credit cards.
To start, you'll get an extended warranty. This extended warranty is able to double the original manufacturer's warranty by up to one extra year. Note that only warranties originally of three years or less are eligible.
Also, the card's purchase security will protect you against theft or damage of eligible items within 90 days of purchase. You'll get a replacement or a repair, or be reimbursed, depending on the item. As added security, the card further protects you against fraud thanks to Visa's Zero Liability Fraud Protection service.
Finally, you'll be able to request employee cards via PNC's online portal. This portal also includes tools to control and monitor employees' spending habits.
Final Verdict
Is the PNC Cash Rewards Visa Signature Business Credit Card right for your business? You might want to apply for this card if:
You're looking for a simple cash back card with a reasonable return rate.
You travel frequently, but don't need a dedicated travel credit card.
You plan on making a large purchase soon and want to take advantage of the introductory APR offer.
On the other hand, you might want to pass if:
You don't live in the same state as a physical PNC location.
Your credit score is not high enough to qualify for the card.
You'd prefer a card that has bonus categories that match up with your business's spending habits.
---
Featured Free Corporate Card
Ramp


---



Ramp offers a free corporate card for virtually any business. Start earning rewards with your corporate spending today. Get your free card.
Featured Free Corporate Card
Ramp


---



Ramp offers a free corporate card for virtually any business. Start earning rewards with your corporate spending today. Get your free card.
To learn more about how we score our reviews, see our
Business Credit Card Rating Criteria
.