PNC Travel Rewards Visa Business Credit Card Review
Expert Analyst & Reviewer

UPDATED
Advertiser Disclosure: Our unbiased reviews and content are supported in part by
affiliate partnerships
, and we adhere to strict
guidelines
to preserve editorial integrity.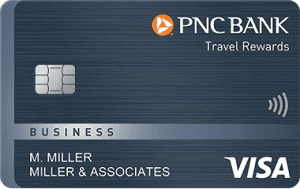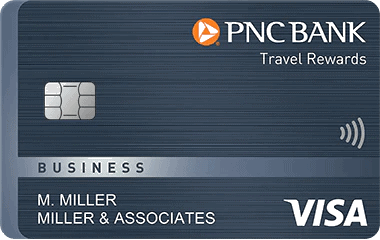 Need help finding a lender?
Date Established

1845

Location

Pittsburgh, Pennsylvania
Travel credit cards are often a must for businesses that require frequent traveling. These cards allow businesses to save money when booking flights and hotels, making them a helpful tool for many situations. PNC, a bank based out of Pittsburgh, offers one such option in the form of its Travel Rewards Visa® Business Credit Card.
Unfortunately, lackluster rewards make PNC's travel card fall flat compared to most of the competition. On top of a minimal rewards scheme, this card does not have a fluid way to redeem rewards — potentially both costing you time and giving you a headache.
Do you still want to learn more about this travel card? Keep reading for the full details.
PNC Travel Rewards Visa Business Credit Card At A Glance
PNC Travel Rewards Visa Business Credit Card


---


Visit Site

Annual Fee:


---

$0

Purchase APR:


---

12.49% – 21.49% (variable)
Eligibility
Potential applicants for PNC's travel card will likely want to have an excellent credit score. Generally, an excellent score is tagged as 740 and above. Note that this number is a recommended score; it is not expressly required that you have an excellent score to qualify for the credit card.
Don't know your credit score? Check out this list of our favorite (and free!) credit score-checking websites to get you up to speed.
While you can apply online, you must reside in one of 19 states or the District of Columbia. This requirement is due to PNC needing applicants to live in the same state as a physical PNC branch. In addition to Washington D.C., the list of eligible states covers:
Alabama, Delaware, Florida, Georgia, Illinois, Indiana, Kentucky, Maryland, Michigan, Missouri, New Jersey, New York, North Carolina, Ohio, Pennsylvania, South Carolina, Virginia, West Virginia, and Wisconsin
Rewards For Spending
Don't expect anything snazzy with how the PNC Travel Rewards Visa Business Credit Card doles out rewards — things are pretty straightforward here.
One Mile Per Dollar Spent
The base reward scheme for the PNC Travel Rewards Visa Business Credit Card is a fairly simple one mile for every dollar spent on eligible net purchases. There is no limit to the number of miles you can earn.
As we'll go into detail below, a mile with this card has a cash value worth, at maximum, of 1.26 cents. When looking at the per mile basis, that value isn't bad. However, when looking at the card as a whole — and the fact that you can only earn one mile per dollar spent — the value is quite lackluster. Many other cards simply offer more bang for the buck.
Double Miles On The First $2,500 Spent
On top of the base earning method, you'll be able to collect double miles during the first $2,500 spent on eligible net purchases. This is a unique welcome offer, as it does not require that you spend a certain amount within an allotted timeframe; instead, you'll be able to earn your extra points at your leisure.
Redeeming Rewards
You'll have to couple the card's measly rewards scheme with an outdated redemption model. If you can get over both problems, then this card might work for you.
Manually Redeem For Travel
You can redeem your miles for airfare, cruises, rental cars, and hotel stays. PNC does not offer a booking service. Instead, you must book your travel using your PNC Travel Rewards Visa Business Credit Card through a separate travel website or travel agent. Then, you'll need to contact PNC by phone or online to notify them that you'd like to receive credit for your travel purchase. While this method of redeeming for travel isn't unheard of, it's still underwhelming because other cards offer more streamlined ways of scoring rewards.
When redeeming miles for airfare, you'll get $315 credit for your first 25,000 miles redeemed. That equals the equivalent of 1.26 cents per mile ($315 / 25,000 miles = $0.0126). Other travel bookings (cruises, rental cars, and hotel stays) and airfare redemptions after 25,000 miles will net you $50 per 5,000 miles (equal to one cent per mile). Both of these rates are rather pedestrian compared to other travel cards when factoring in that you only pick up one mile per dollar spent.
Note that airfare redemptions require a minimum redemption of 25,000 miles, so you'll need to spend at least $25,000 on the card before you can redeem your miles for an airplane ticket (or $22,500 if you factor in the double miles rate on your first $2,500 spent). On the plus side, there is no limit to the number of miles you can redeem in a calendar year.
Cash Out Rewards For Statement Credits
Besides redeeming your miles for travel, PNC also lets you cash them out in the form of a statement credit. For every 5,000 miles you redeem, you will receive a credit of $40. This means that the monetary credit redemption method grants you an effective rate of 0.8% cash back ($40 / 5,000 miles = $0.008) — a very low value when considering credit card rewards. Many other cards allow cash redemptions worth at least 1%.
Card Benefits
Nothing out of the ordinary here — PNC includes a few standard credit card benefits.
Employee Cards Available
This card features the ability to add employee cards to your account. Employees will be able to rack up points, and you'll be able to set spending limits and monitor employee spending.
Note that PNC does not market whether or not employee cards cost extra.
Extended Warranty
Through Visa's cardholder benefits, PNC provides extended protection for eligible purchases. This protection can double the length of an original manufacturer's warranty up to one full year. Only warranties three years or less are eligible.
Purchase Security
Visa's cardholder benefits also include purchase security. This feature can replace, repair, or reimburse eligible items within 90 days of purchase should they become damaged or stolen.
Overdraft Protection
Perhaps the most unique benefit included with this card is its overdraft protection feature. With this enabled, you'll be able to utilize your PNC credit card as protection in case you overdraw your PNC business checking account. If you do happen to overdraw your account and the credit card is set as protection, funds will be automatically transferred to cover purchases.
Online Account Management
PNC offers a few online tools that can help manage your account and card usage. These tools enable you to:
View balance and pending transactions online
Access up to 13 months of transactional history
Add, activate, and close cards
Schedule or make electronic payments
Download transaction history into Excel, Quicken, QuickBooks, or .csv file formats
PNC also includes a spending analysis tool that will automatically categorize purchases. This tool can help you plan and budget your future business spending.
Rates & Fees
By far, the best mark for this PNC card is its minimal fees and competitive APR range.
Competitive APR
This card's APR, 12.49% – 21.49% (variable), is very competitive compared to other cards on the market. The lower range is among the lowest around, and the upper end wouldn't be out of place as a different card's lowest rate. This might make the PNC Travel Rewards Visa Business Credit Card appealing if you plan on carrying a balance.
No Annual Fee
A silver lining with this card is the fact that it has no annual fee. While there's not much going for the card in terms of rewards, at least you won't have to worry about using those rewards to offset an annual fee first.
No Foreign Transaction Fee
Because the PNC Travel Rewards Visa Business Credit Card is marketed as a travel card, its lack of a foreign transaction fee is an especially important feature. With no foreign transaction fee, you'll be able to jet-set around the globe without worrying about getting hit with extra costs.
Other Fees
While the card lacks the fees mentioned above, there are standard fees for balance transfers and cash advances. Balance transfers cost either $5 or 3% of the transfer (whichever is greater). Cash advances will cost an extra $10 or 4% of the advance (whichever is greater), up to a maximum of $75. Late payments can also get charged up to the standard $39.
Is The PNC Travel Rewards Visa Business Credit Card Right For You?
This PNC travel credit card isn't the best on the block. Between its limited rewards offering and troublesome redemption process, there are plenty of other, better travel cards on the market. When considering the card's whole rewards system alongside its basic benefits package and geographic restrictions, the fact becomes clear that this PNC card only suits a very niche audience.
You might want to apply if…
Your business involves traveling frequently
You want a card without an annual fee
You don't care much about a card's rewards or extra benefits
You might want to look for a different card if…
You don't live in a state with a physical PNC Bank location
Your business does not require frequent travel
You would prefer a credit card with a simpler redemption method
Your credit score is not high enough to qualify for this card
---
Featured Free Corporate Card
Ramp


---



Ramp offers a free corporate card for virtually any business. Start earning rewards with your corporate spending today. Get your free card.
Featured Free Corporate Card
Ramp


---



Ramp offers a free corporate card for virtually any business. Start earning rewards with your corporate spending today. Get your free card.
To learn more about how we score our reviews, see our
Business Credit Card Rating Criteria
.