Editor in Chief

UPDATED
Advertiser Disclosure: Our unbiased reviews and content are supported in part by
affiliate partnerships
, and we adhere to strict
guidelines
to preserve editorial integrity.
Podio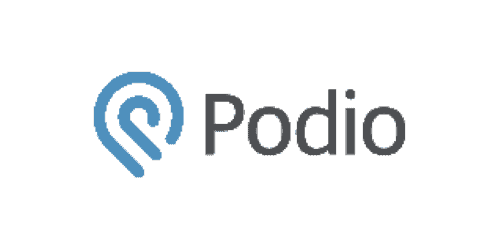 Pros
Good customer support
Varied support materials
Customizable feature set
Cons
Moderate learning curve
Limited features
Podio Overview
Podio came to life with a certain enigmatic flair. Though it was created in early 2009, this software was initially kept under wraps — a mysterious, covert project, hidden from the public eye by founders Jon Froda, Anders Pollas, and Andreas Haugstrup Pedersen. In August of 2009, while still in "stealth mode," Podio began to recruit its first official customers. Despite its hush-hush beginnings, this web-based social project management system quickly morphed from a secret endeavor into a software success story. In 2012, after several profitable years on the market, Podio was acquired by Citrix Systems, a company that specializes in facilitating mobile workstyles through the cloud.
Current CEO Tommy Ahlers describes the software's remarkable ascent as follows:
From the start, Podio has been focused on creating an experience that would be more than an online place to talk about work but a platform customers trust to actually help them work as teams to get work done – 24/7. The extraordinary adoption we saw in just one year validates the pent up demand for better ways for teams to collaborate.
Most project management systems have rigid, fixed structures that compel users to "speak their language and work in a predefined structure." Podio is unique in that it essentially allows each user to create their own tools and design custom workspaces. With a wide range of available pre-made apps and the ability to build custom apps as well, users can choose their own terminology and the structures that suit them best. There is nothing conventional or ordinary about Podio – no one-size-fits-all approach to project management. Podio can be whatever you need it to be; so far, Podio users have created over one million custom apps to meet a variety of needs.
Since its acquisition by Citrix, Podio has continued to grow at a remarkable rate. Emphasizing the social aspects of work above all else, Podio's interface is highly reminiscent of Facebook and tends to resonate with people who frequently use social media. This software's inherent versatility has spoken to clients in a number of different industries, and some of its more well-known clients include Volvo, Sony, and the NFL. Though European in origin, Podio has achieved a strong international presence and maintains offices in both Copenhagen and San Francisco.

Pricing
There are 4 pricing plans (based on annual subscriptions):
Free
Up to 5 employees
Task management
Apps and Workspaces
Basic
$7.20/user/month
All Free features
Unlimited items
User management
Unlimited free external collaborators
Plus
$11.20/user/month
All Basic features
Automated workflows
Light user role
Read-only access
Premium
$19.20/user/month
All Plus features
Contact sync
Visual reports
Interactive sales dashboards
Advanced workflow automation
Podio generally prefers payment with major credit cards, though companies with over 100 users can be invoiced if buying an annual subscription. All subscriptions, both monthly and yearly, must be paid in advance. If you cancel your subscription mid-month, it will last until the end of your current billing cycle; Podio does not offer refunds for already paid invoices. Should you upgrade, or add or remove users mid-month, changes (in the form of extra charges or credits) will be reflected in the next month's bill.
Podio is a relatively cheap option and a great value. However, penny-pinchers may want to take advantage of the 20% discount to users who choose to pay on a yearly basis. Additionally, Podio is offered with premium features, completely free of charge, to non-profit organizations, students, and startups.

Cloud-Based Or Locally-Installed
Podio is entirely cloud-based.
Hardware & Software Requirements
All you'll need to run Podio is an updated web browser.
Specific Size Of Business
With its adaptability, Podio is well-suited to small businesses and large organizations alike.
Ease Of Use
Podio's user-friendliness is largely a matter of personal opinion. If you're used to a static, fairly basic program like Basecamp, Podio may seem overly complicated and difficult to implement. However, those of you with more experience might find it very simple indeed.
To me, Podio hovers on the border between something I can figure out on my own and something that requires external assistance. It is certainly not too difficult or specialized for a layperson, but it does take a little more time investment than is typical. I happen to think that this investment of time and energy is worthwhile because Podio is such a layered, multifaceted program; once you learn how to use it, the possibilities are endless. Despite its somewhat steep learning curve, there are a few really great features that make Podio particularly easy to use and painless to incorporate into your daily work routines:
Organization: Different product management platforms choose to organize information in different ways. Podio splits your work for different companies into "organizations." After selecting what organization you are working in at the moment, you can select different "workspaces," which are basically just the various projects you are involved with. Once in your workspace, you will be confronted by a number of options, most of them customizable for your own needs. This could include team chat, expense reports, task lists, and the like.
@mentions: This feature goes back to Podio's roots in social media. If you @-mention somebody in a comment or discussion (typing in something like @paulmccartney, for example) you will create a link to the user's personal profile and automatically notify that person that they have been tagged.
GoToMeeting Integration: Holding meetings becomes a much simpler process using Podio's GoToMeeting link. The only downside to this integration, which saves time and effort, is that the integration can cost upwards of $12/organizer/month.
App Market: If you don't have the confidence or time to build your own app, Podio has dozens of premade apps to chose from in their App Market, covering everything from HR practices to event management or conferencing. There are even several really outside-the-box apps, like the venture capital app or the science app, as well as apps for law firms or realtors. This healthy, eclectic variety stems from the fact that each Podio user can submit their personal app creations to the official Market. All submissions deemed appropriate and useful by the Podio team are approved and made available to the entire community of users.
Mobile Services: Happily, Podio has invested in excellent native apps for iOS and Android devices (there is even one specially designated for iPads). The highly functional iPad and iPhone apps are available in English, Danish, Dutch, French, German, Italian, Japanese, Portuguese, Russian, Simplified Chinese, Spanish, and Swedish. The iPhone app is especially well-designed, giving you access to all your workspaces, apps, and files, even allowing you to search through your project's materials. Users are pleased with its ability to mirror the online module. Though it has similar functionality, the Android app has received more mixed reviews, and some customers complain that it is perpetually buggy.
Features
Podio is not your average project management system. The features you encounter depend entirely on what apps you choose (or design). There is, however, a very basic structure common to all Podio users. Workspaces — the highest level in the Podio organizational structure — are separate, distinct work areas build from one or more individual apps. Each workspace can represent a company, client, or department within your business; you can also build private workspaces to manage your personal tasks. Every app in your workspace can contain one or more projects, which are themselves populated by deliverables.
Unless you decide to use pre-fabricated apps from the App Market, most of your time will initially be spent in the Podio App Builder, where you can customize the new account to meet your own specific business requirements, both in terms of functionality and terminology (if you would prefer to refer to deliverables as tasks, for example, you can simply change the name to better suit your preferences). The App Builder allows you to construct tools for almost any purpose, using one or more of the 14 basic building blocks available:
Text: This field is used for naming or titling new projects.
Category: This field is used to track the status of your work. You can create any number of status options for this field, including things like "completed" or "still working" or "delayed."
Date: The date field is handy for tracking deadlines and due dates, and can be linked directly to your calendar.
Relationship: Relationship fields help you link up related items – between apps and even workspaces. For example, you can link your projects to your clients, so one is accessible from the other.
Contact: The contact field is used when you want to assign a project/task or reference a person in any way, and will contain a directory of all your account contacts.
Phone: Need to include a pertinent phone number? This is the place for you.
Email: Add email addresses here, if necessary.
Number: This field is used to follow numerical information (such as the number of visitors to an event or the number of hours allocated to a specific project). The number field is essential for calculation purposes (see the Calculation field description below).
Link: This field is useful if you want to be able to add special links to websites, videos, or other web-based content.
Image: To attach images or photos, you would utilize this field. Any images you add will be immediately viewable as thumbnails.
Money: Money fields are primarily indicated for tracking budgets and costs. Users have the option of pre-setting the currency for the money field. This field is also linkable to the calculation field.
Card View: Podio has joined the "card view" craze that is sweeping the Project Management community. Pioneered by the likes of Trello, card view is another way of organizing your projects and tasks. It is intended to mirror the old-school project management system that employed whiteboards and post-it notes. Podio's version seems adequate, though perhaps not as polished or charismatic as others I have seen.
Depending on the type of app you want to create, you could use any combination of these basic building blocks. Some people create fun, kooky apps (like "high-five apps") specifically to improve company morale. Others stick to very basic app designs for standard project management functions. With a little creativity, the sky's the limit.
There are a few other standard features common to all Podio users:
Project Management: Different product management platforms choose to organize information in different ways. Podio splits your work for different companies into "organizations." After selecting what organization you are working in at the moment, you can select different "workspaces," which are basically just the various projects you are involved with. Once in your workspace, you will be confronted by a number of options, most of them customizable for your own needs. This could include team chat, expense reports, task lists, and the like.
Podio Community: There is a big emphasis in Podio on what they call "connecting with other pros," which basically entails using your Podio subscription to share information, bounce ideas around, network with other people in similar industries, and exchange ideas and best practices. Like I mentioned before, Podio is essentially a social tool, heavily invested in the communication aspects of work. A very important part of using this software, therefore, is taking advantage of community contributions, whether by participating in the Podio project management forum or learning from those who have gone before.
Video/Audio Chat: Podio has recently added a feature that allows users to initiate video (or audio-only) chats with other users. While on a video call, users are able to send text messages back and forth and share files.
Conversations: It is possible to collaborate with other users in real-time using Podio's instant messaging system. Conversations take place between individual users and groups and can be ongoing. To spice things up, Podio even allows users to add a variety of Emojis to their messages.
File Sharing: Podio's unlimited storage capacity makes an ideal file sharing tool, and it is integrated with most of the major file storage/file sharing services, including Google Drive, Box, and Dropbox.
Calendars: Podio has great iCal integration, which can be used for both personal and workspace calendars. You can color your calendar events by category, keeping everything organized neatly. Recently, Podio introduced recurring calendar events as well, adding another layer of usability to this particular feature.
Unfortunately, you'll need to implement an integration to have payroll functionality.
Customer Service & Support
Podio has a thorough, well-maintained customer support network which is fairly heavy on educational material, a fact that I appreciate. There are no phone hotlines, unfortunately, but you can submit support tickets via the website (or your account) at any time, and response time is reasonably quick. Other support tools include:
Demos: At any time, you can register for a live product demonstration (much like the webinars offered by other companies).
Personal Training Sessions: This is a service reserved for Podio's Premium and Enterprise customers. These sessions cover everything from basic setup to advanced use and/or team training.
Help Center: This page contains just about every support tool you might need, from links to the Twitter feed to FAQs, tips on getting started, written instructions, video tutorials, and user forums. Most of the material available is very high-quality, from the succinct and informational video tutorials to detailed, step-by-step instructions.
Social Media Engagement: If you don't want to wait for a support ticket to go through, you can tweet any and all questions to @podiosupport. The Podio Twitter feed is refreshingly well-monitored, and questions are answered with courtesy and speed.
Blog: The Podio blog is less focused on updates/press releases and more about sharing stories and ideas. It is, however, a great place to look for inspiration or to discover new ways to use the software.
User Reviews
Negative Reviews & Complaints
Some of the downsides of Podio include:
Limited Time Tracking: Podio does not come equipped with a stopwatch timer or similar capabilities. Unfortunately, its time tracking is limited to optional timesheets that you can build into your app and manually populate with data.
Overly Complex: While Podio is much simpler than similar build-to-order programs, some users still find it too labor intensive and complicated for everyday use. If you don't want to have to think about your project management software or strategize about best practices, Podio may involve just a bit too much time and effort.
No Archiving: Podio projects cannot be archived and stored for future reference, which can be a nuisance.
No .pdf Markup tools: This one pretty much explains itself.
Positive Reviews & Testimonials
Podio has its detractors, but the majority of users are crazy about the fun and unique design of this software. Commonly praised features include:
Flexibility: Because of the wide range of available apps, Podio can be used in nearly every industry and for nearly every purpose. In my opinion, it is the best full-package software of its kind.
Customizable: Podio is one of the most customizable software programs around. Usually, tailoring a software solution to your own business requirements involves lots of extra time, money, and interaction with the original designers. Podio allows you to build your own program without the need for specialized knowledge (like the ability to write code). This puts the power back into the hands of users, who don't have to depend on outside sources to determine what their business really needs.
Great Customer Service: The Podio development team is very receptive to customer feedback, and users agree that they generally receive quick, reliable support when problems arise.
Efficiency: Being able to keep everything in one place – not, in other words, having to constantly switch between a management program and email or spreadsheets – is one of the most well-loved characteristics of Podio.
Increased Communication: Podio users claim that implementation of the software significantly improves long-distance communication, whether it is with satellite offices, freelancers, or international clients.
The following are short excerpts from reviews by satisfied Podio customers:
"I love it. I tried every single project management tool, time tracking tool, task tool, etc on the planet. Now we can finally make our own! And that's great."

"When you're building an app in Podio there's a lot of things you can do. There's text, calculations, dates, images; so it's kind of fun formatting everything and seeing how it all works together. You can basically get it to do exactly what you want."

"With Podio, we've saved tens of hours each month that we can use elsewhere. Podio also helped us unite and connect as a team with its fantastic audio, video and commenting features."

"What's really cool about Podio is that everything's mobile. We're always on the go, we all have laptops, we have mobile phones, so it's nice to have a system like Podio that's equally as flexible."

"I love that I can customize and create a workspace that works with the way I currently work, as opposed to forcing me to adapt … I know better than my project management software how I am most productive."
Integrations & Add-Ons
Podio has invested a lot of effort into providing a good variety of 3rd party integrations, which I find refreshing. Some of the most important integrations offered include:
Zapier
Go-to-Meeting
Box
Dropbox
Excel
Campaign Monitor
Evernote
FreshBooks
Google Drive
SugarSync
Onedrive
Instapaper
Zendesk
Sharefile
There are also a significant amount of excellent Podio extensions currently floating around, all designed by 3rd party developers. Additionally, Podio provides an open API for those who choose to design their own integrations.
Security
Podio protects the safety and privacy of users in the following ways:
Secure Host: All data is hosted at the Citrix Datacenters, which are located in Frankfurt and Amsterdam.
Secure Encryption: Podio provides HTTPS Encryption on all data. In fact, users do not have the option to login without encryption.
Restricted Access: Employees of Podio are not able to access customer information without prior, explicit consent.
Frequent Back-ups: Back-ups are performed nightly, and all information is copied to separate location.
Regular Audits: Podio's parent company, Citrix, habitually performs security audits to ensure that all safeguards are working properly.
Final Verdict
Podio is one of my favorite things ever. There, I said it. It is so smart, so sophisticated, so practical, especially for small and medium-sized businesses. I love the fact that you can design it into almost any software tool, from a client manager to a project tracker to a company morale booster. It's just flat-out practical in that way, especially considering how cheap it is.
In view of these sentiments, you may be wondering why I rated Podio at 4.5 stars instead of a perfect 5. Wonder no longer. My primary reason for rating Podio slightly lower is that it does have a steep learning curve, at least for the majority of us who lack tech-heavy backgrounds. It is not impossible to figure out, but it takes time. It can be confusing and frustrating for a while, and I know that some of you out there don't have time to play around with your project management solution; you need it to work now, or yesterday if possible. Despite its claims, Podio is not particularly easy to use right out of the gate, and for me, that is its greatest downside.
I stand by my earlier statement, however, that Podio fully merits the initial investment of time and effort. If you think you can hang on for the first few weeks of implementation, I believe you will be very happy with the result. Try the free plan out if you're not convinced. Play around with the software a bit – explore the inherent potential. If you're still not impressed or feel like there is too much work involved, then fine. Invest in a simpler, more standard program. But I think that most of you will eventually agree that Podio is worth learning.

---
Featured Free Corporate Card
Ramp


---
Ramp offers a free corporate card for virtually any business. Start earning rewards with your corporate spending today. Get your free card.
Featured Free Corporate Card
Ramp


---
Ramp offers a free corporate card for virtually any business. Start earning rewards with your corporate spending today. Get your free card.
To learn more about how we score our reviews, see our
Project Management Software Rating Criteria
.